Able Carry Max Backpack Review
Carry-on travel backpacks, such as the Able Carry Max Backpack, are by far my favourite style of luggage! Small enough to be a carry-on, but large enough to bring everything you need — that's the sweet spot with travel luggage.
Whether you're hopping on a plane or hitting the road, compact luggage makes travel a whole lot easier.
Which is why I'm excited to chat about Able Carry's Max Backpack! I've been using it for a while now and let's just say that I'm a big fan. It's a great carry-on travel backpack that can be used for much more than airline travel.
However, just like most things, it's not perfect. In my opinion, there are a few minor things (not deal breakers) that would make it even better. But hey, maybe those things won't bother you!
Let's dive into all the details so you can decide if Able Carry's Max Backpack is for you!
Disclosure: This article may contain affiliate links and I may earn a commission, at no cost to you, if you click and/or buy a product online (even if it's not the product linked). I take great care to only recommend helpful products and appreciate your support!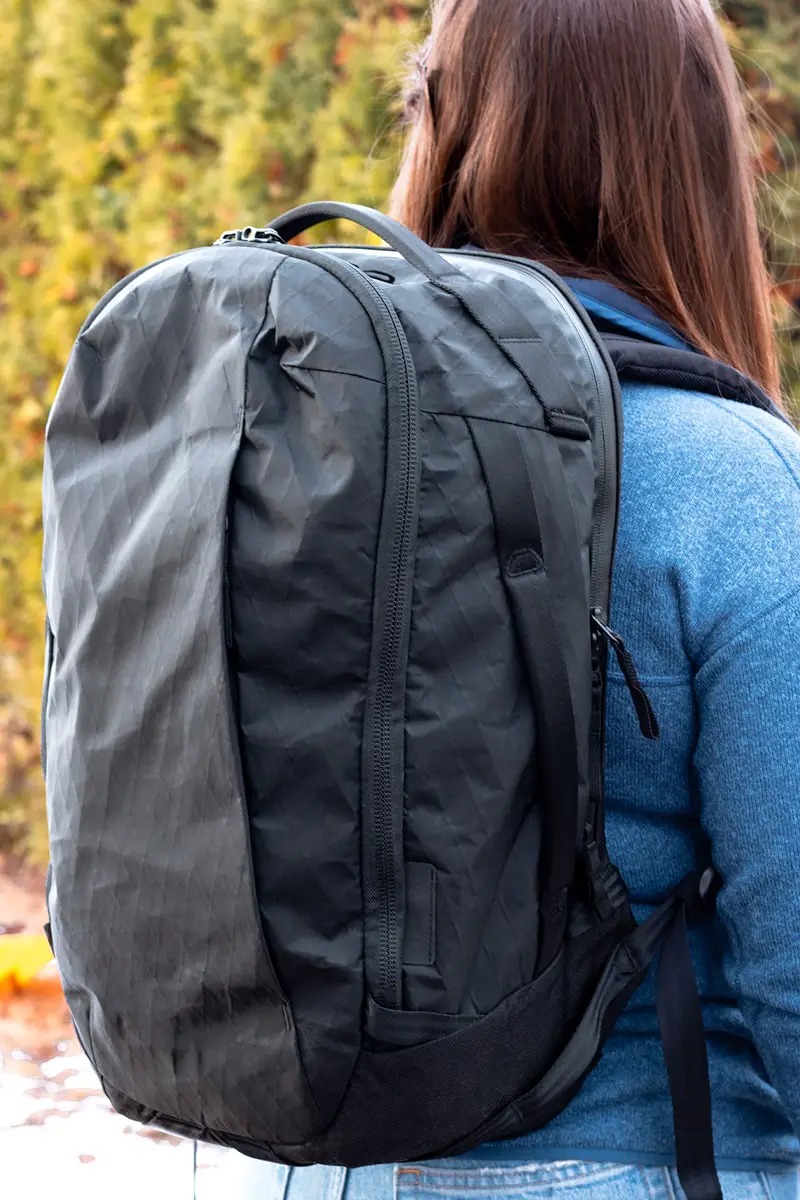 Why Use a Carry-On Travel Backpack?
Before we dive into all the specs of Able Carry's Max Backpack, let's talk about why you'd even want this style of travel luggage — which means it's story time.
In 2018, my husband and I spent three weeks traveling Europe and we each brought one carry-on travel backpack (it wasn't the Max Backpack but very similar).
We fell in love with travel backpacks because:
On travel days, it's easy to get around and see things with your luggage in tow (because it's on your back). We visited the Trevi Fountain on travel day — this would be a nightmare with regular luggage.
You don't have to mess around with heavy, awkward bags on buses or trains.
Airlines can't lose your luggage because it's always with you (either in the overhead bins or under the seat).
You can't buy unnecessary things because you simply don't have the room.
I've also found travel backpacks are great for keeping gear organized while car camping and on road trips. I've even used Able Carry's Max Backpack to carry photography and computer gear.
There's no way I'd go back to multiple pieces of luggage and the headache it is to travel with them. Carry-on travel backpacks are just way too convenient!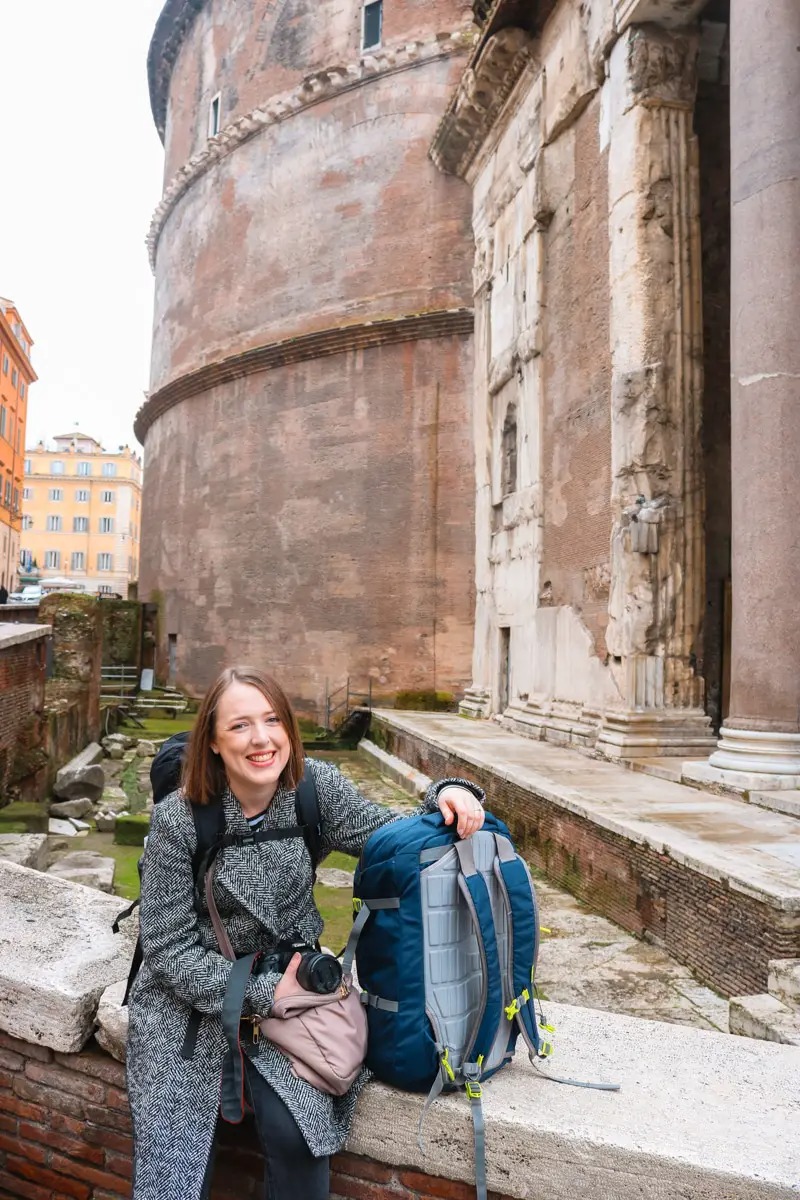 Why Choose Able Carry's Max Backpack
There are lots of reasons to love the Max Backpack! It's even won Best Carry-On in case you need more proof.
The Max Backpack is comfy and doesn't feel like a large backpack even when its 30L are jam-packed full.
Its unassuming and minimalistic design lets it go largely unnoticed while traveling.
Can double as a day pack, duffel bag, or work "briefcase".
Lots of organizational options in both the main and laptop compartments.
Gear is easy to access regardless of where it's stored.
Incredibly versatile and can be used for more than airline travel. I use it for road trips, car camping, and work.
Who Would Enjoy This Backpack?
As much as I love this bag for all kinds of things, it's definitely better suited for some needs and wants than others. Keep these things in mind when deciding if this bag is for you:
It's a rather large bag and is best used for travel or carrying lots of gear. If you want a lightweight backpack, Able Carry's Daily Backpack or Thirteen Daybag may better suit your needs.
There are lots of pre-built organizational compartments. If you prefer a blank slate, this might not be the bag for you.
It's made of a very durable material which adds a little bulk to the design, but means it will last a long time and withstand lots of travel abuse.
The bag holds its shape when empty which means it doesn't fold down small.
Not a great hiking backpack because there's no hip support or hydration pack compartment (although you could make it work). Some people love it for day hikes, but I personally prefer hiking specific bags for that purpose.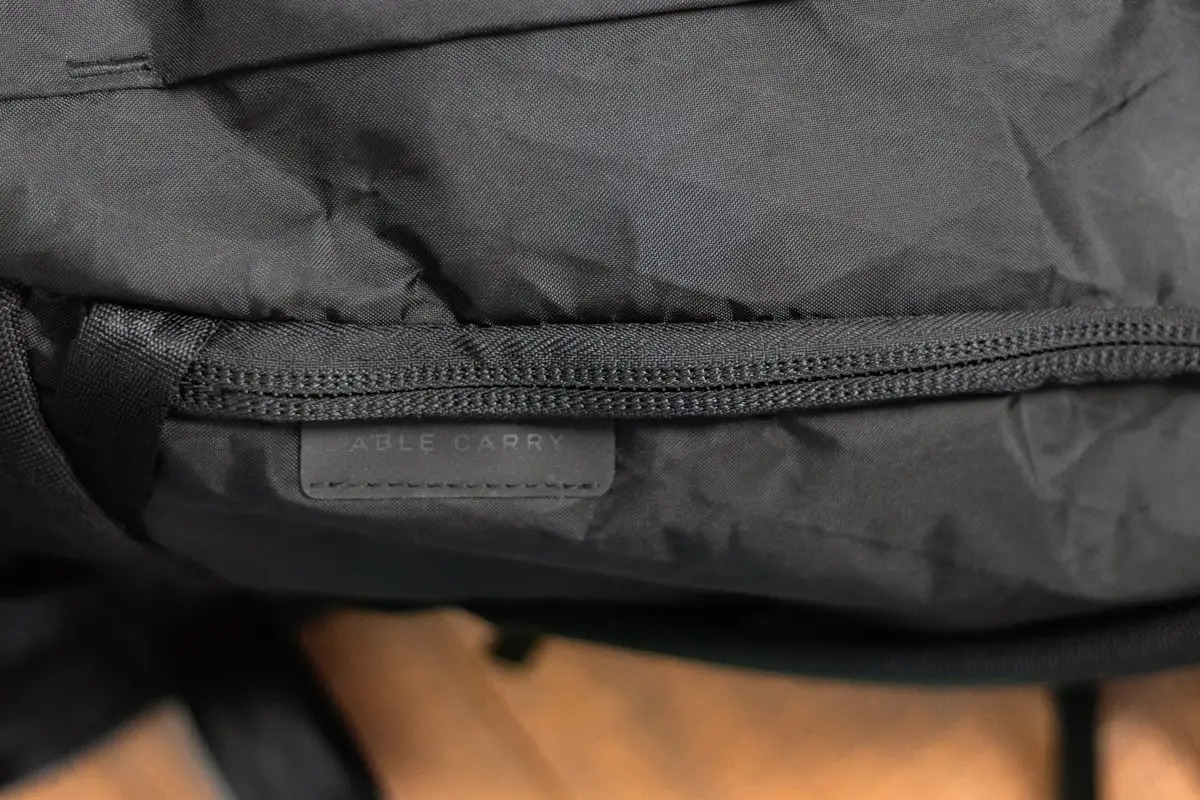 Max Backpack Specs
Let's get into the backpack's specs:
Able Carry's Max Backpack is on the large side of carry-on bags (20.5 in x 12.5 in x 8 in). Based on Pack Hacker's airline compliance chart, it's in compliance with most airlines.
Its total capacity is 30L and has two compartments; the main is 25L and the smaller is 5L. The laptop compartment fits laptops up to 17″.
Weighs 3.8 lb (1.7kg) empty.
The Max Backpack is water resistant, but not waterproof. It has a Durable Water Repellent (DWR) coating and can withstand light rain or splashes.
Locking zippers on the two main compartments (lock not included).
Lifetime Guarantee warranty on workmanship defects.
As an added bonus, you can take the backpack for a two-week test run to see if you like it. If not, simply return it.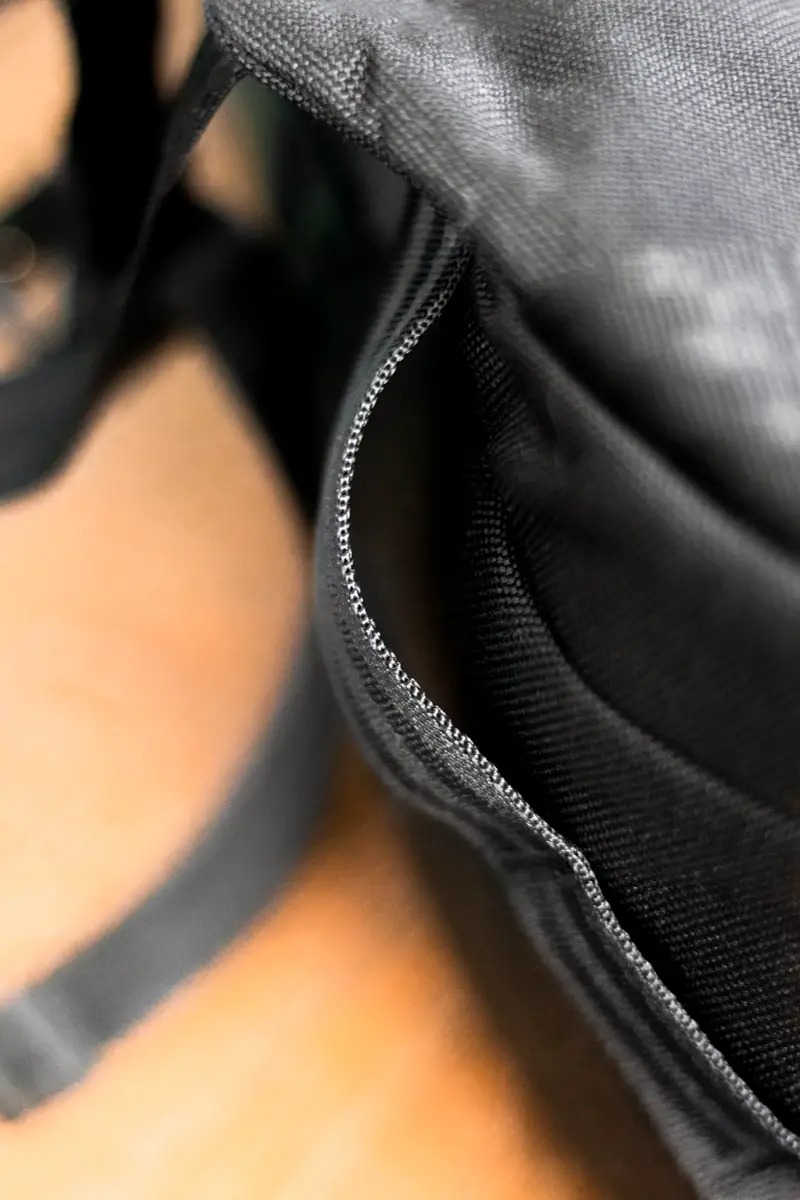 Materials, Construction & Design
The Max Backpack has a minimalistic design and edges towards a "sporty" look thanks to its diamond-patterned material. I personally like it, but it may not be for everyone.
This diamond pattern isn't just for looks — it's X-Pac VX21, an incredibly durable material that's also water resistant. The base of the backpack is made of 1000D CORDURA Nylon, the interior is 420D CORDURA Ripstop Nylon, and the stitches are incredibly strong — if that all sounds like gibberish, it simply means you'll have a tough time damaging this bad boy.
Plus, the outer zippers are waterproof YKK which are fancy-schmancy in the zipper world. You can't get better. The zippers on the main compartment have lockable zippers; simply get a TSA approved cable lock and your gear's nice and safe.
As for design aesthetics, I love the unassuming and clean look. Even though there are six zippered areas accessible from the outside, a ton of gear hooks, and five handles, it's all discreetly incorporated. Its versatility is extremely understated.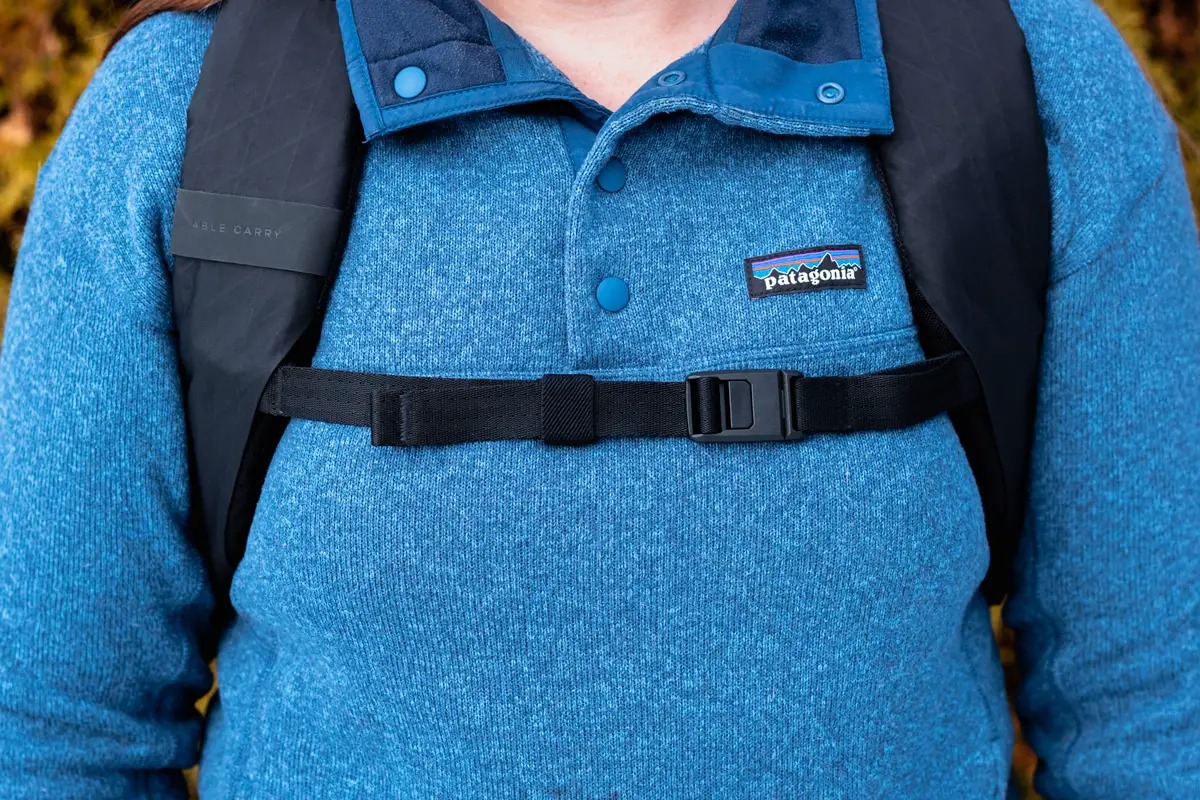 Shoulder Straps
Shoulder straps are super important on travel backpacks. They need to be comfortable and help distribute weight or else you're in for a bad experience.
Luckily, Able Carry has put a lot of thought and design into the Max Backpack's shoulder straps. 
The shoulder straps have dense padding which provide much needed comfort, especially when the bag is fully loaded.
The underside of the straps has a breathable mesh to help regulate sweat and temperature.
There are multiple loops where you can attach items with a carabiner.
The sternum strap, which helps with weight distribution and stability, is adjustable and removeable. You can even tuck it away when attached but not in use.
The sternum strap has a magnetic buckle that's incredibly easy to use; you can clip and unclip it one handed. The only downside is that it may come unlatched if you're fumbling around it.
Wherever there's adjustable webbing, there's also an elastic loop that keeps excess webbing in place.
BUT, here's the rub:
The shoulder straps aren't detachable or able to be tucked away. There are also no hip straps.
In my other travel backpack, the shoulder straps can be detached from the bottom and hidden in discreet sleeves. I love this feature because straps can easily get caught on things when not in use. Plus, it's easier to use the bag like a duffel when the straps are hidden.
I also wish this bag had hip straps because, although I didn't use them a lot, they make carrying a heavy bag easier. Neither of these is a deal breaker for me, but it would be nice to have these features.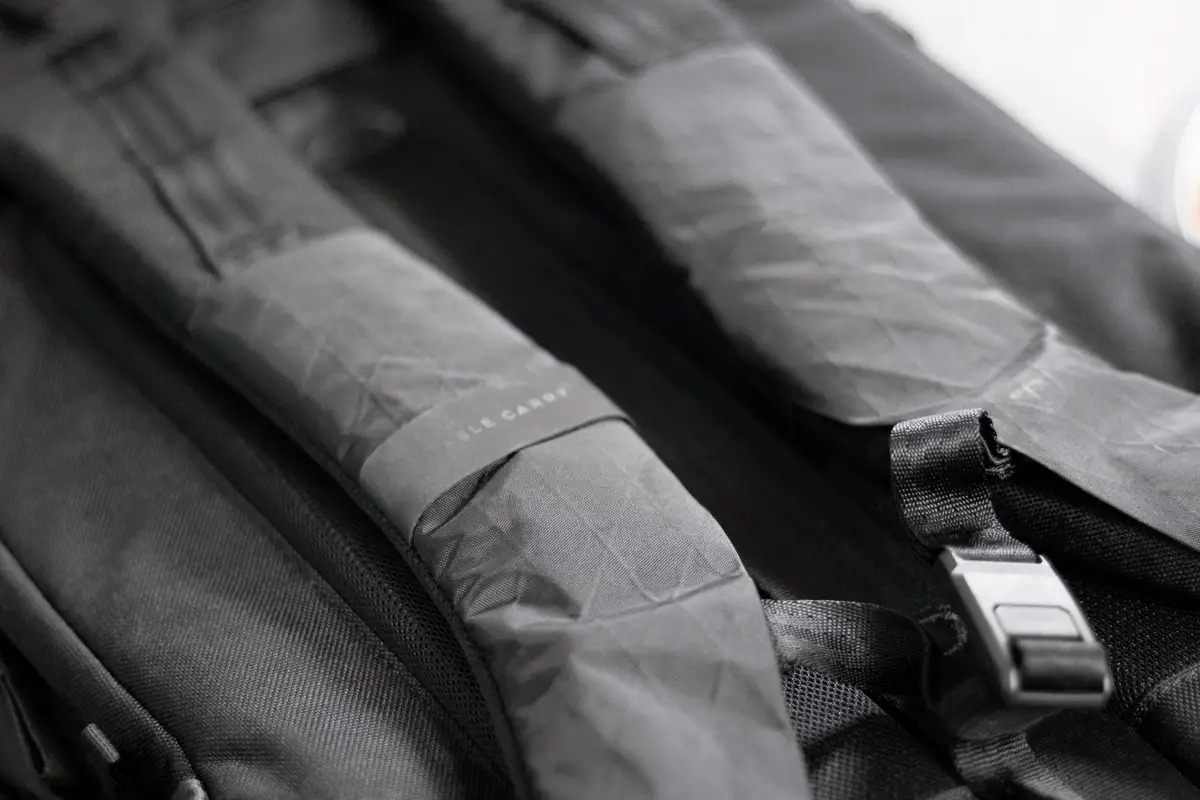 Back Panel
Surprisingly, there's a lot happening back here.
An air channels runs down the back panel of the Max Backpack which helps keep your back sweat-free (or at the very least, less sweaty). The back panel also has plenty of padding which makes it nice and comfy.
Along the air channel, there's a heavy duty piece of webbing that you can slip over the handle of rolling luggage. You could also use this strap to carry the bag.
Finally, at the top between the shoulder straps, there's a loop so you can hang the bag on a hook just like a regular backpack.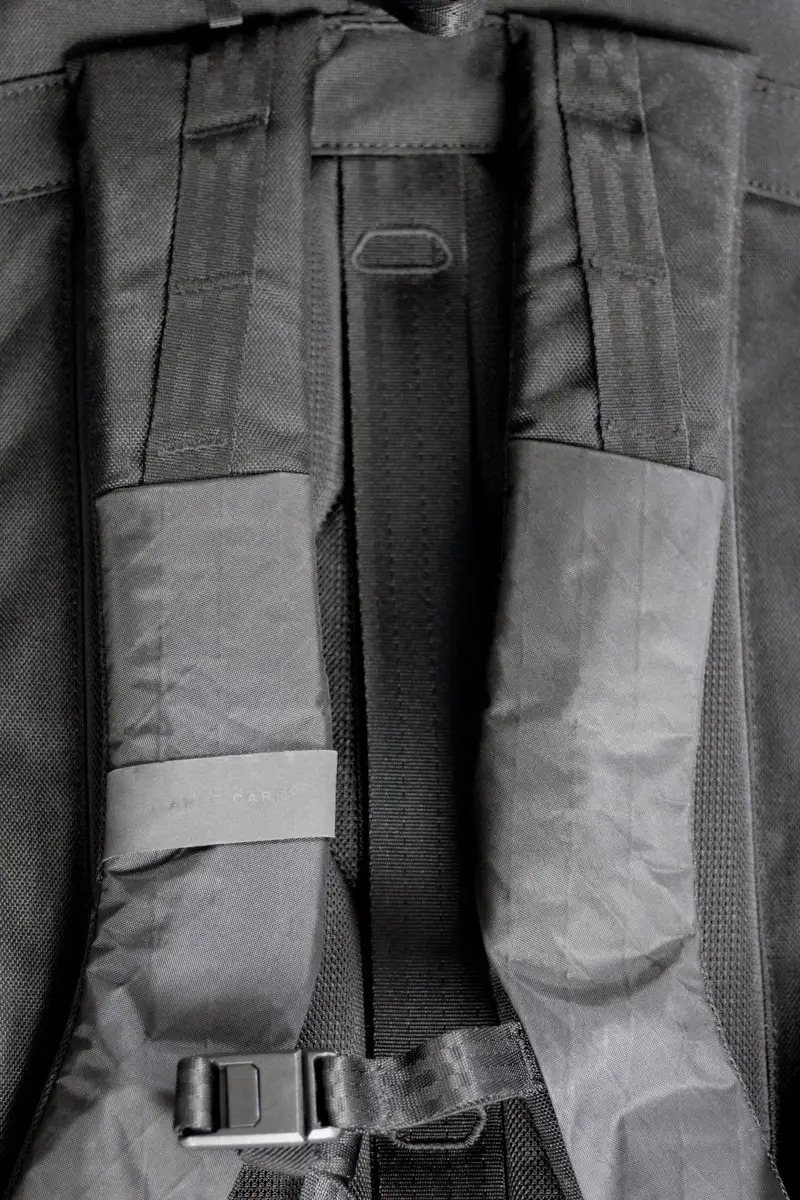 Handles & Loops
Let's chat handles and loops because this bag has lots of 'em. There are five ways to carry the Max Backpack:
Shoulder straps: This is the most obvious way to carry this bag.
Top handle: At the top of the bag, there's a thick, padded strap you can use to easily carry the backpack by hand.
Side handle: Just like the top, there's a similar padded strap on the side you can use to carry the bag.
Luggage pass-through: On the back, there's a thick strap you can use as a luggage pass-through. You could also use it to hand carry the bag, but it would be a little awkward.
Top coat hook: At the top between the shoulders, there's a small loop that's usually used for hanging the bag. However, you could also use it to carry the bag short distances.
As for the gear loops, let's just say that whoever designed the Max Backpack loves them — they're literally everywhere! You can use these loops to attach all kinds of things to your bag and organize the interior. The options are literally endless. Plus, they blend in with the bag really well; you'll probably forget they're there most of the time.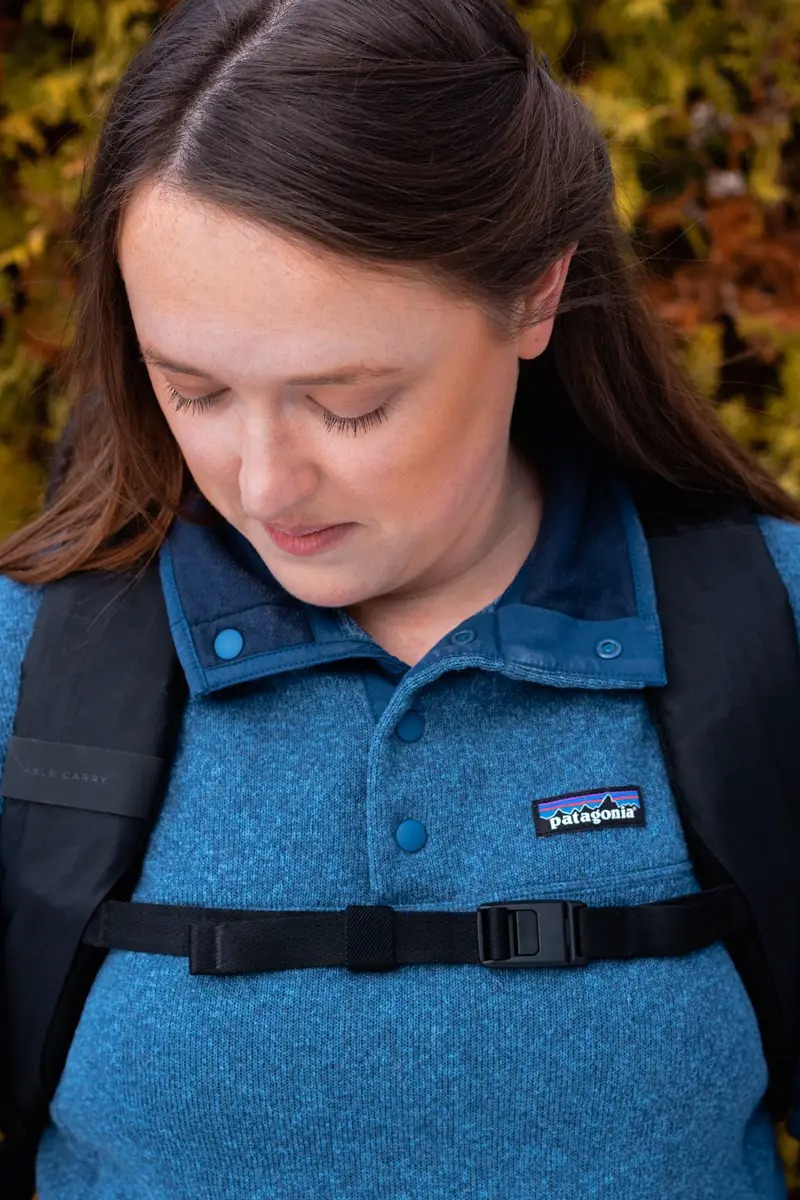 Compartments & Interior of the Max Backpack
Let's get into the fun part — all the pockets! The Max Backpack has six zippered compartments accessible from the outside and even more inside. Able Carry didn't cheap out on organization in this bag, that's for sure.
Front Quick-Grab Pocket
On the very front of the backpack, there's a quick-grab pocket that's zippered vertically, top to bottom. The zipper itself is hidden behind a discreet cover.
These types of pockets are often pretty squishy, but not on this bag. The inside is large, spanning the entire length and width of the front of the backpack.
There are two internal mesh pockets which are aligned vertically to keep your things upright while wearing the bag. These pockets are well sized and have quite a bit of elasticity. There's also a built-in key clip that you can move around or remove (I've moved it the laptop compartment because it's more secure).
This is a great pocket for storing odds and ends such as maps, sunglasses, and pens. However, it's not overly secure because you can't lock it with a TSA lock so I don't recommend keeping important documents or expensive gear in it.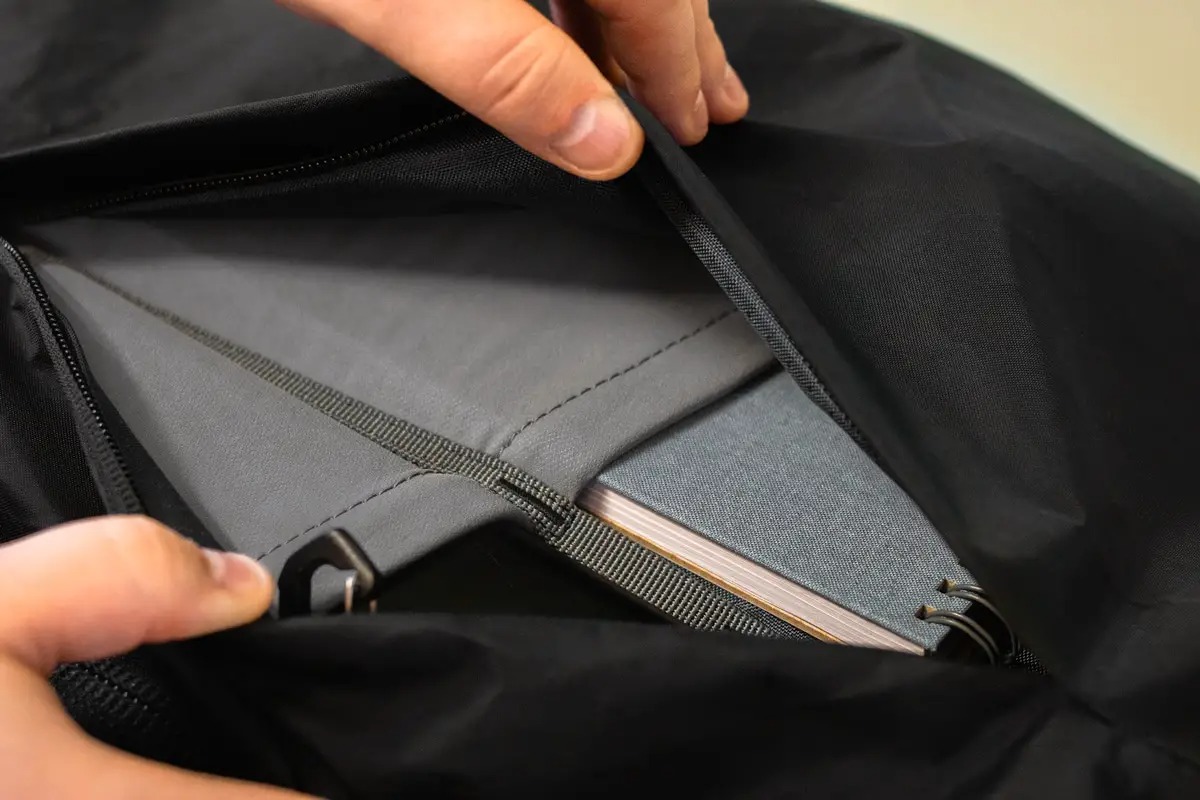 Hidden Water Bottle Pocket
On the left side of the bag, there's a hidden water bottle pocket that keeps your bottle from falling out. It's designed seamlessly into the bag's sleek profile.
As a water fiend, I really appreciate that it can hold up to a 32 oz water bottle. If you don't have a bottle, you can use this space to store other gear. You can also secure this pocket with a TSA lock thanks to the nearby gear loop.
However, this pocket does eat into the main compartment's space. Do with that what you will.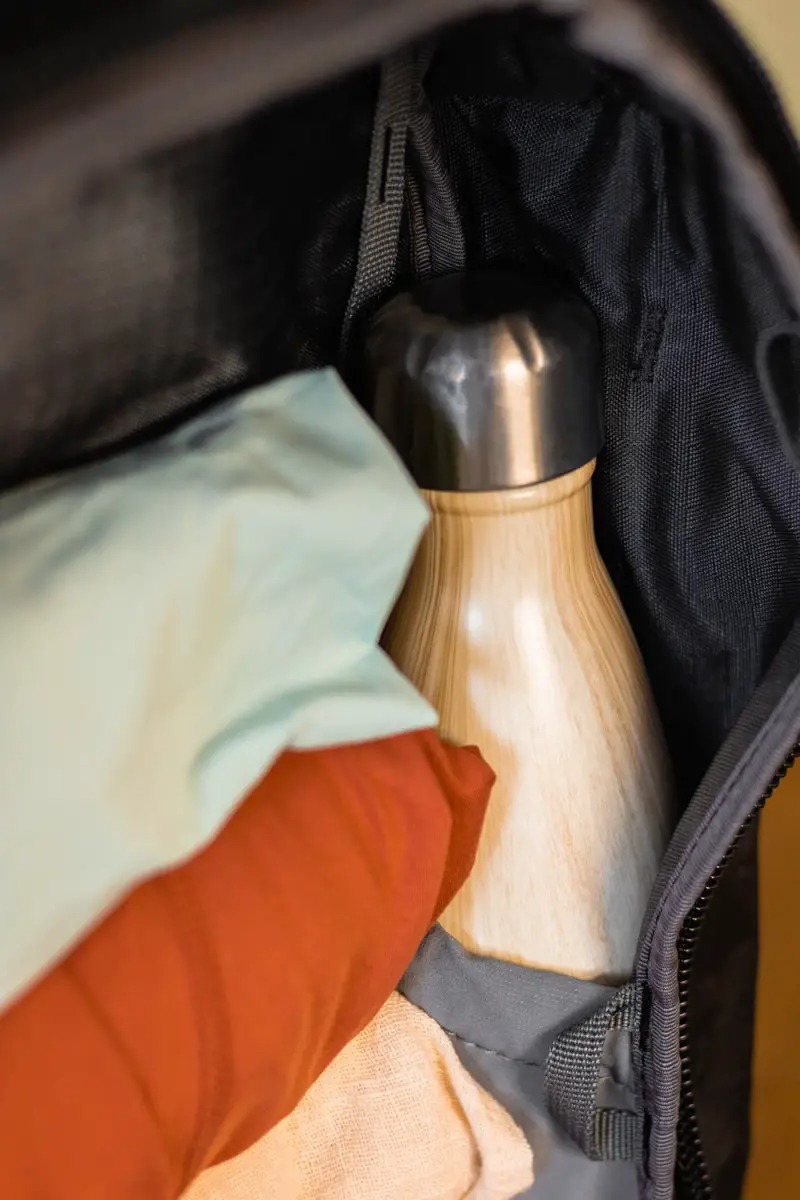 Side Pouch
On the right side of the bag tucked below one of the handles, there's another side pouch. I almost missed it because it's so discreetly hidden.
This pouch is much smaller than the water bottle pocket. Since it has two zipper heads and can easily be secured with a lock, this would be a great place to store change or small amount of cash you want quick access to.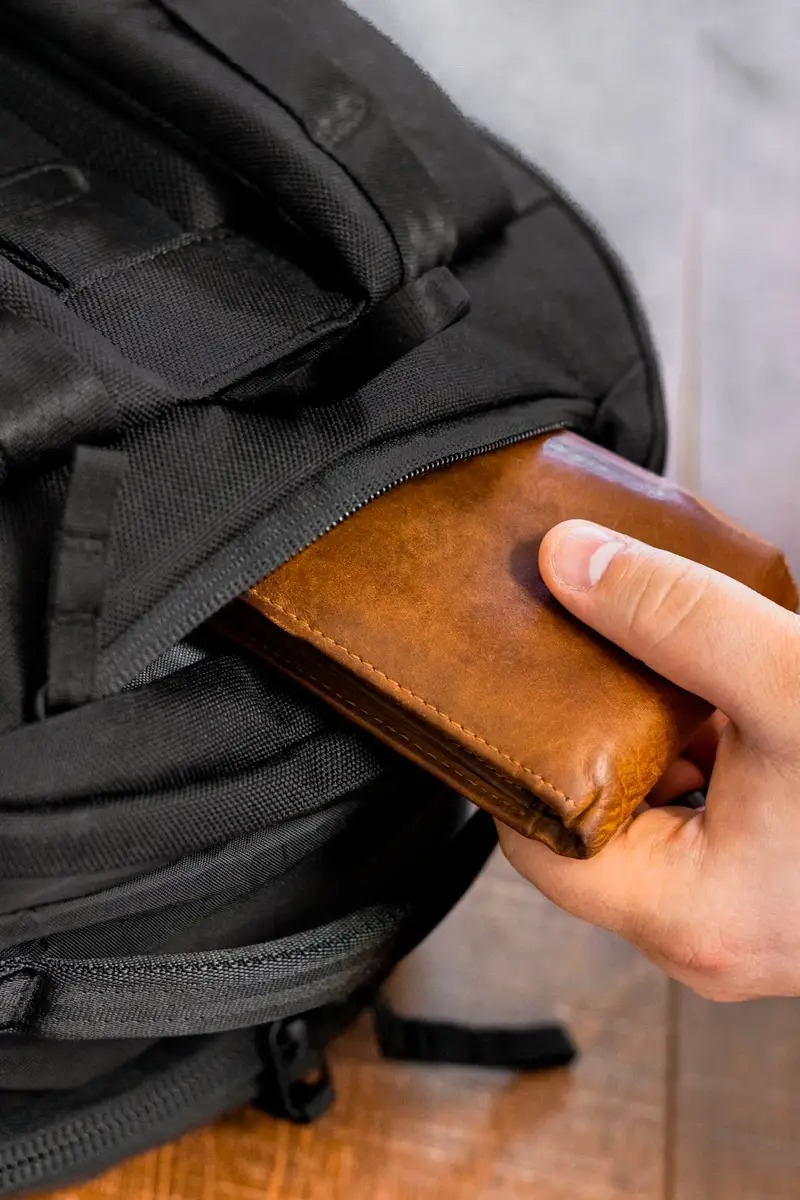 Top Security Pocket
At the top of the Max Backpack, just above the shoulder straps, there's a security pocket. It's pretty stiff and goes about a third of the way down the back of the bag. There are no extra pockets or loops inside. When the zipper is tucked in, this pocket is basically invisible.
This is a good place for storing items you want quick access to, but also need to keep safe such as your passport or ID. You can secure it with a lock thanks to the nearby shoulder strap gear loops. It's a little awkward to access, but this makes it even better for security purposes.
Laptop Compartment
Time for the fun part, the laptop compartment on the Max Backpack! This area is large enough to store a 17″ laptop plus other gear. The organization is extremely well designed.
The compartment opens wide, going almost all the way down on the right hand side, but only to the top of the water bottle holder on the left. This makes it a little lopsided to open, but I don't think it's a big deal.
There are two zipper heads with lock loops, so it's very easy to secure this compartment.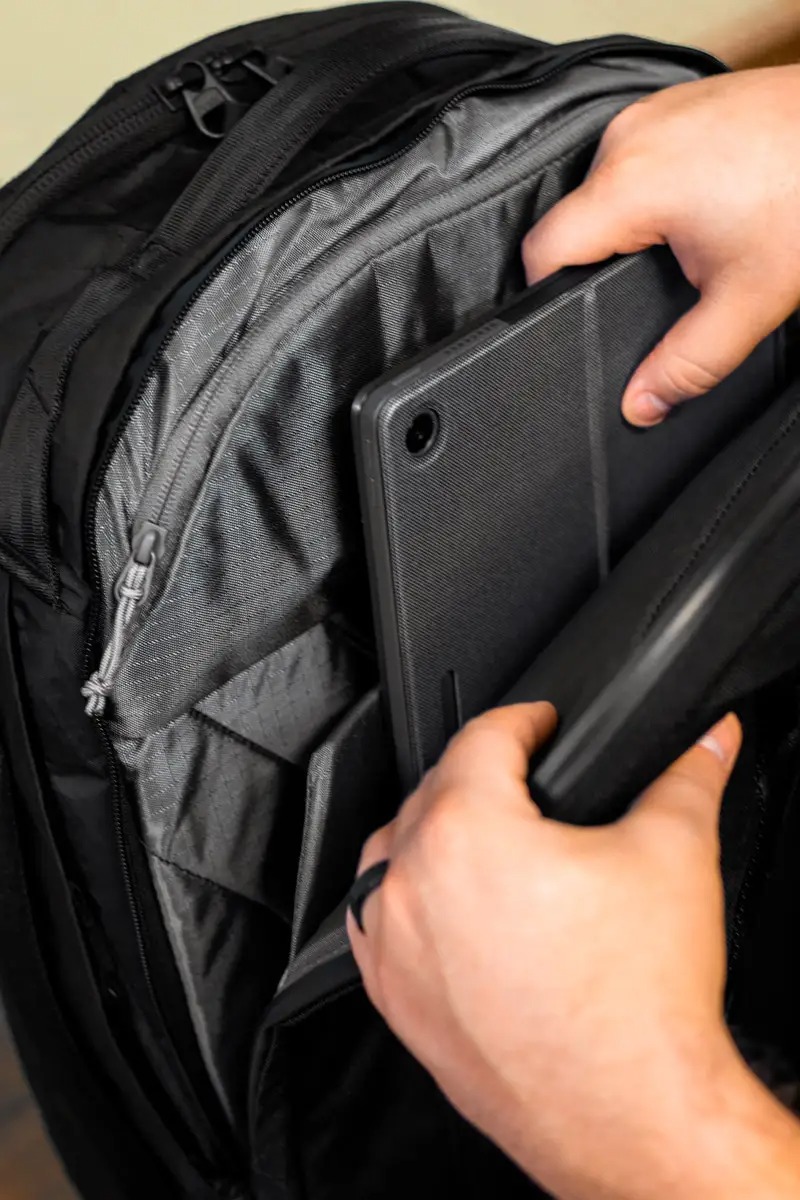 Laptop Sleeve
Inside, there's a large, padded sleeve for your laptop plus a smaller one for a tablet and a couple pens.
The sleeve is suspended which should keep your devices safe if your bag gets dropped; however, there's no top flap to secure them from sliding if your bag's upside down. The sleeve is pretty tight, so it's unlikely your devices will be sliding all over the place, but that extra piece of security would be nice.
If you're a DIYer, you could add your own tab with Velcro or snaps.
Security Panel
Behind the laptop sleeve, there's another zippered security pocket. It's thin, but goes the entire depth of the backpack. This is a great place for important documents you don't need quick access to.
There's also a removeable piece of semi-rigid foam along the entire back (it's not obvious). This gives the Max Backpack it's rigid back panel and helps protect the devices inside. If you remove it, the backpack becomes much more flexible. You could also hide documents or money behind this so it appears there's nothing inside.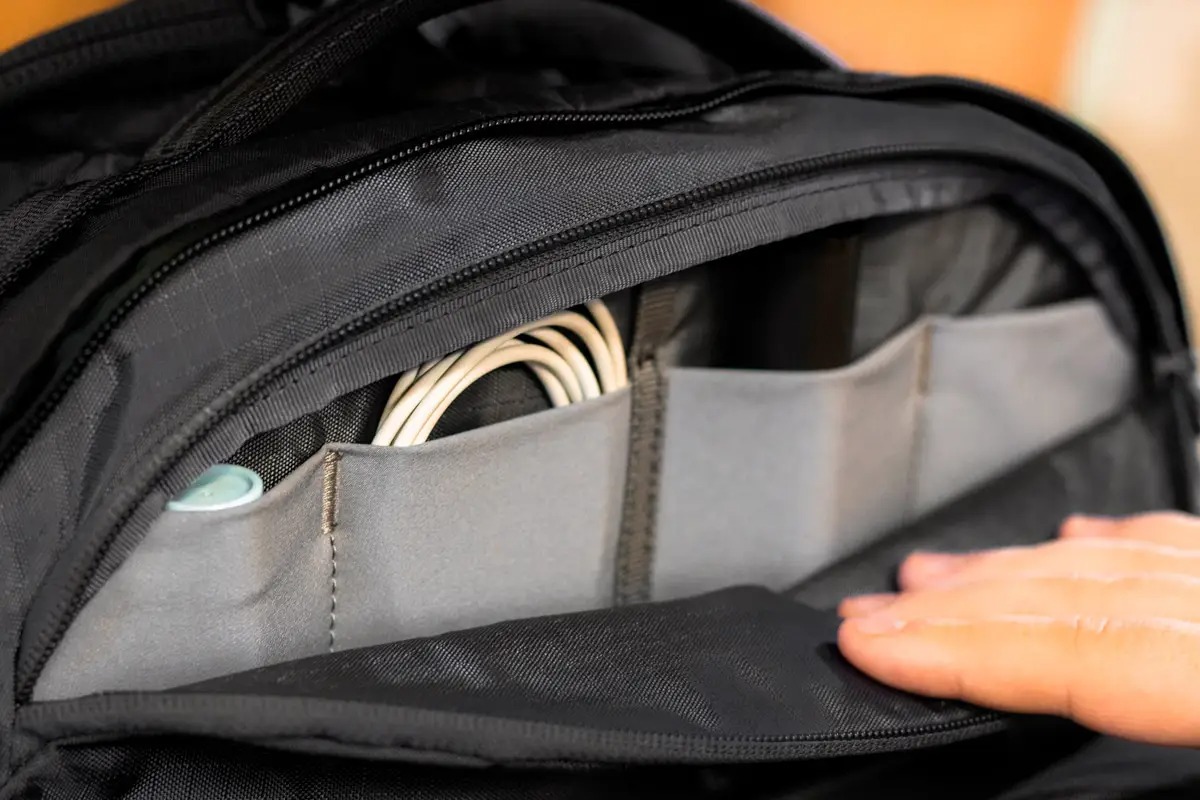 Accessory Pocket
Last but certainly not least is the accessory pocket in the laptop compartment. Located opposite the laptop sleeve and only a few inches deep, this zippered pocket has four mesh pockets and a gear loop (this is where I moved the key clip).
It's a great place for accessories like charging cords, adapters, extra SIM cards, memory cards, and the like.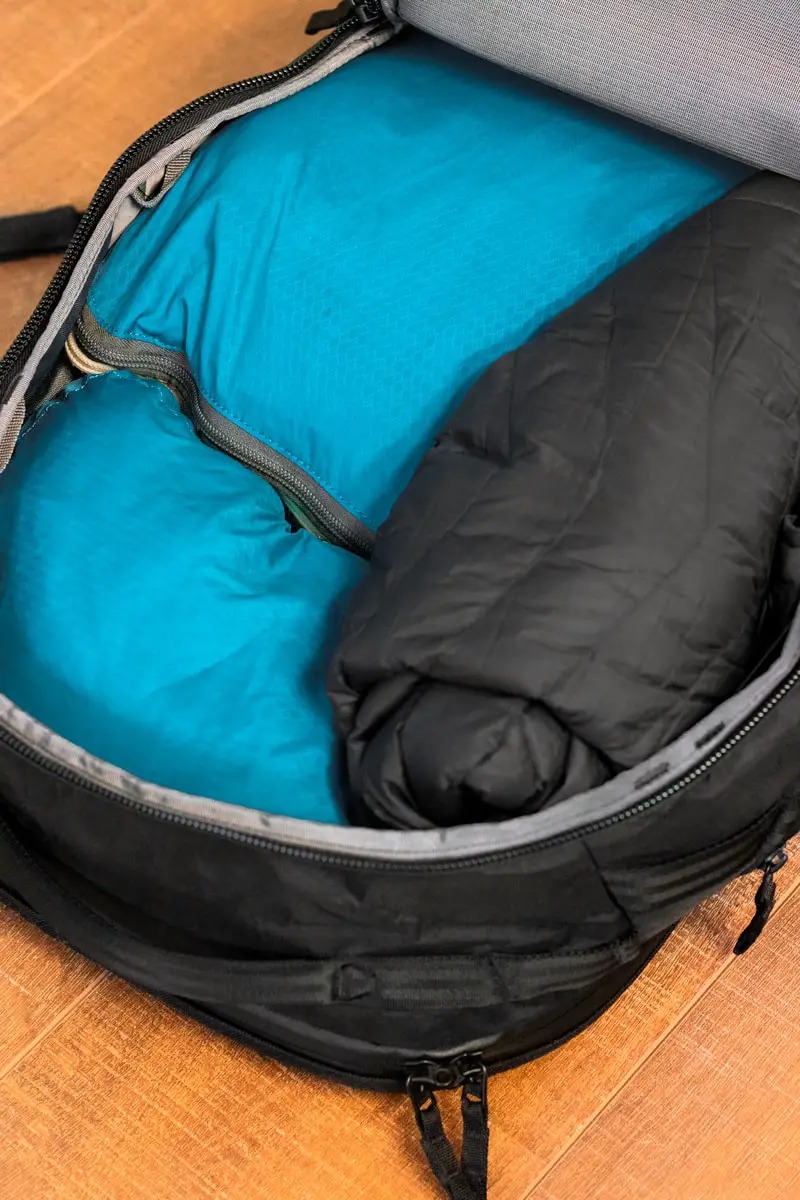 Main Compartment
Finally, we've reached the main compartment! This bad boy is 25L of greatness. The space is huge, but thankfully the walls are pretty stiff and stand on their own even when the bag's empty.
Main Packing Space
The Able Carry Max Backpack has a clamshell opening (aka front loading) which means it opens fully from the top, giving you full access to the entire compartment. It's a huge, open space and I highly recommend packing cubes or compression bags to keep your things organized.
How about those gear loops? Yup, they're inside, too! Two rows run vertically along the left and right back panel, plus six larger loops just below the zipper. With a few accessory straps, you can easily secure your clothes. If you use a Joey Pouch or similar pouch, you can even add extra pockets for jewelry (or whatever you want!).
Remember that exterior water bottle holder? If you use it, it'll eat into this compartment. But there's also another bottle holder inside. It's a simple stretchy pocket, perfect for holding all kinds of things.
I love how much flexibility this area has. No matter your packing style, you can customize it to your needs instead of being forced into a predetermined system.
Toiletry Pocket / Extra Storage
Opposite the main compartment, there are two pockets for personal toiletry items or extra storage.
The top pouch is fully zippered and has, you guessed it, loops along the top. I'm not entirely sure the use case for these loops since I use this for makeup and toiletries.
The bottom, fully zippered pocket is made of a semi-transparent mesh and has no gear loops. This is where I'd store underwear, swimsuits, or books. I like that the mesh has just enough transparency to see inside, but not so much that everything's on full display.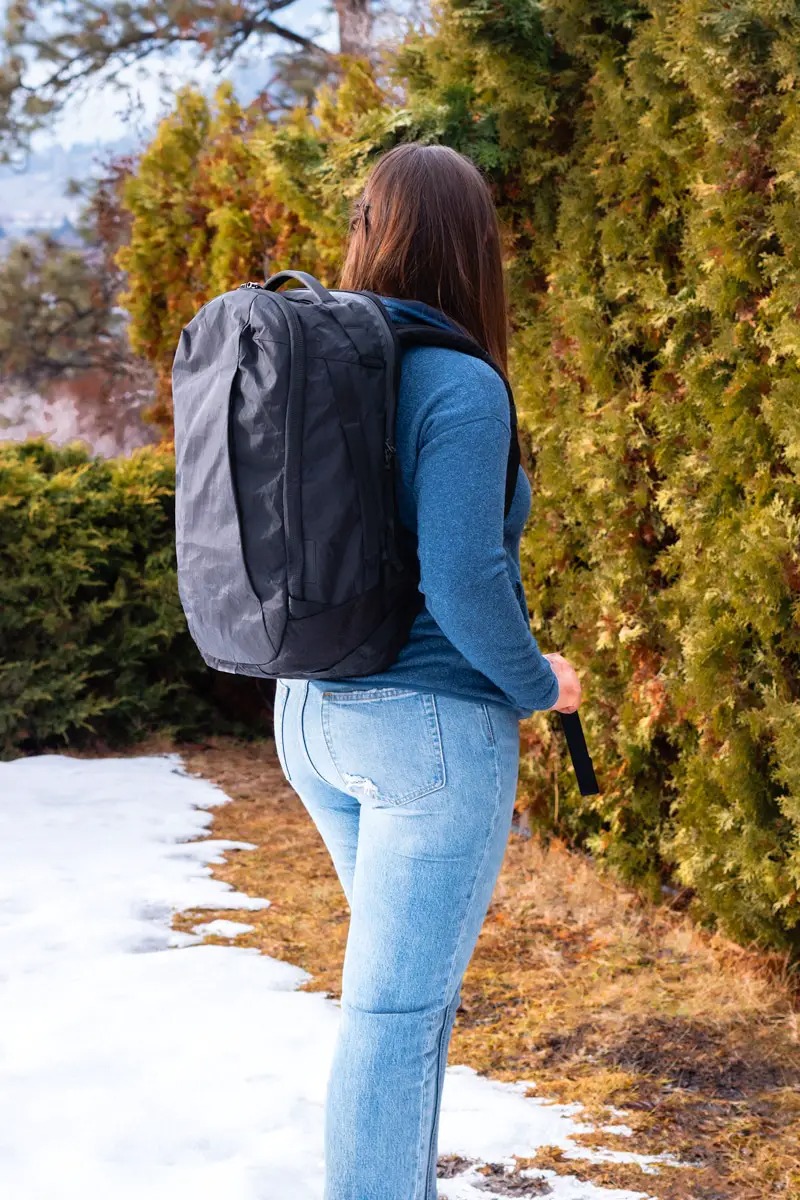 Accessories
I've mentioned a few accessories throughout this article. Let's recap them here:
Final Thoughts on the Able Carry Max Backpack
Overall, I find the Max Backpack to be a fantastic carry-on travel backpack; I'll be using it lots for both airline and car travel. It's extremely well-built, both in terms of durability and design; however, there are a few small things that could make it even better.
Let's recap:
Pros of the Able Carry Max Backpack
Sturdy and incredibly well designed.
Great balance between organization and customizability.
Lots of room and incredible use of "dead" space.
Plenty of loops for customization and security.
Can easily be used for more than airline travel (ex: car camping, work, diaper bag).
Cons of the Able Carry Max Backpack
Shoulder straps can't be removed or hidden.
No hip straps for extra support.
No top flap to prevent the laptop or tablet from sliding.
Zippers don't lock securely without a third-party TSA lock (but to be fair, this isn't available on most travel backpacks)
If you're thinking about switching up your luggage, I highly recommend Able Carry's Max Backpack. And if you're still not sure, remember than you can try it out for 14 days!