Everfun Cooler Backpack Review
With this insulated, leak proof cooler from EVERFUN that you can wear as a backpack, you can enjoy bougie picnics at the top of a mountain!
What's better than delicious food at the top of a mountain? Food that's not squished and warm. If you want to level up your food-with-a-view game, grab one of EVERFUN's cooler backpacks and have a picnic at the top of the mountain with all the cold food and drinks your heart desires!
I recently hiked Spion Kop and set up a picnic at the top. It was ahh-mazing! To be honest, it's going to be hard to go back to normal hiking snacks. I see a lot more picnic hikes in my future.
But enough preamble, let's get into this gear review. I'm very excited to have partnered with EVERFUN to share their creative and innovative cooler backpacks with you! It's not everyday that you come across affordable gear that actually works. Besides, how cool is a cooler backpack? So cool.
In this gear guide, I'm going to share my experience with EVERFUN's 30-Can Soft Pack Cooler so you can decide if it's a good fit for you. They also have a larger 33-can backpack cooler and insulated lunch box if those are more your style.
PS: Want to grab it now? You can save 10% with code EXPLORETHEMAP.
Disclosure: This article may contain affiliate links and I may earn a commission, at no cost to you, if you click and/or buy a product online (even if it's not the product linked). I take great care to only recommend helpful products and appreciate your support!
Who is EVERFUN?
Before we get into the cooler itself, let's chat about the company. EVERFUN is a fairly new outdoor company and I hadn't actually heard of them before they reached out.
Based in China and founded in 2021, EVERFUN has a solid core line-up of products for a new company — three coolers, a hydration backpack, and toiletry bags. They're still working on building up their products, so keep an eye on 'em.
They also make it a priority to create eco-friendly gear so sustainable options are available for all outdoor lovers. EVERFUN focuses on reducing their carbon footprint, as well as using only high quality materials that are both durable and recyclable. 
EVERFUN's products aren't for elitist outdoors people. They're made for us regular folk who just want to spend time outside, whatever that looks like for each of us. And that comes with an affordable price tag, too. I commend them for this. There's space for all of us in nature and when companies are able to offer quality products at an affordable price, it helps get more of us out there.
PS: You can save 10% with code EXPLORETHEMAP.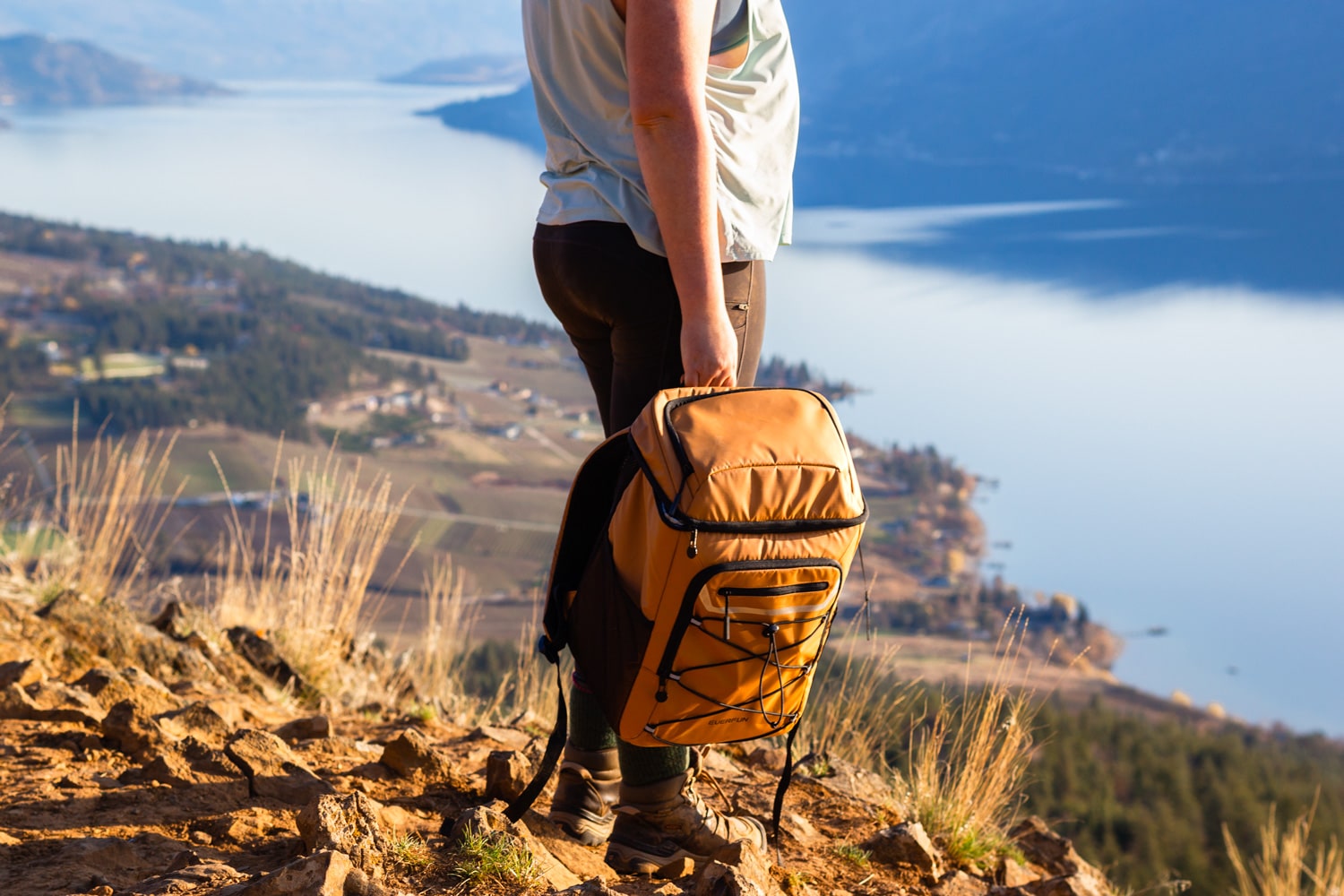 Main features of the 30-Can Cooler Backpack
Let's quickly go over the main features. As you can see, EVERFUN's cooler backpack comes loaded with all kinds of handy features.
20 hours of cooling (with ice or ice packs)
Leak-proof, wipeable, and durable interior and exterior
Lightweight and comfortable to carry
Adjustable, padded straps
Two insulated compartments
Two front pockets plus two side pockets
Elastic straps and bottle opener
My experience with EVERFUN's Soft Cooler Backpack
Let's be honest — half the reason I hike is to enjoy food with a beautiful view. Usually that food is your standard hiking fare (aka, squished and warm), but not this time! No no, this time it was perfect.
Thanks to this cooler backpack, Jacob and I enjoyed a delicious charcuterie board (level up your charcuterie with this delicious spring-inspired recipe!) all washed down with cold vitaminwater® at the top of a mountain — all the while enjoying a 5-star view of Okanagan Lake. It was the perfect way to spend a Friday evening.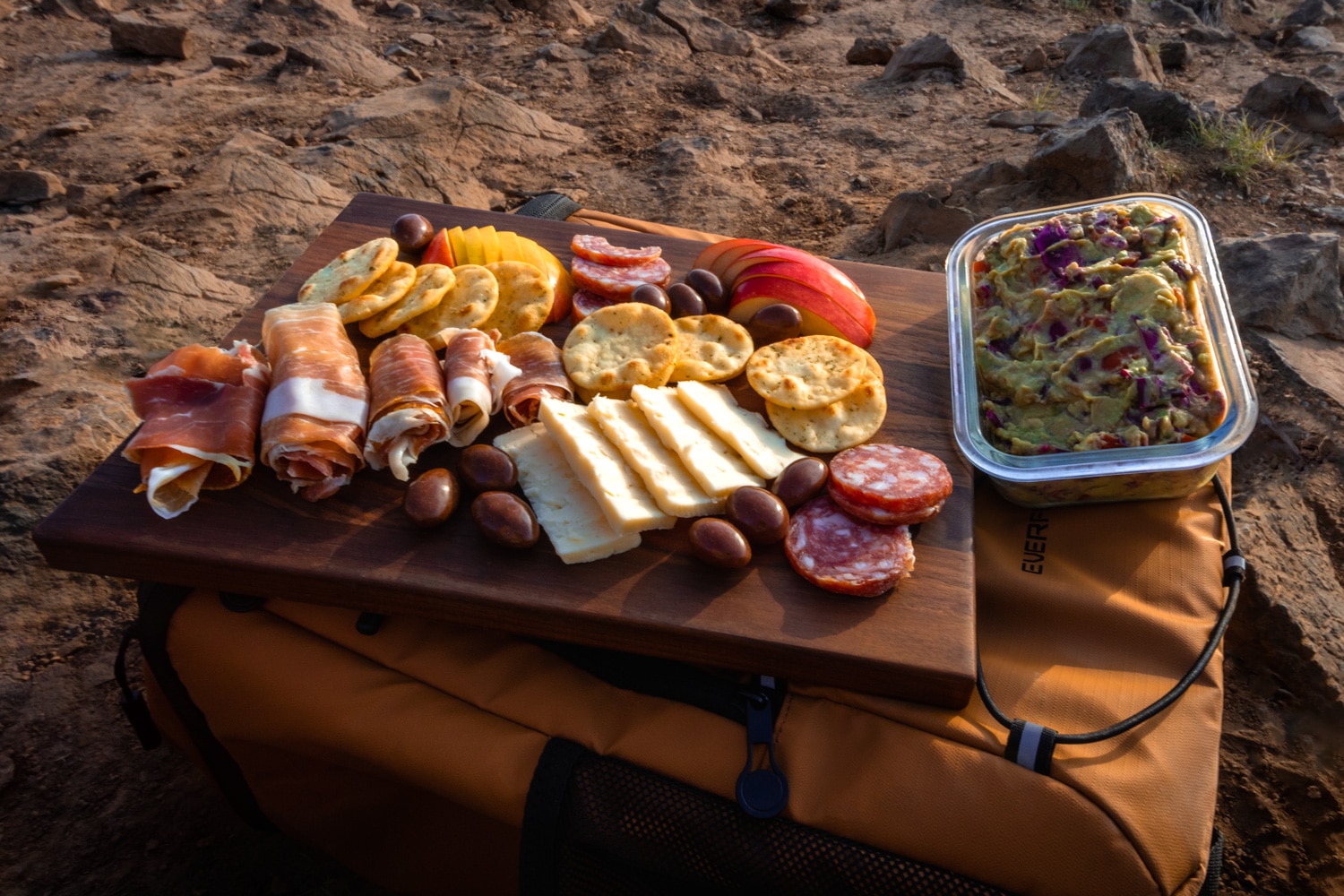 Hiking 6.5 km with a cooler
I have a few other coolers and there's no way I'd be hauling them up a mountain. No thank you. Most coolers are so large, awkward, and/or heavy that there's no way I'd bring them on a long hike. The thought is laughable, really.
But a backpack that doubles as a cooler? Yeah, that's something I can get on board with.
How exactly did we test this cooler? On a spring afternoon, we loaded up and drove over to Spion Kop to hike 3.25 km up the mountain. We filled the cooler about halfway with food and four drinks. I'd also pre-cooled the interior for most of the day with a bag of frozen cherries. Then up the mountain we went.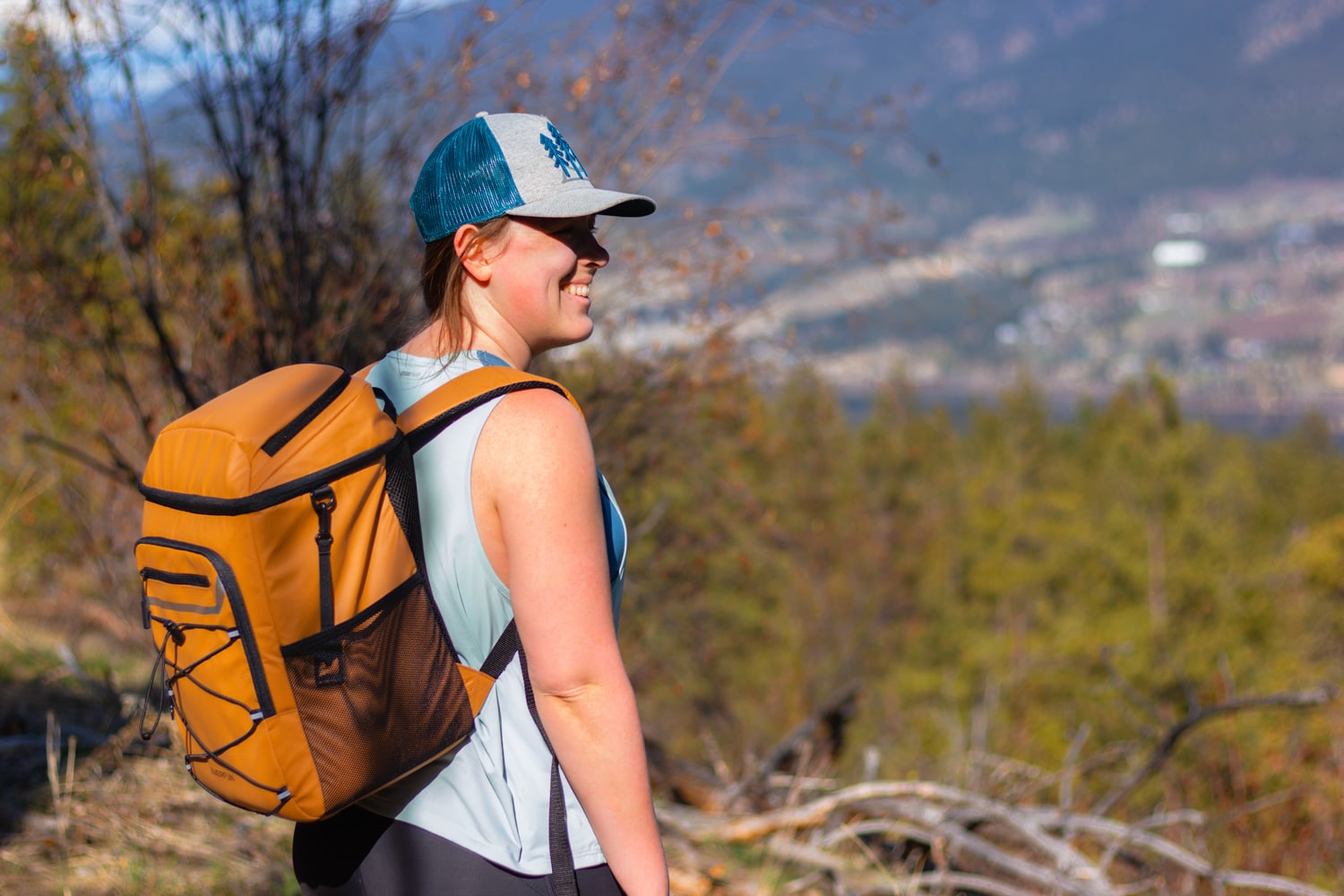 EVERFUN backpack comfortability
When I first received the backpack, I was concerned it wouldn't be comfortable on a moderate hike. The main compartment is very large and I immediately thought how heavy it would be fully loaded. It also doesn't have chest or hip straps to help lessen the load on your shoulders.
Despite my initial concerns, I'm happy to report that it's quite comfortable! To be fair, I only filled it halfway, but that's probably the most I'll ever fill it for a hike. I don't ever see myself needing to haul 30 cans up a mountain.
The shoulder straps are wide which help distribute weight so they don't dig in. The straps and back are padded and have a mesh lining to help with cushioning and sweating. Overall, it's very comfortable. I had no trouble hiking up a mountain with it.
I do wish it had chest or hip straps, though. This is my most common complaint about backpacks and I say it all the time because they make such a difference on long distances and heavy loads. I wouldn't say it's a deal breaker at all for this backpack, but just something to consider. If it's of huge concern to you, you could DIY it.
PS: When I shared my thoughts about the straps with EVERFUN, they were extremely receptive to the suggestion. We may just see a later version with them!
Does the EVERFUN Cooler really keep food & drinks cold?
As a cooler, the obvious question to ask is if the EVERFUN cooler actually keeps things cold.
For full transparency, I didn't test its 20-hour claim. Why? Because I don't see myself ever needing it to keep things cool for 20 hours. I have other coolers for that. This is my mountain-top or beach picnic cooler and I'll eat everything inside long before 20 hours comes around.
But, it did keep our food and drinks cool on the four hour, moderately warm, spring hike we did. The ice packs were even still frozen when we got home. So yes, the EVERFUN soft backpack cooler does work! It works extremely well.
Tips for keeping a cooler cold
The biggest thing to watch out for with any cooler is that you don't let all your cold air escape. This will result in it performing worse.
Before you leave, cool down the bag with ice packs or frozen fruit/veggies. Make sure it gets nice and cold. Keep your food and drinks in the fridge, too.
When you're ready to go, add ice, ice packs, or frozen water bottles and your cold food. Do this fairly quickly to keep as much cold air in as possible. Zip it up tight and refrain from opening and closing it too much until you get to your destination.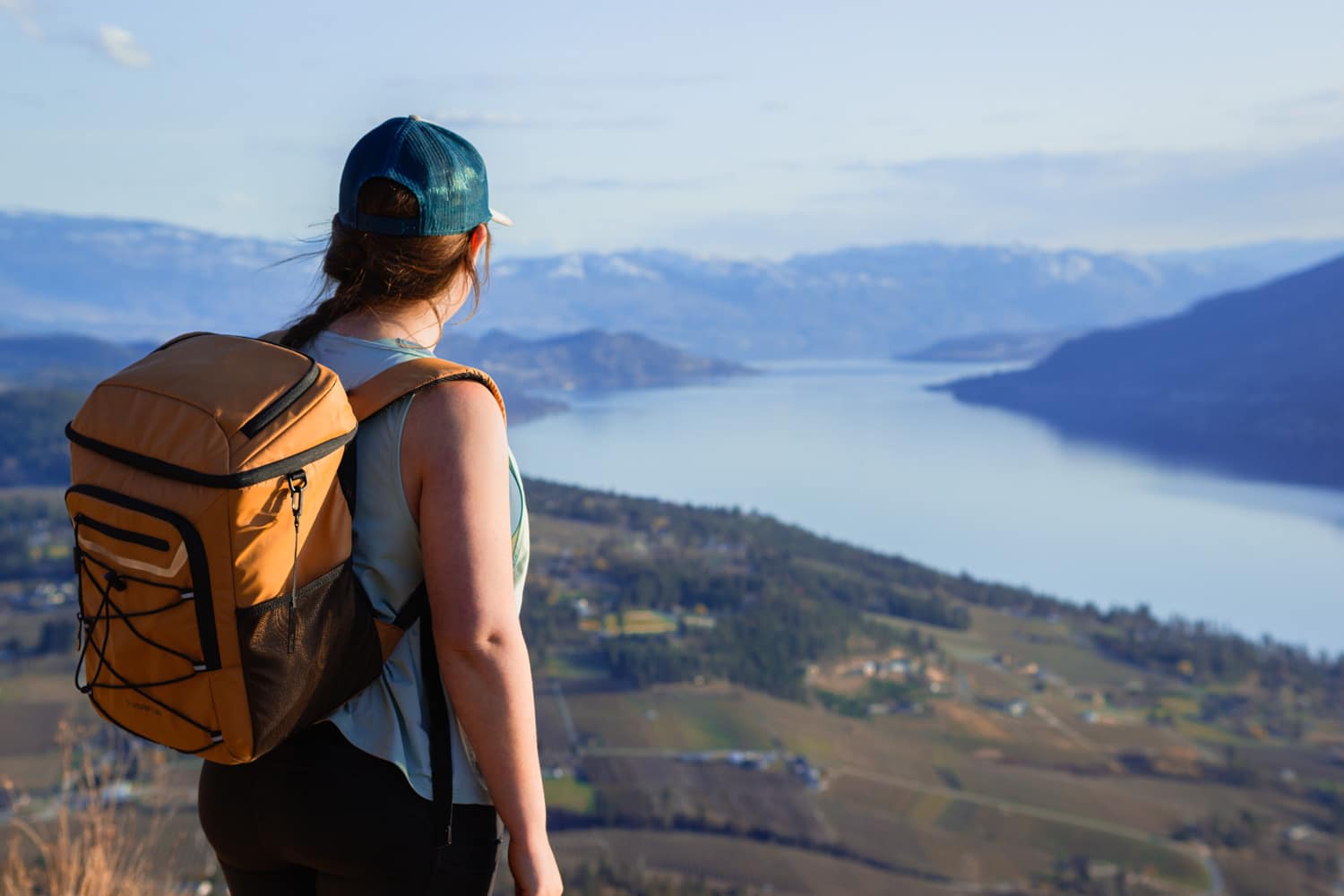 Compartments & Pockets of the EVERFUN cooler backpack
I'm impressed with how much the EVERFUN cooler holds in all of its different pockets. We brought all kinds of food and four drinks, plus a charcuterie and cutting board. The main compartment was barely half full. Colour me happy — so much room for snacks!
The large, main insulated compartment is where you could carry 30 cans. I didn't actually test that, but I have no doubt you could do it. This compartment has a leakproof, washable, and durable lining so you can throw ice right on in. The top compartment is also insulated. It's much smaller, but it's a great place for smaller snacks (or wallets, keys, and battery packs).
The two pockets on the back aren't insulated. I kept our charcuterie and cutting board, knives, and napkins in the large pocket. The smaller one stored the garbage bag. The two water bottle holders on the sides are generous and you could easily put more than one bottle in each.
Finally, the elastic strap on the very back is great for carrying bulkier items like a tripod, blanket, hat, or even sandals.
Do I Recommend EVERFUN's Cooler?
Hell yes, I definitely recommend EVERFUN's cooler backpacks! It's such an innovative product that makes complete sense. You can use it in all kinds of scenarios to enhance your time outside. My husband even wants to use it for school!
This backpack cooler would make a great gift for anyone that loves spending time outside while enjoying yummy food and drinks. No more hauling around heavy and awkward coolers or consigning yourself to warm, mushy food.
The great thing, too, is that it's affordable. I fully expected it to come with a hefty price tag since other cooler backpacks range from $100 to $300. But nope, EVERFUN's will set you back less than $50! You can even use code EXPLORETHEMAP to save 10%.
I hope this review was helpful. If you have any questions, please leave a comment or email me — I'm happy to help!