RV Parks near Kelowna, BC
From beautiful lakeside campgrounds to parks amidst farms and orchards, the RV parks in Kelowna are the perfect place for unforgettable getaway in the Okanagan. These RV parks are located in Kelowna, Oyama, Lake Country, West Kelowna, and Peachland and are great bases for exploring Kelowna.
This Kelowna RV park guide is categorized by city so that you can find a campground that works best for you. My recommended parks are starred, but please keep in mind that the camping experience varies greatly from park to park. Make sure you read the reviews and details of each campground before booking.
Why choose an RV park in Kelowna when there are so many provincial parks? Well, reserving a provincial park campsite in the Kelowna area can be quite difficult (and sometimes impossible) in the summer. That's where privately owned RV parks can be your saving grace! Plus they offer amenities such as pools and wifi that aren't available at provincial parks.
Disclosure: This article may contain affiliate links and I may earn a commission, at no cost to you, if you click and/or buy a product online (even if it's not the product linked). I take great care to only recommend helpful products and appreciate your support!
KELOWNA WEATHER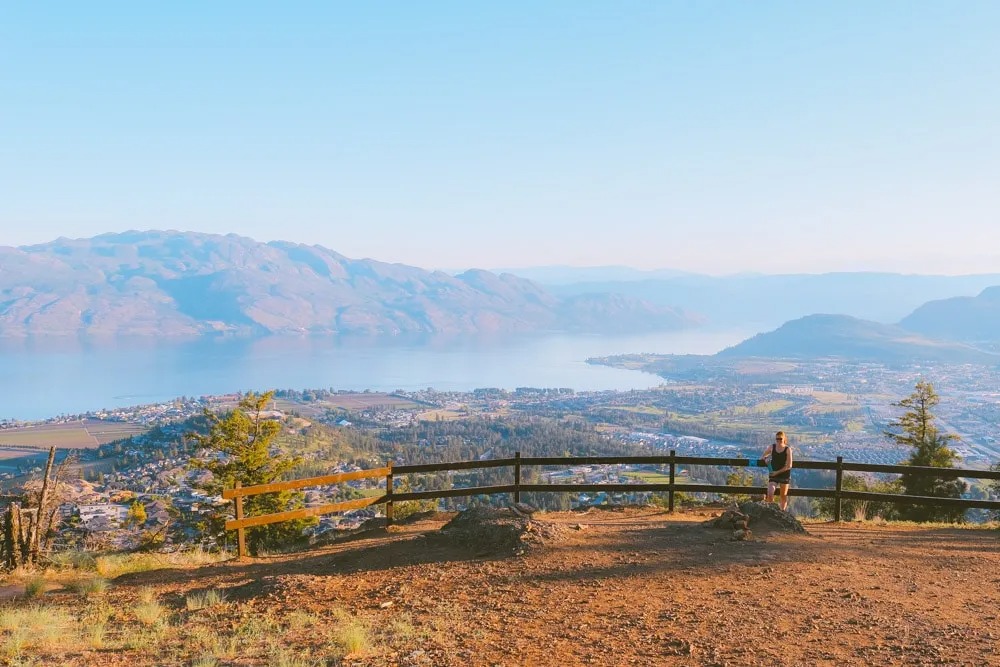 RV Parks & Campgrounds in Kelowna
There are fourteen RV parks in Kelowna (that I know of) and most of them are on agri-tourism land. This means the campground is a working farm — usually veggies, fruit, and/or chickens — with only a few RV sites and located on an orchard or farmland.
I've included all of the Kelowna RV parks (even the ones with iffy reviews) so you know all of your options. Please read reviews before reserving.
Acres RV Park is located on the north end of Kelowna, surrounded by orchards and vineyards. It's a quiet, peaceful area and is a distance from Okanagan Lake.
The sites are large and range in size; all are large enough for large RVs and extra vehicles. Access to each site is directly off Cornish Road which makes it easy to maneuver your rig. Each site has a large grassy area and picnic table.
Except for full hookups, there are no on-site amenities or things to do. You can, however, go on long walks in the orchards or play lawn games.
Apple Orchard RV Park is a family-run campground located on a working apple orchard in South East Kelowna. It features an on-site distillery, Forbidden Spirits Distilling, where you can try their vodka made from their apples!
Sites are large with nice grassy areas and plenty of space between fellow campers (doors open to the grass, but the opposite sides of RVs are near one another). There are minimal trees and little shade or privacy, but you don't feel crammed in.
Views from the campsites are great and it doesn't feel like you're in the middle of the Okanagan's biggest city. Sit back and enjoy your camping trip!
Apple Valley Orchard & RV Park is located at the north end of Glenmore and is surrounded by orchards and farmland. It's near a busy road, but is far enough away that road noise isn't an issue.
Sites are large and generally well spaced, with the exception of a few tight pads. Tree cover, shade, and green space vary from site to site. Hedges and fruit trees provide some privacy, but not a lot.
The owners are very friendly and keep the campground clean and well-maintained.
Canyon Farms RV Park is the highest rated RV park in Kelowna! It's located on a small farm in rural East Kelowna near Myra-Bellevue Provincial Park and is a wonderful place to camp.
With beautiful sites, impeccably clean facilities, and kind and gracious hosts, it's no wonder Canyon Farms is a favourite campground in Kelowna.
Farm Country RV Park is an agri-tourism campground on the north end of Kelowna. It's surrounded by beautiful apple and cherry orchards and offers kilometers of countryside walking and biking.
Friendly horses live on-site and you can enjoy watching the animals from your campsite.
There are no on-site bathroom, shower, or laundry facilities, but there are full-hookups and wifi which will make your stay enjoyable.
Farming Karma RV Park is located on a cherry orchard in the hills behind Rutland. There are 9 gravel campsites and the RV park has views of Kelowna and Okanagan Lake (but your campsite may not).
The sites are not landscaped and there's no privacy between sites except for a small fence. Sites have full hookups and picnic tables are available across the road from each site.
There are plenty of on-site amenities and things to do at Farming Karma RV Park, including a bird sanctuary, disc golf, and a tasting room where you can try their very own fruit soda (which is delicious and available in local grocery stores).
Tip: RV park reviews are combined with the tasting room.
Kelowna RV Park is located near downtown Kelowna, Okanagan Lake, and 5 minutes from the beach. However, it's also on a semi-main road.
The RV sites range in size and are back-in only. You need to be confident in your back-up skills because it can be difficult to maneuver into the sites, especially the back ones. There are no turn-arounds.
Each campsite has full hookups. Large, six-foot tall wood fences and trees separate the sites, offering plenty of privacy. Road noise can be an issue, especially for sites near the entrance.
Kelowna Urban Farm & RV Park is nestled on a working farm in central Kelowna and backs onto Mission Creek Regional Park, the city's most popular and well-used walking/biking trail that connects with Okanagan Lake.
The campground is inside the Kelowna city limits, yet it's peaceful and quiet thanks to the surrounding farm and creek. Each site has a propane fire pit so you can enjoy a campfire even when there's a fire ban.
The gravel, pull-through pads are well landscaped and have small grass areas, but there isn't a lot of privacy or tree cover. As the landscaping matures, that'll change.
The RV park is located on farmland, but don't expect to see horses and goats running around. Kelowna Urban Farm has seven acres of veggies, berries, free-range egg and meat hens, as well as a small honey bee apiary.
MacDonald Acres RV Park is located on Highway 33 outside of Kelowna towards Big White.
This family-run, fairly new campground has large, tiered sites that offer amazing views towards Okanagan Lake. There are also on-site trailer and suite rentals, as well as beautiful glamping tents!
Orchard Hill RV Park is located on a working farm just minutes from Glenmore and downtown Kelowna.
The nine sites are extremely private and peaceful with large, mature trees separating each site and providing plenty of shade. Full hookups are available with quality wifi.
The Farm at Orchard Hill grows vegetables and nuts using natural fertilizers and pest control. You can buy their produce onsite or at local Farmer's Markets.
Orchard Valley RV Park is located on a family run orchard in Glenmore. It's surrounded by farmland and is a short drive from downtown Kelowna and popular parks like Knox Mountain and Stephens Coyote.
The sites are large — you can easily park a large RV, extend your awning, bring an additional car, and still have room. Site are lined by mature hedges that offer plenty of privacy, but there are no grassy areas.
Quails View Farm RV Park is located in the orchards at the north end of Kelowna. There's very little information about this RV park and reviews are extremely mixed.
The pull-through sites are large with little privacy and no shade. Each site has a small grassy area and picnic table.
Large hedges and trees block view of the campground from the main road and rest of the farm.
Scenic View RV Park is located in rural Kelowna in Glenmore Valley. The campground has nice views of the surrounding orchards and, despite being close to town, is away from the hustle and bustle.
The sites are well sized and there's plenty of room between RVs (compared to other RV parks). There's a small hedge between each site that will grow with age, as well as trees that provide limited shade.
Usually I wouldn't highly recommend a campground without a lot of privacy or green space, but the owners are exceptional and do a wonderful job of making their guests feel at home and keeping the park clean.
Shady Lane RV Park is located on the outskirts of Glenmore on a busy road near the Glenmore landfill. It has a combination of long and short term RVers.
Site size, proximity to other campers, privacy, and shade vary quite a lot. The RV park has beautiful mature trees throughout, but they grant little privacy. Full hookups and wifi are available.
Reviews are extremely mixed regarding sites, facilities, and management. Please read reviews carefully.
RV Parks in West Kelowna
West Kelowna is located across Okanagan Lake from Kelowna and is a close enough to Kelowna to easily use its campgrounds as a base for exploring.
Compared to Kelowna, West Kelowna has remarkably fewer RV parks — only four and all very much feel like you're in town.
One of the West Kelowna RV parks stands above the rest, which I've highlighted below. I've also included the other RV parks so that you can easily compare your camping options.
Okanagan RV Park is located in West Kelowna. It's just off Highway 97, the main highway through the Okanagan, and beside a commercial gas station for semis. Road noise is a major issue.
There's limited greenery between sites that offer no privacy. Sites are level gravel pads with no shade. The RV park is near Mt Boucherie, an extinct volcano that you can hike for incredible views.
Reviews are mixed regarding facilities and management.
2. Lighthouse RV Park in West Kelowna ★
Lighthouse RV Park is located in West Kelowna and has beautiful views overlooking Okanagan Lake. The RV park is conveniently located off Highway 97, but far enough away that road noise isn't an issue.
Sites range in size and privacy, but generally there's a decent amount of greenery, even if there's not a lot of shade. Sites are a little tight.
Raven's Nest RV is located in West Kelowna, near Highway 97. It's a large RV park with plenty of sites, but the highway does produce a lot of road noise.
Sites at Raven's Nest are large, but there aren't any green space or trees. Management says they are working on adding more greenery, which would make the RV park much nicer. Until then, it's similar to a large gravel parking lot.
It's a fairly new campground that offers plenty of amenities and cleanliness. Showers have reportedly been too hot, but that's been adjusted.
Thunder View RV is located in West Kelowna, just off Highway 97.
Thunder View RV is a fairly new campground. It's well maintained, clean, and quiet. The sites are large and well spaced, but lacking in greenery — guests enjoy it in spite of that.
The park is still in development, so additional sites and green spaces are still in the works. Once additional amenities are added, Thunder View has potential to be a nice RV park.
RV Parks in Lake Country & Oyama
Lake Country and Oyama are about 30 minutes from downtown Kelowna. These two small communities are laid back and relaxed, but do become busy in the summer when visitors venture outside of Kelowna.
The RV parks in Lake Country and Oyama are nestled on two beautiful lakes, surrounded by nature.
Ley's RV Park is located in the orchard hills opposite Wood Lake from the highway. This is a beautiful, quiet area that sees little tourist traffic.
The RV park is geared towards adults and is a relaxing getaway. Although there's little privacy between sites, sites are large and have plenty of green space. There's even an inground pool on-site!
Sage Valley Resort & RV Park is located between Lake Country and Oyama, directly beside the Wood Lake Terrace RV & Campground.
There are both RV camping and motel rooms at Sage Valley Resort & RV Park.
There's no direct lake access from the RV park, but you can use the boat launch across the road. For an actual beach, head to Oyama or Lake Country.
The Orchard RV Retreat is located in the hills between Lake Couontry and Oyama. It's on a working orchard and has wonderful views of Wood Lake.
This RV park doesn't have traditional gravel sites, but rather designated grassy pull-offs. Sites have fire rings and picnic tables. There isn't a lot of privacy between sites, but they are well spaced and quiet.
The owners are friendly and take great care to provide excellent service and maintain their facilities.
Wood Lake RV Park & Marina is located at the north end of Lake Country on the shores of Wood Lake. It's a family favourite and offers many fun summer activities, including beach access, water rentals, and kid's activities.
Sites range in size; some are quite tight and others aren't. The park spreads over twelve acres and has beautiful mature trees that provide lots of shade, but not a ton of privacy. Sites have a firepit and picnic tables.
Management is very kind and keep the campground clean and well maintained.
Wood Lake Terrace RV & Campground is located directly across the road from Wood Lake and offers beautiful views of the quiet lake.
Sites range in size and privacy. The unique terracing provides privacy between levels and some sites have small fences. Trees range in size and offer some shade.
There's no direct lake access from the campground, but you can cross the road and launch your boat, kayak, or paddleboard. There's not much of a beach unless you go to Oyama or Lake Country.
RV Parks in Peachland
Peachland is a small lakeside community that's 20 minutes from Kelowna (provided traffic doesn't suck).
Peachland is beautiful, but it doesn't offer many places to camp, especially with an RV. You really only have one choice — luckily, it's well rated.
Peachland RV Park is a new, in development RV park located just outside of Peachland above the Okanagan Connector highway.
The park itself is quite isolated in the forest and is well maintained. Sites are large and there's plenty of space between campsites.
There's a decent amount of shade and privacy from the mature trees and underbrush — certainly more than other RV parks in the area.
Is a campground missing? Does information need to be updated? Email [email protected] and let me know!