Boucherie Rush Trail on Mt Boucherie in West Kelowna, BC
Go for a hike on an extinct volcano!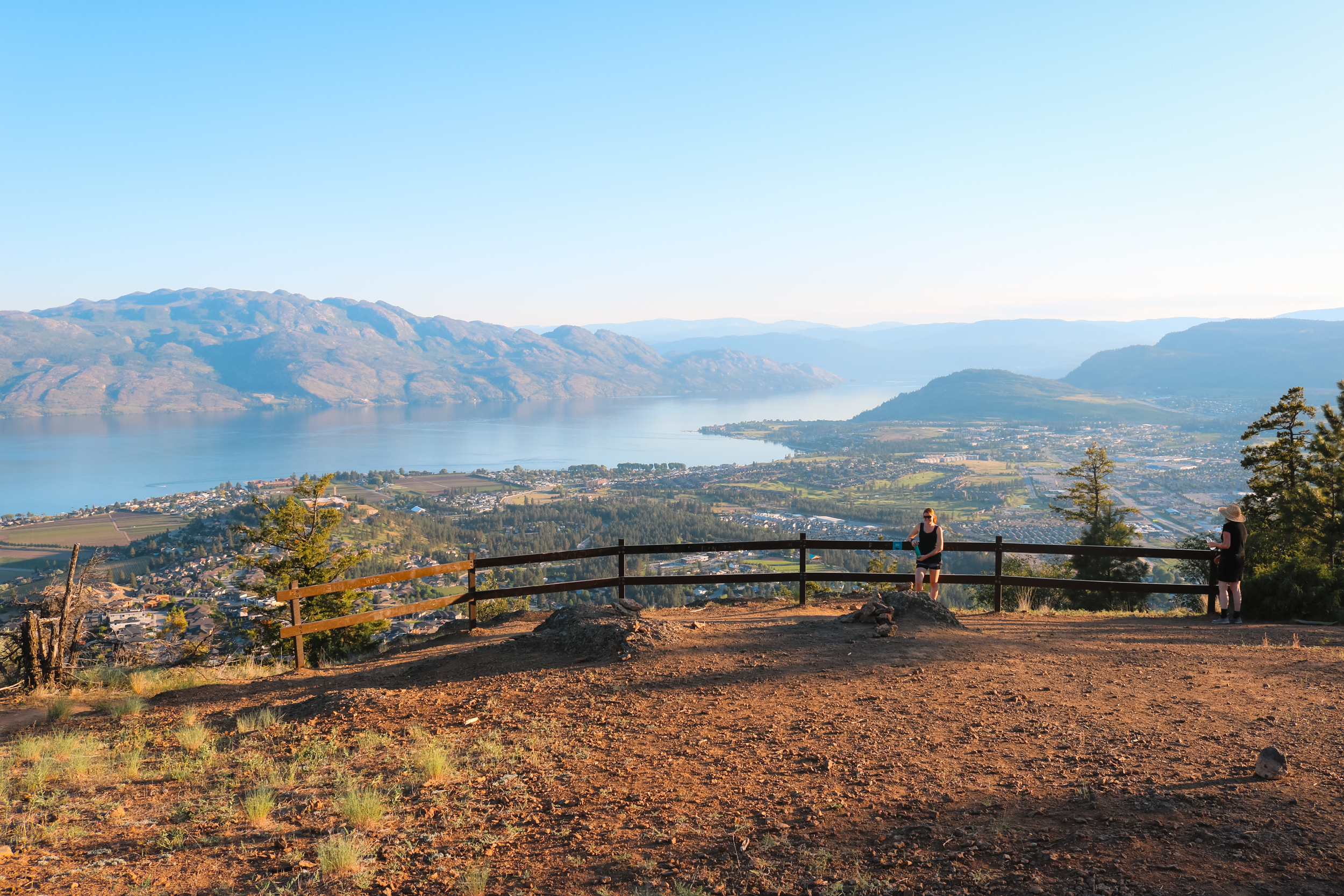 There's no shortage of panoramic views in the Okanagan and the views from the Boucherie Rush Trail in West Kelowna don't disappoint! Enjoy dramatic, sweeping views that only get better the farther you hike.
The Boucherie Rush Trail on Mt Boucherie, an extinct volcano in the middle of West Kelowna, has almost 360° views of the area! The Boucherie Rush Trail is a great day-hike for all skill levels.
And with the beautiful views of West Kelowna, Okanagan Lake, and Okanagan Mountain, you'll definitely do this hike again.
Disclosure: This article may contain affiliate links and I may earn a commission, at no cost to you, if you click and/or buy a product online (even if it's not the product linked). I take great care to only recommend helpful products and appreciate your support!
Trail Stats
WEST KELOWNA WEATHER
Hiking the Boucherie Rush Trail
The trails on Mt Boucherie offer something for everyone. No matter your skill level, you'll fall in love with the trails and the beautiful views you're rewarded with. The Boucherie Rush Trail is a moderately-rated 6.5 km loop hike that takes about 1 to 3 hours.
West Kelowna created the trail in 2015 and made Mt Boucherie much more accessible.
Trailhead
The trailhead is marked by a tiny, four-car parking lot on the southwest side of Mt Boucherie.
Even though the parking lot fills up quickly, there's plenty of parking on the roadside and ball diamond just up the road. There's also a small outhouse in the parking lot.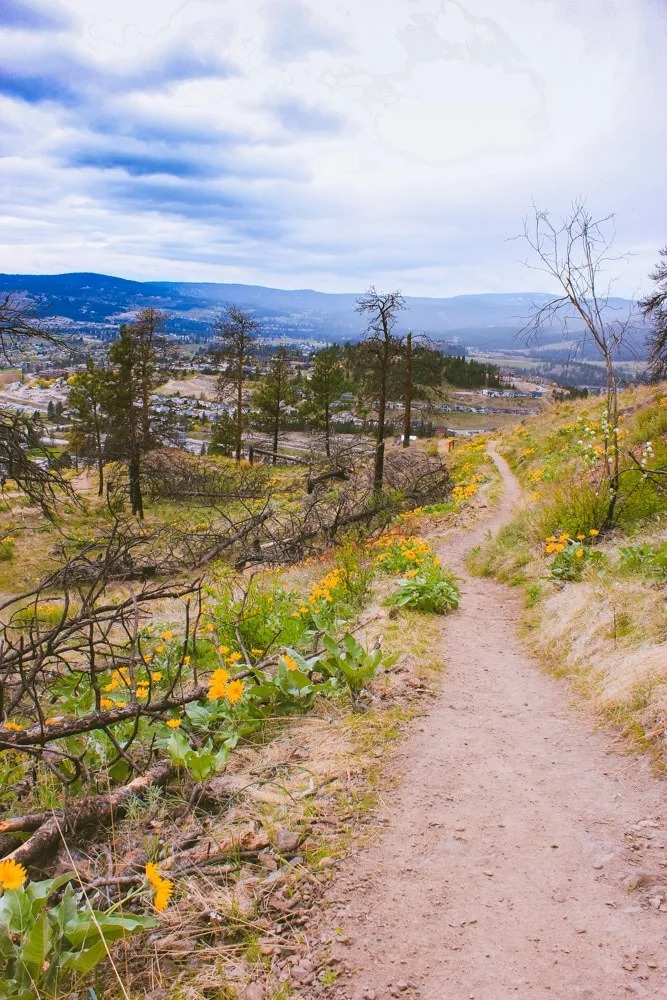 What to Expect
From the trailhead, follow the Flint Man Trail for 0.4km and then head uphill on the Boucherie Rush Trail. You'll steadily climb up the side of the mountain using an extensive switchback system.
The hard packed trail is very well maintained and free of roots and loose rock. There are wooden railings at the steep and narrow sections, as well as informative signs throughout the hike. West Kelowna did a wonderful job when they created the Boucherie Rush Trail!
There are plenty of shortcuts that connect the switchbacks and they can be tempting to take. However, it's important to stay on the trail so that your impact on the mountain is lessened. And always make sure to practice good trail etiquette!
Instead of racing up the mountain, take your time to enjoy the panoramic views. The majority of the trail is exposed with little tree cover and you'll quickly become hot on a sunny day.
Bring lots of water, learn how to stay properly hydrated, and lather yourself in sunscreen. Check out our ten hiking essentials to help keep you happy and safe on your hike.
Summiting Mt Boucherie
The Boucherie Rush Trail is mostly an extensive switchback system and only near the summit does this change. You'll know you've reached the top when the trees thicken and the trail straightens.
A 3km marker and large, rocky landing with a wooden fence mark the summit of the Boucherie Rush Trail. The landing overlooks West Kelowna, Okanagan Lake, and Okanagan Mountain Park. The views from the summit of the Boucherie Rush Trail are absolutely breathtaking! It's a great place to kick back and relax.
You can keep exploring Mt Boucherie by taking the unmaintained Eain Lamont Trail to the northeastern side of the mountain. The views you'll be rewarded with are amazing! If that's not your jam, you can just head back the way you came.
History of Mt Boucherie
Mt Boucherie is an extinct volcano that has a history spanning almost 60 million years. Today, Mt Boucherie's highest elevation is 758 m and stands 417 m above Okanagan Lake. It's thought to have once been almost 2,000 meters tall!
The mountain is named after Isadore Boucherie who was an early settler and farmer in the Okanagan. In the late 1880s, he purchased land near the mountain and because of this, it was later given his name.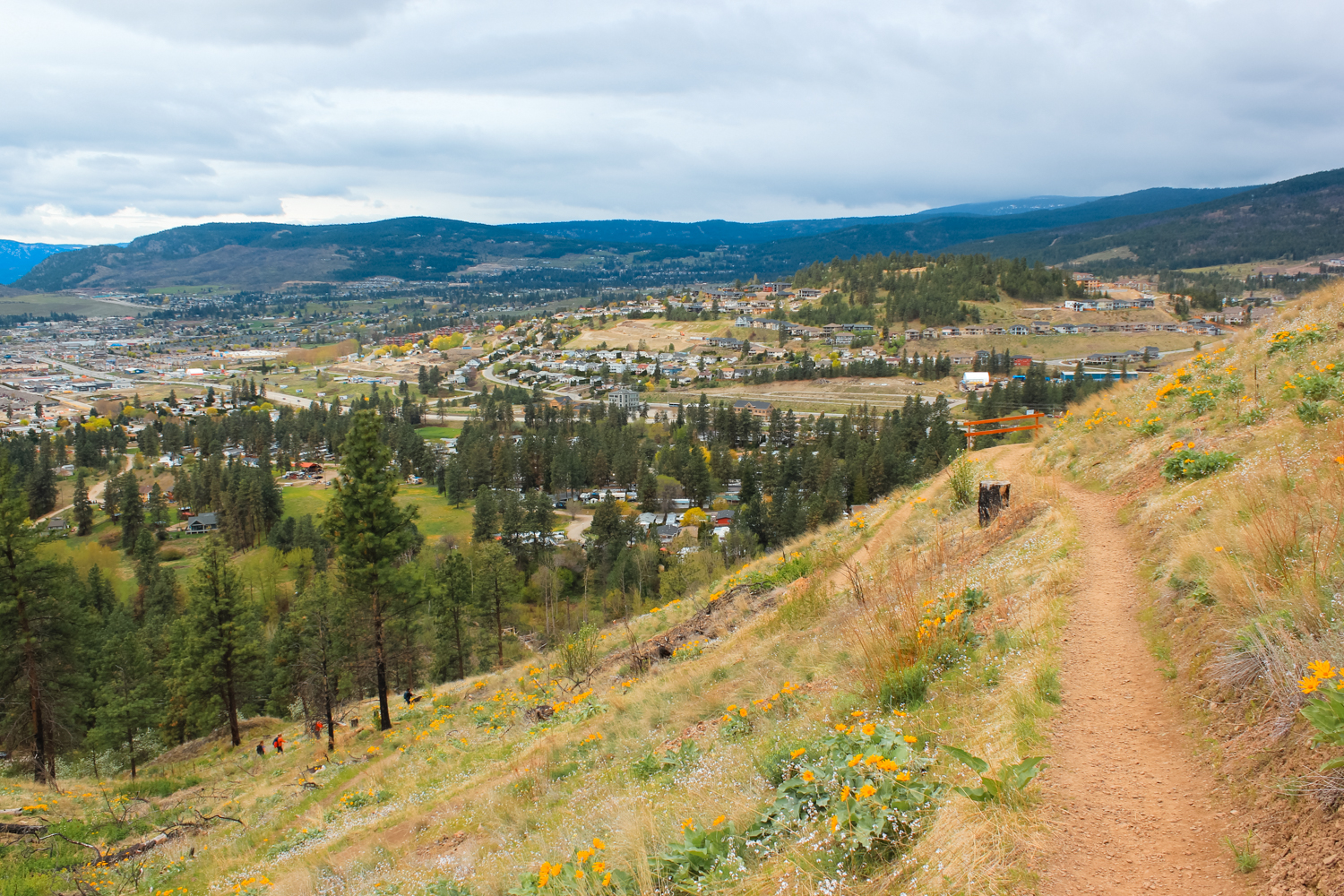 Volcanic Activity on Mt Boucherie
Remnants of Mt Boucherie's early eruptions, which happened about 60 million years ago, can be seen on the northern and southern edges of the mountain. You can identify them by their distinctive yellow, tan, and pink colours. The mountain became a lava dome which has eroded ever since.
During its final volcanic activity, Mt Boucherie's eastern slope was carved into large rock columns. When the volcanic activity ended, a large river flowed through the area and partially buried the volcano with rock and sediment. Over the last 40 to 50 million years Mt Boucherie was subjected to glacial activity that further eroded the lava dome.
Gear Suggestions
The Boucherie Rush Trail is a fairly easy hike so luckily you won't need to pack too much. However, there are a few things we definitely recommend bringing.
Hydration packs are my favourite way to bring water on any hiking adventure. I find I stay way more hydrated when I use a hydration pack instead of a water bottle because I have easy access to water the entire time. Hydration packs are made to easily fit into backpacks, which makes carrying 2-3 litres super easy. You'll want to bring as much water as possible because most of the Boucherie Rush Trail hike is entirely exposed.
I won't lie, I always forget to wear hats. However, they make such a difference that when I actually do wear one, I'm glad I did. Hats are great for keeping the hot sun out of your eyes as well as preventing your face and scalp from getting sunburnt. And if you're getting a little too hot, just drench your hat in some water! It's a win-win.