Best Hiking Apps Guide for iPhone & Android
The outdoors are by far my favourite way to disconnect and get away from my pesky phone.
Even if it's just for a few hours, being outside makes such a difference for my mental health! But believe it or not, a little extra time on your phone can make it even better.
I know it sounds absolutely crazy, but bear with me because I've rounded up some of the best hiking apps out there and they're actually really awesome!
These hiking apps can help you in all kinds of ways — from finding new trails and teaching you life-saving skills to identifying mountains, plants, wildlife and more. These hiking apps are worth a little extra time behind a screen, I promise!
Disclosure: This article may contain affiliate links and I may earn a commission, at no cost to you, if you click and/or buy a product online (even if it's not the product linked). I take great care to only recommend helpful products and appreciate your support!
Why Use Hiking Apps?
Before I spill the beans on my favourite hiking apps, I wanna do a quick run-through on why you should use them. Even if you're on team "No Tech on the Trail", these apps can really up your adventure game.
Find New Trails
Hiking apps are my favourite way to discover new trails! You can easily find trails in specific areas with details on difficulty, length, duration, and recent updates.
They're also one of the easiest ways to find trails that fit your specific needs. Simply choose your location, add filters, and you've got a list of trails that are perfect for you! Easy peasy.
Plan Your Hike
After you've found a trail, hiking apps are great for actually planning your hike. You can decide if the trail is within your skill level based on elevation, terrain, length, and more. You can also check out water sources, interesting viewpoints, and places to camp along the trail.
Plus, you can read reviews from other hikers for current conditions.
Navigate on the Trail
Hiking apps are an affordable way to navigate on the trail. By using the GPS, trail maps, and markers, you have all the tools you need to navigate safely.
They're especially helpful on trails that aren't well marked. But since cell reception is often a little sketchy in the outdoors, most of the maps are available offline, too.
Having said that, even though hiking apps work well for navigating short day hikes, it's important to never rely solely on your phone's GPS for backcountry navigation. If you're wondering why, check out this article from a veteran BC SAR volunteer.
Outdoor Safety
Staying safe in the outdoors is one of the most important things you can invest your time and money into.
Luckily, there are plenty of hiking apps that can help you stay safe in the outdoors. From survival skills, trip plans, and plant and animal safety to keeping your family and friends in the loop, these apps are well worth the time spent on your phone.
Identify Plants, Animals & More
How many times have you wondered what that tree is called? Or what animal made that footprint? Or how about if those berries will kill you? Have you ever looked out from a viewpoint and wondered what mountain peaks are in the distance?
There are plenty of hiking apps that can help answer all your questions and more!
Long story short, there's nothing wrong with using phone apps on the trail. In fact, they can be incredibly helpful — just stay off the social medias and you'll be golden!
Phone Care
The last thing I want to cover before we take a deep-dive into great hiking apps is how to keep your phone in tip-top shape. Since the outdoors aren't exactly the safest place for your phone, you'll need to be prepared so you don't run outta battery, crack the screen, or drop it in the water.
After all, you can only actually use these hiking apps if your phone works. Pretty obvious, but I had to say it.
Phone Battery
When you're relying on hiking apps, a dead phone battery not only sucks, it can be dangerous. Luckily, there are plenty of ways to keep your phone juiced up and ready for adventure. Even so, it's always a good idea to bring a paper map and GPS if you're heading out on a longer adventure.
Here are some great ways to keep your phone charged:
Portable power banks are lifesavers on outdoor adventures. I always hike with the lightweight Anker PowerCore+ Mini just in case my phone needs a little extra life. These power banks weigh almost nothing, but they can save your butt in an emergency.
Solar chargers like the Goal Zero are a great way to charge your phone if you're planning anything longer than a day hike.
Airplane mode isn't just for flying. Your GPS should still work (always double-check though), but your battery won't be drained by searching for a signal.
Turn off your phone. If you're not using your phone for GPS or taking photos, turn it off. If you don't want to outright power down, just lower the screen brightness to save your battery.
Keep your phone warm. This is especially important on cold days. The cold zaps batteries like nothing else, so always keep your phone somewhere insulated like a jacket pocket, a thermal phone case, or next to your body. If you're overnighting it, keep your phone in your sleeping bag at night.
Close background apps. Make sure you close everything you aren't using before you hit the trail.
And finally, hiking apps you use on the trail tend to use lots of battery power, so it's super important to have backup power sources.
Phone Case
Once the battery is taken care of, you don't wanna damage your phone. No one plans on dropping their phone on a rock or in the water, but it happens.
You probably already have a phone case, but not many of them are tough enough to withstand the outdoors. My go-to case is LifeProof because they're durable enough to take a beating. Gone are the days of bulky cases, too — there are plenty of stylish but durable cases out there.
The 12 Best Hiking Apps for Your Outdoor Adventures
Okay, now that I've covered why you'll wanna use these hiking apps and how to keep your phone from dying, let's get into it! These are my favourite outdoor and hiking apps for adventures.
AllTrails
AllTrails is my go-to hiking app and I use it regularly to research trails. It's super simple to use and has maps, reviews, and details for over 100,000 trails all over the world. Plus, it syncs between your phone and computer.
AllTrails makes narrowing down trails easy. You can filter by all kinds of things: location, length, activity, difficulty, elevation gain, suitability (dog-, kid-, or wheelchair-friendly), trail traffic, and attractions. Once you've picked a trail, you can read reviews and see real photos from other hikers, compare recorded trail maps, and even check the weather.
You can also record your hike and use the GPS to make sure you're going the right way. AllTrails saved my butt when I was hiking at Kal Lake and got all turned around!
Why upgrade? The free version has a ton of features and is great for trip planning and basic navigation. But if you want downloadable maps, off-trail notifications, live-tracking to keep loved ones informed, or weather conditions overlays, you'll want to upgrade.
AllTrails Quick Details
Best Use: Research + Navigation
Pros: Easy-to-use, 100,000+ trails worldwide, up-to-date info, and active community
Cons: Advanced features require a subscription
Price: Basic: Free; Pro: $29.99/year or $59.99/3-year
---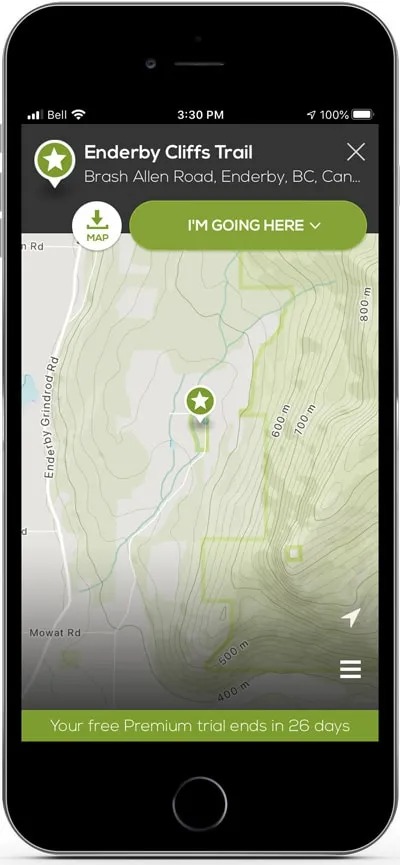 Cairn
Cairn is the ultimate hiking safety app — which I can totally get on board with! Even if you're only into day hikes or daily walks around your neighbourhood, staying safe in the outdoors should be your top priority.
With Cairn, you can easily share your trail plan with friends and family — your "safety circle". They can see your real-time location and customized ETA based on your individual stats. If you don't return in time, your safety circle is notified with your exact GPS coordinates and info to ensure you get home safe.
You can also download maps, get trail alerts (like sunset), and see where there's cell service so you can plan your hike accordingly. Cairn is an invaluable hiking app to have in your back pocket.
Why upgrade? You can use Cairn for free, but it really shines in its paid features. Real-time location sharing, automatic overdue alerts, and offline maps — which are its best safety features — are only available in Cairn Premium. I think the peace of mind this hiking app gives you is well worth the investment. And since Premium is available monthly, you can use it as needed.
Cairn Quick Details
Best Use: Safety
Pros: Easy-to-use safety features, cell coverage map, and trail alerts
Cons: Main safety features require a subscription
Price: Basic: Free; Pro: $4.99/month or $26.99/year
Tip: 30-day free trial available
---
Gaia GPS
Gaia GPS is a great hiking app to research your adventures. Unlike other community-driven hiking apps, Gaia doesn't display in-depth reviews or photos. Instead, it's an extensive database of trails all over the world. It's not as intuitive as other apps, but it's a lot more powerful once you learn how to use it. It's often used for planning multi-day hikes, finding lesser-known trails, and recording hikes.
Gaia GPS includes nearby trails and points of interest, trail type and difficulty, popularity, elevation change, and monthly visits. You can find new trails, record hikes and stats, and calculate distances and latitude/longitude. You'll also have access to easy-to-read topographic and satellite map overlays.
Why upgrade? To be honest, Gaia is best at the premium level. You can download offline maps and get access to a ton of map overlays like public and private land, hunting zones, and ski trails. You'll also have access to over 50 base maps, including the John Muir Trail and AT, National Geographic Trails Illustrated, and (my personal favourite) Backroads Mapbook.
Best Use: Research + Navigation
Pros: Land ownership overlaps, 50+ base maps
Cons: Free app is extremely limited, confusing to use
Price: Basic: Free; Membership $20/year; Premium $40/year.
Tip: You can save some money by joining through the website instead of the app.
---
PeakVisor
When's the last time you wondered what mountain peak was off in the distance? I'll bet it wasn't that long ago. PeakVisor is a cool hiking app that identifies mountains so you never have to wonder again.
Using your phone's camera and augmented reality, PeakVisor identifies mountains in real-time (or from an old photo). It'll tell you the mountain's elevation, related articles, and any nearby huts or viewpoints, along with routes to get there. You can also check out the 3D topographic maps so you know what terrain you're in for. How cool is that? It's perfect for planning hikes!
Why upgrade? The free version has pretty much everything you'll ever need, but only for one location per day. If you want more, the premium subscription has unlimited offline use, the ability to create custom trails, and professional photography tools (which is a little random, I know).
Best Use: Identification
Pros: Easy-to-use, over 1 million mountain peaks
Cons: Free version is limited to one location per day
Price: Basic: Free; Pro $4.99/month or $31.99/month
Tip: 1-week free trial available
---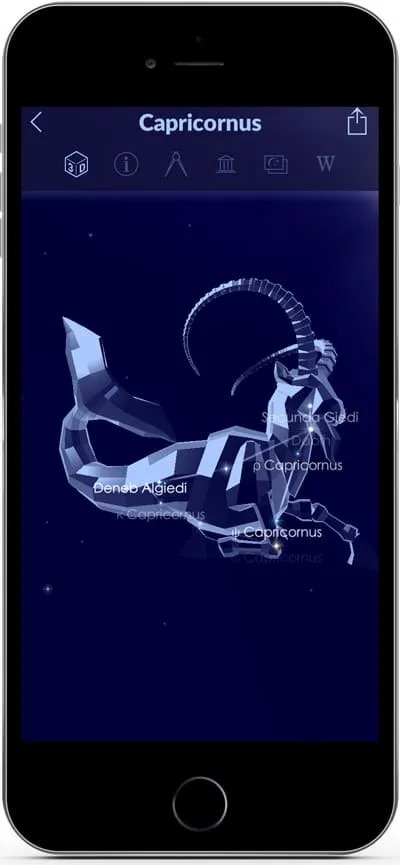 Star Walk 2
If you're hiking at night or enjoying an overnight backpacking trip, you'll probably do a little stargazing. Star Walk 2 is a fun app to help you make the most of your time looking to the stars.
Star Walk 2 helps you identify constellations, stars, comets, and other celestial bodies — using augmented reality with beautiful 3D models! You can see what's happening in the sky each night or read what's new in astronomical news. You'll explore the night sky like never before!
Is it worth the price? I think so! For a one-time payment of $3.99, you're getting a ton of information at your fingertips. Sure, this app is a little more frivolous than the others, but it's a lot of fun!
Best Use: Identification
Pros: Easy-to-use augmented reality to explore the night sky
Cons: Must pay to use
Price: $3.99 one-time
---
Seek by iNaturalist
Seek by iNaturalist is a hiking app that helps you identify plants and animals when you're out exploring. No more wondering if that berry is gonna kill you or if that's actually poison ivy. You'll know for sure!
When you see something cool, simply take a picture and the app will identify it. Seek also uses your GPS location to make a list of specific plants and animals nearby so you can keep your eye out for them. You can learn more about the plants and wildlife, including their most popular season and where fellow explorers have seen it.
Seek Quick Details
Best Use: Identification
Pros: Easy-to-use, makes plants and animal identification easy
Cons: Sometimes has difficulty identifying things
Price: Free
---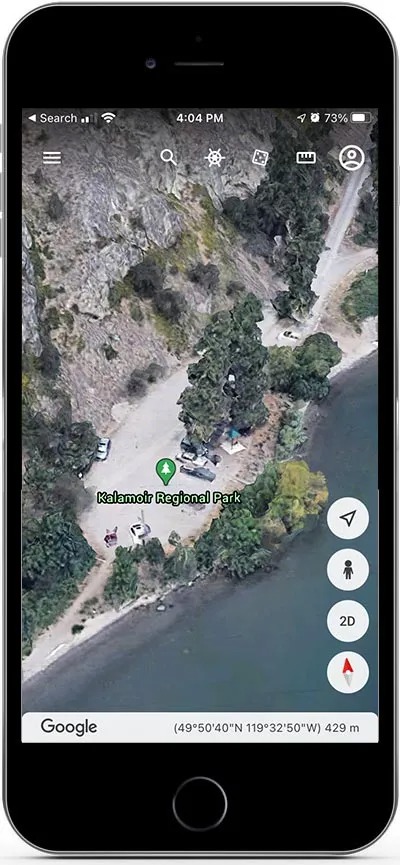 Google Earth
Even though Google Earth isn't really a phone app, I use it all the time to plan my outdoor adventures. It's a great tool for planning hikes because you can import KML files (Google's version of GPX) and check out the trail in 3D.
In 3D, you can easily see elevation changes, review the terrain, and search for things like water sources and slope angles. It's a super easy tool to help you visualize topographic maps. Google Earth also includes info about well-known landmarks like mountains, rivers, and buildings.
Google Earth is technically available on your phone, but you can't import KML files to create new trails. The app version is mostly just for checking out places and not research. In this case, it's best to do your research on your desktop or laptop!
Google Earth Details
Best Use: Research
Pros: Easy to visualize trails
Cons: Full features aren't available on mobile
Price: Free
---
SAS Survival Guide
While the SAS Survival Guide might not be the sexiest hiking app on this list, it's an incredibly important app to have! It's the app version of the bestselling survival guide, SAS Survival Handbook by Joh "Lofty" Wiseman. Since it's available offline, this is a handy app to have in case of emergencies.
This hiking app has a ton of important outdoor survival tips that might just save your life in an emergency. You can learn how to build a fire, use the stars as navigation, make rainwater drinkable, properly use first aid equipment, and way more. You can bookmark important articles, turn your phone into a Morse code transmitter, and take quizzes to test your knowledge.
Is it worth the price? One hundred percent! Your safety and survival isn't to be taken lightly, especially as you explore deeper into the backcountry. A small one-time payment is worth your safety. You can learn at home, then access the info on the go.
SAS Survival Guide Details
Best Use: Safety
Pros: Available offline, tons of useful emergency information
Cons: Must pay to use, reported video download issues
Price: $8.49 one-time
---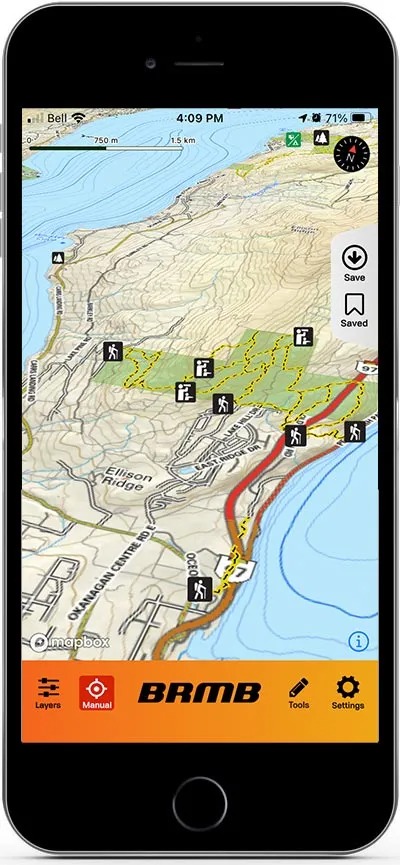 BRMB Maps
BRMB Maps is the app version of the popular Backroads Mapbook. Both the physical maps and the app are focused on Canadian outdoor adventure and have a lot more detail than other hiking apps. It's easy to find hiking trails, rec sites, campsites, backroads, paddling spots, and more! You can set waypoints, record trips, and download offline maps.
BRMB Maps also makes it easy to distinguish Crown land and parks from private land. I use this feature a TON! The first time I camped at Spion Kop, I had trouble verifying that it was actually Crown land so I relied on this hiking app to know for sure.
However, this app does have some glitches. It's fairly new and some of the reported issues are: offline tracking doesn't always work and you get signed out often. I've used it mainly for planning hikes, though, and haven't had any problems with that. I'm excited to see how they continue to develop it!
Why upgrade? The free version is pretty limited. The subscription gives you access to offline maps and all of BRMB's adventure overlays, including attractions like caves, hot springs, and waterfalls, as well as trails for hiking, ATVing, skiing, snowshoeing, and more! It's really quite impressive.
BRMB Maps Details
Best Use: Research + Navigation
Pros: Specifically for Canadian backcountry, 11 outdoor adventure layers
Cons: Reported glitches
Price: Basic: Free; Pro $3.49/month
---
Guthook Guides
If you're an aspiring thru-hiker, the Guthook Guides app will become your best friend. It's a popular offline hiking app that gives thru-hikers detailed guides for specific thru-hikes all over the world.
Guthook Guides includes in-depth details about elevation points, upcoming waypoints, tent sites, hostel reviews, privies, and more. It also includes GPS so you'll know exactly where on the trail you are. You can also choose between various map styles, including topographic and satellite. And the app is totally offline so you don't need to worry about being connected while in the boonies.
Why upgrade? While some of the trails are free, most of the large thru-hikes need to be purchased. They range from a few dollars to about $60. If you're serious about thru-hiking, the one-time purchase for your trail of choice is invaluable because you'll save hours researching.
Guthook Guides Details
Best Use: Research + Navigation
Pros: Trusted by thru-hikers around the world
Cons: Must individually purchase maps
Price: Basic: Free; Maps vary
---
Knots 3D
Knots 3D will help you learn how to tie over 145 knots, even the most difficult ones! You can use these knots everywhere, from camping and hiking to around the house. Knowing how to tie knots is an important skill, but it can be a little confusing. Hell, I went to a knot tieing course and was still confused!
However, Knots 3D lets you learn at your own pace and is super interactive. You can watch the knots tie themselves, study them from every angle, and slow down the play speed so you can become a master knot tier! So go grab some rope and start practicing.
Is it worth the price? I think so! Knots are weirdly difficult to learn, but this app makes it very straightforward. You could definitely learn all of these for free using YouTube, but you won't be able to interact with a super helpful 3D model.
Knots 3D Details
Best Use: Safety
Pros: Easy-to-use, interactive
Cons: Must pay to use
Price: $5.99 one-time
---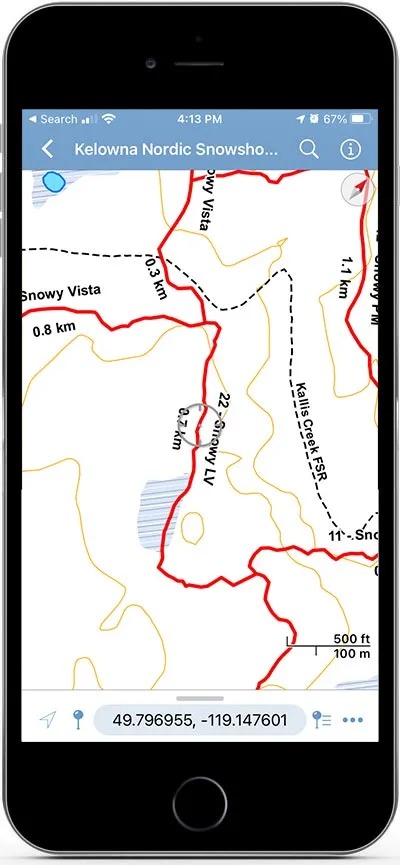 Avenza Maps
Avenza Maps is another great hiking app that uses offline GPS navigation so you can safely explore remote places. You can easily track your location, mark interesting points, measure distances, and more.
Unlike other GPS apps, Avenza's maps look like digitized PDFs of specific areas and are entirely downloadable so you don't have to worry about cell coverage.
Why upgrade? Many of the maps on Avenza are free, but some of the more detailed, large maps do have to be purchased. There's really no way around it unless you're able to find similar, small maps of the same area.
Avenza Map Details
Best Use: Research + Navigation
Pros: Offline GPS navigation
Cons: Some maps must be purchased
Price: Basic: Free; Maps vary
Final Notes on Hiking Apps
So there you have it! These are twelve of my absolute favourite hiking apps and I use them all the time — even when I'd rather not be on my phone. I'm not usually one to buy apps, but these hiking apps are full of valuable info that will make your time outdoors more enjoyable and safe. And that's what it's really all about, right?
If I missed your favourite app for hiking, I'd love to hear about it! There are so many out there, it's almost impossible to test them all myself so I can't wait to hear about your personal favs.
Happy exploring!