Kalamalka Lake Loop in Vernon, BC
Featuring the Coming Round the Mountain, Lookout, and Base Lift Trails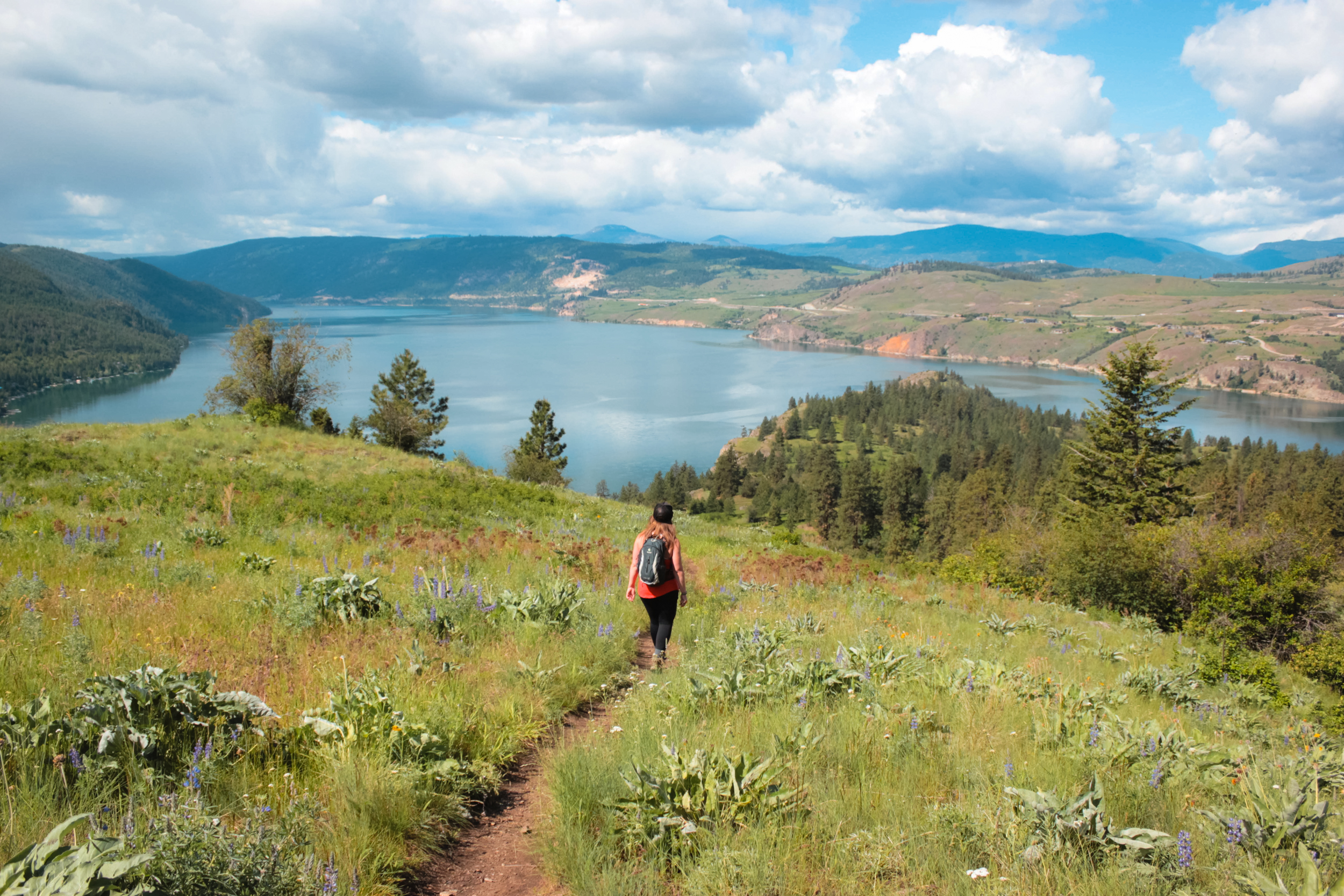 You'll fall in love with Kalamalka Lake as soon as you set eyes on it. Kal Lake is Vernon's crown jewel and in the heat of summer, it sparkles like a turquoise gem. The lake is surrounded by pine-covered hills, rocky shorelines, and tons of hiking trails — over 30 km* of them, in fact!
The promise of adventure will draw you in like nothing else. And if you thought the lake views from the highway were awesome, just wait until you get onto the hiking trails at Kalamalka Lake Provincial Park. You won't know what hit ya. You could easily spend days and days exploring the mountain.
*BC Parks says there's over 14 km, but the trail information they provide is missing a lot of the trails in the park. 30 km is an estimate based on calculating some of the more obscure trails. There could very well be a lot more than 30 km!
You're gonna absolutely fall in love with hiking at Kal Lake Provincial Park! The Coming Round the Mountain, Lookout, and Base Lift trail loop is a great way to experience the park and there are tons of other trails you can explore while you're at it (such as the Cosen's Bay waterfall).
Disclosure: This article may contain affiliate links and I may earn a commission, at no cost to you, if you click and/or buy a product online (even if it's not the product linked). I take great care to only recommend helpful products and appreciate your support!
Quick Trail Stats
Are you ready for some stunning views of Kal Lake and Coldstream? Of course, you are!
VERNON WEATHER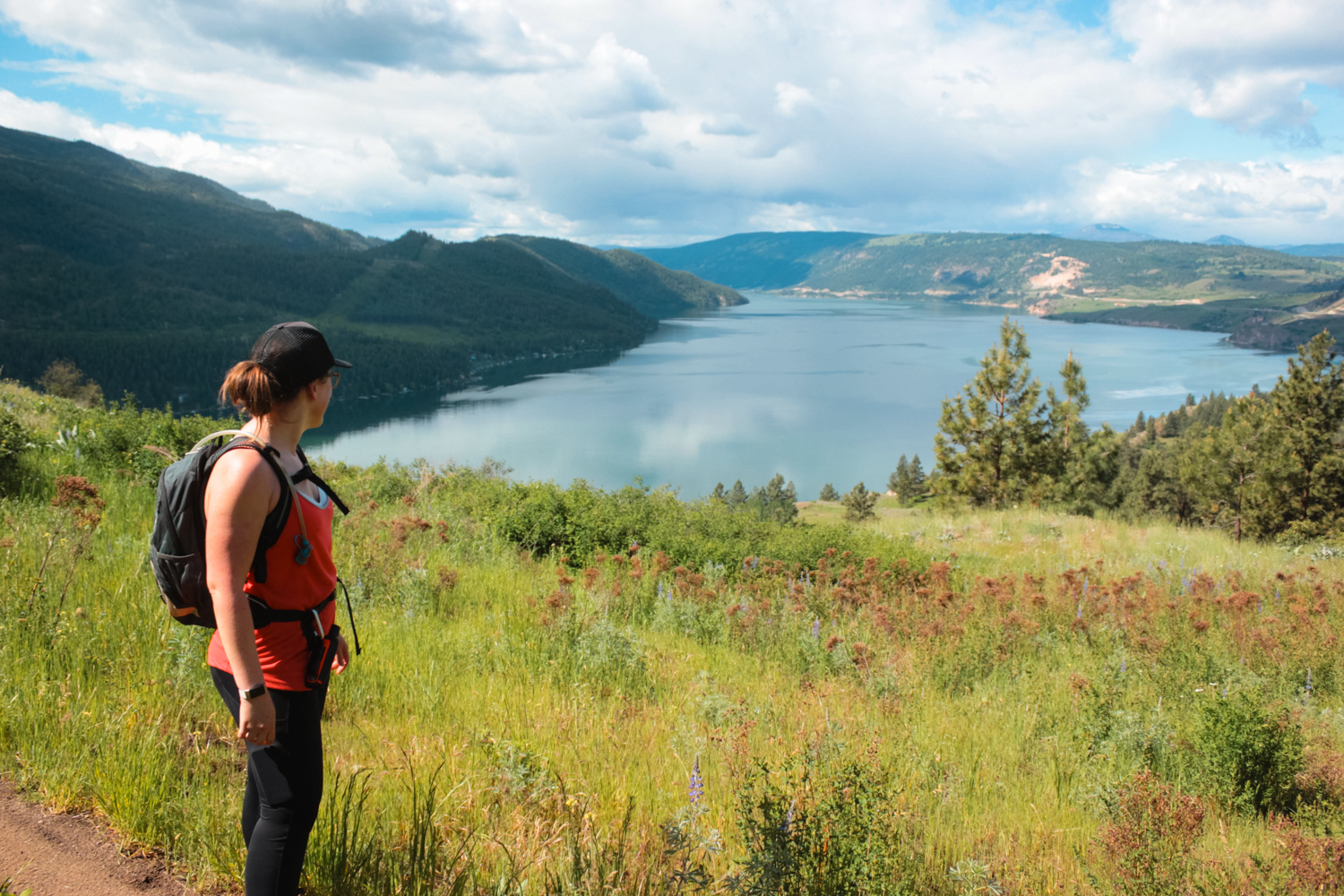 Coming Round the Mountain, Lookout & Base Lift Trail Loop
Since there are so many trails at Kal Lake, this trail report is focused on the loop that's made up of the Coming Round the Mountain, Lookout, and Base Lift trails.
These three trails create a great loop hike that you should definitely add to your hiking list.
As you're hiking this loop, it's important to know that lots of other trails branch off your route — many of which aren't even on the official map. If you want a more robust look at all the possible routes, check out AllTrails. You should definitely bring some sort of GPS if you wanna stay on the right trail!
PS: The trails are all multi-use and mountain bikers love them, so keep your eyes and ears peeled. Even though proper trail etiquette says bikers should yield to hikers, it's always a good idea to stay alert and move over when you can.
Hiking the Kal Lake Loop
There are a few different trailheads for this particular loop hike and some of them are, ahem, more official than others. I always start at the Cosen's Bay Road trailhead, but you could also start at Cunliffe Road, Red Gate, or connect with the loop from one of the many other trails in the park.
I usually hike this loop counterclockwise by starting with Coming Round the Mountain, which then connects with the Lookout Trail, and finally ends with the Base Lift Trail. Why? Because, when I can, I like to ease into hikes rather than starting with a huge grind up the mountain!
But maybe that's just me. If you wanna jump right into it, be my guest and hike the loop clockwise.
Coming Round the Mountain Trail, 4.3 km
The Coming Round the Mountain Trail is the second longest trail at Kal Lake, but it's also one of the easiest. It's a great way to start off your hike if you need to warm up a little.
You'll start at the Cosen's Bay Road trailhead, follow the north side of Rattlesnake Hill as the trail gently gains elevation, and connect with the Lookout Trail near the Red Gate trailhead. It's a wide and well-packed path, but quite a few trails branch off so it's important to keep your eyes on your GPS if you don't wanna take a wrong turn.
For the most part, the trail is quite forested which is a welcome relief in the summer. At some points, you'll leave the tree cover and wander into grasslands, but it's never for long.
You'll be treated early on to views over Coldstream, looking east towards Lumby. Eventually, your views of farmland will turn into residential, but luckily that doesn't last long. As you round the mountain — the trail name makes sense, eh? — you'll get your first glimpse of Kalamalka Lake!
The Lookout Trail, 2.9 km
Near the end of the Coming Round the Mountain Trail, you'll connect with the Lookout Trail. Keep your eyes peeled for the trail because it's super easy to miss! It branches off from the Coming Round the Mountain Trail at about the 3.8 km mark and heads into the forest.
From here, you'll begin a steady uphill climb of just over 200 m over 2.9 km.
You'll hike through the pine forest and, after battling the bugs and navigating a narrow, rocky trail, you'll be rewarded with your first view of Kalamalka Lake in all her beauty. If you hike this loop in the summer, you'll be treated to a sparkling turquoise lake! If not, you'll still get a spectacular view of the beautiful water.
As you continue your hike along the Lookout Trail, you'll be treated to even better views of the valley as you make your way further up Rattlesnake Hill. Except for the very beginning, the Lookout Trail is mostly through grasslands and is pretty exposed. Prepare for sweat-city.
PS: Just in case you're wondering, we hiked this trail a little early in the spring and didn't get the turquoise lake. The water needs to be warmer for the beautiful colours. Still, the deep blue never disappoints!
Base Lift Trail, 1.5 km
As you round the south side of Rattlesnake Hill and start making your way back to the trailhead, you'll connect with the Base Lift Trail. Even though it's not on the official Kal Lake map, it's a well-trod trail.
Having said that, I got a little lost the first time because I walked right past the Base Lift Trail. In fact, I was well on my way to the Wall Trail before I even noticed I wasn't on the right path (you can see the confusion on my AllTrails recording at the 7 km mark). AllTrails saved my butt and helped me find the right trail!
Hiker to hiker: If you get to the power lines, you've gone too far. Turn around and look for a path that heads TOWARDS Kal Lake and down the hill. It's a little weird, but I promise it's the Base Lift Trail.
The trail itself is basically all downhill and thanks to the loose gravel, it can get pretty slippery in spots. Go slow. You'll lose sight of Kal Lake, but you'll get to enjoy the rolling hills of Coldstream instead. They kinda remind me of Ireland and Scotland — not that I've actually been there, but my friend who has agreed. As you get closer to the bottom of the hill, a few trails branch to the Cosen's Bay Trail. Feel free to take them because both trails end at the trailhead.
Facilities at Kal Lake
Washrooms & Garbage
While there are pit toilets throughout the park, I don't remember seeing any on the loop or at the trailhead. You'll also need to pack in what you pack out because there aren't any trash cans. Even consider bringing along an extra bag so you can pick up litter.
Dogs
You're more than welcome to bring your dogs hiking with you on this loop, just make sure to keep them on a leash and pick up after them. If your pup gets hot, you could bundle her up in this super cute cooling vest!
There are, however, some areas of the park where dogs aren't allowed which you'll need to keep in mind if you plan on exploring more trails. Dogs aren't allowed at Juniper Bay, Jade Bay, or Cosens Bay (except for a small area at Cosens Bay).
Season
The park is open all year long, so you're welcome to hike this loop whenever you'd like! However, the facilities are only maintained from April 3 – October 25.
Plants & Wildlife at Kal Lake
Thanks to the forests, grasslands, and shorelines that make up the area, Kalamalka Lake Provincial Park supports a lot of different plants and wildlife — which is pretty cool! It's even home to many rare or endangered species.
Plants & Ecosystems
To date, researchers have found a total of 432 different kinds of plants in the park. It's pretty rare for such a small area to have so many different kinds of plants. Go Kal!
However, according to BC Parks, the grasslands ecosystem above Cosens Bay is quickly disappearing in the Okanagan.
And Kalamalka Lake itself is, obviously, quite unique. It's a marl lake, which means the limestone in the water forms crystals when it warms in the summer and then reflects sunlight, which creates its beautiful turquoise colour! The lake is also considered a glacial lake from a geological standpoint, but it's definitely not cold. In the summer, the water ranges from 22°C – 27°C!
Wildlife
Lots of animals call Kal Lake Provincial Park home.
Common animals like deer, squirrels, and marmots inhabit the area, as well as larger animals like snakes (including rattlesnakes), minks, bobcats, coyotes, fox, cougars, and black bears.
Many blue-listed (vulnerable) animals also live here, including the Western harvest mouse, Townsend's big-eared bat, Western screech owl, and more. There are also lots of different reptiles, including snakes, lizards, and toads.
Don't let some of those animals scare you away, though. You just need to be prepared and know how to handle them. For rattlesnakes, wear long pants and high boots, stay away from long grass, and keep your hands out of crevices. If you do encounter a rattlesnake, just make a wide detour around it and continue on your way. For bears, read up on your bear safety and stay alert.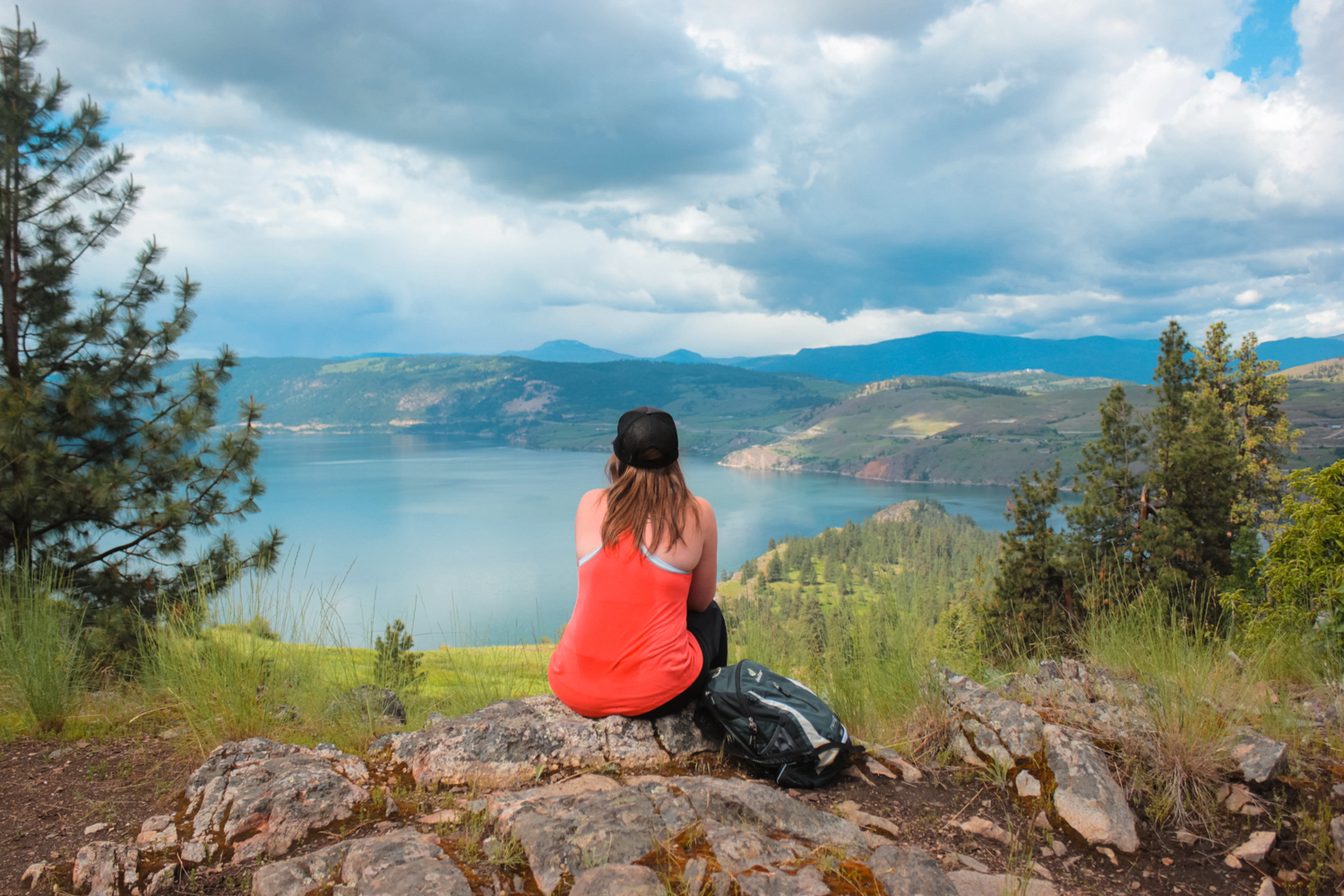 History of Kal Lake
The area in and around Kal Lake Provincial Park has a long cultural history with the Okanagan First Nations. The grasslands and cliff bluffs were used by the First Nations and there are kekuli pits, six artifact sites, and evidence of villages throughout the park.
Kal Lake and Wood Lake were originally called Chilutsus (Chil-loot-sus) by the First Nations which means "long lake cut in the middle". In the '30s, the lake was recorded as Long Lake by White settlers, but by the early '50s it was officially changed to Kalamalka. There seems to be some debate on the origins of the name. Some people say a Hawaiian native and First Nations lady named one of their children Kalamalka, whereas others believe it was named after a First Nations Chief who lived at the north end of the lake.
During WWII, Cosens Bay was used as a mortar practice range.
On September 11, 1975, Kalamalka Lake Provincial Park was established and in 2008, Kalamalka Lake Protected Area became part of the park. It's now 3,218 hectares!
Recommended Gear
The Coming Round the Mountain, Lookout, and Base Lift trail loop changes from an easy to moderate trail throughout your hike. Except for the trails and a few benches, it's a very undeveloped park and you'll want to make sure you're prepared before you hit the trails. As always, a few simple things will make your hike a lot more enjoyable.
Water: I've said it before and I'll say it again. Water's soo important to keep your energy levels up, especially because parts of the trail can get exposed. I recommend bringing both a hydration pack and water bottle, as well as a few electrolyte tablets in case you need an extra boost.
Proper footwear: The right footwear is gonna make all the difference on this trail. Some parts are rocky and dusty with steep sections and hiking boots will save your feeties from yelling at you.
Ten essentials: Since this is a longer hike with the potential to get lost, the ten hiking essentials are a great idea to bring along.
Sun protection: Anytime you're hiking in the Okanagan during the summer, it's super important to protect yourself from the sun. Make sure to wear a hat, sunscreen, and sunglasses. You could even wear sun-rated clothing (which, surprisingly, isn't super ugly!).
Bug spray: Especially in the spring, the mosquitoes can get pretty aggressive on some parts of the trail. I love Primally Pure's bug spray because it's natural, smells wonderful, and above all, works!