Kalamoir Regional Park in West Kelowna, BC
Take a hike then a quick dip in the lake at Kalamoir Regional Park in West Kelowna. I've said it before and I'll probably say it a million more times, but I'm such a sucker for hikes with killer views of Okanagan Lake.
Bonus points go to the ones where I can dip my toes in the water and, in pretty much the same breath, enjoy stunning views from the trails. Because let's be honest, that's basically a match made in heaven.
Regional parks are great because, no matter where you're exploring, they're a great way to get in a quick hike. The trails usually range from easy to moderate, plus they're often really well maintained and have cool landmarks along the way.
While you're hiking at Kalamoir, see if you can spot Bertram Creek, Mt Boucherie, or Dilworth Water Tower.
Disclosure: This article may contain affiliate links and I may earn a commission, at no cost to you, if you click and/or buy a product online (even if it's not the product linked). I take great care to only recommend helpful products and appreciate your support!
Quick Park Stats
Whenever I'm planning an adventure, I often look for regional parks since they're an easy way to quickly enjoy the local area. Kalamoir is no exception and it certainly lived up to my expectation!
Kalamoir Regional Park is 27.6 hectares of beautiful land tucked away on the shores of Okanagan Lake in West Kelowna.
Difficulty: Moderate
Trail Type: Network
Length: 0.7 – 4.4 km (see map)
Location: Kalamoir Regional Park
Open Dates: Year-round
Park Size: 27.6 hectare
WEST KELOWNA WEATHER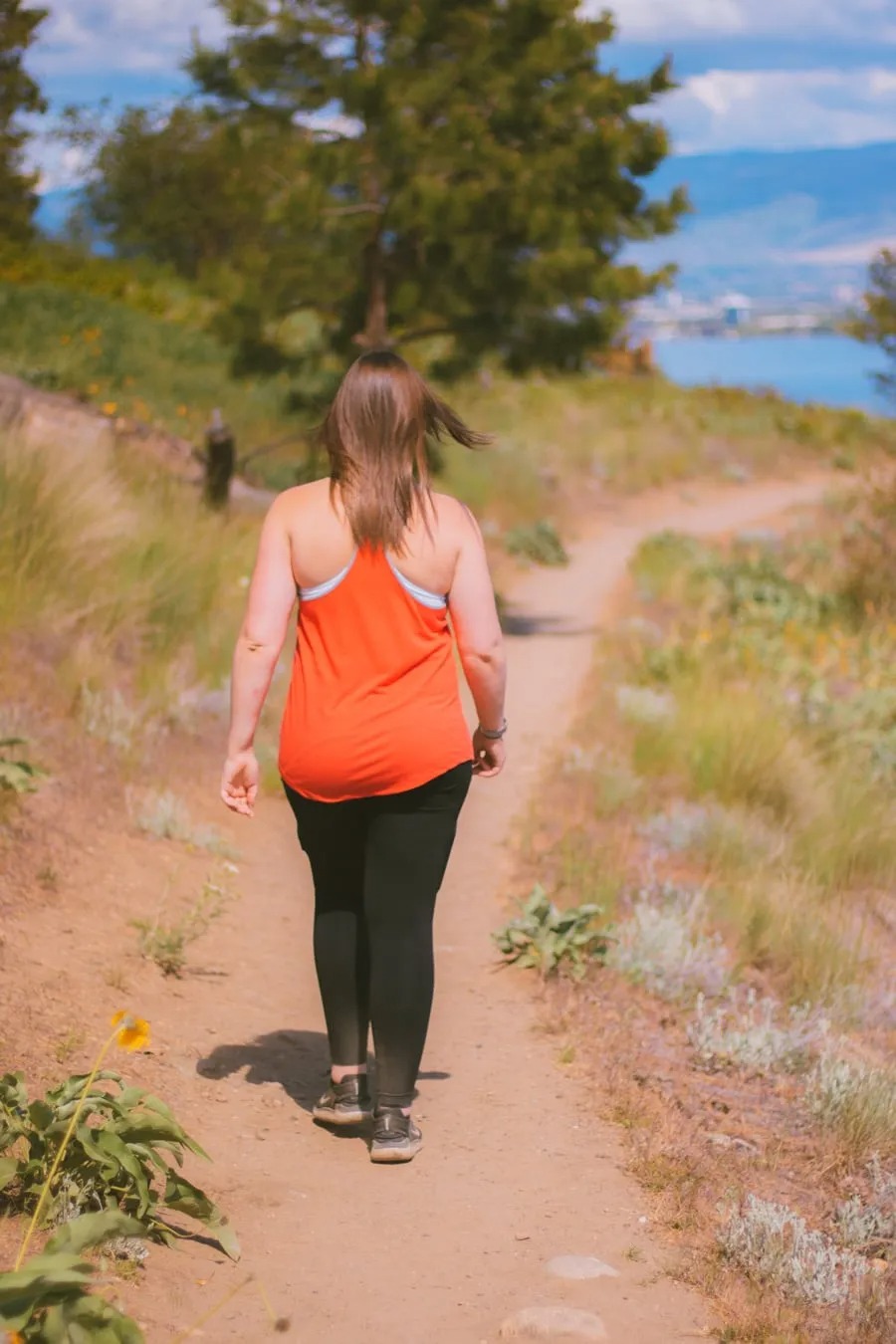 Kalamoir Regional Park
The small trail network ranges from easy to moderate (plus one short, difficult trail) which makes it great for pretty much everyone. You can wander along the lakeshore, stop for a dip in the lake, and get your heart rate up on the trails all within an hour!
The Arrowleaf balsamroot (Kelowna's official flower) transforms the hills into a sea of yellow in the spring. It's absolutely beautiful! In the fall, the Oregon Grape and Sagebrush Mariposa Lilies bloom and cover the hillside, along with a few other wildflowers throughout the year. There's also Prickly Pear and a ton of poison ivy… as if you needed another reason to stay on the trails!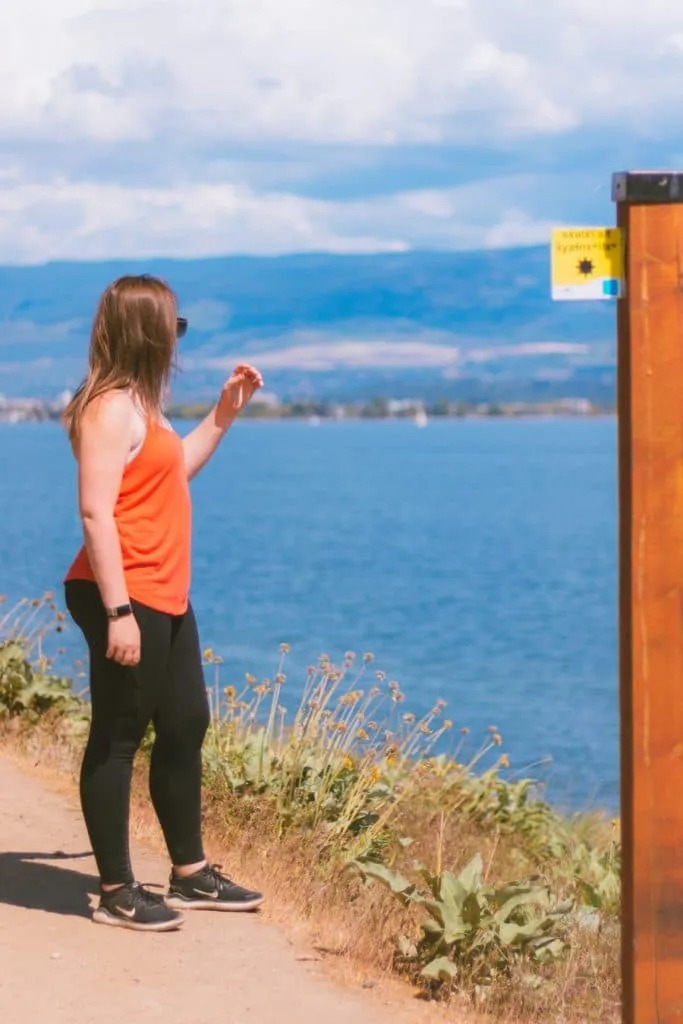 Hiking at Kalamoir
Kalamoir is a fairly small park and there are four named trails and plenty of smaller, unmaintained trails scattered around for you to explore.
The named trails make up just over 4 km and you could easily hike all of them in one go. We created a loop by hiking all of the trails except for the Mike Passmore.
As you hike the different trails, you'll enjoy some pretty big changes in the plants. From a dry hillside covered in grass to forested sections with plenty of wildflowers, it's pretty cool to see so much variation! And don't forget the trails down to the lake.
Water Front Trail, 1.5 km (Easy)
With a name like Water Front Trail, it's pretty easy to guess what you're getting into. You'll follow the beachfront for almost the entire length of the park and can enjoy easy access to the swimming and two off-leash dog beaches.
If you're planning a loop hike at Kalamoir, the Water Front Trail is a great finish to your hike so you can cool off in the refreshing waters of Okanagan Lake!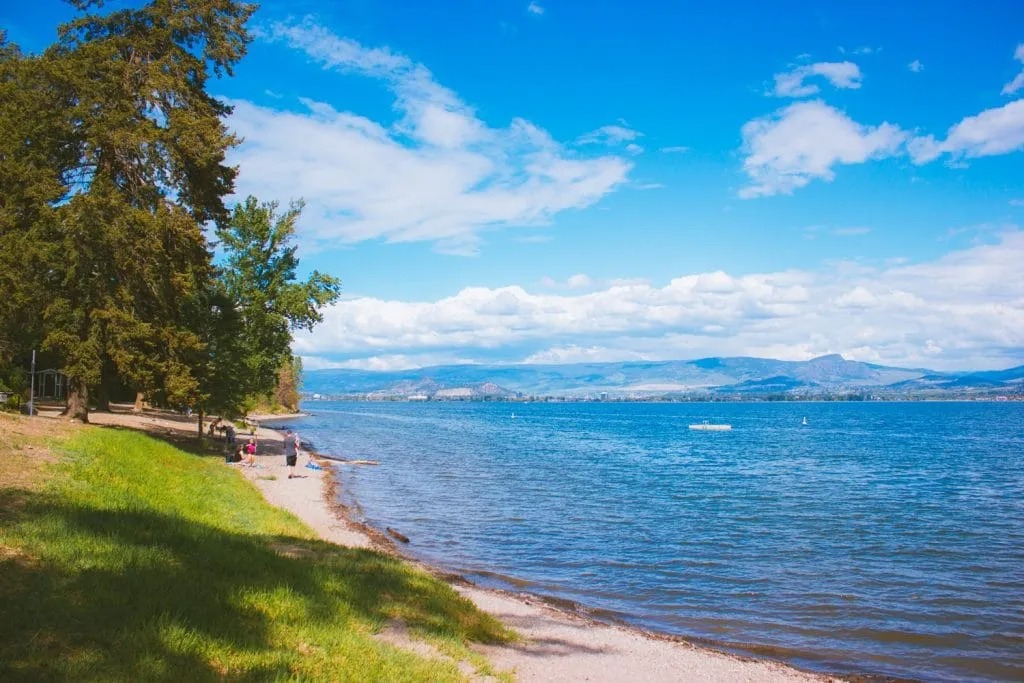 Sunnyside Trail, 0.7 km (Moderate)
Just like the Water Front Trail, the Sunnyside Trail is aptly named! There isn't much tree cover, so you'll get pretty warm as you hike to the southernmost point of Kalamoir Regional Park.
As you're sweating it up, you'll be treated to spectacular views of Okanagan Mountain Park and Okanagan Lake. At the end, you'll connect with the Upper Rim Trail.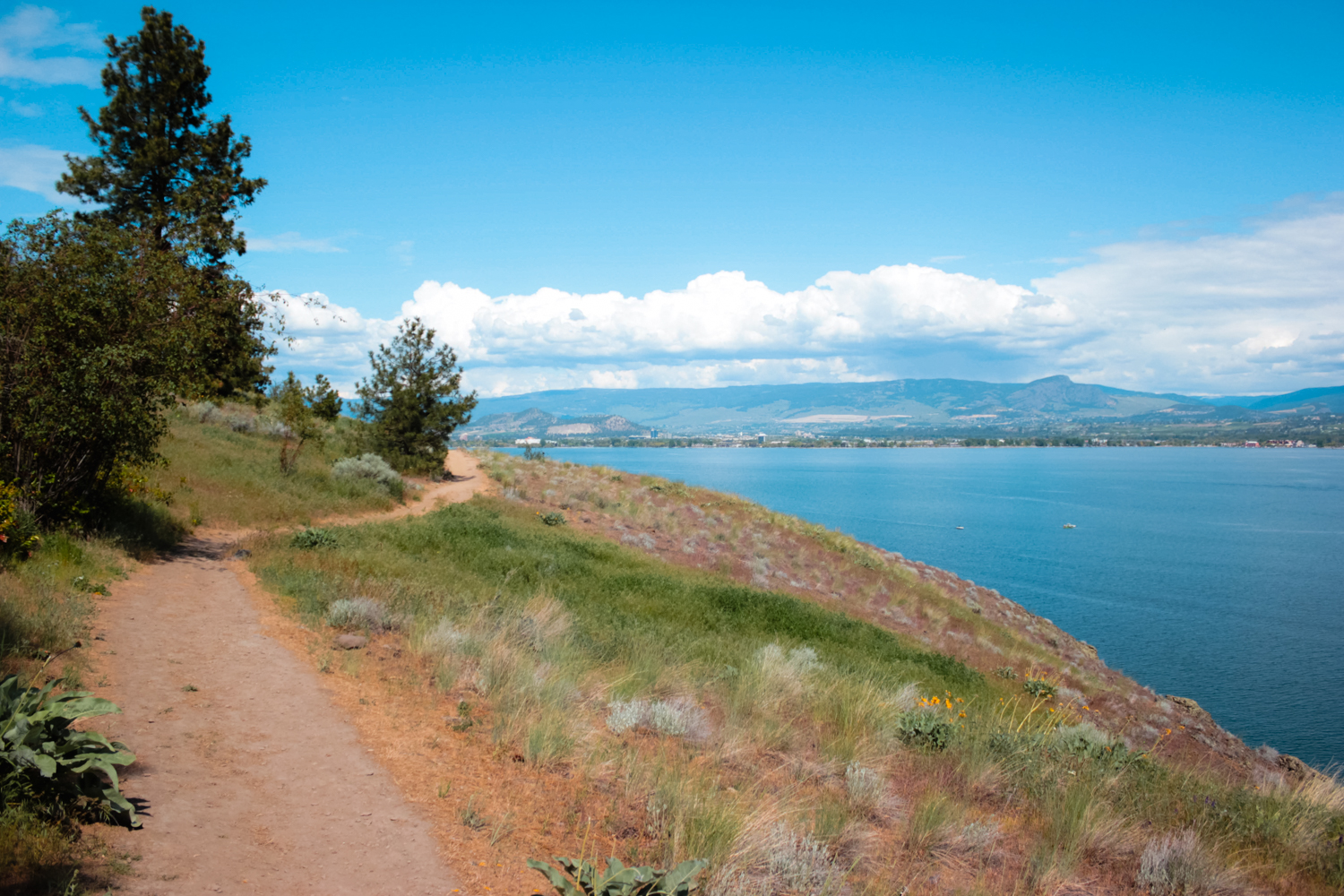 Upper Rim Trail, 1.4 km (Moderate)
This is my favourite trail in the whole park! It's a combo of ups and downs which makes the beginning a bit of a grind, but there are plenty of places to stop to catch your breath.
It's all worth it, though, because you'll get to enjoy insane views of the valley for pretty much the entire trail. There are some narrow sections and steep drop-offs, so make sure you watch your step and kiddos.
Mike Passmore Trail, 0.8 km (Difficult)
The Mike Passmore Trail is the most difficult hike at Kalamoir Regional Park. It's short but packs a punch. It's narrow, steep, and full of loose gravel. Watch your step!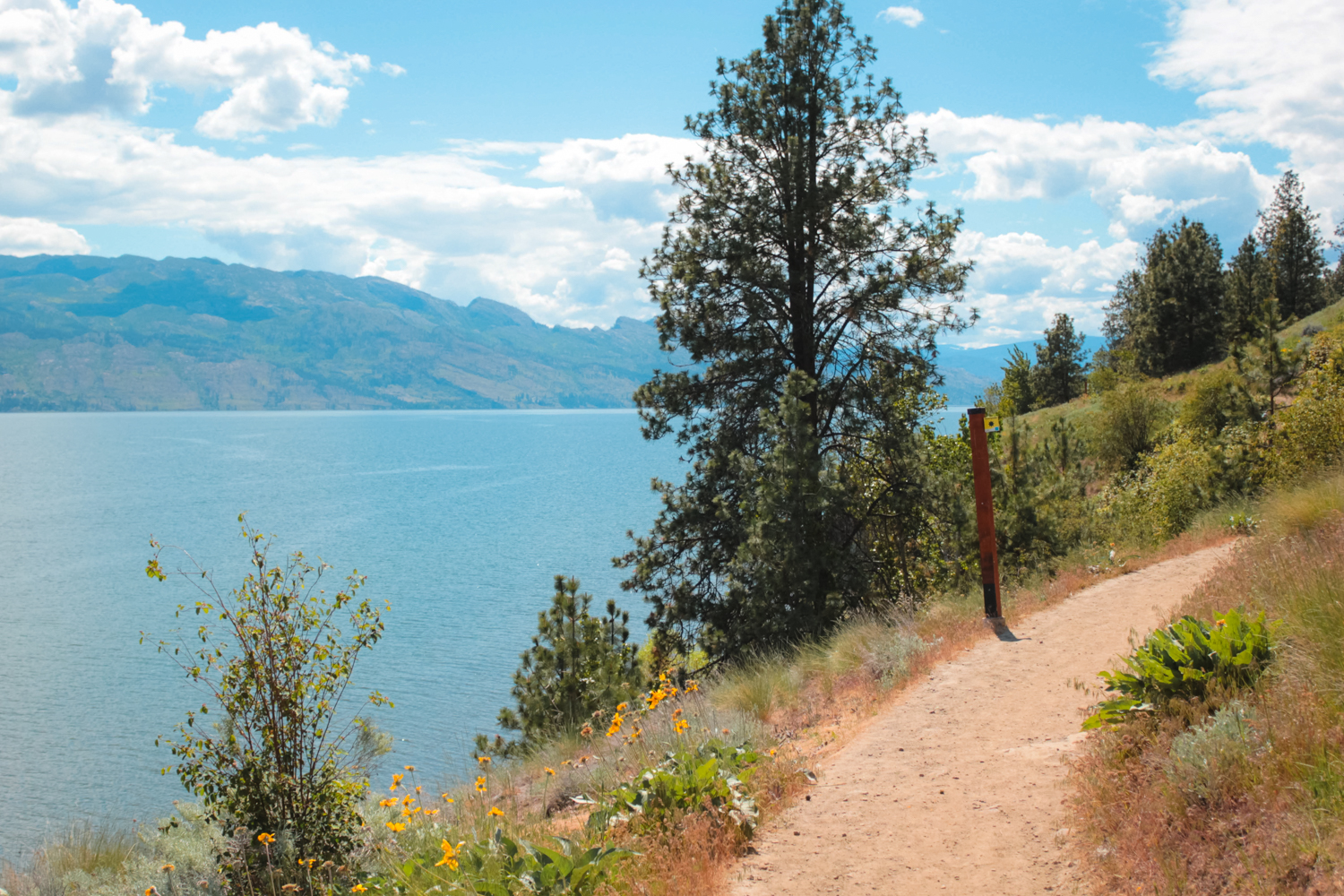 Trailheads & Access Points
Kalamoir Regional Park has a lot more trailheads than you may think. Besides the main parking lot, there are four other access points to the trails.
Sunnyside Road
There's a decent-sized parking area at the Sunnyside Road trailhead. You can easily access the Sunnyside Trail and a beach from here. Even though there aren't any maps at the trailhead, you'll come to one shortly after starting.
King Road
The King Road trailhead is at the very end of a residential road. There's a decent amount of parking and you'll quickly meet up with the beginning of the Upper Rim Trail.
Collens Hill Road
If you wanna try your hand at the Mike Passmore Trail, you can access it from the top of Collens Hill Road before it heads down into the regional park. A staircase and park map marks the trailhead. You'll need to park on the side of the narrow road.
Benedick Road
The final trailhead that's outside of the park is at Benedick Road near Casa Loma. This is actually where the Water Front Trail starts! You'll pass by amenities from Casa Loma before disappearing into the trees.
Parking Lot
And finally, we have the parking lot in the regional park. You can access the Sunnyside and Waterfront trails from here.
Water Activities at Kalamoir
Besides hiking, Kalamoir Regional Park is also a pretty great place to indulge in your favourite water activities.
From swimming, kayaking, canoeing, SUP… it's perfect for all of those! There aren't any rentals here, though, so you'll need to bring your own gear. MEC is a great place to rent kayaks and canoes.
There are three designated beaches at the park and two of them are specifically for doggos. A thin strip of rocky sand extends for pretty much the entire park, though, so if you're not into hanging out at those beaches, you can always check out those other areas. The large swimming beach is quite sandy, has a floating dock, and a washroom. There's also an accessible dock for kayak and canoe launches.
Gear Recommendations
The trails at Kalamoir Park aren't overly difficult or long, so you don't need to bring a lot. The ten essentials would be overkill, but a few simple things will make your hike a lot more enjoyable.