Kuipers Peak Mountain Park in Kelowna, BC
An easy hike with beautiful views of Kelowna and Okanagan Lake.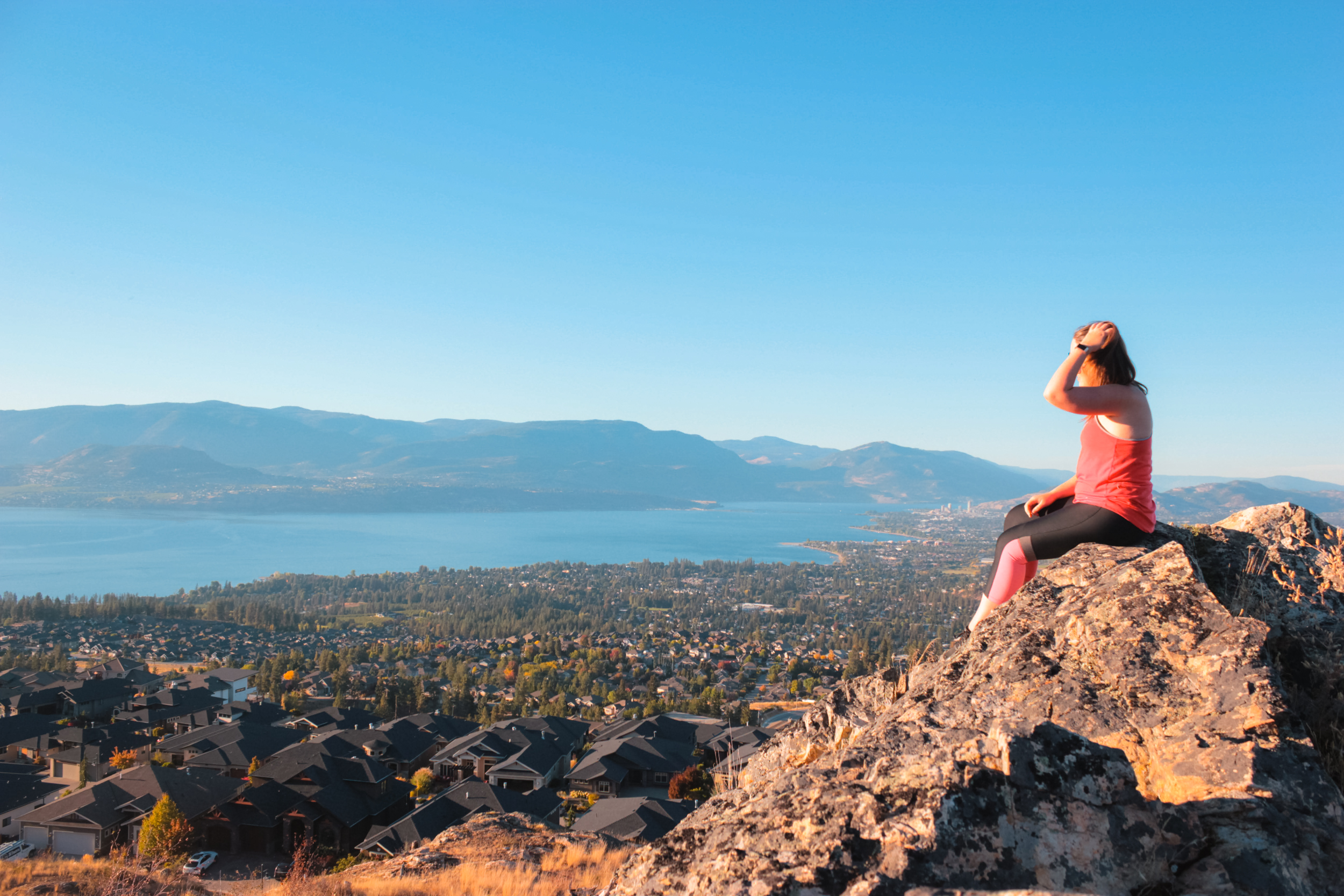 Kuipers Peak is a short, easy hike in Kelowna with amazing, panoramic views of the central Okanagan. It's a great place to enjoy a mountain-top sunset or sunrise without having to hike for hours. Plus, the trail is well-marked so you won't get lost in the dark.
Even though the trail is short, you can easily make it longer. There are plenty of places to stop and enjoy the view, as well as alternative trails that'll bring you deeper onto the mountain.
Kuipers Peak is a good trail for all skill levels and there's only a small section that's a bit steep. Bring your kiddos, friends and family, or date to Kuipers Peak for an unforgettable microadventure!
Disclosure: This article may contain affiliate links and I may earn a commission, at no cost to you, if you click and/or buy a product online (even if it's not the product linked). I take great care to only recommend helpful products and appreciate your support!
Park Stats for Kuipers Peak
Difficulty: Easy
Trail Type: Linear, Out-and-back
Length: 1.6 km (see map)
KELOWNA WEATHER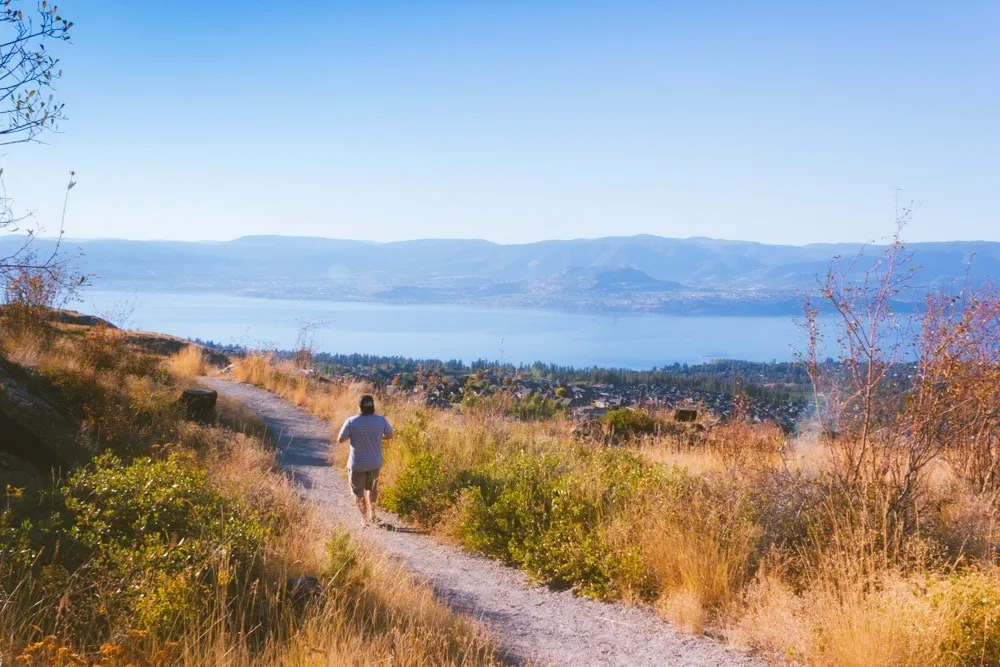 Trail Details for Kuipers Park
Kuipers Peak Mountain Park is an 11-hectare park in the Southeast Mission in Kelowna, tucked away behind The Ponds subdivision.
Thanks to the hillside sprawl that is the Mission, much of the view from Kuipers Peak is a sea of houses. Even though it would be easy to be write-off the trail because of that, don't! There's still an awesome view of Okanagan Lake that you can't miss.
The trail at Kuipers Peak is short and sweet. And thanks to the low grade and well-marked, gravel trails, it's a fairly easy trail for everyone. Plus, it's open year-round so you have no reason not to go!
Directions & Parking
Kuipers Peak Mountain Park is another one of those Okanagan hikes that's hidden away in plain sight. The trail is located on the hills behind Kelowna and is super easy to find — you don't need a 4×4 to go hiking here!
Follow Gordon Drive into the hills and enter the land of fancy houses. When you feel like you don't belong — or is that just me? — take a right on Clarence Ave and then a left on Kuipers Crescent. Take a quick left onto Heweston Ave and keep going until you see a gravel parking lot at the end of the road.
There's enough room for a few cars, but it's not a super popular hike so you probably won't have any trouble nabbing a parking spot.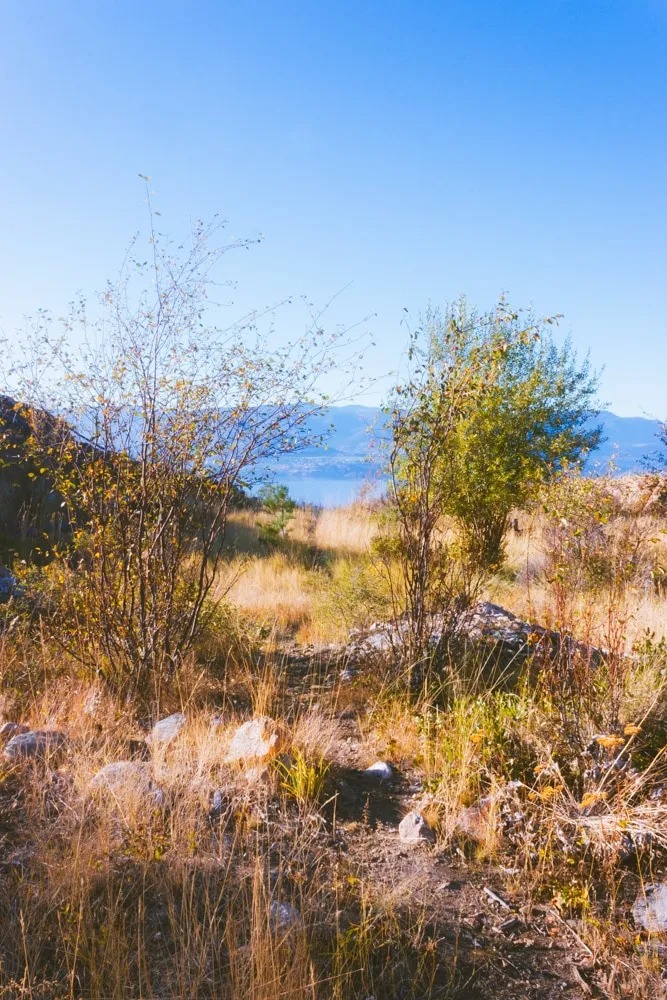 Trailheads for Kuipers Peak
There are two main trailheads for Kuipers Peak. You can access the park from a variety of other trails on Okanagan Mountain, but I'm not going to get into that today. I'll let you find those other trails yourself.
Heweston Avenue Trailhead: The main trailhead is on Heweston Avenue. It's located at the very end of the road and there's a small parking lot with room for about three cars. There's also an informational sign so you can learn more about the park and plan your hike.
Kuipers Crescent Trailhead: This is the secondary unofficial trailhead for Kuipers Park. It's a gated, dirt road that maintenance vehicles use to access the water reservoir.
Since Kuipers Peak is quite short, it doesn't actually matter which trailhead you start at because you'll reach the same viewpoints just as quickly from either.
What to Expect at Kuipers Peak
As you hike through Kuipers Peak Mountain Park, you'll see evidence of the 2003 wildfire that swept through the park and much of Okanagan Mountain. Even though there aren't many trees left, you can check out the recovering ecosystem — grass and bushes are busy reclaiming the area. It's not every day you get a firsthand look at how great nature is at fixing herself!
From the main trailhead, you'll head uphill right away. It's one of those hikes that likes to force you right into it. This section would be quite peaceful if it weren't for the active construction right next to it. If you visit after 5 pm, though, most workers have gone home and it'll be a lot quieter!
Once you leave behind the construction, the trail meanders along the bottom of a hill. I've spotted dear hangin' out here a few times, so keep your eyes peeled! The main trail is a wide, gravel path that continues all the way to the second trailhead. There are some great views along the way.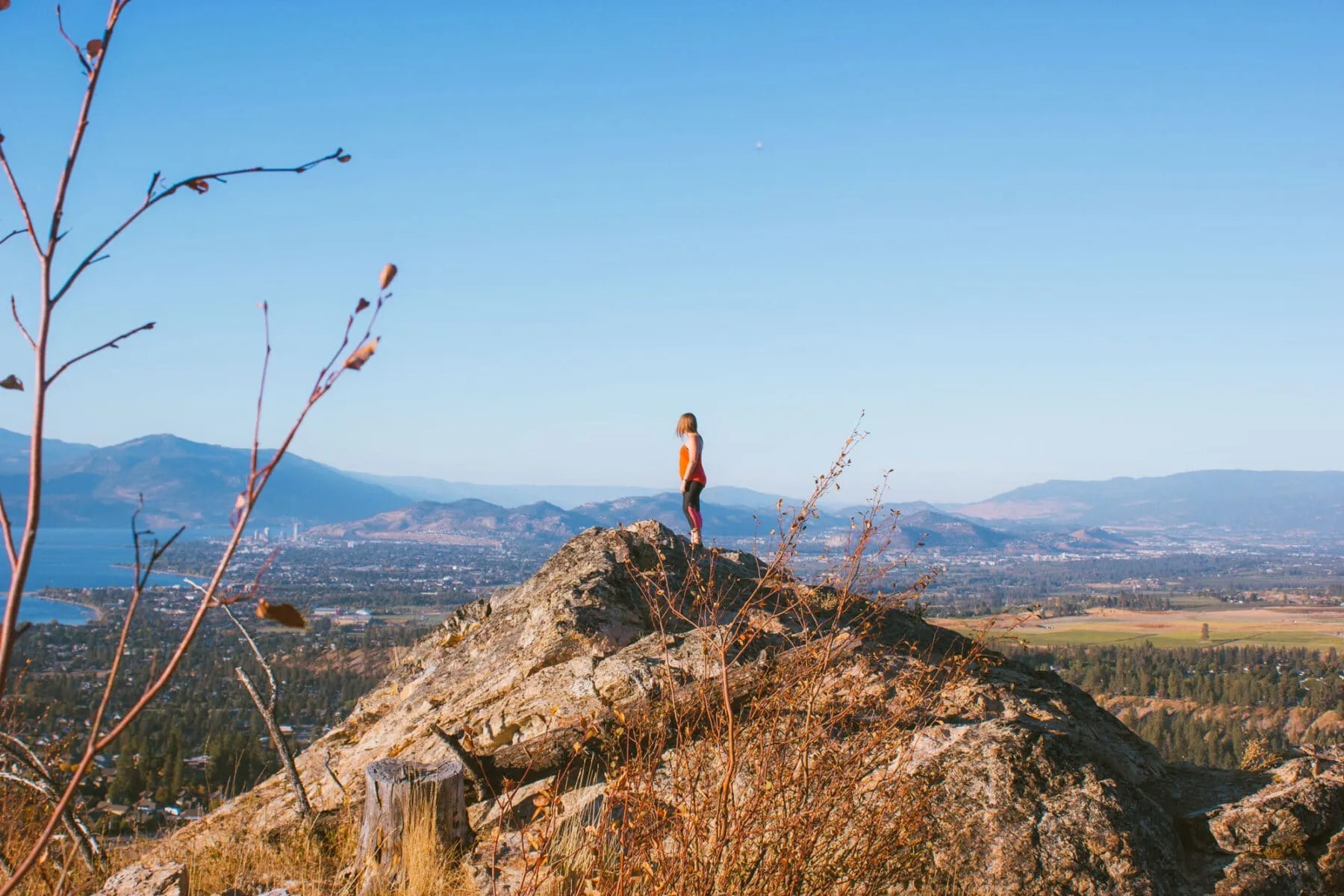 Main Viewpoint
The first viewpoint is the highest vantage point you'll get at Kuipers Peak. It's also the least obvious. Only 0.3 km from the trailhead, you'll reach a trail that branches off and heads to the top of a rocky outcropping. Unlike the main trail, this trail is hard to see and almost overgrown.
After a short scramble up a rocky, steep trail, you'll reach the viewpoint and the sprawling view over Kelowna. Although the viewpoint is just above a sea of houses, it's easy to pretend you're farther out of town thanks to the rugged nature of the viewpoint.
Plus, you'll get a 360° view of the valley, which includes not only Okanagan Lake and Kelowna, but a ton of other hikes.
Johns Family and Bertram Creek lie just to the south, while Crawford Falls is hidden in the hills to the northeast. Far in the distance, you can just make out Knox Mountain and Dilworth Mountain, and across the lake, Mt Boucherie sprouts out of the landscape.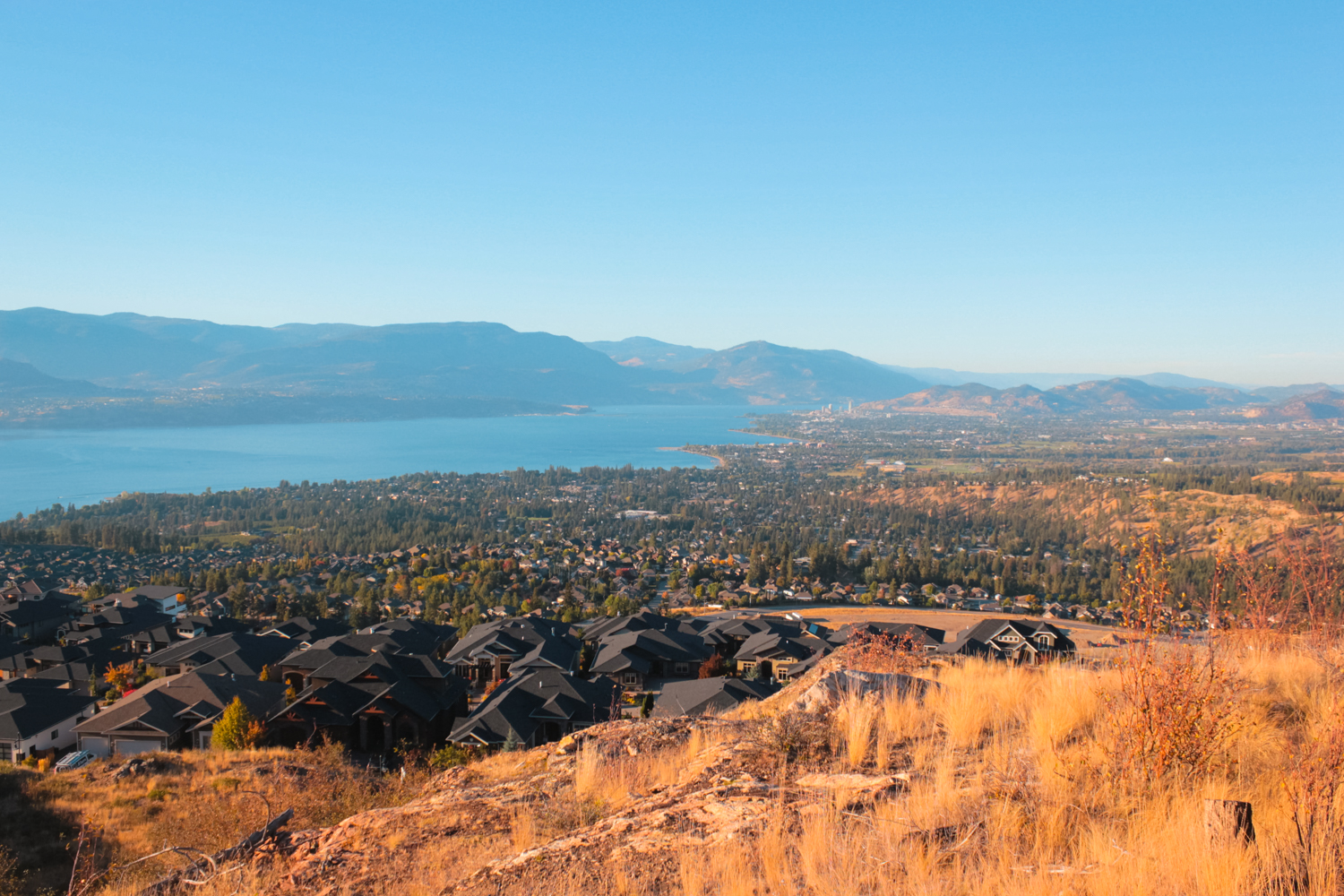 Water Reservoir Viewpoint
Leaving behind the main viewpoint, the trail descends to the Kuipers Peak water reservoir.
The trail between the two has no trees and is completely exposed, flanked by dry grasses and bushes. It's less than 0.5 km long, but nevertheless, it gets a little warm in the summer! Luckily, the water reservoir provides plenty of shade.
Although the water reservoir itself is a bit of an eyesore, just beyond it lies another great viewpoint. This viewpoint is more expansive than the first and just as rugged. The rocky outcropping is relatively flat, albeit full of dips and places to twist your ankle, and is a great place to take a short break.
From here you can see up and down the valley, as well as the many trails crisscrossing Okanagan Mountain behind Kuipers Peak. You can hike these trails, but I did hear plenty of off-road vehicles motoring along the trails as well.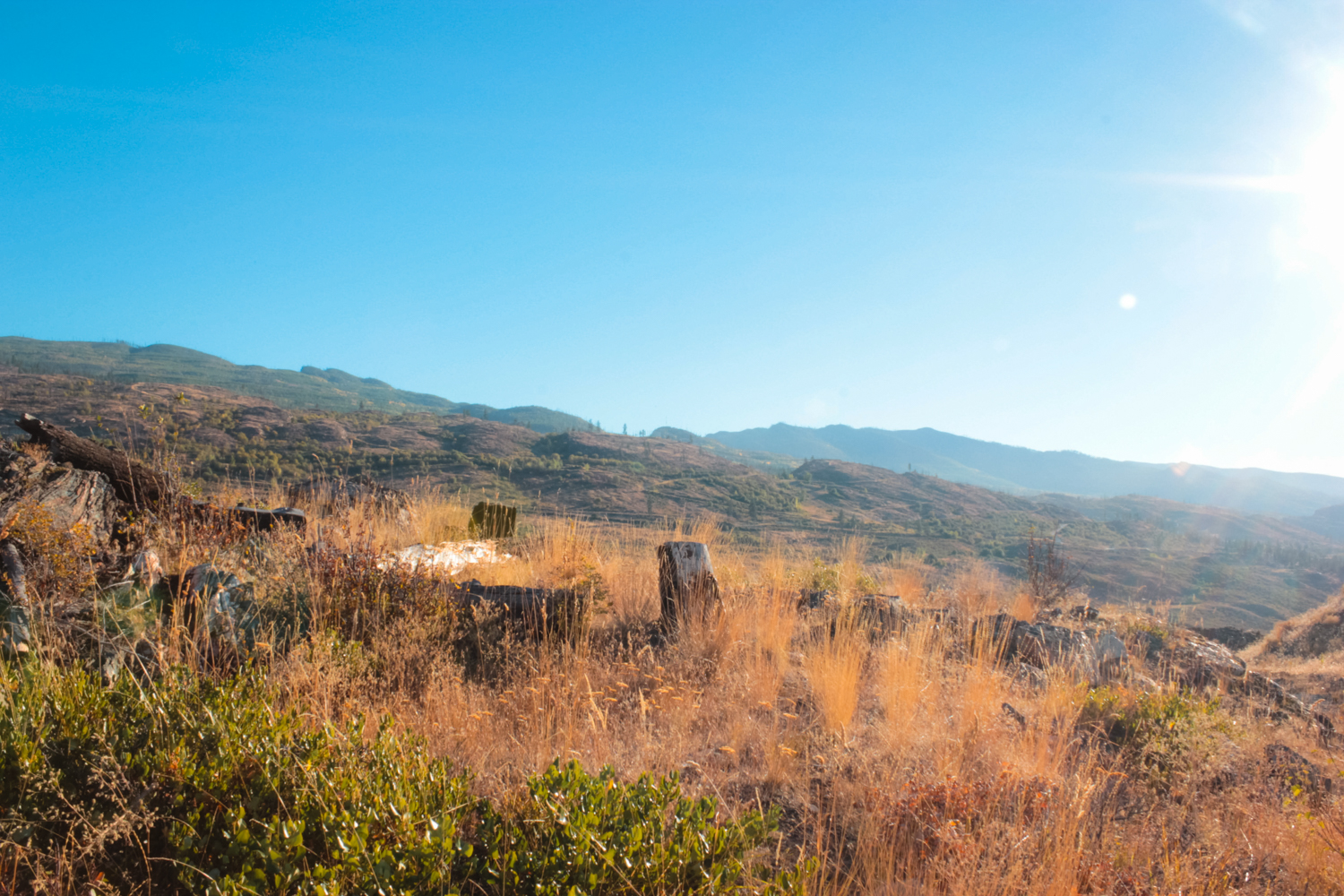 Recommended Gear
Even though Kuipers Peak is a super short trail, it's still important to make sure you're prepped for it. Sure, the packing list for this trail is a lot shorter than others, but that doesn't make it less important!
Water bottles: Are you surprised? I doubt it. Kuipers Peak is a very exposed trail with very little shade, so it's important to bring water. Usually, I prefer water bladders over bottles, but since Kuipers Peak is so short, a water bottle is enough. My favourite are reusable bottles like S'well and Hydroflask.
Sunscreen: Always wear sunscreen! Do you want skin cancer? Probably not. Protect your skin and it'll thank you for years and years. I love natural sunscreens like All Good Sport Mineral Sunscreen.