Oyama Lookout in Lake Country, BC
Enjoy panoramic and beautiful views from this lookout in the hills above Oyama.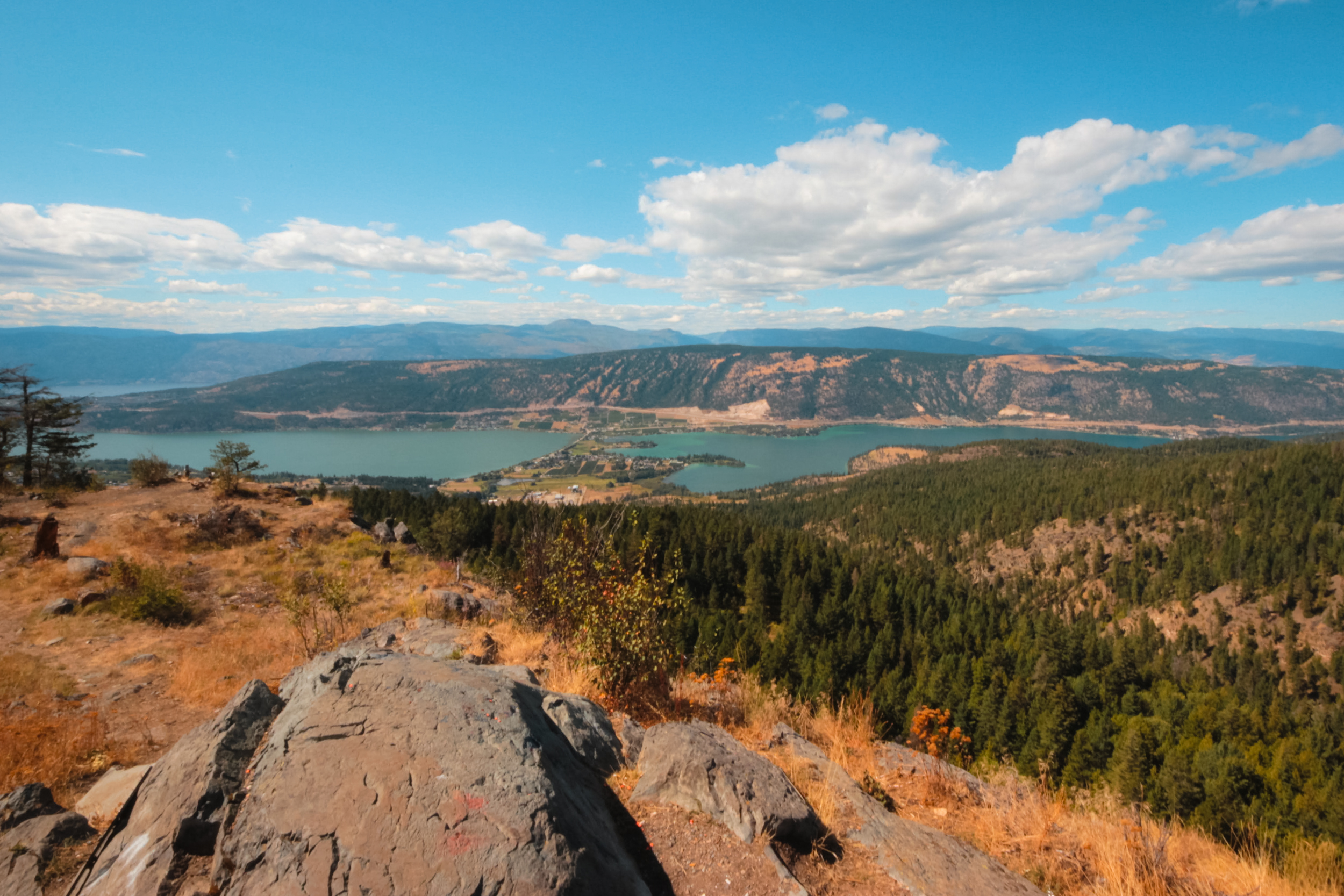 Oyama Lookout is a stunning, car-accessible viewpoint high in the hills above Oyama and Lake Country.
Even though the viewpoint is pretty easy to get to and the views of the valley are out of this world, it isn't as well known as you'd think.  It's not a hike and the well-kept local secret is 100% worth the drive up the bumpy dirt road.
The Oyama lookout is a wonderful place to hang out with friends or bring a special someone to enjoy an amazing view.
If you want to make your visit extra special, visit the lookout at sunrise or sunset when the sunlight casts a golden glow across the valley! You're in for a treat, I promise.
Disclosure: This article may contain affiliate links and I may earn a commission, at no cost to you, if you click and/or buy a product online (even if it's not the product linked). I take great care to only recommend helpful products and appreciate your support!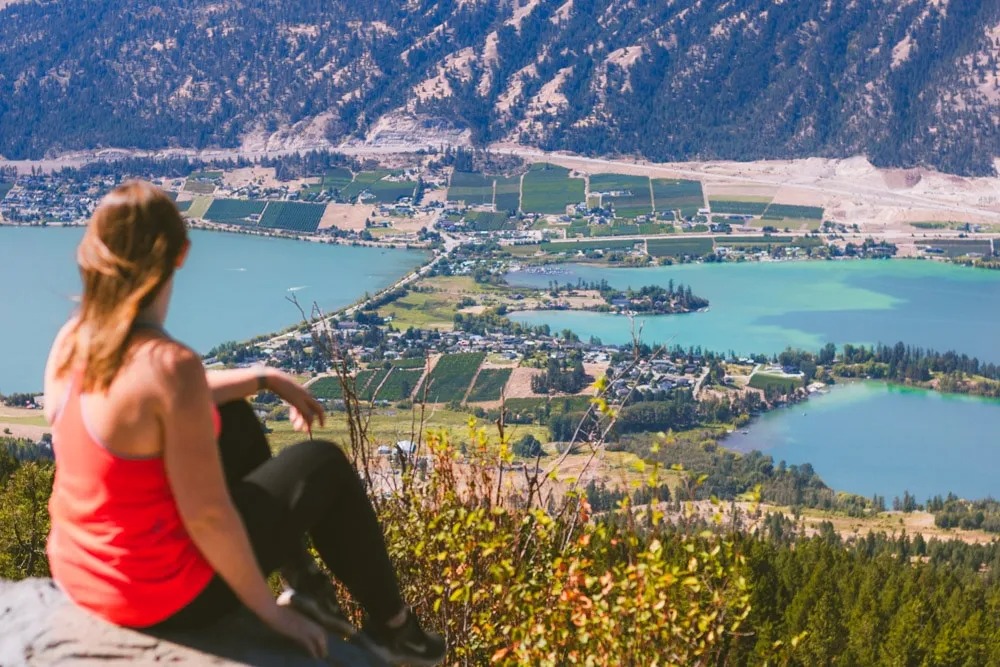 Quick Stats for Oyama Lookout
OYAMA WEATHER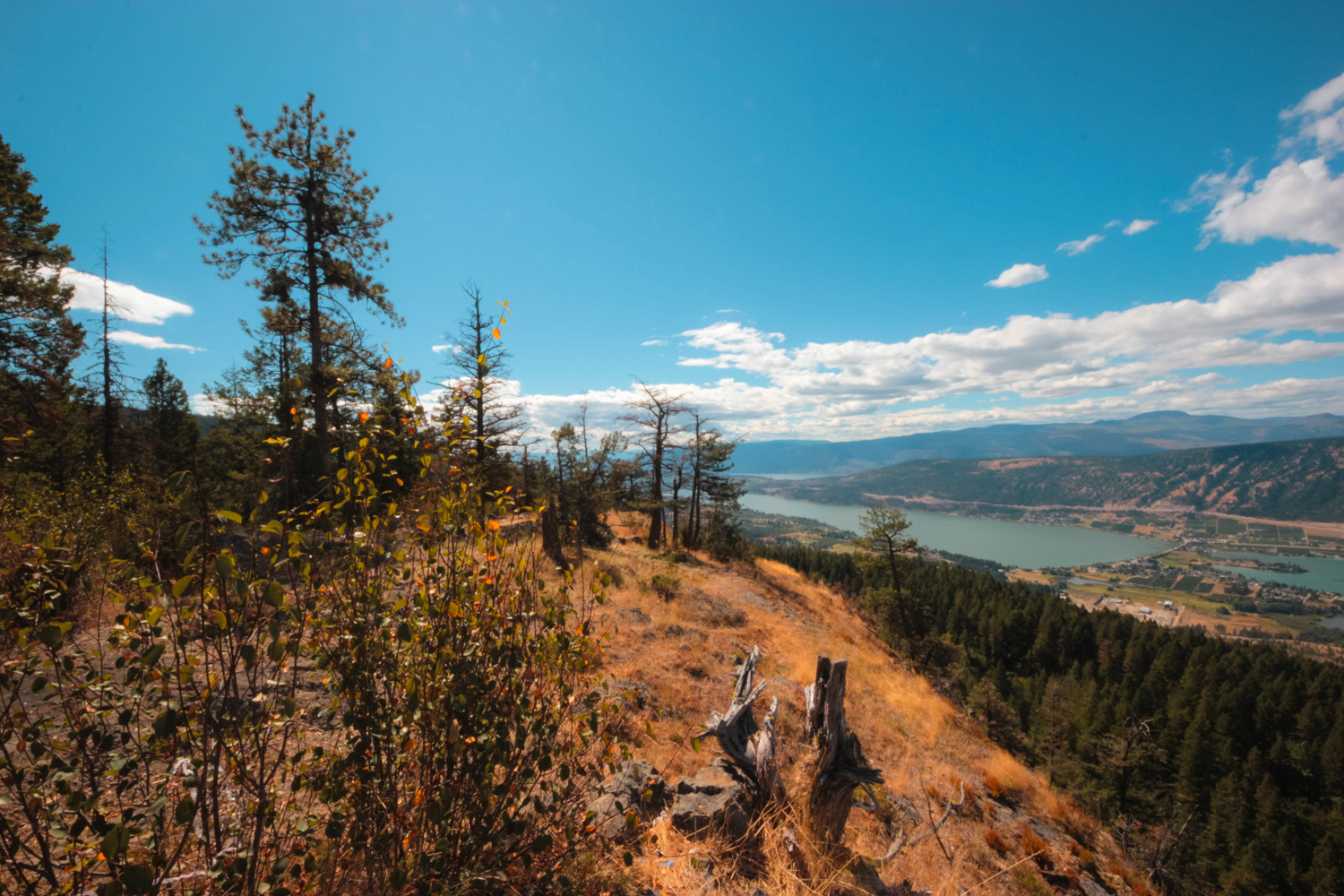 Trail Information for Oyama Lookout
The Oyama Lookout is about halfway up Oyama Lake Road, which is about an hour from downtown Kelowna.
It's basically a large, mostly-flat area with amazing views on the edge of the mountain. The area is surrounded by trees, but there aren't many on the lookout itself. If you visit on a sunny summer day, you'll get to see Wood Lake and Kalamalka Lake in all their turquoise beauty. You can even spot Okanagan Lake hiding behind the mountains!
There's also a cool wooden platform hidden in the trees, but you can't see it from the main viewpoint and it's super easy to miss. Which is exactly what I did. Oops.
Most people drive up to the viewpoint where there's a short trail to a platform. If you want to make it more of a hike, you can park at any point along the road and hike up. If you do that, stick to the edge because it's a well-trafficked road.
Directions & Parking for Oyama Lookout
The Oyama Lookout isn't so much a hike as it is a semi-offroading adventure.
It's about 7 km up a dirt road that steadily gets worse the longer you drive. I took my Ford Escape and although she managed, some of the potholes were a little rough on her. The road's better suited for trucks, ATVs, or vehicles with high clearance — a car wouldn't be a good idea. If a car is your only option, you can always park near the bottom and hike up!
It's pretty easy to find the Oyama Lookout (hint: Google Maps will bring you right to it). Once you're on Oyama Lake Road, stay on it as it heads into the forest. There are lots of alternative 4×4 trails, but the main road is obvious. Drive carefully because there are lots of potholes and reckless drivers. It's sometimes like the Wild West on these back roads.
You'll drive up a few switchbacks. Once the road straightens out, the pull-out for the Oyama Lookout will be about one kilometre later, to your left and on a sharp corner. There isn't a parking lot, but there's a decent amount of room to park. Try to pull as far off the road as you can because people like to drive a little crazy out here.
Trail Video for Oyama Lookout
Red Hair Travel has a beautiful drone video of Oyama Lookout and its amazing views. Enjoy!
What to Expect
Once you've parked, it's only a short walk to the cliff edge and the awesome views. The Oyama Lookout will not disappoint! As I've mentioned before, this isn't much of a hike, but it is a fun place to spend an afternoon exploring. It would also be a beautiful spot for a date night!
Main Viewpoint at Oyama Lookout
The main viewpoint at the Oyama Lookout is a large, relatively flat cliff's edge covered in bedrock and grass with a few larger rocks near the edge.
Trucks can drive right up into the area, so don't be surprised if you see that happen. There are also remnants of campfires even though there are signs clearly prohibiting it.
From this viewpoint, you'll have absolutely spectacular views of Oyama, Wood Lake, Kalamalka Lake, Okanagan Lake, and even parts of Lake Country. You're surrounded by a sea of trees with patches of rock. See if you can spot Spion Kop and the Wood Lake Loop!
It's completely natural up here (except for a small plaque), so if you wanna hang out you'll need to bring your own gear.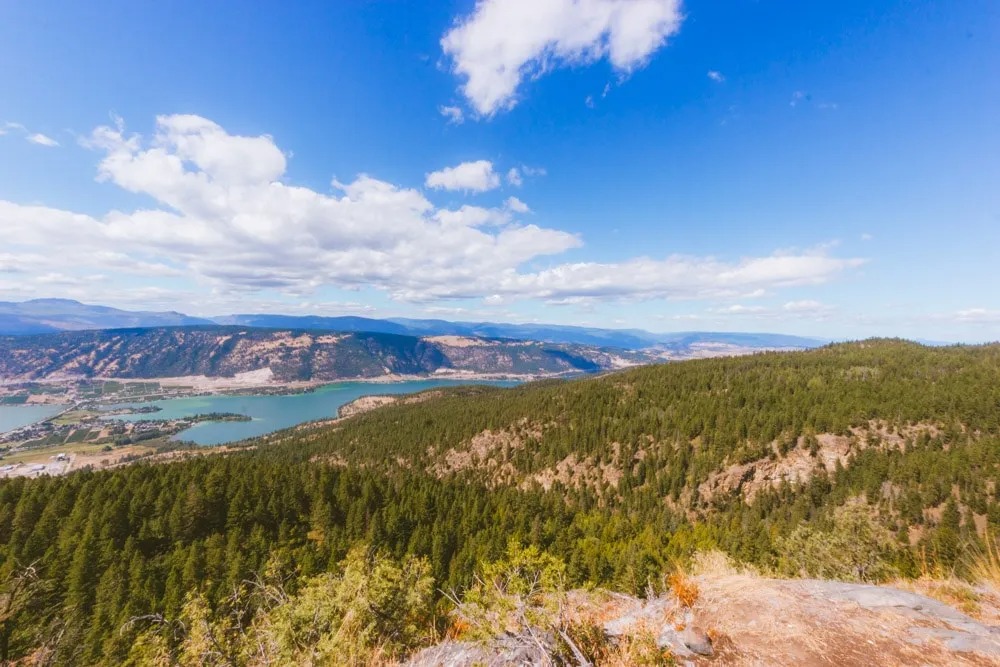 Oyama Lookout Platform
There's also a small wooden platform at the Oyama Lookout, but you can't see it from the main viewpoint and there aren't any signs pointing to it. Unless you know it's there, you might totally miss it!
Unfortunately, I don't have any photos because that's exactly what I did.The worst part is that we almost found it, but didn't quite go far enough. Damn it.
From the main viewpoint, you'll notice trails on your left that head into the trees. Follow these trails for a bit and once the trail starts to peter out, keep going. You'll soon see the wooden platform sandwiched between two trees below you! To get onto the platform, you'll need to channel your inner Tarzan and do a little climbing.
The platform has awesome views of the valley and is a great spot to hang out, set up a hammock, and relax!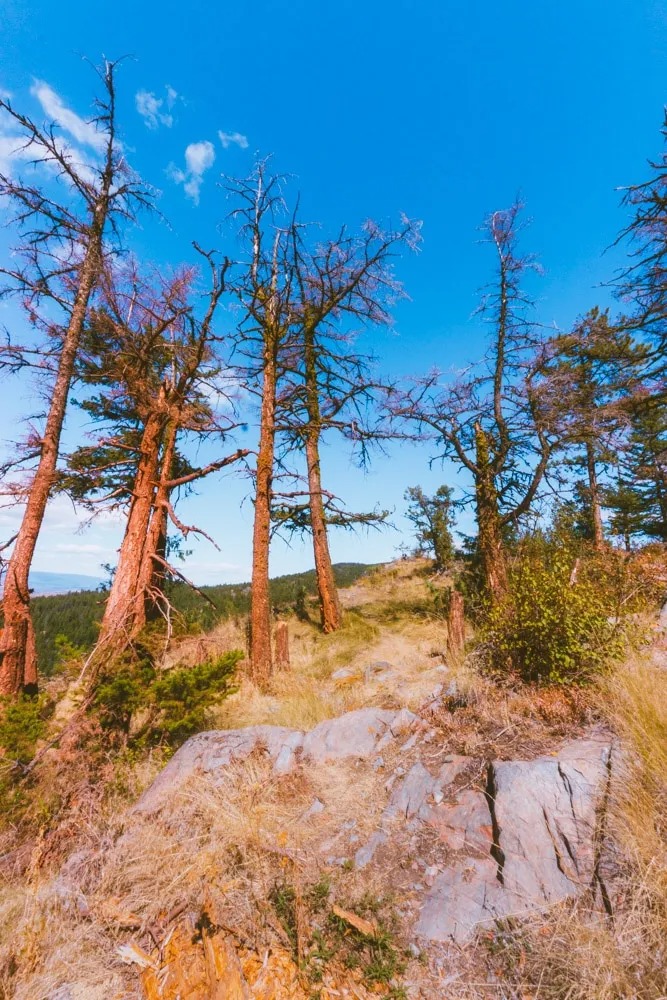 Gear Recommendations
Since the Oyama Lookout isn't really a hike, you don't need to bring much of your regular hiking gear. Having said that, if you're planning on spending some time up here, there are a few things that would make your experience a little better.
Camp chair: Since there aren't any benches up here, a lightweight camp chair is a great piece of gear to bring if you wanna really enjoy the view.
Hammock: Even better than a chair, bring a lightweight hammock!
Camping gear: The lookout is on Crown Land, which means you can camp up here! For a quick adventure, you don't need much more than a simple tent, sleeping bag, and sleeping pad. You can make do with a bivy sack, but I'm partial to tents. If you do camp up here, make sure you practice Leave No Trace.