Perly Rock Trail in Glacier National Park, Canada
Learn everything you need to know about hiking Perley Rock Trail in Glacier National Park and enjoy stunning views of the Illecillewaet Glacier.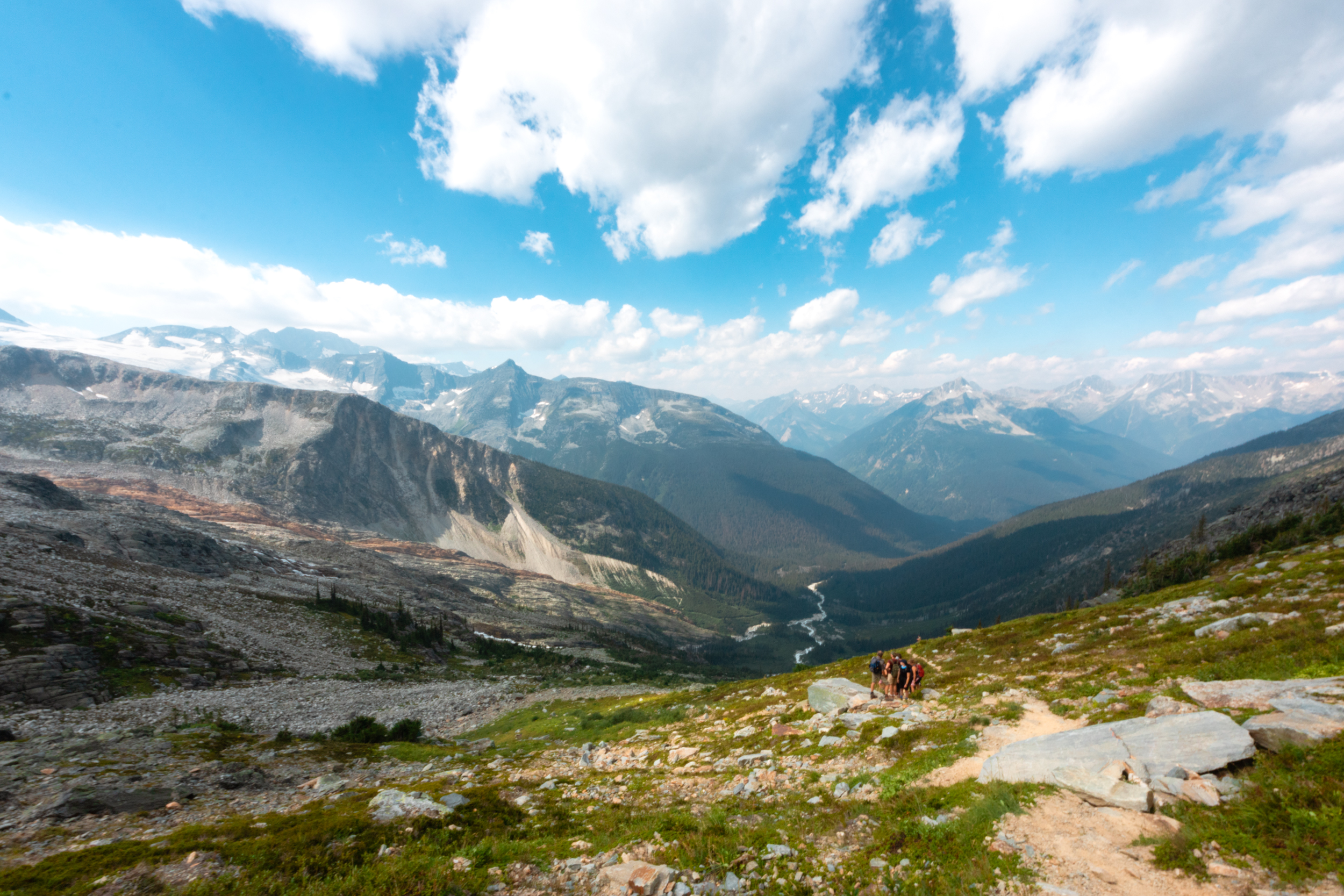 Perley Rock is a stunning, but demanding, 14.5 km hike in Canada's Glacier National Park.
The Perley Rock trail isn't for the faint of heart; this difficult hike climbs 1,200 m in just over 6 km and passes through all kinds of alpine terrain including forest, scree, boulder fields, and river crossings.
You'll enjoy stunning views of the surrounding mountains and valleys during the hike, including the Illecillewaet Glacier, Illecillewaet River, Mount Sir Donald, Cheops Mountain, and numerous waterfalls.
As you gain elevation, the views keep getting better and better.
Although Perley Rock is a difficult hike, it's doable for most semi-active people. It's not overly technical; just long, steep, and tiring. All that said, it's a wonderful hike!
Disclosure: This article may contain affiliate links and I may earn a commission, at no cost to you, if you click and/or buy a product online (even if it's not the product linked). I take great care to only recommend helpful products and appreciate your support!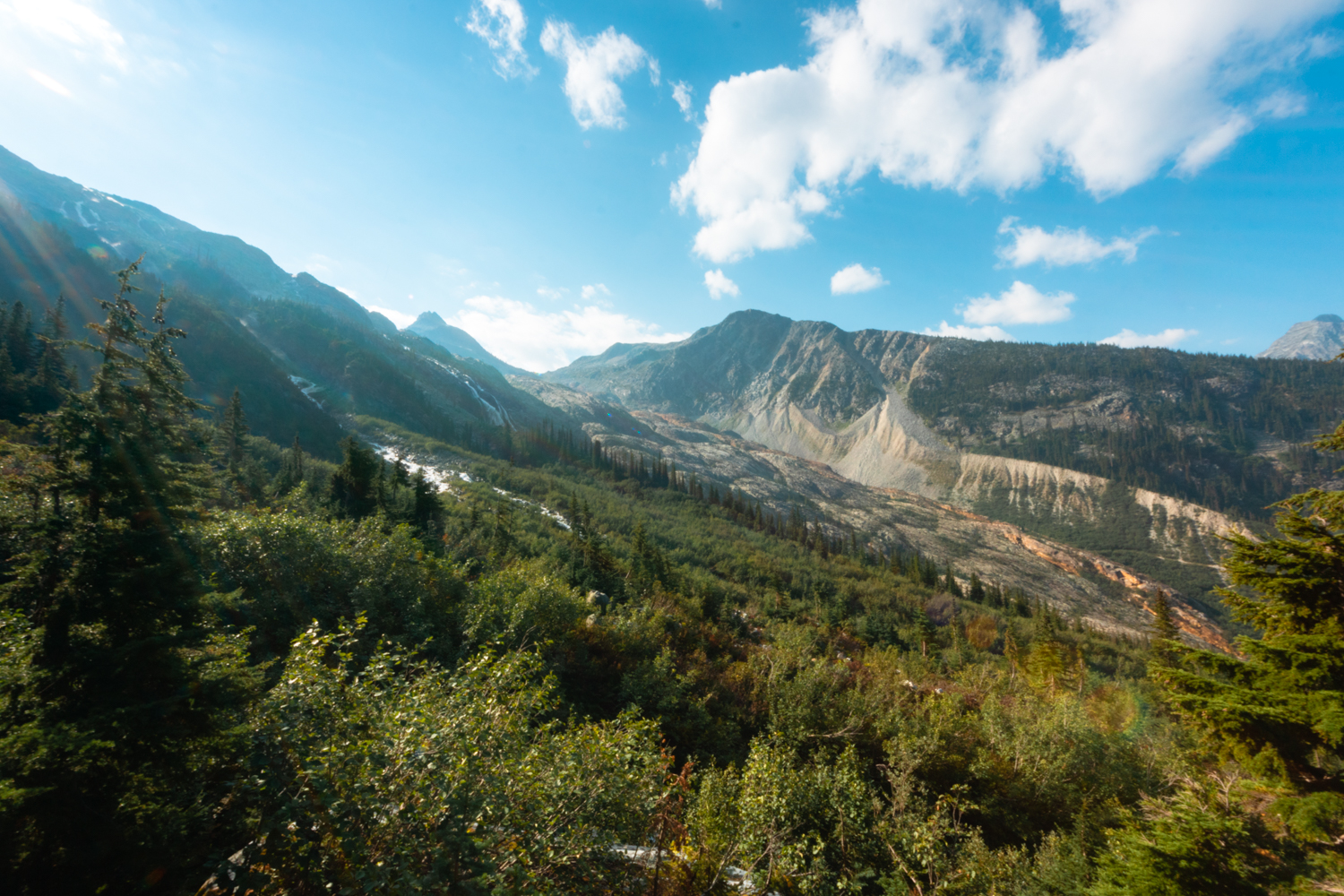 Perley Rock Trail Stats
These stats are for the Perley Rock Trail. The trail is long and steep, so ensure you're prepared with lots of water, a filter, sun protection, food, and the ten essentials. 
Difficulty: Difficult
Trail Type: Out-and-back
Length: 14.5 km (see map)
Elevation gain: 1,200 m
Time: 5-9 hours
Open Dates: ~June to October
ROGERS PASS WEATHER
What to Expect on the Perley Rock Trail
The Perley Rock trail begins at the Illecillewaet Campground on Highway 1 and climbs to the base of the Illecillewaet Glacier. In those 6 km, you'll see a lot. We'll get into more of the details below, but here's a quick recap of what you can expect on the hike.
First off, Perley Rock is an all-day affair (it took me 9 hours). I highly recommend camping at the Illecillewaet Campground so that you can relax after a long, tiring day of hiking. Start as early as possible so you're not chasing daylight on the way down.
As for the trail itself, the first few kilometers are easy. You'll meander through the forest and over large rocks. You'll cross a few bridges and head uphill. Once the ascent begins, it doesn't stop until you reach the summit. You'll hike up a glacier-carved valley and switchbacks will help you through some of the steepest sections.
As you near the top, you'll encounter snow. When you crest the final section, a rocky and barren landscape, with Illecillewaet Glacier visible in the distance, greets you. You can hike right up to the glacier and glacial lake. Enjoy! Then head back the way you came.
Where is Perley Rock?
Perley Rock is located in Glacier National Park in British Columbia, Canada – not to be confused with the similarly named national park just across the border in the USA!
Glacier National Park is 134,900 ha and was established in 1886, making it the second oldest national park in Canada (tied with Yoho which was established on the same day) and 24 years older than the USA's Glacier National Park.
The Perley Rock trailhead is located at the Illecillewaet Campground which is 5 km from the Rogers Pass Discovery Centre, 65 km from Revelstoke, and 86 km from Golden, BC.
The campground is located just off the Trans-Canada Highway and is accessible for all vehicle types. If you're not camping here, there are also two parking lots and plenty of roadside parking for hikers.
This is also the trailhead for the Sir Donald, Avalanche Crest, Abbott Ridge, Asulkan Valley, Great Glacier, 1885 Rail, and Meeting of the Waters trails.
Directions to Perley Rock
The Perley Rock trailhead is located just off Highway 1 and is very easy to access.
Keep in mind that Glacier National Park isn't overly built up, so it's not immediately obvious when you've entered the park. I highly recommend using a GPS to help you find the trailhead or keeping a close eye on your odometer and road signs.
Revelstoke to Perley Rock (65 km)
It takes just under an hour with light traffic to reach Perley Rock from Revelstoke. Enjoy the view, this is a beautiful drive through the mountains!
You'll pass through avalanche control tunnels and when you see signs for the Loop Brook Campground, you're almost there.
Watch for signs for Illecillewaet Campground on your right. The exit is on a very tight, hairpin turn in the highway; luckily, there's a long exit lane so there's plenty of time to slow down. There's a small sign at the exit that has a picture of a tent and trailer, but no words.
Continue along this well-maintained road until it ends at the trailhead (or choose a campsite).
Golden to Perley Rock (86 km)
It takes just over an hour to reach Perley Rock from Golden. When you reach the Rogers Pass Discovery Centre and Memorial Park, you're almost at the trailhead.
The turn-off for Illeceweat Campground is on your left, but you can no longer turn here. Instead, continue to either the Loop Brook Trails or Campground where you can turn around. However, depending on the traffic conditions it may not be safe to turn here. Either pull of the highway until its safe or continue until you find a place to turn around.
Either way, once you've turned around, you'll need to head back the way you came.
Watch for signs for Illecillewaet Campground on your right. The exit is on a tight turn in the highway, but luckily there's a long exit lane so there's plenty of space to slow down. At the turn, there's a small sign with a picture of a tent and trailer.
Continue along this well-maintained road until it ends at the trailhead (or choose a campsite).
Parking at Trailhead
The road from Highway 1 to the parking lots at the trailhead is paved and only about 1 km. There are two parking lots, plus overflow roadside parking.
The first parking lot has one handicapped space plus 10 regular spaces. The second parking lot, which is just beyond the first, has 16 spaces. Both of these parking lots are for regular sized vehicles or small RVs.
Larger or overflow vehicles can park along the road, but extremely large vehicles such as big trailers or RVs will likely have difficulty finding parking.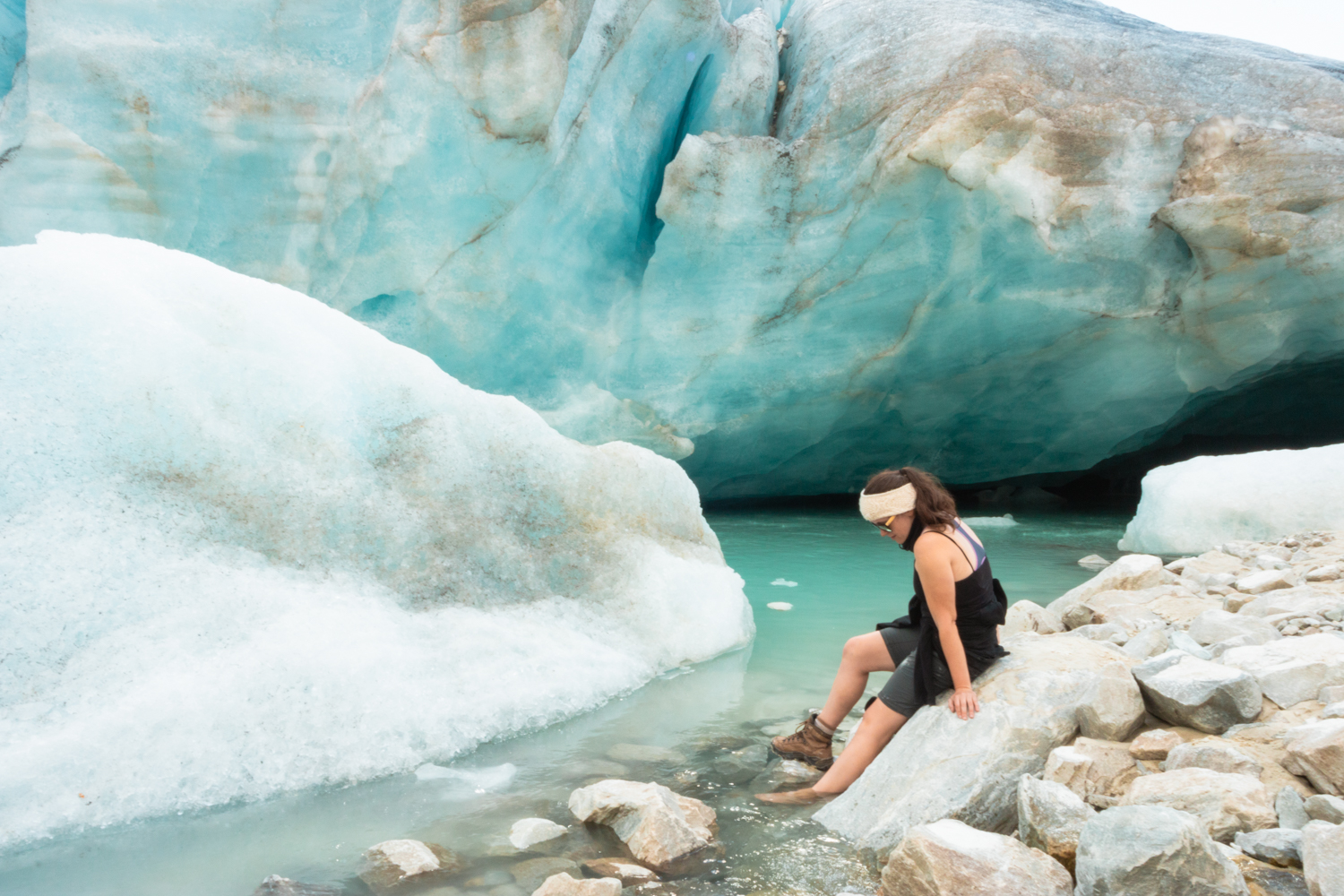 When to Hike Perley Rock
Perley Rock is open from June to October and is closed the rest of the year due to snow. During those few months, your experience will vary quite a lot.
For reference, I hiked Perley Rock labour day weekend in September.
Early Season (June & July)
In June and July, you'll likely encounter a few obstacles. Depending on run-off, some of the bridges may be inaccessible due to flooding which will prevent you from doing the entire hike.
If that's not an issue, you'll likely encounter lots of snow near the summit and have to traverse over it. Crampons and poles are highly recommended. The glacier lake at the summit is very large this time of year!
Mid Season (August & early September)
Later in the season, such as August and early September, you shouldn't encounter any bridge issues.
There will likely still be a little bit of snow near the summit, but not a lot. The glacier lake will be smaller than earlier in the season, but still beautiful.
Late Season (Mid September & October)
In October, it's important to watch the weather before and during the hike. Winter comes early in the mountains and weather can change quickly.
Make sure you're prepared to encounter difficult weather. Bring the ten essentials and SOS GPS in case you run into trouble (which you should always bring regardless, but it's very important this time of year).
Fees for Perley Rock & Glacier National Park
Since Perley Rock is located inside Glacier National Park, you'll need either a Canada Discovery Pass, Annual Pass, or day use permit to access the trail.
Discovery Pass
The Canada Discovery Pass gives you access to all of Canada's National Parks for the entire year. If you're checking out a lot of national parks (or going back a lot), this pass is a no-brainer.
You can buy it online, at MEC, or in-person at the Rogers Pass Discovery Centre (year-round), Mt Revelstoke Welcome Kiosk (seasonally), or the Snowforest Campground (seasonally).
Annual Pass
The Annual Pass gives you access to only Mt Revelstoke and Glacier National Parks all year. If you're not visiting Canada's only parks, this is a great option.
You can buy it at the Rogers Pass Discovery Centre (year-round), Mt Revelstoke Welcome Kiosk (seasonally), the Snowforest Campground (seasonally), and the Illecillewaet Campground (seasonally).
Day Pass
Day passes give you entry to Mt Revelstoke, Glacier, Yoho, Kootenay, Banff, Jasper, Waterton Lakes, and Elk Island national parks. They're good until 4pm the day after purchase.
You can buy a day pass at the Rogers Pass Discovery Centre (year-round), automated pass machine in Revelstoke, Mt Revelstoke Welcome Kiosk (seasonally), the Snowforest Campground (seasonally), and the Illecillewaet Campground (seasonally).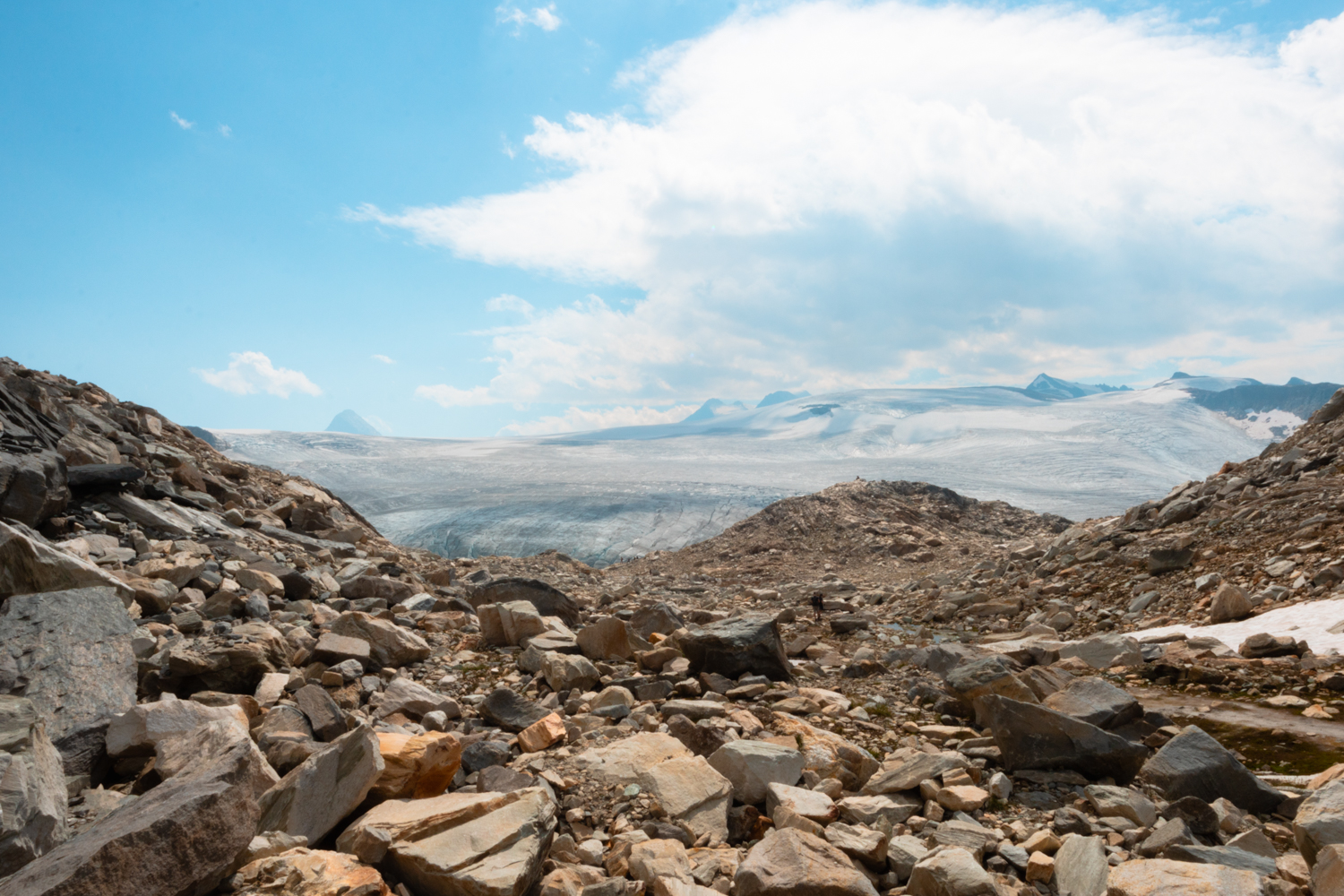 Facilities & Amenities at Perley Rock
There are no facilities on the trail itself, but there are a few at the trailhead, so plan accordingly!
Washrooms
There are two washrooms in a small wooden building at the trailhead. The campground also has flush toilets.
There are no outhouses on the trail, so I recommend bringing along a toiletry bag with a trowel, toilet paper tablets, Kula cloth, hand sanitizer, and a Ziploc bag so that you can follow LNT while pooping in the woods. About halfway up, the trail becomes pretty exposed and you won't have much privacy.
Water at the Perley Rock Trail
There's potable water available in Illecillewaet Campground so you can easily fill up your bottles before beginning your hike up Perley Rock.
Throughout the hike, there are a few river crossings where you can also fill up your water reserves. If there's snow, you can also heat it up to drink – but stay away from the red algae snow. Remember to always use a water filter so you don't get sick!
My favourite water filter is the MSR Thru-Link Inline Water Filter. It connects directly to your hydration pack so you can filter on the go. There are lots of other portable filters you can use on the trail, too.
Hiking the Perley Rock Trail
And now, what you've come for – info on hiking Perley Rock! Perley Rock is a difficult 14.5 km hike to Illecillewaet Glacier that will take all day (usually between 5 and 9 hours). It's a grind, but 100% worth it.
PS: AllTrails says Perley Rock is 11.7 km, but based on my group's recordings it's closer to 14.5 km (and took us 9 hours). There's often a discrepancy between trackers, so it's hard to know which is correct – so prepare for 15 km, but know it may not actually be that long.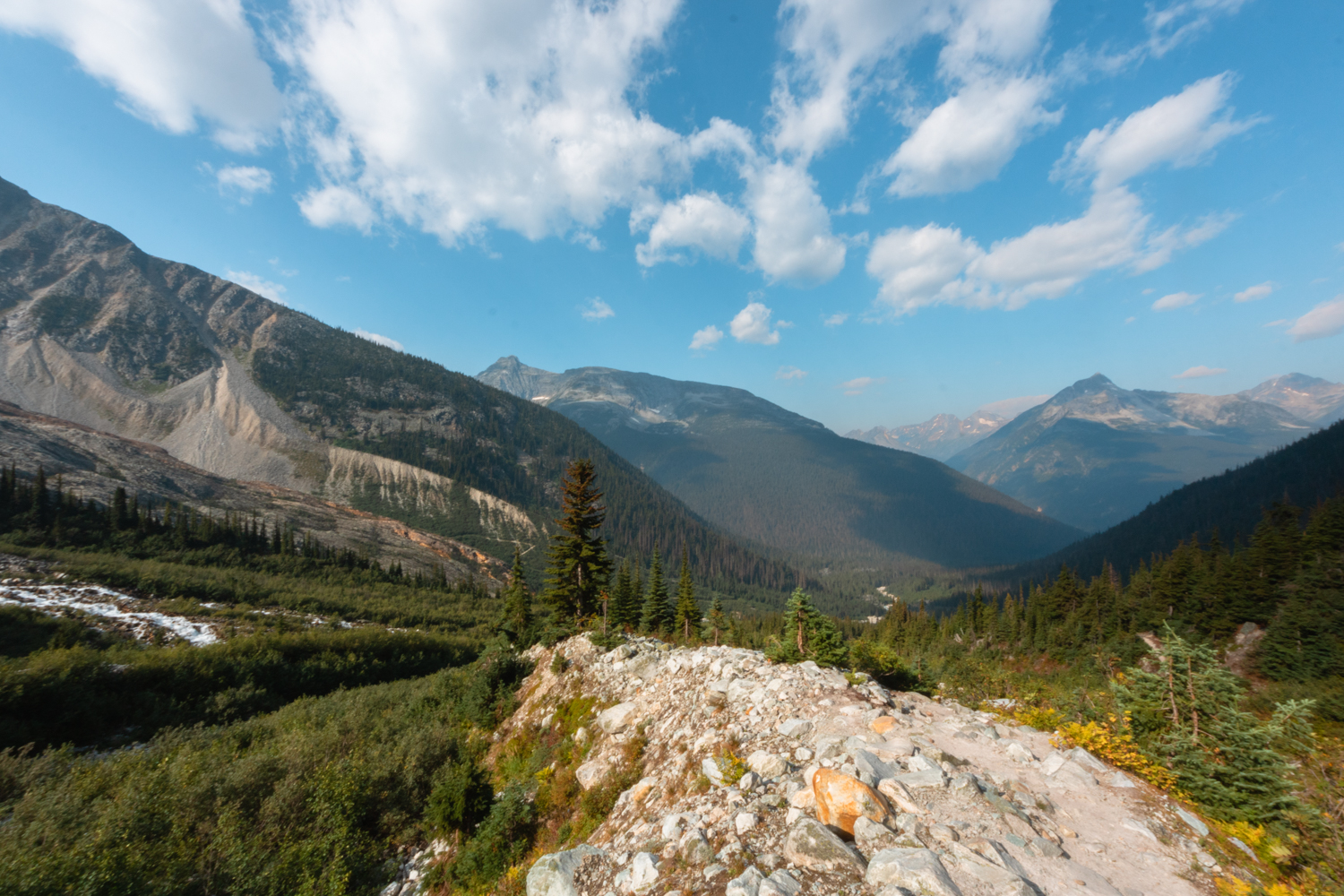 Easing into Perley Rock
The first 2 km of the Perley Rock hike are fairly easy. It's a great way to warm up and ease into a very challenging trail.
From the trailhead, take the gravel road that's blocked by three metal posts. The trail heads uphill for about 40 m, then levels out when it intersects with another gravel road — the old railroad bed! Read the signs carefully because lots of trails start here.
For Perley Rock, look about 5 meters to your right — you'll see a trail sign, boot brush, and a narrow trail head into the forest. The trail meanders through the forest and runs parallel to the Illecillewaet River. There's a slight incline, but nothing wild.
At around 1.5 km, the trail opens up into small alpine trees and you'll get your first view of the mountain valley – and the looming peak you're hiking to.
Avalanche Path
As the forest thins, you'll cross Vaux Creek on a small aluminum bridge and begin navigating an old avalanche path. It looks like a river of large rocks and is where an avalanche once thundered down the mountain.
Although the trail isn't as clear as before, it's easy to follow – just follow the rocks uphill! If you look closely, you can also see a slightly worn trail through the rocks. You'll begin your upward march here.
The hardest part about the avalanche path is watching your step. It would be very easy to twist an ankle. On the way down, I found this rock field the hardest part of the entire hike because I was so drained; it was mentally exhausting watching every step so closely.
Bridge Crossing
After the avalanche path, you'll cross the second bridge of the hike. The metal bridge is only a couple feet wide and crosses a fast moving, ice cold river. It's not long, but can be a little nerve racking.
After this bridge, you'll head back into the forest and begin the real uphill grind that Perley Rock is known for.
There are four bridge crossings throughout the hike.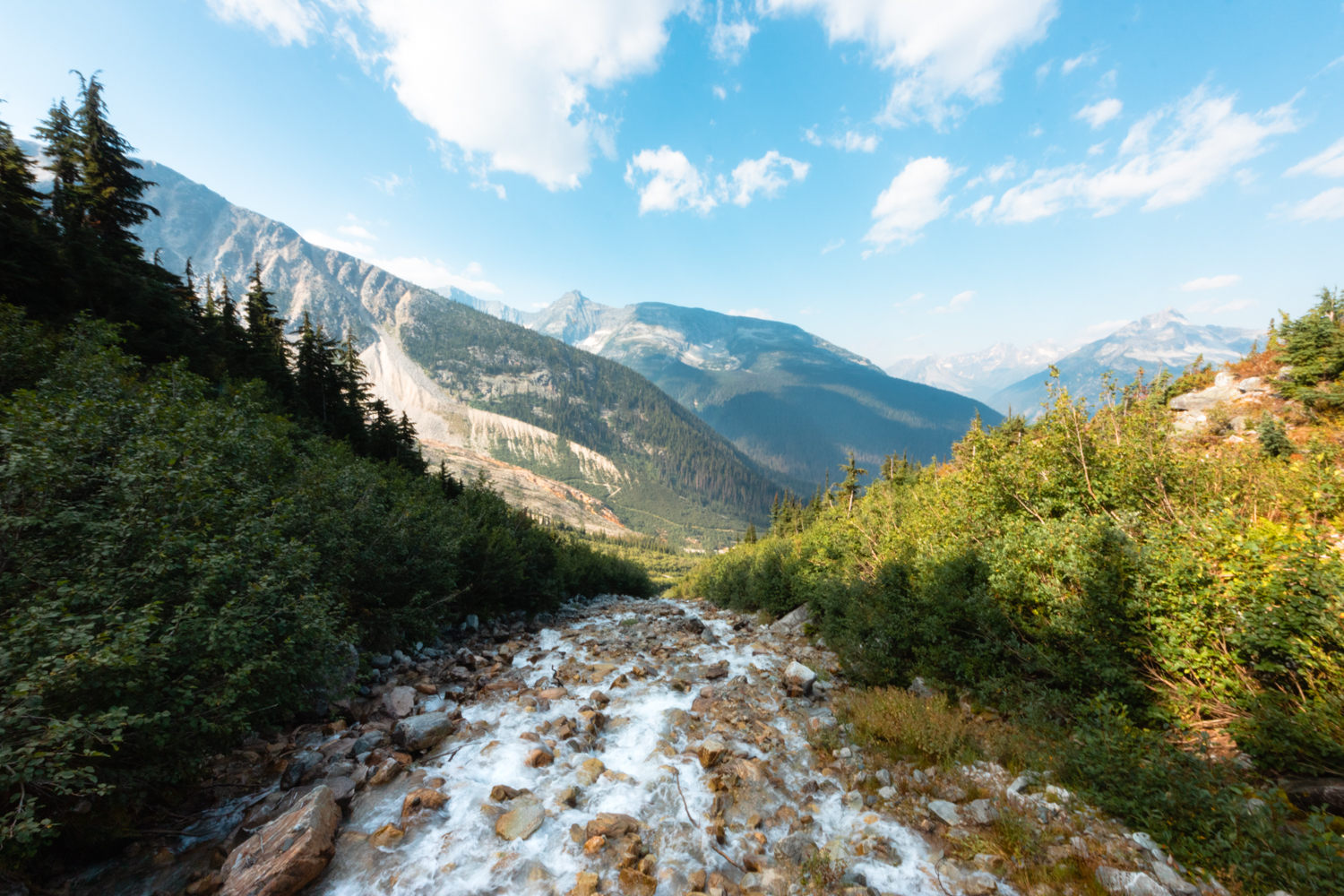 Waterfalls & Sir Donald/Perley Rock Junction
As you leave behind the second bridge, you'll skirt the edge of the forest and catch glimpses of the landscape through the trees. You'll enjoy stunning views of the surrounding mountains and waterfalls as Mount Sir Donald towers above you. It's truly spectacular!
Just before the fourth bridge, the trail follows the edge of a waterfall as it thunders down the mountain. Be warned, though. This section is steep and difficult; luckily, there's a little side trail that skirts the most difficult section.
After the fourth bridge, you'll reach the post that marks the junction for the Sir Donald and Perley Rock trails (located at 3.2 km). Take the right fork and head uphill into the forest.
Switchbacks & Exposed Slope
After the junction, the extensive switchbacks begin. Pretty much the rest of the Perley Rock trail is switchbacks.
For the first bit, you'll hike through a forest. The trail is obvious, but it's narrow, rocky, and rooty.
Before long, you'll begin a relentless ascent up an exposed mountainside that's covered in heather and larger boulders. Go slow and take your time; it's tiring. In the early season there's often still snow and can be dangerous.
With so much elevation gain, the view gets better with every step. The valley sprawls at your feet and the mountains disappear in the distance. The Illecillewaet River snakes its way to the valley bottom and the glaciers are getting closer.
It's really an unbelievable view and is 100% worth the sweat, lack of breath, and occasional choice word. Much of the view is rocky, exposed land where the Illecillewaet Glacier has retreated over the past 150 years.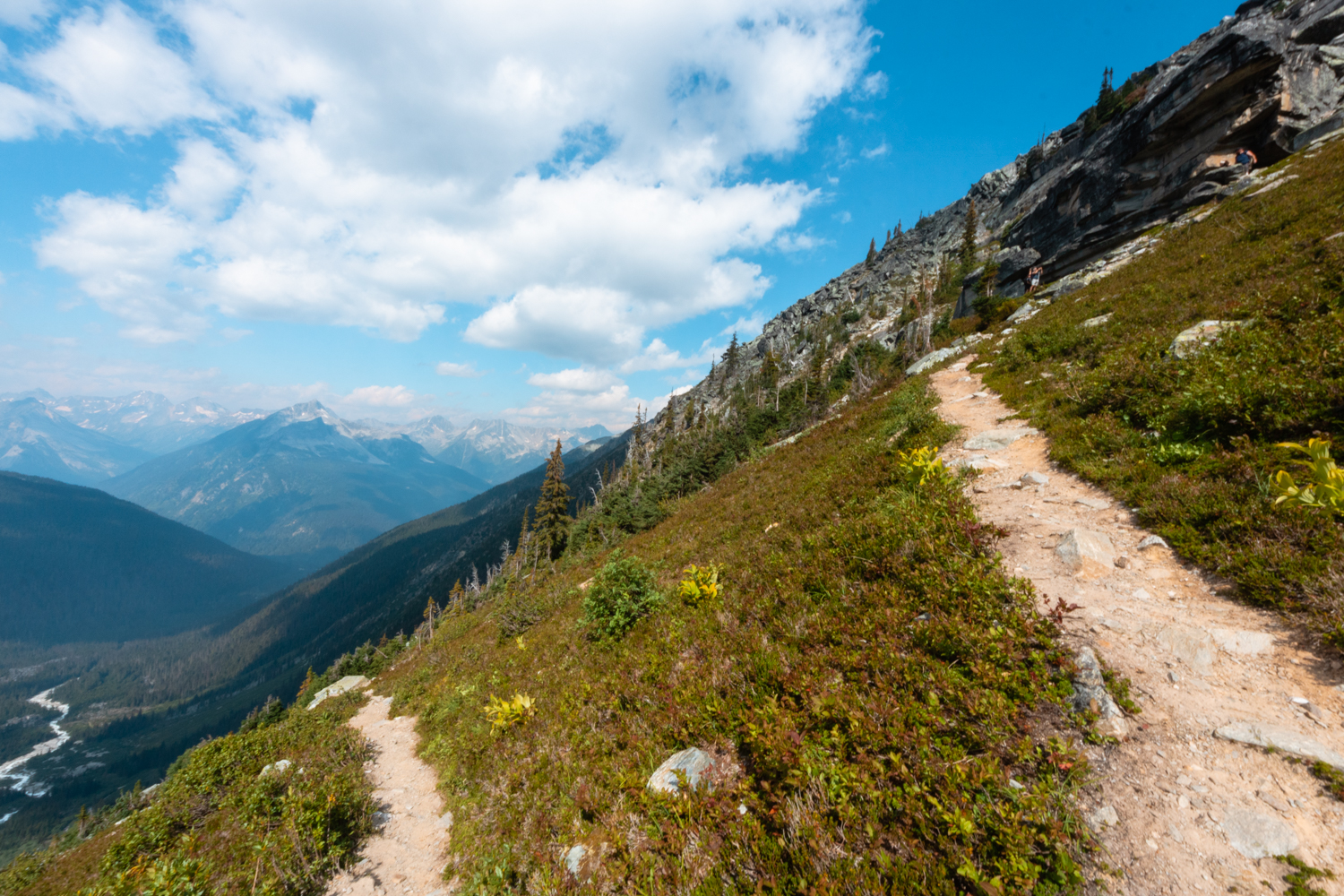 Rock Wall & Rocky Trail
After the heather-covered slope, the trail quickly becomes rock covered and heads straight for the bottom of a huge rock wall.
When I hiked Perley Rock in early September, there was still snow at the base of this wall with a small, dicey trail between the snow and rock wall. Getting through involved a lot of scooting and trying not to freak out that I'd fall into the space below the snow and rock. It was definitely the sketchiest section of the entire hike.
Once you're past the sketchy snow wall section, you'll follow the semi-worn trail up through the loose rock. The trail can be hard to see, but it's pretty obvious where to go.  Make your way to the ridge between two taller, rocky mounds. Go slow and soon you'll reach the top!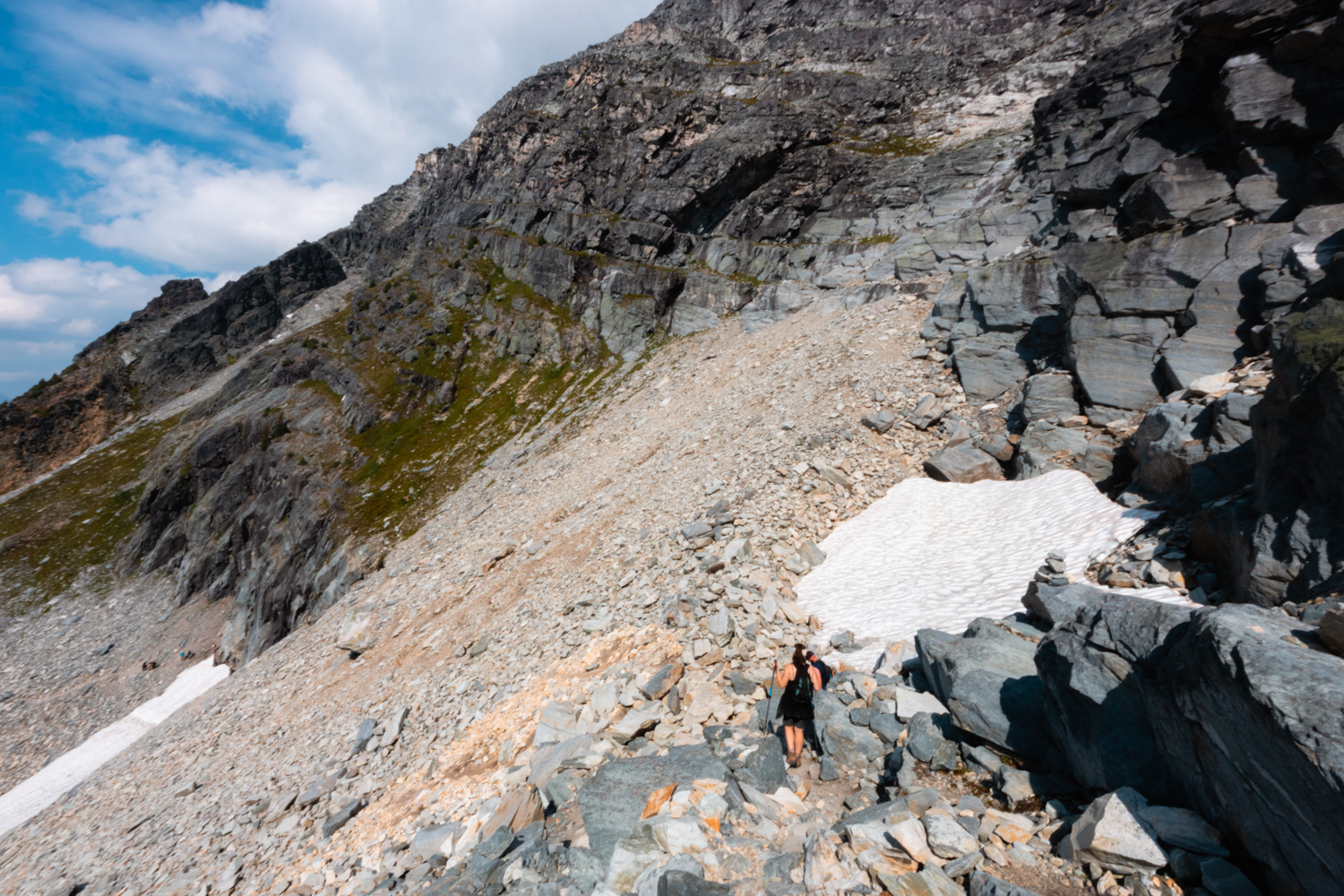 Perley Rock Summit
When you reach the top of this last rocky ascent, you've reached the top! Well, almost.
Perley Rock is the mound to your right and takes only a few more minutes to climb to the top of. Enjoy absolutely stunning views of the lush valley contrasted against the barren landscape of Illecillewaet Glacier. It's a truly breathtaking view!
Take in everything that you've just accomplished, it's truly impressive and you should be proud of yourself!
Illecillewaet Glacier
Even though you've already reached the summit of Perley Rock, the real treasure of this hike – Illecillewaet Glacier – is a little further. Luckily, there's no more uphill.
Hike down a very gentle slope through a rock covered, barren landscape until you reach the base of the Illecillewaet Glacier – so close you can touch it! The glacier is basically a huge expanse of snow and ice that's a greyish-white. At its base there's a beautiful lake full of ice cold water.
As you approach the glacier, be aware that pieces can fall at any time. Take great care that you don't go anywhere falling ice could hit you.
Depending on the time of year you visit, the distance you'll need to hike in will vary. In the early season, the glacial lake is large. In the later season, the lake shrinks and brings you much closer to the glacier. You can also climb the rocky ridge to the east for stunning views of the Illecillewaet Glacier and Neve.
Interestingly, the Illecillewaet Glacier is one of the most studied retreating glaciers in the world. Since 1887, it's retreated 1.5 km and once covered much of the valley you just hiked up.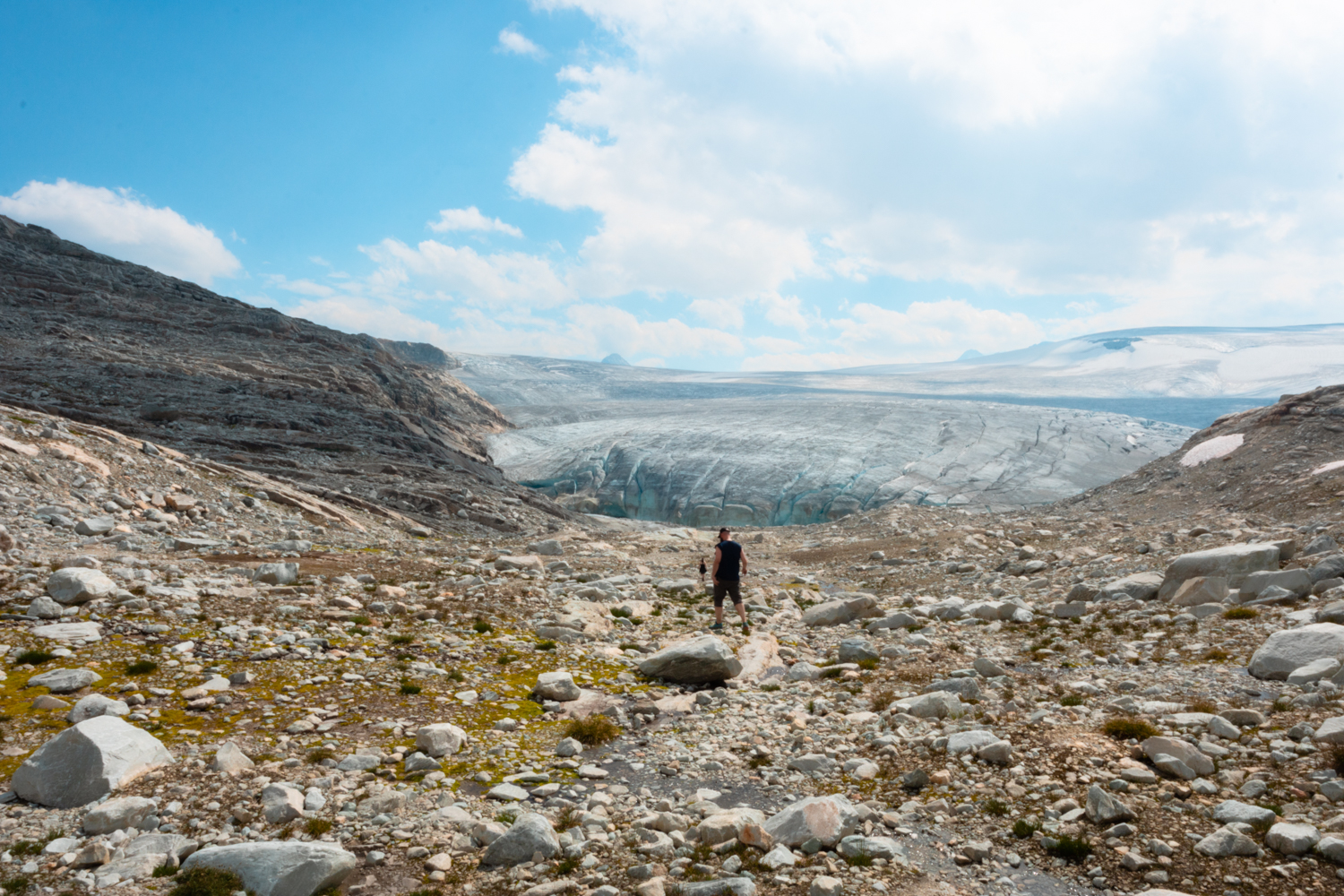 Glacial Lake
The glacial lake at the base of the retreating Illecillewaet Glacier is absolutely stunning! It's a bright, milky turquoise… and absolutely freezing. The water is a great way to soothe your sore feet! Or take a swim if you're feeling extra brave.
You'll notice a fine glacier flour coats the ground as you approach the lake. It's pure white, soft, and clings to everything — including you. The glacier flour is very similar to flour (hence the name) and is formed when slowly moving glaciers grind up rock and sediment. It's easily transported in water and is the reason the glacier lake looks milky.
I absolutely loooooved the glacial lake! It was a highlight of the Perley Rock trail for me and I'd hike back up just for it.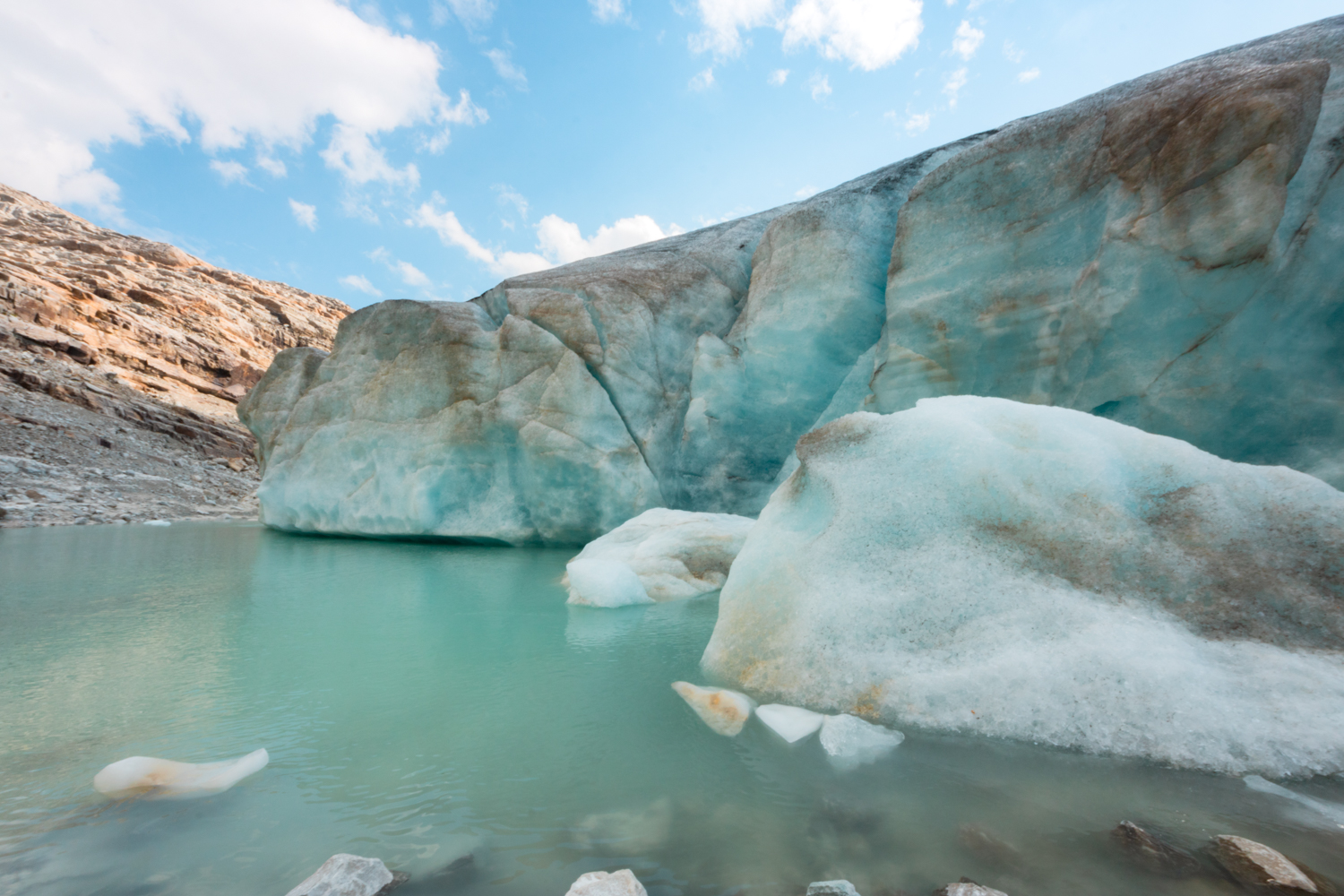 Ice Cave at Perley Rock
To the right of the lake there's a moderately sized glacial ice cave.
It's very dangerous to enter the cave because ice could fall at any time and everything you'll read online says not to go in it. I can't in good conscience (or legally, I'd assume) recommend you enter it, but it is very cool even if you just look at it from the outside.
The ice is bright blue with a rocky, flour covered bottom. The sound of creaking ice is loud and clear – and super sketchy. I did go into the cave, but ran out very quickly.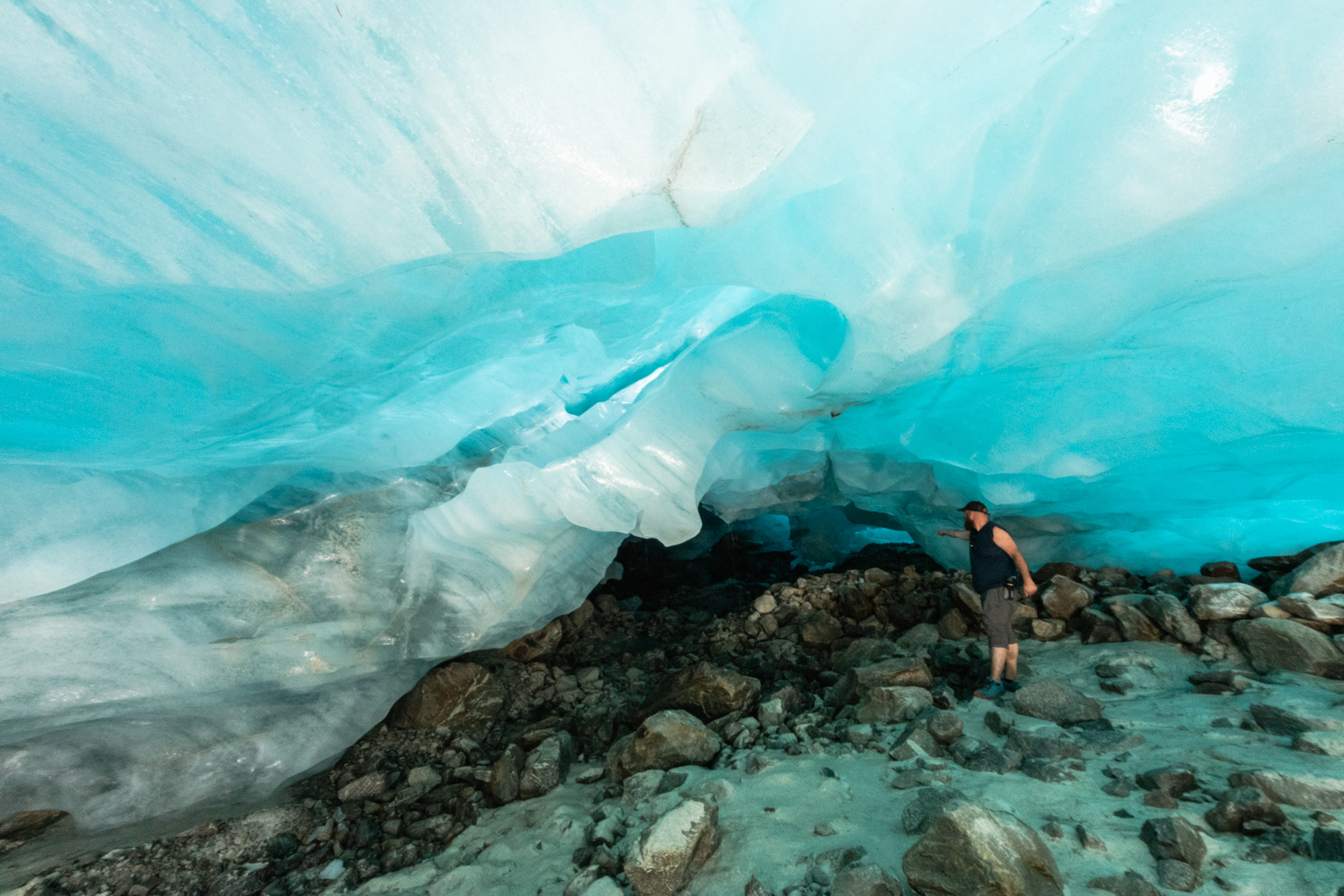 Descent from Perley Rock & the Illecillewaet Glacier
And now, the descent. Take your time at the summit, but start heading back with plenty of daylight left.
After a grueling 6+ km up to the glacier, you have to turn around and do it all again. Sure, it's not uphill, but it's a steep descent that it's equally, if not more, tiring.
Plus, you're already physically and mentally tired from the hike up, so don't be afraid to take your time and take extra care. Use your poles (highly recommended!) and watch your step.
On our descent, it began to rain and the wind picked up on the exposed switchback. By the time we reached the third bridge, it was getting bad. Looking back up, Perley Rock was engulfed in rain and it really showed how quickly the weather can change in the mountains.
Perley Rock Trail Packing List
Perley Rock is a difficult hike in the Rocky Mountains. It's very important to pack properly for this hike so that you're prepared if anything goes wrong.
10 hiking essentials
Always bring the ten essentials when you're doing a difficult hike such as Perley Rock. This will ensure you're prepared for changing situations, whether that's the weather, safety, or physical needs.
Satellite GPS with SOS 
I highly, highly recommend bringing a satellite GPS to Perley Rock. It's a long, grueling hike in the Rocky Mountains with limited cell service. A satellite GPS will ensure you stay on track and can communicate with trusted contacts or emergency personnel if something goes wrong.
Water filter 
There's lots of glacial water available, but you can get sick from drinking it directly. Instead, use a filter to remove any of those nasties. There's lots of different kinds of water filters, including pumps, tablets, bottles, gravity, and on-the-go. While hiking, some of these are more useful than others.
My personal favourite is the MSR Thru-Line because it connects directly to your water reservoir so you can quickly fill up and filter on the go.
First aid kit
A basic first aid kit is always a necessity. Adding a few extras like triangular bandages and Advil are recommended.
Bear spray. Bears obviously live in the Rocky Mountains. At Perley Rock, you're most likely to encounter bears on the lower portions of the trail. Doesn't hurt to brush up on your bear safety knowledge either.
Extra clothing
Always pack extra layers of clothing in case the weather changes and you need to keep warm. It's better to carry a lightweight down jacket and never use it than freeze.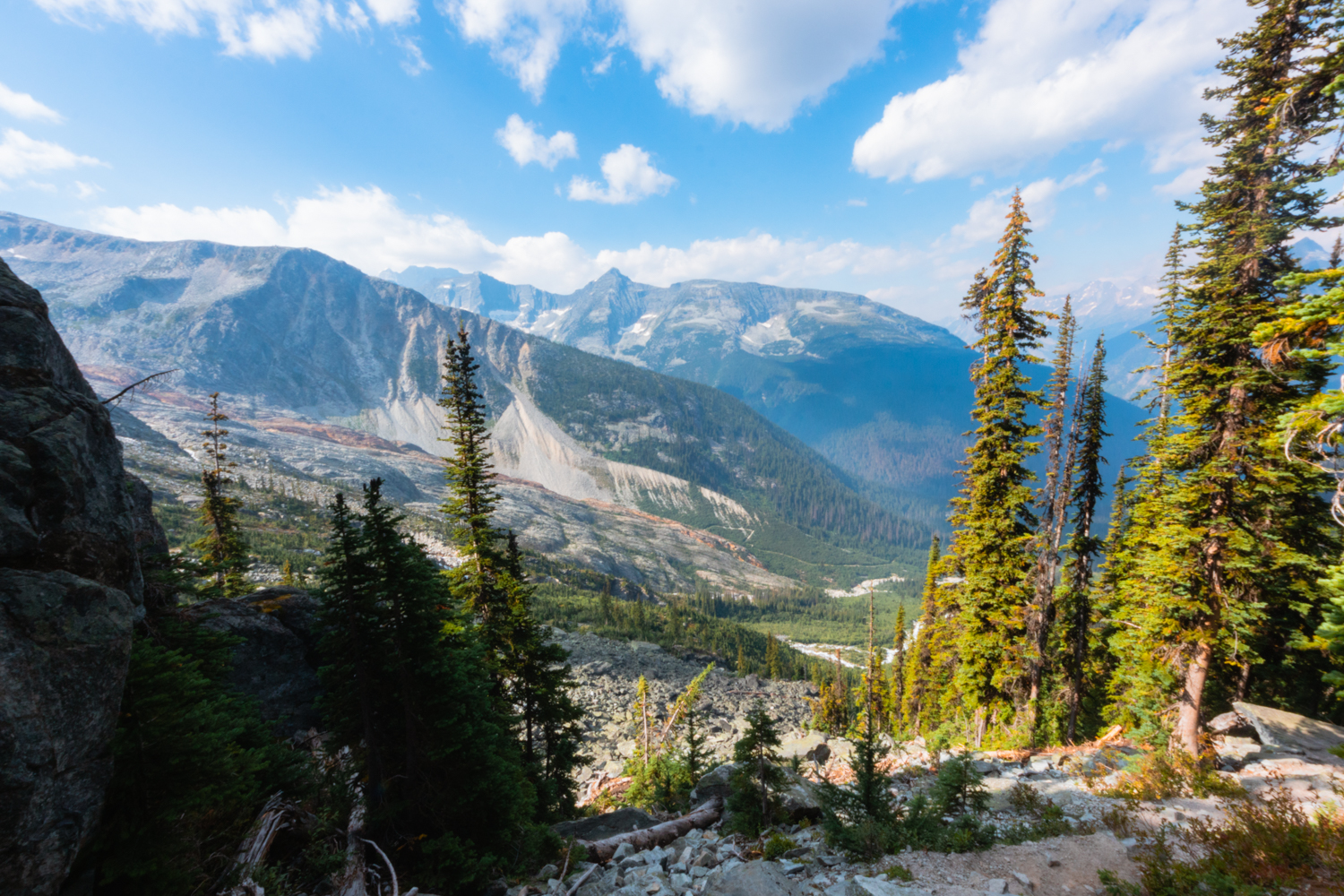 Perley Rock FAQ
Where is Perley Rock?
The Perley Rock trail is located in Canada's Glacier National Park. It's easily accessible off the Trans-Canada highway. Trail Map
Is Perley Rock family friendly?
Yes and no. You must access your children's hiking abilities before attempting Perley Rock. This is not a good trail for really young kids or families that don't have a lot of hiking experience. It's certainly a difficult hike, but you know best what your kids can handle.
How long does it take to hike Perley Rock?
On average, it takes between 5 to 9 hours to hike Perley Rock. It took my group 9 hours, but I was slow moving and we spent a while at the summit.