Bear Creek Provincial Park is a great place to camp and explore the outdoors near Kelowna.
The park is located on the western shores of Okanagan Lake and has amazing views of the lake, surrounding hills, and even Kelowna itself.
Bear Creek Provincial Park is 158 hectares and is most well-known for its campground, day-use area, and hiking trails.
Whether you're kayaking on Okanagan Lake, hiking the nearby canyon or waterfall, or just soaking in the sunshine, there are plenty of things to do at Bear Creek.
The park's also home to a ton of Canadian geese, so keep an eye out for their poop. They'll generally stay out of the way, but geese can be aggressive so it's best to give them plenty of space.
Campsites
143
Camping Type
Tents, cars, RVs, trailers
Park Size
158 hectares
Fees
Free day use
$35 – $45/night
Open Dates
Day use: Year-round
Camping: Late March to mid-October
Activities

Camping, hiking, water activities, day-use

Recommended Gear
Backroad Mapbooks
Disclosure: This article may contain affiliate links and I may earn a commission, at no cost to you, if you click and/or buy a product online (even if it's not the product linked). I take great care to only recommend helpful products and appreciate your support!

Disclosure: While I do my best to provide up-to-date pricing, there may be a discrepency between what's posted here and the actual cost.
Where is Bear Creek Provincial Park located?
Bear Creek Provincial Park is located in the Central Okanagan, about 10 minutes from Kelowna and 1 hour from Vernon.
The campground sits on the shores of Okanagan Lake and is an excellent place to disconnect from city life without travelling far.
Directions to Bear Creek
Bear Creek is accessed via Westside Road, a beautiful scenic back road that connects West Kelowna and Vernon. The paved, single-lane road winds along the northern portion of Okanagan Lake and is worth taking just for the sake of the beautiful drive.
Westside Road cuts Bear Creek Provincial Park in half. You'll find the campground and beach on the eastern/lakeside of the park; the canyon hiking and waterfall are on the western side.
Bear Creek Provincial Park is 11 km from downtown Kelowna. On a good day, the drive takes about 10 minutes, but if the bridge is backed up it can take much longer.

To drive from Kelowna to Bear Creek, cross the bridge and take the Westside Road exit at the top of the hill. Turn right and continue on Westside Road for 6.8 km until you reach the park entrance on your right. There's a small wooden sign just before the gate.

Before the campground entrance, there's a parking lot on your left. This is where the sani-station and hiking trails are. Continue a few feet past this and you've reached the campground and day-use area.

Tip: Traffic in Kelowna, especially downtown and over the bridge, can be terrible during rush hour and/or summer. Expect to move slowly and for people to run lights or cut you off.

Driving to Bear Creek from Vernon via Westside Road is a little longer, but definitely worth the detour. Not only is it a beautiful drive, but you'll skip over the nuthouse that is Kelowna in the summer and maybe even spot some bighorn sheep!

This route is quite windy and some sections aren't in the best repair. If you're in a large trailer or RV, it's easier to drive through Kelowna.

To take the scenic route from Vernon, head north on Highway 97 and take the Highway 97 N exit for Kamloops. Turn left at the bottom of the exit ramp. Continue for 5.6 km, then turn left onto Westside Road (with signs for Westshore/Fintry/Killiney). Stay on Westside Road for 58.6 km until you reach the campground entrance on your left.

Tip: Fintry Provincial Park is on this route. Stop to check out the beautiful waterfall and heritage site! There's also a large campground here.

Driving to Bear Creek from Vernon via Kelowna is very straightforward. Take Highway 97 south until you reach Kelowna. You'll pass through Lake Country, as well as see Kalamalka and Wood Lake on your way.

Once you've reached Kelowna, continue over the bridge to West Kelowna. At the top of the hill after the bridge, take the Westside Road exit and keep right to merge onto Westside Road. Continue for 6.8 km until you reach Bear Creek Provincial Park. There's a small wooden sign at the campground/day-use entrance.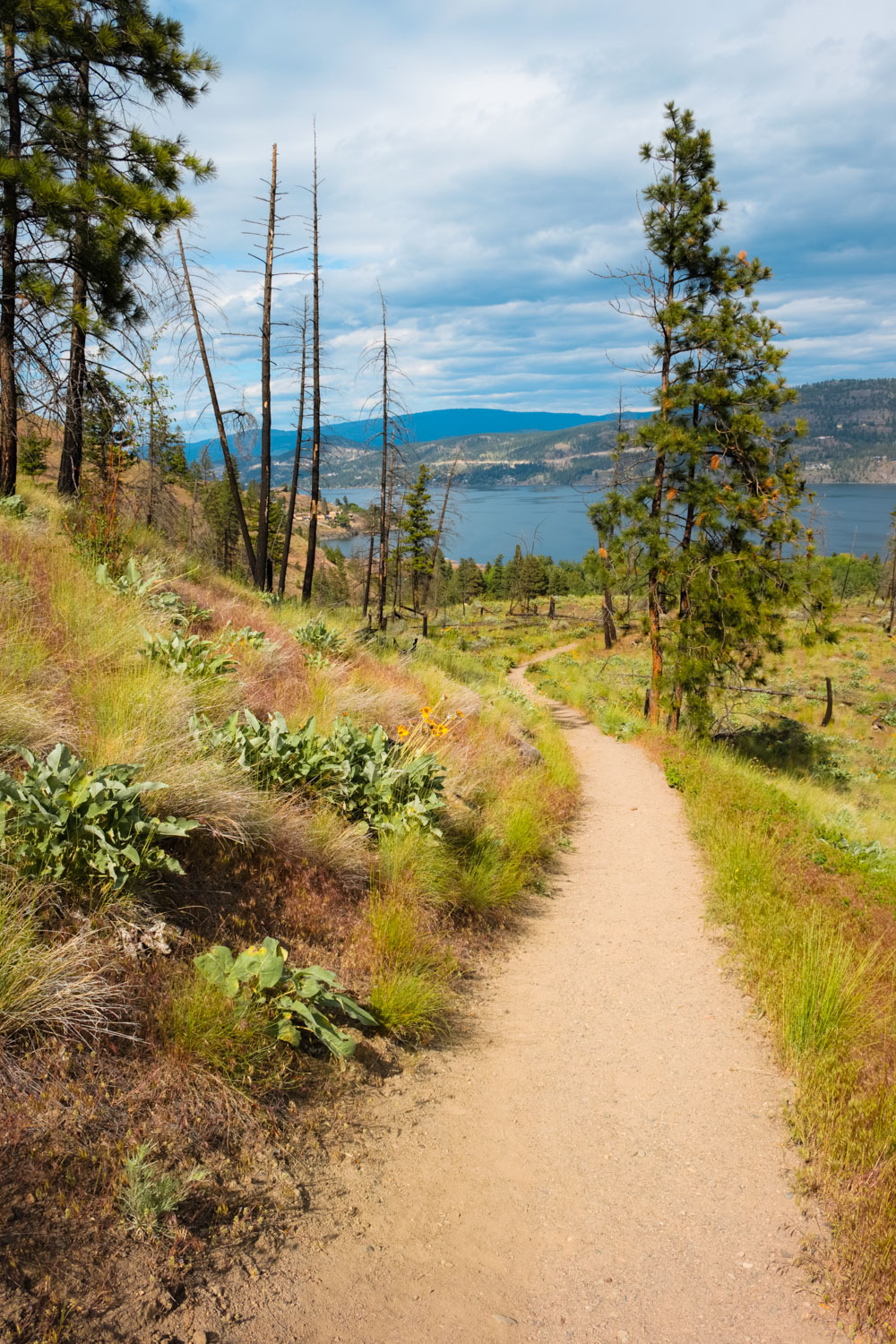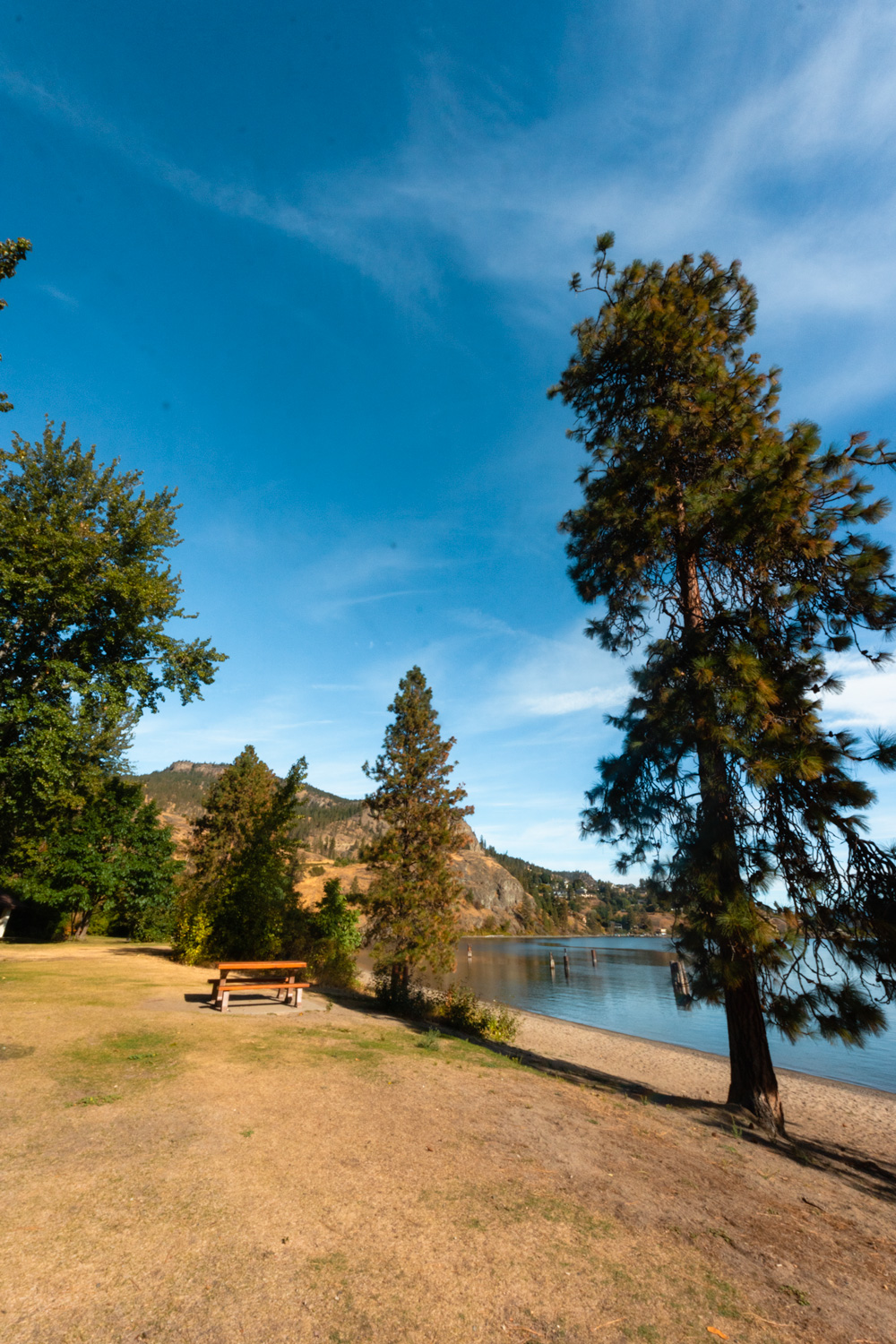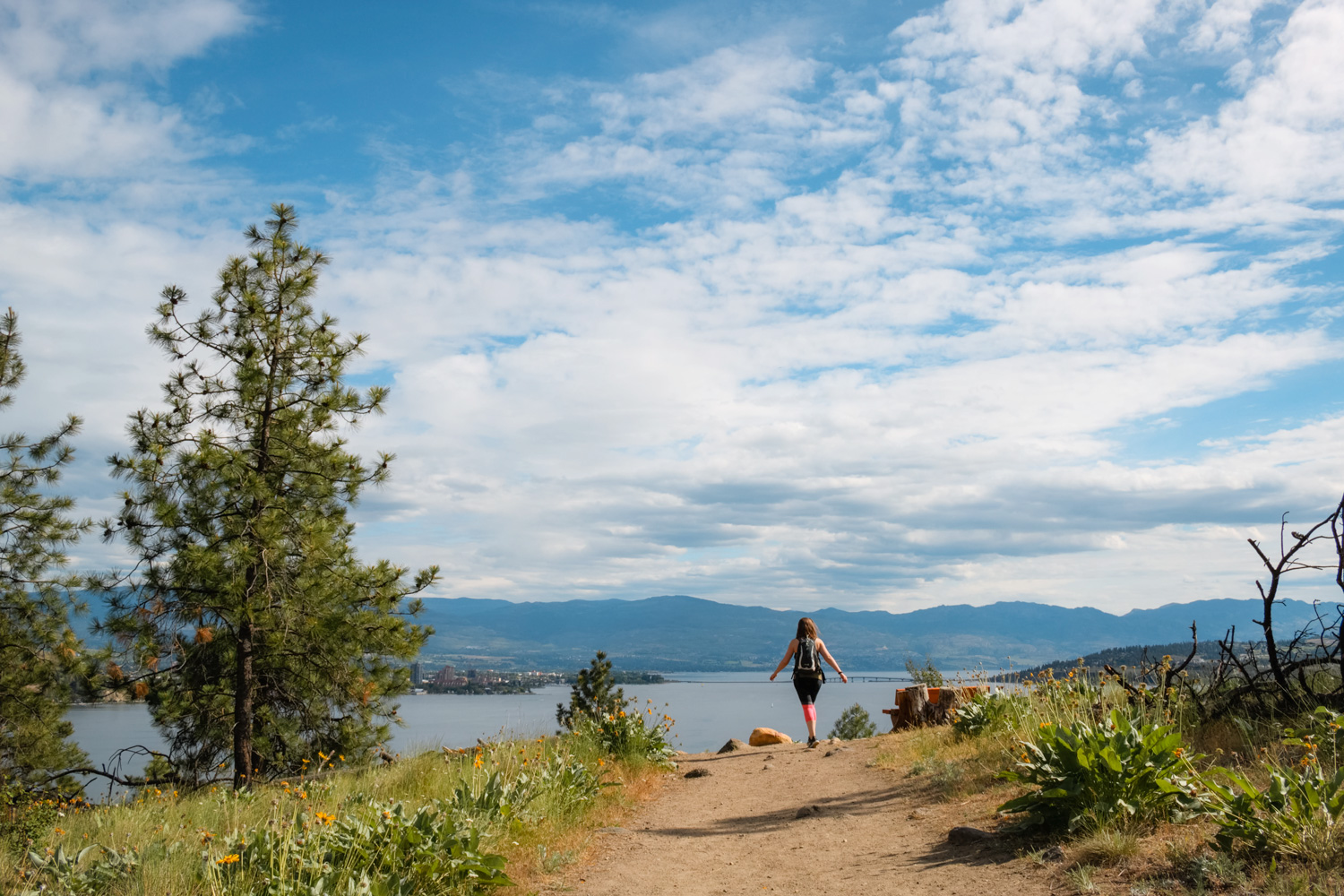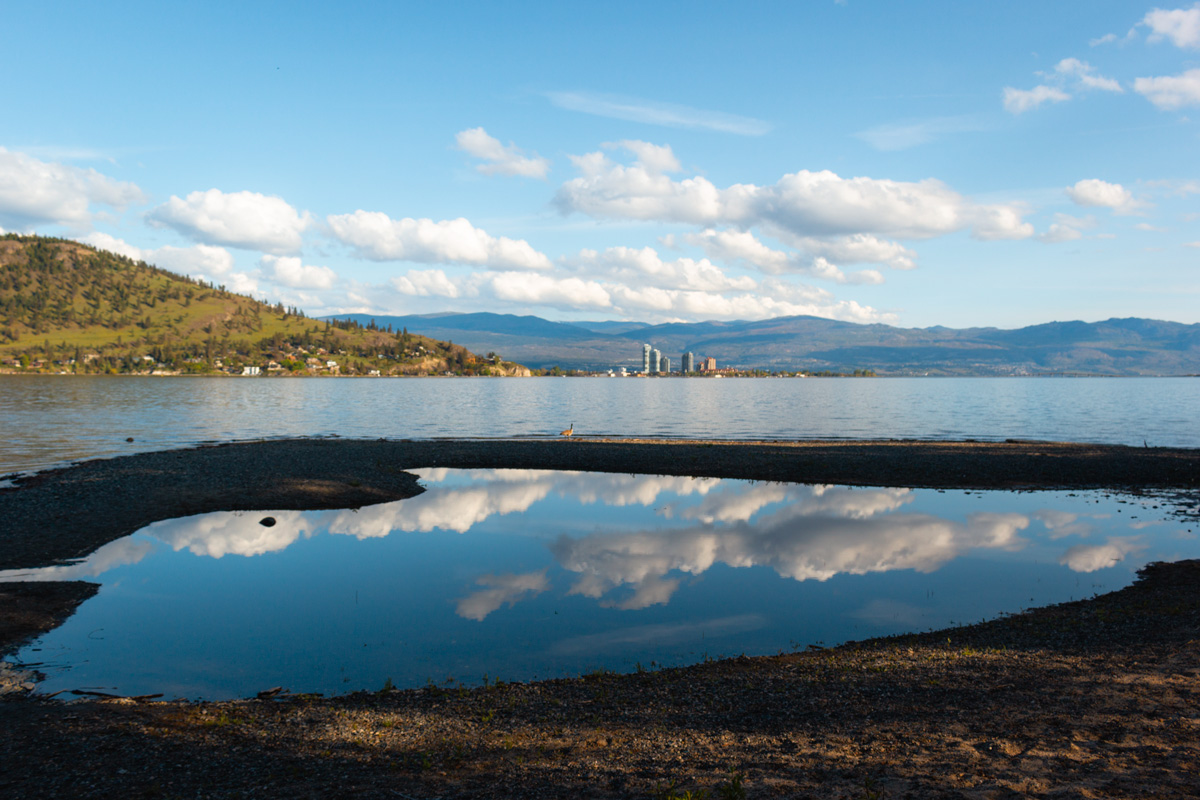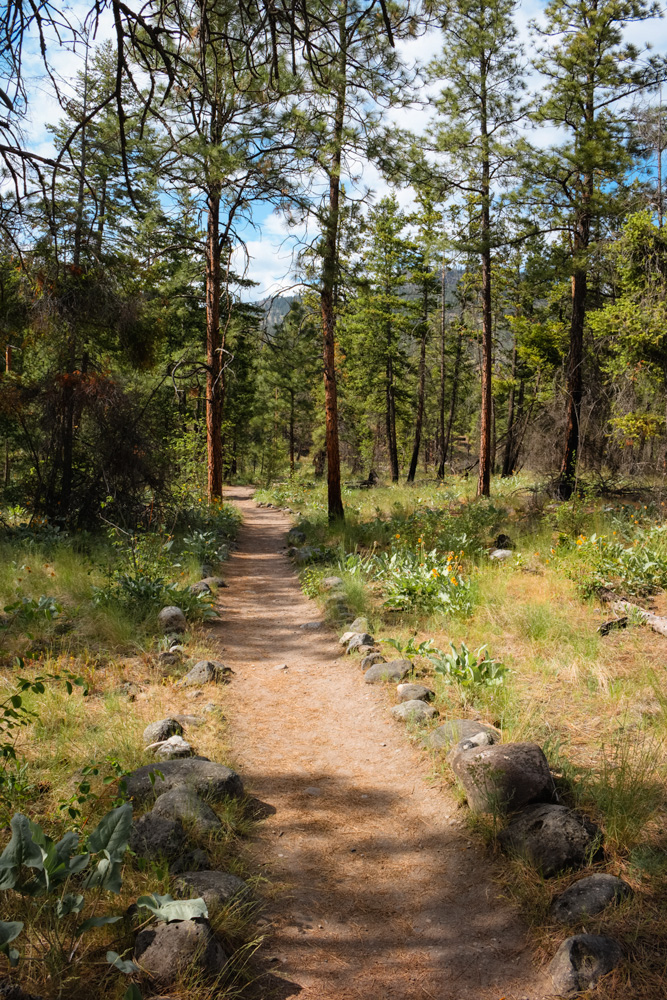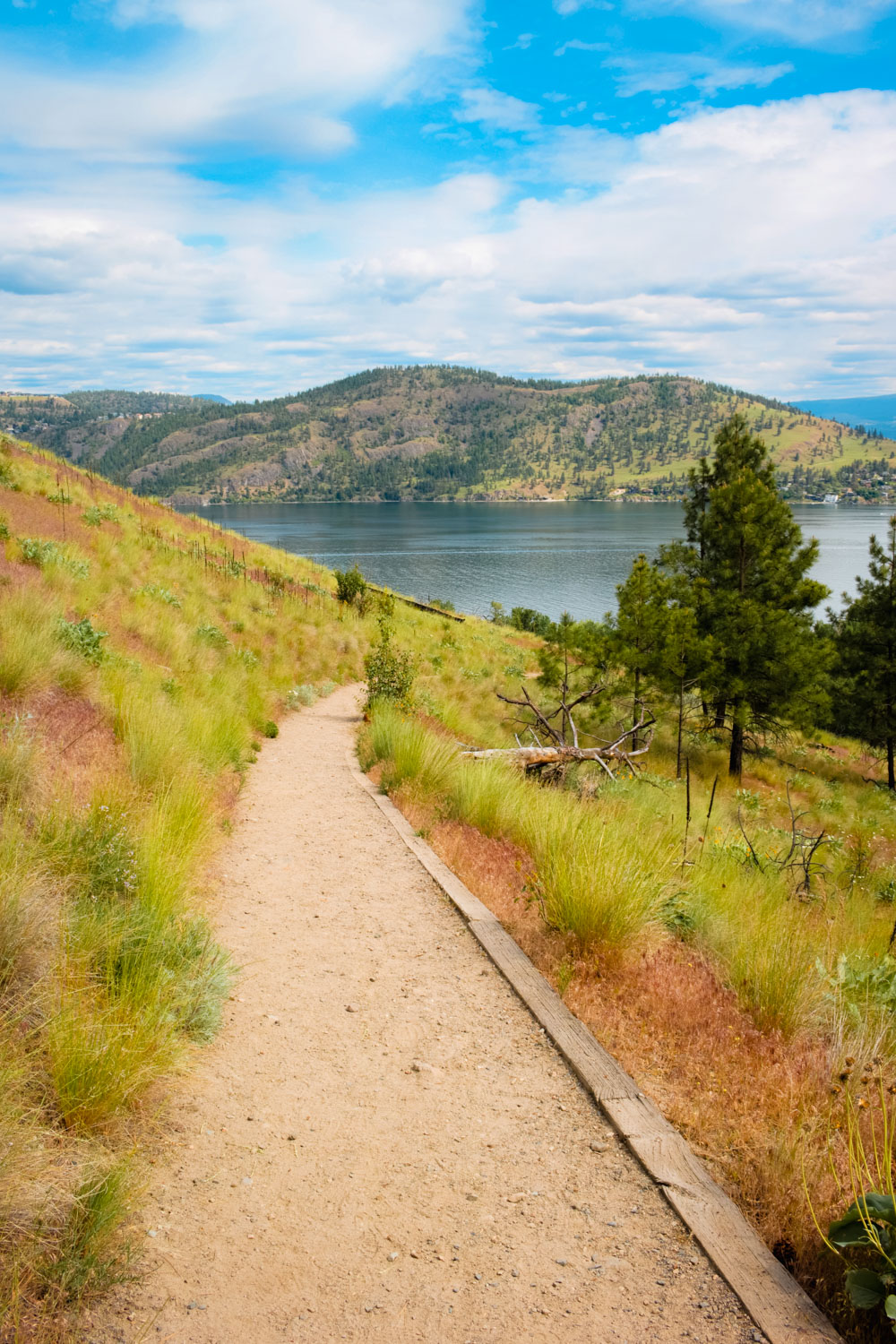 Camping at Bear Creek Provincial Park
Tents, trailers, and RVs are all welcome at the Bear Creek campground. There are plenty of facilities and amenities — you can enjoy lake access, flush toilets, warm showers, an onsite sani-station, and much more. Many campsites have electricity and/or water hookups.
Bear Creek has 143 vehicle-accessible campsites (18 double) and is usually open from the end of March to mid-October (check here for exact dates). Reservations, first-come-first-served, and overflow are all options here.
The cost of camping at Bear Creek Provincial Park is reasonable when compared to hotels in the area, but it's still pretty pricey for camping, especially if you're tenting. Prices range from $35 to $45* per night.
*While I do my best to provide up-to-date fees, there may be a discrepancy between what's posted here and the actual cost.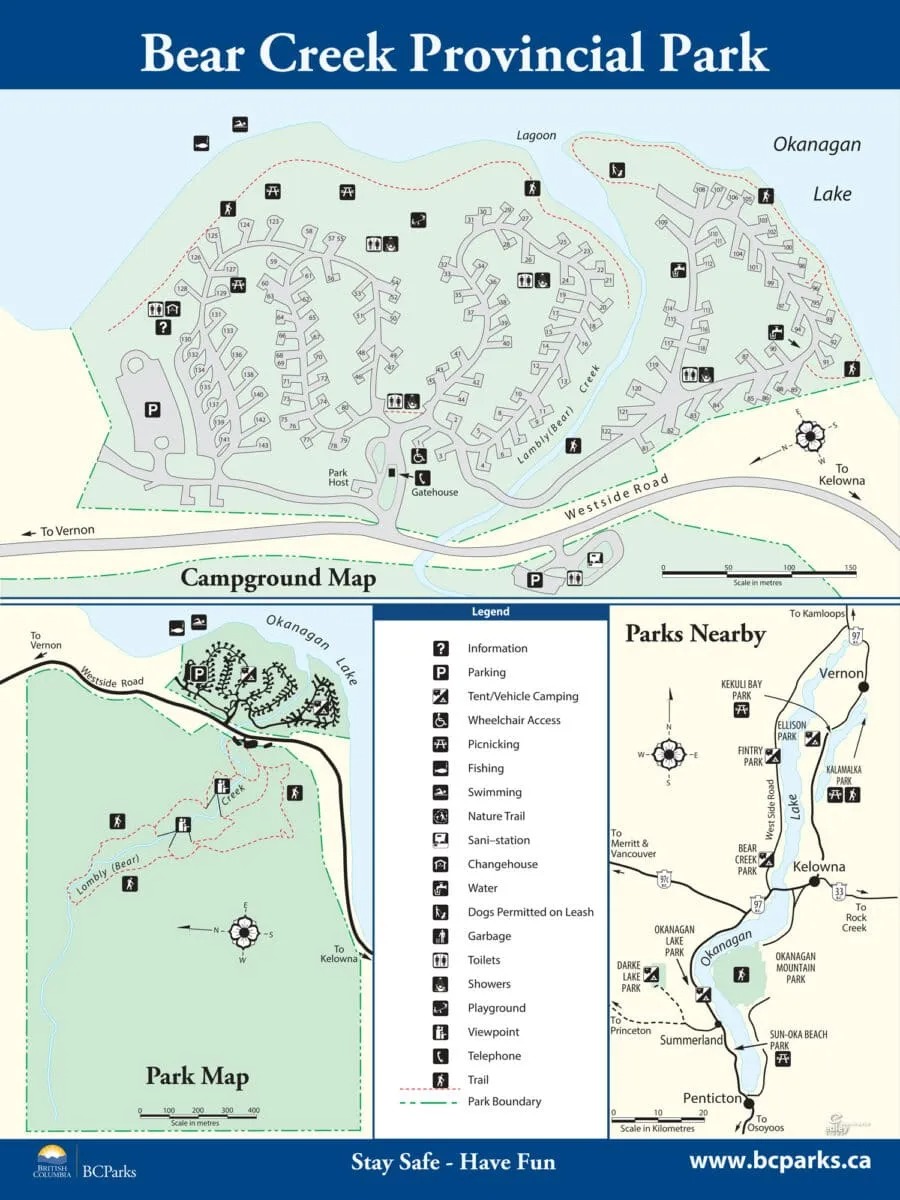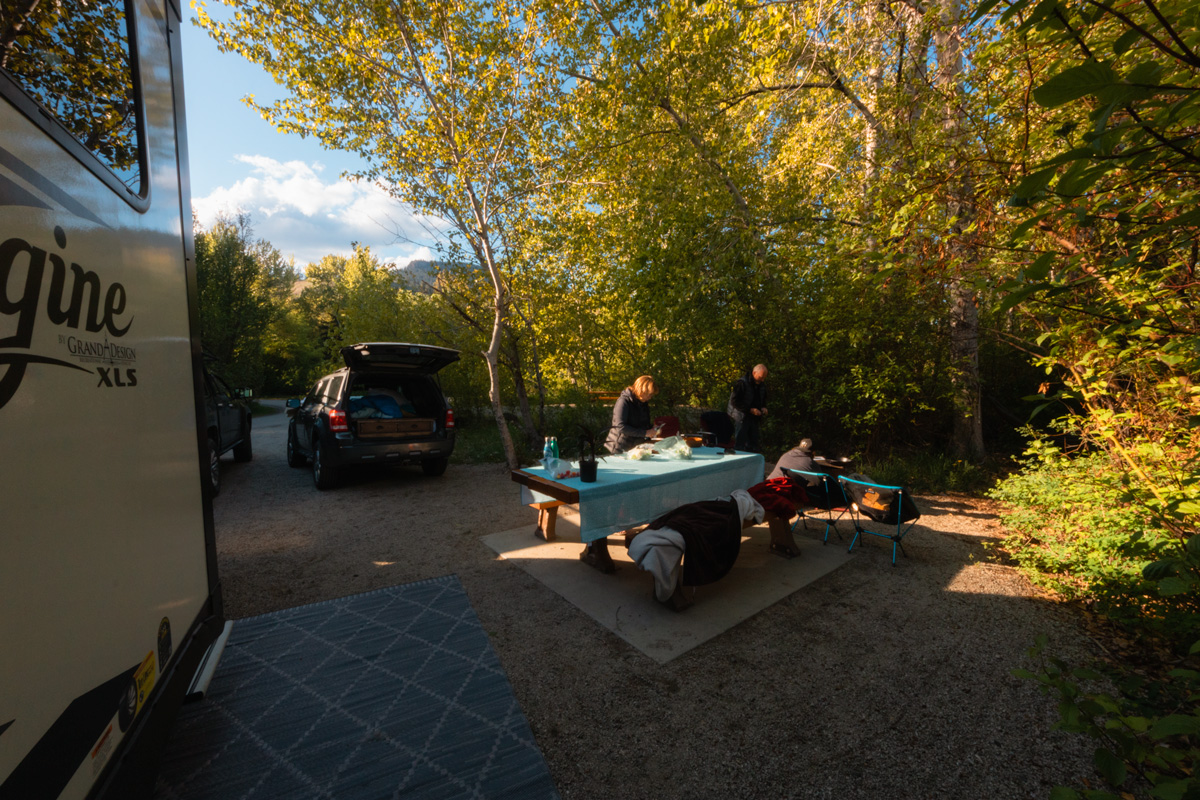 Campsite Options
Camping at Bear Creek Provincial Park is super popular, especially on weekends and during the summer. Luckily, it's a large campground with plenty of room for everyone! Still, it's important to plan ahead if you want to snag a campsite at Bear Creek.
The Bear Creek campground generally opens at the end of March and offers reservations, first-come-first-served, and overflow camping. Explore each type of camping system below.
Tip: My favourite sites at the Bear Creek campground are #105, 106, and 107. They have the best views of the lake and are right on the beach.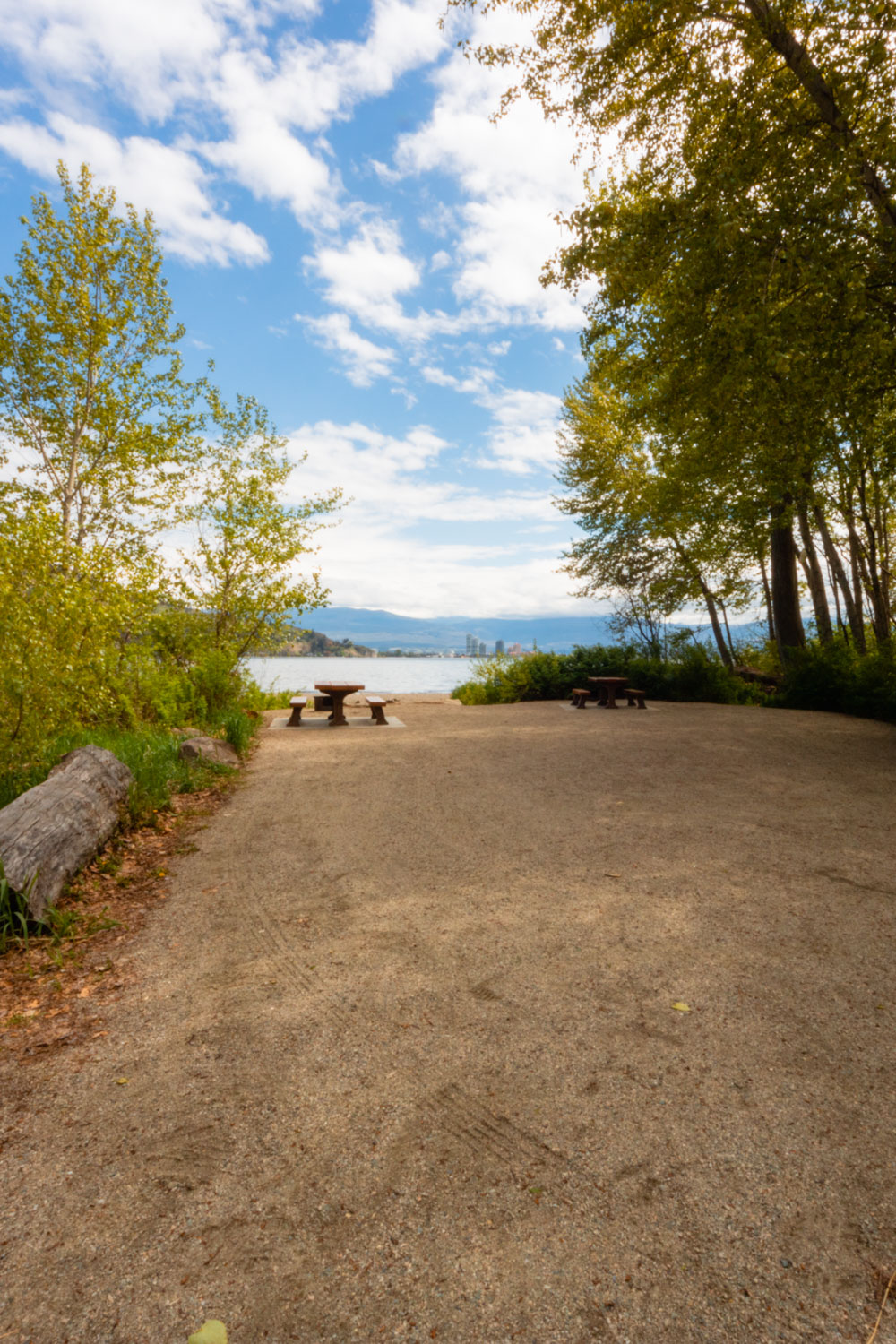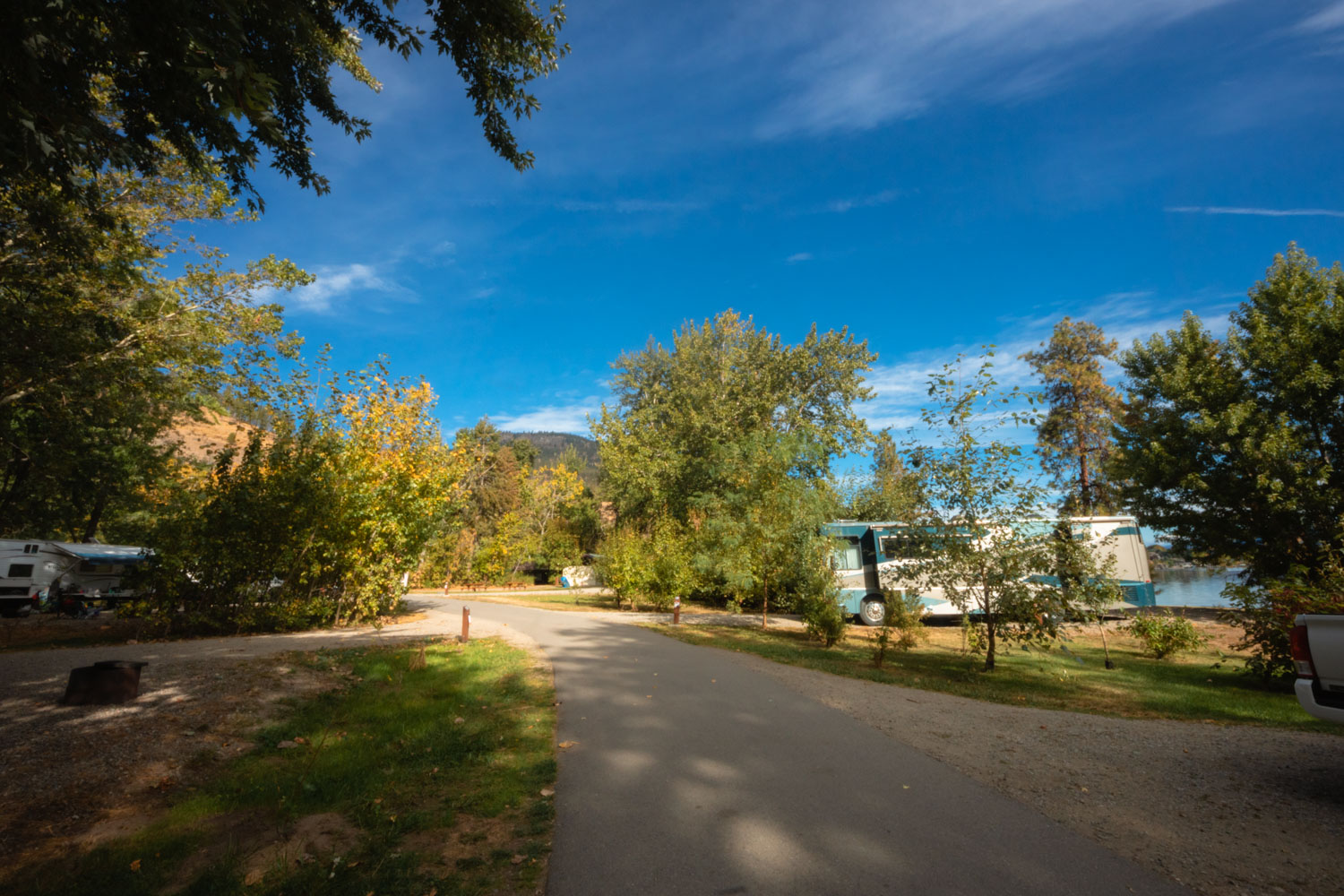 Other Accommodation Options
If you're unable to get a campsite at Bear Creek Provincial Park, don't worry! Although the park is quite popular, it isn't the only place in the region where you can stay.
There are plenty of other campgrounds, hotels/motels, and private rentals you can stay at in the Kelowna area.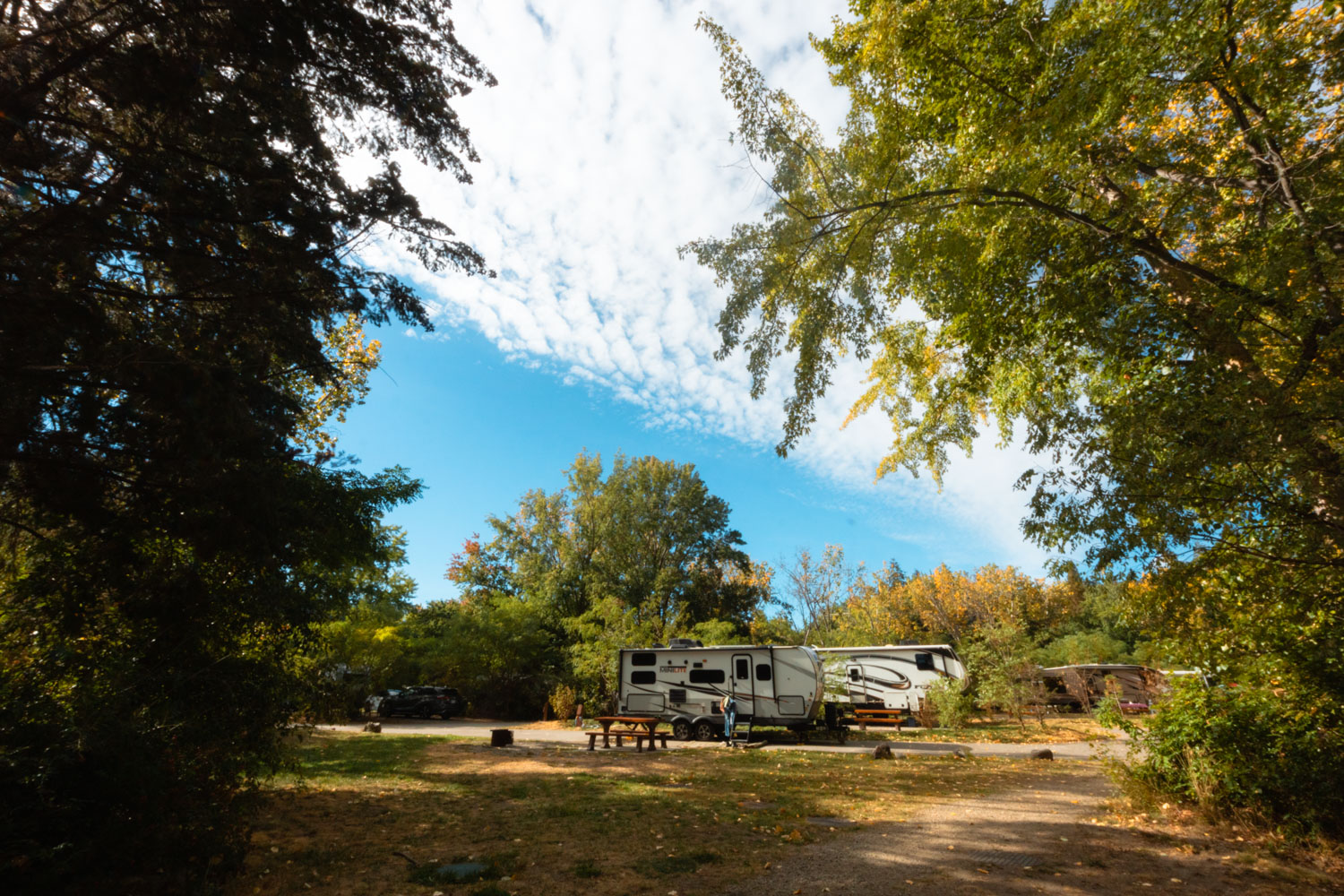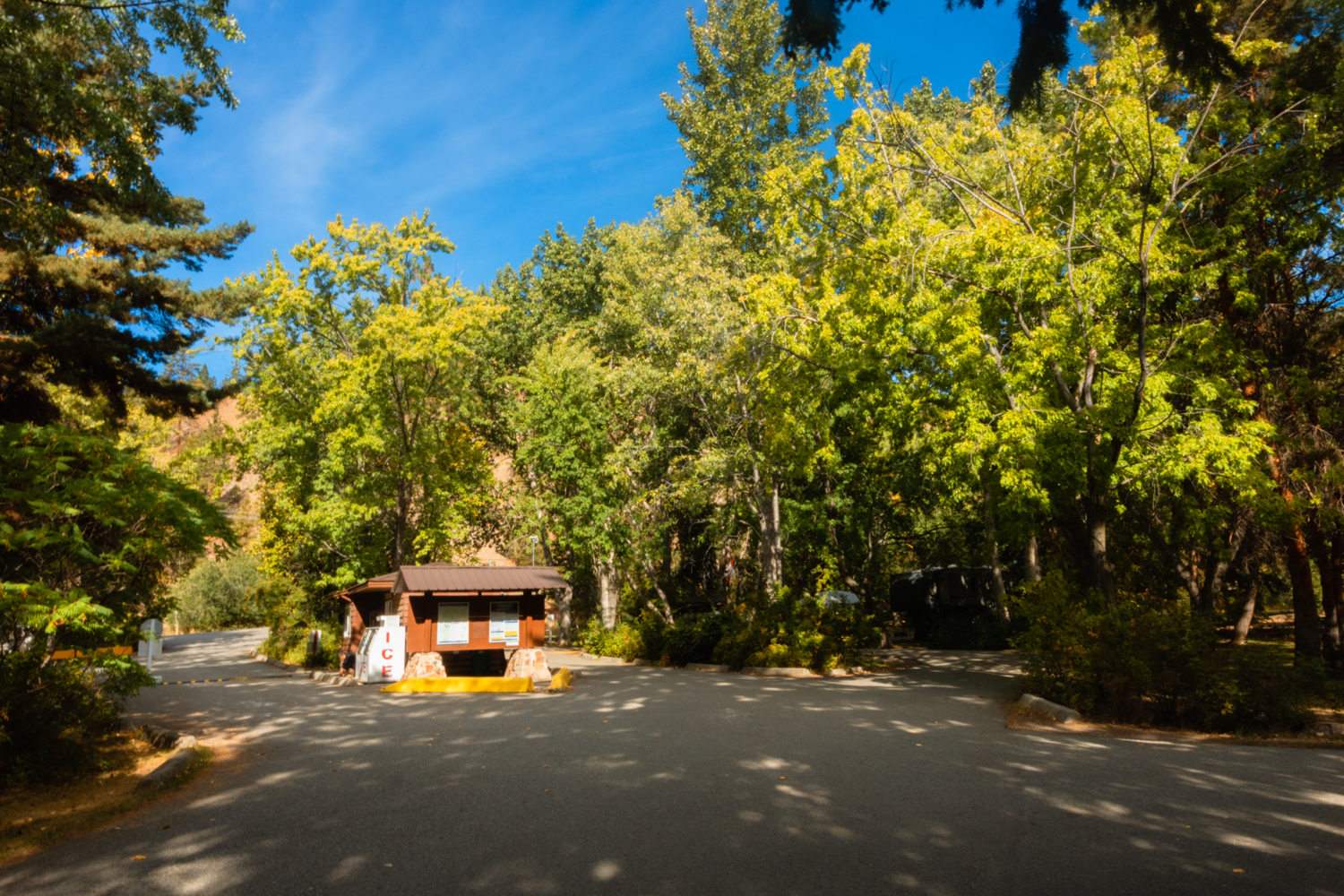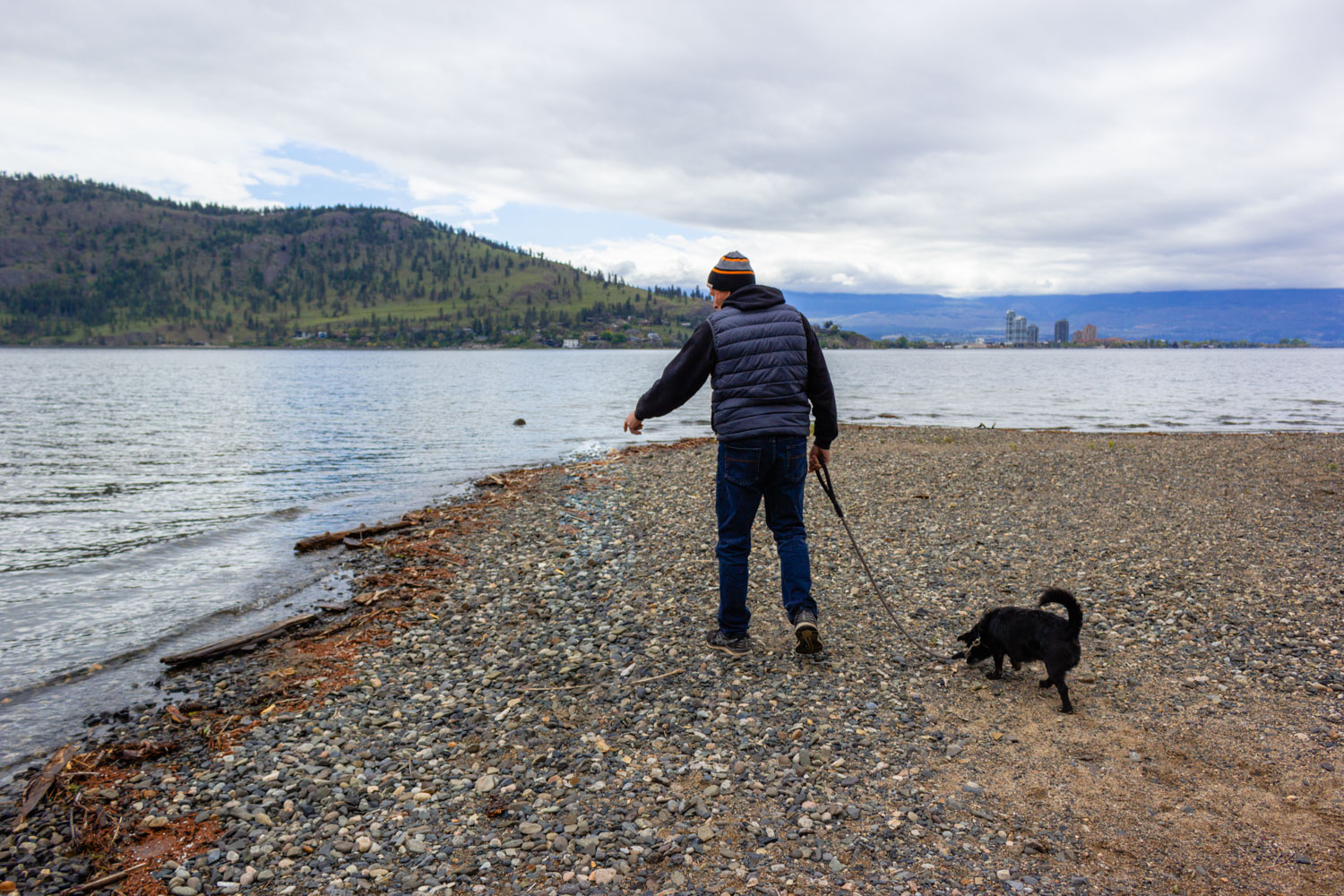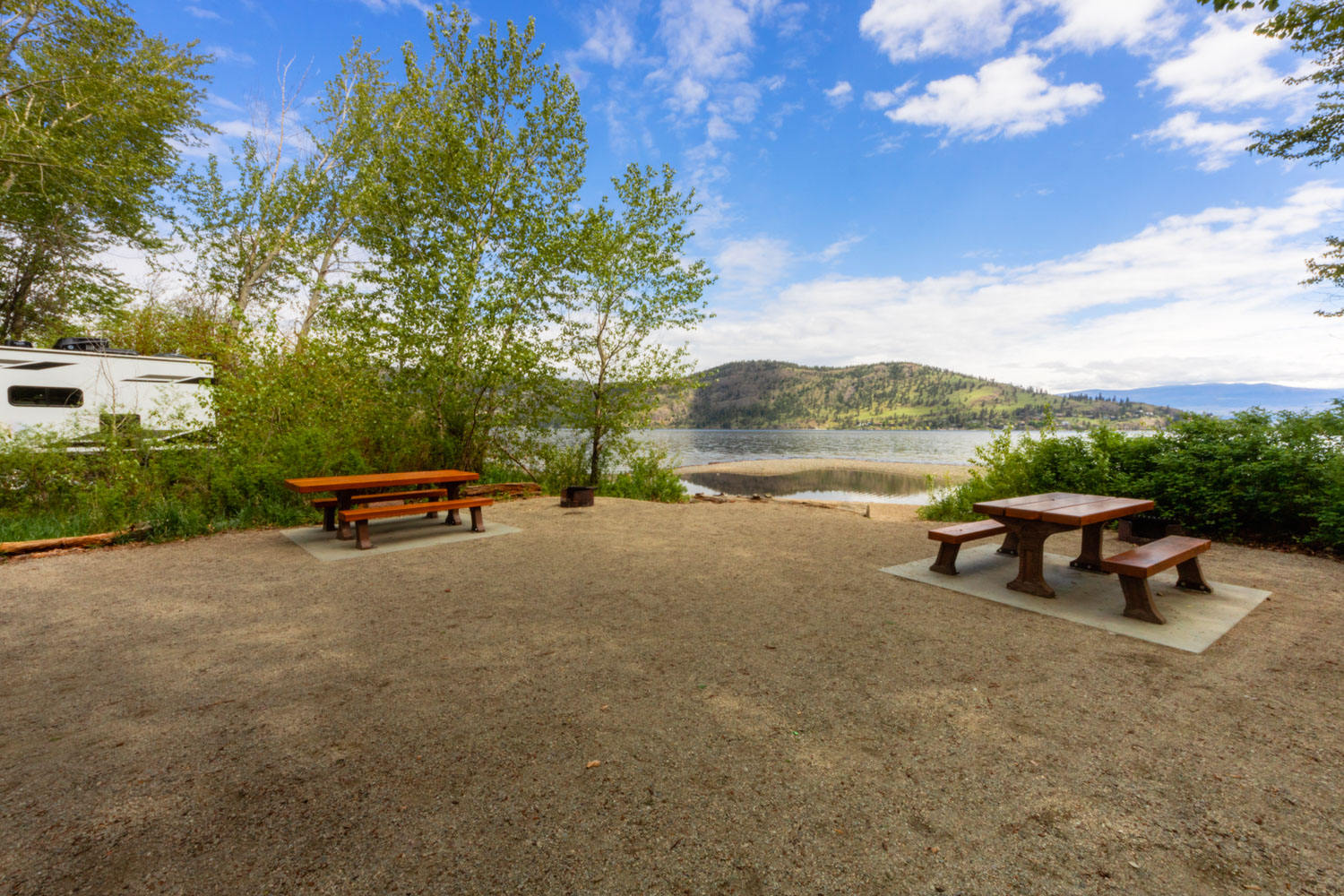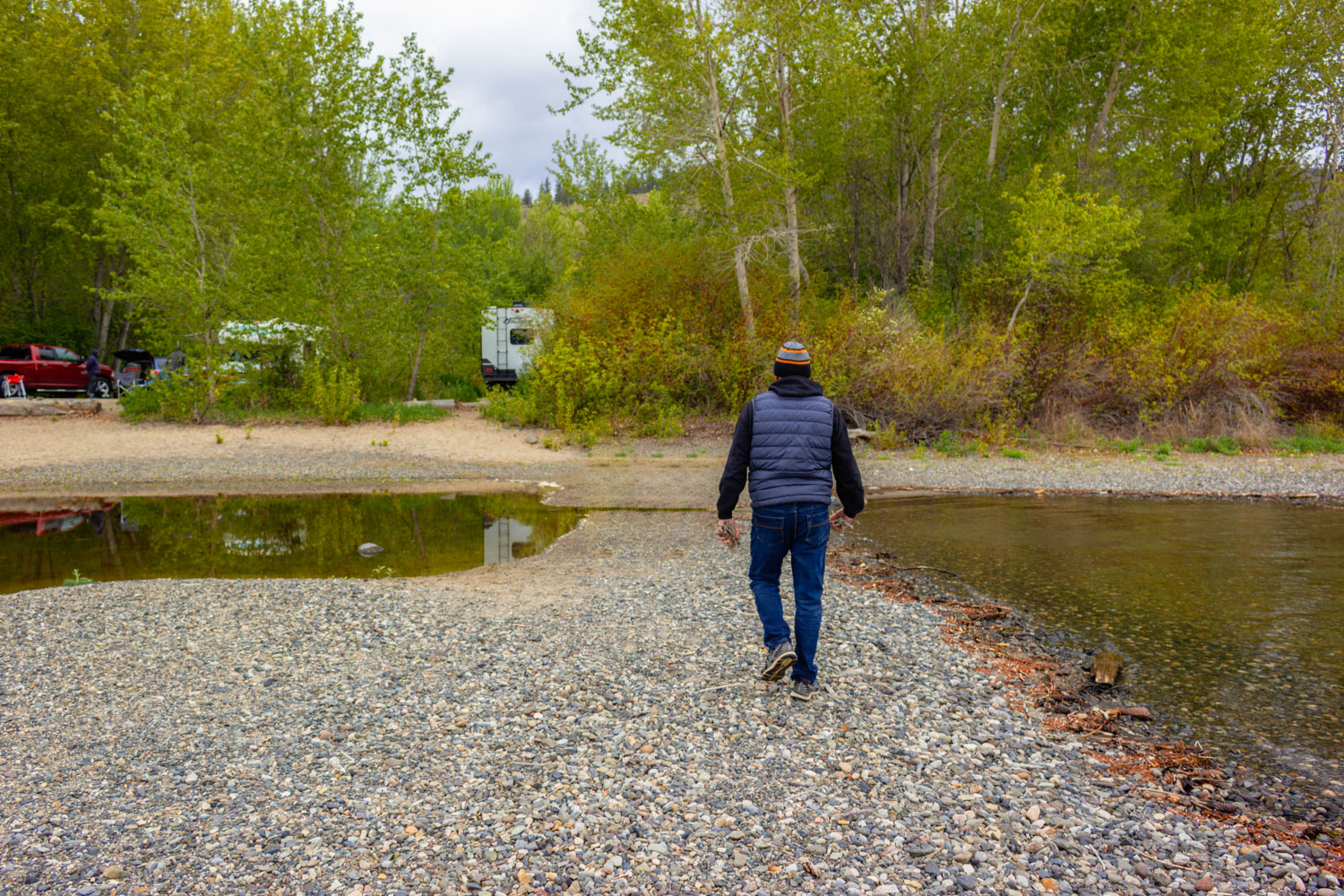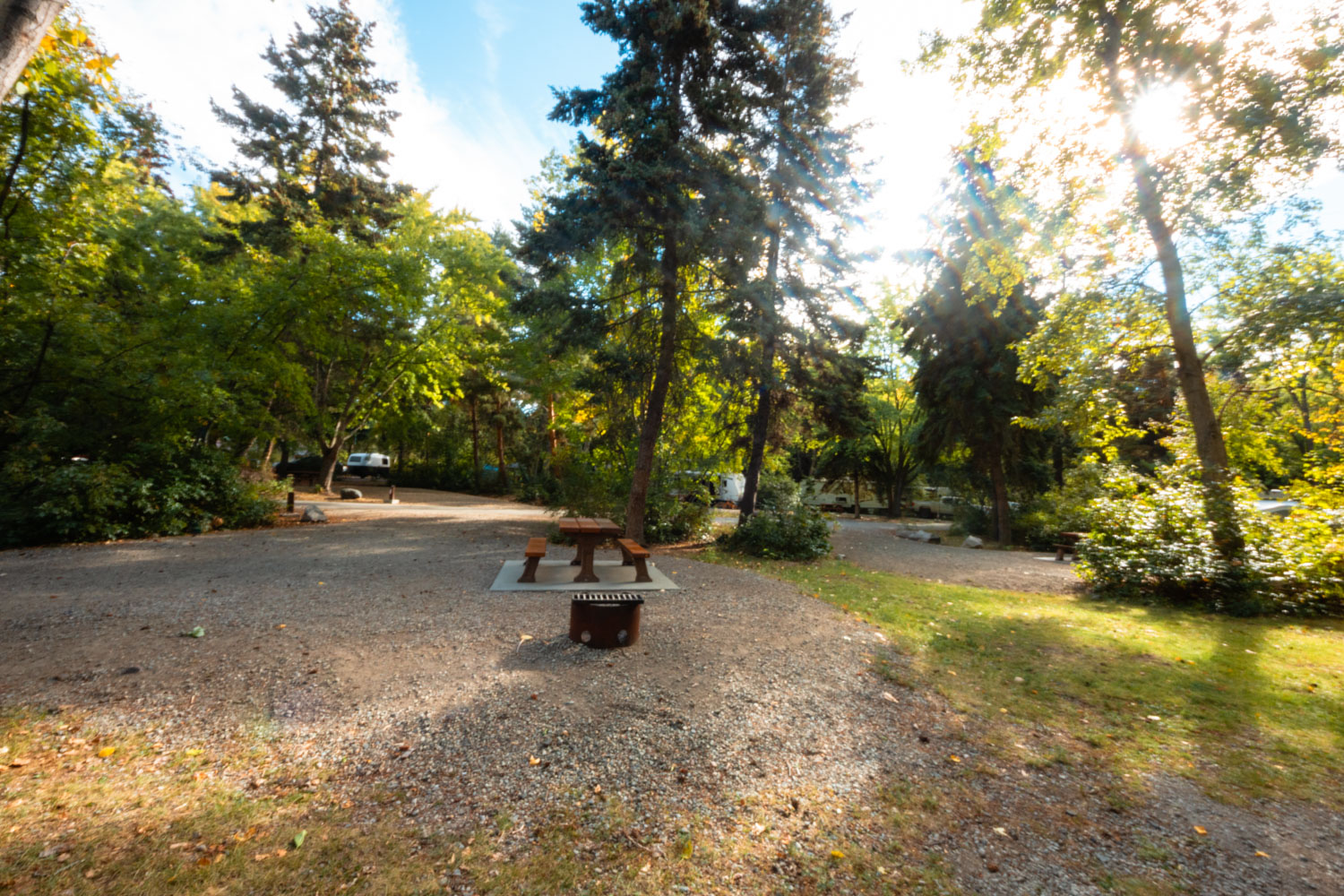 Campsite Information
Bear Creek Provincial Park offers front-country camping only. The campsites are large, well-maintained, and offer everything you'd expect from a provincial park, including large gravel pads, picnic tables, and fire rings. There are numerous sites with electrical hookups and seven pull-thrus.
Most of the sites are quite large and can accommodate extra vehicles or large RVs/trailers, but please double-check the site size before reserving. Site-specific information is available on BC Parks. There are 18 double sites.
The campground is divided into three loops.
Sites #1 to 80 are the original campsites. They're set amongst large, spaced trees and irrigated lawns. The sites are well spaced and the trees provide plenty of shade, but there's not much undergrowth for privacy.

Sites #4, 6, 7, 9, 11, 13, 16, 18, and 20 back onto Lambly (Bear) Creek which makes them slightly smaller with more privacy and vegetation. Sites 46 to 80 have 30 amp hookups.

Sites #81 to 122 are across the creek from the rest of the campground. These sites were developed in 1996 and the vegetation is very grown up now. Most of the sites have plenty of shade and bushy undergrowth, with a few saplings throughout.

My favourite sites, #105 to 109, are located on this loop. They're the only campsites at Bear Creek that have direct, private access to the lake.

The newest additions to Bear Creek are sites #123 to 143, located at the north end of the campground near the day-use area. These sites aren't included in the three main loops.

These campsites have hookups; 7 are paved pull-thrus with full hookups (30/50 amp power, sewer, and water) and another 7 have 30 amp power only. Tents aren't allowed on the full-hookup campsites.

These sites were landscaped in 2018, which means there's limited privacy until the trees and other vegetation have grown more.
Camping Fees
Campsites
Regular: $35/night
30 amp: $43/night
Full hookup: $45/night
Online Reservation
$6/night
Seniors*
$17.50/night
Full hookup: $26/night
*Applies from the day after Labour Day to June 14
Second Vehicle
$17.50/night
Tip: If you have an RV and tow vehicle, make sure your tow is attached when arriving. Otherwise you'll be charged for an extra vehicle.
Firewood
$10/bundle
Sani-station
$5/use
*While I do my best to provide up-to-date fees, there may be a discrepancy between what's posted here and the actual cost.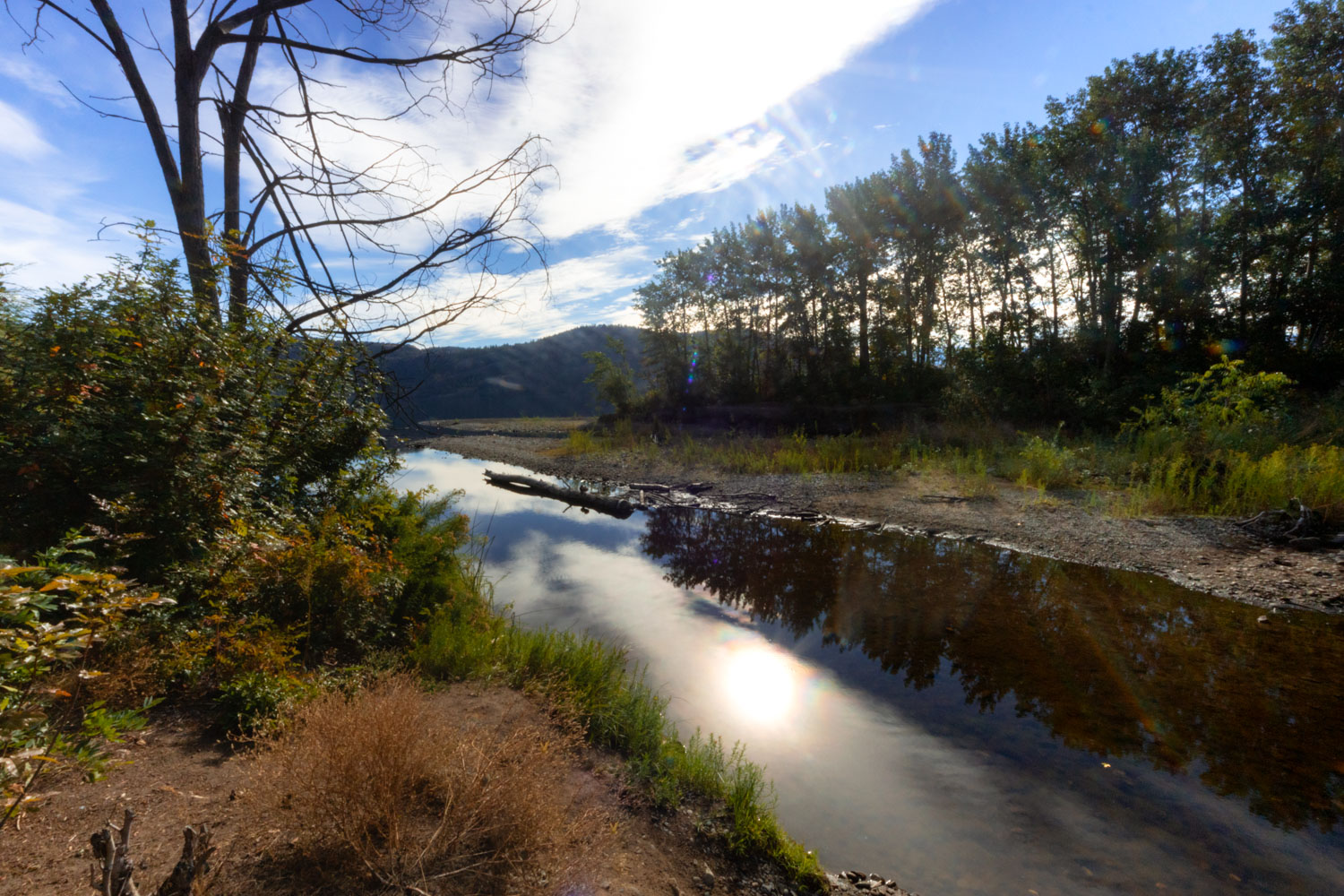 Camp Host Information
The camp host at Bear Creek Provincial Park is located near the park entrance, just beside the gatehouse.
The park is operated by Kaloya Contracting Ltd. and can be contacted at (250) 766-7972 and [email protected]. Please remember that sites cannot be booked by contacting the camp host.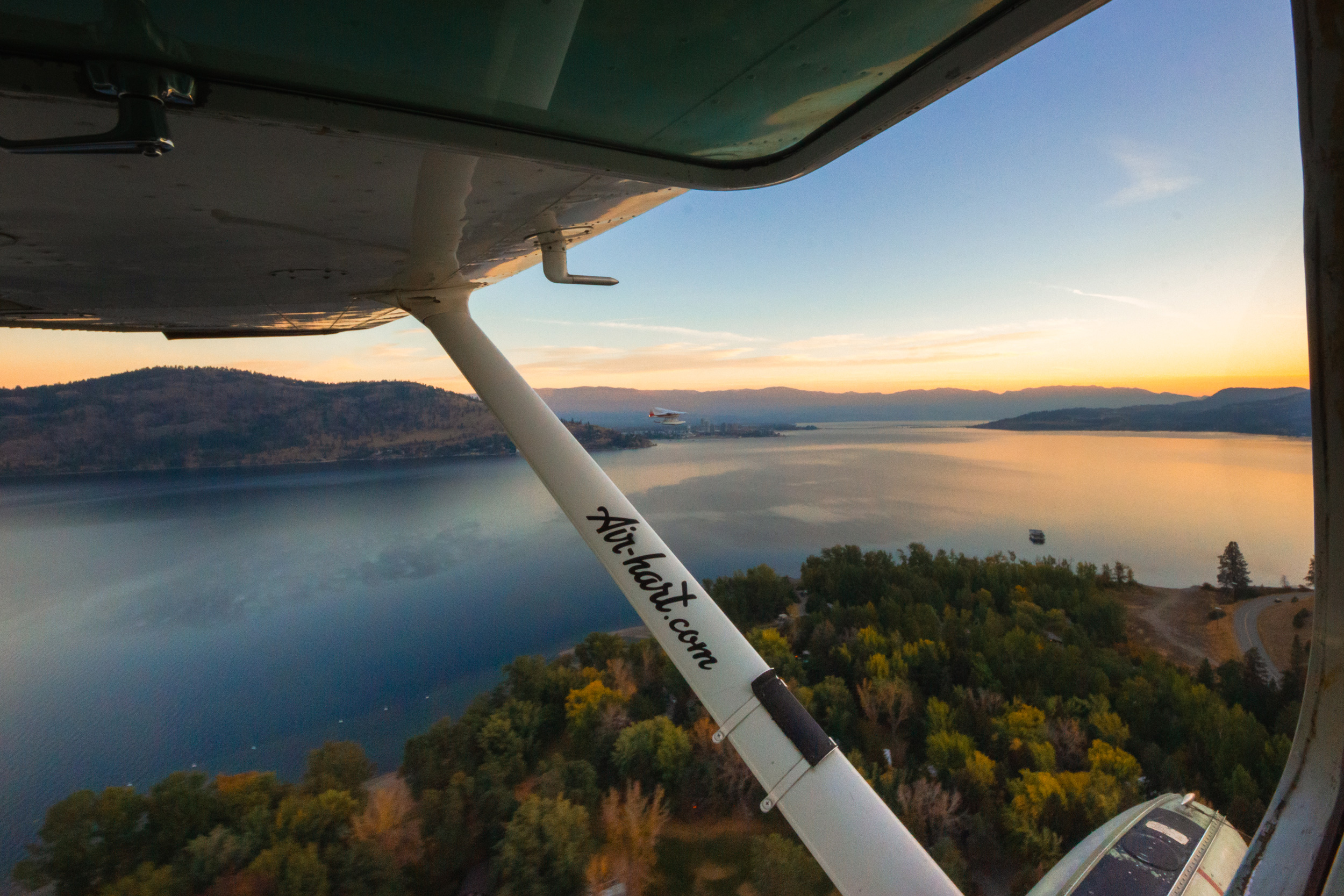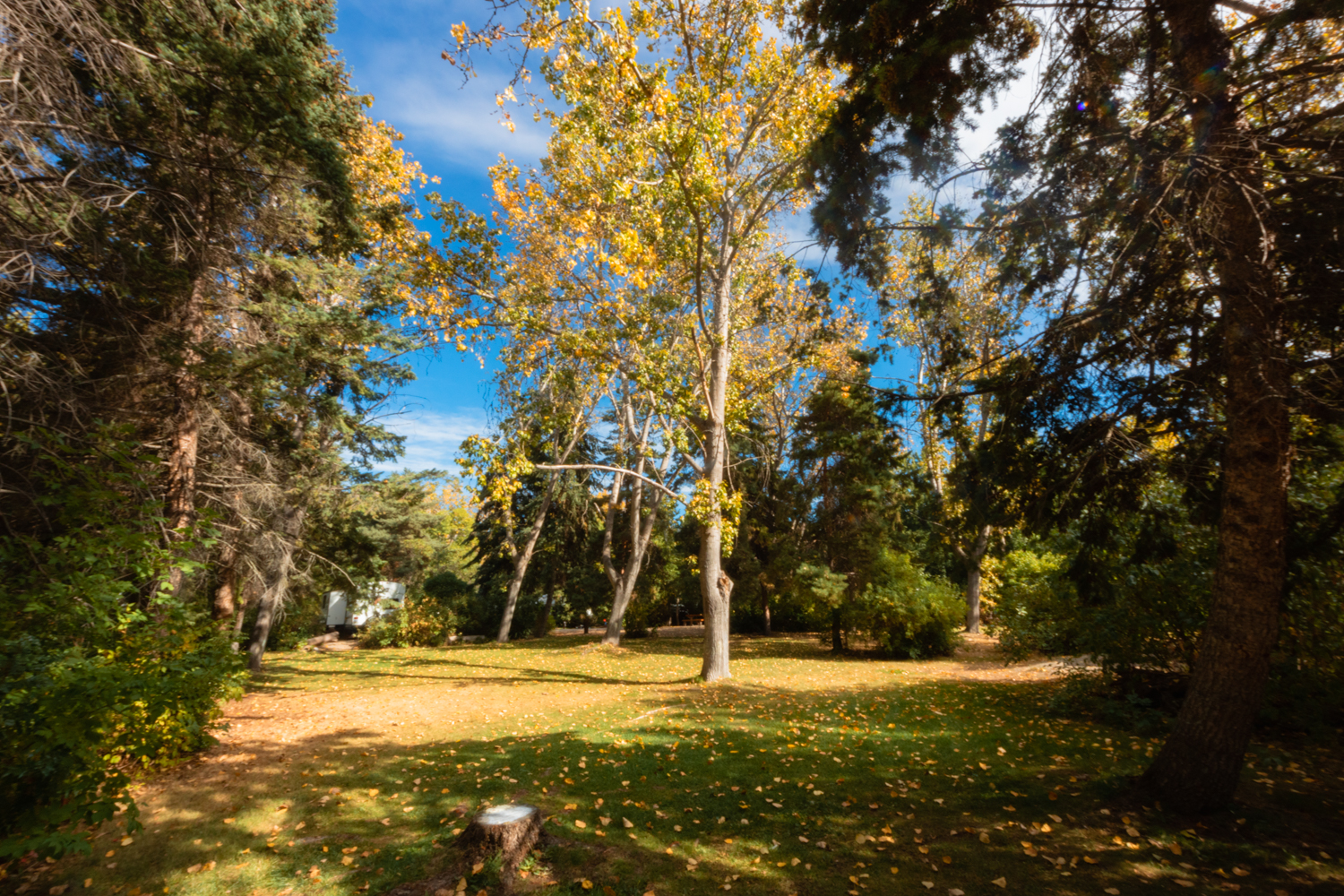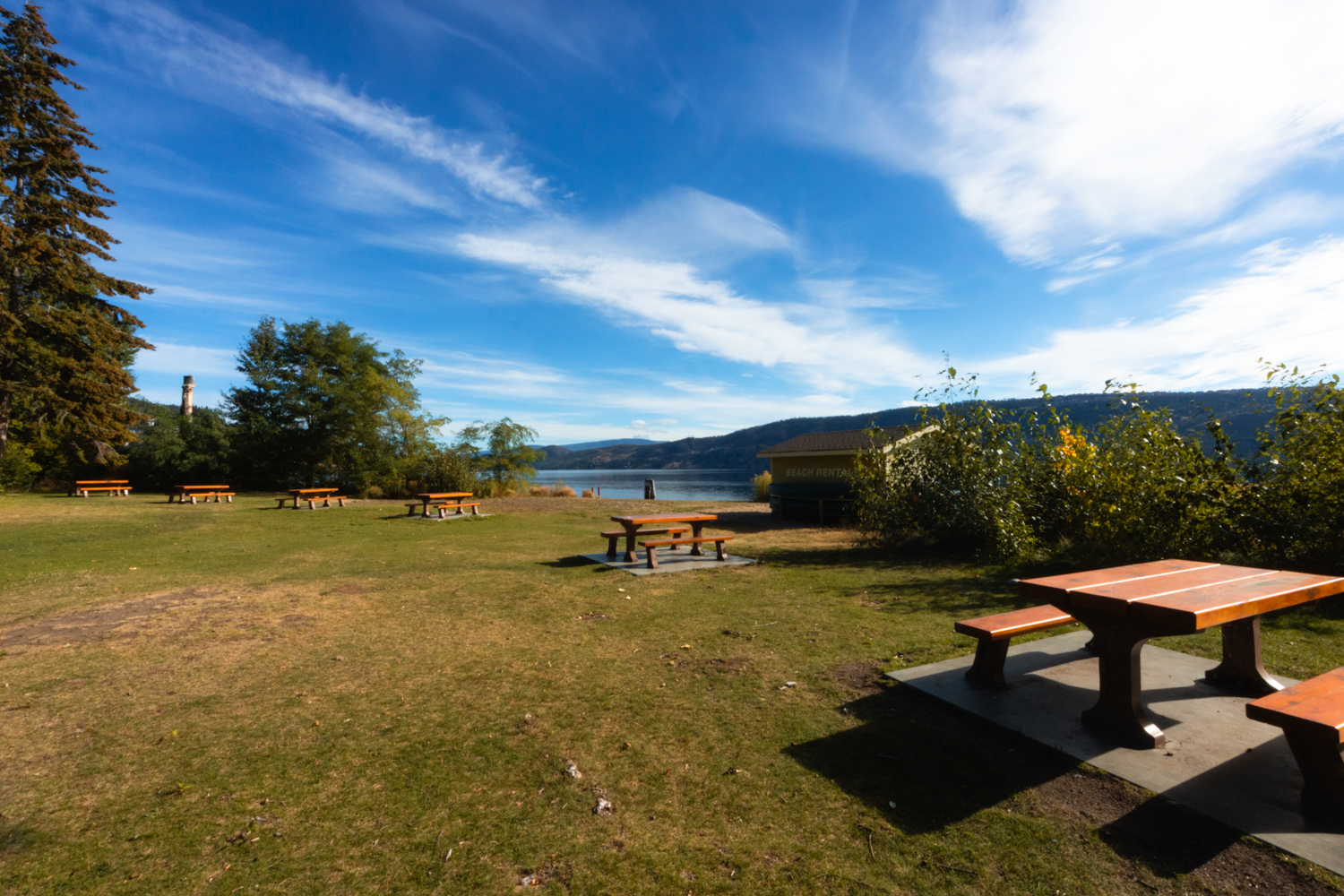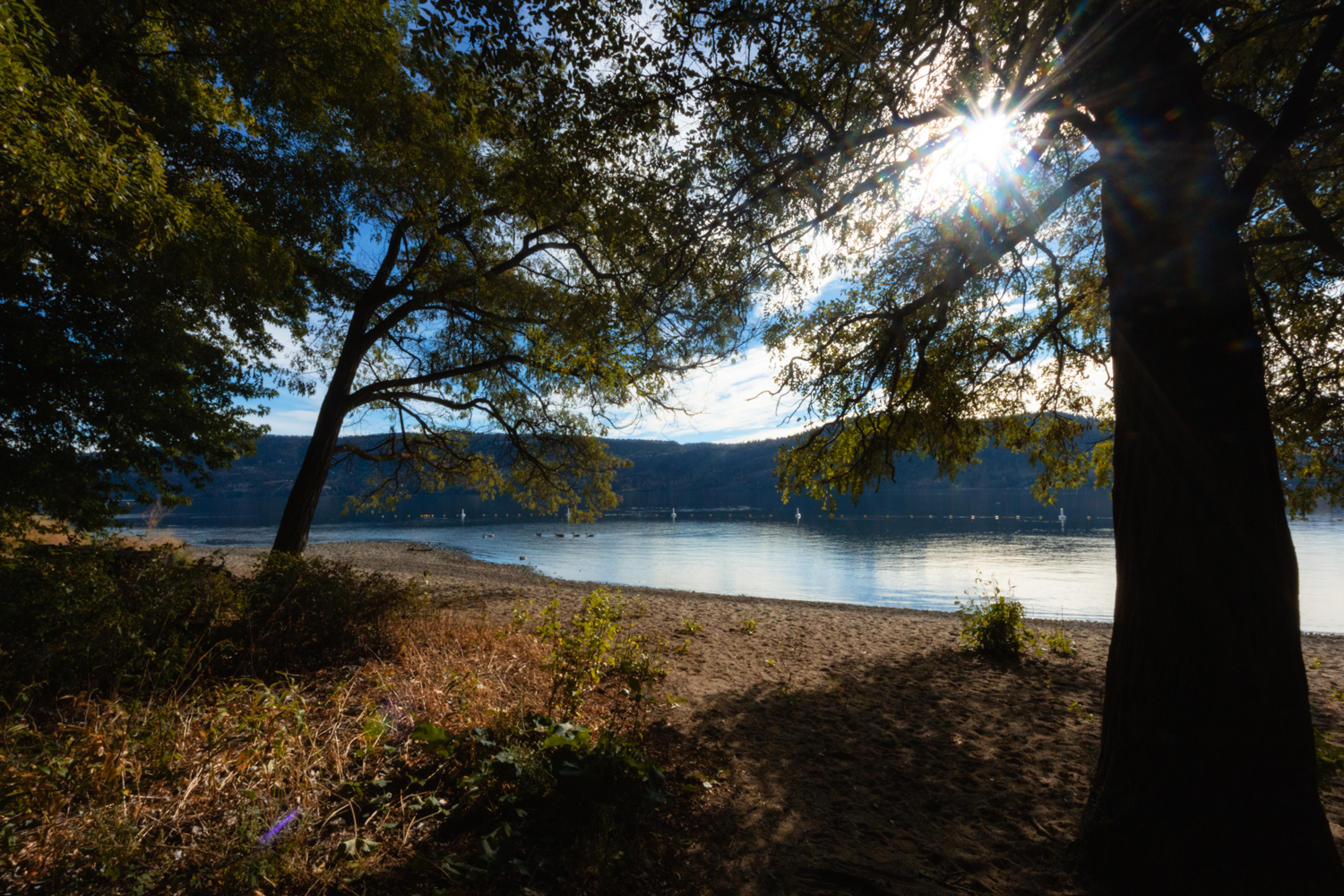 Facilities & Amenities at Bear Creek Provincial Park
Bear Creek is a very well-maintained park and has many facilities in the campground. There are also limited facilities along the hiking trails.
If you happen to forget something or want to enjoy a delicious meal, you easily drive into West Kelowna or Kelowna.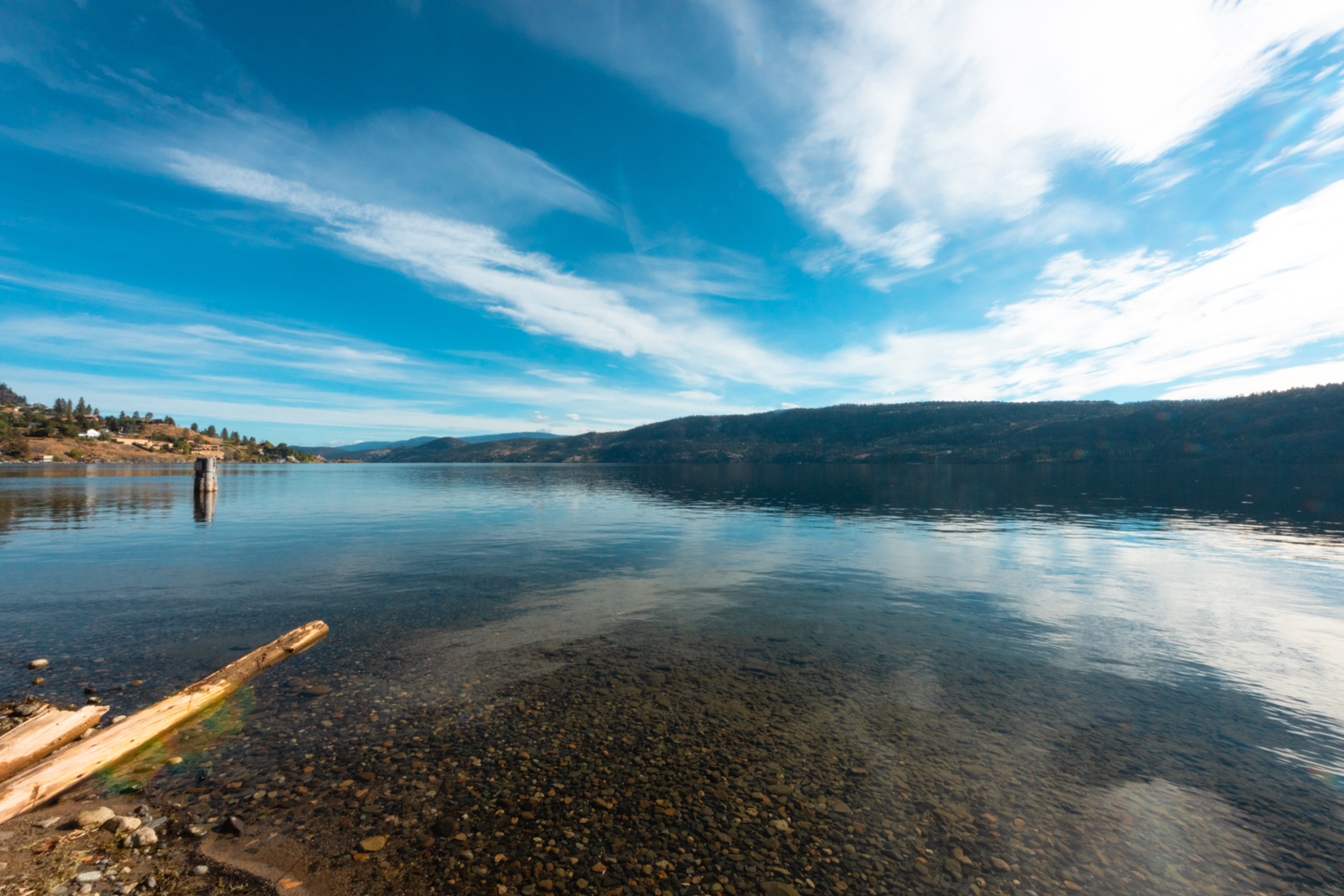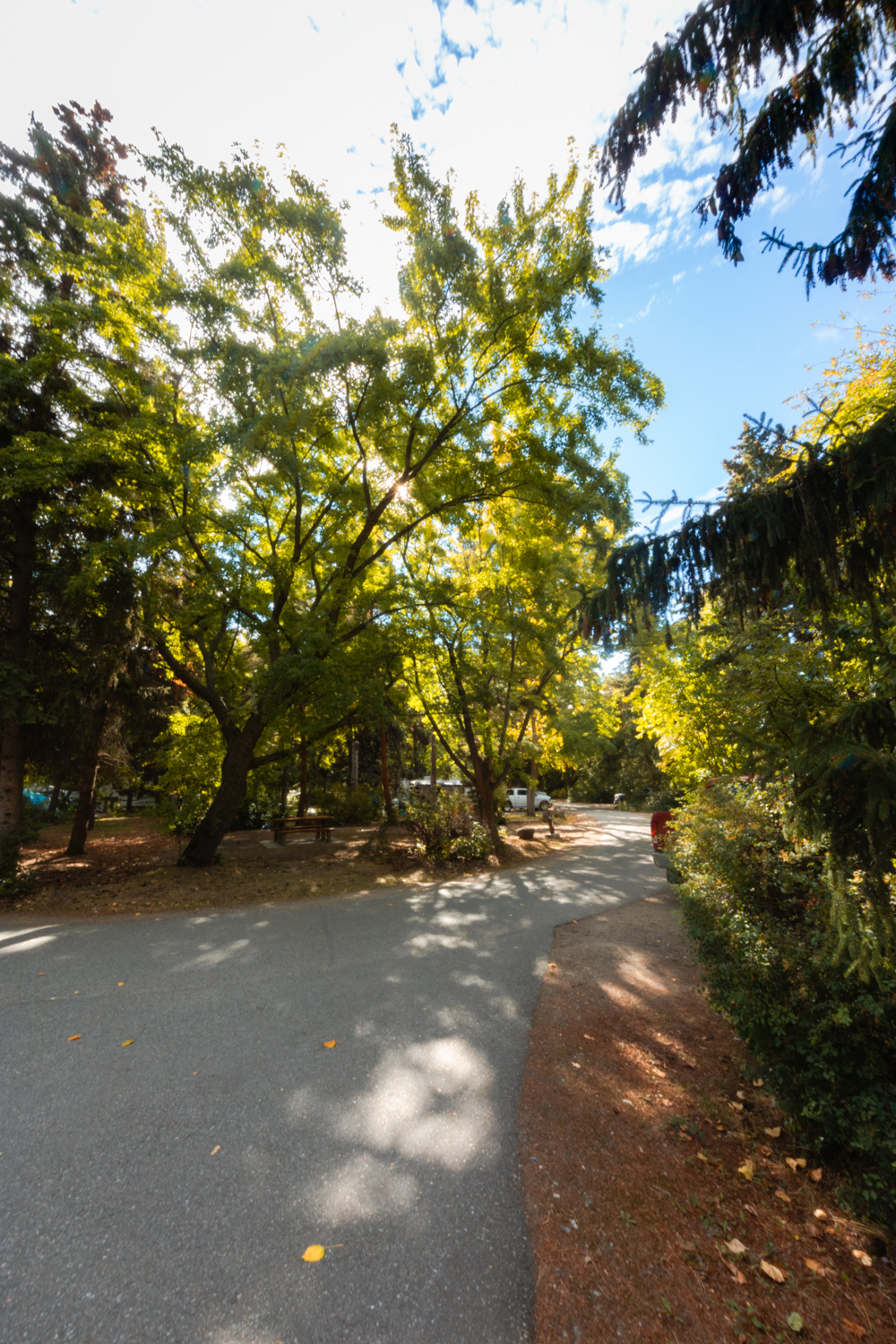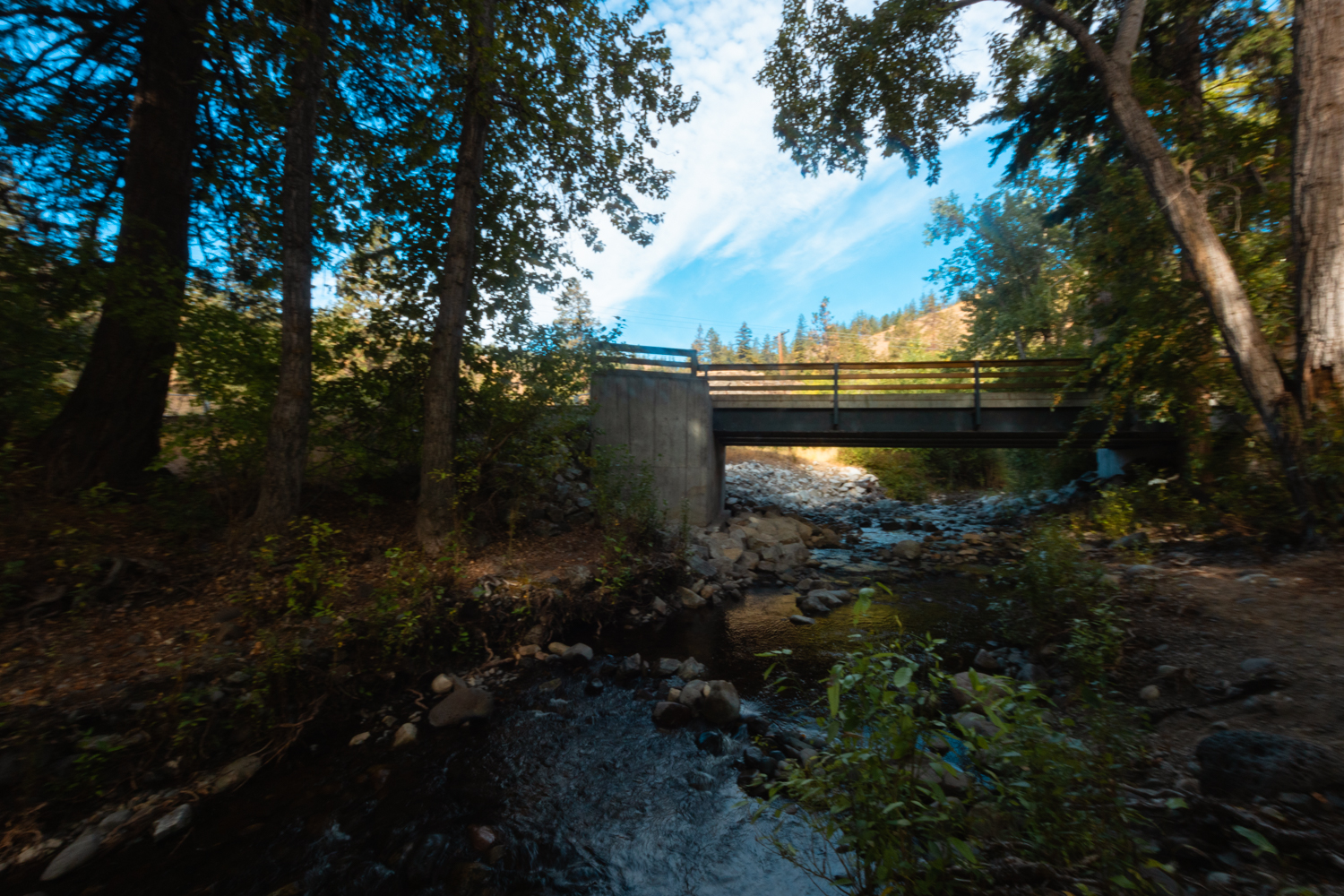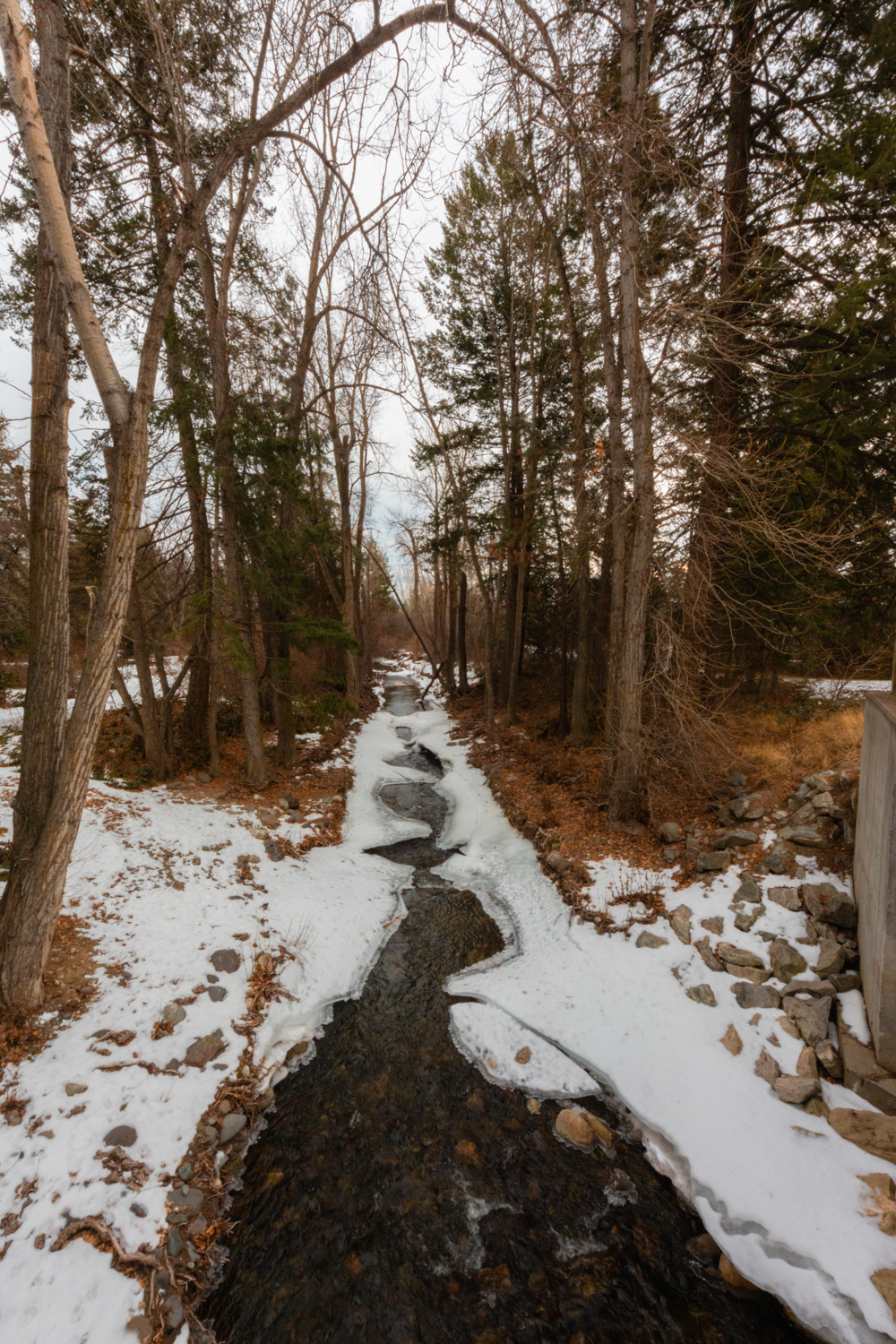 Things to Do at Bear Creek Provincial Park
Just like most of the provincial parks in the Okanagan, there's no shortage of fun to be had at Bear Creek! You can enjoy water activities including swimming, kayaking, SUP, as well as hiking, camping, and even swim up to a waterfall.
Kayaking, SUP, and Canoeing
What better way to enjoy Okanagan Lake than by kayak, paddleboard, or canoe? The lake's just begging to be explored.
Luckily, it couldn't be easier for these dreams to come true than at Bear Creek! Okanagan Beach Rentals, which is set up right on the beach inside the park, offers paddleboards and kayaks for rent. The rentals are reasonably priced and extremely convenient.
There's no boat launch at Bear Creek so, unfortunately, you can't launch boats from here. But if you can portage your portable watercraft a few hundred feet on mostly flat, clear land (with a small dip down to the water), then you can certainly bring your own gear!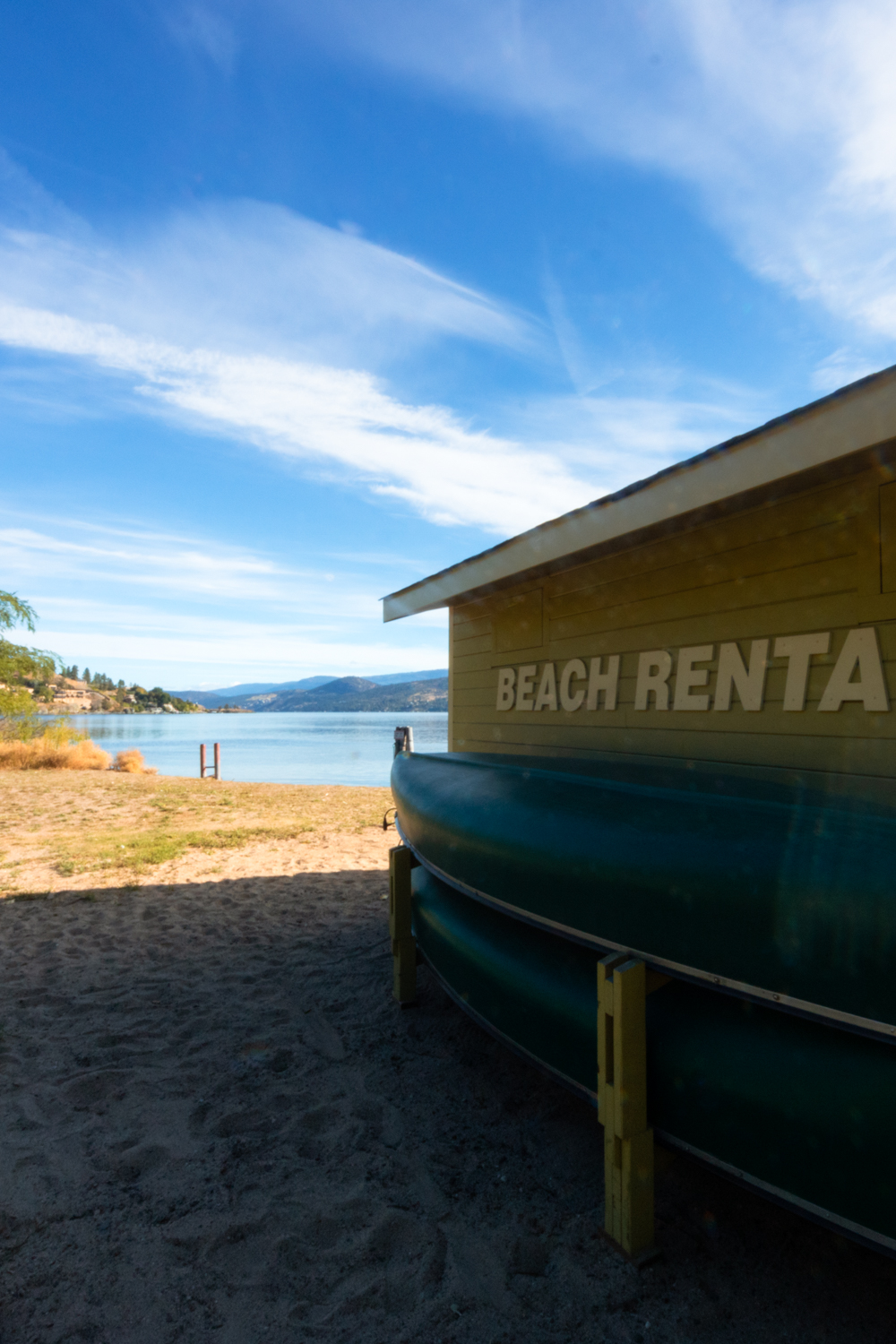 Swimming & Beach
There are over 400m of sandy and rocky beaches at Bear Creek. The beach runs the entire length of the campground, from the day-use all the way to the south end. The wide creek divides the beach, creating two completely separate places to enjoy the lake.
The beach is fairly narrow, but large enough to set up for the day. The day-use beach area backs onto grassy lawn, but the south-end beach backs onto campsites.
Although the beach has some rocks, there are no large rocks in the lake itself and it has a fairly gentle slope. The swimming area is marked by buoys.
There are no life guards on duty.
Changeroom
At the day-use beach, there's a changeroom with stalls, flush toilets, and dishwashing.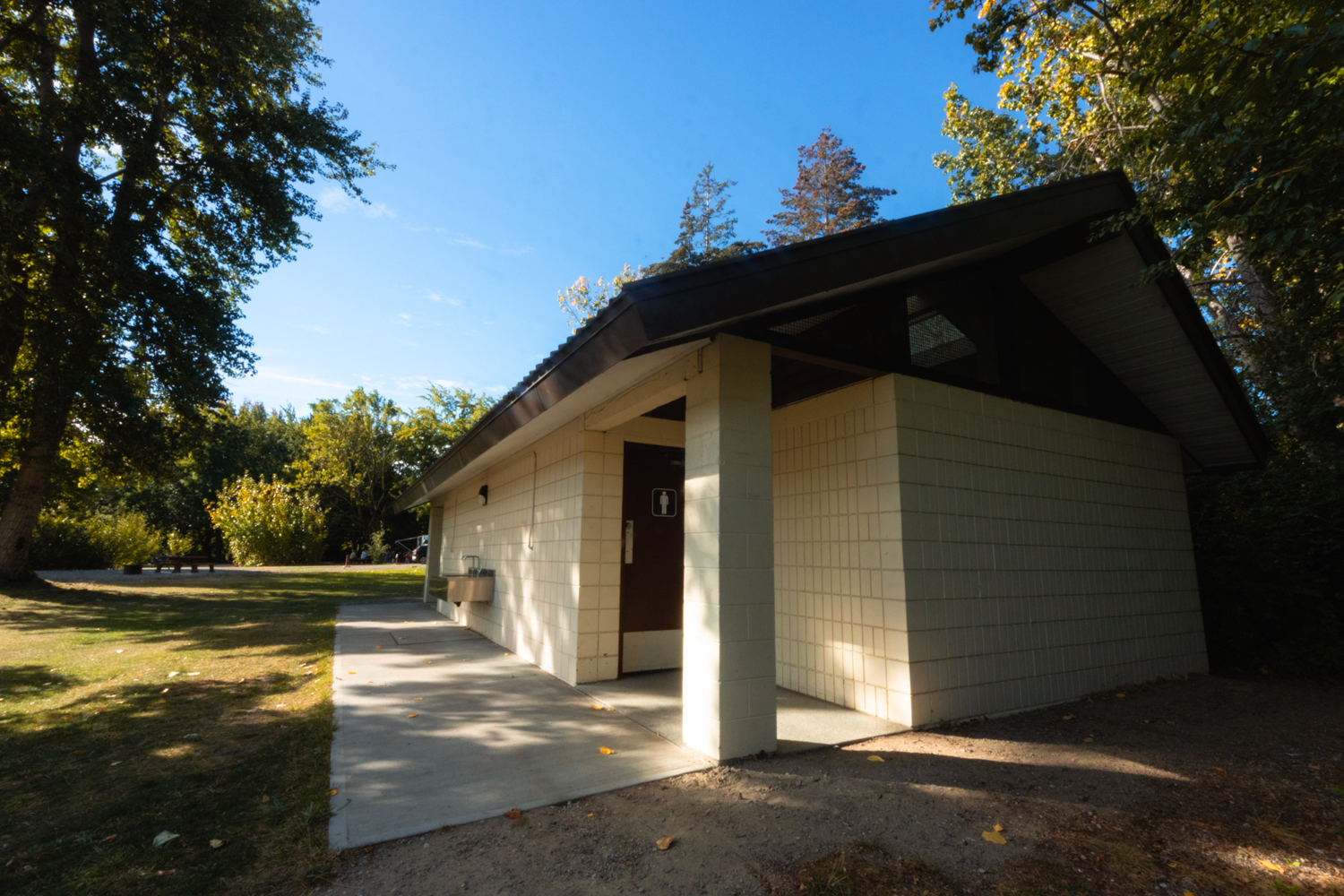 Hiking at Bear Creek
Across the road from the Bear Creek campground are ~5 km of hiking trails. These trails are rated as moderately easy and bring hikers along the edge of a small canyon. There are a few different trails, but they're all very similar. The Canyon Rim Trail at Bear Creek is my favourite.
You can enjoy views of Lambly (Bear) Creek as it runs through the canyon, as well as a waterfall. In fact, if you're feeling a little adventurous, you can hike/swim to the waterfall itself! ONLY do this when the creek is slow moving because it can be dangerous.
There's also an easy, flat trail along the edge of the lake in the campground.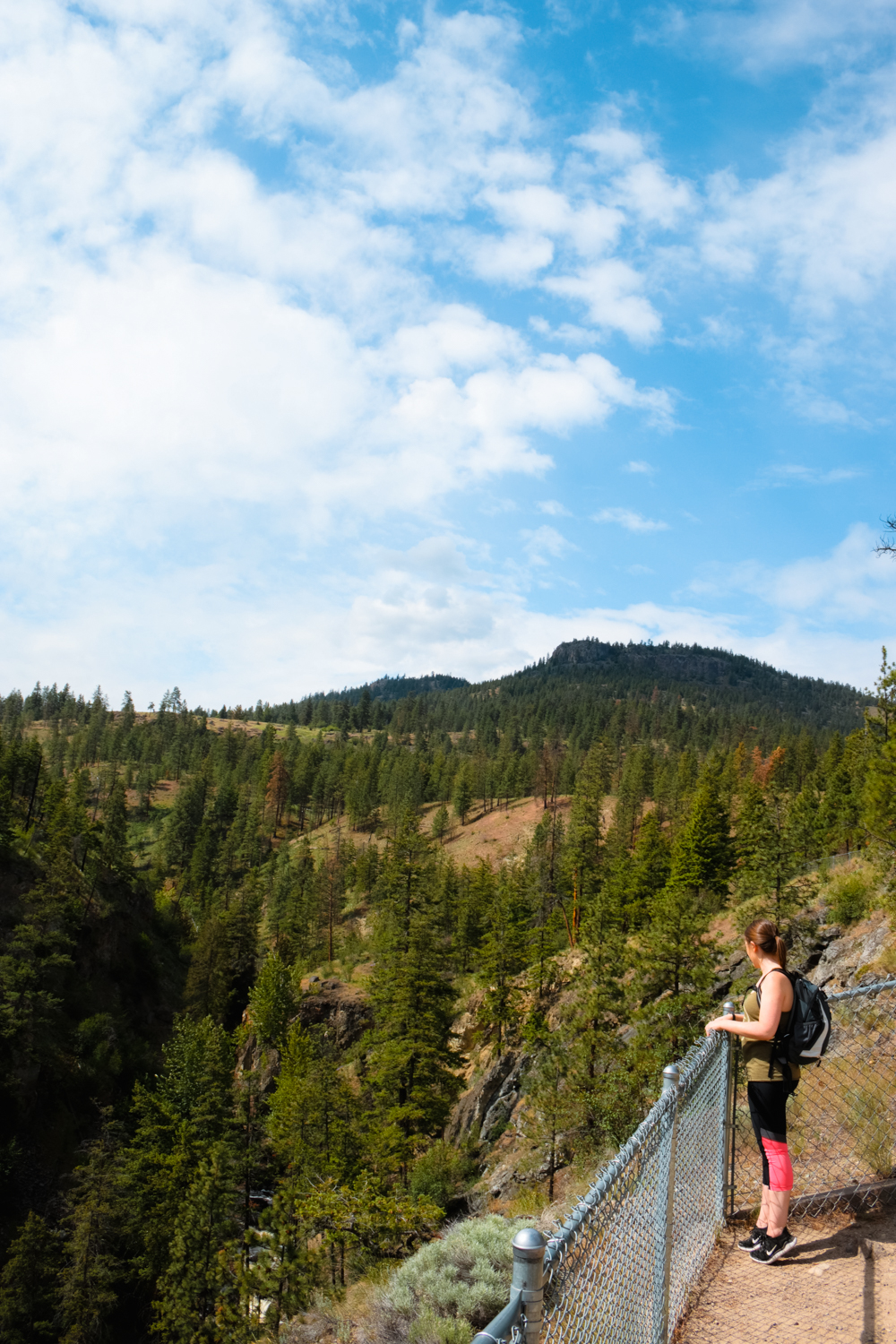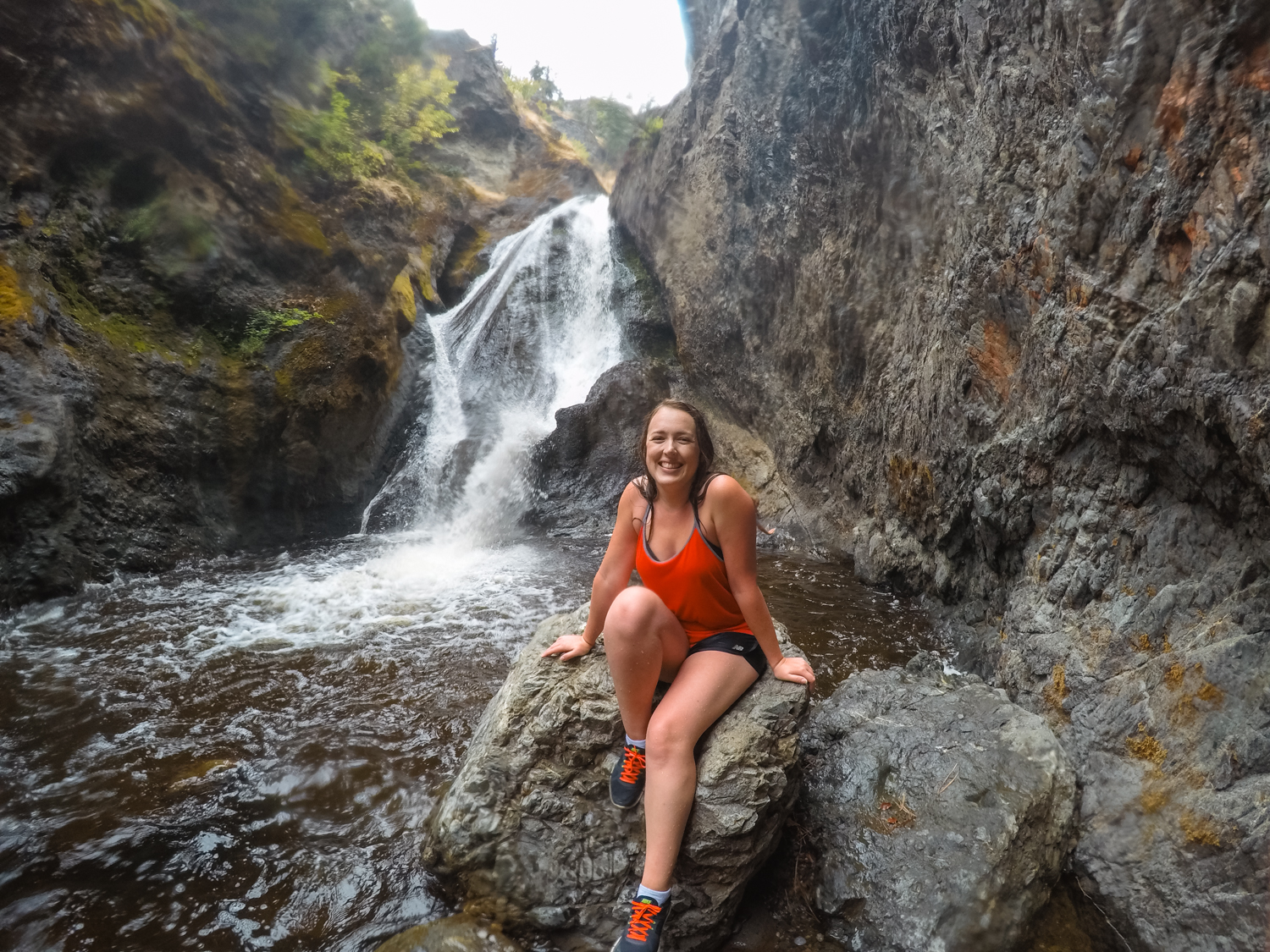 Day Use
The day-use area at Bear Creek Provincial Park is quite extensive. There's a large, 80-vehicle parking lot near the beach, as well as roughly 12 picnic tables with amazing views of Okanagan Lake.
The picnic tables are spread out along the beach and grassy lawn which provides lots of room between groups. Oak and cottonwood trees provide shade.
There are extensive lawns throughout the day-use where you can enjoy games like bocce ball, giant Jenga, ring toss, or bean bag toss. You could also enjoy a picnic! We often use the day-use at Bear Creek to celebrate Mother's and Father's Day.
Tip: There are lots of Canadian geese at Bear Creek. Be mindful of their poop and give them plenty of room.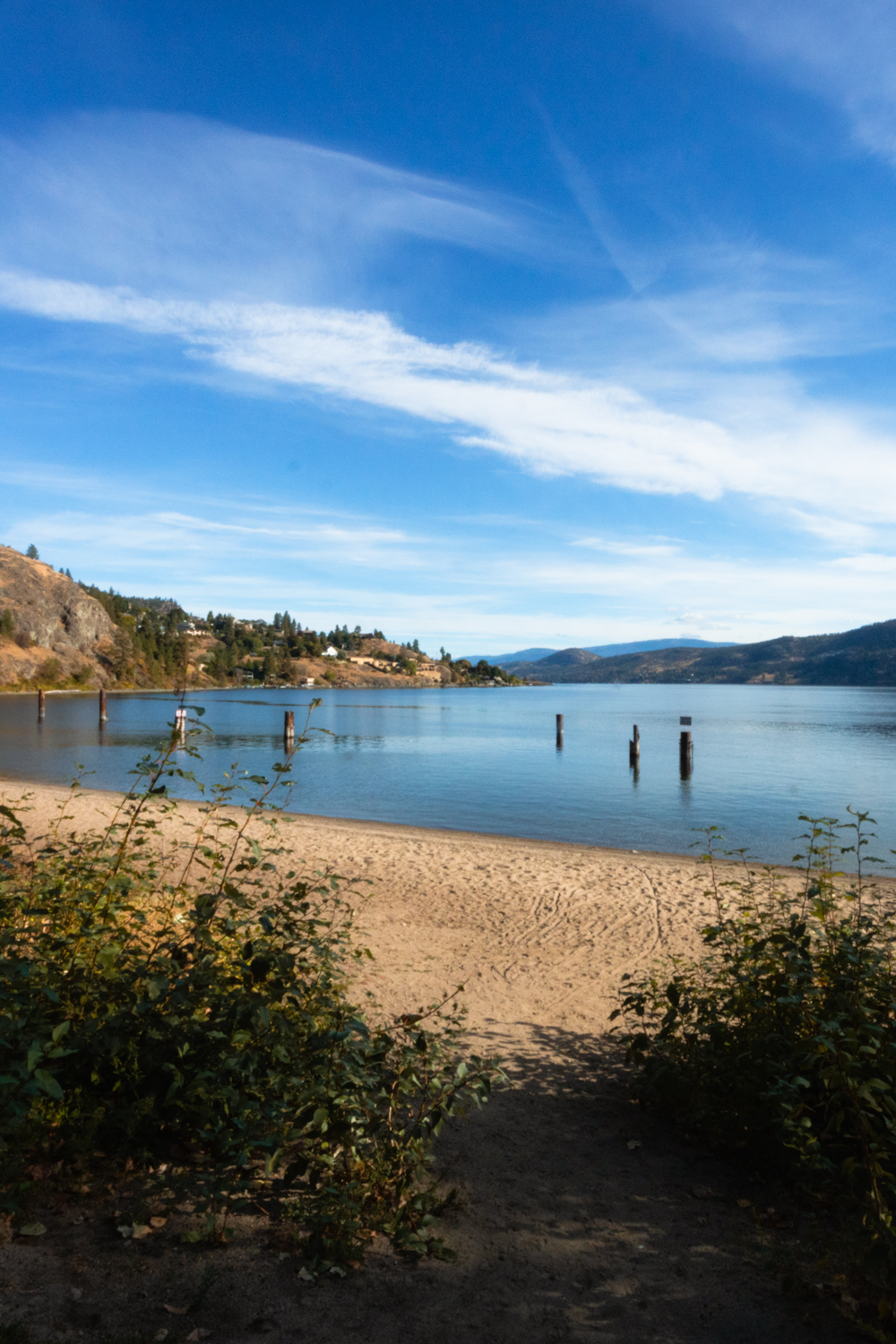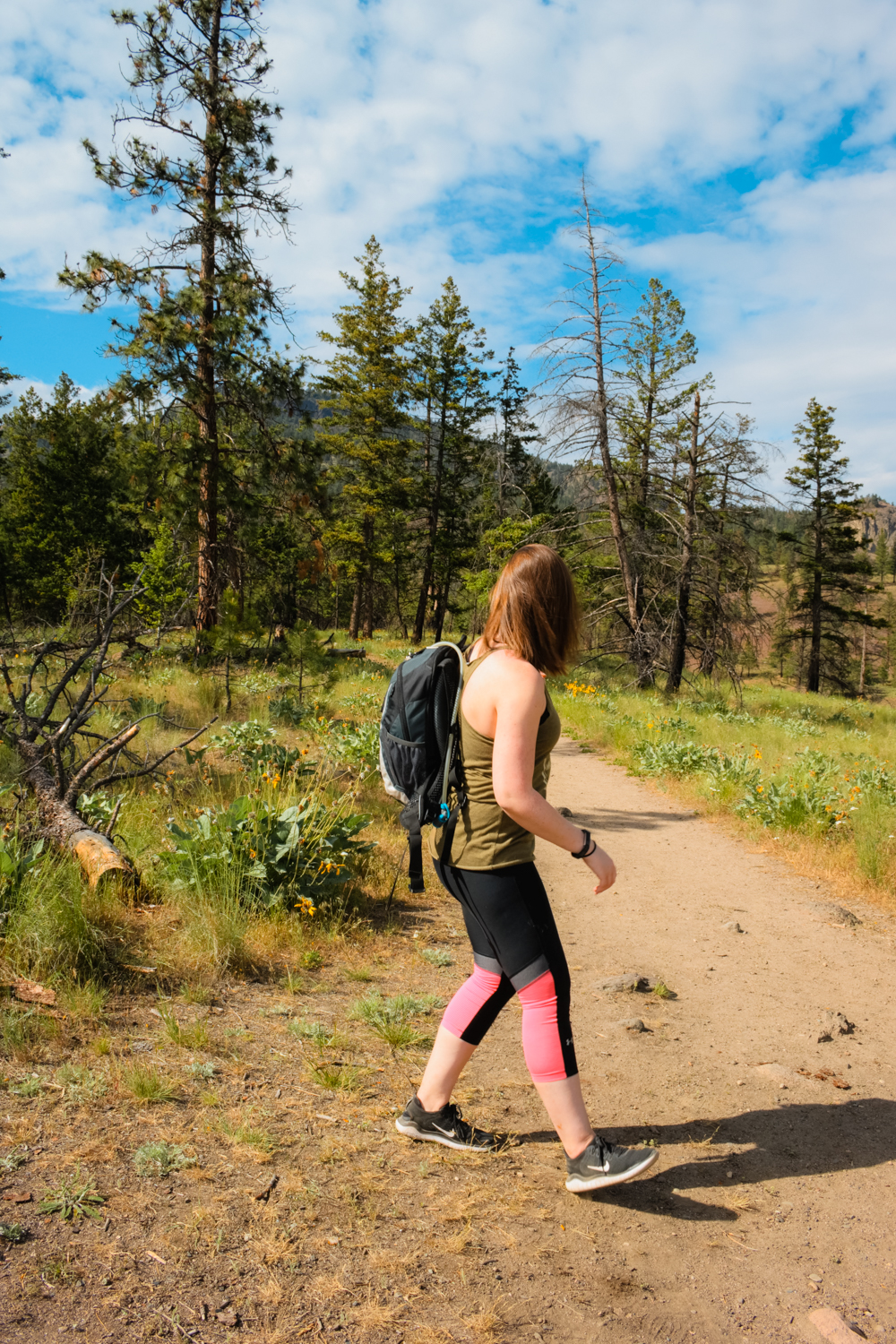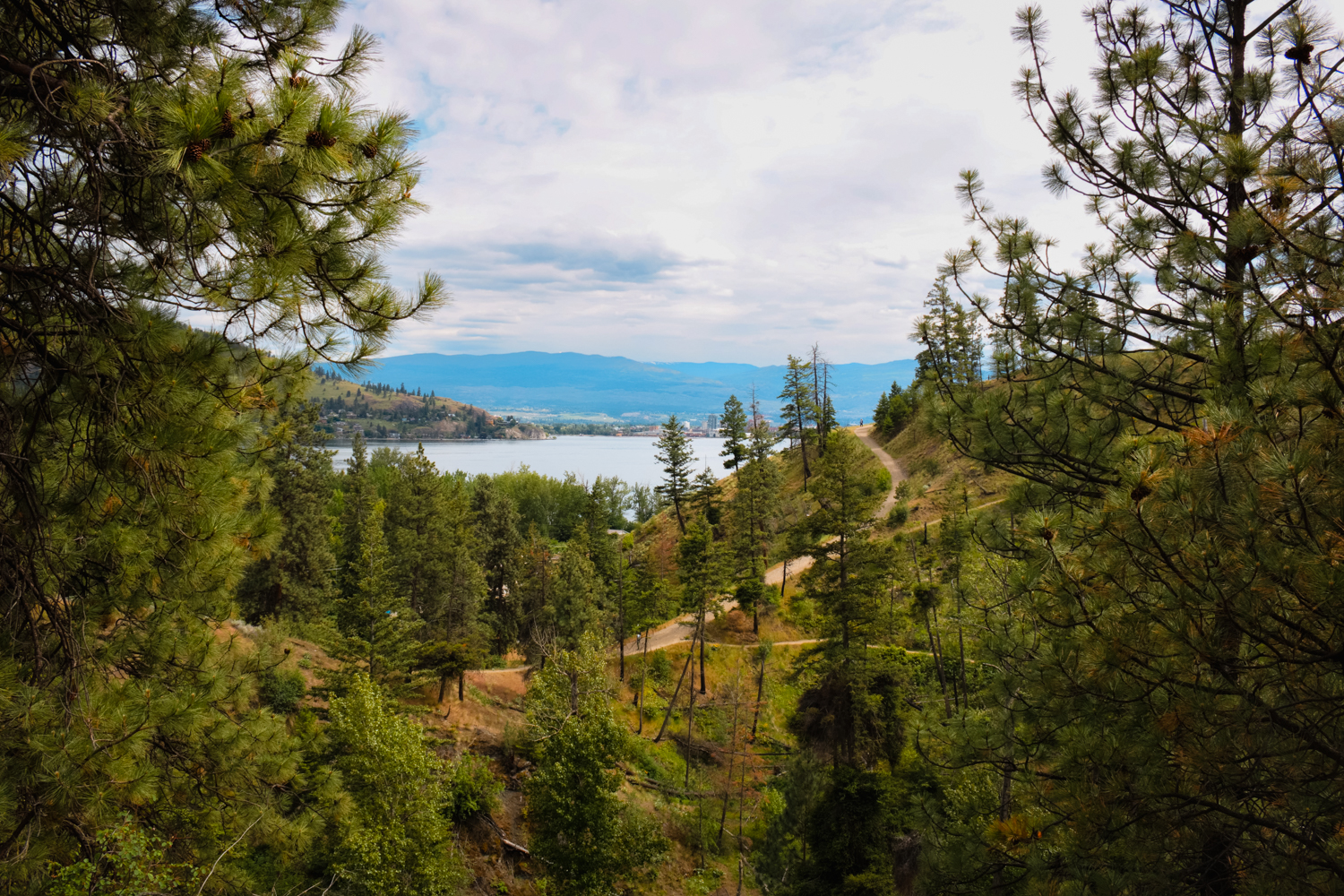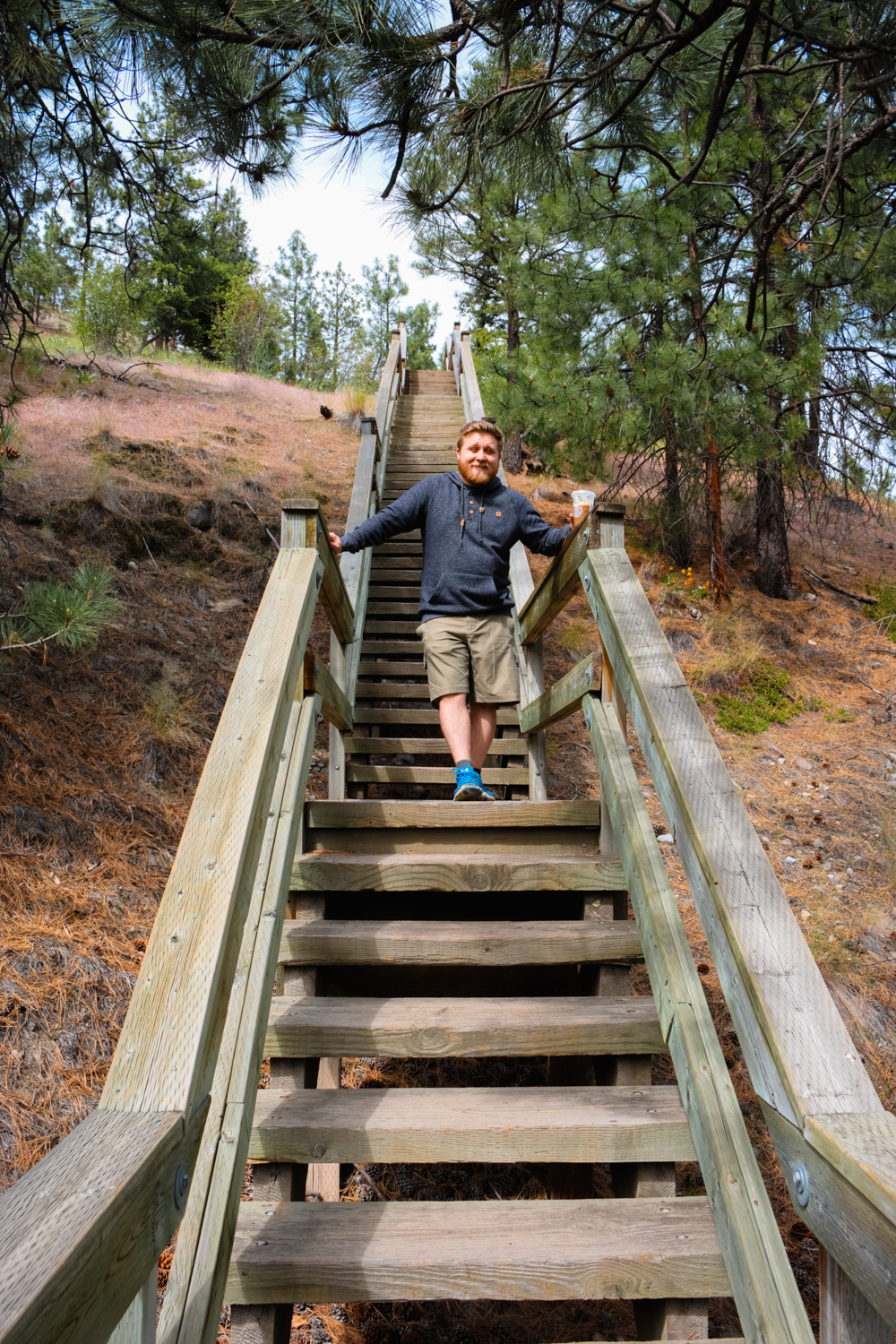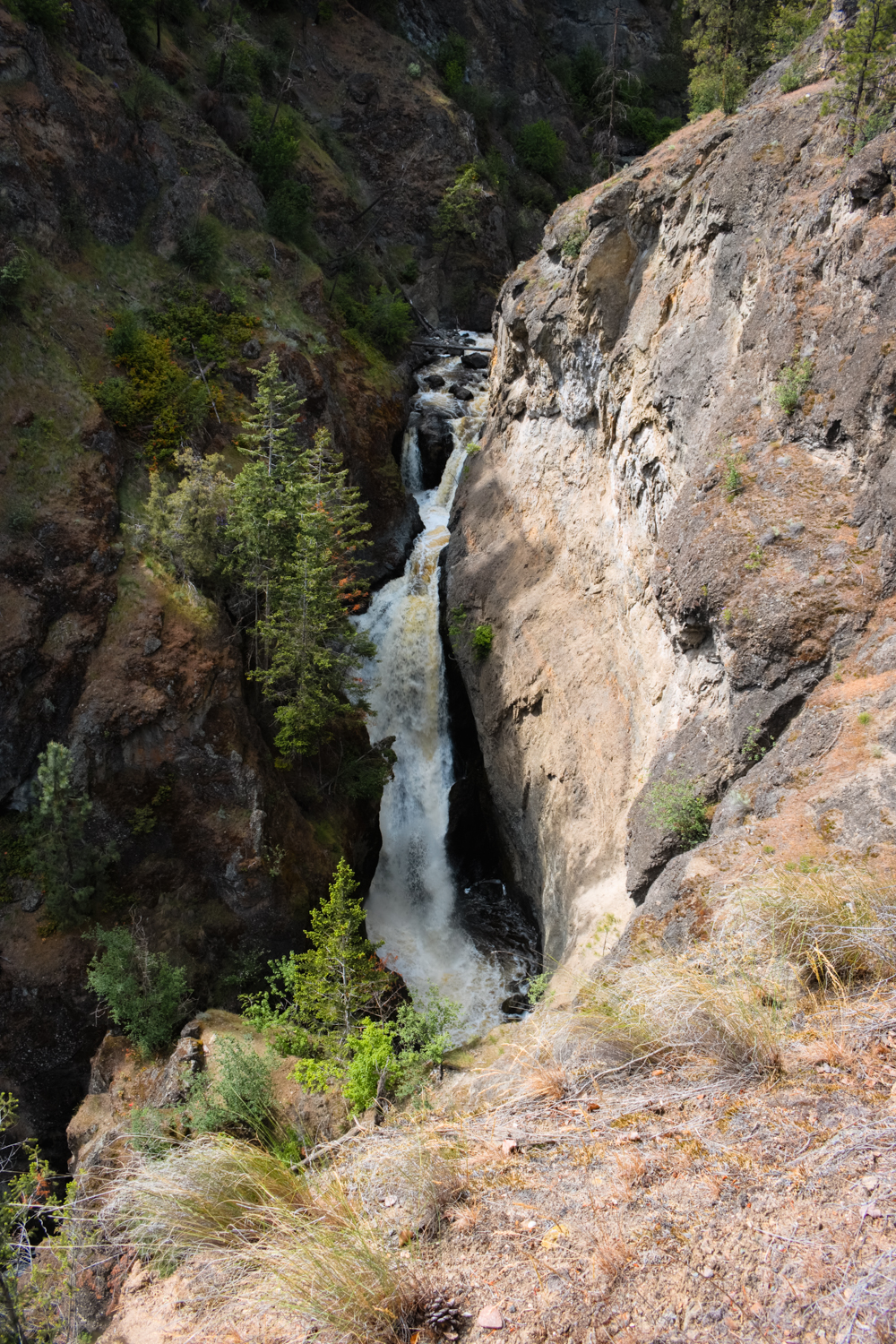 My Thoughts on Bear Creek Provincial Park
Bear Creek is one of my favourite local provincial parks. We often use the day-use area as a quick getaway from town.
I've camped here a number of times and have always enjoyed it. The hiking trails are also one of my go-to easy hikes in Kelowna. Plus, the swim-in only waterfall is one of the coolest things to do in Kelowna!
I love the large campsites because we can easily invite friends and family for the day and they can park right at our site. It's also close enough to Kelowna that we can try to get in without reservations and it not be a big deal if we don't get a spot (this is only helpful if you're a local, of course).
I do wish reservation management was better for no-shows, but this is always an issue with provincial parks and isn't unique to Bear Creek. I also wish there were more outhouses throughout.
Overall, I 100% recommend Bear Creek! The camping and hiking area awesome.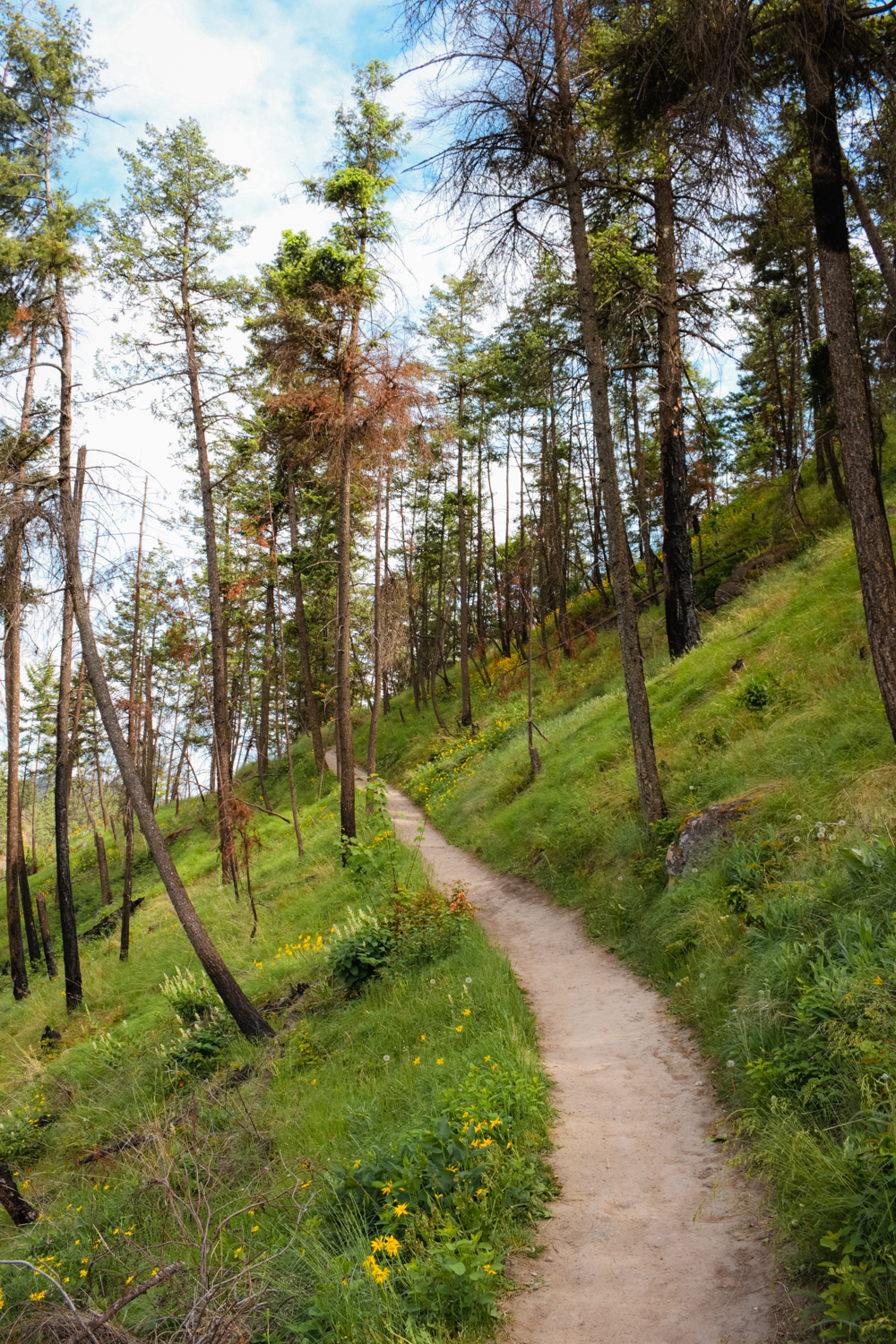 Nearest Services
Bear Creek Provincial Park is roughly 10 minutes from both Kelowna and West Kelowna. It's a quick, easy drive into town if you need to buy something or want to use the campground as a base for exploring the area.
Kelowna and West Kelowna have everything you'd need, including gas stations, Walmart, Superstore, Canadian Tire, Home Depot, and RV suppliers. There are also outdoor stores such as MEC and Atmosphere, as well as plenty of restaurants, wineries, breweries, and fun activities like ziplining, biking, and horseback riding.