Bear Creek Waterfall at Bear Creek Provincial Park in Kelowna, BC
Explore Bear Creek waterfall, a secret trail that's tucked deep in a crevice of the canyon. Bear Creek Provincial Park is a popular camping destination on the shores of Okanagan Lake near Kelowna, BC.
Across the road lie kilometers of trails that loop around the Bear Creek Canyon where you'll find the secret, hidden trail that gets up close and personal with the waterfall that can be seen from the trails.
PS: What to explore more waterfalls? Find all of Kelowna's waterfalls here!
Disclosure: This article may contain affiliate links and I may earn a commission, at no cost to you, if you click and/or buy a product online (even if it's not the product linked). I take great care to only recommend helpful products and appreciate your support!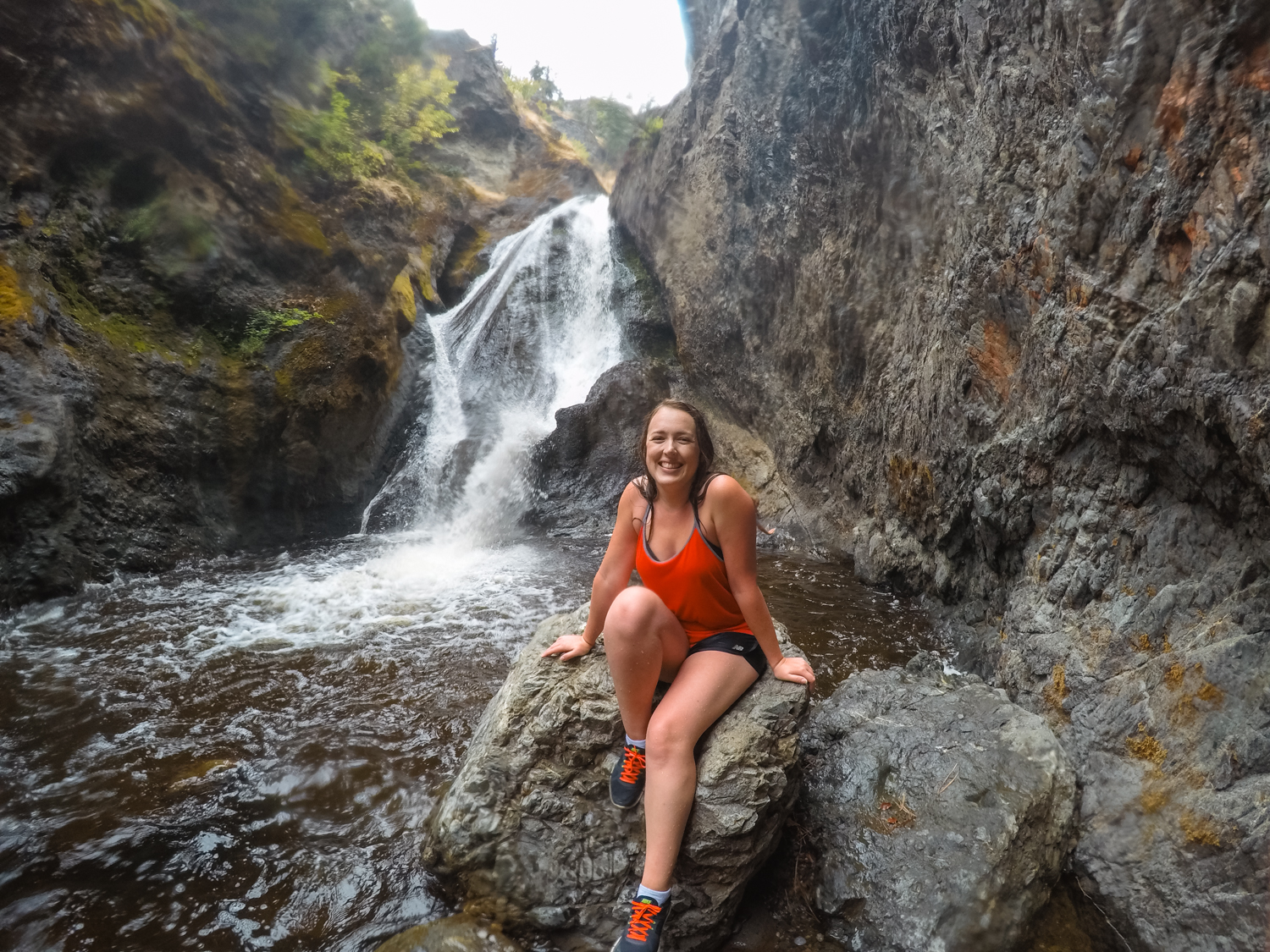 Trail Stats
Difficulty: Moderately easy
Trail Type: Out-and-back
Length: 1 km (see map)
Open Dates: Mid summer to early fall
Fee: Free
Note: Includes swimming and awkward footing; do not attempt during high water
KELOWNA WEATHER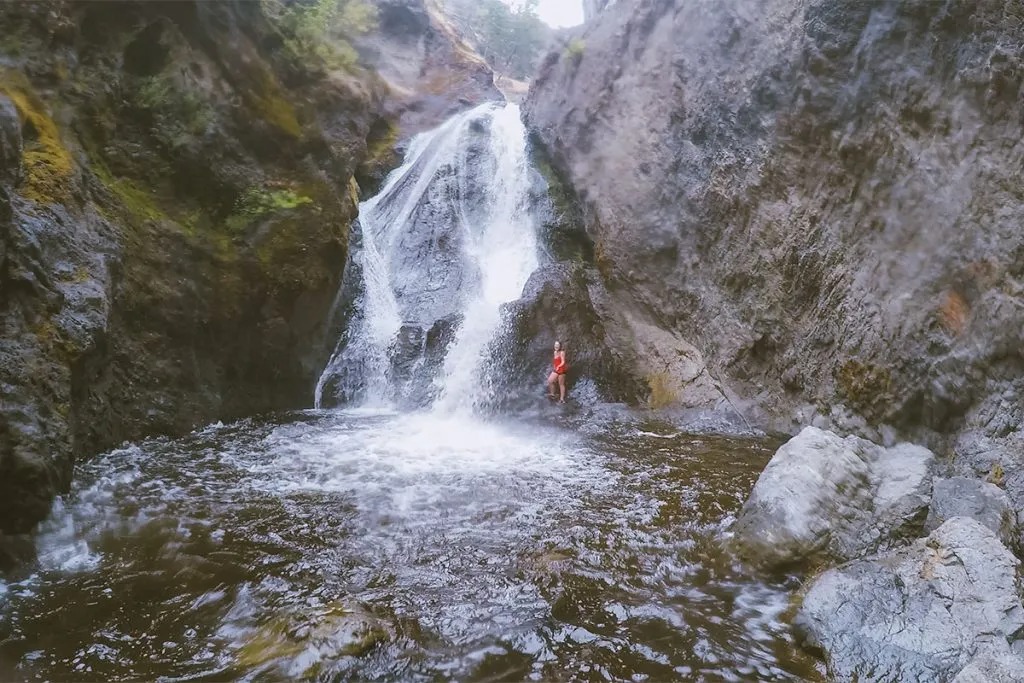 Bear Creek Provincial Park
Bear Creek Provincial Park was established in 1981 and is a popular destination on the western shores of Okanagan Lake. It boasts a lakeside campground, 400 meters of sandy beaches, and 5km of well-traversed hiking trails. In the summer months you'll need a reservation to stay at the campground; however, there's plenty of parking if you're only visiting for the day.
The scenic Bear Creek Canyon Rim Trail is a fairly easy hike with beautiful views. From the trail, the Bear Creek waterfall is nothing more than a small white ribbon and is almost fully obstructed by the canyon walls. In the springtime, the run-off can be extremely strong and creates a rushing river.
Warning: DO NOT try to visit Bear Creek Waterfall during high water; it would be extremely dangerous. The best times to visit are during the summer and early fall.
Bear Creek is located 11 km from downtown Kelowna and makes for a perfect afternoon adventure. The road winds its way along the beautiful shores of Okanagan Lake and offers spectacular views of Kelowna, Bennett Bridge, and Knox Mountain.
The parking lot for the trail is separate from the campground and located directly off the main road. It's often full in the summer, however, there's a wide shoulder that's safe to park on. There's also ample day parking in the campground which is located a few meters further down the road.
Directions to the Trailhead
From downtown Kelowna, cross Bennett Bridge heading towards Westside. Once across the bridge, take the second exit, following signs for Bear Creek Provincial Park. Turn right off the exit and follow Westside Road for 11km.
Watch for the parking lot on your left or, if it's full, park on the shoulder of the road. Parking is also available in the day use area of the campground a few meters further.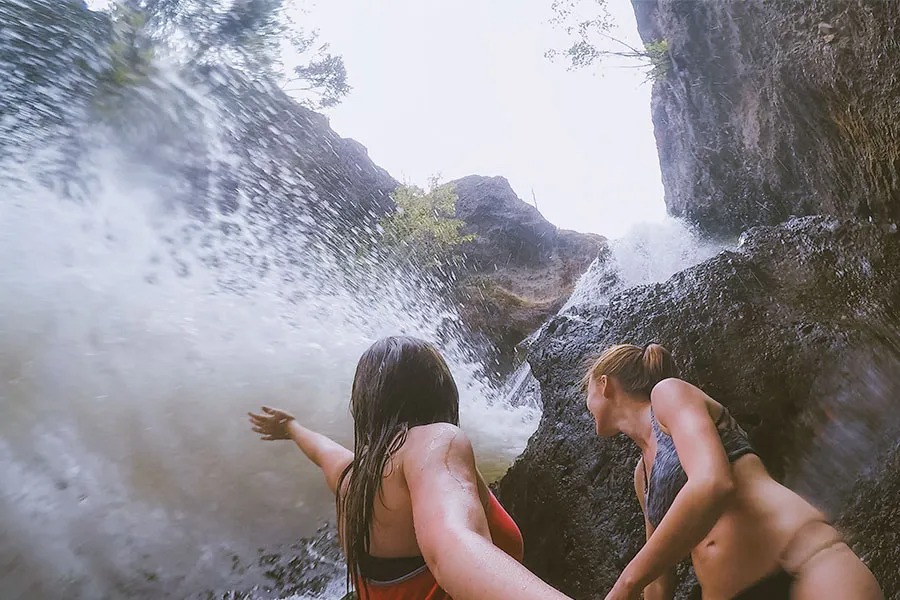 Hiking to Bear Creek Waterfall
The Bear Creek Waterfall trail is unmarked on all maps. To find it, turn right onto the Loop Trail and stay on it until you cross the second bridge. You'll see a well-worn trail at the end of the second bridge that leads you down to the creek. The trail goes over river rocks, through thick brush, and under burnt trees, but it's a lot easier to simply walk in the creek. There's very little elevation gain and it's important to watch your step as the rocks are very slippery.
You will need to swim to get to the Bear Creek waterfall. Depending on the water levels, the point at which you'll have to start swimming will vary. For the most part, when the cliff walls narrow, the banks disappear, and a sharp bend in the canyon appears, the water will become deep and you'll be forced into waist deep water.
Once you've rounded the bend, the water will become shallow and jammed with logs. A few hundred meters farther along, you'll come to a narrow slit in the canyon that's no more than a few feet wide and roughly fifteen feet long. It's deep and will require you to swim through.
You'll swim against a slight but easily manageable current. The end is marked by a boulder and underwater ledge that you'll need to pull yourself onto.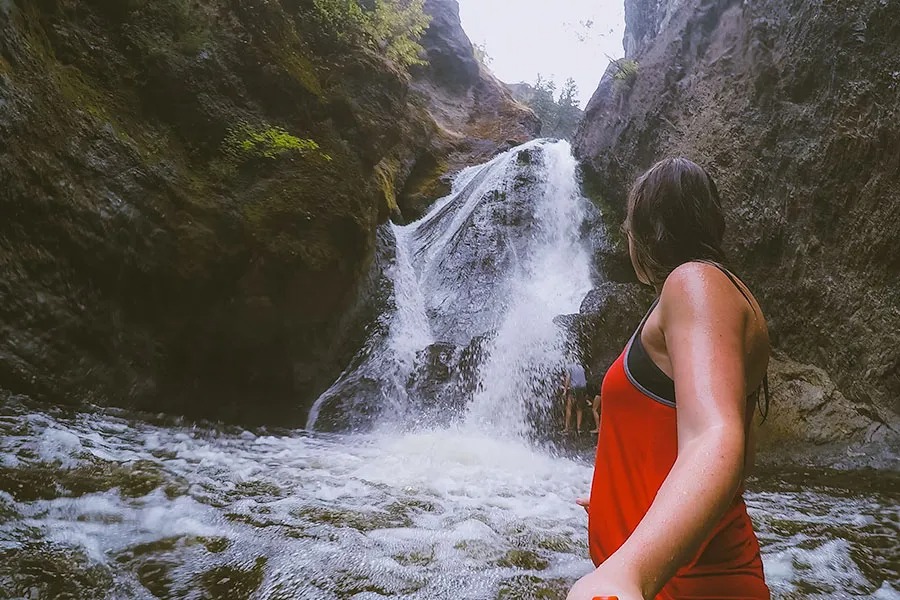 Finding the Hidden Waterfall
Bear Creek Waterfall will present herself without much warning. You might notice a change in temperature (depending on the time of year you visit), but you likely won't hear the water as it rushes down the canyon a few hundred feet away. Rocks line the far side of the pool and the canyon walls rise like pillars high above, creating the perfect hidden escape.
It's exhilarating to make your way to the base of the waterfall and stand beneath the tumbling water! The pool in front of the waterfall is deep and full of slippery rocks, but the current isn't strong. It's a great place to cool off from a hot Okanagan day!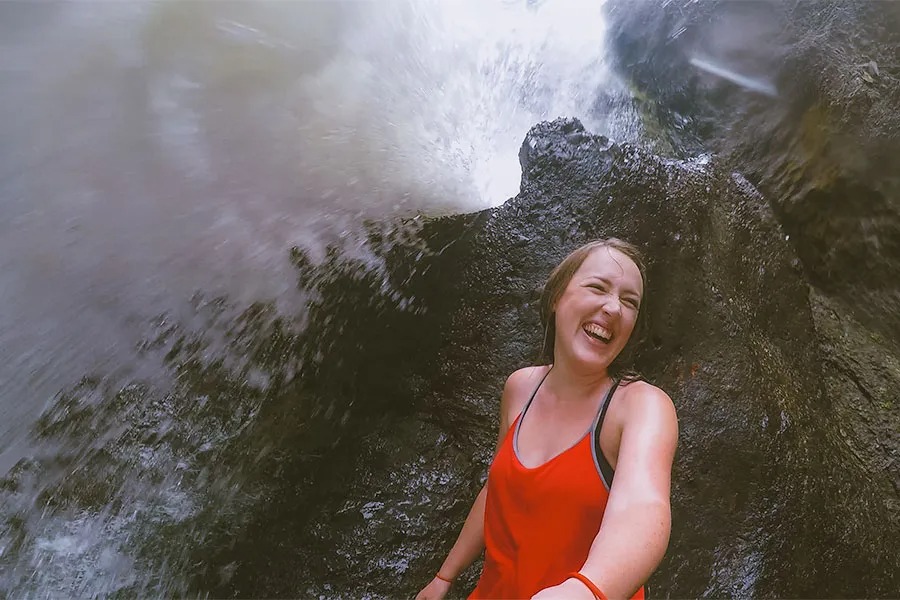 Gear Suggestions
The Bear Creek Waterfall is a unique adventure. Everything you bring will get soaked in water, so you need to plan appropriately.
I didn't bring my phone and don't really recommend it, but if you absolutely need to, make sure it's protected in a waterproof case. Jacob and I both have Lifeproof phone cases and it's really the only case I'd ever want. I'm quite clumsy and am terrified of wrecking my phone and so far it's been safe for three years in its case. The newer versions have some pretty awesome designs!
Selfie sticks sometimes get a bad rep but I truly love them for their ability to take action-packed shots. Our preferred selfie stick is by far the Spivo Stick because it's durable, waterproof, and flips 180° for shots from every angle! It mounts with any phone or GoPro and is extremely lightweight. Spivo also has awesome customer support.