Camping Recipe: Caprese Campfire Pizza
One of my absolute favourite camping recipes!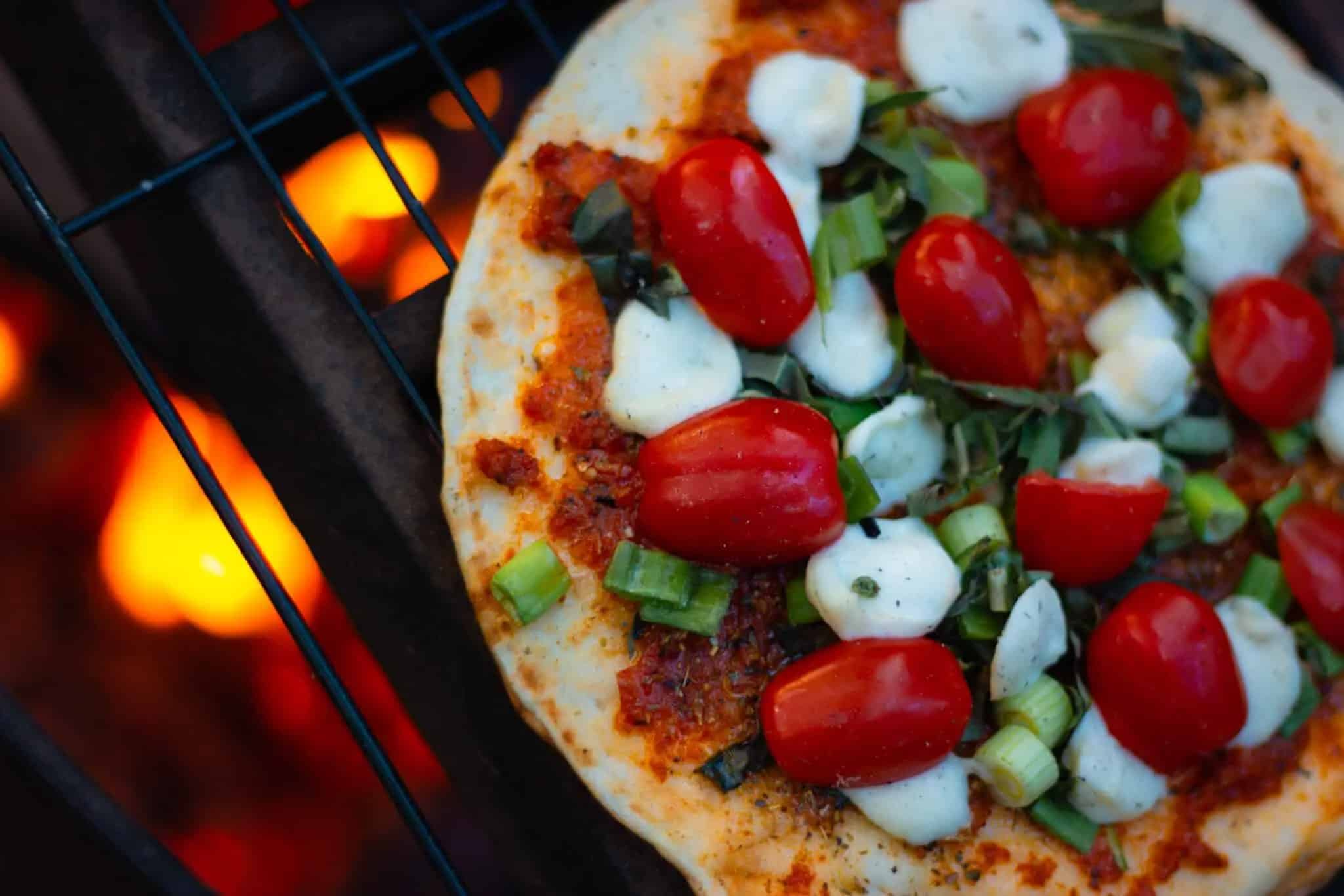 Mmmm, wood fire pizza. This crispy Caprese campfire pizza is one of my absolute favourite camping recipes — it's crispy, delicious, and super easy to make.
It's perfect for camping and road trips. You'll never wanna go back to chips and hot dogs after this!
Luckily, you don't have to be in town to enjoy a delicious wood fire pizza — you can make it on your campfire while you're out camping or road-tripping! This Caprese campfire pizza is surprisingly easy to whip up and it's the perfect meal to wrap up a busy day of doing nothing.
Aaaaand, everyone'll be asking for thirds, so brings lots! I promise you won't be able to get enough of this pizza. It's smoky, melty, and crispy. It's time to leave all that nasty pre-packaged camping food in the dust.
Cooking Instructions for Caprese Campfire Pizza
I'm obsessed with Caprese salad. Obsessed. I love everything about it and often experiment with different ways to enjoy it. Pizza, pasta, sandwiches… I love it all!
Since Caprese salad only has a handful of simple ingredients — basil, mozza, tomatoes, and vinegar/oil — it's a fantastic camping recipe. But, and I dunno about you, I like hot food when I'm camping. Especially for those chilly evenings sitting around a campfire. And salad doesn't exactly hit the spot.
But a Caprese pizza? Oh man, get it in m'belly!
Admittedly, the toughest part about pizza is the dough. And if you're camping, do you really wanna deal with that? Nah, I doubt it. In comes naan bread, to the rescue! It crisps up beautifully on the campfire and really pulls together the Caprese pizza.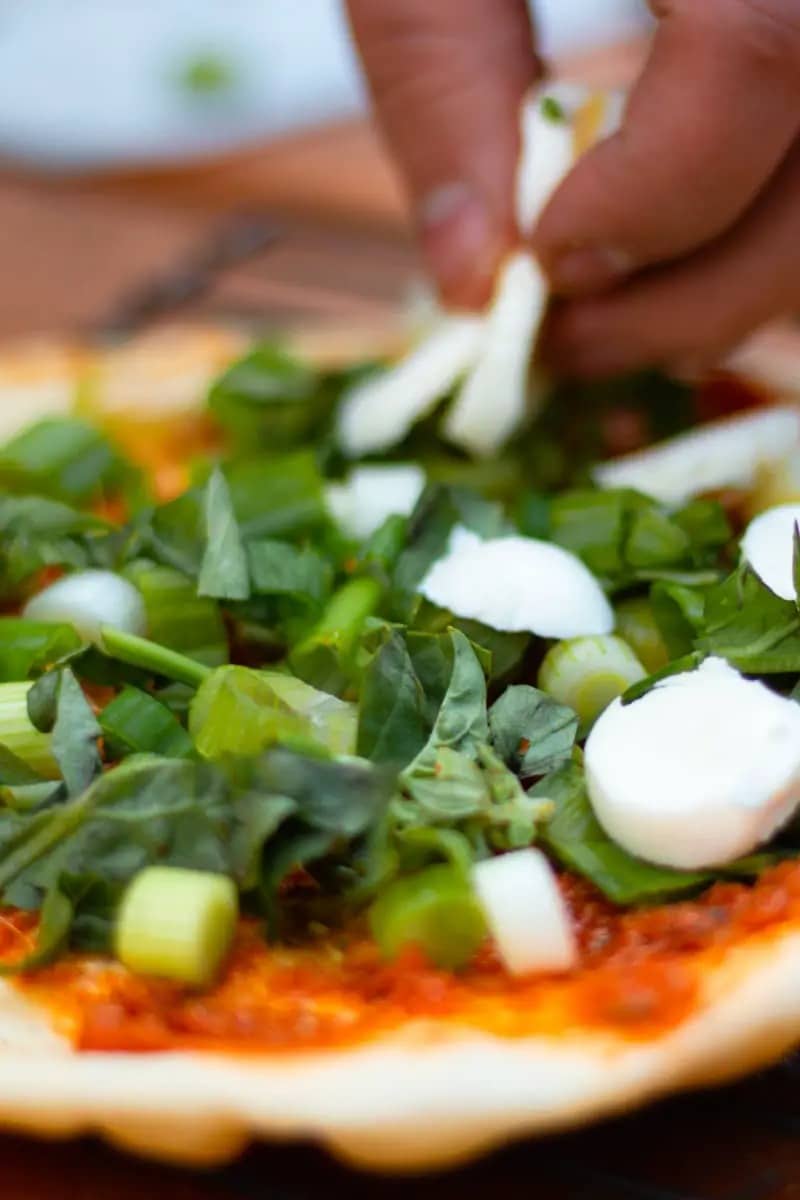 Step 1: Prep the Pizza
This smoky Caprese pizza is super easy to make over a campfire. But before you even start making your pizza, make sure your campfire is nice and warm! Otherwise, this'll be a slow meal.
Once your campfire is going, use your camping knife to cut up the basil and green onions — dice these into whatever size you prefer. Then cut the cherry tomatoes and bocconcini in half.
Place the naan on a wire rack to make it easy to transport to the campfire later. Believe it or not, this is a very important step!
Next, spread a layer of sun-dried tomato tapenade (this gives the sauce more flavour than regular pizza sauce) and sprinkle the nann with pepper, oregano, and salt. Then, add the basil and onions to the naan.
Step 2: Add Bocconcini & Cherry Tomatoes
Once your pizza base is ready, add the bocconcini and cherry tomatoes. The cheese won't spread a ton as it melts, so don't be afraid to add lots!
Also, the tomatoes won't cook down much over the fire, so you can fry them on a camping pan beforehand if you prefer the texture of cooked tomatoes.
Step 3: Transfer the Pizza to the Campfire
This is when you'll be happy you put your pizza on a wire rack! It's way easier to move it this way.
Transfer your pizza to the campfire and place it (and the wire rack) on the grate. Don't worry if the flames lick your pizza a little, just don't let the fire absolutely engulf it!
Leave the pizza on the campfire until the bottom of the naan gets crispy and the mozza is melty. The longer you can leave it, the more smoky and delicious the pizza becomes.
PS: If there's a campfire ban, you can make this on a camping stove — it just won't have that delicious smokiness you get from a campfire.
Step 4: Finishing Touches
When your pizza's ready, remove it from the campfire using oven mitts and cut it right away. Put it on your camping plate, drizzle with a balsamic reduction, and enjoy!
Prepare for pizza heaven. This Caprese campfire pizza is basically like having a fancy-ass woodfire pizza, but without the hefty price tag.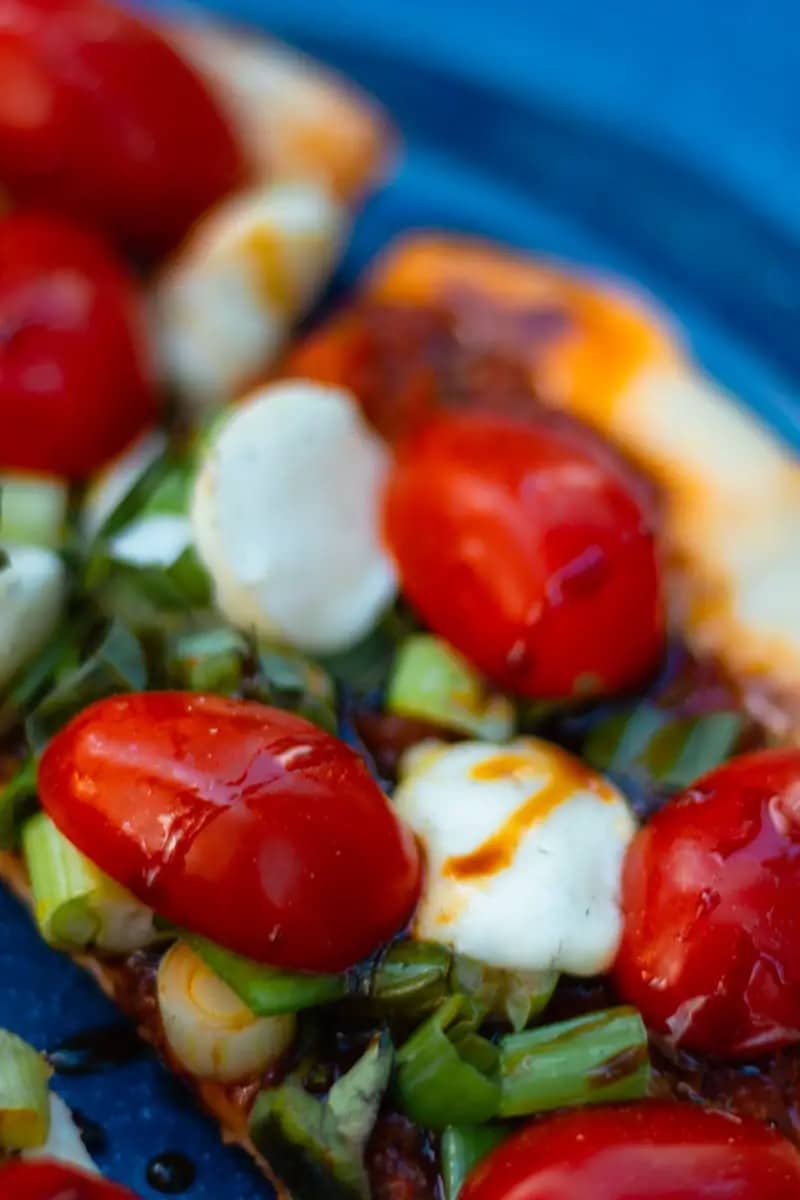 Camping Kitchen Gear
As you begin making actual camping recipes, you'll probably find yourself in need of some gear for your new camping kitchen. Here's some gear that'll make your life a lot easier when you make this yummy pizza!
Wire Rack: A wire cooling rack makes it a lot easier to cook food directly over a campfire. It's a good idea to get one specifically for camping so you're not worried about dirtying it up (because that will happen).
Camping Utensil Kit: Neatly organize all of your camping utensils in one convenient carrying bag! Includes a knife, cutting board, cheese grater, and more. There's also room to add extra gear.
Caprese Campfire Pizza
Course: Recipes
Ingredients
1 naan / flat bread

5 cherry tomatoes (sliced)

1 scallion (diced)

3-4 basil leaves (fresh)

1 tbsp sun-dried tomato tapenade

2-3 bocconcini (sliced)

pinch dried oregano

pinch sea salt

pinch black pepper

drizzle balsamic reduction / glaze
Directions
Get a campfire going. Wait until there's a bed of coals with a few small flames.
Put the naan on the cooling tray.
Spread the tomato tapenade on the naan. Sprinkle the oregano, salt, and pepper on the naan. Dice the scallion and basil and sprinkle it on the naan. Slice the tomatoes and bocconcini and place on the naan.
Place the cooling tray with your pizza on the grill of a small campfire. Wait for 10 – 15 minutes or until the bottom of the naan is crispy and the bocconcini have melted.
Carefully remove the cooling tray from the fire and allow to cool.
Drizzle with balsamic reduction. Enjoy!