Caprese Pasta Salad Camping Recipe
Camping meals don't have to be boring! Instead, you can have delicious meals like this  like Caprese pasta salad. I used to think camping meant hot dogs, marshmallows, and a ton of chips… and that's about it. But that gets old fast.
Caprese pasta salad is a quick and easy meal for camping and road trips. And boy, is it worth it! You'll feel like a fancy SOB as you dig into your hot tomatoes, soft cheese, sweet basil, and tangy vinegar while batting away mosquitos and pulling a hat over your dirty hair.
Camping food doesn't have to be boring!
Disclosure: This article may contain affiliate links and I may earn a commission, at no cost to you, if you click and/or buy a product online (even if it's not the product linked). I take great care to only recommend helpful products and appreciate your support!
Cooking Instructions for Caprese Pasta Salad
This camping Caprese pasta salad is based on the simple Caprese salad — tomatoes, mozzarella, and basil plus a few extra ingredients.
Thanks to its simplicity, Caprese pasta salad is a wonderful recipe that's great for camping. It's super easy to make with minimal ingredients — most of which don't need to be refrigerated which is a huge bonus when you're camping.
If you enjoy this Caprese pasta salad, I highly recommend also trying Caprese campfire pizza.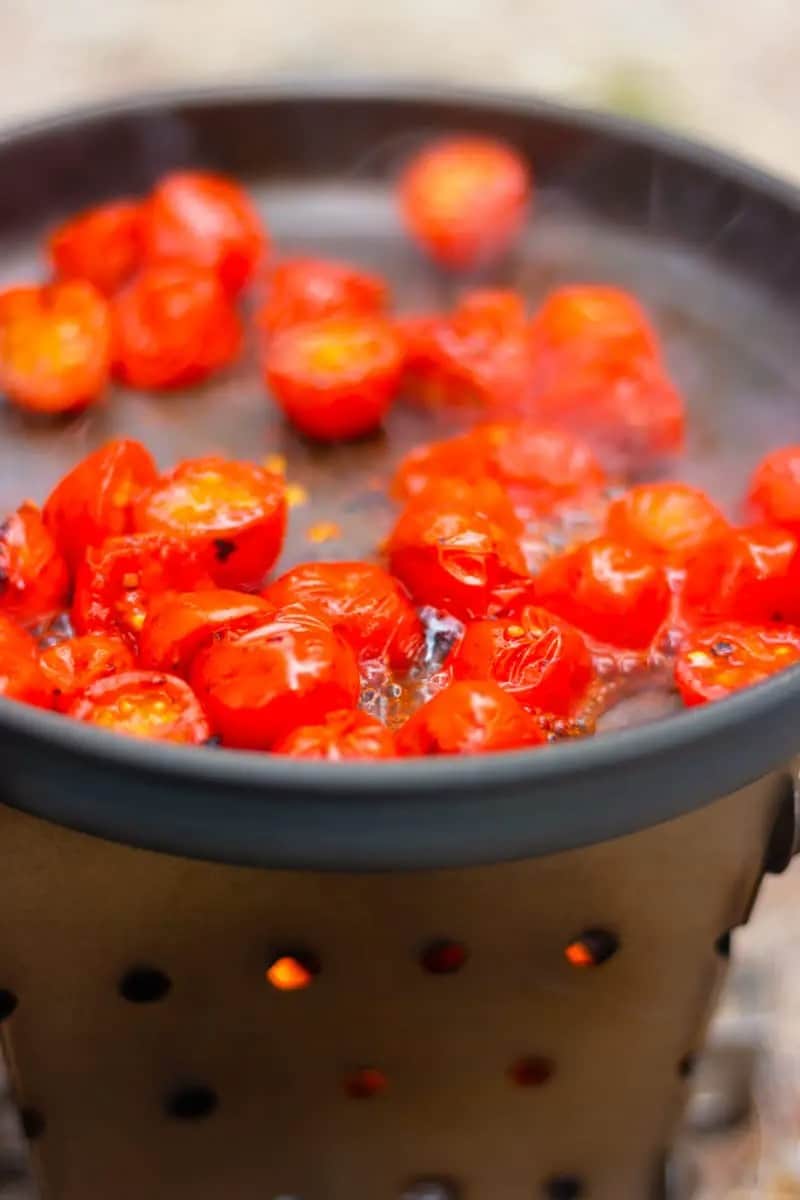 Step 1: Fry the Cherry Tomatoes
To morph a Caprese salad into a warm pasta dish, cut the cherry tomatoes in half and fry them until the skin breaks and juice begins to bubble. You don't need to add oil or butter, the juice from the tomatoes is enough to keep them from burning.
When the skin breaks away from the tomatoes, remove them from the heat and set them aside to cool. Which, when you're camping, usually means a spare bit of cement or dirt. Y'know how it goes.
Step 2: Cook the Pasta
Once you've removed the tomatoes from the heat, cook your pasta according to the directions. I like penne noodles, but you can use whatever kind you want.
I usually have trouble keeping a boil with a campfire or wood-burning stove, so I often add the pasta from cold. I know it's a little weird, but it works fine. After all, you're camping. No one expects Michelin Star food while camping — at least that's what I tell myself.
Step 3: Finishing Touches
When the pasta's done, drain it and toss it with olive oil and oregano. Quickly reheat the tomatoes until they're bubbling again.
Add the tomatoes, bocconcini, and basil leaves to the pasta. Toss it all together and drizzle with balsamic reduction.
Enjoy!
Camping Kitchen Gear
As you transition from hot dogs to more elaborate camping recipes, you'll find yourself in need of kitchen camping gear.
Before you rush and buy all new gear, though, I recommend checking out your local thrift stores or gear swaps to figure out what kitchen gear you actually like before splurging on all new things.
However, if you're ready to grab some new camping kitchen gear, these are all great options.
Caprese Pasta Salad
Course: Camping, Recipes, Road Trips
Ingredients
handful dry penne

7 cherry tomatoes (halved)

3-5 bocconcini (halved)

5-6 basil leaves (fresh)

pinch dried oregano

drizzle balsamic reduction / glaze

1 tsp olive oil
Directions
Start a fire or use a camp stove.
Fry the tomatoes until they burst. Set them aside to cool.
Cook the pasta according to the instructions.
Strain the pasta and toss in olive oil and oregano.
Quickly reheat the tomatoes and add to pasta.
Add bocconcini and chopped basil leaves. Toss to combine.
Drizzle with balsamic reduction. Enjoy!