Eain Lamont Trail on Mt Boucherie in West Kelowna, BC
Take a moderatly difficult hike up Mt Boucherie and enjoy panormaic view.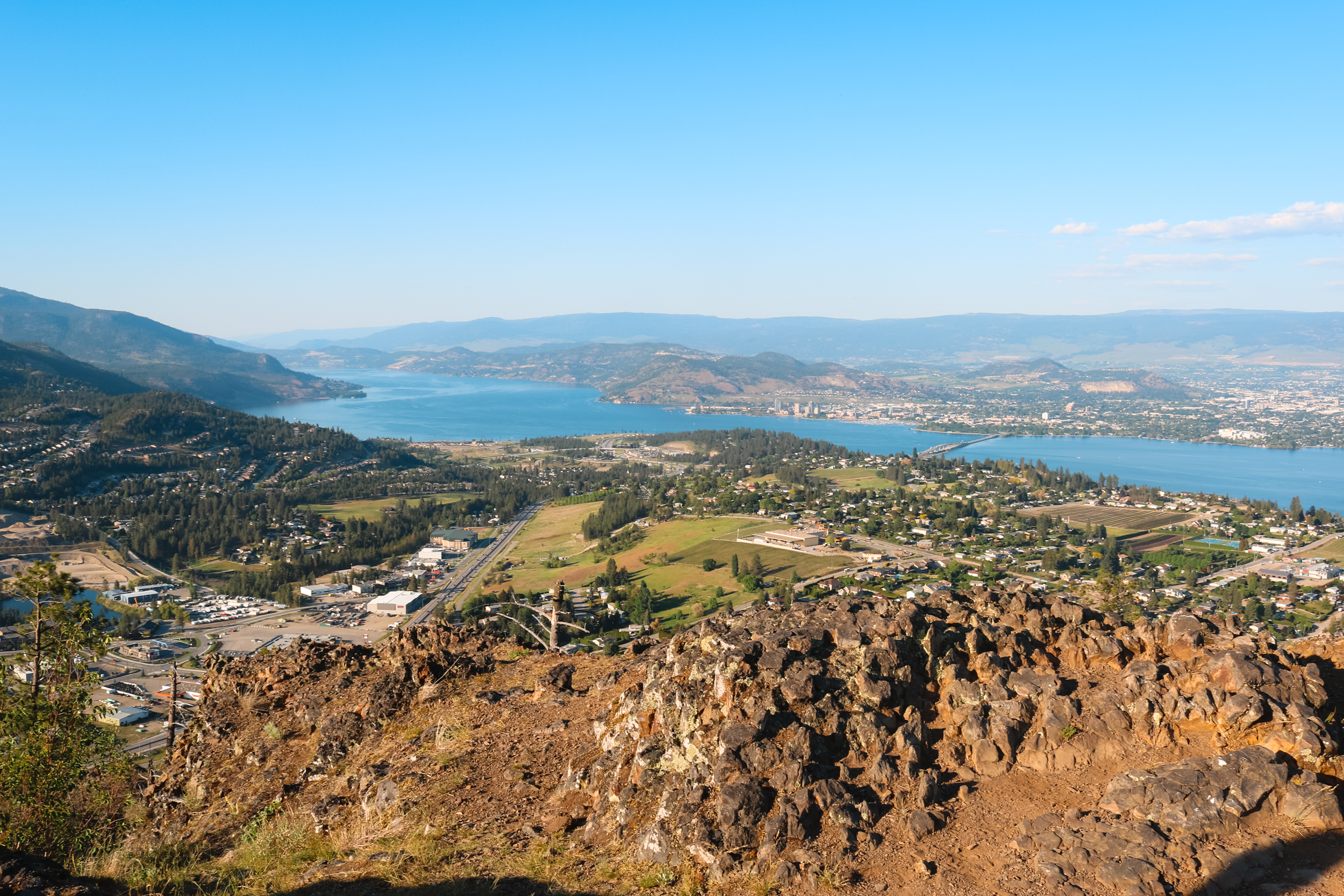 The Eain Lamont Trail on Mt Boucherie is a great day-hike that rewards you with spectacular views of the central Okanagan.
The maze of trails will keep you on your toes and make every climb different. With views up and down Okanagan Lake and very few people, it's a fun way to challenge yourself.
The Eain Lamont Trail was once the main trailhead for Mt Boucherie, but with the addition of the easier Boucherie Rush Trail in 2015, it's not nearly as popular.
There's a small parking lot at the Eain Lamont Park, however, it can be difficult to find because it's deep in residential developments. The gravel road into the parking lot isn't always well maintained and there may be large potholes.
Disclosure: This article may contain affiliate links and I may earn a commission, at no cost to you, if you click and/or buy a product online (even if it's not the product linked). I take great care to only recommend helpful products and appreciate your support!
Trail Stats
Because of the many trails to choose from, the length and duration of the Eain Lamont Trail can differ greatly. Be prepared to spend anywhere from 45 minutes to 3 hours on Mt Boucherie.
Difficulty: Moderate
Length: ~4 km (see map)
Elevation gain: ~128 m
Trailhead: Eain Lamont Park
Open Dates: Year-round
Fee: Free
WEST KELOWNA WEATHER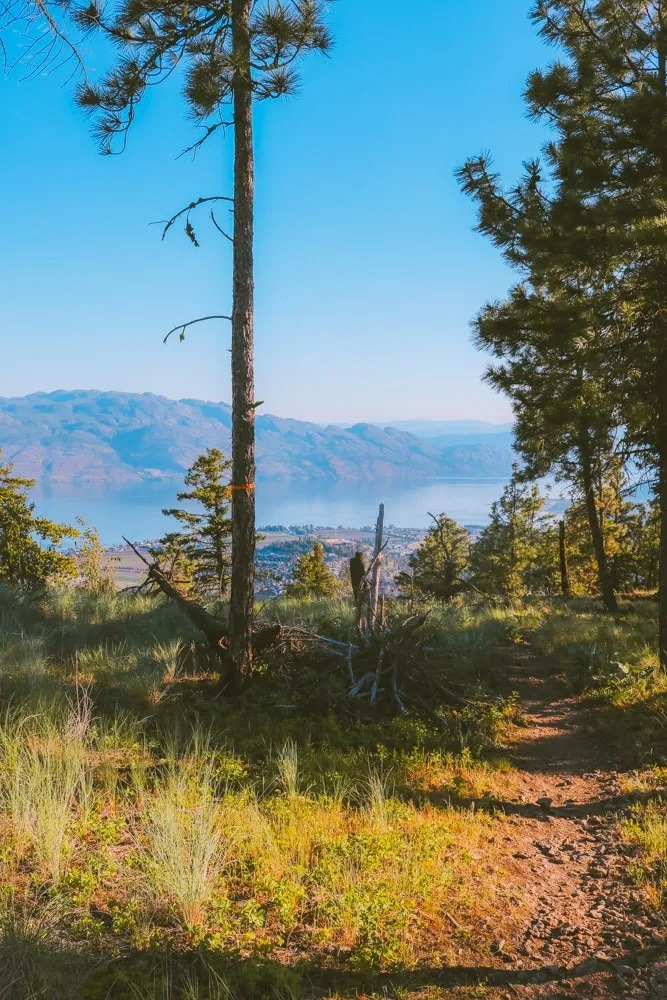 Hiking the Eain Lamont Trail
It's hard to judge exactly how long your hike will be because there are so many different trails up the mountain, but the loop on this article is about 4 km long.
It brings you up the northern side of Mt Boucherie and is a challenging hike that requires scrambling up steep sections and over loose rock. The trails aren't well marked, so you need to keep your eyes peeled.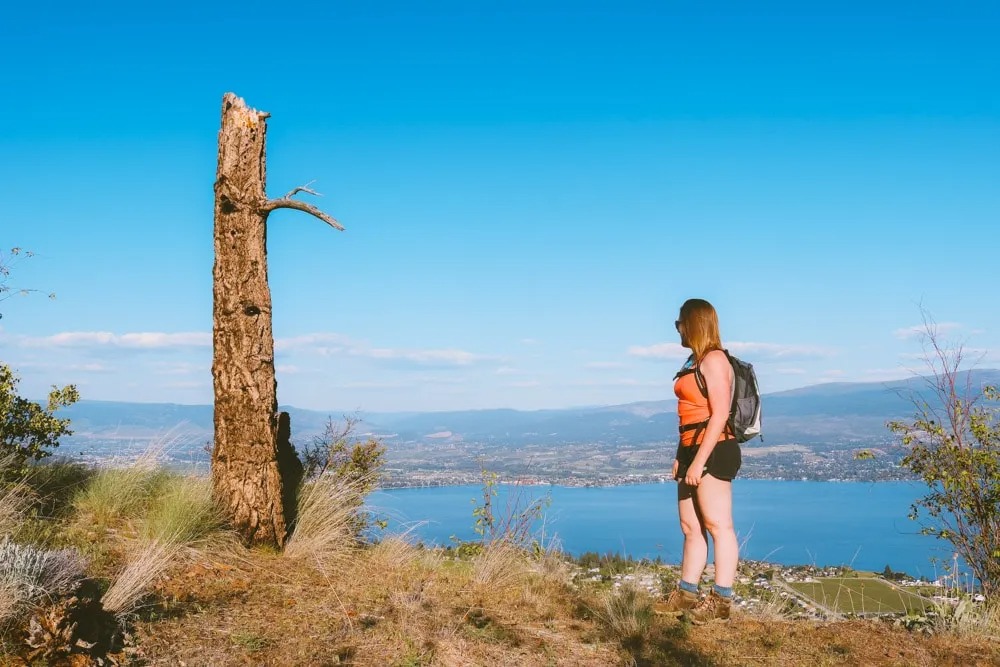 What to Expect
The trailhead for this hike starts at the Eain Lamont Park. You'll hike on a large, well-worn trail as it meanders slowly along the base of Mt Boucherie, steadily climbing uphill until you reach a reservoir. From here, numerous smaller trails branch off and you'll have to pick your adventure. No matter which trail you choose, you'll have wonderful views and eventually make it to the top of Mt Boucherie.
Going forward, the trail gets challenging. There are very few trail markers, but if you steadily head uphill and stay on a trail, you'll make it to the top of Mt Boucherie. Some of the trails can be quite dangerous because of loose rock, steep inclines, and narrow trails. Always be careful and watch your step. The majority of the trail is exposed with little tree cover and you'll quickly become hot on a sunny day.
While it can feel like you could easily get lost on this side of Mt Boucherie, it would be quite difficult to get truly lost. Mt Boucherie is surrounded on all sides by urban development and if you head downhill, you'll eventually reach the city.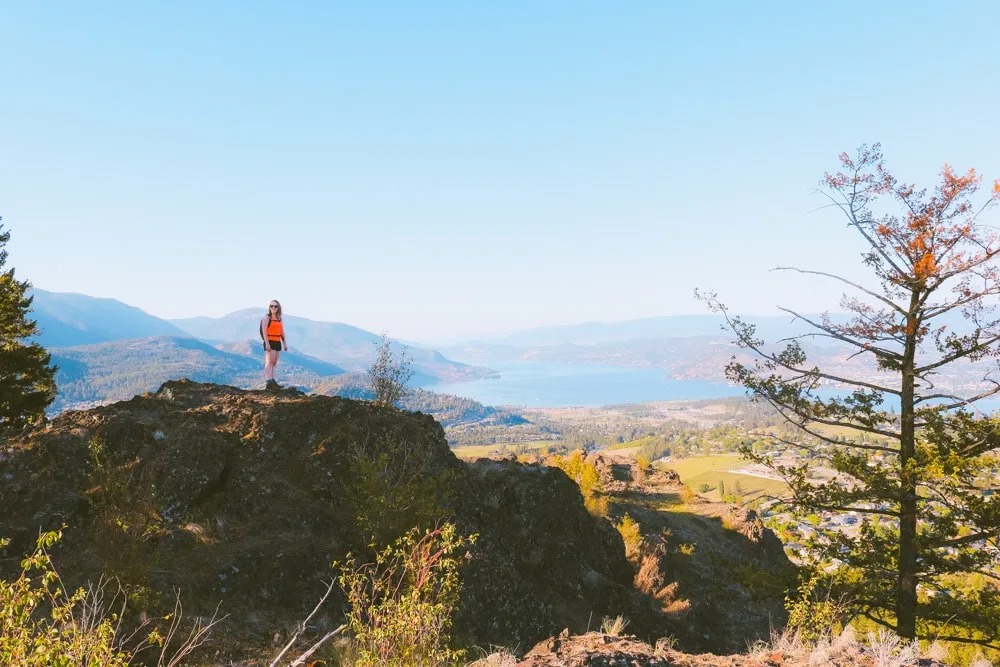 The Summit of Eain Lamont
The summit of the Eain Lamont Trail offers truly spectacular panoramic views! Your hard work is rewarded here with breathtaking views of Kelowna, Shannon Lake, and Okanagan Lake.
The summit of the Eain Lamont Trail, unlike the Boucherie Rush Trail, isn't developed and is full of rocky outcroppings. It's a wonderful place to rest and soak in the beautiful Okanagan.
If you want to keep exploring, you can take a trail along the top that brings you to the main lookout on Mt Boucherie. After climbing the Eain Lamont Trail, this trail is easy. It meanders up and down the top of Mt Boucherie and through the forest. It's not uncommon to see wildlife here. You'll eventually meet up with the Boucherie Rush Trail and find the second summit with views of West Kelowna.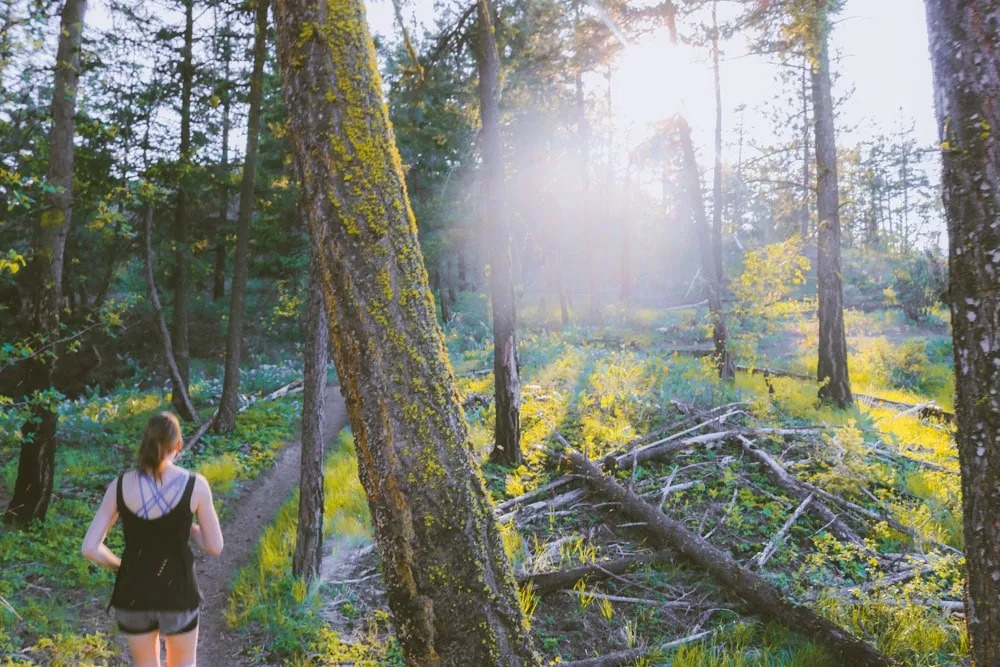 History of Mt Boucherie
Mt Boucherie is an extinct volcano that has a history spanning almost 60 million years. Today, Mt Boucherie's highest elevation is 758 m and stands 417 m above Okanagan Lake. It's thought to have once been almost 2,000 meters tall!
The mountain is named after Isadore Boucherie who was an early settler and farmer in the Okanagan. In the late 1880s, he purchased land near the mountain and because of this, it was later given his name.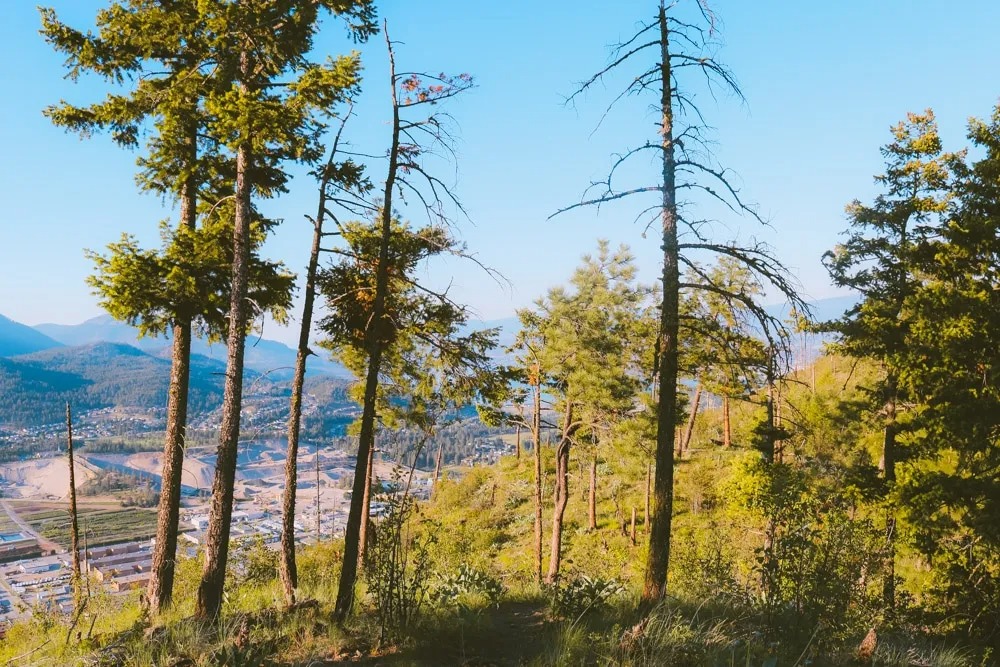 Volcanic Activity on Mt Boucherie
Remnants of Mt Boucherie's early eruptions, which happened about 60 million years ago, can be seen on the northern and southern edges of the mountain. You can identify them by their distinctive yellow, tan, and pink colours. The mountain became a lava dome which has eroded ever since.
During its final volcanic activity, Mt Boucherie's eastern slope was carved into large rock columns. When the volcanic activity ended, a large river flowed through the area and partially buried the volcano with rock and sediment. Over the last 40 to 50 million years Mt Boucherie was subjected to glacial activity that further eroded the lava dome.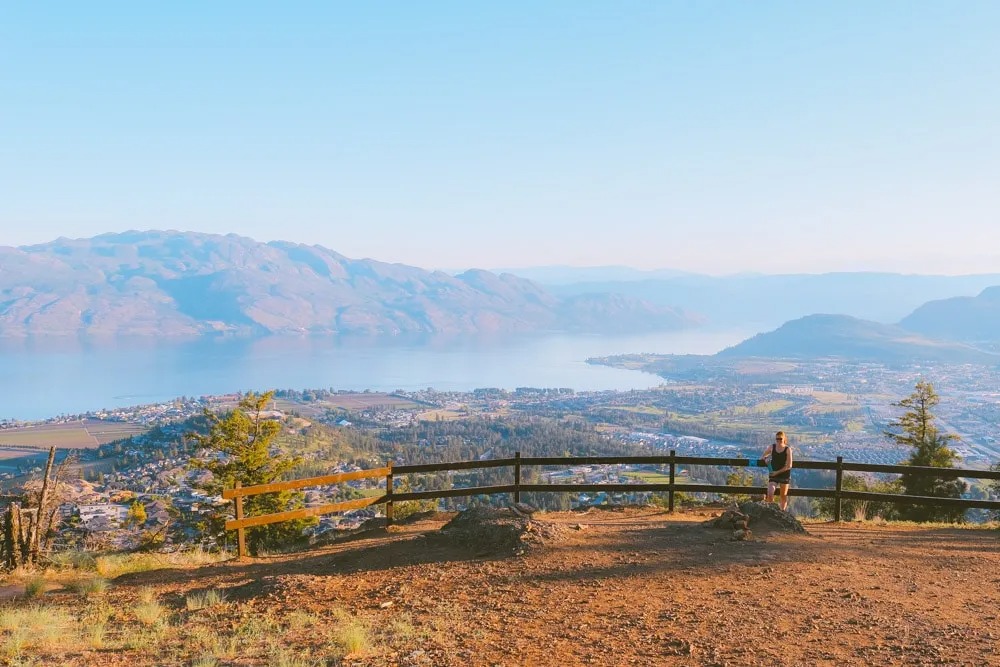 Gear Suggestions
The Eain Lamont Trail is a short, challenging hike and there are specific things you'll want to bring to make the most of your hike.
Water: Water's soo important to keep your energy levels up! I recommend bringing both a hydration pack and water bottle, as well as a few electrolyte tablets in case you need an extra boost.
Proper footwear: The right footwear is gonna make all the difference on this trail. There are some very rocky sections and hiking boots will be your saving grace.
Quality socks: Darn Tough's merino wool socks are my absolute favourite and make such a difference on difficult hikes!
Sun protection: Anytime you're hiking in the Okanagan during the summer, it's super important to protect yourself from the sun. Make sure to wear a hat, sunscreen, and sunglasses. You could even wear sun-rated clothing — which, surprisingly, isn't super ugly.