Activity Guide: Enderby River Float in the North Okanagan-Shuswap
A fun, enjoyable way to to spend a lazy summer afternoon with friends and family.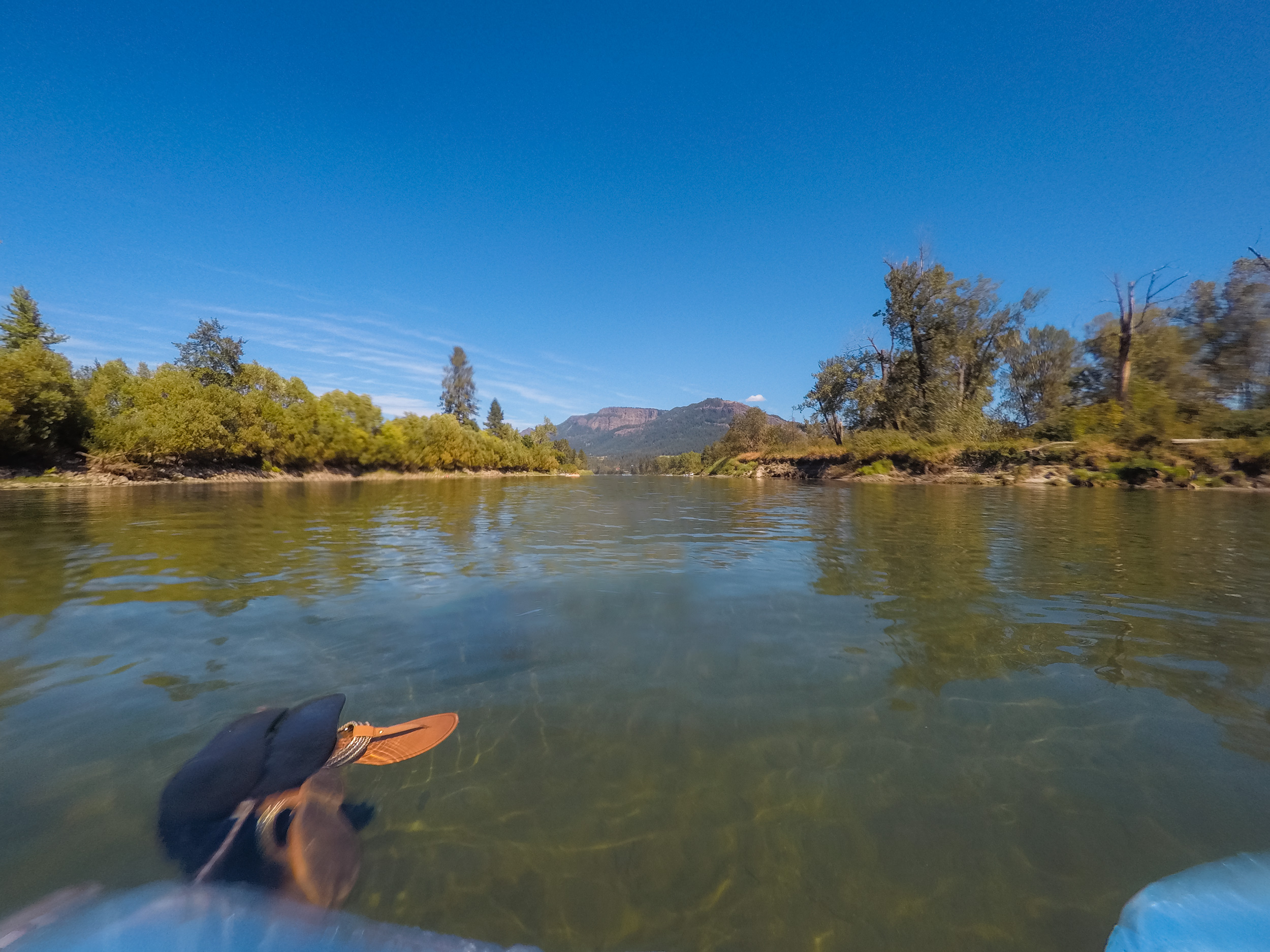 Whether you're a local or visitor, the Enderby River float is a must-do summer activity. There are countless places to hop in and out, which makes the float a true choose-your-own-adventure. The Enderby River float is 100% free. The only costs you might have is buying your equipment for it.
There used to be a business called The Tube Taxi (fun fact: I worked there for a few summers!) that provided tubes, PFDs, and a ride, but it's not longer there.
The Enderby River Float is a wonderful summer activity to do with your friends and family. It's relaxing and lots of fun! Jacob and I both grew up floating it almost every summer.
Enderby River Stats
ENDERBY WEATHER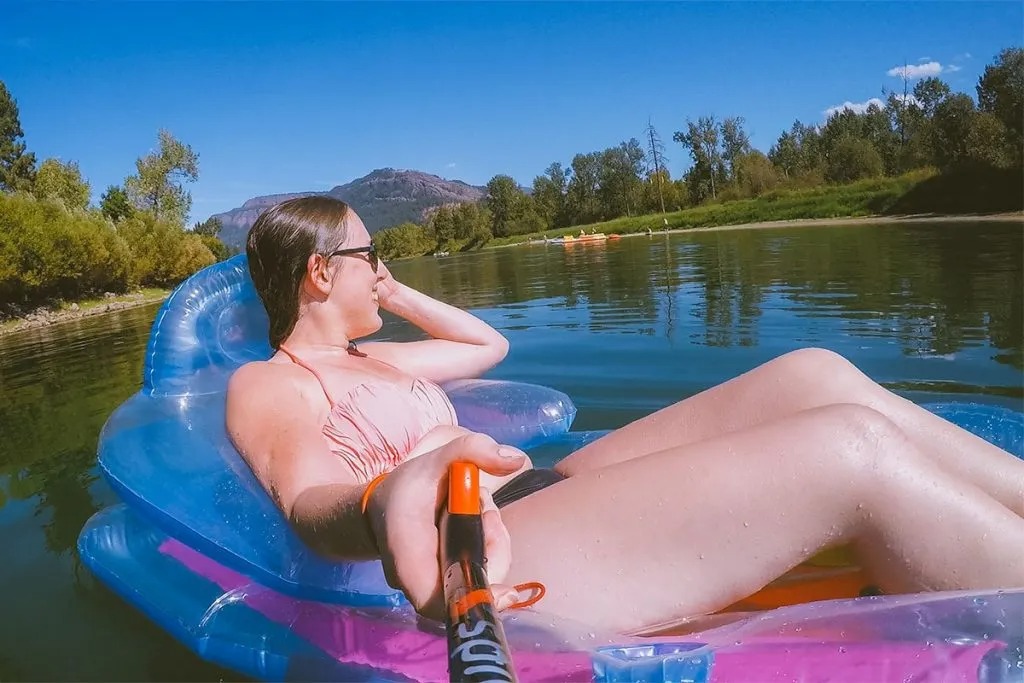 What to Expect on the Enderby River Float
The Enderby River float is one of my all-time favourite summer activities. I've been floating the river since I was as little kid and have such warm memories of those lazy afternoons.
The Shuswap River, aka the Enderby River, curls its way from Mabel to Mara Lake. It flows past forests, sprawling fields, and the majestic Enderby Cliffs. You'll probably see cows and birds or maybe even bears or deer as you float by. Unlike the Penticton Channel, the Shuswap River is an entirely natural waterway and is a relaxing, meandering float.
Even on its most popular days, the river is large enough that you won't feel packed like sardines and can enjoy hanging out with your friends and family in peace.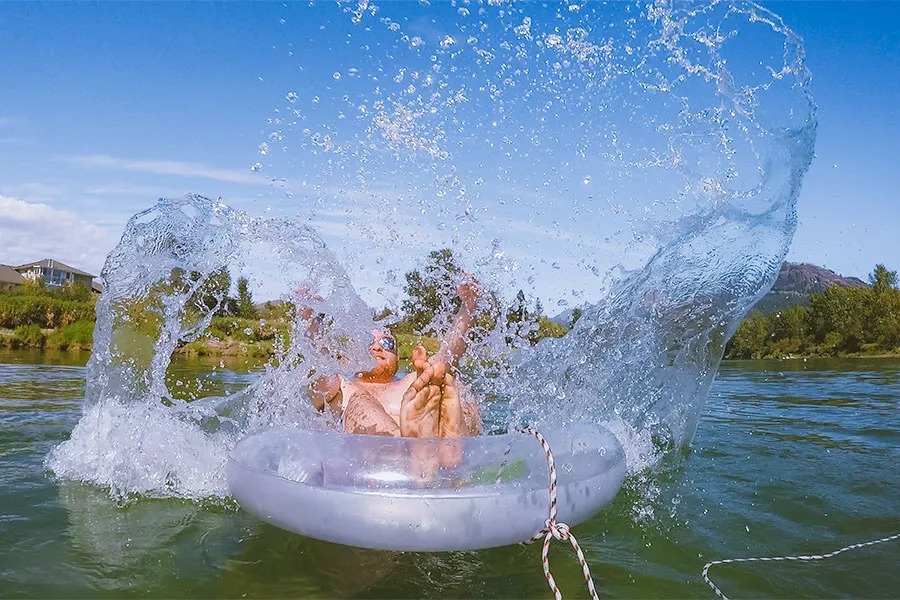 When to Float the River?
The short answer? Late summer is the best time to float the Enderby River.
How about the long answer? Well, the float will look a lot different depending on the time of year.
In the early summer, the water is usually high and fast, which not only makes your float short, but it can also be dangerous. By late summer, though, the water is usually extremely low and lazy, making your float a lot longer and safer. In some sections, you can even walk along the sandy bottom!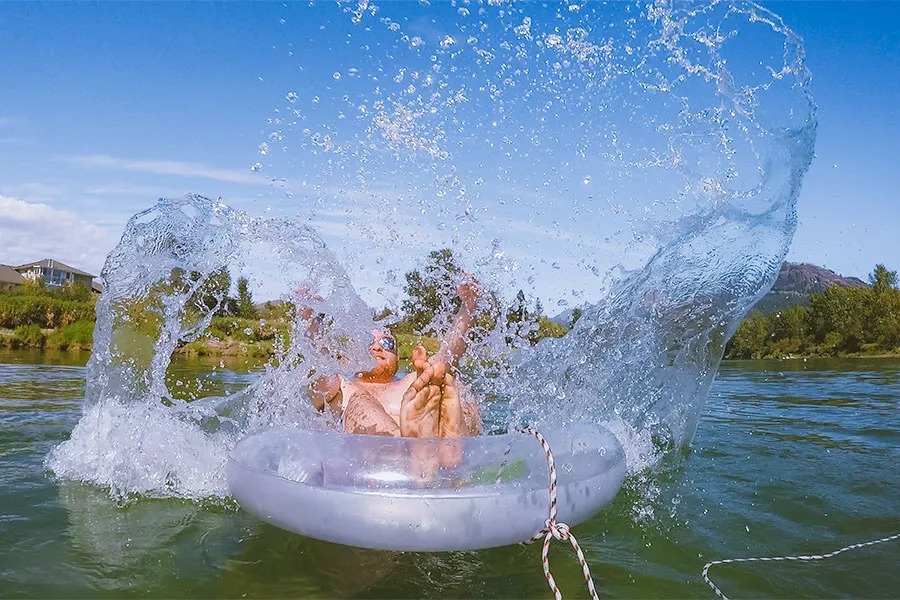 Entering & Exiting the River
There are many different enter and exit points, but the most common float is from Belvidere Park to Tuey Park. Other popular options are Belvidere Park to Riverside RV Park and Trinity Bridge to Eby Hand Launch.
The Shuswap River runs through or alongside private property for most of its length. Be respectful to the owners and only enter and exit at designated launch sites. I've marked the launch sites in the map above.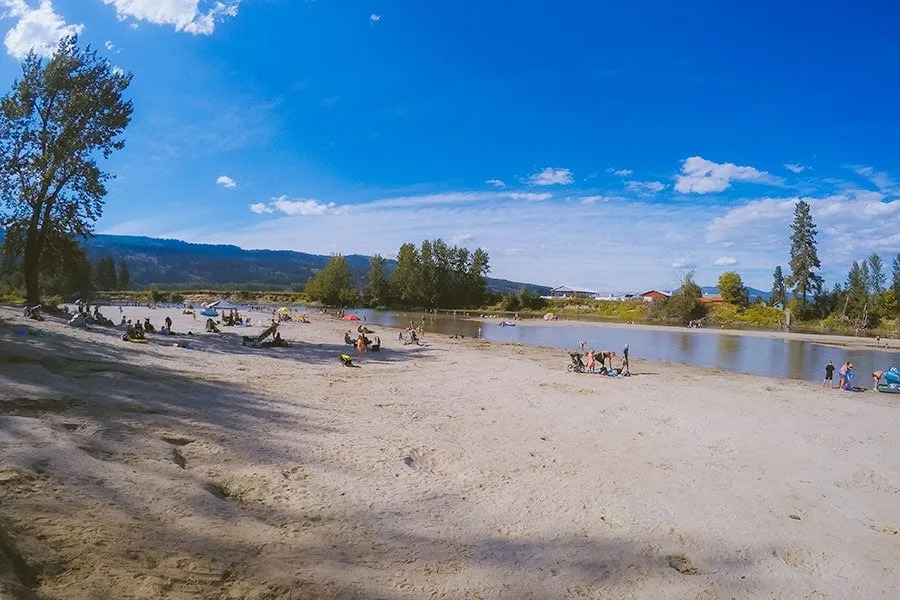 Belvidere Park to Tuey Park
If you've never done the Enderby River float before, you should start with the Belvidere to Tuey Park float. It's 2.5 km and can take anywhere from half an hour in the early summer to two hours in the late summer. It's a very scenic route with few obstacles and a sandy bottom. By late summer, you can easily walk most of the float.
If you want to cut your trip short, you can hop out at Riverside RV Park which is 1 km into the float. The exit is very obvious and is usually crowded with people from the campground enjoying the river. There are actually two exits here: the first is at a set of stairs that leads to the Riverwalk while the second is a cement boat launch. To find your way back to Belvidere Park, follow the Riverwalk upstream until you reach the park.
If you don't cut your trip short, your float will end at Tuey Park. You'll likely hear locals refer to Tuey Park as Waterwheel Park — they are one and the same. This exit is very obvious as well. You'll round a bend in the river and come upon a large, usually crowded sandy beach. Stay to the river's left and you'll have no trouble getting out here. In fact, you'll probably have to walk because the river gets so shallow. Make sure you get out here because there's no proper exit afterwards for a long time.
There are no shuttles to and from the hand-launches, but you can park at Belvidere Park and easily walk back. Enderby is a small town and the walk back takes about 20 minutes. This is my favourite route because it's relaxing but doesn't take all day.
Trinity Bridge to Eby Hand Launch
The second most popular float is from Trinity Bridge to Eby Hand Launch. This 2.5 km float is located upstream near Ashton Creek and takes about a half hour to one hour. There are no exit points along the way, but the river is a bit faster here than in Enderby and the float time is shorter.
There are numerous sandy beaches along the way that makes a good resting place for snacks.
This float is a little harder to access because there's less parking at both the enter and exit locations. Plus, the walk back takes about an hour.
Other Float Routes
There are many other float routes, although they're longer and need more preparation to enjoy.
People will usually kayak these sections instead of floating them. I haven't included many of the longer sections since they aren't floated often.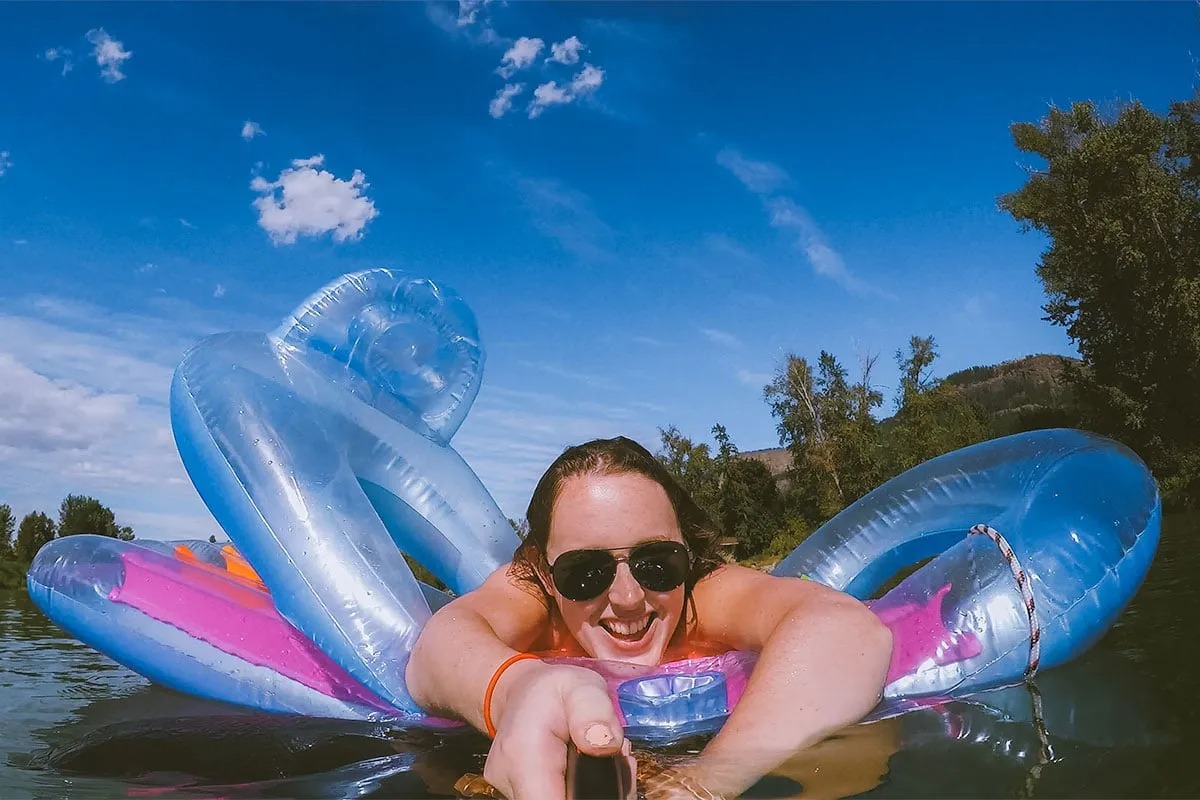 Staying Safe
Despite what you may think, spending a few hours floating peacefully down the river is actually quite tiring. You'll be exposed to the hot sun the entire time and it's important to think about your safety while on the water. The Shuswap River is a natural waterway and has many natural hazards and unpredictable features. People have drowned on the river by being caught unawares.
Everyone on the river is required, by law, to carry and/or wear a life jacket/PFD and whistle. Regardless of your age, strength, or swimming ability, you need to bring safety equipment! It's also against the law to have open alcohol or to be intoxicated while on the river, but you'll still often see people drinking. The police do patrol the river to enforce these laws.
To enjoy your float, make sure to bring lots of water — you'll quickly get dehydrated! — and  sunscreen. Don't pollute the gorgeous river by dumping your trash in it and always pack out what you pack in.
And as always, enjoy your float! You'll have a wonderful time and make great memories.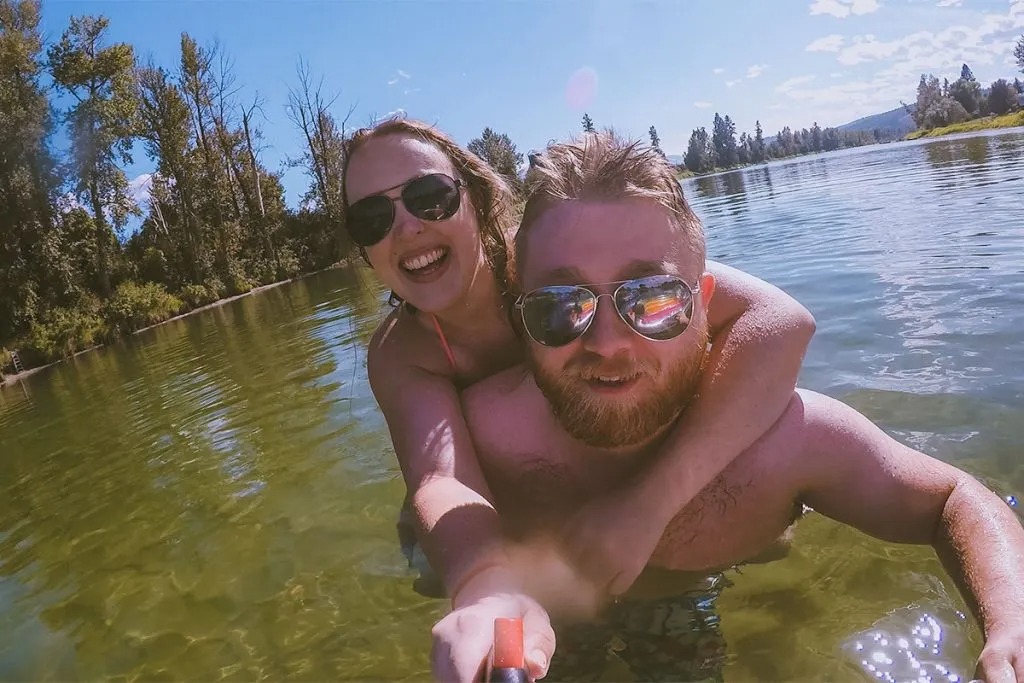 Gear Suggestions
The great thing about floating the Enderby River is how easy it is. You don't need too much gear to have a great time, but the few things you do bring are very important.