Hardy Falls Regional Park in Peachland, BC
Hardy Falls is a beautiful canyon waterfall in Peachland. It's one of the most accessible waterfalls in the entire Okanagan.
The hike is easy, flat, and accessible to everyone and is great for kids, seniors, and everyone in between.
Hardy Falls is a well-known trail that's more of a walk than a hike. It doesn't take long and you probably won't get your heart rate up much, but that's okay! It's a great place to stretch your legs and enjoy nature.
If you want to try a harder hike while you're in Peachland, check out Pincushion Mountain. The views are amazing! Or find more waterfalls to explore here!
Disclosure: This article may contain affiliate links and I may earn a commission, at no cost to you, if you click and/or buy a product online (even if it's not the product linked). I take great care to only recommend helpful products and appreciate your support!
Trail Stats for Hardy Falls
PEACHLAND WEATHER
Trail Details for Hardy Falls Regional Park
Where is Hardy Falls? The canyon waterfall is located in Hardy Falls Regional Park, a 6-hectare park at the south end of Peachland.
The park is directly across Highway 97 from Antlers Beach Regional Park and you'll have no trouble finding the trailhead on Hardy Street/Thorne Road.
The there-and-back trail to Hardy Falls is about 1.5 km long and basically flat. Plus, the trail is well maintained and compact, so it's totally doable with strollers or wheelchairs.
Honestly, a trail map for Hardy Falls isn't really necessary. When you're there, the trail is obvious and you won't get lost. But if you like to scout out your hikes, check it out on AllTrails.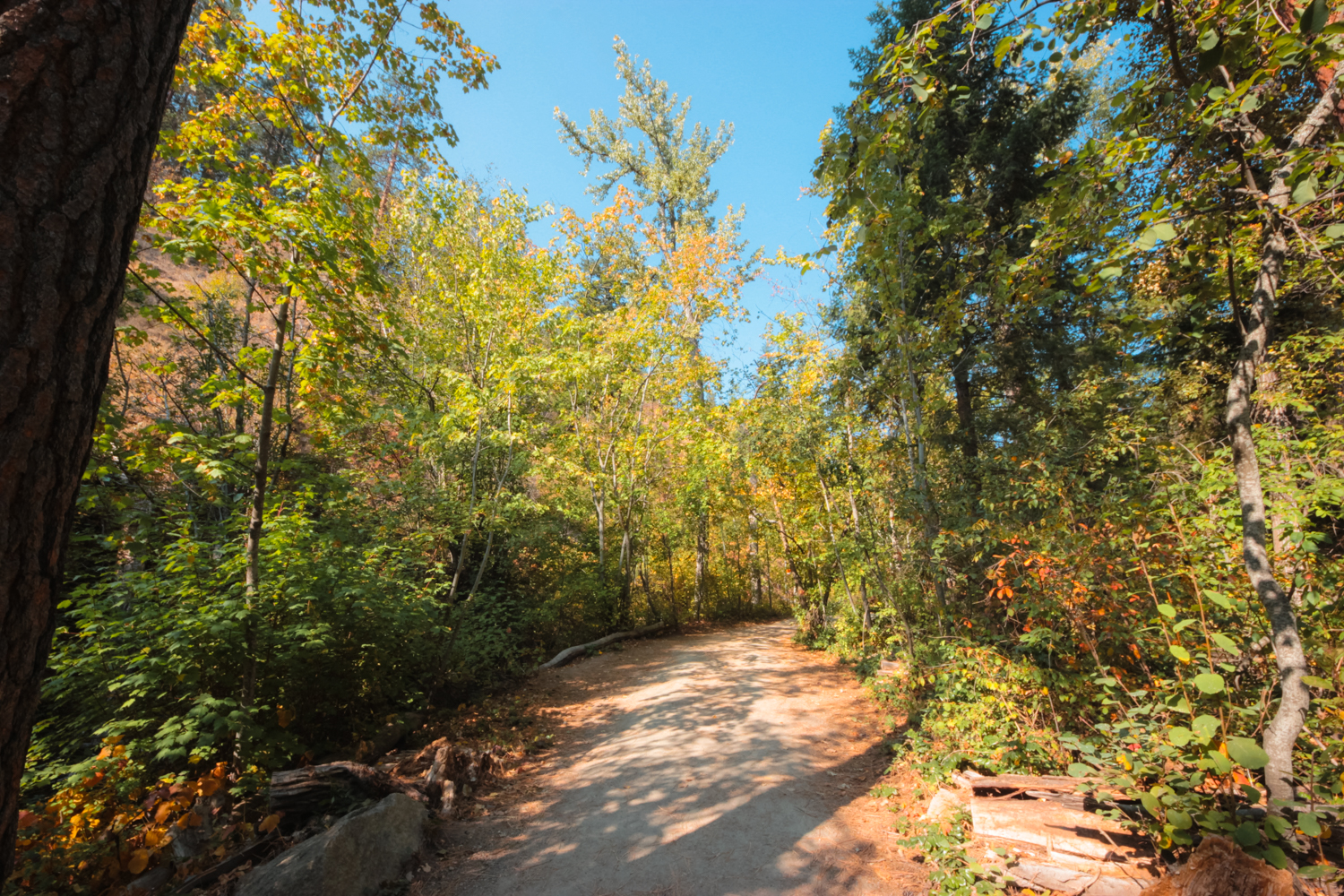 Hardy Falls Trail Video
Brandon from Above Tumbler Ridge has created a beautiful drone video of Hardy Falls. Check out the birds-eye view of the waterfall!
What to expect on the Hardy Falls trail
There are a few picnic tables and a washroom near the trailhead. The trail to Hardy Falls is quite short, so this is a great place to enjoy a bite to eat and extend your adventure.
Hardy Falls is great all year long — you can escape the heat in the summer thanks to the shaded canyon or enjoy a magical frozen waterfall in the winter. Win-win!
Bridges
You'll cross eight bridges as you make your way along the wide trail to the final viewpoint.
The bridges are a great place to watch the salmon make their way up the creek during the salmon run. During the rest of the year, you can usually spot birds frolicking in the water — even in the winter!
The bridges are well made and were installed in early 2019. Back in 2012, seven of the original bridges were replaced to improve safety, but only five years later they had to be replaced again because of unprecedented flooding that ripped through the park and left behind a ton of damage.
Two years and $175,000 later, the park reopened in 2019. There are also a few benches along the trail, usually near the bridges, that are a great place to kick back for a few minutes.
Hardy Falls Viewing Platform
You'll reach a viewing platform where you can see Hardy Falls from a distance. The 3-meter tall waterfall tumbles down the canyon, crashing into a small pool.
It's not a perfect view, but it's still pretty awesome!
While I know most of us would love to get up close with the waterfall, there are few reasons you can't: safety, restoration, and little salmonies.
First off, your safety. In 2009, a rockslide filled the pool at the base of Hardy Falls and partially obscured the falls — you can still see that rockslide today. And because more rocks could easily come tumbling down, the platform is set back from the waterfall so that we don't get hurt.
The area is also in full restoration mode. Years ago, you could walk right up to the waterfall but that caused the soil to become compacted and erode. The restoration efforts aim to bring more vegetation to the area to help nature restore herself.
But if you're one of those people that doesn't care about your own safety and wants to head upstream anyways, remember that salmon call the creek home. In the fall they lay eggs in the creek which can easily be disturbed if you or your pets walk in the creek. The salmon already contend with so much to reproduce, they don't need people walking on their eggs.
I know it kinda sucks that you can't go right up to the waterfall, but it is what it is. It's important to respect these natural areas so that everyone can continue to enjoy them.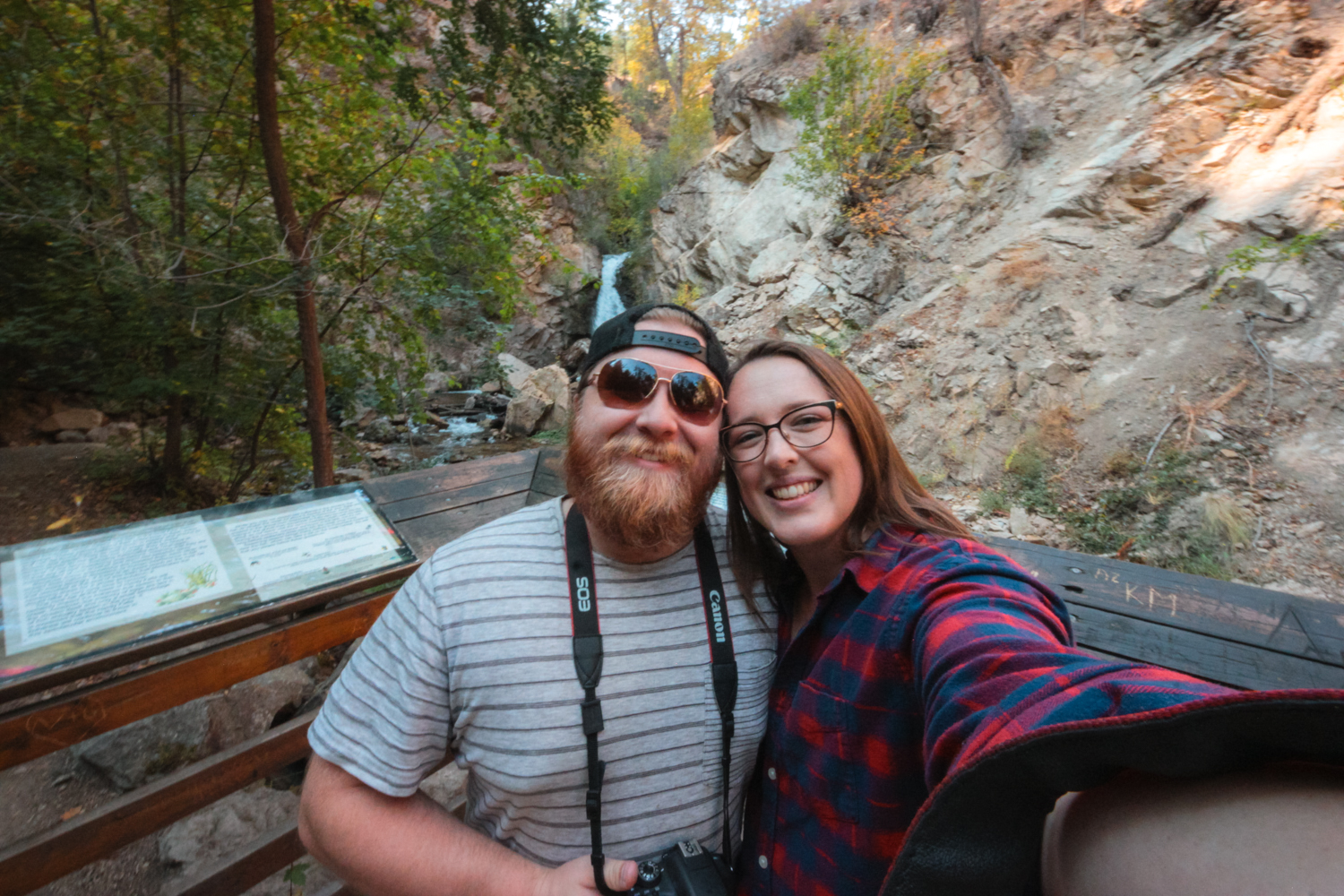 Plants & Wildlife at Hardy Falls
For such a small trail, Hardy Falls has a surprising amount of plants and wildlife. Because its a riparian zone — a place where land the water meet — it supports a whole host of diverse plants and animals. Yet another great reason to protect the area!
Plants
A whole host of plants call Hardy Falls home.
Thanks to the Cottonwood trees that line the canyon, the trail along the creek is quite shaded and a great place to escape the summer heat. In the spring, wildflowers line the canyon walls and trailside which results in a beautiful walk! There are also mock orange trees that smell amazing when they're in bloom.
Wildlife
Two of the most awe-worthy animals that can be spotted here are Kokanee salmon and black bears. Of course, there is plenty of other wildlife such as mallards and carps that you can find as well.
Kokanee Salmon
Peachland Creek is also a spawning area for Kokanee, the Okanagan's landlocked salmon. Come at the right time of year and you might just get to see them swimming upstream.
From about mid-August to mid-October, Kokanee salmon make their way up Peachland Creek for spawning. Hardy Falls is a great place to watch the salmon make their journey because the fish are usually a little bigger than other creeks in the area. During this time, the salmon are bright red and easy to spot.
During the salmon run, an interpreter is often on the trails. It's pretty interesting to talk with them and learn more about the salmon.
Black Bears
But where there are salmon, there are also bears. Can't blame 'em, salmon's yummy.
Black bears sometimes wander into Hardy Falls Regional Park trying to fatten up for winter. Because of this, the park is sometimes closed during the fall for everyone's safety. If you do see a bear, please respect it — don't try to feed it or get a selfie. Just don't. Instead, read up on your bear safety and leave 'em alone.
To keep yourself and the wildlife safe, I highly recommend RecSafe with Wildlife's bear safety online course. Kim's doing amazing work educating people about bear and wildlife safety!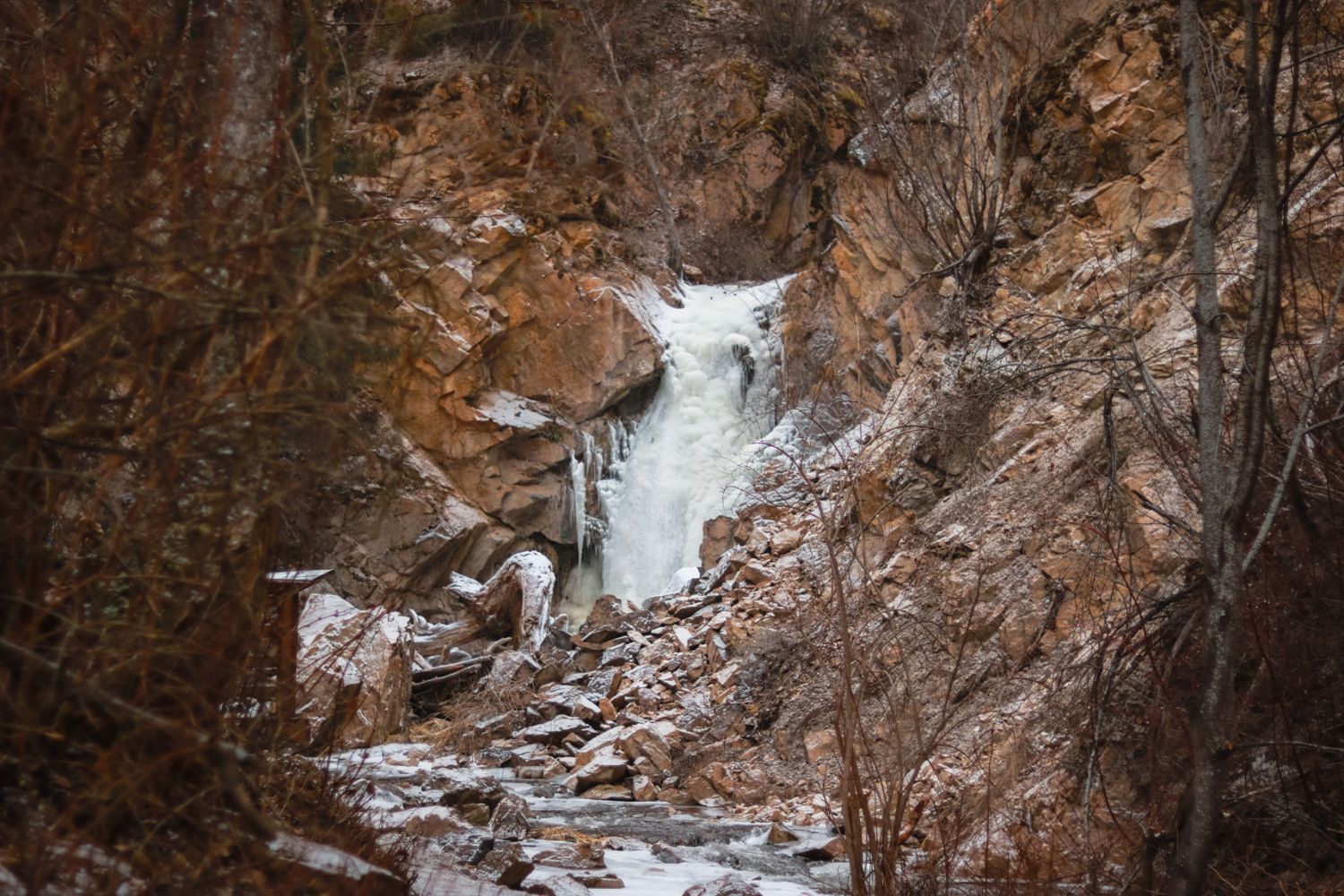 Directions & Parking for Hardy Falls
Luckily, Hardy Falls is easy to find. It's about 4 minutes from downtown Peachland and 30 minutes from Kelowna. The trailhead is located on Hardy Street, which is directly off Highway 97 and across the highway from Antlers Beach. There's plenty of parking along Hardy Street, but it can fill up in the summer.
PS: Google may try to take you on a roundabout route from Kelowna. Don't listen to it and stay on Highway 97 until you reach Hardy Street. If you try the route through Renfrew Road, you'll end up at a dead-end and have to backtrack. I may or may not know that from experience…
History of Hardy Falls
As you follow Peachland Creek (also called Deep Creek) up the canyon to the waterfall, you're walking in the footsteps of history.
For thousands of years, the Syilx People used these footpaths for trade. In 1811, Syilx guides introduced early Hudson Bay traders and settlers to the path, which later became part of the Fur Brigade Trail.
Half a century later, the gold fever hit and men came to the valley with dreams of striking riches. The waterfall itself was later named after Harry Hardy who was one of the first orchardists in the West Kelowna area.
FAQs for Hardy Falls
Is Hardy Falls pet friendly?
Yes, Hardy Falls is pet-friendly. Having said that, it's important to keep your pets on a leash and out of the water because the river is a protected fish habitat.
Are there picnic tables at Hardy Falls?
Yes, there are a few picnic tables at the Hardy Falls trailhead. It's a nice spot to bring a picnic and after hiking to the waterfall.
Where does Hardy Falls empty?
The creek that feeds Hardy Falls, Peachland Creek (also called Deep Creek), empties into Okanagan Lake, which isn't far from Hardy Falls.