Best Waterfalls in Kelowna & the Okanagan
It's time to explore the best waterfalls in Kelowna and the Okanagan! Below you'll find six waterfalls in Kelowna and West Kelowna, plus 15 other waterfalls around the Okanagan.
Whether you're looking for a popular waterfall hike or want to explore a hidden gem, I've gotcha covered. There are a surprising number of stunning waterfall hikes throughout Kelowna and the Okanagan ready for you to explore.
These waterfall hikes are great all year long. You can cool down on a hot summer's day or enjoy the magic of a frozen waterfall. So what are you waiting for? Go explore some local Okanagan waterfalls!
PS: Want to save on AllTrails? Check out their current sale! »
Disclosure: This article may contain affiliate links and I may earn a commission, at no cost to you, if you click and/or buy a product online (even if it's not the product linked). I take great care to only recommend helpful products and appreciate your support!
Kelowna & Okanagan Waterfall Map
Before we get into the nitty-gritty of each waterfall, where exactly are these waterfalls? In the map below, you'll find pins for all the waterfalls in this guide to make planning your next Okanagan adventure easier.
Bear Creek Waterfall, West Kelowna
The Bear Creek waterfall, located in Bear Creek Provincial Park, is only ~10 minutes from downtown Kelowna. Despite being so close to the city and clearly visible from the Canyon Rim Trail, few people know that you can actually hike to the waterfall.
To do this, you'll need to venture into the bottom of the canyon and swim to the falls. It's not an overly long or difficult hike, but the swim does add a level of technicality you may not be used to.
The Bear Creek falls is probably the most unique Kelowna waterfall for this very reason — how many waterfalls do you really need to swim to in the Okanagan? Only this one which makes it a pretty awesome summer adventure!
IMPORTANT: Do not attempt during high water, it's very dangerous. 
Directions to Bear Creek Waterfall
The Bear Creek waterfall is 11 km from Kelowna. To reach it, drive across the bridge to West Kelowna. Take the Westside Road exit, then merge right onto Westside Road.
Continue for 6.8 km until you reach the Bear Creek Provincial Park parking lot on your left. If it's full, you can park on the roadside or use the campground day-use parking on the right.
Christie Falls, West Kelowna
Christie Falls is a spectacular, free-falling waterfall near Kelowna. It's the most remote waterfall in Kelowna and is hidden on Terrence Mountain behind Bear Creek Provincial Park. The waterfall hike itself is only 2.4 km, but don't be fooled by the short distance!
This waterfall hike has its fair share of challenges, including a very steep descent to Christie Falls and numerous (small) river crossings and occasional deadfall. Even just driving on the FSRs to the waterfall is an adventure.
Directions to Christie Falls
The Christie Falls waterfall hike is 41 km from Kelowna. Most of the drive is on FSRs, so take a vehicle that can navigate bumpy dirt roads.
From Kelowna, cross the bridge and turn onto Westside Road. Continue for 8.4 km, then turn left into Bear Lake Main Road and head into the mountains. You'll need to make a few turns, but the roads aren't marked so it's important to use a GPS to navigate. There's a large dirt parking lot at the Christie Falls trailhead.
Tip: If Google Maps is set up before you lose service, you'll still be able to navigate.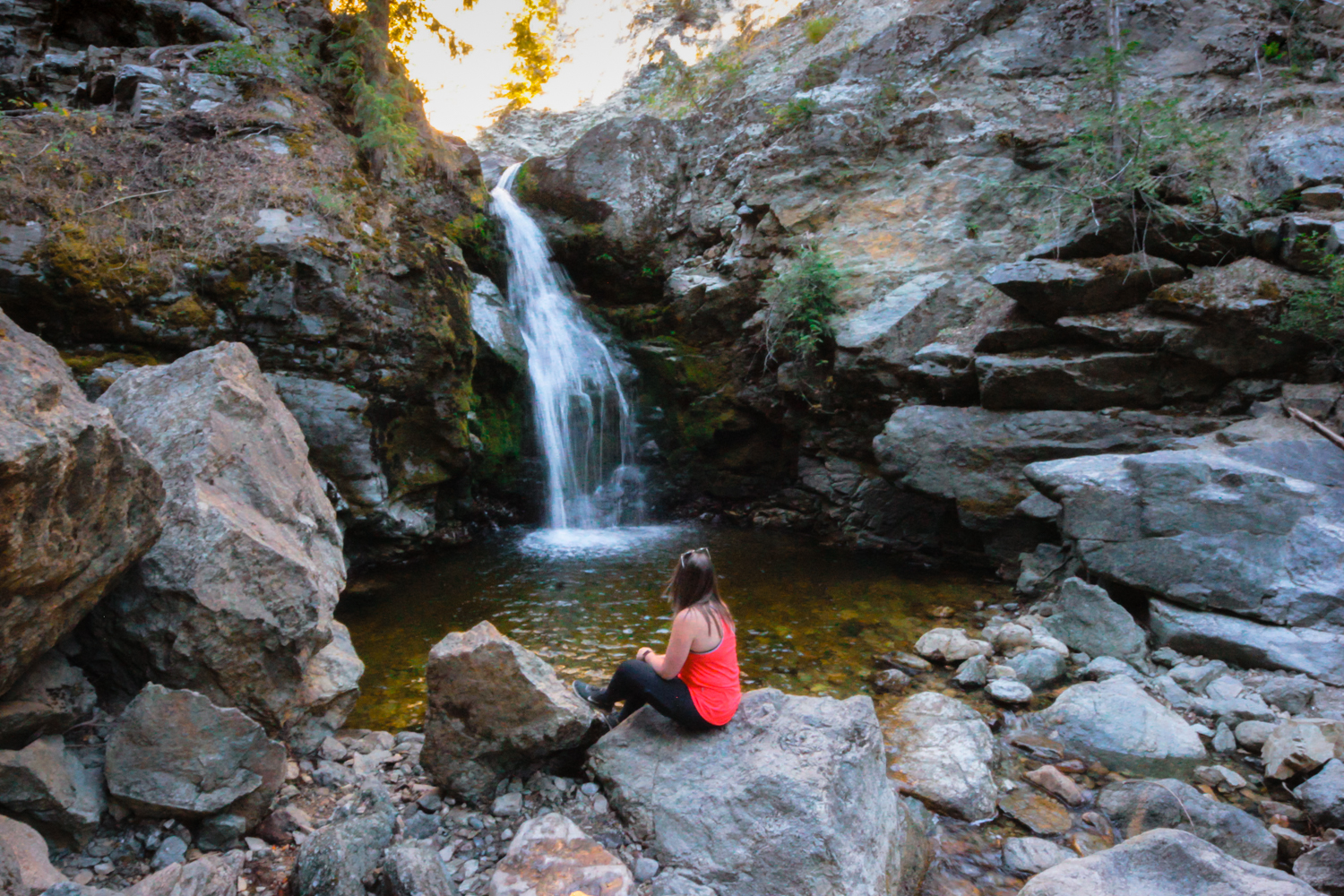 Crawford (Canyon) Falls, Kelowna
Crawford (Canyon) Falls is a beautiful Kelowna waterfall that's hidden in the unlikeliest of places — the middle of a subdivision! It's an awesome escape from the city without actually leaving Kelowna.
And to make it even better, there are two waterfalls here! You can hike into the canyon to see Lower Crawford Falls or walk around the canyon's rim to see the upper waterfall. Whether it's summer or winter, the waterfalls at Crawford Falls are well worth the hike.
Tip: This trail is sometimes closed due to slope instability. Please check the Kelowna Tourism's website for the most up-to-date information.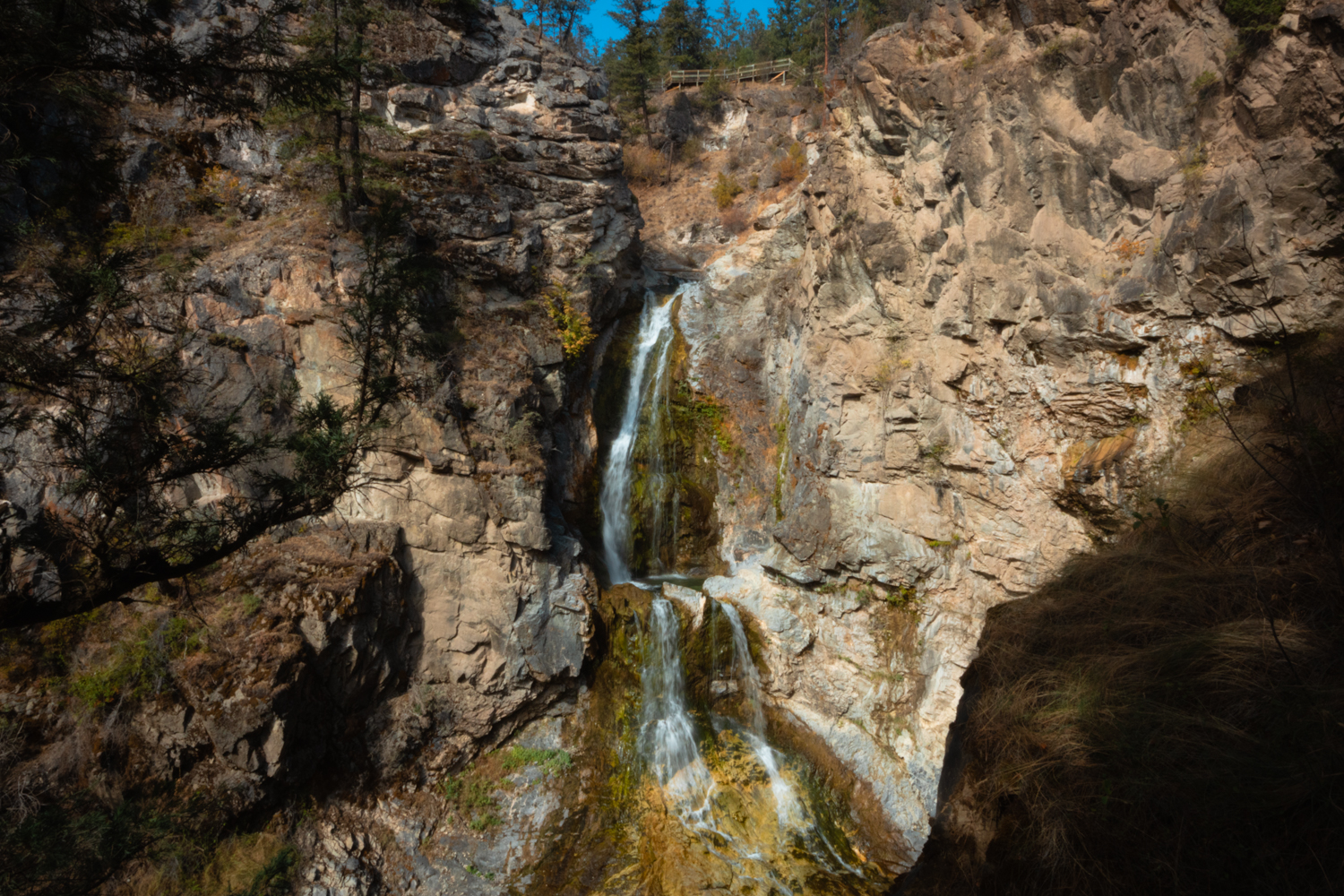 Fintry Falls, West Kelowna
Fintry Falls, located inside Fintry Provincial Park and Protected Area, is a well-known Kelowna waterfall. The impressive waterfall hike is popular year-round and features one main waterfall, plus a smaller, little-known waterfall off the main trail.
The Fintry Falls waterfall hike is made up ~400 stairs that offer superb views of the cascading waterfall as it tumbles down the canyon.
If you continue past the staircase onto the undesignated trail, you'll come to a hidden waterfall and swimming area. But be careful, it's not easy to get here.
Directions to Fintry Falls
Fintry Falls is 37.6 km from Kelowna on the shores of Okanagan Lake. To reach Fintry Falls from Kelowna, cross the bridge and turn onto Westside Road. Stay right and continue on Westside Road for 35.4 km. It's a windy road, so drive carefully and watch for wildlife.
Turn right onto Fintry Delta Road, where you'll quickly descend to lake level. At the bottom of the hill, you'll enter the Provincial Park. There's a small gravel parking lot near the historical Fintry Estate where you can park to hike to the Fintry Falls waterfall.
Glen Canyon Waterfalls, West Kelowna
The Glen Canyon waterfalls are quite different than all of the other waterfalls in Kelowna. They aren't tall or roaring, but that doesn't make them any less enjoyable.
The Glen Canyon Regional Park hiking trails follow Powers Creek and you'll find many different waterfalls along the way. Some of the waterfalls you can only see from above, while others you can hike down to and hang out in.
Directions to Glen Canyon North End
Glen Canyon Regional Park is located in West Kelowna, only 18.5 km from Kelowna. There are two sections to the canyon hike but unfortunately, they're separated by Highway 97 and don't connect.
To access Glen Canyon North, cross the bridge and continue all the way through West Kelowna. As you leave town, take the Glen Rosa exit, keep right, and turn right onto Webber Road at the first roundabout. Stay on Webber Road for 2.6 km until you reach Last Mountain Park where the entrance to Glen Canyon North is located. There's a small parking lot here.
Directions to Glen Canyon South End
Glen Canyon Regional Park is located in West Kelowna, only 16 km from Kelowna. There are two sections to the canyon hike but unfortunately, they're separated by Highway 97 and don't connect.
To access Glen Canyon South, cross the bridge and stay on Highway 97 until you're in the heart of West Kelowna. Turn left on Gellatly Road at the McDonald's intersection and continue for 3.1 km unit you reach the Glen Canyon South parking lot.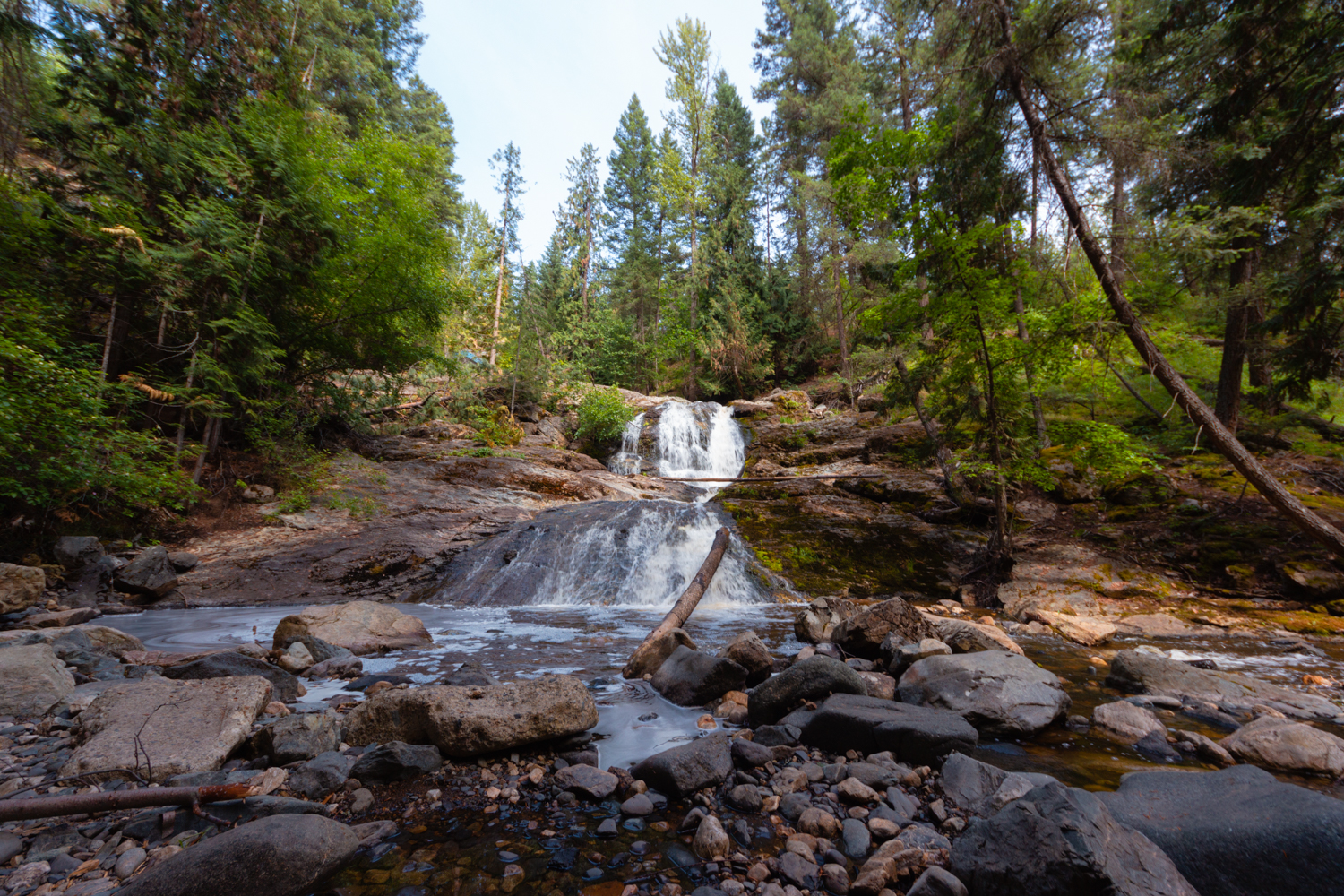 Mill Creek Waterfalls, Kelowna
Mill Creek Regional Park, located near the Kelowna airport, has three awesome waterfalls just begging to be explored. The waterfalls get more impressive the further you hike, but be warned: the trail gets harder, too!
You can get up close and personal with all three waterfalls, as well as enjoy a dip in the water. Pair the waterfalls with the thick forest and Mill Creek is a great adventure year-round.
Directions to Mill Creek Regional Park
The Mill Creek waterfalls are 18 km from downtown Kelowna, just behind the Kelowna International Airport. Take Highway 97 north until you pass the airport, then turn right off the highway onto Old Vernon Road. Continue straight until you reach Mill Creek Regional Park.
If the gates are open, you can drive to the parking lot. If not, park along the road and hike in. The trail starts just off the parking lot.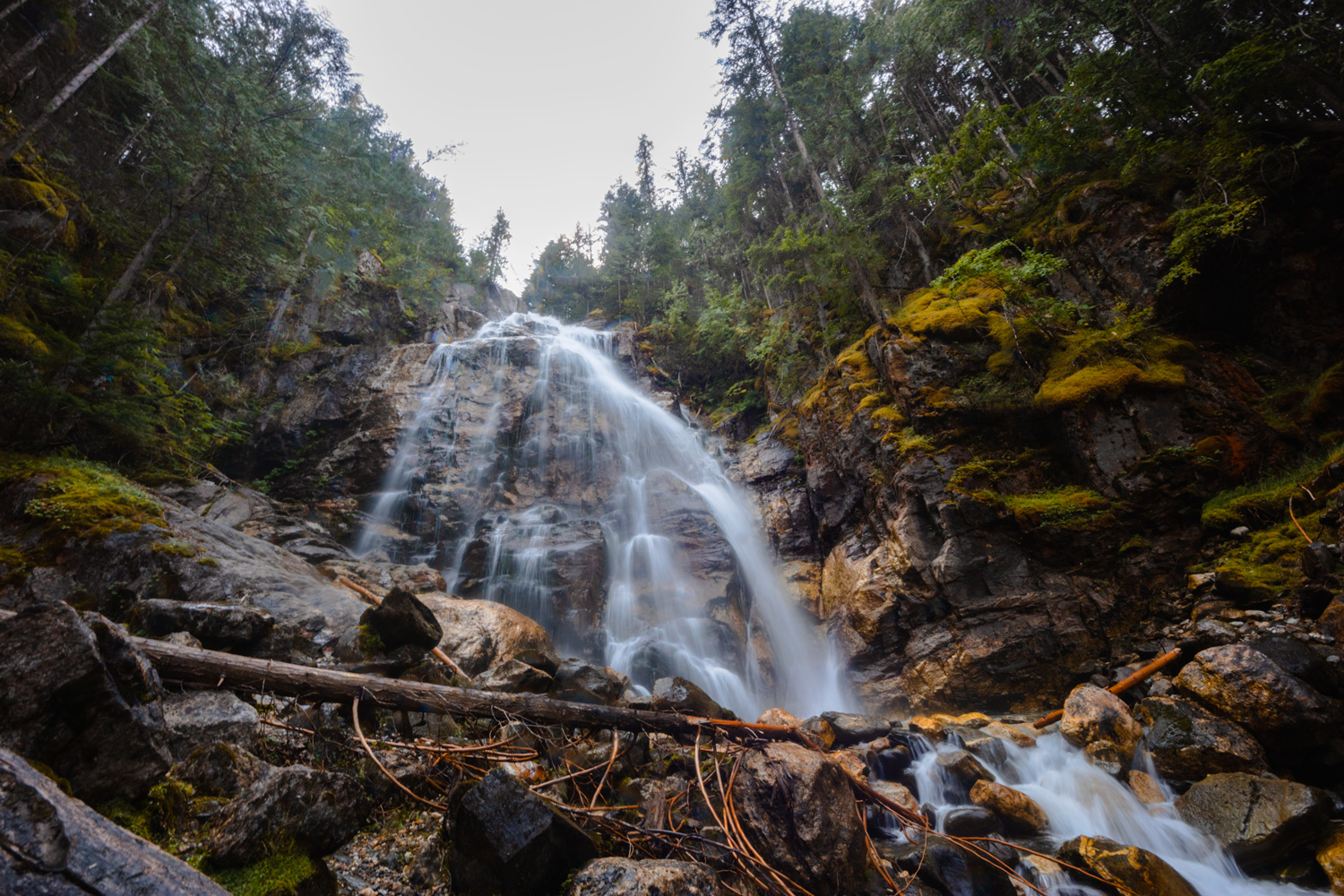 More Okanagan Waterfalls to Explore
If you want to venture outside of Kelowna, there are plenty of beautiful waterfalls throughout the Okanagan to explore! Most of these waterfall hikes are in the North Okanagan near Salmon Arm, but you can also find some as far south as Naramata.
Albas Falls, Seymour Arm
Albas Falls is spectacular — it's huge and perhaps the most majestic Okanagan waterfall in the entire valley. I know, big claims!
The moderately difficult Albas Falls waterfall hike is located on a dirt road in Shuswap Lake Marine Provincial Park and is 231 km from Kelowna.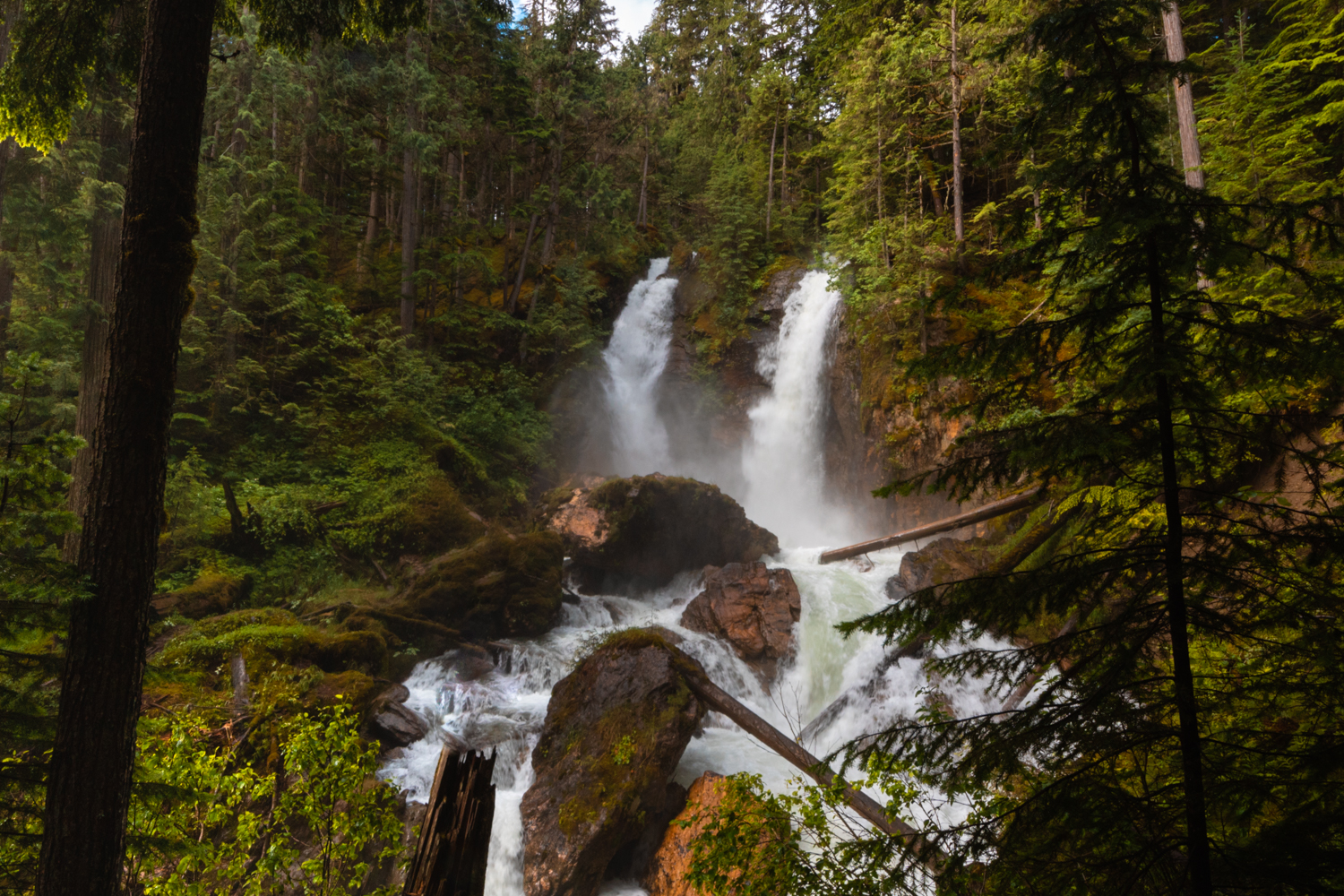 Begbie Falls, Revelstoke
Begbie Falls near Revelstoke is popular not only because of the stunning waterfall, but also the onsite camping and beach.
This waterfall hike is 5 km long and rated as moderate thanks to its elevation gain. If you visit during peak run-off, Begbie Falls has two distinct flows. This waterfall is 203 km from Kelowna.
BX Falls, Vernon
The BX Fall waterfalls are 60 km from Kelowna, located just outside of Vernon on the way to Silver Star. This moderately easy waterfall hike is 6.8 km long and follows BX Creek, bringing you over wooden bridges and up and down plenty of stairs.
Cascade Falls, located past Mabel Lake Provincial Park and 115 km from Kelowna, is perhaps the most magical, fairytale-esque waterfall hike in the Okanagan. The hike itself is quite short (only about 10 minutes), but requires climbing over roots and navigating a narrow trail.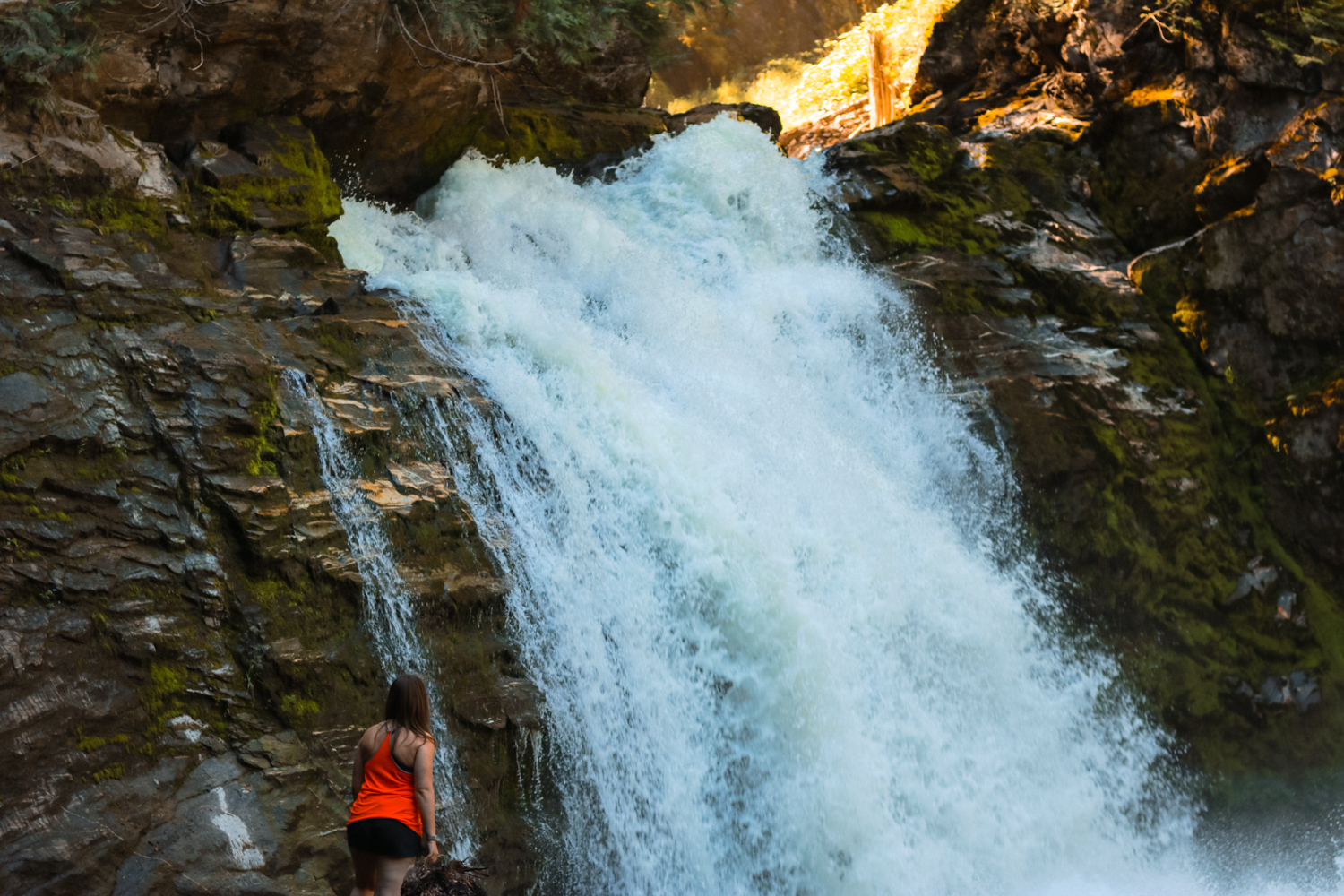 Chase Creek Falls, Chase
Chase Creek Falls are 142 km from Kelowna. This waterfall hike is short, only 600 m total, and is pretty easy — it's beautiful, though! The trail ends a distance from the waterfall itself, but you can climb over rocks to get right to the base of the falls (if the water's not too high).
Cosens Creek Falls, Vernon
Cosens Creek Falls is a small waterfall in Kalamalka Provincial Park near Vernon.
This waterfall hike is best during the winter or spring when there's plenty of run-off. Come late summer or fall, the water is mostly gone and there's not much of a waterfall left.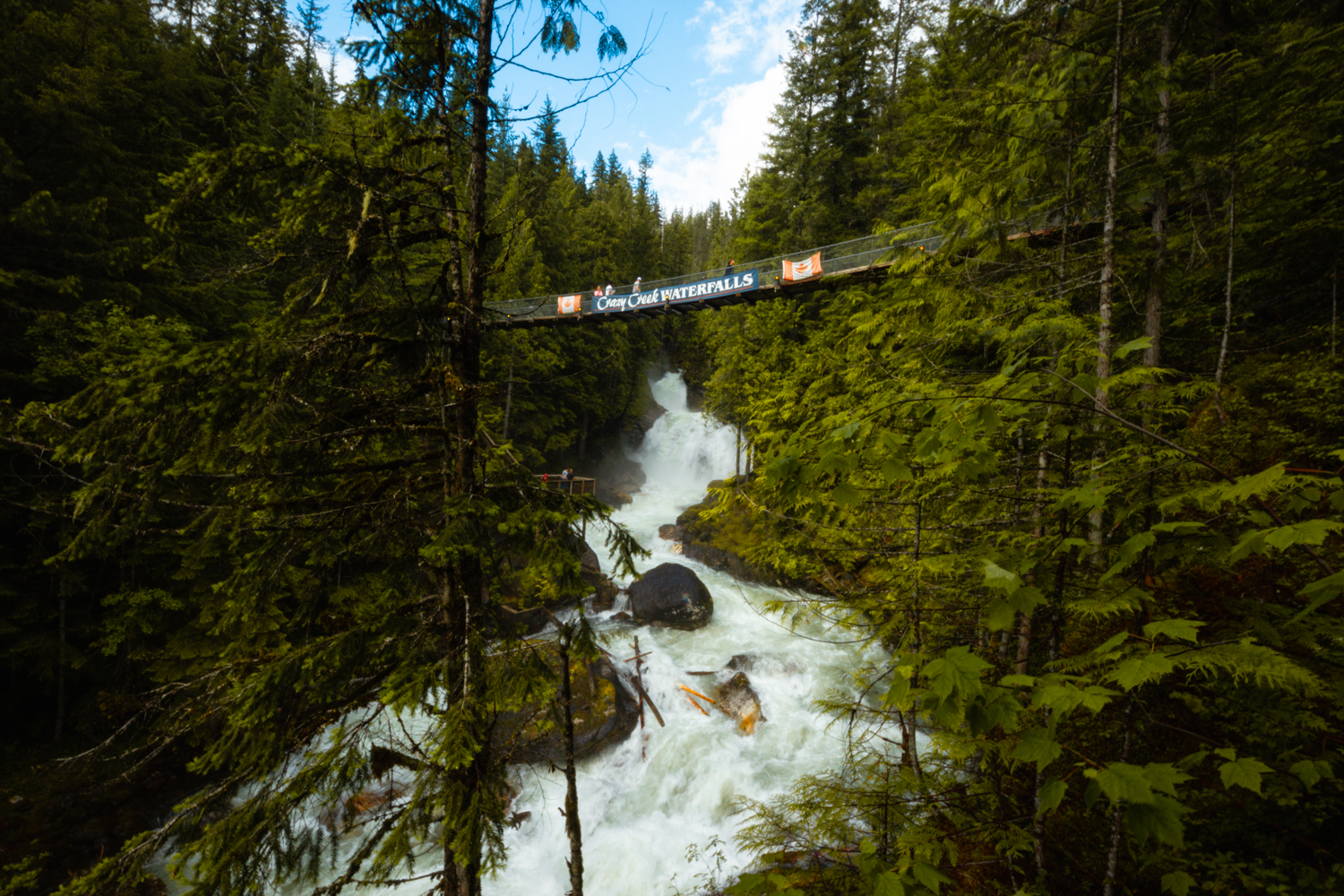 Crazy Creek Waterfalls, Sicamous
The Crazy Creek waterfalls are 157 km from Kelowna, just off the Trans-Canada Highway. These waterfalls are magnificent, but are the most commercialized of all the waterfalls in the Okanagan.
There's a suspension bridge, hot pools, heritage sites, and accommodations. You do have to pay to see the Crazy Creek waterfalls from the suspension bridge (or see them for free from the highway).
Evelyn Falls, Anglemont
Evelyn Falls, 193 km from Kelowna, is located in the small town of Anglemont on Shuswap Lake. It's a moderately easy, 2.6 km waterfall hike that's complete with a cute rope swing!
Frog Falls, Three Valley Gap
Frog Falls is 178 km from Kelowna in the mountains near Three Valley Gap and Wap Lake Recreation sites. It's a short, ~1 km loop hike from the Frog Falls rec site to the waterfall, following the creek and then back along an old access road.
Hardy Falls, Peachland
Hardy Falls is an easy 1.5 km waterfall hike in Peachland. It's a beautiful hike all year long and is only 29 km from Kelowna. The trail is flat and meanders over many wooden bridges on the way to the viewing platform.
Kay Falls, Sicamous
Kay Falls is an impressive waterfall located literally on the side of the Trans-Canada Highway between Sicamous and Revelstoke. But unless you know Kay Falls is there, you won't see it or stop to explore. But man, it's worth the stop! Kay Falls is 161 km from Kelowna.
Margaret Falls, Sunnybrae
Margaret Falls is an easily accessible, stunning waterfall near Sunnybrae in the north Okanagan. Located in Herald Provincial Park, which is 136 km from Kelowna, Margaret Falls is a very popular waterfall hike — especially in the summer when visitors want to escape the heat.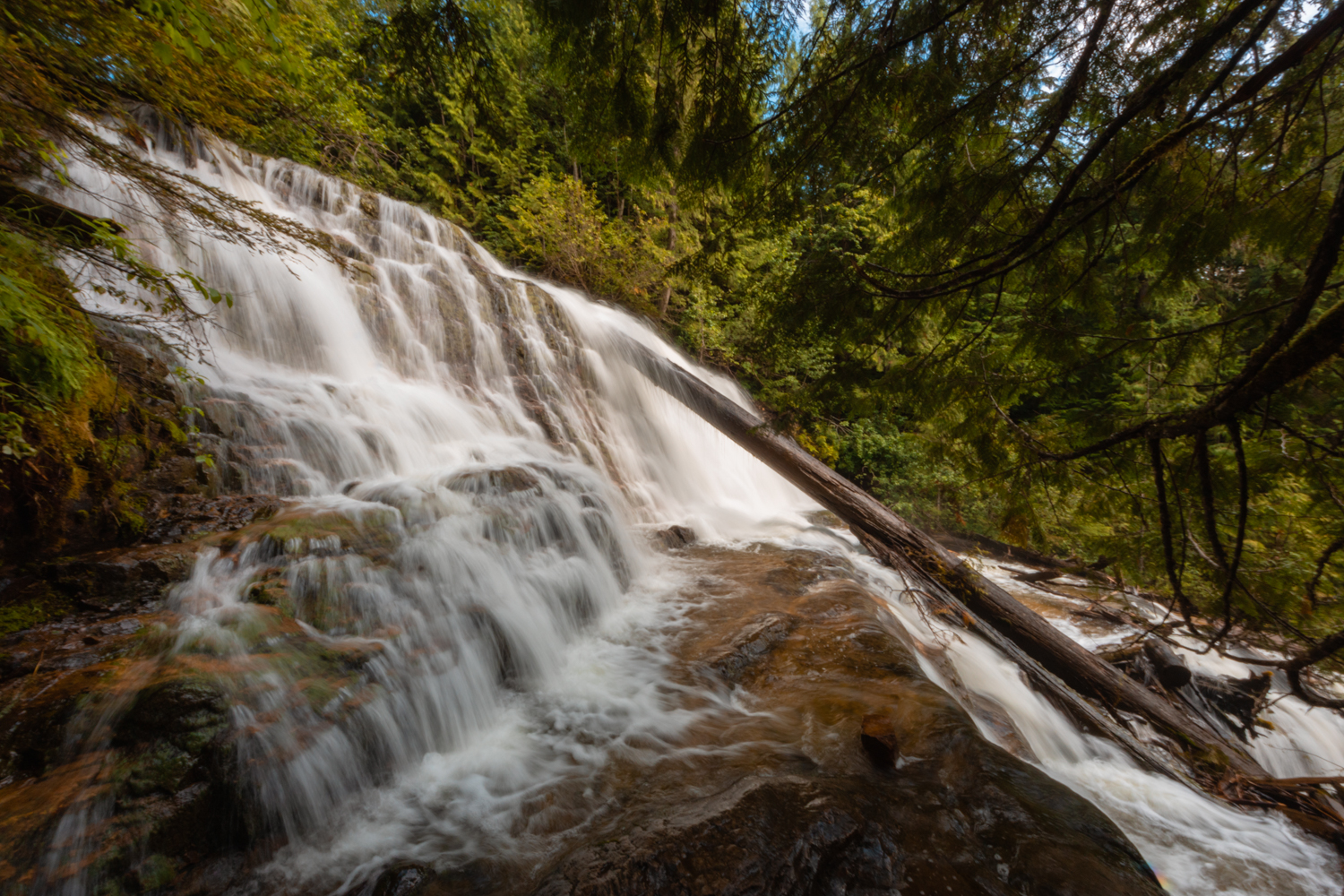 Moses Falls, Revelstoke
For a quick but awesome waterfall hike, you can't beat Moses Falls in Revelstoke! It's a short, 0.8 km loop hike that explores a stunning cascading waterfall. The trail can get muddy, especially in the spring and fall, but don't let that stop you from seeing this incredible waterfall. Moses Falls is 200 km from Kelowna.
Naramata Creek Falls, Naramata
The Naramata Creek Falls, 77.5 km from Kelowna, are a very unique style of waterfall for the Okanagan. When they're in full flow, they're reminiscent of the stunning waterfalls in Asia or Croatia — but on a much smaller scale.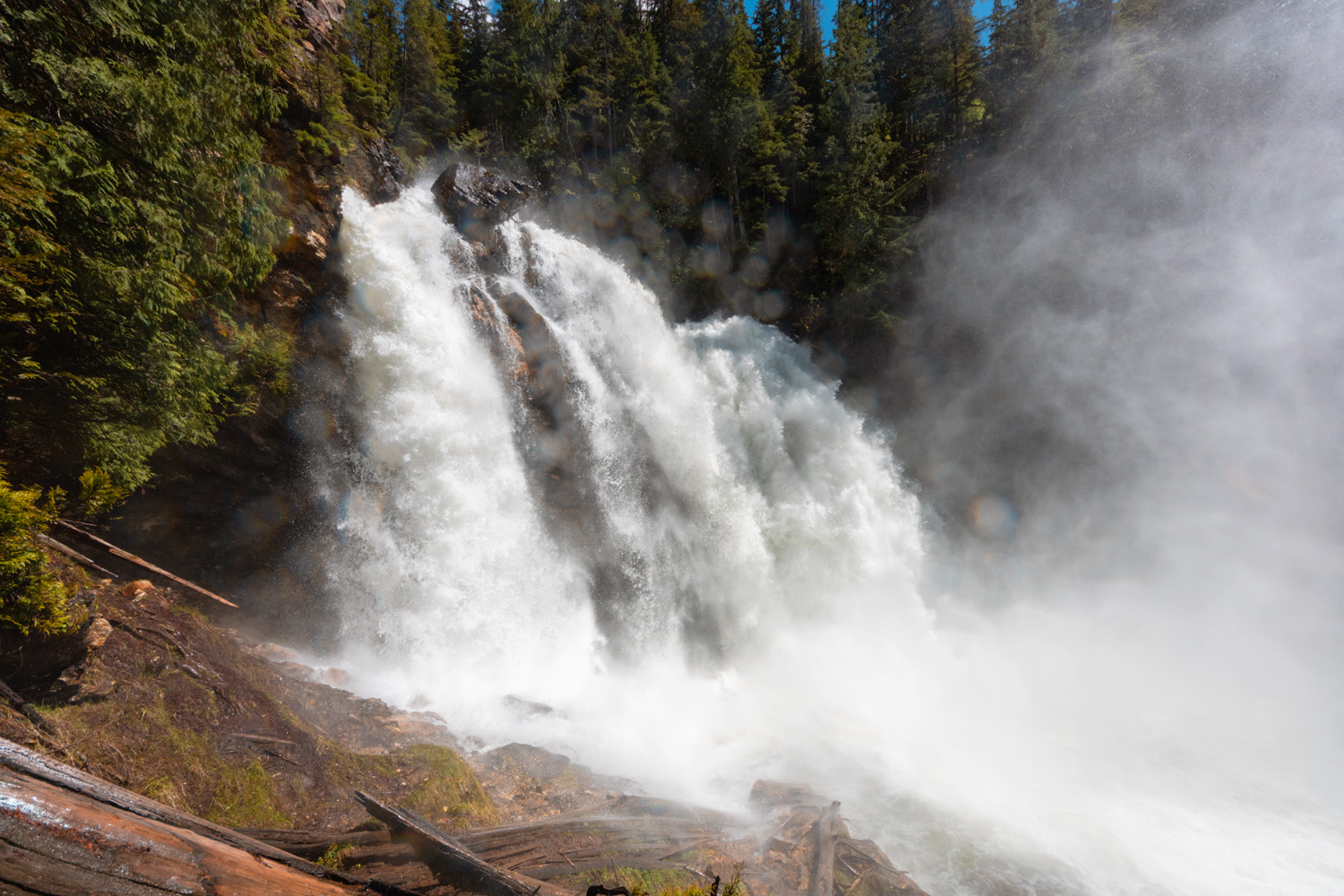 Rainbow Falls, Cherryville
Rainbow Falls is 141 km from Kelowna in the mountains near Cherryville. It's an absolutely stunning waterfall, especially in the spring and early summer when it's strongest. The hike through the lush forest is short and sweet, manageable for most skill levels.
Sicamous Creek Waterfall, Sicamous
The Sicamous Creek waterfall, located 122 km from Kelowna, is a very scenic hike that eventually brings you to the base of a multi-tier waterfall. There are multiple trails, so you can make your waterfall hike as long or short, difficult or not, as you'd like.'
Sutherland Falls, Revelstoke
Sutherland Falls is located in Blanket Creek Provincial Park which is 218 km from Kelowna. This is an absolutely stunning, surprisingly easy, 0.5 km waterfall hike that you should explore! You can also camp in the area.
Syphon Creek Falls, Salmon Arm
Syphon Falls is a relatively unknown 1.3 km waterfall hike near Salmon Arm and is 114 km from Kelowna. You can enjoy a beautiful hike through the forest and if you're lucky, you'll see some rock climbers! Syphon Falls has two tiers and there's a rope you can use to climb to the middle level.