Trail Guide: Klahhane Ridge in Olympic National Park, Washington
Enjoy spectacular views of the Olympic Mountains and Pacific Northwest.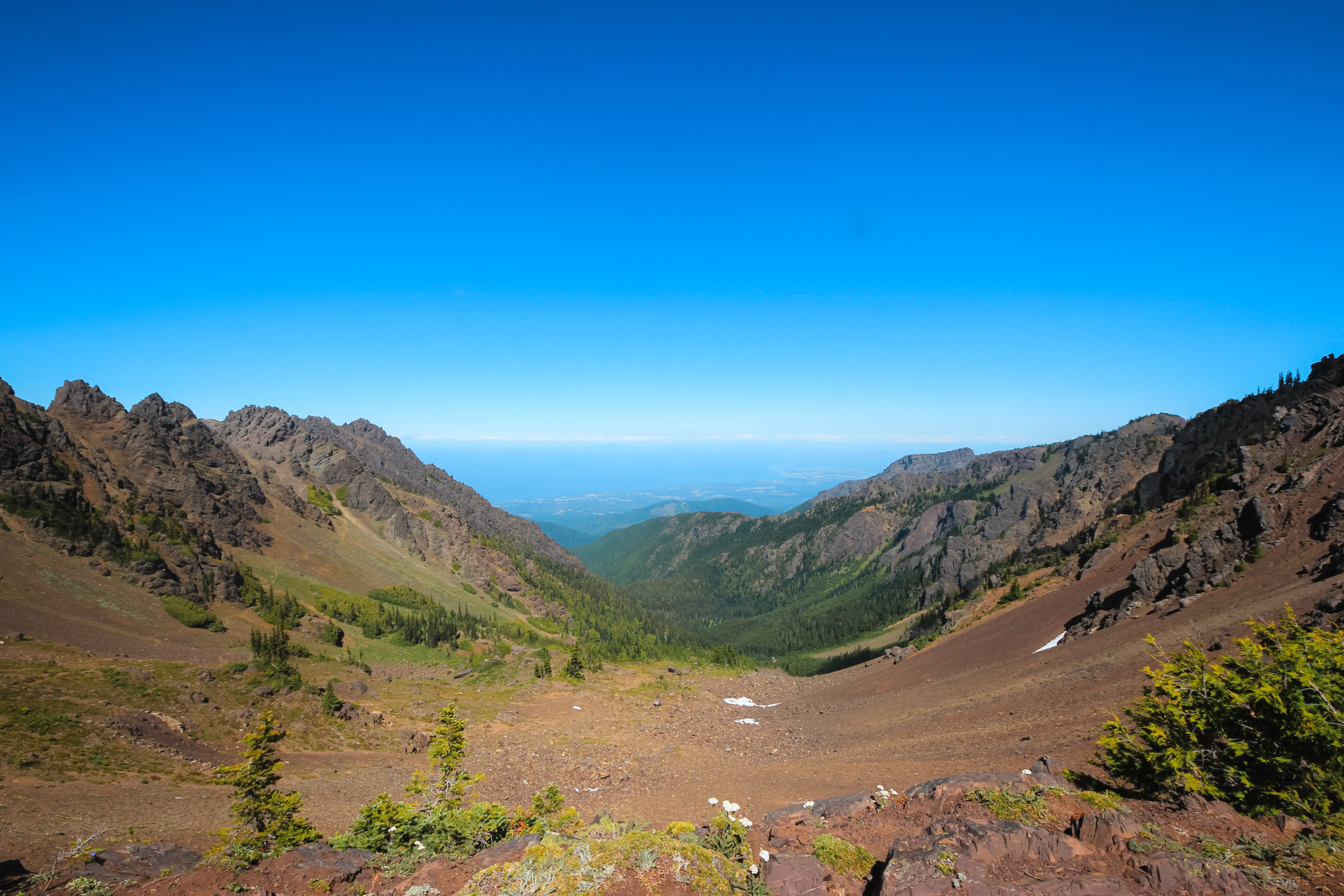 Hiking to Klahhane Ridge in Olympic National Park is a breathtaking hike that will push your limits.
Reaching the top of a mountain is one of the most empowering moments of hiking. After sweating and pushing yourself for hours, it's sheer joy knowing that nothing more than your own two feet brought you to the summit.
Klahhane Ridge is a semi-challenging hike that requires proper planning for an enjoyable experience. It offers stunning views the entire 7.2 miles (11.5 km) and truly rewards you for your hard work.
You should also check out the hiking trails at Hurricane Ridge. They're pretty awesome, too!
Trail Stats
PORT ANGELES WEATHER
Klahhane Ridge Hiking Trails
Klahhane Ridge is located in Olympic National Park and is a well-known crest trail that's not for the faint of heart. The trail winds its way along alpine mountain ridges, dips into forested ravines, and climbs steep, barren mountains for a once-in-a-lifetime hike.
The views from the top are unparalleled and offer panoramic views of the Olympic Mountain Range, Strait of Juan de Fuca, and Vancouver Island. There are two trail heads: the Switchback Trail and the Hurricane Ridge Visitor Center.
Switchback Trail
The Switchback Trail is the most common and direct route to Klahhane Ridge. It's a 3-mile (4.8 km) return trip and rapidly ascends 1,421 feet in 1.5 miles.
The trail head is located on Hurricane Ridge Road and there's a small parking lot on the side of the road which is 16.5 miles from Port Angeles.
Sunrise Ridge Trail
From the Hurricane Ridge Visitor Center, the trail to Klahhane Ridge is a 7.2-mile (11.5 km) round trip that takes about four hours.
This trail, which is known as the Hurricane Ridge / Sunrise Ridge to Switchback Trail, is a great option if you're wanting to see more of the picturesque panoramas the area is famous for and walk along beautiful alpine ridge tops. While this trail is much longer than the Switchback Trail, it has little elevation gain and is a very scenic route. It starts fairly easy, but slowly builds up in difficulty until you reach the final ascent, which can be challenging.
This article is about hiking to Klahhane Ridge via the Sunrise Ridge / Hurricane Ridge to Switchback trail.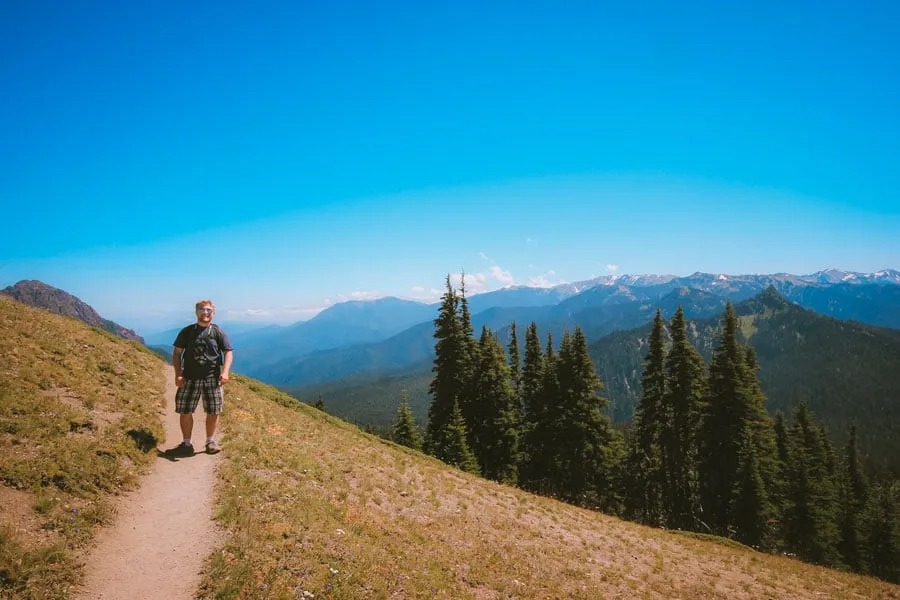 What to Expect
On the first half of the Hurricane Ridge to Switchback Trail, you'll hike along a beautiful ridgetop trail. You'll have a spectacular view in all directions and the elevation change isn't too taxing. Even if you don't plan to go all the way to Klahhane Ridge, this section of the trail is a must-do.
Halfway along the trail, you'll come to a ravine and a plunging set of steep switchbacks. The ravine is densely forested and is a welcome relief from the direct sun. After you climb back out, you'll leave behind the ridge tops and instead hike along the side of the mountain.
Near the end of the trail, the dirt turns red and the Hurricane Ridge to Switchback Trail merges with the Switchback Trail. Prepare for your final ascent to Klahhane Ridge! This section is the most difficult.
If it's a sunny day, the sun will beat relentlessly on the exposed trail and the wind will trick you into forgetting the heat. There's little tree cover, so you'll be sweating in no time. Make sure to pack the 10 hiking essentials and know how to stay hydrated in the hot weather.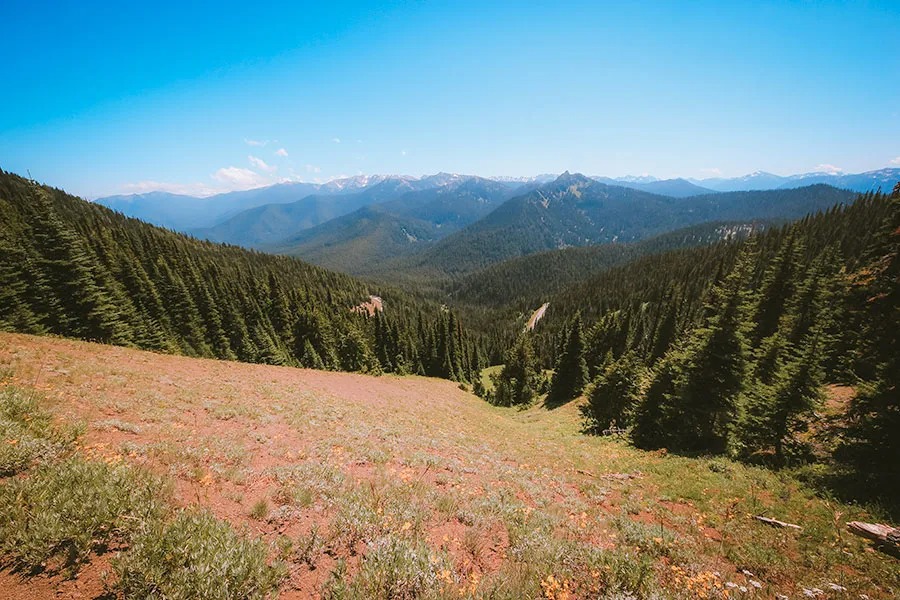 Ascending via the Switchback Trail
The final leg to Klahhane Ridge can be rough. Thanks to the switchbacks, you'll gain roughly 820 feet (250 m) in a little over one mile (1.5 km). It's a very tiring section and most of the trail is entirely exposed to the sun. Remember to drink lots of water and don't be afraid to take breaks.
Thankfully, though, once you reach the top of the switchbacks you've reach Klahhane Ridge.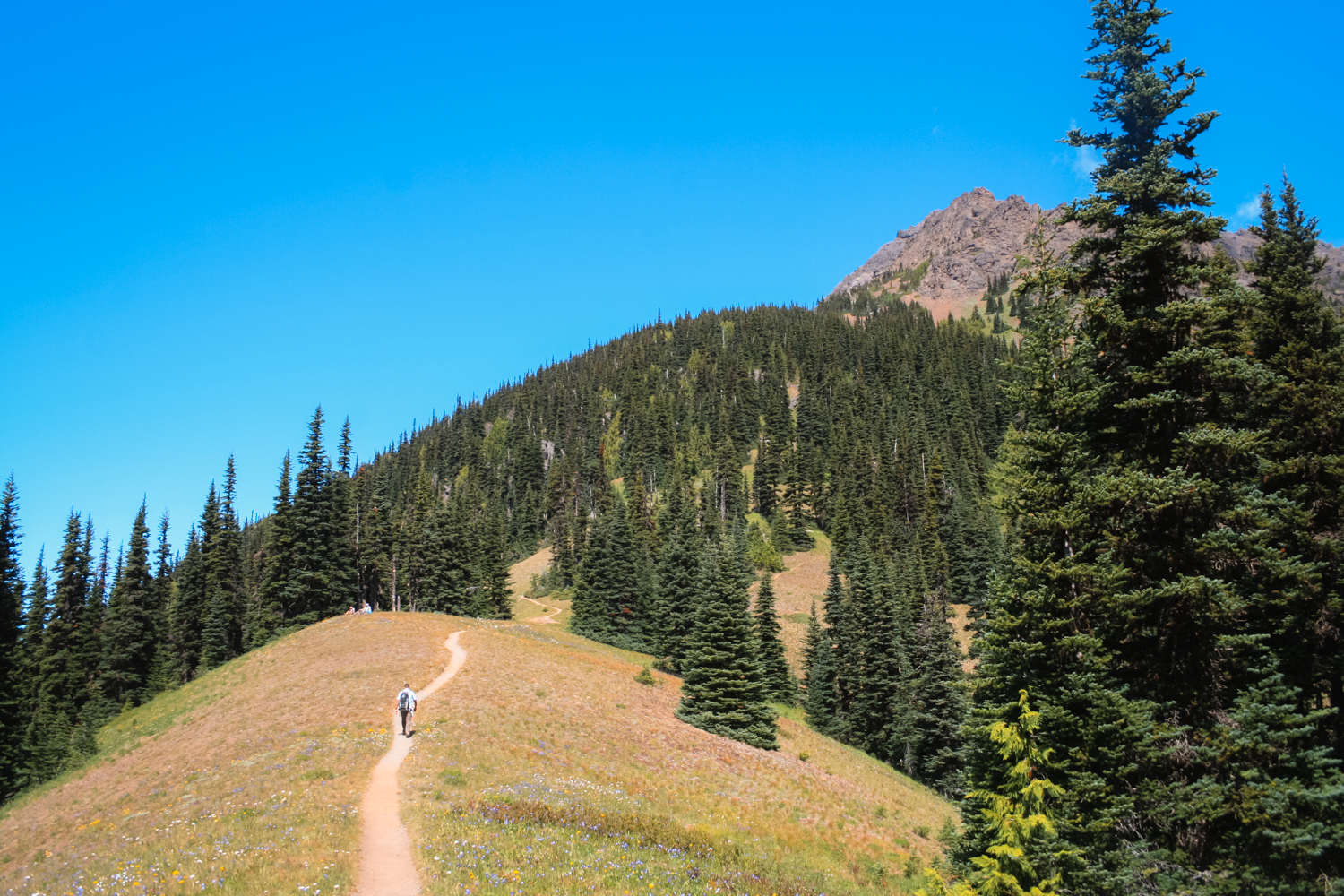 Summitting Klahhane Ridge
From the summit, you'll be rewarded with almost uninterrupted 360° views! The Strait of Juan de Fuca, Vancouver Island, and the Olympic Mountains lay before you. The water sparkles far below and mountain after mountain disappears into a blue haze. From here, you can even see Canada!
Klahhane Ridge connects Mount Angeles and Rocky Peak and creates a large basin. The basin is mostly rocky and devoid of plant life, but you'll likely see a few small patches of snow, even in the middle of summer! Olympic Mountain Range often receives more than 30 feet of snow in the winter and, because of the high altitudes, it doesn't often entirely melt.
The trail continues on to Lake Angeles and various other trails crisscross the mountain.
Wildlife & Plants
Olympic National Park is abundant with wildlife. There are many animals such black bears, mountain lions, bobcats, mountain goats, marmots, and deer, as well as smaller wildlife like butterflies and birds.
The animals aren't usually skittish, but you need to always give them their space. Never feed them or actively seek them out. Remember that they're wild animals and can be dangerous, even if they don't look it. Always pack bear spray and practice bear safety, just in case.
In mid-summer, the slopes are adorned with alpine wildflowers and you'll see plants like paintbrush, Jacob's ladder, lupine, and bistort. The trees are small but provide plenty of shade — when you find them.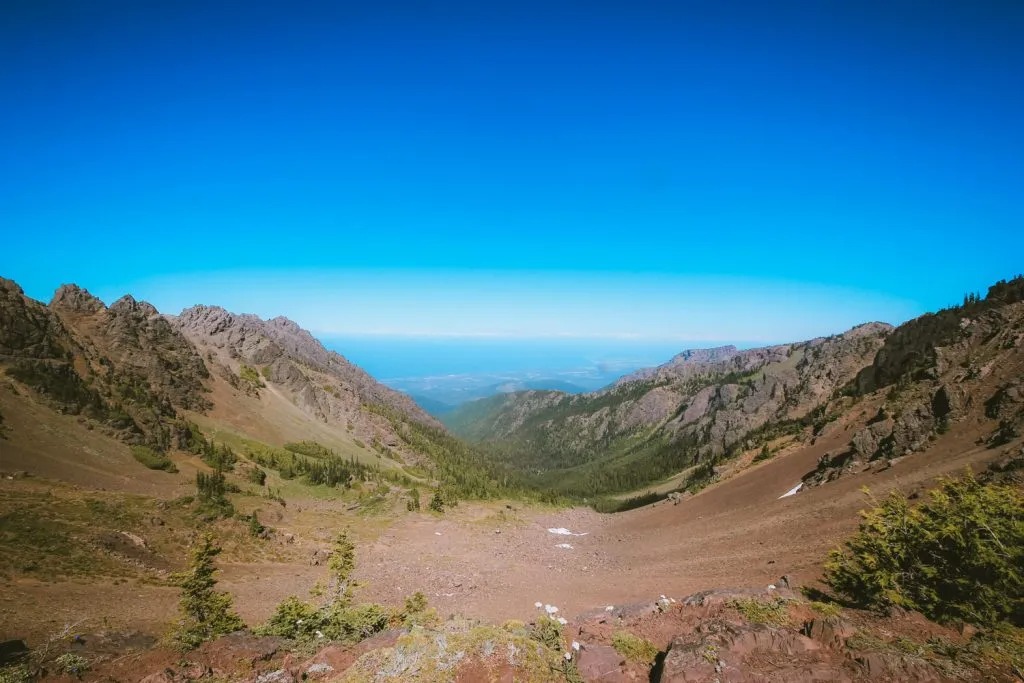 Cost
Klahhane Ridge is located within Olympic National Park. You'll need a pass to enter the national park which you can buy online ahead of time You'll also need to print it so it can be scanned at the gate.
There's different pricing available for cars, hikers, and motorcycles. No matter which you buy, the pass is reasonably priced. If you're planning on visiting lots of National Parks, the annual pass pays for itself very quickly.
Parking
There's a large parking lot at the Hurricane Ridge Visitor Center. You shouldn't have any trouble finding parking here.
If you want to hike the shorter Switchback Trail to Klahhane Ridge, there's a small parking lot on the side of the road.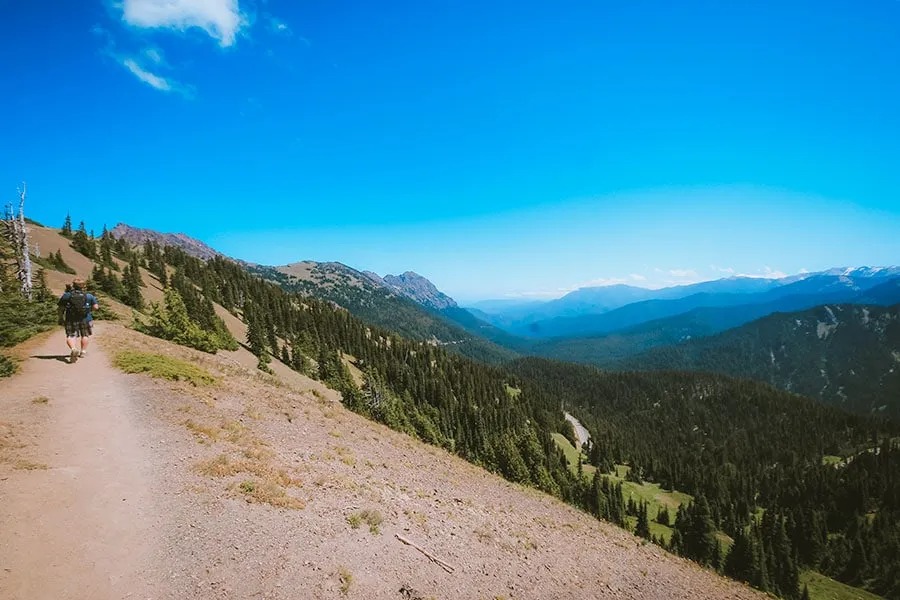 Directions
The Hurricane Ridge to Switchback Trail is accessible from the parking lot at the Hurricane Ridge Visitor Center, which is just over 19 miles (30.5 km) from Port Angeles. The paved road is well maintained and easily accessible. The drive up is spectacular! With every twist of the road, you'll see countless mountains with snow-capped peaks reaching to the heavens. While the drive up is beautiful, it has nothing on what you'll experience on your hike.
From the parking lot at the Hurricane Ridge, go to Sunrise Point and take the trail that branches off into the distance. The trail will lead you over the exposed side of Sunrise Point before climbing to the top of new ridges. You'll be rewarded with stunning views of the high alpine meadows in every direction.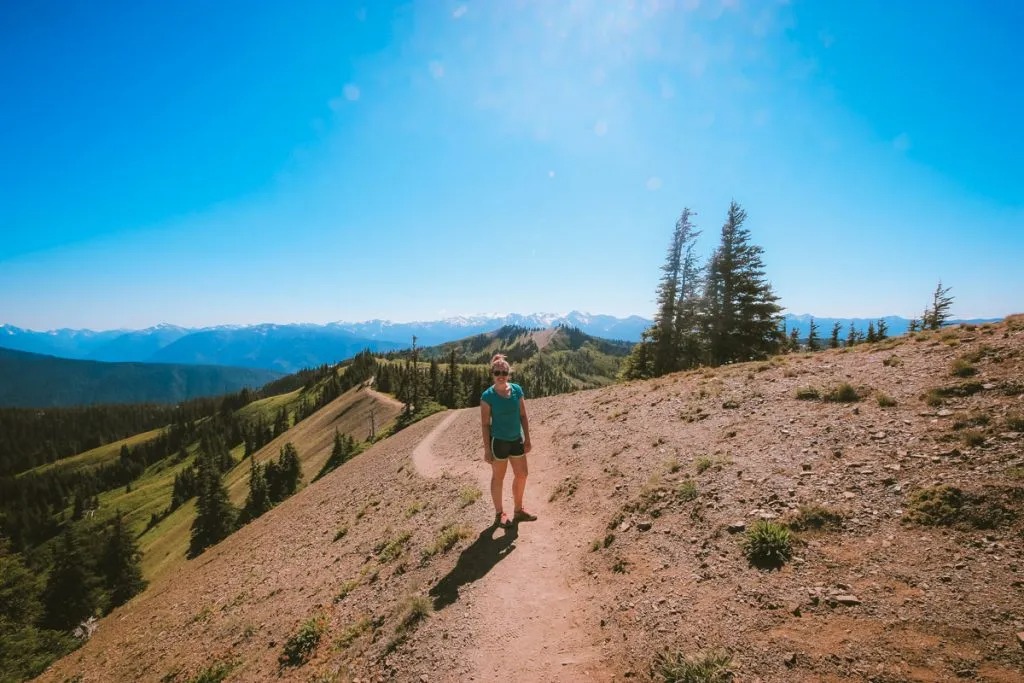 Gear Recommendations
It's important to be prepared before you tackle this trail — it isn't one of those "oops, I forgot everything but I'll be okay" hikes. It'll take a good half of your day to hike and can be quite hot in the summer. If you don't already carry the ten essentials, you should definitely for this hike.
Make sure you have LOTS of water — we find carrying it in a hydration reservoir in a backpack is way easier than water bottles. A Lifestraw is also a good idea because it lets you safely drink from streams or lakes.
Good hiking boots with good socks are a must. With a trail of this length, runners or sandals will absolutely kill your feet — trust me, I know because I made that exact mistake by wearing runners. Jacob wore actual hiking shoes and was fine.
It can get very hot on the side of the exposed mountainside. Sunscreen and sunglasses are extremely important. You can also wear sun protective clothing, which is clothing with a UPF rating.
And finally, don't forget your safety gear. A first aid kit with moleskin and other basic medical supplies is important in case you're injured. Bear spray is always great to carry, just in case.