Visiting Windy Ridge Viewpoint at Mt St Helens in Washington
Windy Ridge is only four miles from Mt St Helens' crater and is the closest you can get to the volcano without hiking.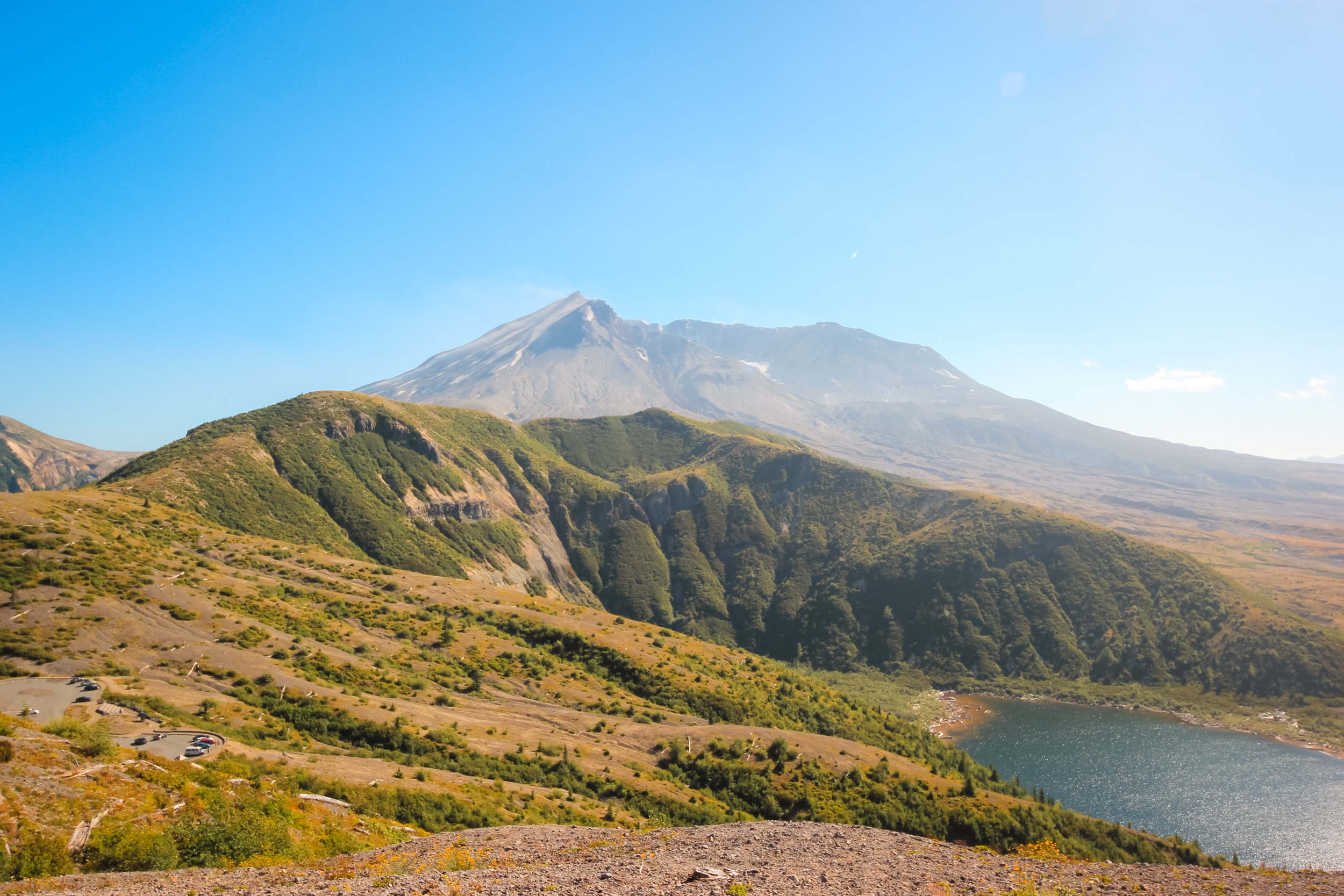 Windy Ridge Viewpoint, an alternative to the Johnston Ridge Observatory in Washington state, offers stunning panoramic views of Mt St Helens.
Windy Ridge is only four miles (6.4 km) from Mt St Helens' crater and is the closest you can get to the volcano without hiking. The viewpoint is on the eastern side of Mt St Helens and is one of the most remote, car-accessible locations in the park.
You can see the widespread devastation of Mt St Helens' 1980 eruption up close. It's hard to imagine what the area used to look like as you stand amidst the naked hills and toothpick-like trees.
The expansive grey plains are humbling and serve as a stark reminder of the devastation of natural disasters. Yet, you can clearly see life returning. It's rare to experience firsthand such a sharp contrast between nature's destructive and restorative powers.
Learn everything you need to know to visit Windy Ridge Viewpoint, including things to do at the viewpoint, nearby attractions, and accommodations near Mt St Helens.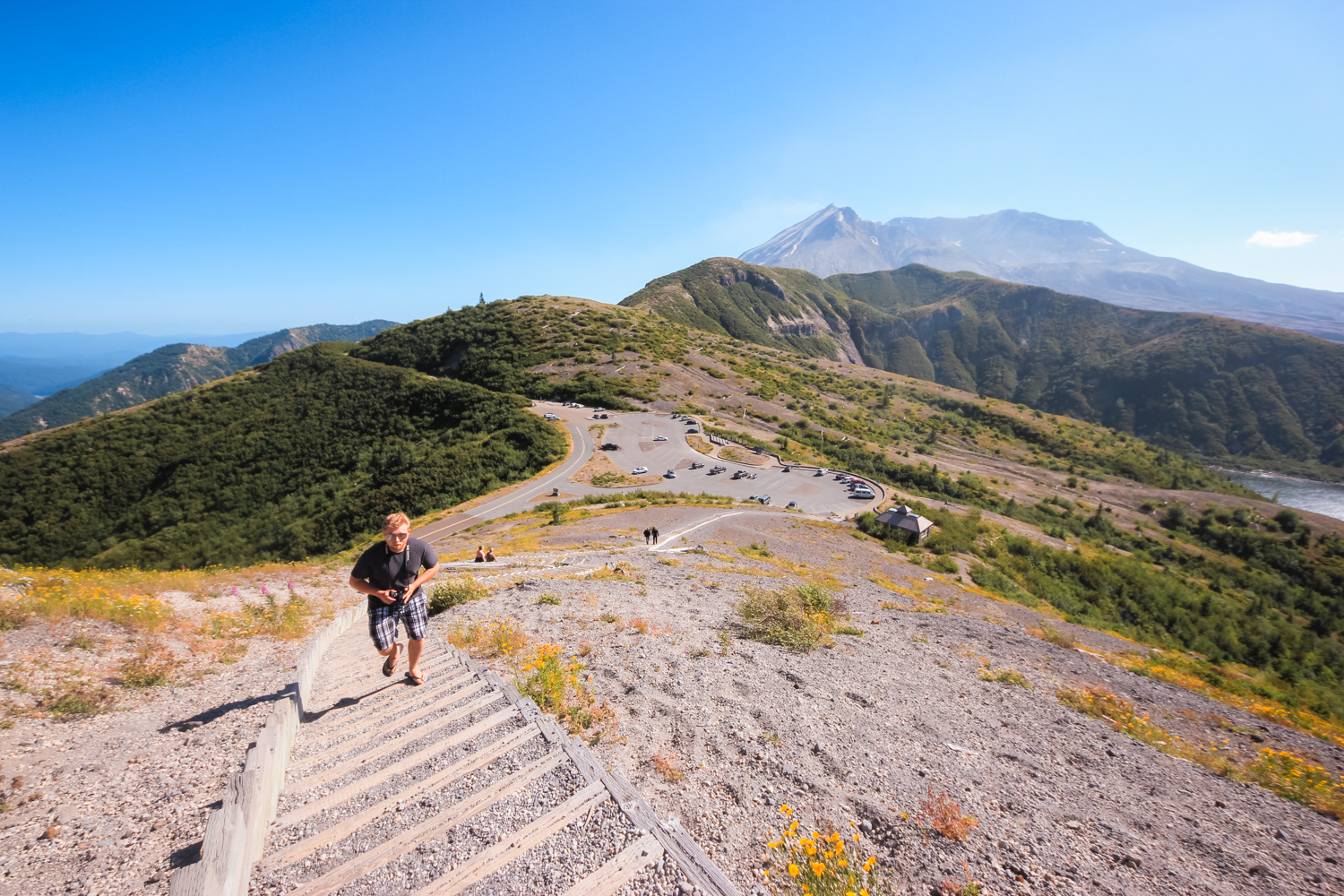 Location Stats
Difficulty: Moderately easy
Length: ~0.6 mi / 1 km (see map)
Elevation gain: 246 ft / 75 m
Trailhead: Windy Ridge parking lot
Open Dates: Summer (when roads are snow-free)
COUGAR WEATHER
Where is Windy Ridge Viewpoint?
Windy Ridge Viewpoint is located in the Mt St Helens National Volcanic Monument in Washington state.
Windy Ridge Viewpoint is 146 miles (3 hr, 35 mins) from Seattle, 117 miles (3 hr, 6 mins) from Portland, and 86 miles (2 hr, 27 mins) from Mt Rainier National Park.
Despite its remote location inside Gifford Pinchot National Forest, Windy Ridge Viewpoint is easily accessible by car. The entire road is paved and there's a parking lot (Wakepish Picnic Area) at the bottom where you can drop your trailer before heading up.
Surprisingly, the viewpoint isn't a popular destination even though it has amazing views of Mt St Helens. Most people visit the Johnston Ridge Observatory on the opposite side of the volcano because it's more accessible and developed. Luckily, this means you can explore Windy Ridge without huge crowds.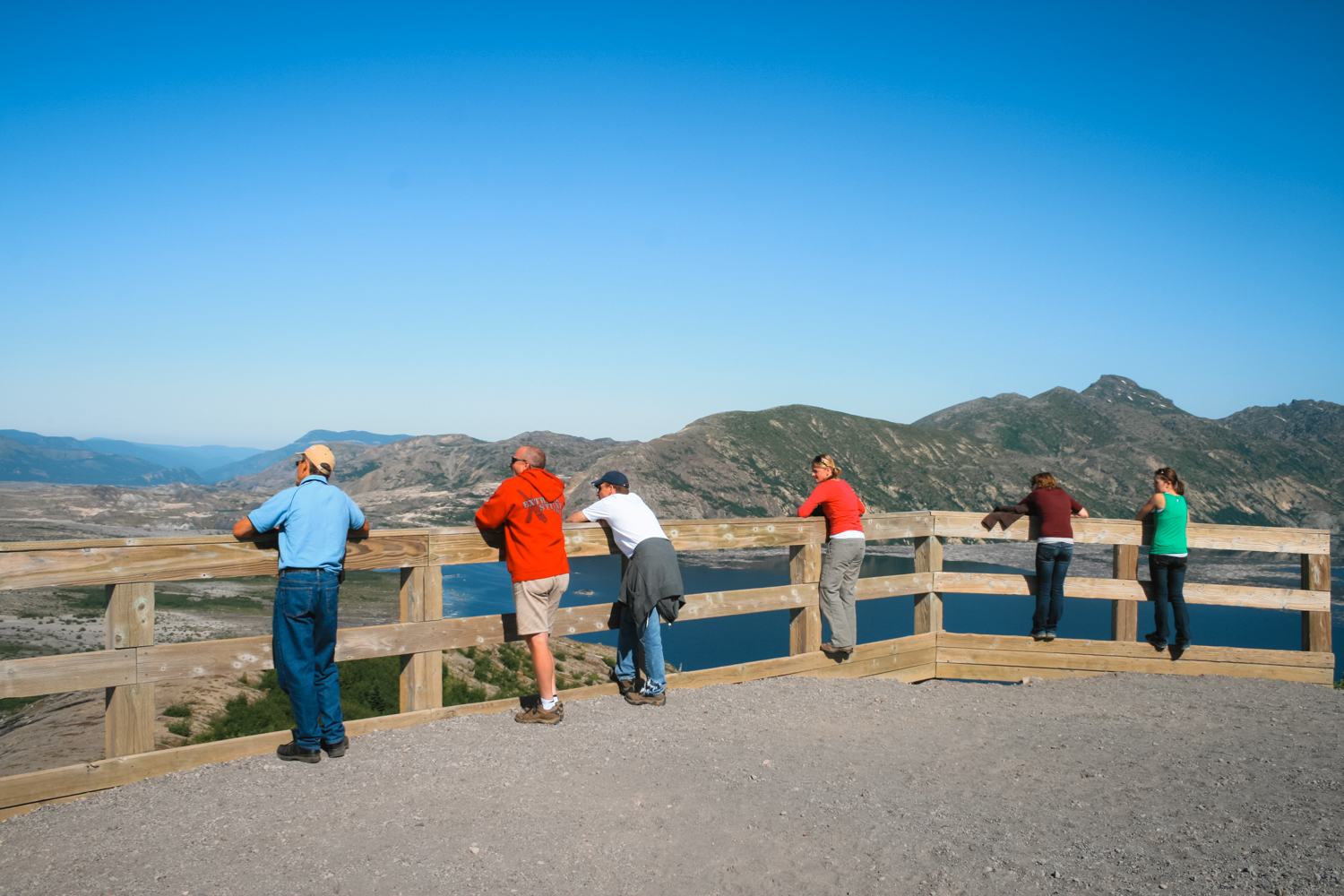 Driving Directions
Windy Ridge is on the eastern slopes of Mt St Helens in Gifford Pinchot National Forest. The roads here are windy, narrow, and riddled with potholes. The thick forest creates a dappled light which makes these hazards difficult to see.
Expect your drive to take longer than what Google says.
Driving Notes
Regardless of which direction you come, once you turn onto NF-99, drive for 16 miles (25.7 km) until the road ends. The drive takes about 45 minutes (or longer if you stop at the various viewpoints) and brings you through a spectacular showcase of Mt St Helens' power. The road is paved, but it's windy and in disrepair — spots of the road are missing and there are gravel patches.
As you drive up, you'll enjoy sweeping views of the recovering valleys and Mt St Helens will occasionally peek her head from behind the mountains. Hundreds of thousands of trees look like they've been blown over by angry giants. There are many pull-offs along the way that offer great views and hikes — it would be easy to spend your entire day exploring. Always drive with caution because the area is full of wildlife and steep drop-offs.
When you reach the Windy Ridge parking lot at the end of the road, you'll see Mt St Helens rise majestically in the background. She towers over everything and small smoke clouds hover above her slowly growing lava dome. Mt St Helens' slopes are bathed in green and a young glacier peeks out from her crater. This lonely viewpoint is certainly worth the drive!
Windy Ridge is inaccessible in the winter because the roads (NFD-25 and NF-99) are closed due to snow.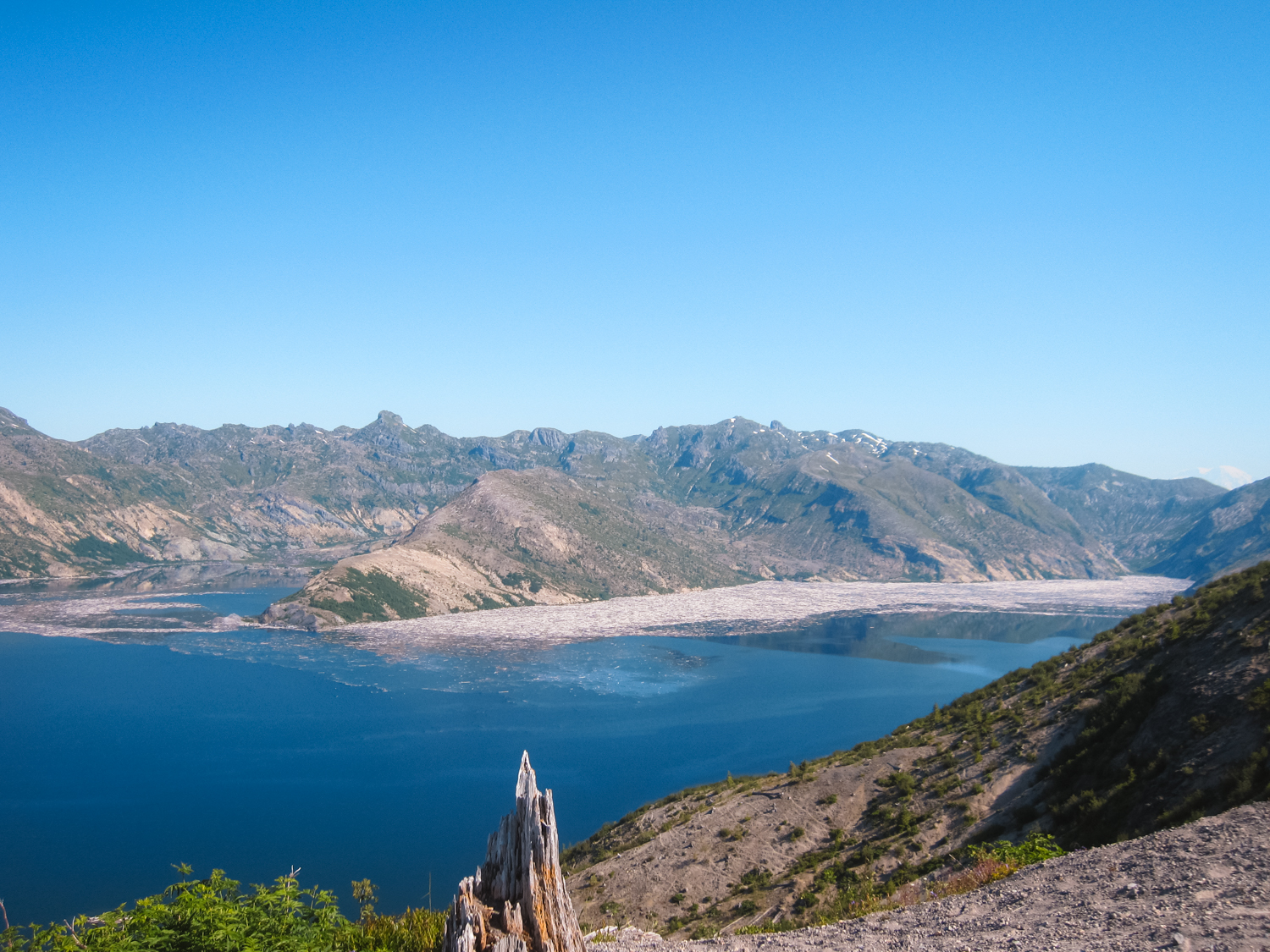 Know Before You Go
Windy Ridge Viewpoint is a great, family-friendly destination where you can enjoy wonderful views of Mt St Helens without straining yourself. There's no strenuous hiking involved, other than climbing the awkward sand ladder.
Before you head up, there are a few important things to know, such as fees, open dates, and access roads.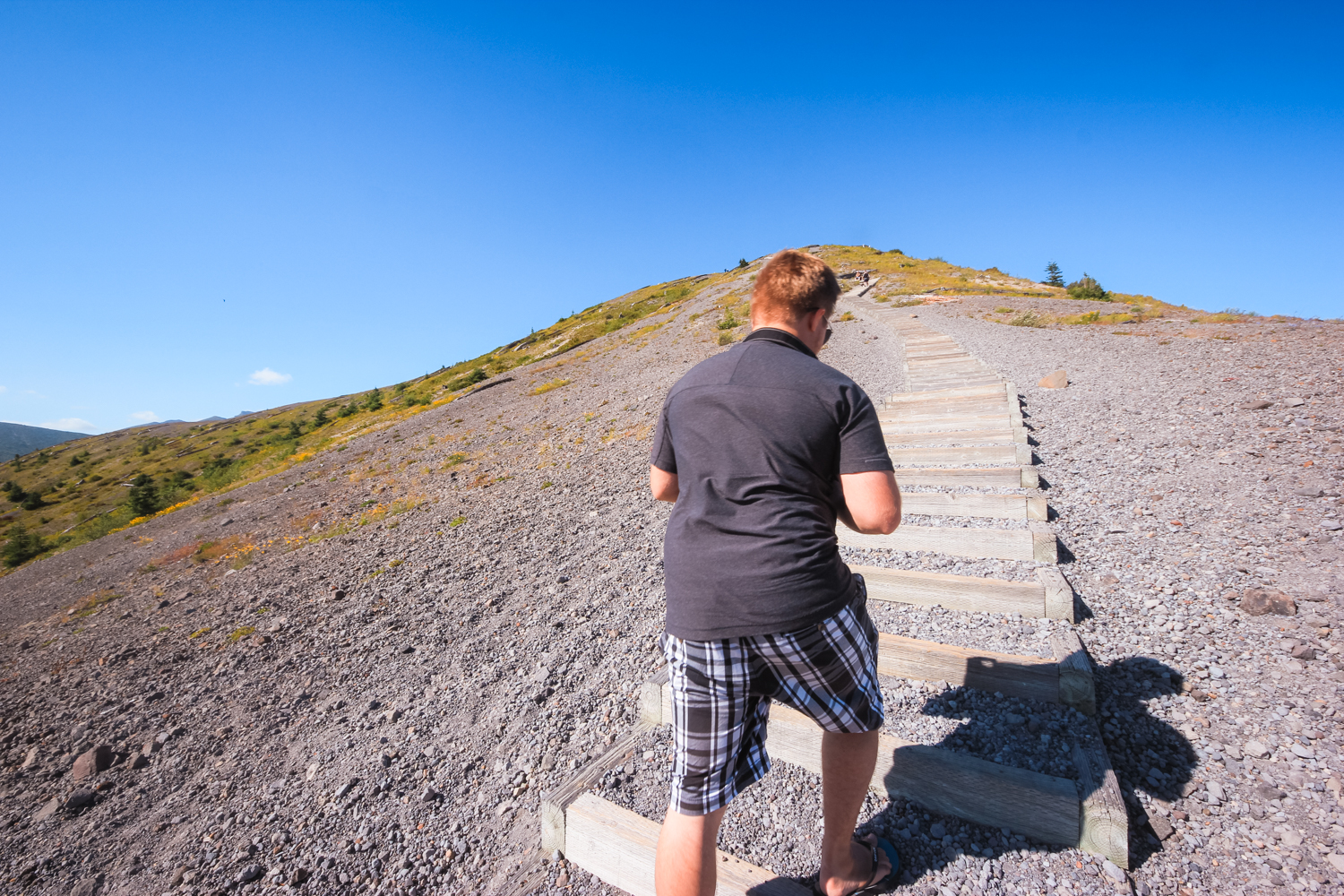 Fees for Windy Ridge
Technically, Windy Ridge is free to visit, but you need a Northwest Forest Pass to park. The Northwest Forest Pass is $5 a day or $30 annually. So unless you plan on driving up and not even getting outta your car, there's a small fee for visiting.
You can either buy the pass locally, order it online ahead of time (it will be mailed to you), or print a National Forest Recreation ePass. If you can, it's easiest to buy the pass online so that you're not worried about finding a local vendor.
Always display the pass in your front window when you leave your car otherwise you could be in for a hefty fine. The Northwest Forest Pass is valid for all parking at Mt St Helens and all other national forests in Washington and Oregon. If you're planning on travelling around, the annual pass pays for itself quite quickly.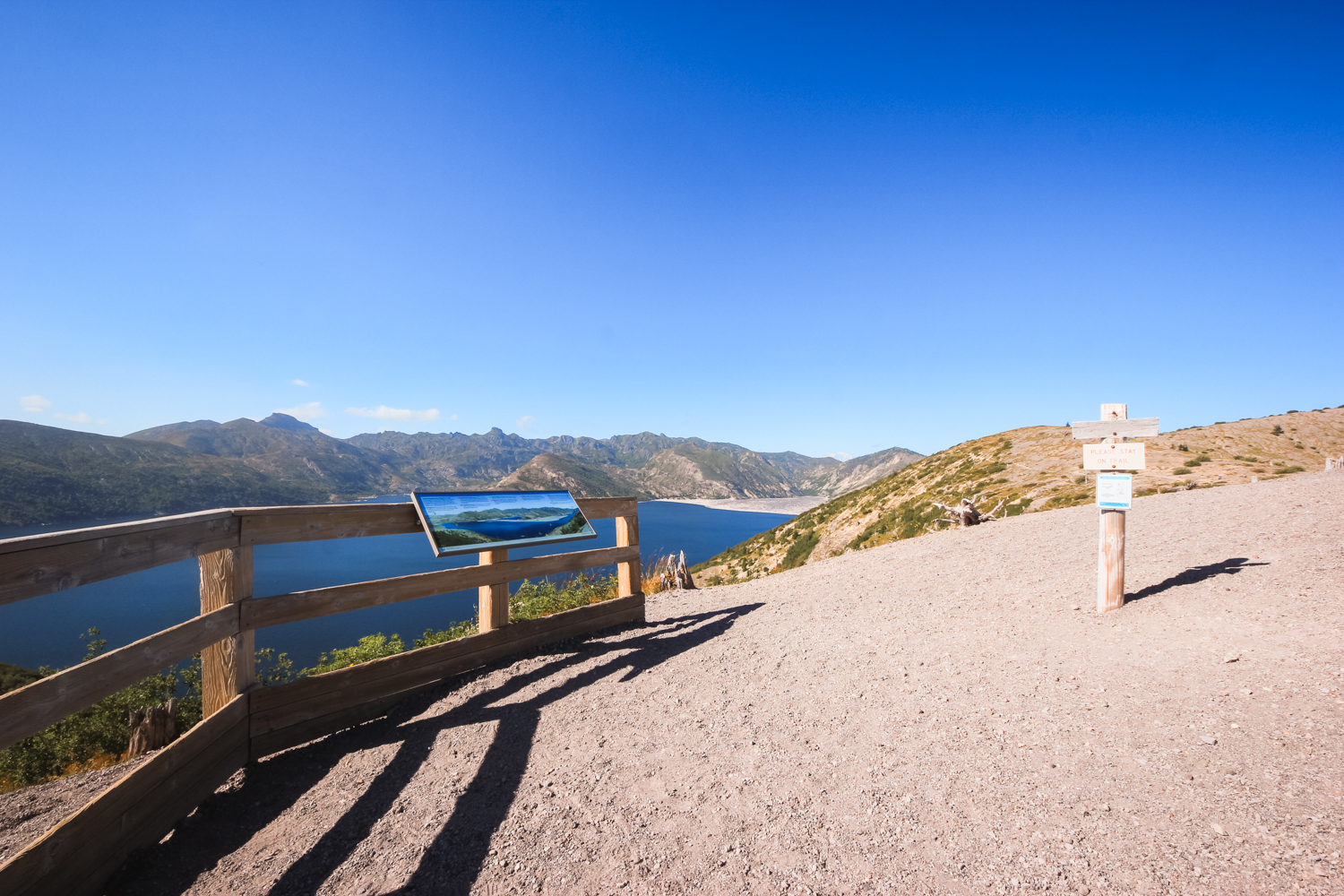 Open Dates for Windy Ridge
Windy Ridge Viewpoint is only open during the summer and is accessible 24 hours a day during that time. In the winter, the road is closed because of snow.
The road to Windy Ridge Viewpoint usually opens in late June or July, depending on the snow levels.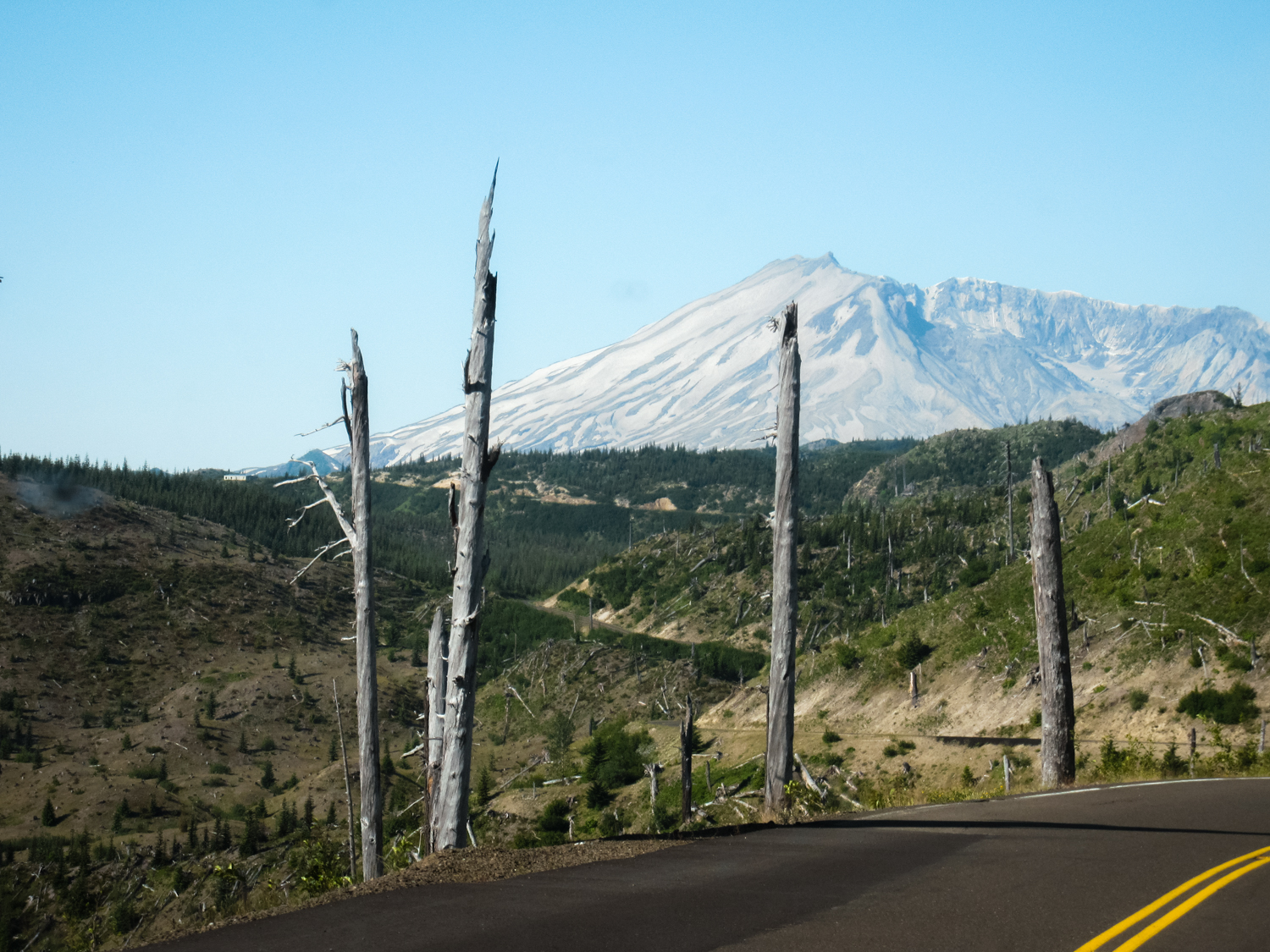 NFD-25 & NF-99
The two roads to Windy Ridge, NFD-25 and NF-99, are both paved but in rough condition. There are often potholes and recently there have been reports of missing sections and gravel patches.
The roads are also extremely windy, so you need to be careful and drive slowly. All in all, though, you can easily drive almost any vehicle (except large motorhomes or RVs) to the viewpoint. Please drop your trailers at the parking lot at the beginning of NF-99.
Facilities & Amenities at Windy Ridge Viewpoint
Windy Ridge is smaller and more remote than the ever-popular Johnson Ridge Observatory, which means there are fewer amenities and facilities here. However, that doesn't mean you're left without anything!
Things to Do at Windy Ridge Viewpoint
The main attraction at the Windy Ridge viewpoint is its unbelievable 360° view of Mt St Helens. However, there's more to do here than gaze at the volcano!
Windy Ridge Hiking Trail
Don't miss out on the stunning views! Sure, the views from the Windy Ridge parking lot are a million times better than most parking lots, but the best views are only accessible by climbing the nearby 368-step sand ladder.
The Windy Ridge sand ladder, which is basically a staircase, is located just off the parking lot. You can't miss it. The staircase makes the amazing views easily accessible, although it's a tiring climb. The steps are mostly pumice gravel and the large stride makes the trail awkward. There are no trees on the hill, so you'll be exposed to the wind and sun the entire time.
At the top, you have an unobstructed 360° view of Mt St Helens and the huge, decimated plains. The sheer distance you can see is astounding. To the north, the log-filled waters of Spirit Lake are easily seen. If it's a clear day, Mt Rainier, Mt Adams, and even Mt Hood rise from the skyline around you. If you're lucky, you'll be able to see four volcanoes from Windy Ridge Viewpoint!
A short walk from the top of the ladder brings you to a wooden observation platform with information about Mt St Helens and Spirit Lake. For most people, this is as far along the Windy Ridge Trail as they'll hike. All in all, it's about 0.6 miles.
However, you can continue on. The full Windy Ridge Trail is 2.2 miles long and ends at a small parking lot at the Upper Smith Creek Trailhead (which is on the main road).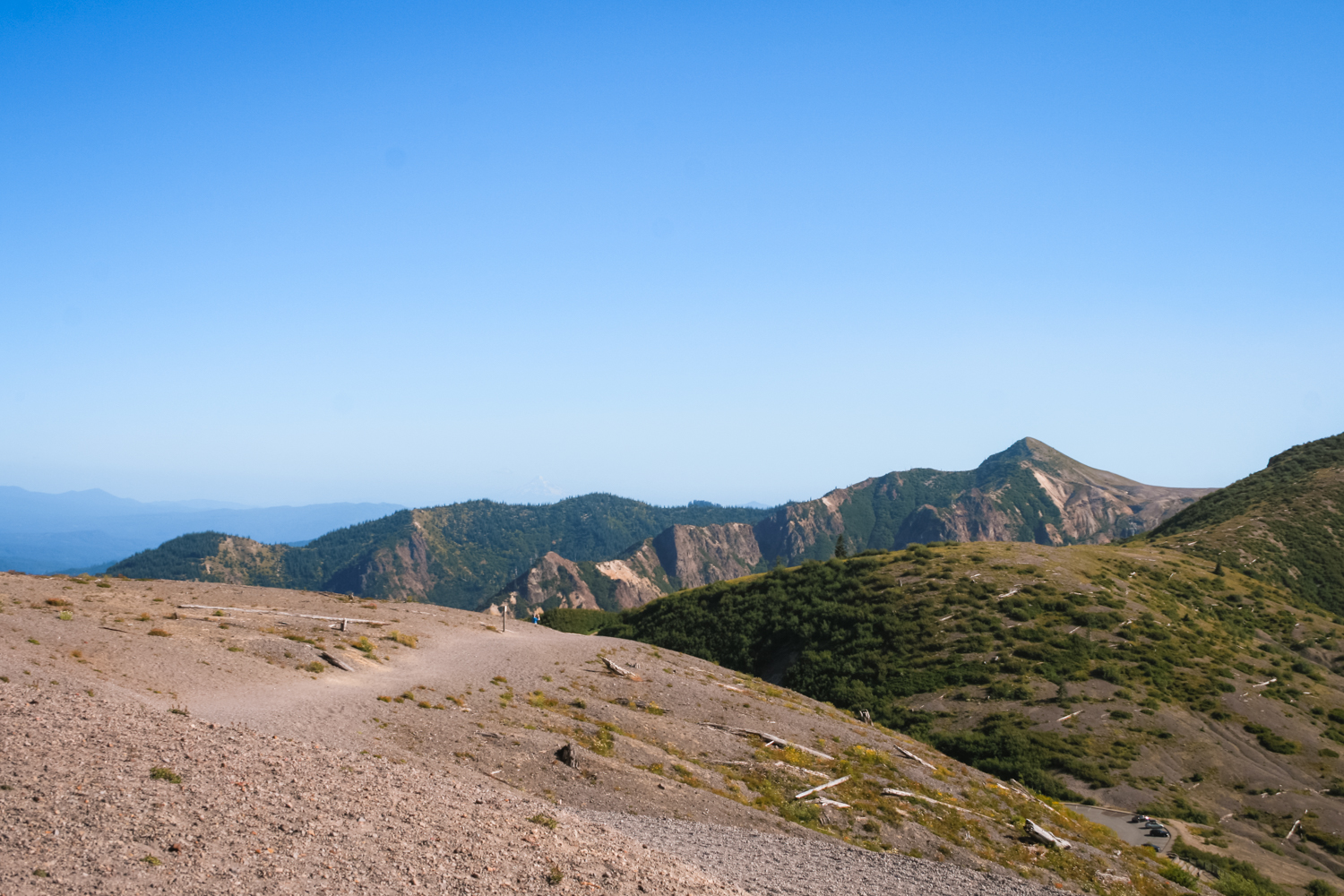 Other Hiking Trails Near Windy Ridge
There are numerous hiking trails near Windy Ridge Viewpoint that range in difficulty and length. In fact, the hiking trails at Mt St Helens are extensive and you could easily spend weeks exploring them all.
The following are some of the more well-known Mt St Helens hiking trails that connect with Windy Ridge, but you could easily create your own routes because many of the trails connect with one another (but don't hike off-trail, the ecosystem is fragile).
Spirit Lake Viewpoint
Spirit Lake is only five miles north of Mt St Helens. It was once a popular vacationing spot and had six camps on its shores. People flocked to its crystal clear waters and serene beauty. But when Mt St Helens erupted in 1980, everything changed.
Today, you can see Spirit Lake from Windy Ridge. At the top of the sand ladder, there's a wooden observation platform where you can learn about Spirit Lake and see the log mat that still covers some of the lake.
The only public access to Spirit Lake is via the Harmony Falls Trail on its northeastern shore.
Ranger Talk at Windy Ridge
If you're interested in learning more about Mt St Helens, be sure to attend the Ranger Talk at the amphitheatre. There isn't a Visitor Centre at Windy Ridge Viewpoint, so this is a great way to learn more about the area. The amphitheatre is located just off the parking lot and overlooks Mt St Helens.
The talks are free and are given every hour on the half-hour.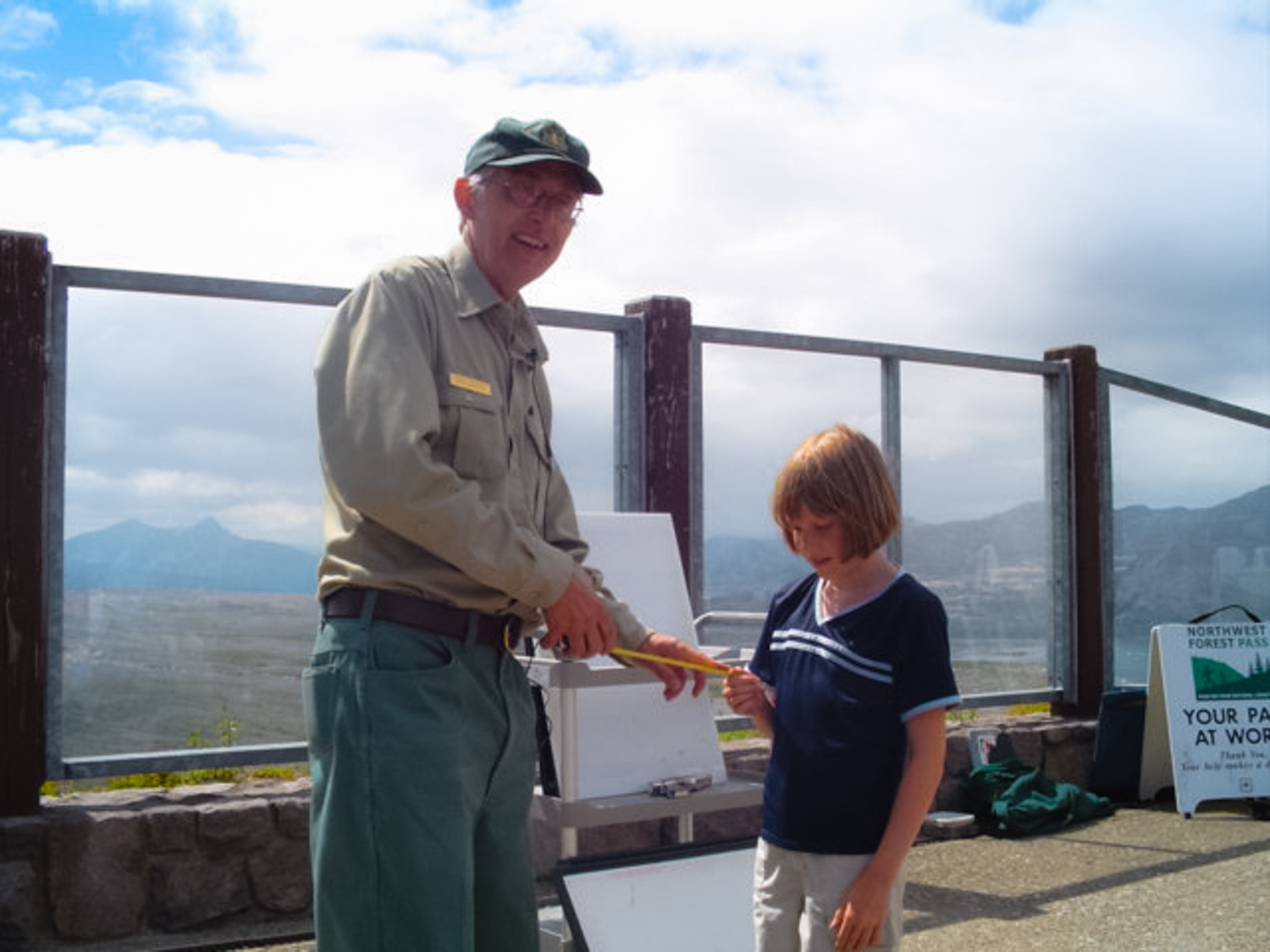 More Nearby Things to Do
After you've explored Windy Ridge to your heart's content, there are plenty of other things to do on the eastern side of Mt St Helens.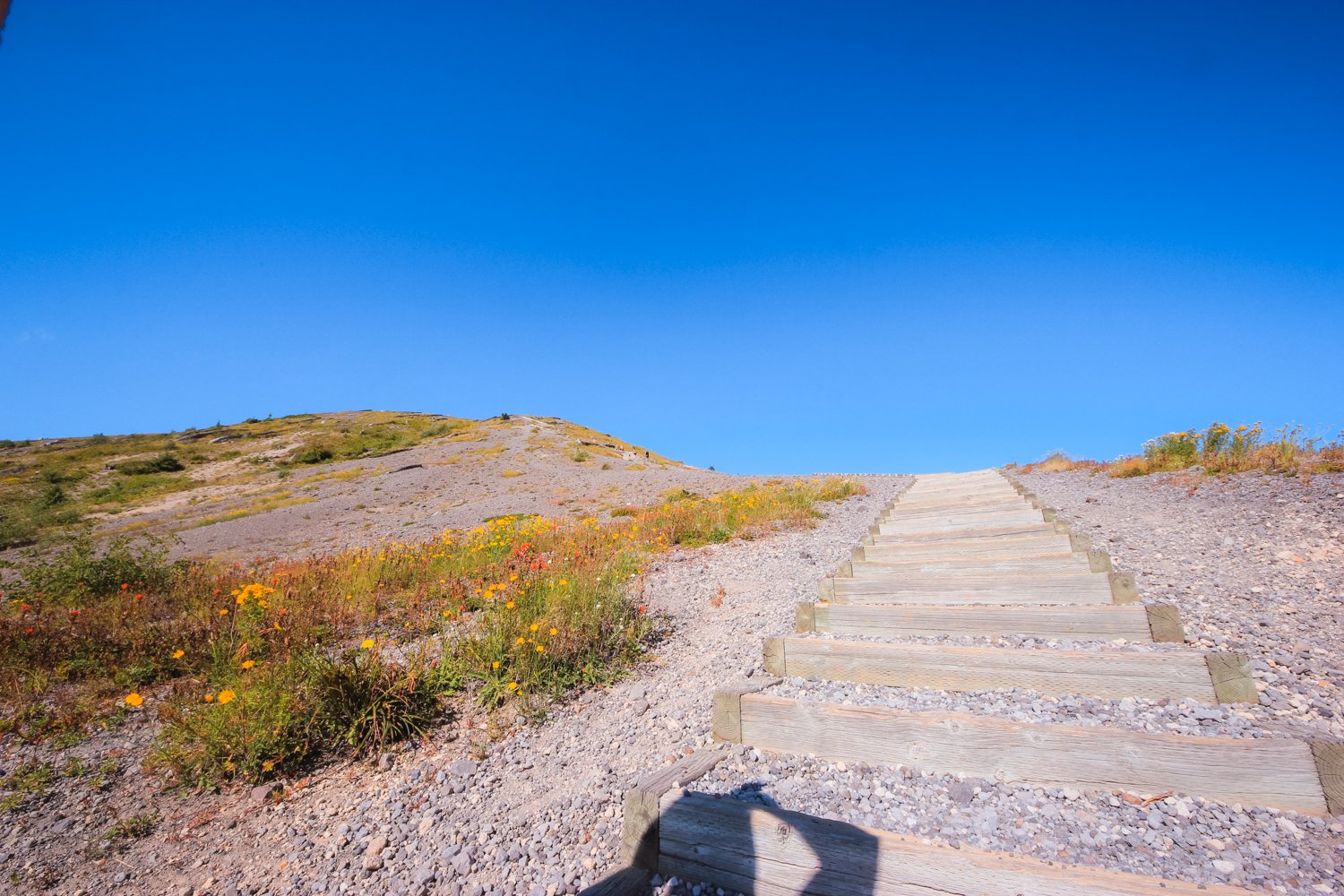 The History of Windy Ridge
Windy Ridge offers unbelievable views of Mt St Helens' blast zone. When the volcano erupted, it triggered a massive avalanche that destroyed almost everything within view. The barren land to the north of Mt St Helens' crater is now called Pumice Plains and is made of the hardened debris from that avalanche.
When Mt St Helens erupted, it blasted the plains with pumice and gases that reached almost 1,200 °F (649 °C)! Needless to say, it killed everything that wasn't able to escape. Today, scientists are amazed with how many plants have grown back!
Building Windy Ridge Viewpoint
People come to Windy Ridge for its amazing views of Mt St Helens and Pumice Plains, but those views didn't exist before 1980.
Prior to 1980, there were some hikes and a few camps around Mt St Helens, but they all disappeared in the blink of an eye when the volcano erupted. In the aftermath, park planners suddenly had a clean slate to create viewpoints and trails with the sole purpose of allowing people to experience Mt St Helens' unique features. One of the viewpoints they created was Windy Ridge.
Amazingly, Windy Ridge Viewpoint was built within just a few years. Considering the amount of work that was needed to clear the decimated mountain, it's impressive how quickly the park builders were able to complete the viewpoint. Only a few short years after the eruption, people were already visiting Windy Ridge to experience Mt St Helens' destructive power.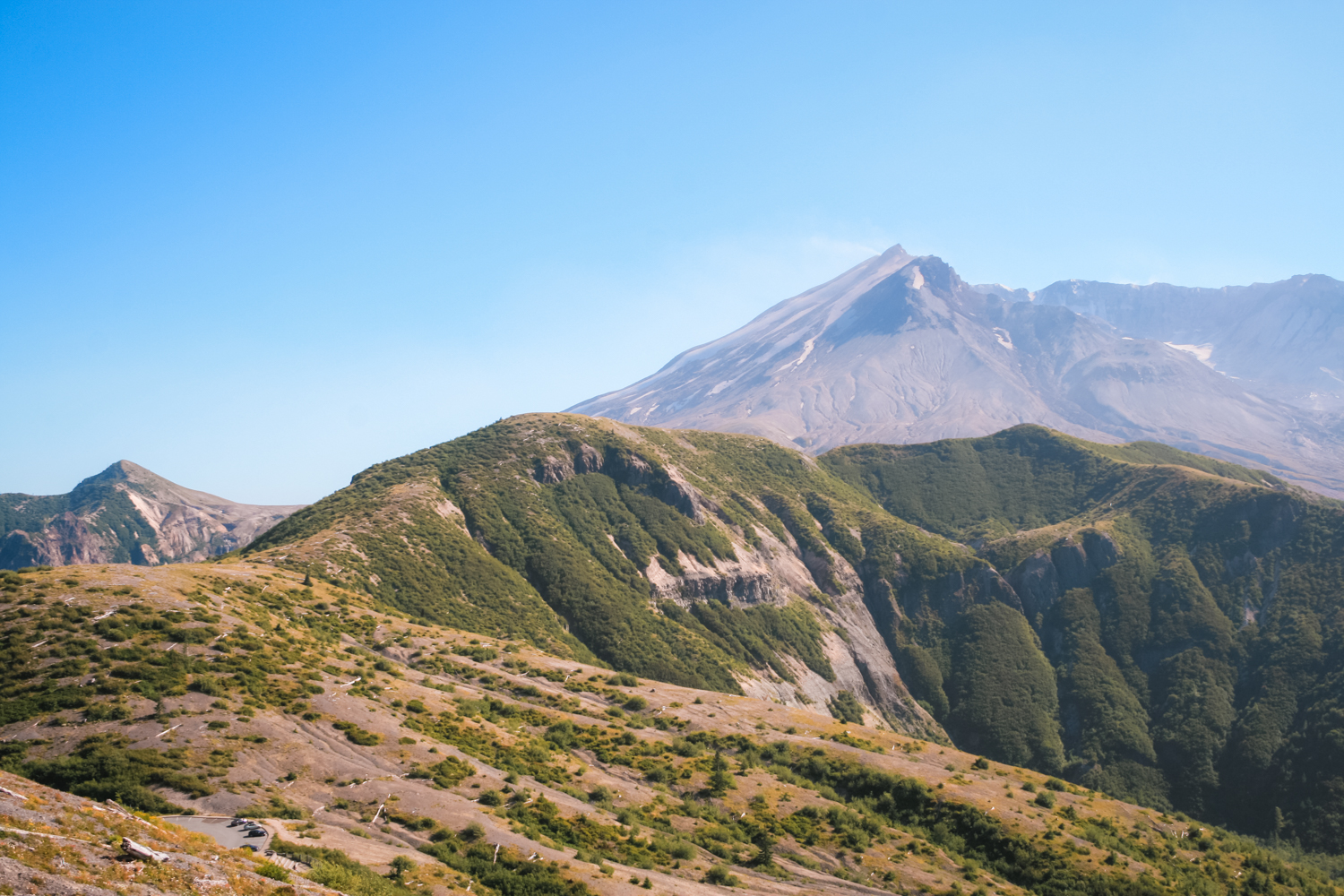 Mt St Helens' Recovering Ecosystem
After the initial shock of seeing the aftermath of Mt St Helens' eruption, you'll notice that life is returning. The plants are flourishing and everything from small foliage to large saplings are overtaking the area. It's pretty cool to see the ecosystem repair itself.
I've visited Mt St Helens multiple times over the years; first in 2004, then in 2010, and most recently in 2016. Each time, the obvious ecological change astounds me.
When I first visited in 2004, there was very little plant life and the dead trees stood stark against the mountainside. Twelve years later, I was amazed by the sheer amount of green everywhere. The startling toothpick-like trees I remembered from childhood were engulfed by new life. Nature's ability to restore herself is truly beautiful and I've never seen it on such display as at Mt St Helens.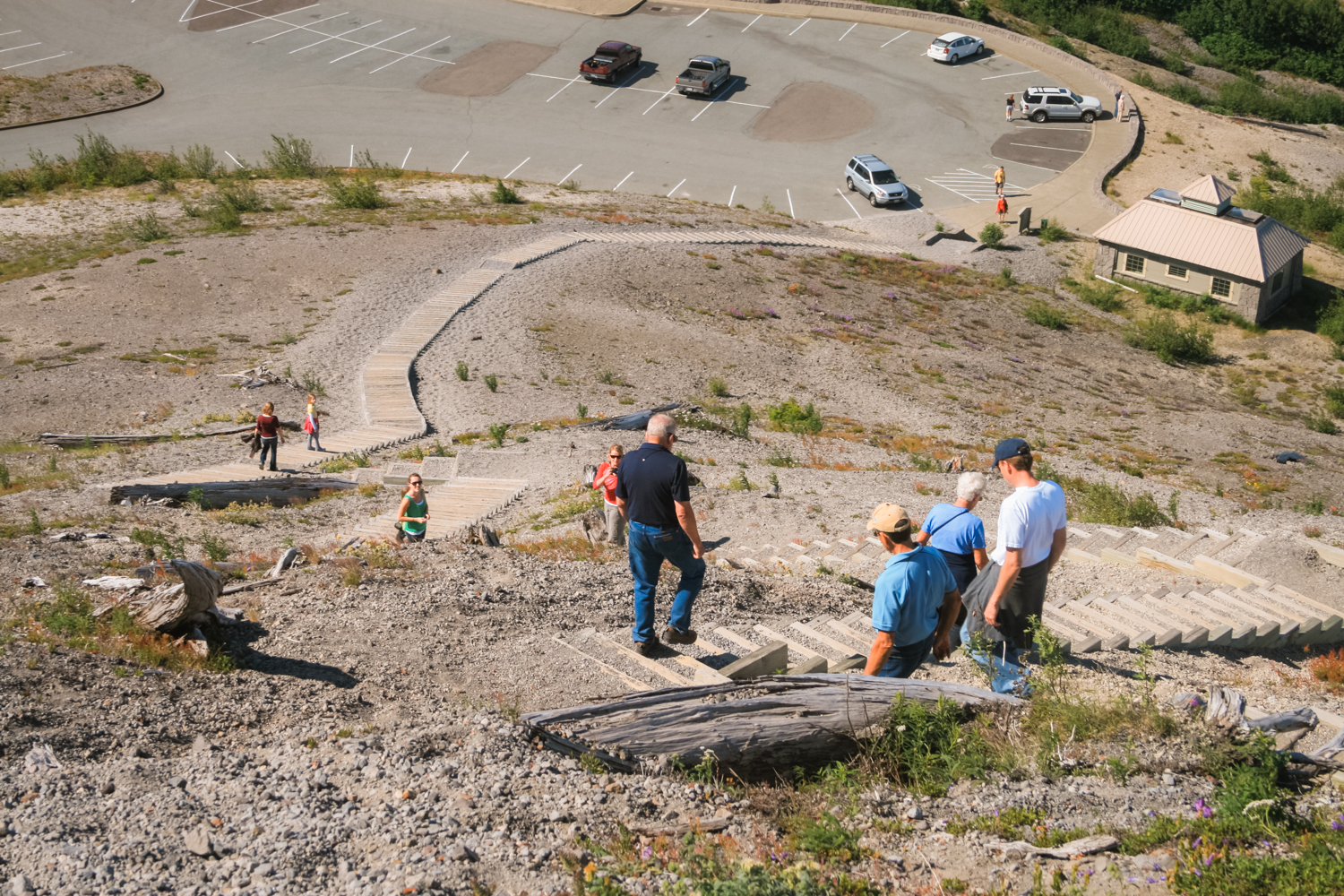 Where to Stay
If you're planning on exploring the eastern side of Mt St Helens, there are plenty of places where you can stay overnight.
Keep in mind that Windy Ridge is remote, which means you'll still need to drive for at least an hour even if you do stay in the area.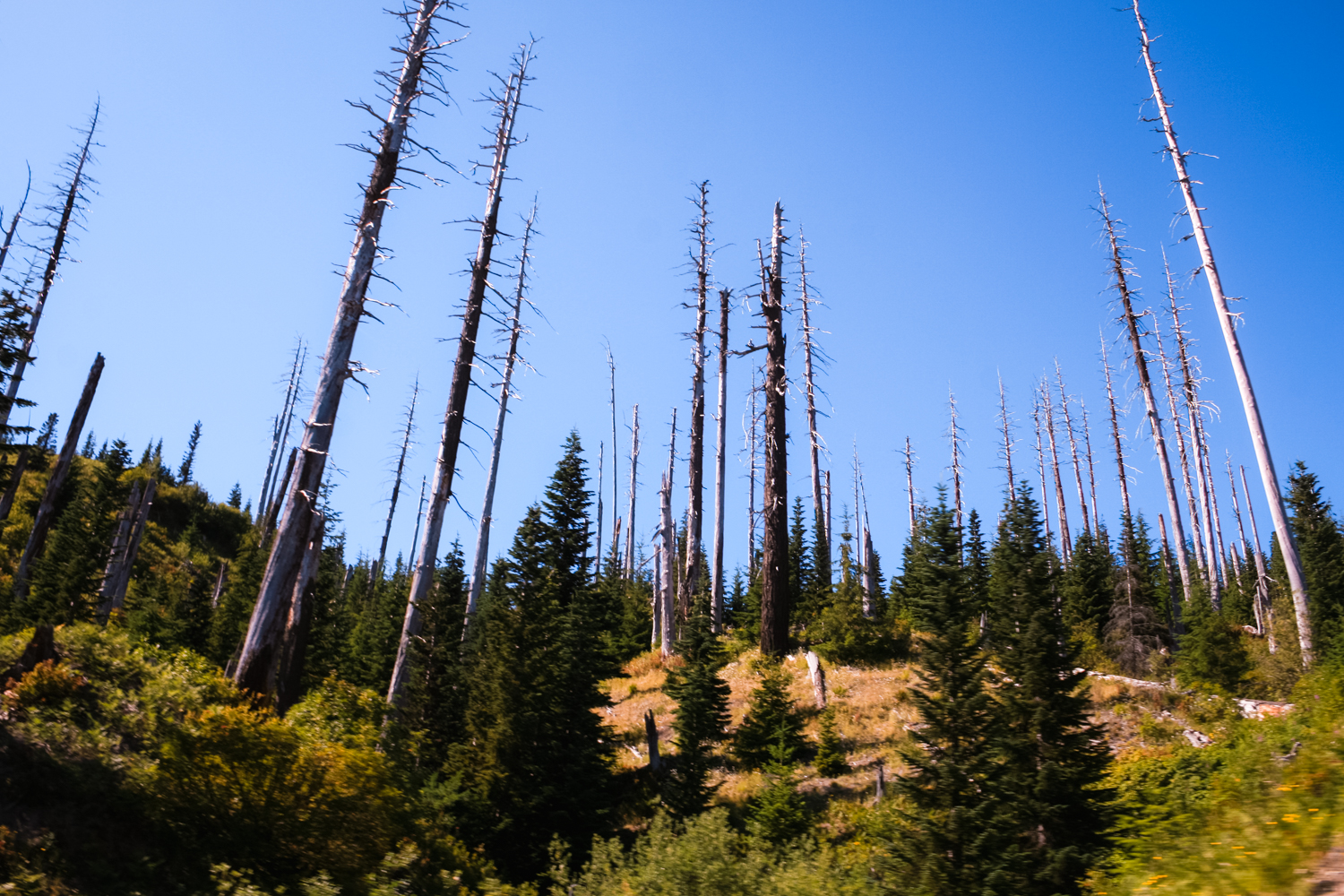 FAQs
How many steps is Windy Ridge?
The sand ladder staircase at Windy Ridge Viewpoint has 368 steps. These steps are made of pumice gravel and are wide and awkward.
Where is Windy Ridge located?
Windy Ridge is located on the eastern side of Mt St Helens in Washington state. It's in the Cascade Mountains near Seattle and Portland.
Can you drive up Mt St Helens?
You can drive within 4 miles of Mt St Helens by visiting the Windy Ridge Viewpoint. This is the closest you can drive to the volcano.
Is Spirit Lake gone?
Even though Spirit Lake was changed forever when Mt St Helens erupted, it's certainly not gone! It's no longer a vacationing spot, but you can walk down to it on the Harmony Falls trail.
Can you fish in Spirit Lake?
No, you cannot fish in Spirit Lake. Before Mt St Helens erupted in 1980, it was a popular fishing spot, but now Spirit Lake is a unique natural research lab and fishing is no longer permitted.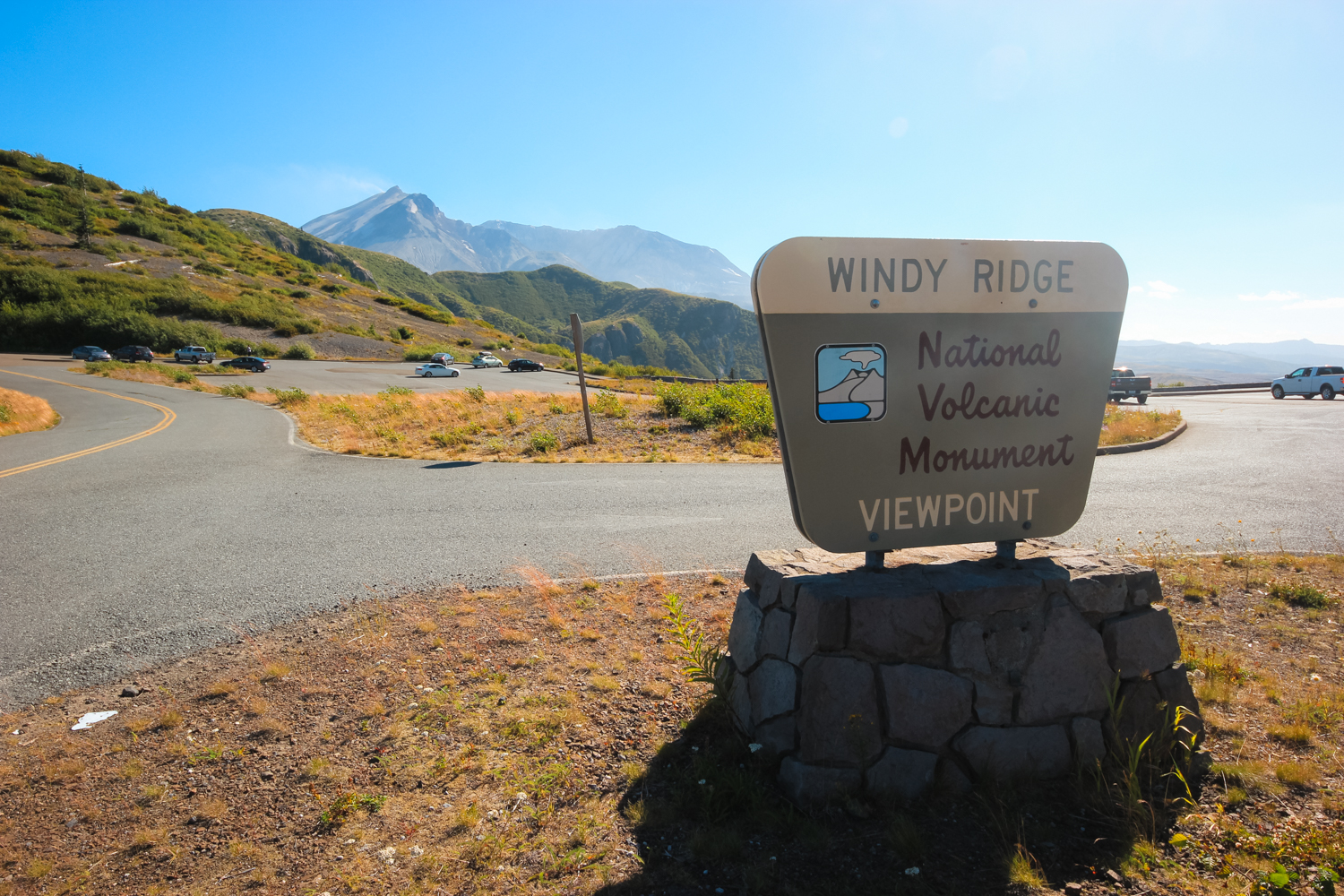 Gear Recommendations
Even though you'll probably only spend a short time exploring Windy Ridge Viewpoint, there are a few things you should consider packing.
As the name suggests, it's very windy at Windy Ridge! When the wind's strong, it can also get a little chilly, so don't be afraid to dress warmly even if it's a sunny summer's day (a windbreaker or lightweight jacket should be enough). However, there are no trees so you'll definitely need a pair of sunglasses and sunscreen. It's a weird mix of gear!