Winter Hiking Tips & Tricks for a Safe Outdoor Adventure
Between the snowy wonderlands and noticeably fewer people on the trails, hiking in the winter can be an absolutely wonderful experience. As long as you're prepared with some winter hiking tips, you'll have a great time on the chilly, beautiful trails.
Disclosure: This article may contain affiliate links and I may earn a commission, at no cost to you, if you click and/or buy a product online (even if it's not the product linked). I take great care to only recommend helpful products and appreciate your support!
How to Dress For the Winter
Wearing appropriate clothing is important any time of the year, but it's especially important when you're winter hiking. "But it's cold" can't be used as an excuse when you're dressed properly! Plus, you'll enjoy your time out in the chilly temperatures way more.
So, how should you dress? The short answer is in layers — basically, like an onion. The long answer is a bit more complicated.
Winter Gear For Your Feet
Let's start with what you should wear on your feet when you're winter hiking. Regardless of the season, the shoes you choose are super important. Your feet are, after all, carrying you around on your adventure and you need to treat them properly.
Hiking Boots
Wear insulated, waterproof winter hiking boots. There is actually a difference between winter hiking boots and regular boots. Having said that, if you're just wanting to get out for the day and can't afford winter hiking boots, simply wear waterproof hiking boots.
Thick Wool Socks
You'll also want to wear thick wool socks. Wool is basically a miracle material and does an amazing job at absorbing water and sweat. It'll wick the moisture away from your feet, keeping them dry and warm.
Besides keeping your feet dry, thick wool socks also provide warmth and cushioning. Bring a second pair as well, just in case your first ones get too wet and cold.
Winter Gear For Your Head
Your head is often an overlooked part of winter attire. What's the point in covering your entire body, only to leave your head exposed?
Quality Toque & Buff
Invest in a nice quality toque, preferably one with a warm lining or made of wool. Bring a wool buff so that you can cover your mouth and nose when it gets too chilly.
Eye Protection
And last but not least, remember to pack sunglasses or goggles. Reflections from snow and ice can damage your eyes just like the sun on a summer day.
Winter Gear For Your Hands
Your fingies are important to keep warm! Many people have cold fingers on a good day, so don't amplify the issue by forgetting your gloves.
Gloves
Depending on your winter hike, it might be a good idea to bring two pairs of gloves. Have a thick, insulated pair for when you're walking normally and a thinner pair for when you need more precision. Plus, this way if one pair gets too wet you're not stuck with freezing hands.
You can also pack hand warmers and sneak them into your gloves. They're quite the lifesaver.
Winter Gear For Your Legs & Torso
Layers and insulated clothing will be your best friends for the largest parts of your body.
Base Layer
Start with a base layer of moisture-wicking clothing such as merino wool leggings or a polyester undershirt. A base layer is the layer closest to your skin and helps absorb sweat so that you stay warm.
Mid Layer
Next, you'll need a mid-layer. It's worn over your base layer and helps keep you warm. Depending on the temperature, considering wearing a fleece jacket or down vest.
Outer Layer
And finally, finish off your winter clothing by adding wind and waterproof outer layers. A small down jacket is also a good idea to throw into your pack in case you need some extra warmth.
Bring the Right Gear
Besides wearing the right clothing, winter hiking requires much more preplanning than in the summer.
As always, remember to pack the ten hiking essentials on your adventures. It's always better to be overprepared than under, especially in the winter. However, winter hiking requires a few other special items that aren't usually on essential packing lists.
Crampons or snowshoes (depending on your trail) are a great investment because they'll make walking on snow and ice much easier. You should also bring extra food and batteries, extra insulated clothing, and a waterproof map. Always be prepared to spend the night, even if you're just planning on a short day hike.
Your bag will be heavier, but it might be the difference between frostbite and a successful adventure. I'll let you choose which you'd prefer.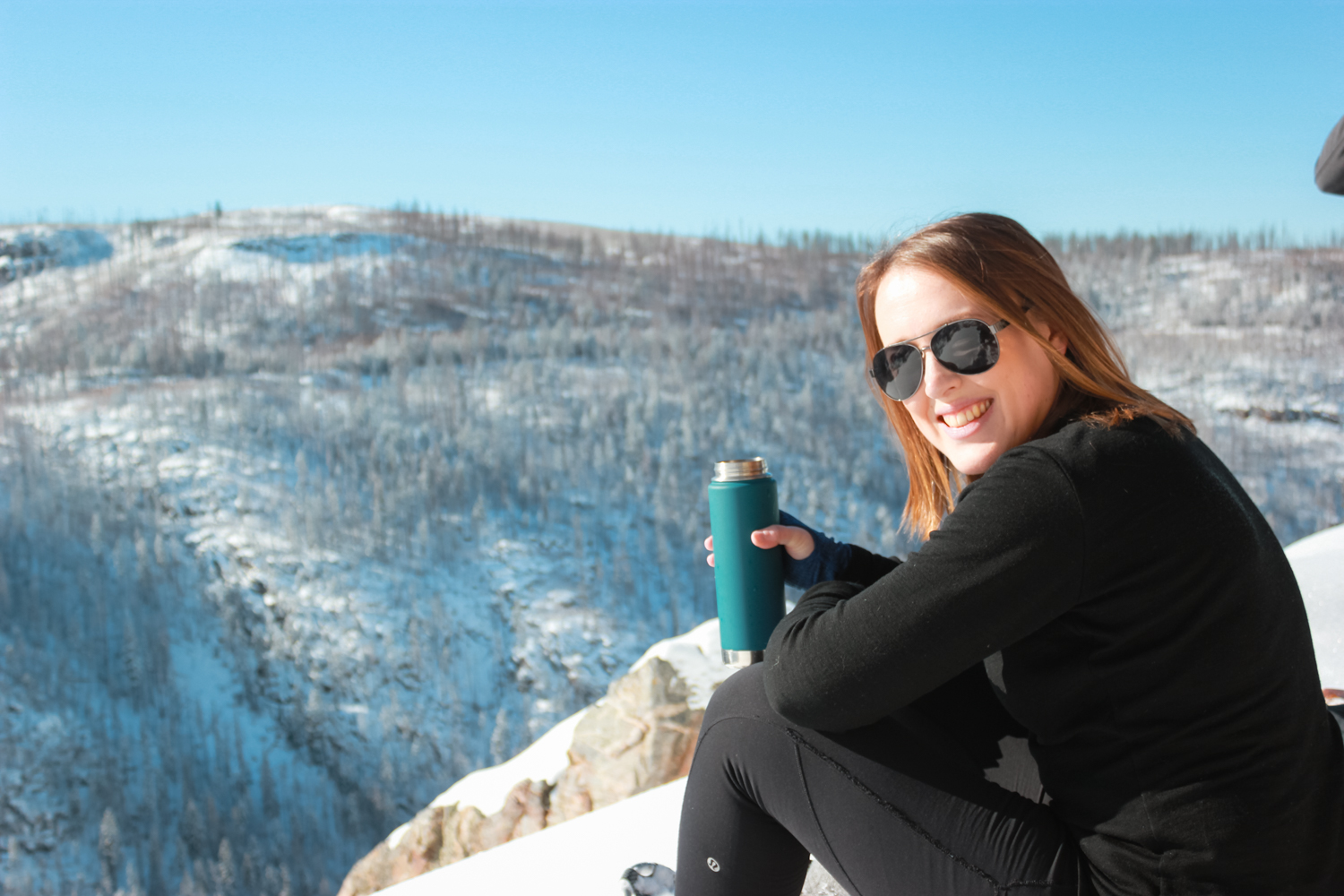 Be Hyper Aware of the Weather & Trail Conditions
It might seem obvious, but it's very important to be aware of the weather before you go winter hiking. Things like precipitation, wind, and avalanche reports are just as important as the temperature. As you gain elevation, the weather and climate will change. It'll usually be colder, windier, and much less forgiving near the summit than at the base of the mountain.
Remember that the amount of daylight in the winter is much shorter than the summer. Here in the Okanagan, winter days can be as short as eight hours. That doesn't give a lot of time for long hikes or mishaps before the sun sets.
While I always recommend looking up trail conditions before you go, it's very important to do this in the winter. Narrow trails, steep cliffs, and water crossings are just a few things that aren't usually a good idea in the winter. Remember, minorly annoying hazards in the summer are much more dangerous in the winter.
If the conditions look sketchy, head back or postpone your hike entirely. There's no point in walking into a dangerous situation. The mountains will still be there tomorrow.
Brush Up on Your Navigational Skills
It's not much of a surprise, but trails look very different in the winter. Even your favourite ones. Well-known markers may very well be hidden beneath feet of snow and barren trees create a drastically different atmosphere.
Make sure your navigational skills are up to par, especially if you're going on a quiet trail.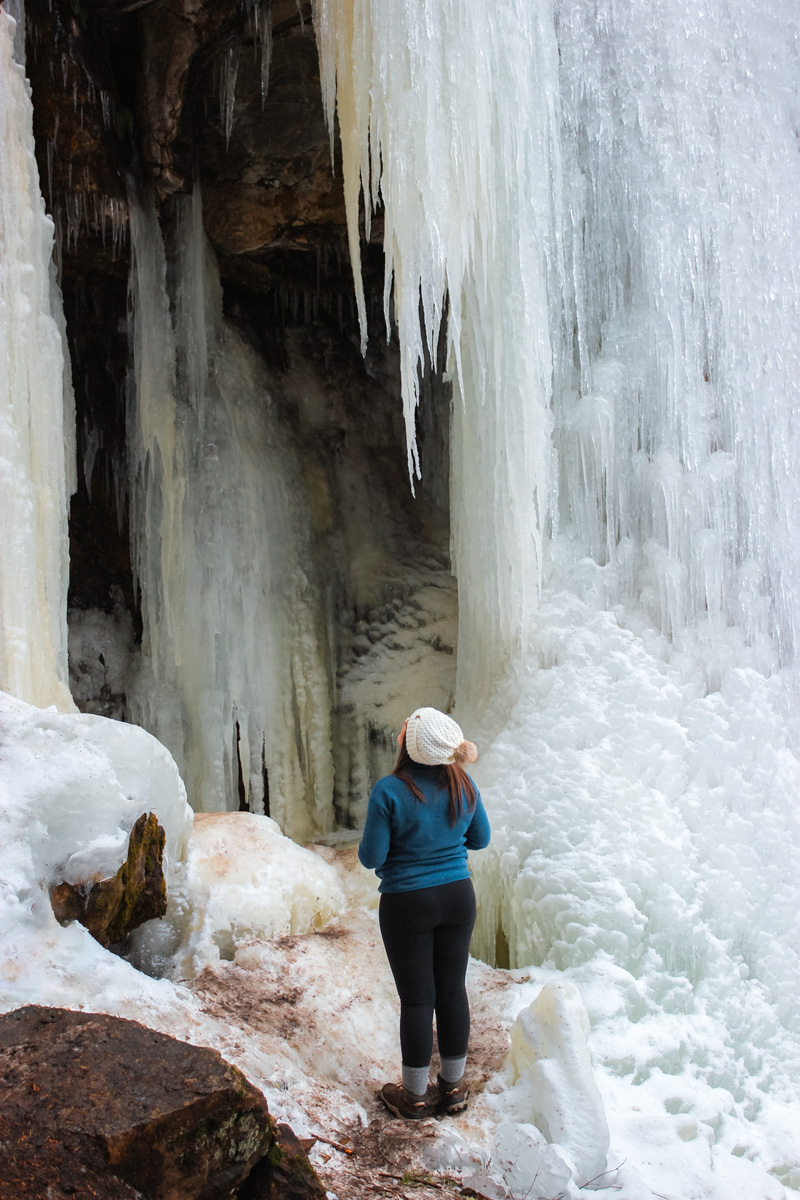 Tell People Where You're Going
Hiking isn't the time to be mysterious about your whereabouts. Share your route with friends or family and let them know when you're done your hike. If there are trail registers, sign in and out of them. They're there to keep everyone safe!
Have Fun!
Last, but certainly not least, don't forget to actually enjoy your winter hike! It can be easy to get wrapped up in all the technicalities and forget why you're out braving the cold in the first place.
So what are you waiting for? Get out there and enjoy all that the winter has to offer! I know I'll certainly try.