Black Mountain Viewpoint in Kelowna, BC
Black Mountain Viewpoint is a quick hike to a beautiful view of Kelowna and Okanagan Lake.
Just like a lot of easy hikes around Kelowna, the Black Mountain Viewpoint is located in a pretty unlikely spot: suburbia. It's totally surrounded by houses and is a surprising little pocket of nature with great views.
What better way to spend your morning than with a quick hike up to the Black Mountain Viewpoint. It's quick and easy, but it's still hard enough to get a sweat up. Even though it's short, don't underestimate the workout you'll get from the trail! There are a bazillion stairs.
That's what I love about poking around town for trails — you can have a great little micro-adventure and still go about your day like normal. Hiking doesn't have to be an all-day affair. And, best of all, Black Mountain Viewpoint has awesome views over Kelowna. Is that enough to get you out for a quick hike?
Disclosure: This article may contain affiliate links and I may earn a commission, at no cost to you, if you click and/or buy a product online (even if it's not the product linked). I take great care to only recommend helpful products and appreciate your support!
Trail Stats for Black Mountain Viewpoint
KELOWNA WEATHER
Trail Information for Black Mountain Viewpoint
You'd be surprised how many trails there are around Kelowna that are more or less unknown.
Black Mountain Viewpoint is one of those and I love that. It means the trail is pretty much empty and that's one of my all-time favourite things about a hike. I'm an introvert and love exploring without feeling like I'm a damn sardine. Anyone else?
Even though I went on and on earlier about doing this trail in the morning, it's a great hike any time of day. The first half is pretty exposed as you climb the hill, so if you're hiking in the middle of the day you'll probably get a little warm. Luckily, the exposed part isn't too long, so you won't be a total sweat-show by the end. Maybe. I make no promises, though.
Anywho, the Black Mountain Viewpoint is also spectacular at sunset! You'll get treated to a stunning view over Kelowna and Okanagan Lake as the golden light washes over the valley. Sounds like a pretty awesome way to end the day to me.
Trailheads
There are two trailheads for the Black Mountain Viewpoint hike.
Black Mountain Drive Trailhead: The main trailhead is on Black Mountain Drive and easy to miss. The trailhead is right after Lund Park and directly across the road from a set of stairs. Parking for this trailhead is weird because there's no parking lot and you also can't park on the road. You'll need to head up into the residential streets to park.
Stockley Street Trailhead: The second trailhead is on Stockley Street and makes the hike extremely short — and lets you bypass all those stairs. This one's easier to spot because there's a decent-sized gravel parking lot.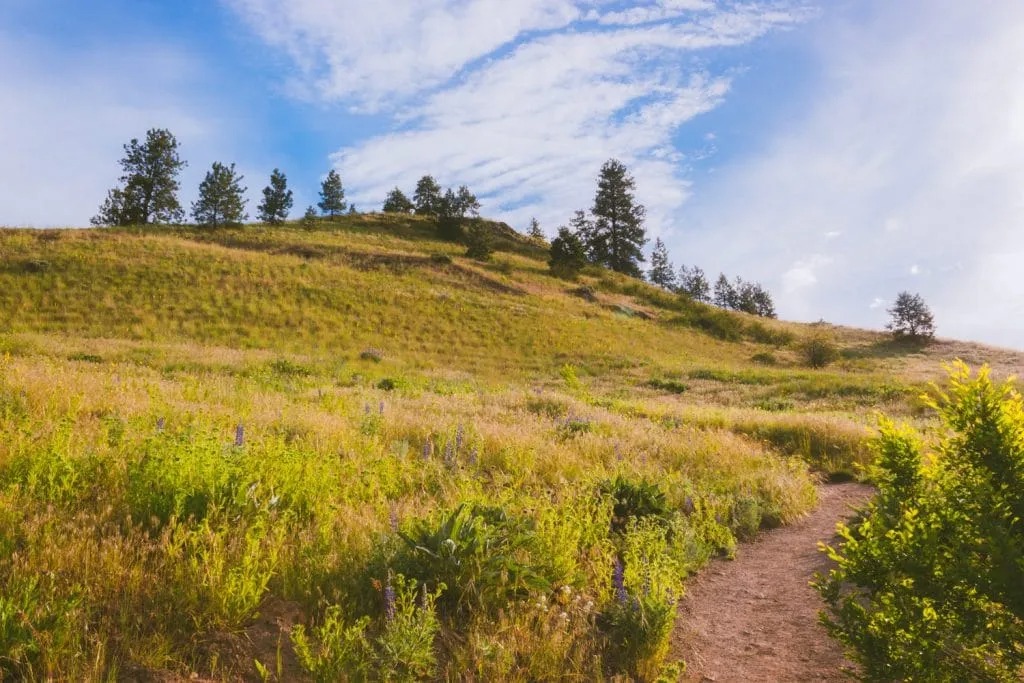 What to Expect
If there's anything you need to know about the Black Mountain Viewpoint hike, it's that there are about a bazillion stairs. Okay, okay, maybe I'm exaggerating a little. There are 322. Still, that's quite a few stairs! And there's no easing into those stairs. Nope, they start right at the trailhead, so get ready for a grind.
There's quite a bit of elevation gain for such a short hike, especially in the very beginning. As you hike up the exposed grassy hillside, you'll get to enjoy the plethora of wildflowers and increasingly great views of Black Mountain. From the bottom of the trail, the summit looms above you, but don't worry, you'll be there before long!
About halfway through you'll meet up with the small forest on the northwest side of the hill. It's a welcome respite from the exposed hillside. The trail also starts to level off here. You'll still head uphill, but it's not nearly as steep.
When you're on the backside of the hill, you'll come to a fork. Take the right, uphill trail to reach the summit. The left fork brings you to the second trailhead (if you start at that trailhead, the hike is super short).
The Summit
You're in for a treat at the summit of the Black Mountain Viewpoint! It's aptly named because the view is pretty ahh-mazing.
Maybe even more so because it's unexpected. Do you really expect an awesome view when you're surrounded by housing? I dunno about you, but I don't.
You'll overlook all of the Black Mountain area as you gaze towards Kelowna. You can just spot Okanagan Lake as it stretches into the distance. And if you can peel your eyes away from the lake, you can check out Black Knight Mountain itself, the Myra Canyon area, and even follow Highway 33 as it disappears into the rolling hills.
It's quite a panoramic, scenic view.
The summit itself is basically a large, flat field with a fenced viewpoint. A trail winds around the field and gives you a few different perspectives before heading back downhill. There's lots of room up here for a picnic!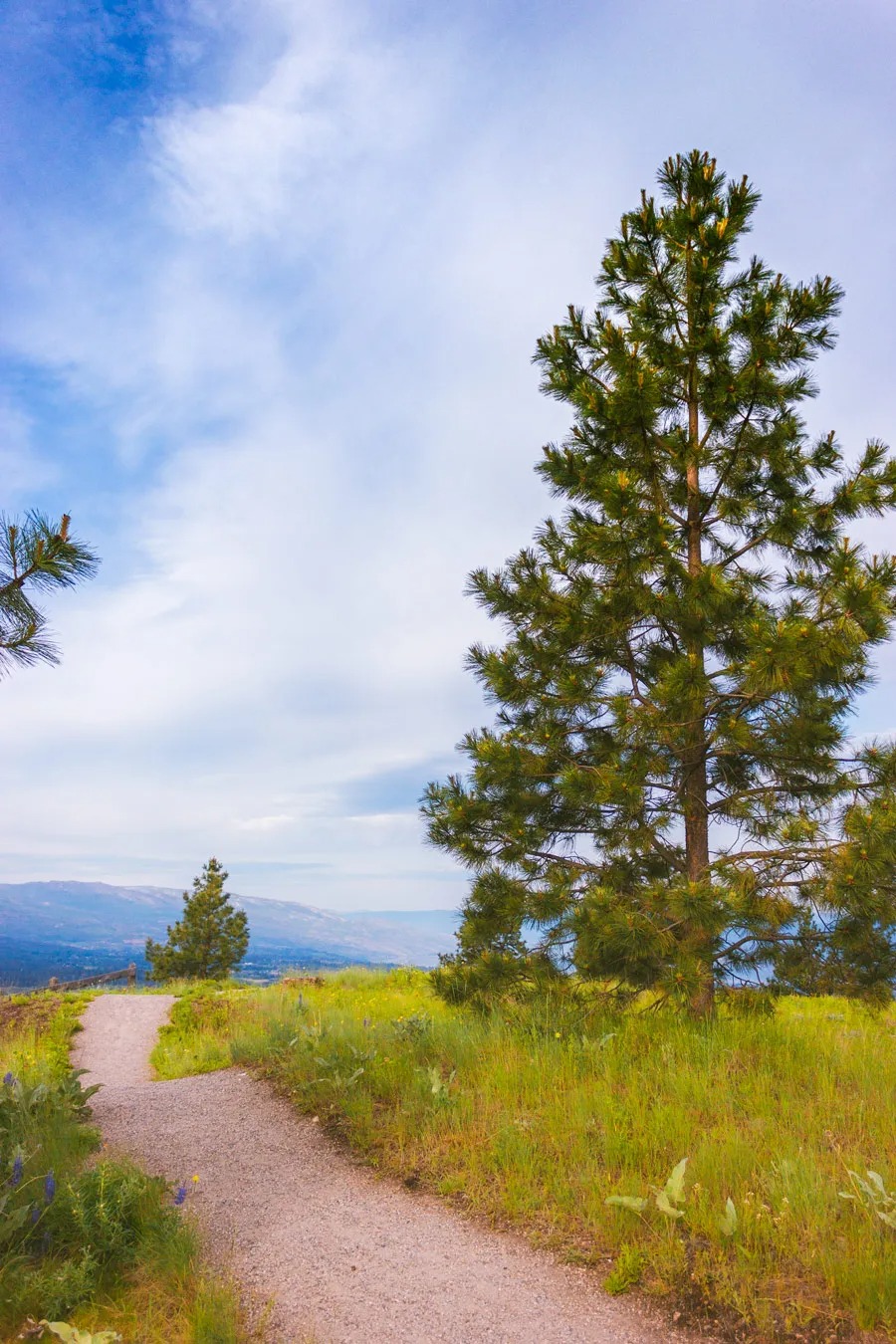 Recommended Gear
Since the Black Mountain Viewpoint is short and fairly easy, it's easy to think you can just head out. And even though you don't need to prepare for this hike nearly as much as bigger ones, it's still important to think ahead.
Water: I'm always gonna tell you to bring water. You don't need a full-on hydration pack, but at least bring a water bottle. It'll make your hike so much more enjoyable.
Proper footwear:  You can get away with a solid pair of runners or even hiking sandals on this trail. Just don't wear flip flops!
Sun protection: Anytime you're hiking in the Okanagan during the summer, it's super important to protect yourself from the sun. Make sure to wear a hat, sunscreen, and sunglasses. You could even wear sun-rated clothing  — which, surprisingly, isn't super ugly.