Ione Falls near Nakusp in the West Kootenays, BC
Visit this beautiful waterfall located in a rest stop on Highway 23 in the Kootenays.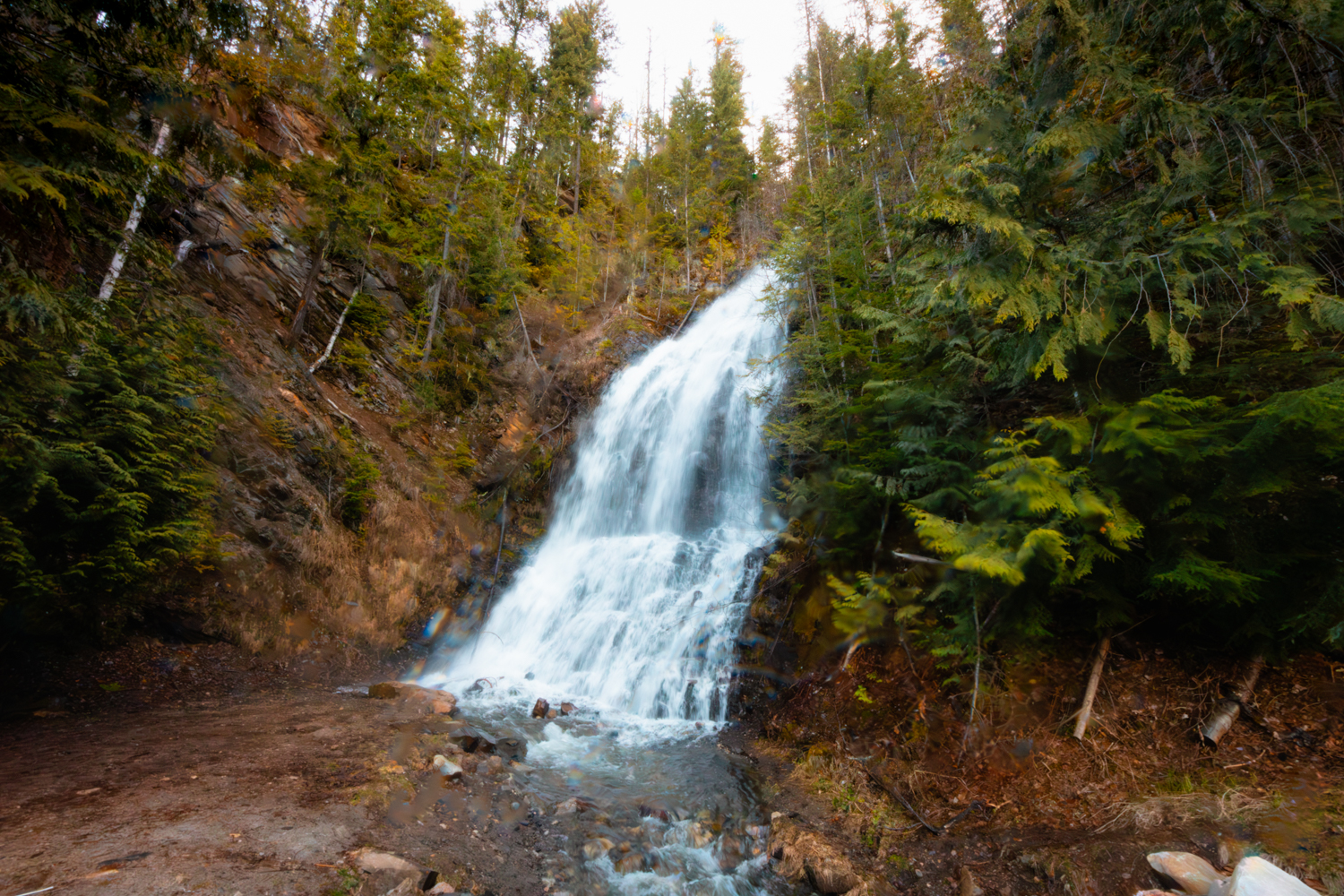 Ione Falls is a beautiful 95′ waterfall near Nakusp, BC in the west Kootenays.
This is one of the easiest and most accessible waterfalls I've ever visited. There's absolutely no hiking involved because it's literally on the side of Highway 23 in a rest stop (which is aptly named the Ione Rest Area).
You can clearly see Ione Falls from the road, but don't just drive by! Stop and check out this stunning waterfall while you're in the Kootenays.
Nearby waterfalls: Kay Falls and Sutherland Falls in the Kootenays.
Disclosure: This article may contain affiliate links and I may earn a commission, at no cost to you, if you click and/or buy a product online (even if it's not the product linked). I take great care to only recommend helpful products and appreciate your support!
Location Info
There's no trail or hiking involved to see Ione Falls. Simply pull into the rest area and walk ~10 seconds from your car to the base of the waterfall.
Difficulty: Easy
Open Dates: Year-round
Overnight Allowed: Yes*
Amenities: Outhouse, garbage, picnic tables
*We car camped here two nights. There are no signs that say otherwise and we weren't bothered. However, don't abuse it. More info below.
NAKUSP WEATHER
Where is Ione Falls?
Ione Falls is located in the West Kootenays in British Columbia. It's 21 km north of Nakusp and 27 km south of the Galena Bay Ferry Terminal on Highway 23. The highway is well maintained and fully paved.
No matter which direction you come from, the drive to the waterfall is beautiful and very scenic. The highway winds along Upper Arrow Lake and offers glimpses of the lake through the trees. Directly across from the rest stop where Ione Falls is located, you'll enjoy a clear view of the lake.
Directions to Ione Falls
If you're visiting from outside the Kootenays, you will likely take either the Upper Arrow Lake Ferry (via Revelstoke) or the Needles Ferry (via Vernon). Both ferries are free and don't require reservations.
You can bypass the ferries if you're already in the Kootenay region.
Once you're on the stretch of Highway 23 between the Galena Bay Ferry Terminal and Nakusp, simply stay on the highway until you see the rest stop. Watch for the blue "Rest Stop" signs along the highway because they will be your only indicator beforehand.
What to Expect at Ione Falls
The Ione Rest Area has a moderately sized paved pull-out with room for plenty of vehicles. There's an outhouse at the far end, garbage bins in the middle, and three picnic tables near the waterfall. Ione Falls itself is clearly visible from the north-end of parking area.
Most people use this rest area as a quick place to stretch their legs or a picnic, but you can also stay the night for free (we did this twice with no problems).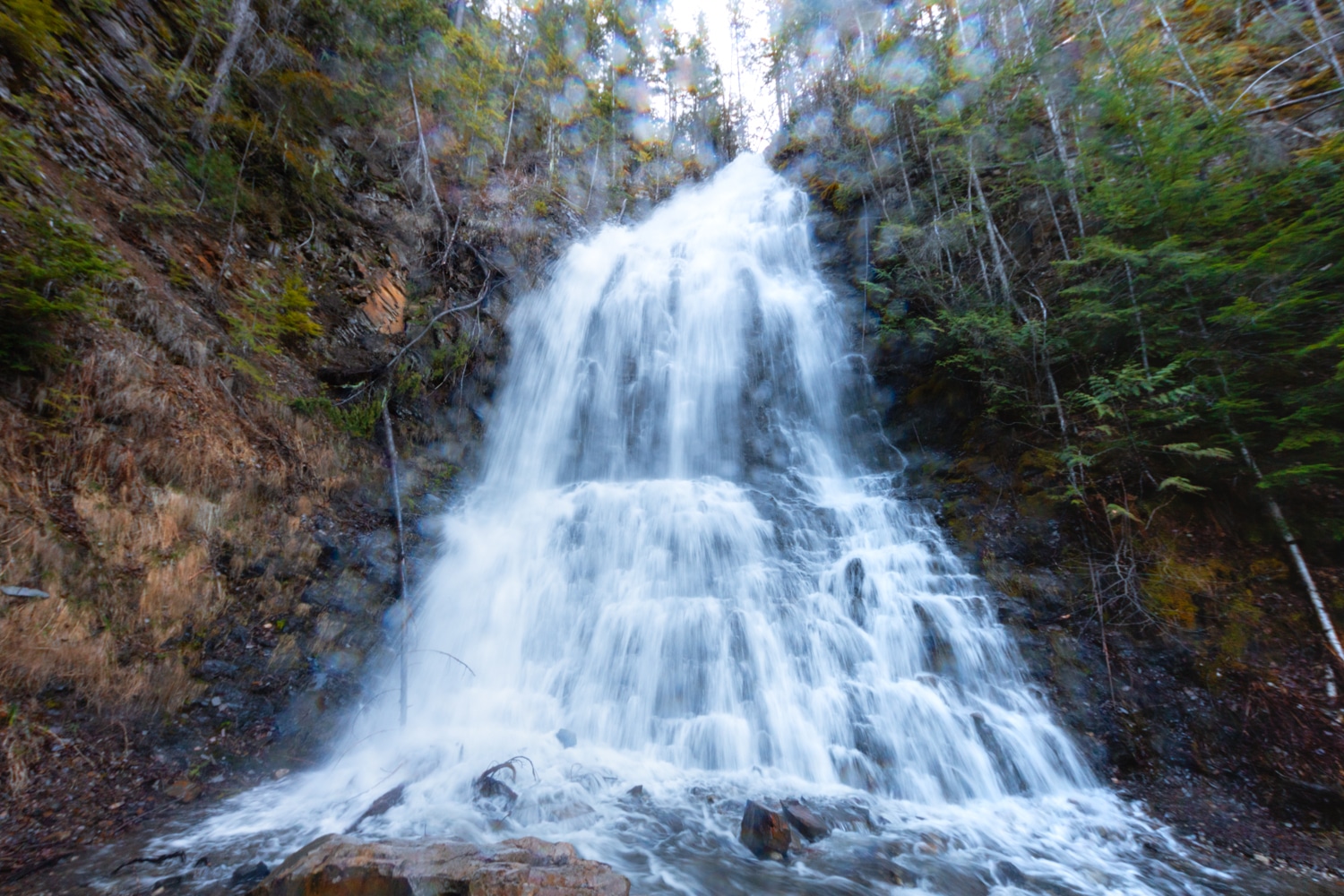 Ione Falls
Ione Falls itself is located at the north-end of the rest area, tucked into a small alcove where you'll find a picnic table and bench. The waterfall is 95′ tall and about 20′ wide with a small pool at the bottom that drains through a culvert onto the opposite side of the highway and then into Arrow Lake.
In the spring, Ione Falls has a very powerful spray that will have you cold, wet, and wind-blown in no time — it's much appreciated on hot days! The waterfall is fed directly from Mount Sanderson and thanks to the high elevation snow pack, the flow is pretty consistent throughout the spring and early summer, tapering down a little (but never disappearing) in the summer months.
You can easily walk up to the base of the waterfall. There's a small pool here where you could dip your toes or (when the flow is slower) stand in the falls themselves. The pool isn't deep, but it is fairly fast moving.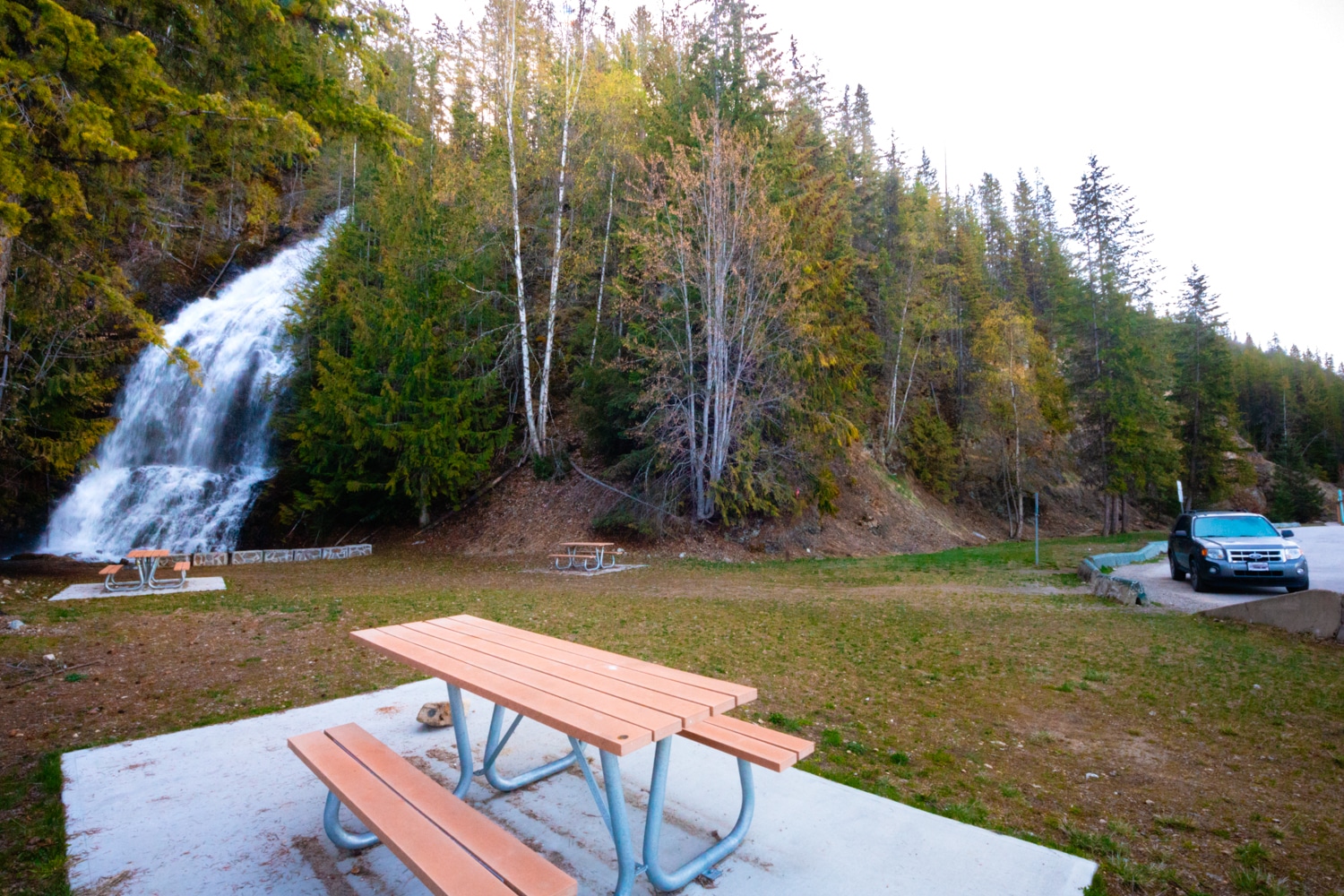 Camping at Ione Falls Rest Area
Yes, you can stay overnight at the Ione Rest Area for free. We did this twice on our road trip through the Kootenays with no problems (and no other company).
Is it actual camping? No. There are no designated camping areas or amenities available — it's simply a rest area where you can pull in for the night and enjoy some downtime. Please don't treat the rest area as your own personal campsite because it's not.
There are no signs outlining exactly what you can do, but I don't recommend you fully set-up camp. Do your best to stay self-contained and leave it better than you found it.
Would I recommend staying here? Yes, we loved this rest area. Not only is it free, but the white noise from the waterfall made it easy to sleep even though the (quiet) highway is nearby. Plus, you'll stay cool on hot nights because the waterfall lowers the temperature considerably.
Read Next: Lakeside Cabin Airbnb in Nakusp
Recommended Gear
Are you itching to spend some time at Ione Falls now? I don't blame you, it's a great place to kick back for a picnic or overnight stay. Here are my top gear recommendations for making the most of your extended time here.
Car window bug nets: If you're car camping here, get yourself some window nets. We didn't experience many bugs here (likely because of the wind from the falls), but when leaving your windows open all night these nets are an invaluable. They also provide privacy.

Water filter: Running low on water? Just grab some from the waterfall and filter it! It might take a little while, but that just gives you more time to relax.

Lightweight camp chairs: Yes, there are picnic tables. Are they comfy for long periods? Not at all. To make the most of extended time at this rest stop, bring some lightweight camp chairs. Plus, these don't make it look like you're setting up camp like large chairs do.