Sutherland Falls in Blanket Creek Provincial Park, BC
One of the most spectacular and accessible waterfalls in Blanket Creek Provincial Park near Revelstoke.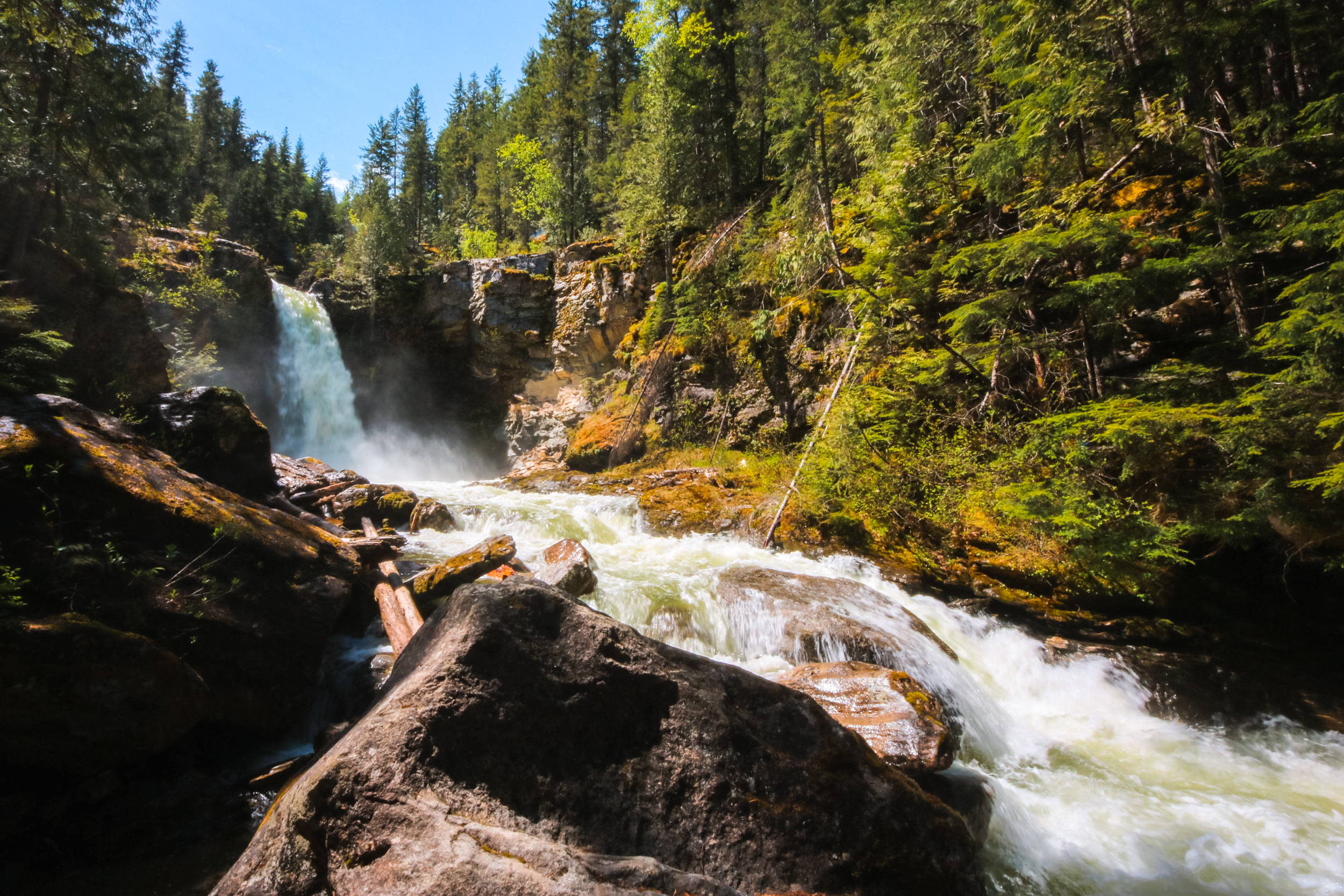 Sutherland Falls in Blanket Creek Provincial Park is one of the most spectacular and accessible waterfalls in the Revelstoke area. This waterfall hike is great for all skill levels and only takes about 5 minutes to reach.
As you hike to Sutherland Falls, there's no denying the waterfall's power. You can feel its strength as the water rumbles through the narrow canyon, falls 45 feet into a large pool, and rushes towards the Columbia River.
Even though Sutherland Falls isn't the biggest waterfall in the area — the Kootenays and Rockies are full of spectacular waterfalls, after all — you don't want to miss it!
Disclosure: This article may contain affiliate links and I may earn a commission, at no cost to you, if you click and/or buy a product online (even if it's not the product linked). I take great care to only recommend helpful products and appreciate your support!
Trail Stats for Sutherland Falls
Difficulty: Easy
Trail Type: Out-and-back
Length: 0.5 km (see map)
Elevation gain: 14 m
Time: 15 – 45 minutes
Open Dates: mid May to late September | Winter: Walk-in only
Trailhead: Blanket Creek Provincial Park
REVELSTOKE WEATHER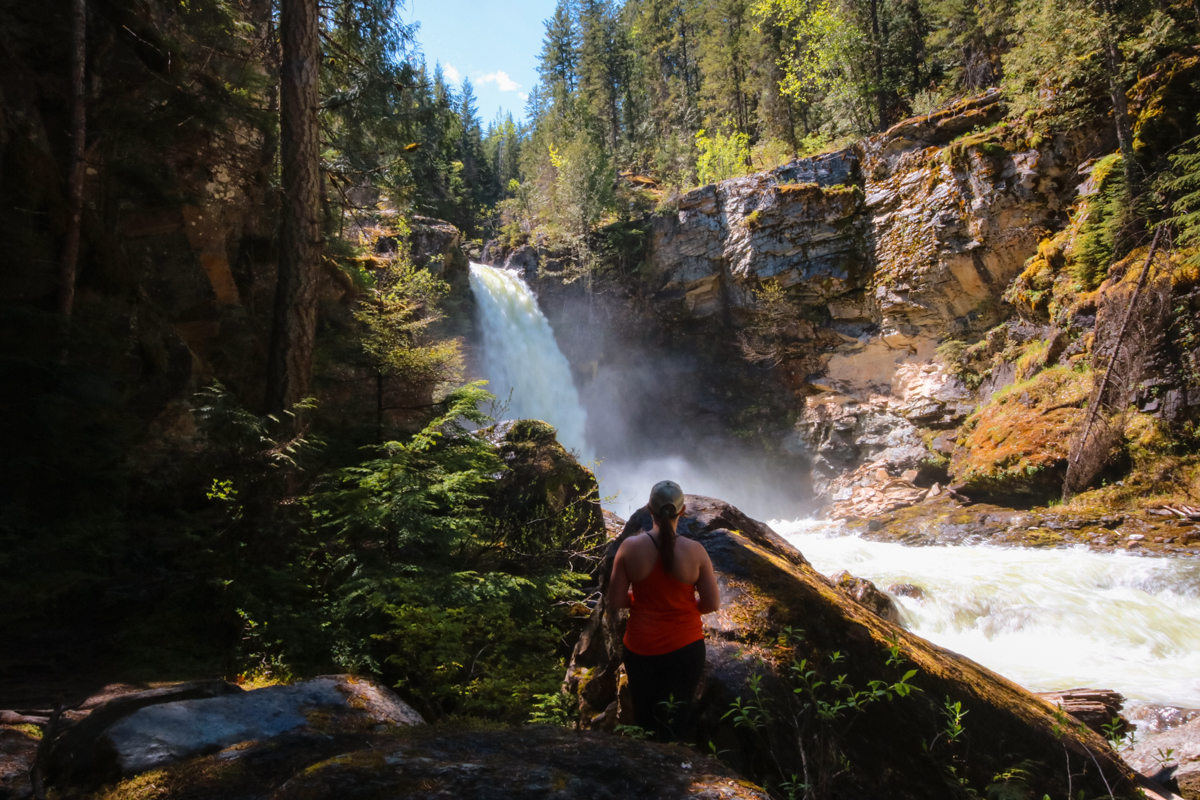 Trail Details for Sutherland Falls
Sutherland Falls is located inside Blanket Creek Provincial Park, a park within the traditional territories of the Okanagan and Secwépemc First Nations. It's 20 minutes from Revelstoke, BC. Sutherland Falls is near the mouth of Blanket Creek, a glacier-fed stream that ends at Upper Arrow Lake, a man-made reservoir on the Columbia River.
Although Sutherland Falls is a very easy hike, don't overlook it! The waterfall is spectacular, especially from May to August when the runoff is highest. It's well worth a quick stop.
After hiking to the waterfall, check out Blanket Creek Provincial Park. The park sits on Upper Arrow Lake and has plenty of sandy beaches and hiking trails to explore.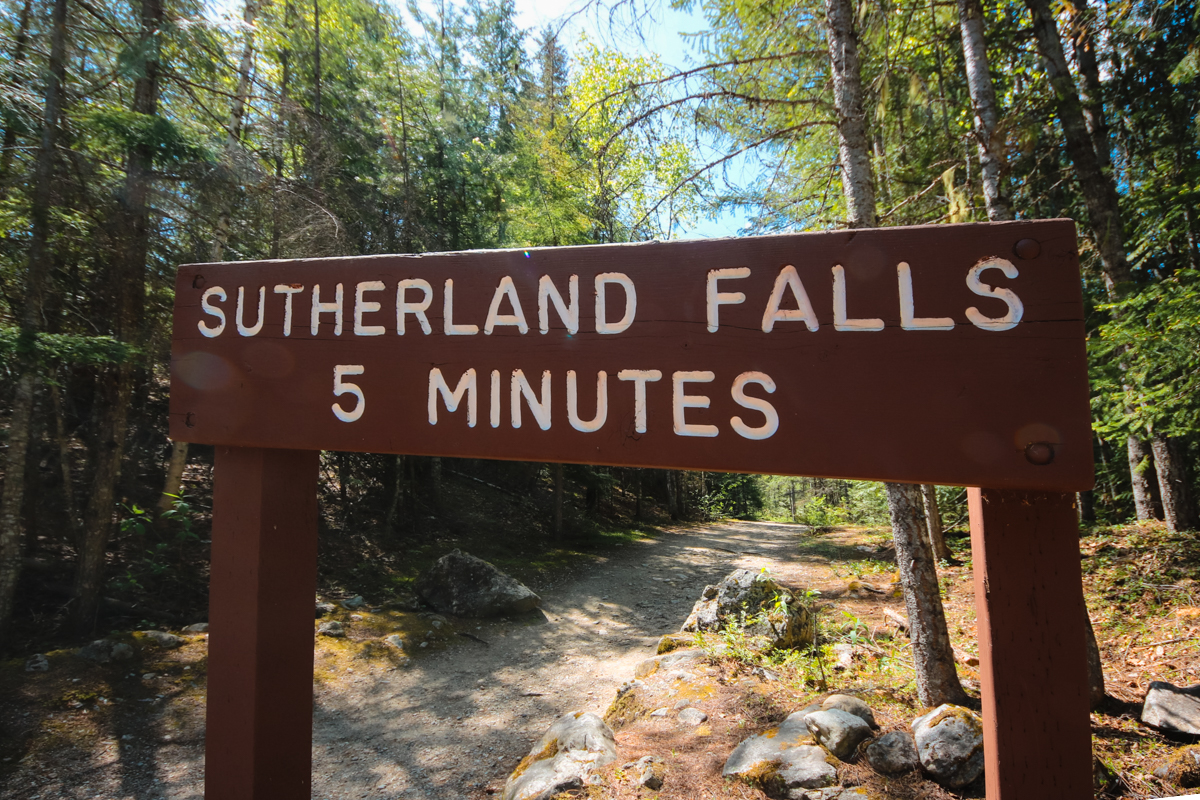 Sutherland Falls Map
The trail at Sutherland Falls is obvious and you won't need a map, but it never hurts to know what you're getting into beforehand.
When you're at the waterfall, you can use the Sutherland Falls trail map on AllTrails to track your hike.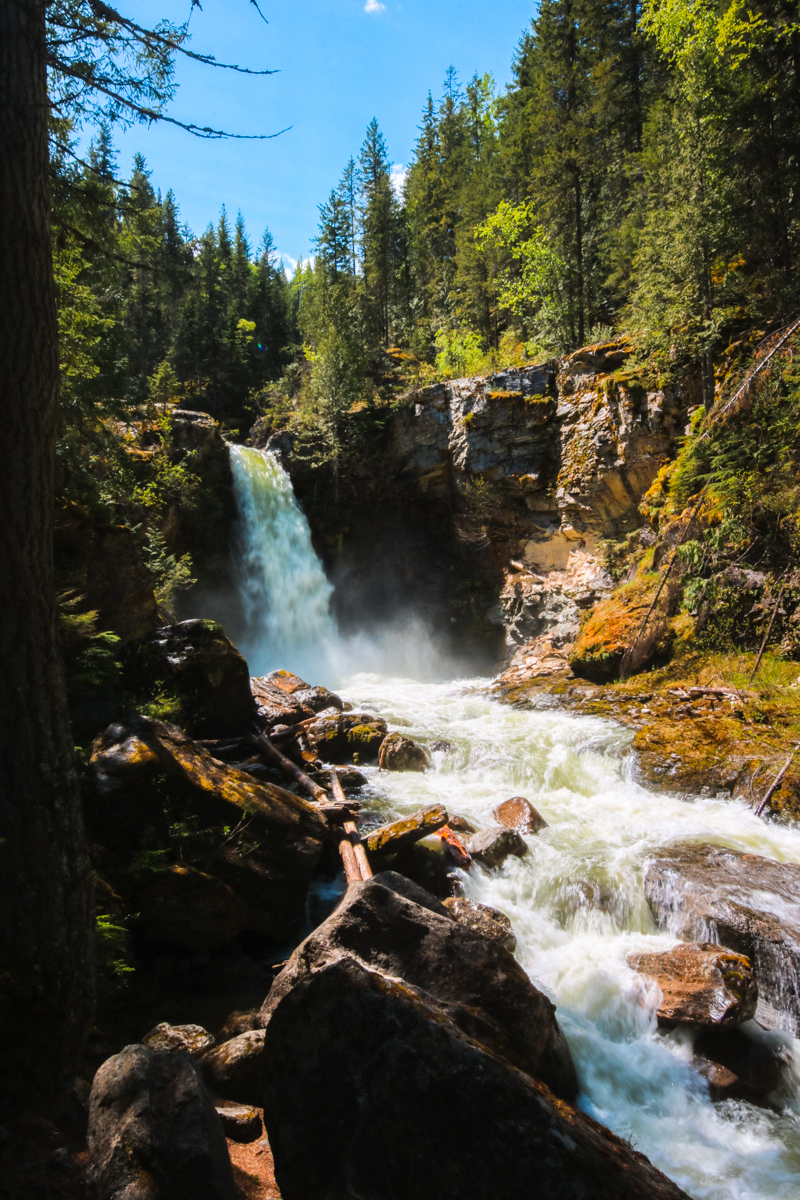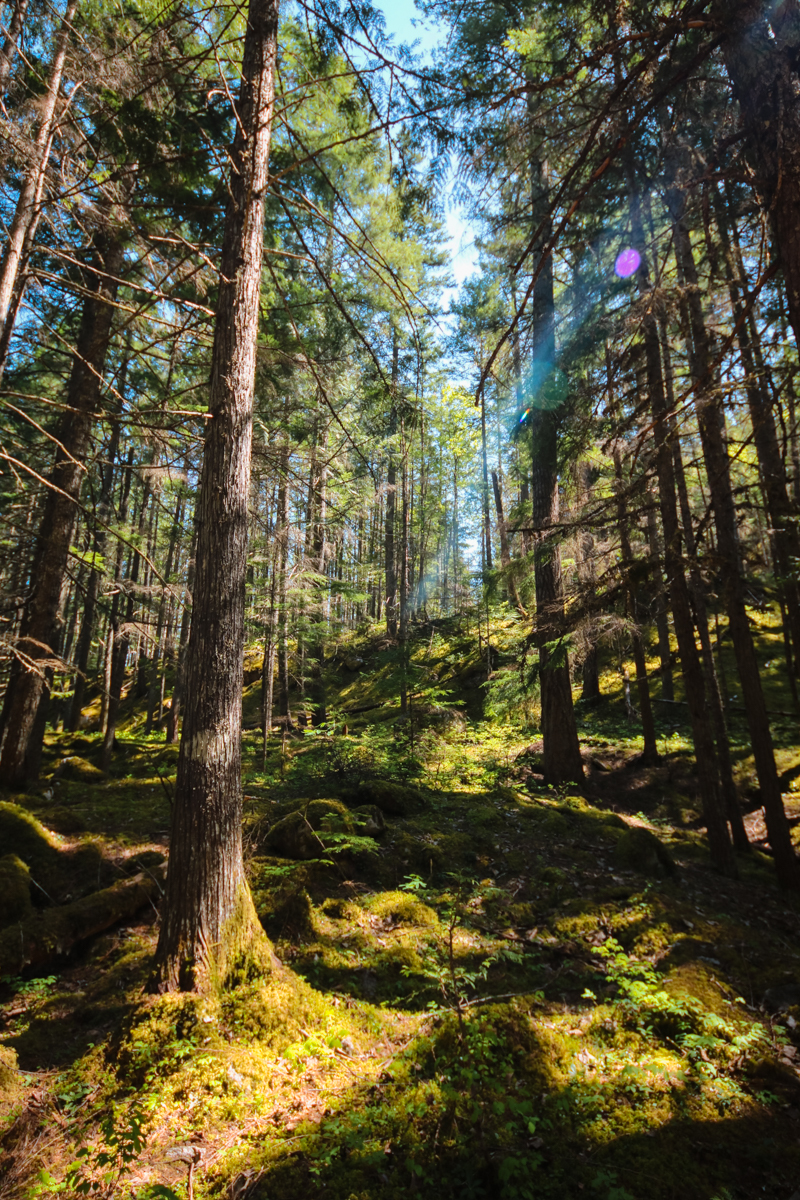 Videos of Sutherland Falls
In the videos below, you can experience two very different sides of Sutherlands Falls — the majestic waterfall from a safe distance that most of us will see and the adrenaline-fueled ride that only very few will experience.
What to Expect on the Hike to Sutherland Falls
The Sutherlands Falls hike is an easy, mostly flat trail through a forest of white pine, western cedar, western hemlock, and moss. The trail follows Blanket Creek, but you can't see the water until you reach the viewpoint.
A large wooden sign marks the trailhead in the parking lot and it takes roughly five minutes to reach Sutherland Falls from here. In the winter, you'll start at the park gate which adds about 40 minutes (3.5 km).
The trail is wide and compact with loose rocks and roots sprinkled throughout. Because it's such a short trail, the area's usually not too busy — and even if it is, people are often in and out within about 20 minutes so you can easily wait it out.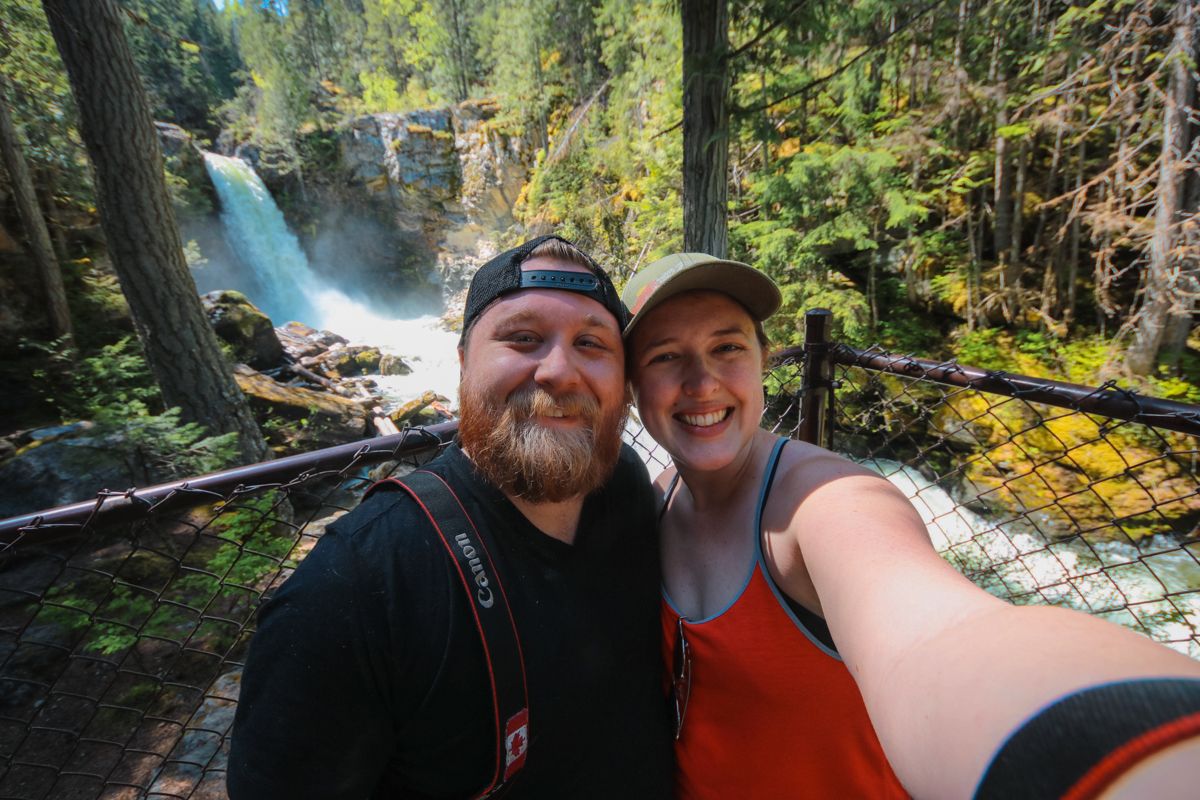 Main Viewpoint
After less than five minutes of strolling through the forest, you'll reach the main viewpoint for Sutherland Falls: a large, chain-linked area on the edge of Blanket Creek. The viewpoint is about 60 m (200 feet) from the waterfall.
Don't be fooled by the distance from the waterfall, though. You'll have a clear view of Sutherland Falls as it plunges 45 feet into a pool of rocks. It's spectacular!
The water thunders down the canyon and tumbles over moss-covered rocks and tree stumps, rushing past you on its way to the Columbia River. Mist sprays from Sutherland Falls, but you're far enough away that you probably won't get wet.
The viewpoint is well maintained and keeps hikers safe from the swiftly moving water just below. It's the safest and easiest way to enjoy Sutherland Falls. When you're done, simply head back the way you came.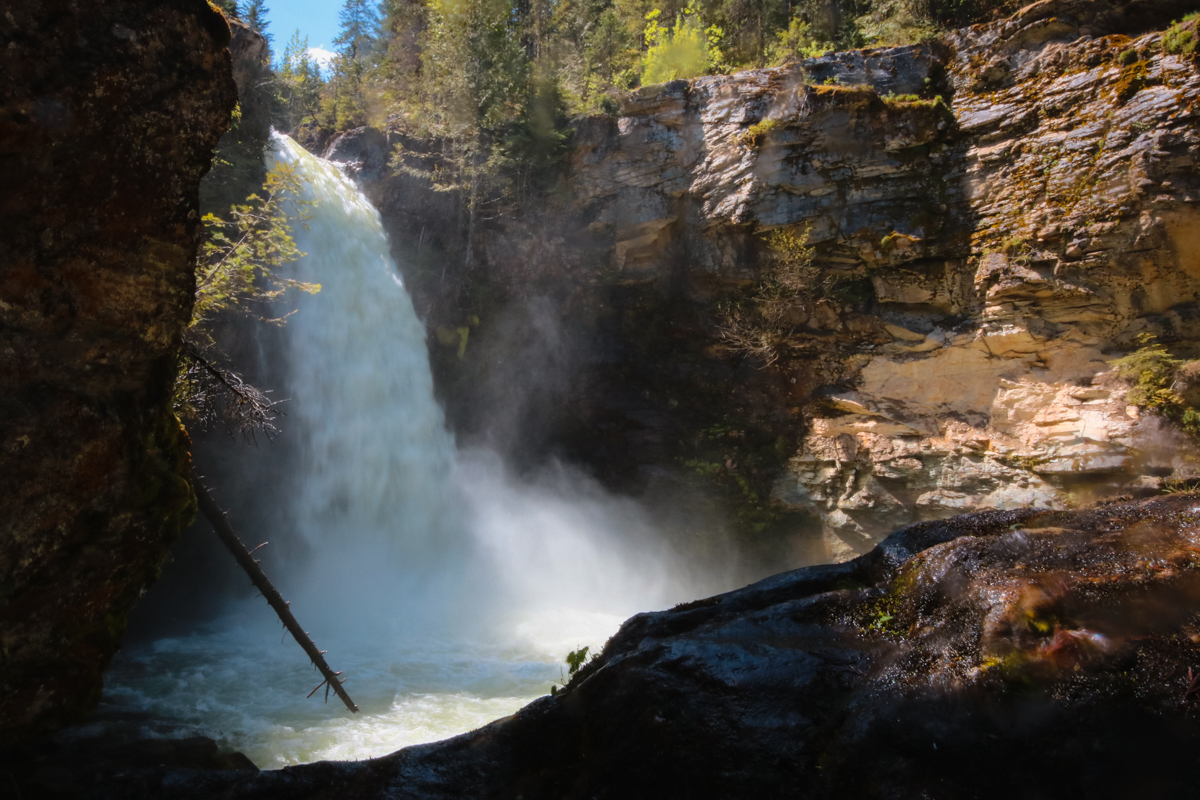 Second (Alternative) Viewpoint
For a closer look at Sutherland Falls, you can adventure beyond the main viewpoint. These options aren't part of the main hike and are more difficult to reach. Please be very careful if you choose to explore off-trail because Blanket Creek is a fast-moving creek that could easily be life-threatening.
The second viewpoint for Sutherland Falls requires you to venture deeper into the canyon. The trail is obvious. So obvious, in fact, that you may think it's part of the main hike.
Just before the main viewpoint, a well-worn path heads off-trail towards Sutherland Falls. The trail is easy to follow as it winds between the tall canyon walls and Blanket Creek, but the rocks get super slippery, the dirt turns to mud, and there are plenty of roots to watch out for.
The viewpoint is behind a large boulder. While it's technically closer to the waterfall, the view is blocked by the boulder and isn't great unless you venture onto the very wet, sketchy rocks beyond.
Plus, it's hard to enjoy the waterfall because there's a ton of spray which makes it hard to breathe. You'll probably only spend a few moments here before heading back.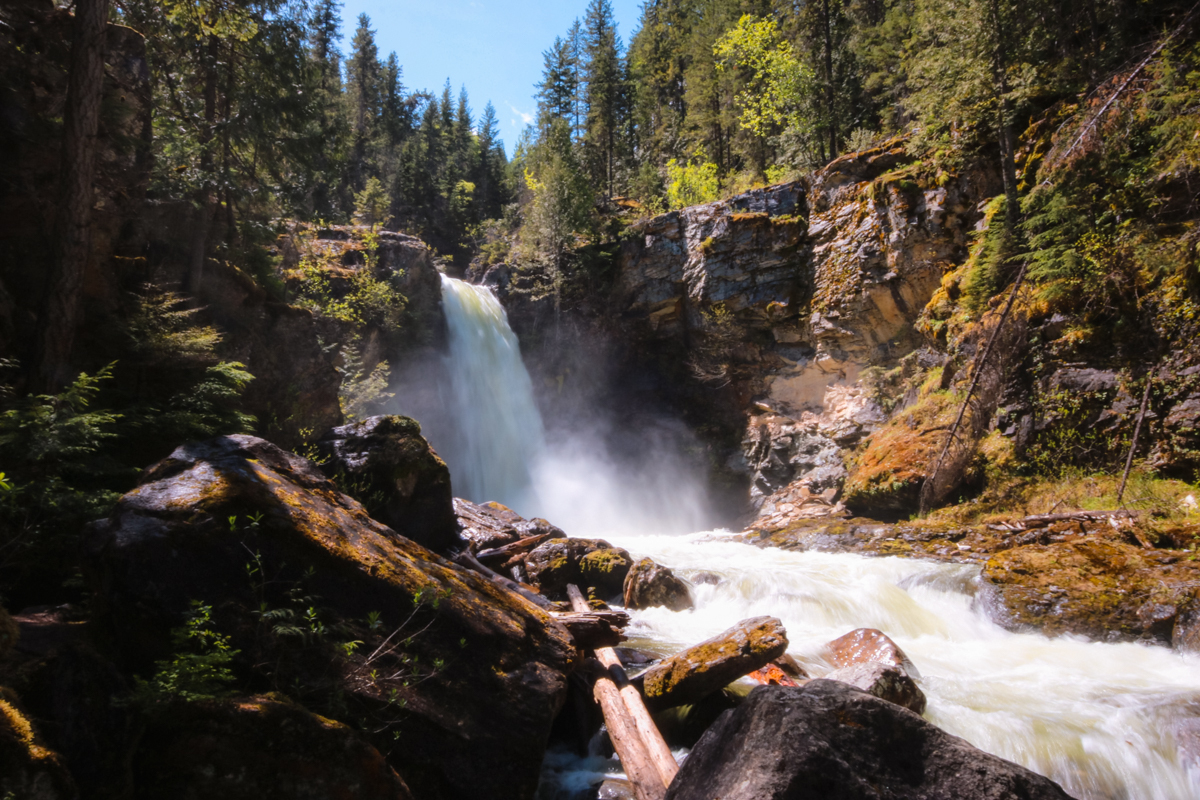 Third Viewpoint & Upper Falls
If you want to see Sutherland Falls from above, you can climb to the top of the waterfall. This is the most technical trail of the bunch and you'll need hiking boots to make it safely to the top. If you take this trail, stay on the trail to keep your impact on the area as little as possible.
This trail isn't nearly as obvious as the others. As you're walking to the main viewpoint, look to your left and you'll see a faint trail that heads into the forest. The trail climbs up and around the side of the waterfall. You won't be climbing the cliff itself, but you do have to climb up and over slick rocks to get to this viewpoint.
From this viewpoint, you can stand right at the top of Sutherland Falls. If you're not afraid of heights, you can even peer over the edge and watch the water plummet 45 feet. Be extremely careful.
You can also see a second waterfall from here, Upper Falls!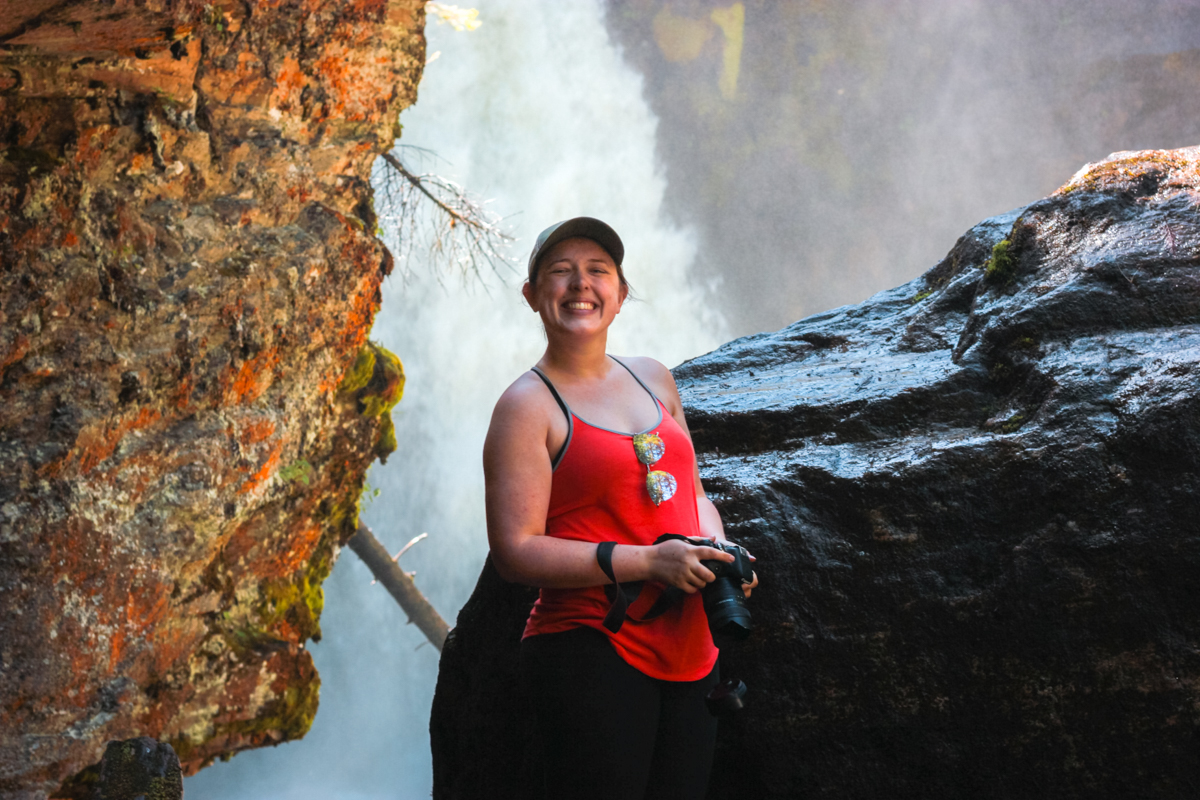 Plants & Wildlife at Sutherland Falls
There are plenty of plants and wildlife to enjoy at Sutherland Falls! It's a very lush area with lots of nature to experience.
Plants
The trail to Sutherland Falls is surrounded by a mature second-growth forest of Western hemlocks and Western cedar. If you come at the right time, you might even luck out and find some thimbleberries to snack on.
In the fall of 2020, BC Parks and CSISS began ecosystem restoration work in Blanket Creek. They've been working hard to remove invasive plants and replace them with indigenous trees and shrubs which the local wildlife rely on.
The project aims to encourage natural habitat regeneration so that future plants are more resilient.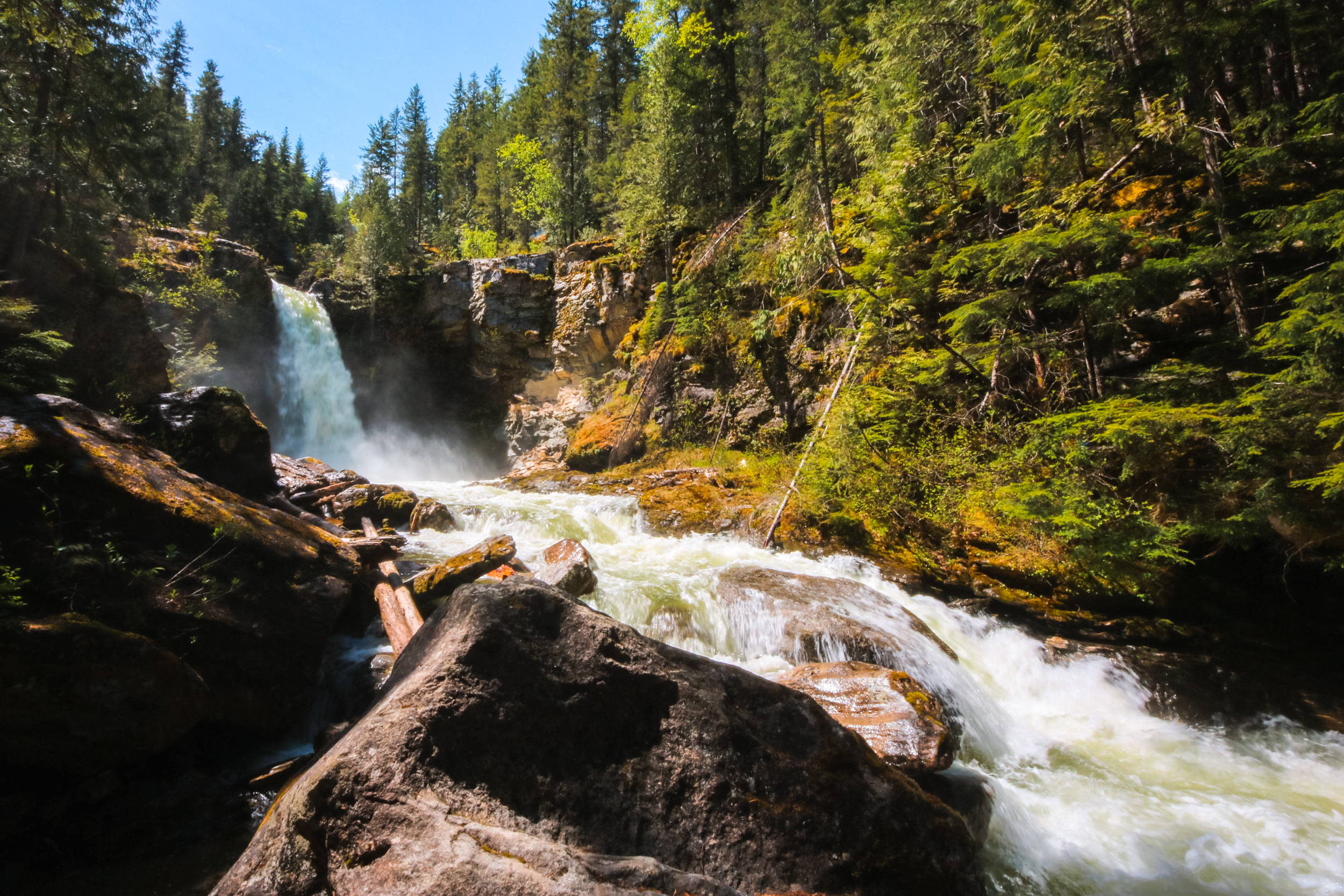 Wildlife
Blanket Creek is home to lots of wildlife. Ground squirrels call the lagoon home (and like to spy on you), kokanee spawn in the waterways, and bears are sometimes seen in the park.
Park rangers will tell you if bears have been seen recently, but it's still a good idea to carry bear spray on your hikes and brush up on your bear safety.
To keep yourself and the wildlife safe, I highly recommend RecSafe with Wildlife's bear safety online course. Kim's doing amazing work educating people about bear and wildlife safety!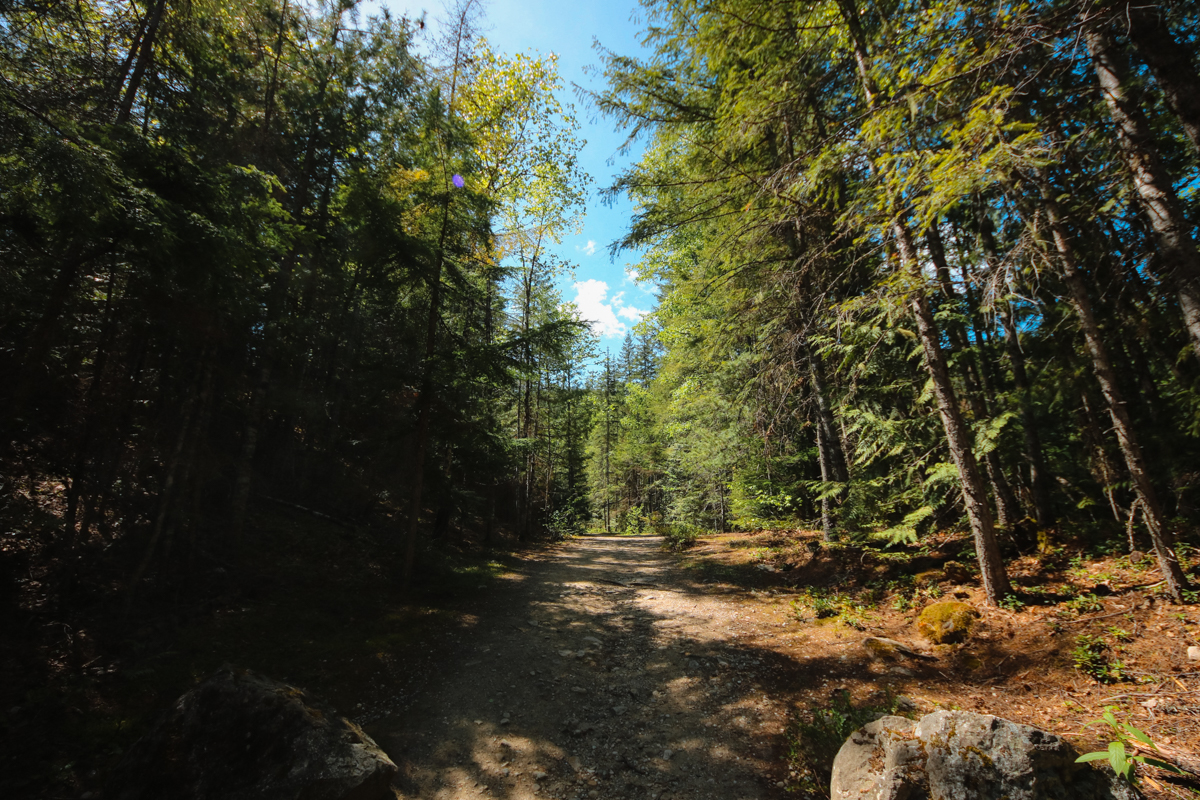 When to Visit Sutherland Falls
You can visit Sutherland Falls year-round. However, because the waterfall is located inside a provincial park, access to the area changes throughout the year.
May to September
Blanket Creek Provincial Park is open from May to the end of September (check exact dates here). During this time, it's easy to the waterfall. You simply drive to the parking lot and hike five minutes to the waterfall.
October to April
From October to the end of April, Blanket Creek Provincial Park is closed. You can still access the park during this time, but it's not as easy. During the off-season, the park isn't maintained and the gate to the park is locked. Come prepared with snowshoes or boot spikes for the icy/snowy conditions.
Sutherland Falls is beautiful in the winter! Frozen waterfalls are spectacular, so I strongly recommend bundling up with a warm jacket, proper footwear, and heading out for a wintery adventure.
Directions & Parking
Sutherland Falls is about 20 minutes (27 km) from Revelstoke, BC. Turn off Highway 1 onto Highway 23 and stay on this road until you reach Blanket Creek Provincial Park. A large, wooden sign marks the entrance to the park.
Parking (Main Season)
During the main season, parking is easy. Head down the hill and take your first left, which brings you to the parking lot for Sutherland Falls. The turn-off is marked with signs but if you miss the turn, you'll end up in the campground or day-use where you can easily turn around.
The parking lot for Sutherland Falls is paved, large, and easy to access. There are no washrooms or garbage cans in the parking lot, but you can head into the campground for these.
Parking (Off Season)
In the off-season, parking isn't quite as easy. The road into the park is gated and you will need to park on the side of Highway 23 and hike in. This adds ~3.5 km round-trip to your waterfall adventure.
There are "No Parking" signs at the gate, but you can usually park here in the off-season without it being a big deal. You can also park in the large dirt area just across the bridge to be on the safe side.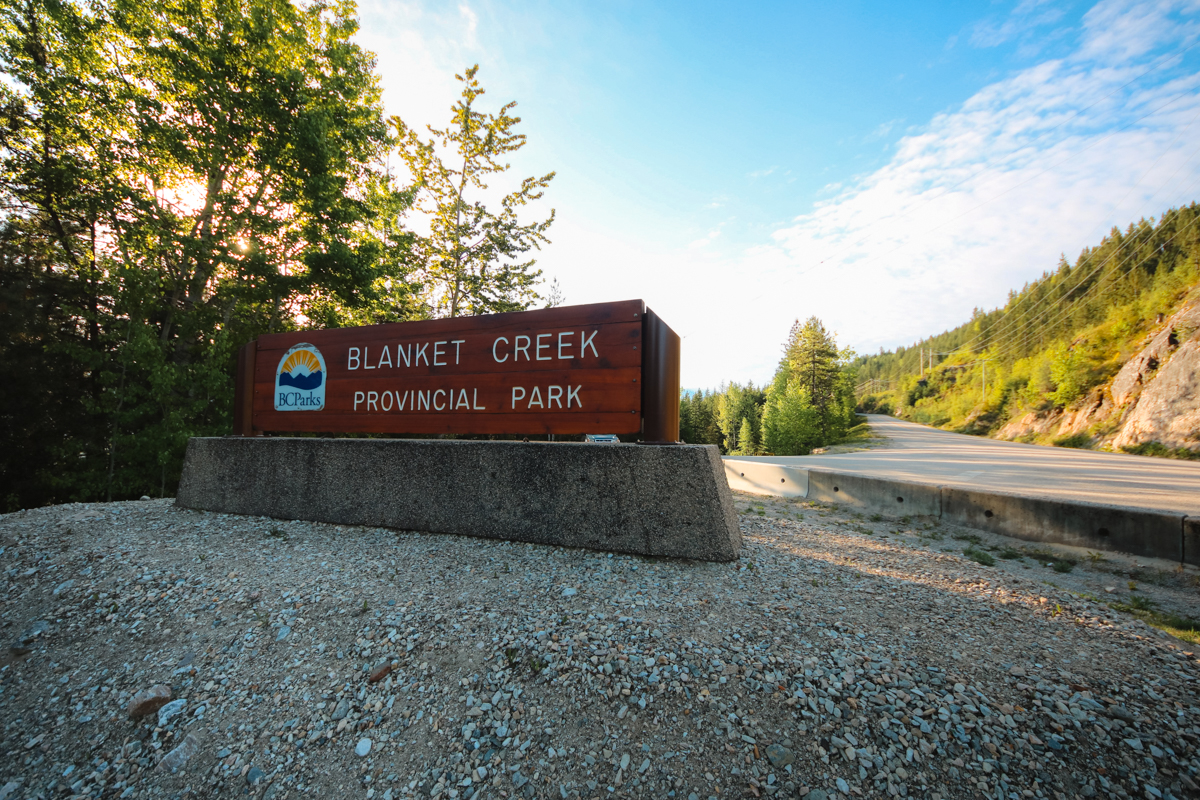 FAQs about Sutherland Falls in Blanket Creek Provincial Park, BC
Can I walk to Sutherland Falls?
Absolutely! The trail is more of a gentle walk than a hike, so you can complete it within about 20 minutes. In the winter, add an extra 40 minutes because you'll need to add an extra 3.5 km to hike in from the park gate at the top of the hill.
Where is Sutherland Falls?
Sutherland Falls is located 20 minutes (27 km) from Revelstoke, BC. It's inside of Blanket Creek Provincial Park, a gorgeous campground on the shores of Upper Arrow Lake.
Does Blanket Creek have cell service?
Yes, there's limited cell service at Blanket Creek Provincial Park.
Can I bring my dog to Sutherland Falls?
Yes! Your dog must be on a leash at all times on this trail — both for the comfort of your fellow hikers and your dog's safety. Blanket Creek is a fast-moving creek and I'm sure you don't want your furry friend getting swept away.
Can I swim at Sutherland Falls?
Technically, no. You can't swim in the pool at the base of Sutherland Falls because the water is too fast and strong. However, you can swim in the man-made lagoon at Blanket Creek or in the Columbia River, both of which are only a few hundred meters from Sutherland Falls.
Should I visit Sutherland Falls during wildfire season?
Unless the area is closed due to a wildfire, you can visit Sutherland Falls during wildfire season. The hike isn't strenuous so the smoky air is manageable. Having said that, I don't advise doing any strenuous activities during wildfire season because the smoke is extremely bad for your health.
How long does it take to hike to Sutherland Falls?
During the summer, you can easily complete the Sutherland Falls hike in 20 minutes. In the winter, give yourself an hour. It's an easy, quick stop to stretch your legs on a road trip through the area.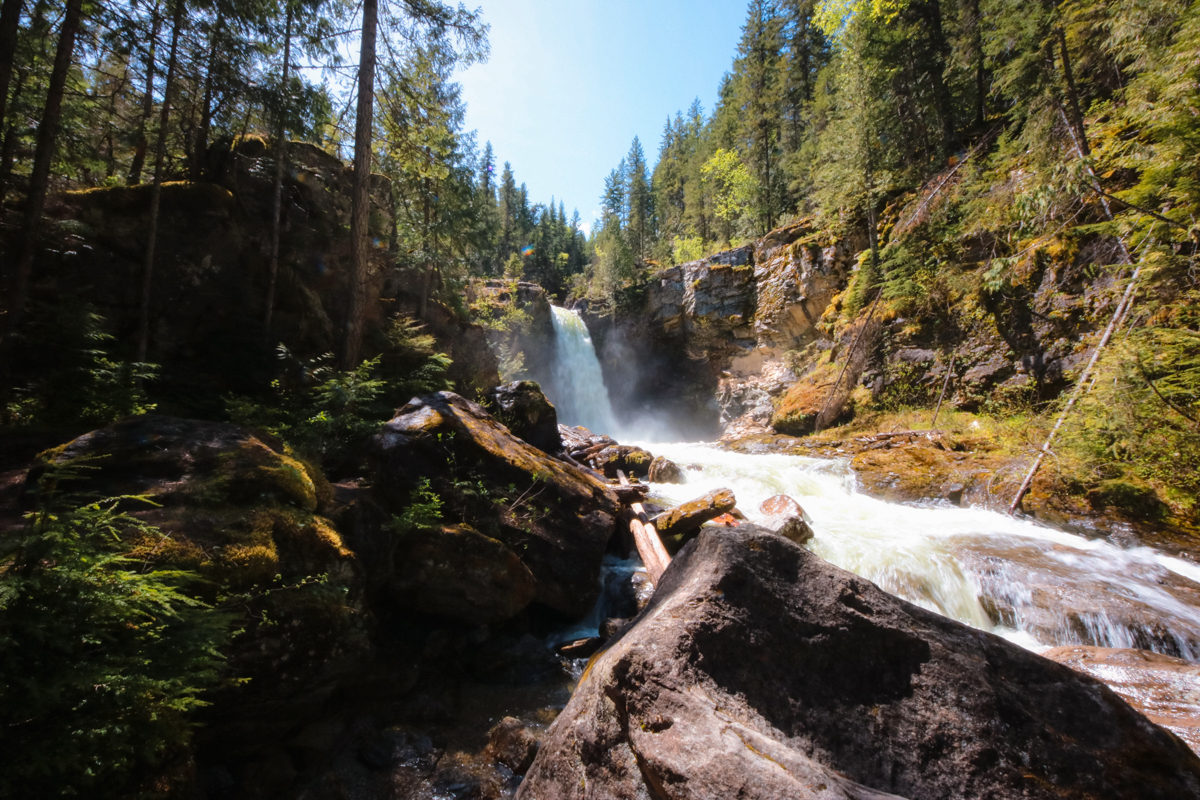 Gear Recommendations
Before you embark on your (short) adventure to Sutherland Falls, there are a few things you should consider bringing along. It's easy to overlook gear when the trail is short, but it never hurts to pack a few things: