Kay Falls near Revelstoke & Sicamous, BC
Kay Falls is an easily accessible, stunning waterfall located on the Trans-Canada Highway between Sicamous and Revelstoke in BC. It's an easy waterfall to miss — hundreds, maybe even thousands, of people drive by Kay Falls every day and have no idea. From the highway, there's only a small 45-foot wide window where the waterfall is partially visible.
The trailhead is unmarked and is located immediately after the Eagle R. at Kay Falls Bridge between Crazy Creek Resort and the Enchanted Forest. The waterfall is only a two-minute walk from the highway, so make sure to stop and stretch your legs when you travel through the Rockies!
PS: If you want to explore more local waterfalls, check out this guide to the Okanagan's waterfalls.
Disclosure: This article may contain affiliate links and I may earn a commission, at no cost to you, if you click and/or buy a product online (even if it's not the product linked). I take great care to only recommend helpful products and appreciate your support!
Trails Stats
Difficulty: Easy
Trail Type: Out-and-back
Length: ~0.2 km (see map)
Trailhead: Kay Falls parking lot
Elevation gain: 1,200 m
Open Dates: Year-round
Fee: Free
REVELSTOKE WEATHER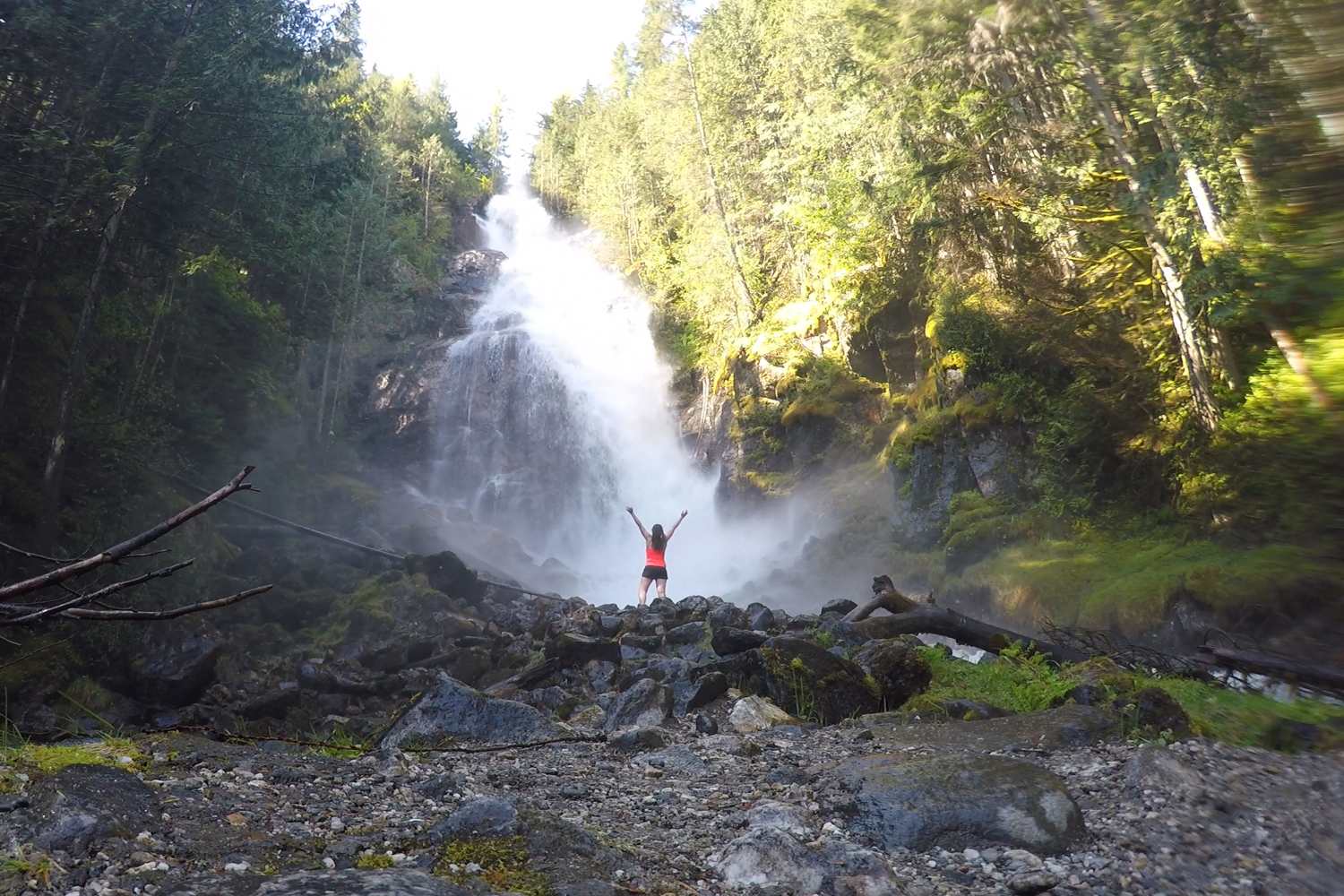 Where is Kay Falls?
Kay Falls is 36 km from both Sicamous and Revelstoke and is located at the Eagle River Bridge.
If you're coming from Sicamous, watch for Crazy Creek Resort which is 3.5 km from the Kay Falls trailhead. If you're coming from Revelstoke, watch for the Enchanted Forest which is 3 km from the trailhead.
Both Crazy Creek and the Enchanted Forest are large roadside attractions with plenty of advertisements and visitors – you can't miss them. Kay Falls is a great, free alternative to those popular stops.
Unlike Crazy Creek and the Enchanted Forest, there are no signs for Kay Falls and parking is a simple, small pull-out on the side of the Trans-Canada Highway. There's a surprising amount of room for vehicles, but it's often empty.
What to Expect at Kay Falls
The best time to visit Kay Falls is from March to July when its water flow is the strongest. Prepare to get very wet!
Despite still being fairly unknown, Kay Falls is easy to access ⁠— the trailhead is literally off the side of the Trans-Canada highway. The hike itself is short and fairly easy, but can be a little difficult to navigate if you're not sure footed.
The cascading waterfall drops an impressive 187 feet just feet from Highway 1; in fact, if you look carefully, you'll be able to see the falls through the trees before you even leave your car.
Kay Falls is an undeveloped waterfall and it's important to be very careful when you're exploring. It would be easy to slip on the wet rocks or get caught in the rushing water. Please be careful!
Short Hike to Kay Falls
Kay Falls is only a few short meters from the Trans-Canada Highway.
From the parking lot, look for a small trail that heads into the forest. Follow a narrow, rocky, rooty, and slightly overgrown trail as it heads straight to Kay Falls. Within a few short minutes, you'll reach the waterfall.
As you approach Kay Falls, you'll be sprayed by cold, aggressive mist. The temperature drops by a few degrees and, depending on the time of year, the mist can make it difficult to breathe.
There's a great viewpoint a safe distance from the waterfall. You can approach the base by hiking over small rocks, but they can be quite slippery. Use your best judgment and don't get too close if it's dangerous.
FAQs
Are there any facilities at Kay Falls?
Kay Falls is completely undeveloped. There's sometimes an outhouse at the trailhead, but that's it for facilities or amenities. There's isn't even any signage to let you know you're in the right spot.
What's the best time of year to visit Kay Falls?
This depends on what you want to see! Kay Falls is fantastic in every season, but it does change throughout the year.

In the spring when run-off is strongest, you'll get some crazy, rushing water and it'll put on quite the show. In the fall, you can enjoy a gently cascading waterfall. In the winter, Kay Fall freezes into a beautiful column.