Wilderness Camping on Mystic Beach in Juan de Fuca Provincial Park on Vancouver Island, BC
Enjoy a secluded, quiet night on the beach.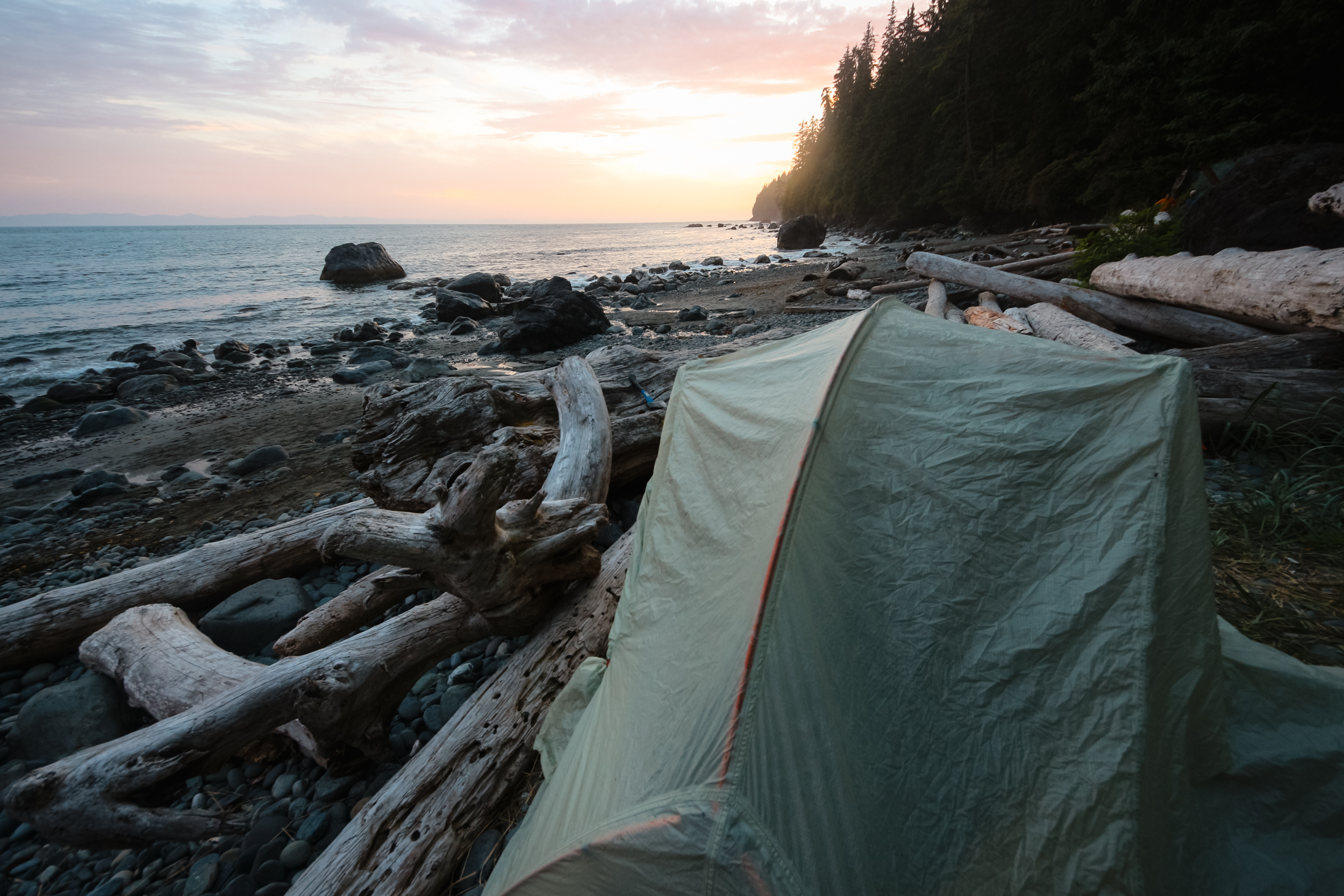 Camping at Mystic Beach on Vancouver Island is an experience that you need to have. Mystic Beach is a beautiful beach located on the west coast of Vancouver Island, roughly 40 minutes north of Sooke.
Imagine settling into a nook by your fire and drinking in the darkening ocean. The stars sparkle and waves crash mere meters from your campsite. A ferry that's lit up like a Christmas tree glitters in the distance and you watch as it slowly crosses to the BC mainland. You know this night on Mystic Beach will be forever in your memory. There's something beautifully inexplicable about engulfing yourself so fully in nature, even if it's just for one night.
The trailhead is located at the China Beach day-use area and the two-kilometer trail is very uneven, littered with tree roots and mud. Camping is available for $10/person, with outhouses and communal food storage available at the beach.
Mystic Beach is part of the Juan de Fuca Trail, so camping on the beach is quite common. If you like beach camping, you may also want to try camping at Second Beach in Washington.
Disclosure: This article may contain affiliate links and I may earn a commission, at no cost to you, if you click and/or buy a product online (even if it's not the product linked). I take great care to only recommend helpful products and appreciate your support!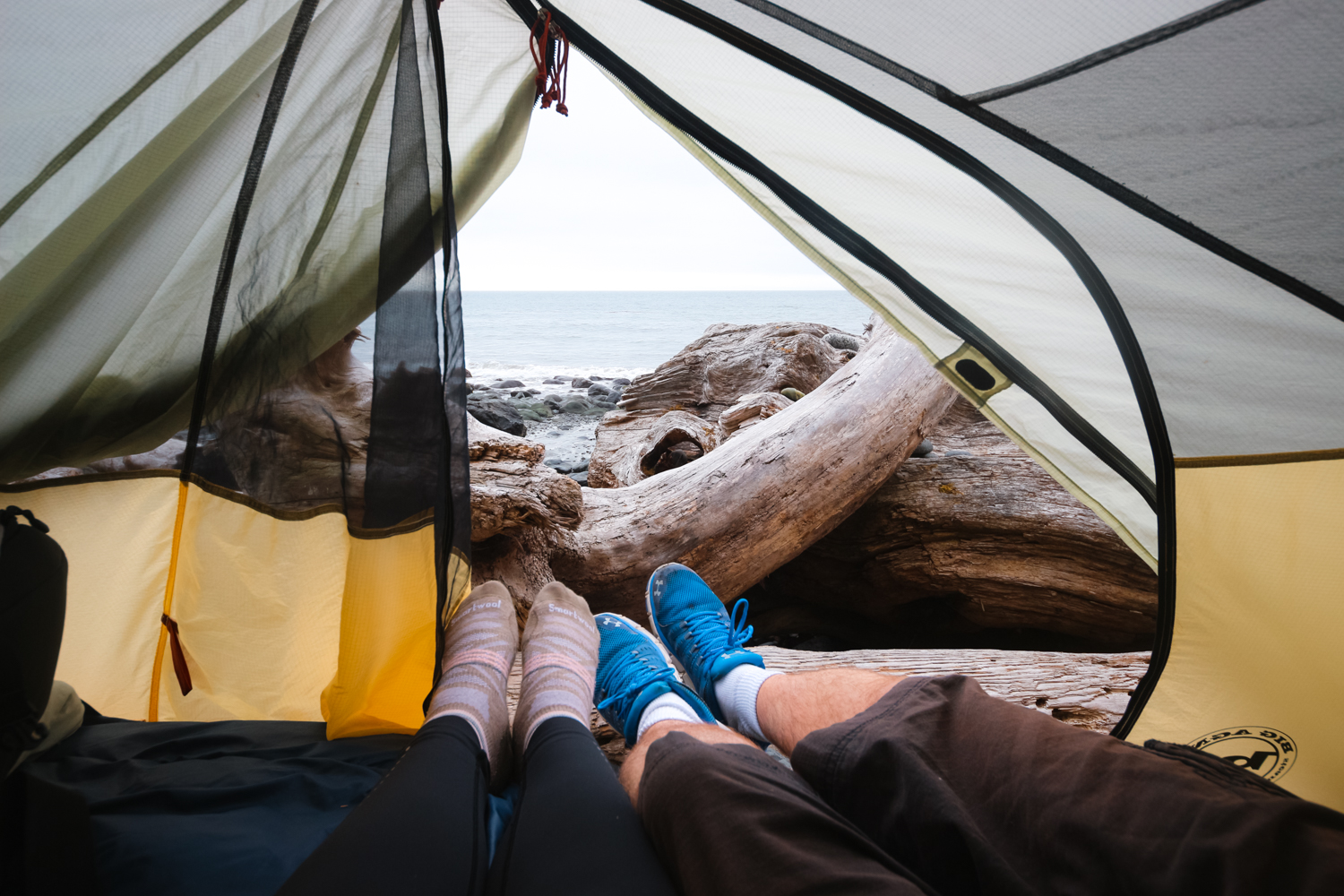 Trails Stats
SOOKE WEATHER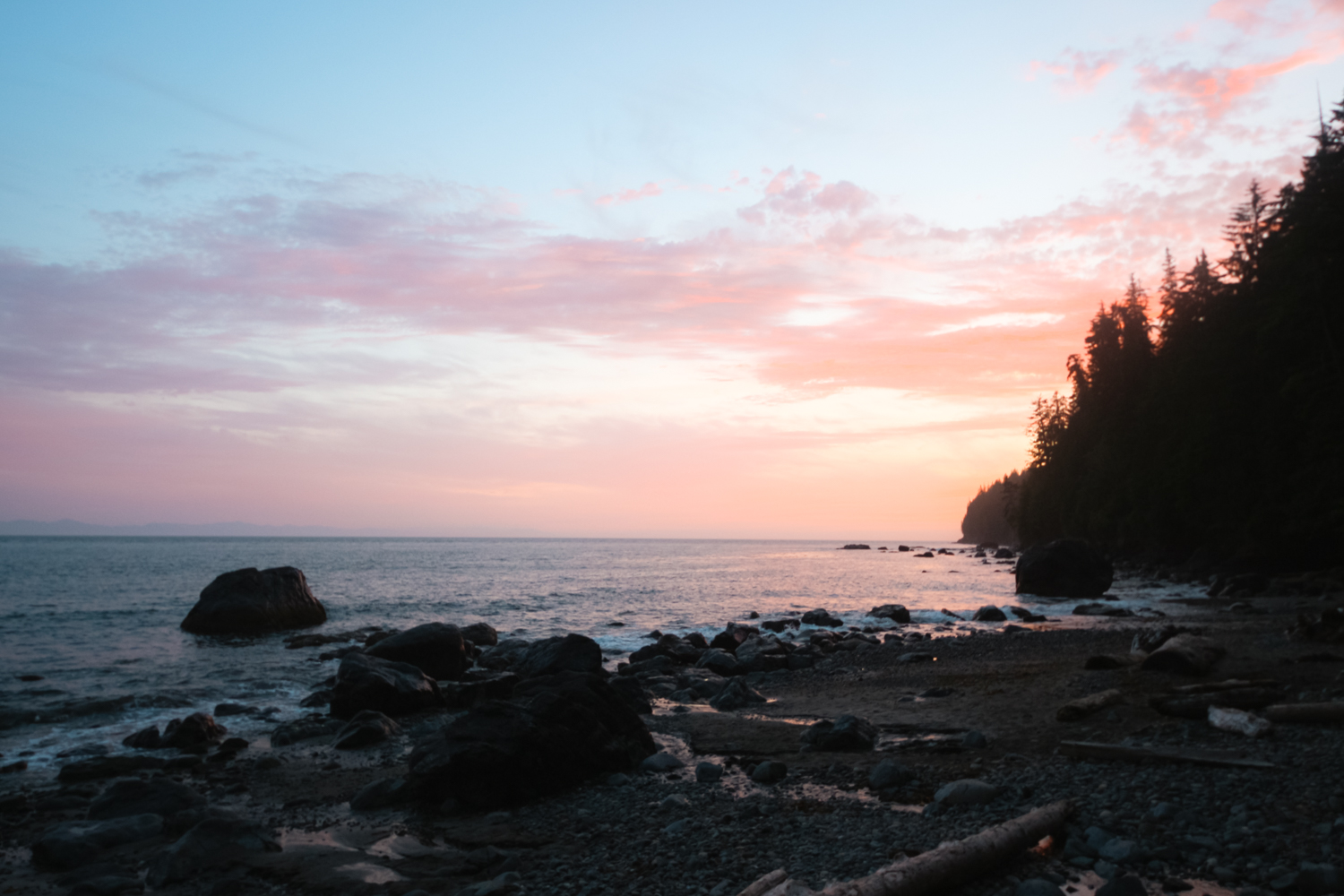 Where is Mystic Beach?
Mystic Beach is located on the western coast of Vancouver Island, about 40 minutes from Sooke, BC. There's no cell service on this side of the island, so you can't rely on Google Maps. The road is also very windy and slow, so don't be surprised if your trip takes longer than planned.
There are no signs for Mystic Beach on the highway, so instead watch for the China Beach day-use area parking lot which is clearly marked. The Mystic Beach trailhead (which is also the Juan de Fuca trailhead) is located at the first parking lot at the China Beach day-use area (not to be confused with the China Beach Campground).
You'll need to self-register at the trailhead to stay overnight at Mystic Beach. It's $10/person (slightly less for kids) and you can pay and pick up your permit at the sign at the trailhead. Make sure to bring a pen to fill out your information. Keep your permit somewhere that's easily accessible in case you meet a ranger.
Because people will often leave their cars here for days when they're hiking the Juan de Fuca, the parking lot is a target for thieves. Take as many of your valuables with you as possible and hide the rest. Many people leave notes in their cars indicating there are no valuables inside.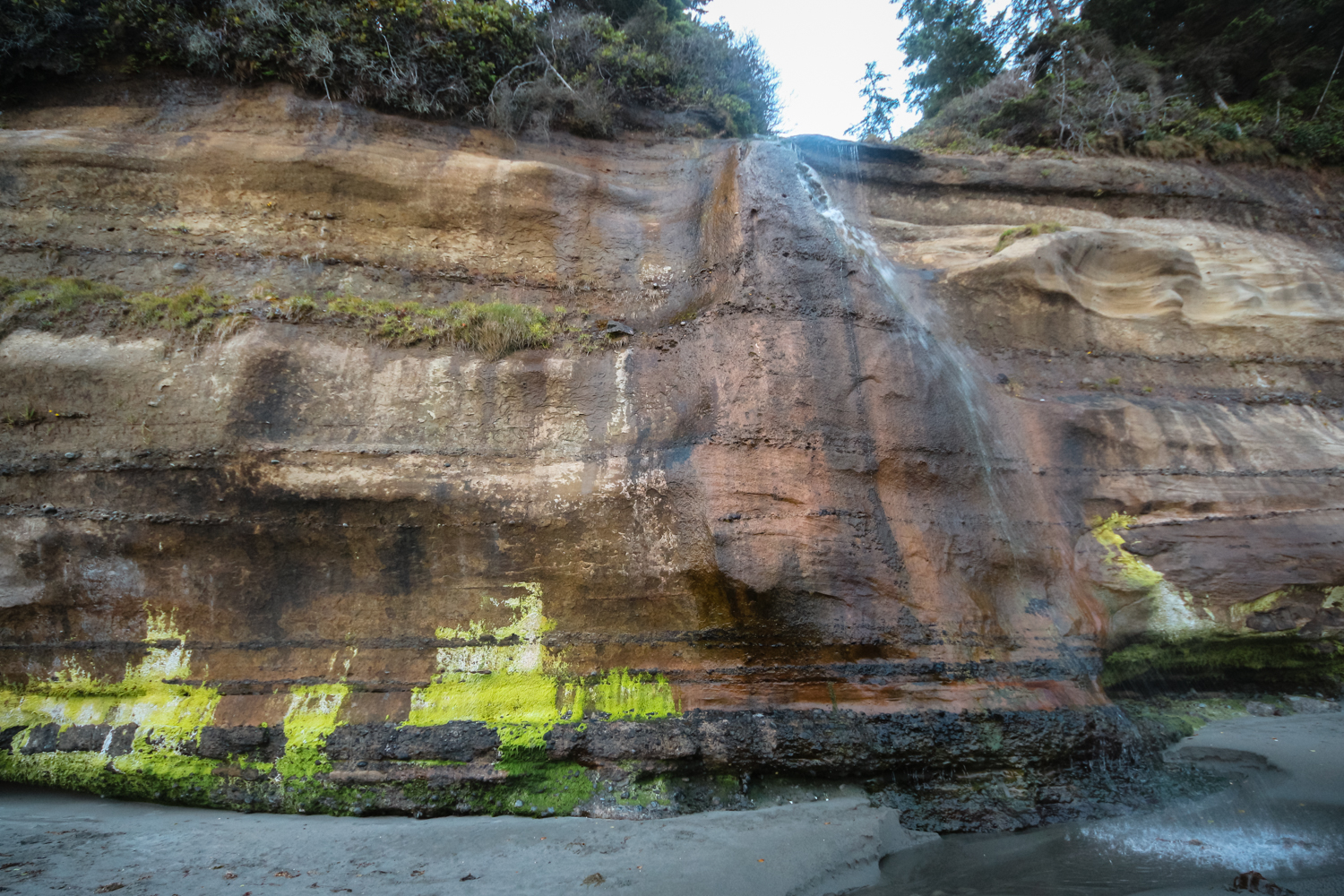 Hiking to Mystic Beach via the Juan de Fuca Trail
The trail to Mystic Beach is two kilometers and takes about 45 minutes. There are outhouses at the beginning and end of the trail, but none in between. The trail zigzags through mazes of roots and mud while bringing you through the beautiful coastal forest. The path is sometimes difficult to follow and has many small forks, but they all eventually meet. There are also many small boardwalks that'll assure you you're going in the right direction.
The Mystic Beach trail runs parallel to the highway for about one kilometer and through a forest of thin, creaky trees. A suspension bridge at Pete Wolfe Creek marks the (almost) halfway point. After the suspension bridge, the trail leaves the highway and descends deeper into the forest. You'll start to see and hear the ocean through the trees once you're near Mystic Beach.
The trails deposit you onto a rocky beach. Dark rocks stretch in either direction and the Instagram-famous swing is far to your left with camping to your right. During the day the beach is often full of people enjoying a day trip and at night, it's dotted with tents hugging the forest.
If you're lucky, you'll even be able to see Olympic National Park across the Strait. We camped at Second Beach last summer and it was amazing!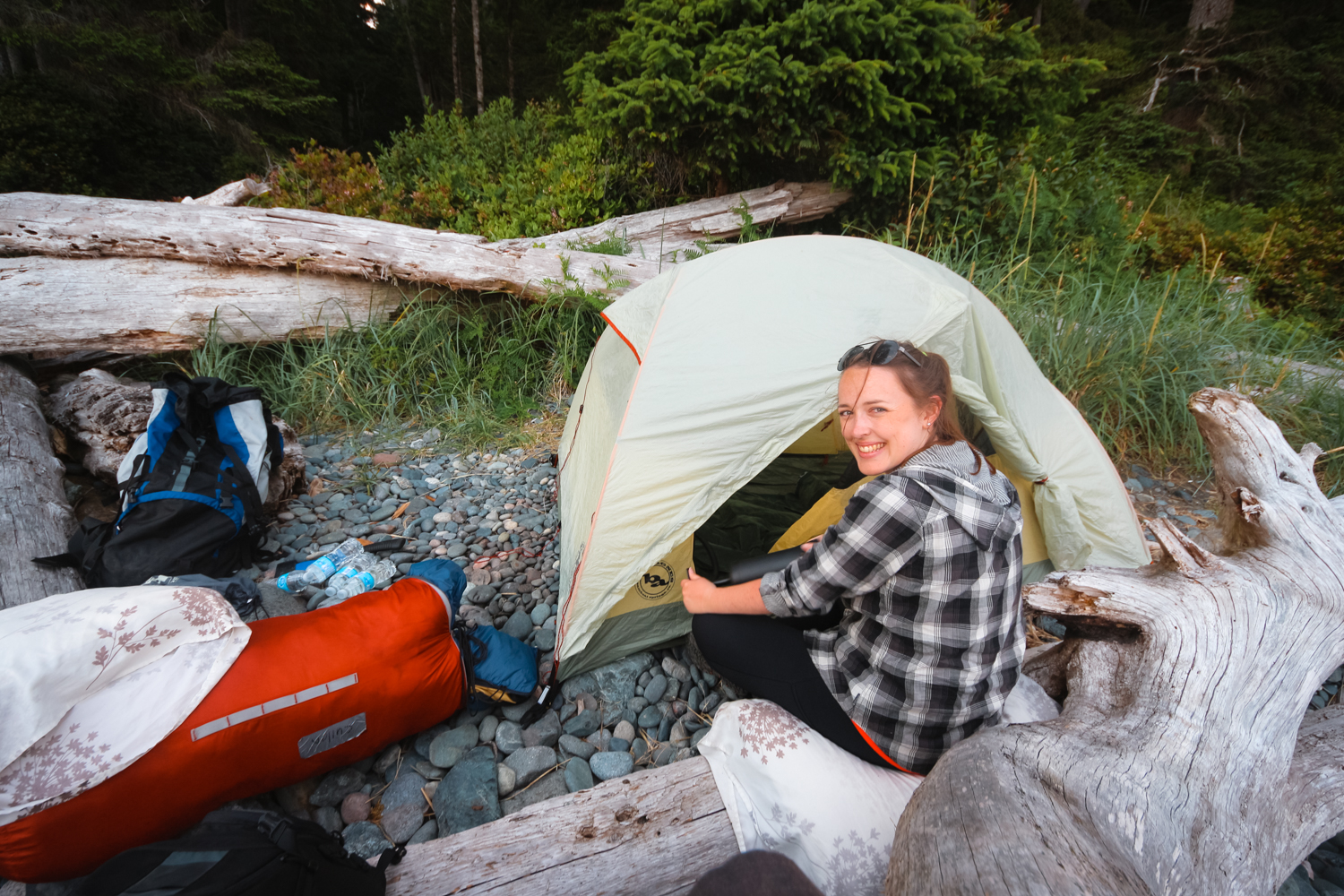 Setting Up Camp
It's important to set up camp above the high tide line when you're camping on the beach.
Find where the driftwood has settled and camp amongst it; don't pitch your tent in the middle of the beach because you'll be rudely awakened by the cold ocean washing over you in the middle of the night. At night, watch the sunset and listen to the ocean as it comes steadily closer. If there's no threat of rain, keep your tent's cover open to watch the ocean and wake to the salty ocean air. The loud waves will crash throughout the night and at their peak will be mere feet from your tent.
If you decide to have a fire, practice as close to Leave No Trace as you can. Build your fire below the high tide line so that the ocean will clear it throughout the night. Make sure the beach can support your use of driftwood firewood and that you aren't stripping the beach of its resources. Use only dead and dry wood and keep your fire at a reasonable size. Don't burn plastics or leave unburned garbage in your fire for the ocean to wash away. As always, don't have a fire if there are fire bans.
If you bring food or scented products with you, store it away from your campsite at night because they attract animals. There's a communal food storage container on Mystic Beach that's free to use. Alternatively, you can hang your bags in the trees or use a bear storage container. Both of these options should be stored away from your campsite.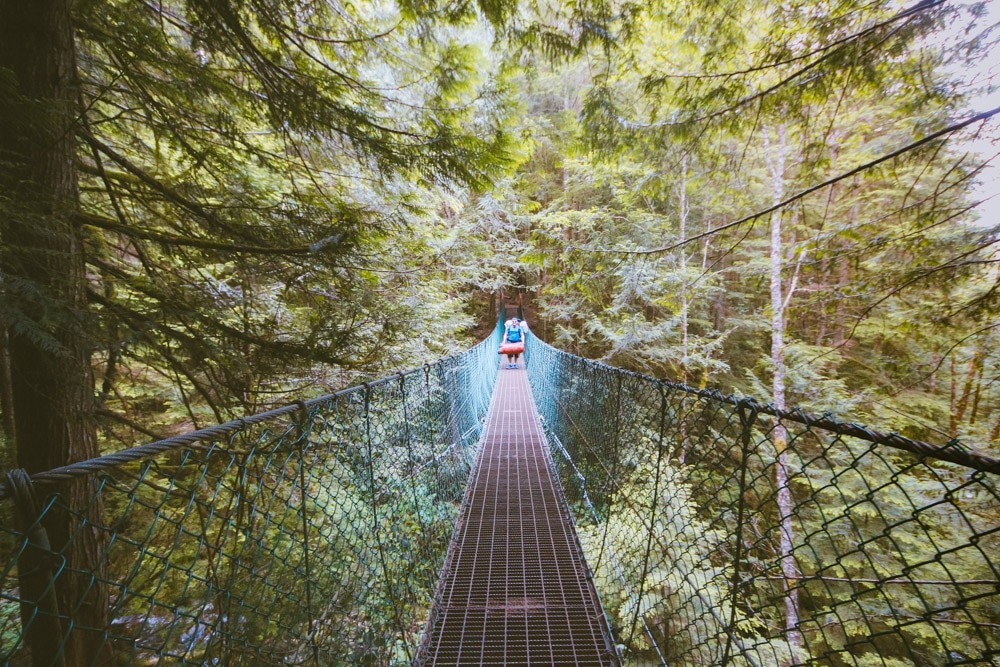 Exploring Mystic Beach
Mystic Beach is well known for its waterfall and rope swing, but there's so much more to see and do. When you camp on Mystic Beach, you'll have the entire evening to explore without the daytime crowds. It's a great place to enjoy your dinner, watch for wildlife such as seals and bald eagles, and explore tide pool.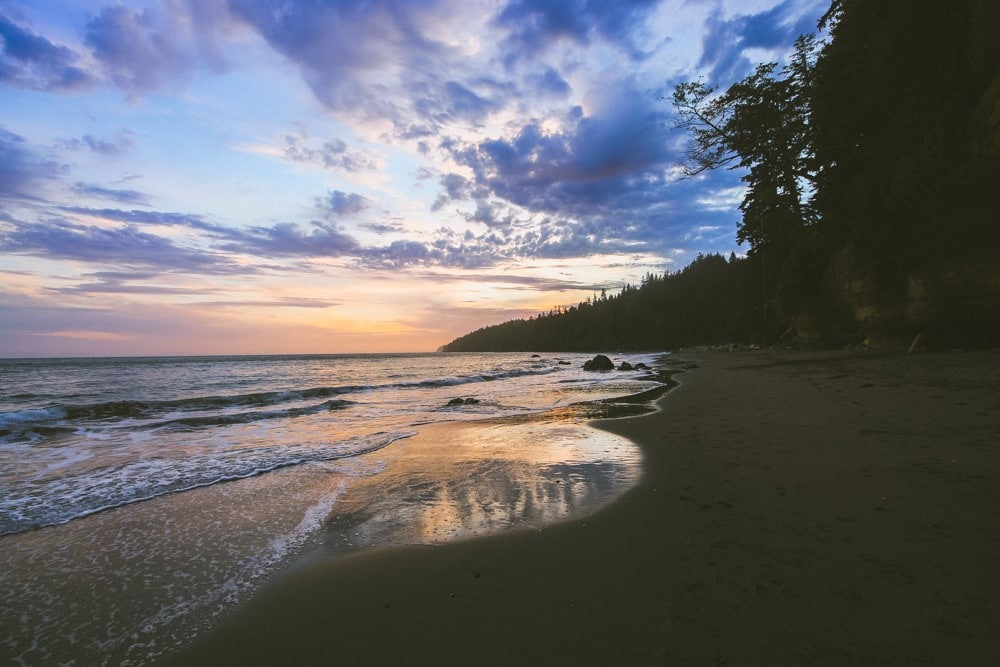 Sandy Beach
Most of the beach is covered in small rocks, but sand does appear at the south end of the beach near the waterfall and rope swing. Don't expect a soft, sandy, sunbathing beach, though: the sand is gray, wet, and compact.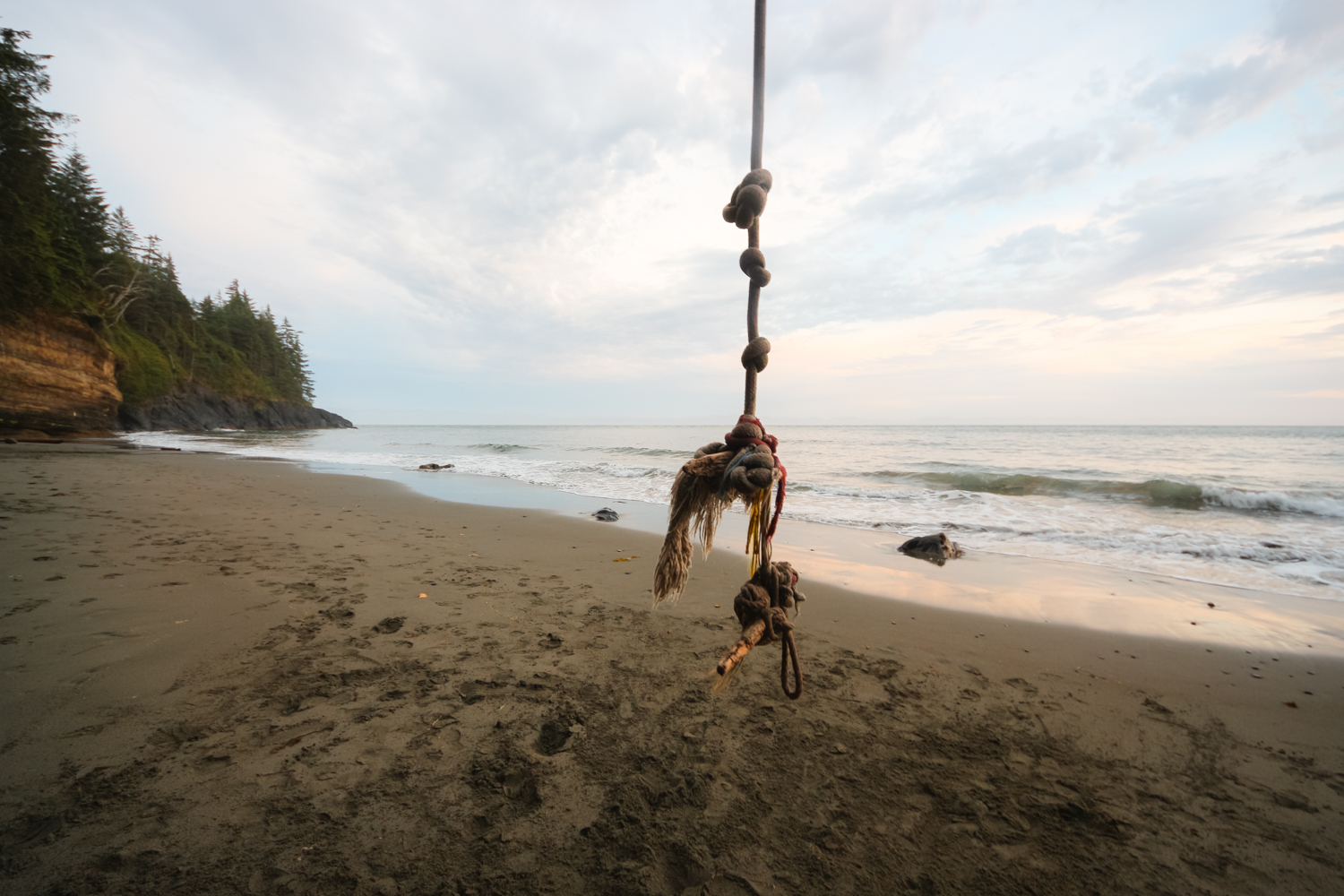 Rope Swings
There are two rope swings at Mystic Beach.
The most well-known swing is located at the south end of the beach and is quite impressive! Its driftwood seat and seemingly endless feet of rope tower above you as you swing back and forth over the crashing ocean.
The second swing is much smaller and located at the north end of the beach. It can be a little difficult to get on and off of both swings, but both are worth the effort.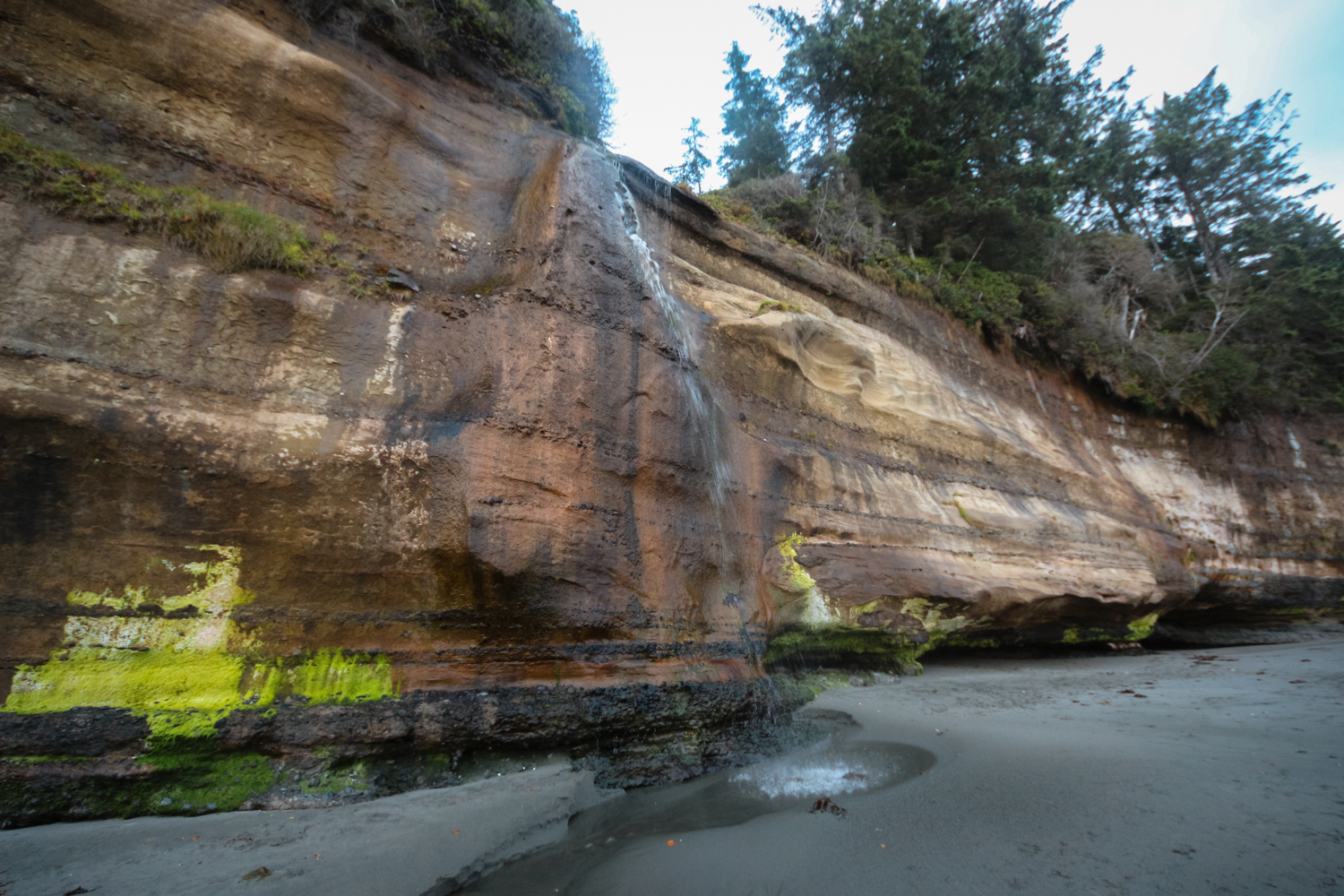 Mystic Beach Waterfall
The Mystic Beach waterfall is located at the south end of the beach alongside the large rope swing.
The time of year influences how big it is, but no matter its size, it's beautiful to watch the water fall down the sandstone cliffs and flow into the ocean.
Rocky Caves
At the north end of the beach, near the campsite, are small, rocky caves. The caves are very wet with water dripping from the ceiling and tiny inukshuk-like rock piles line the high tide line. The second swing marks the entrance to the cave.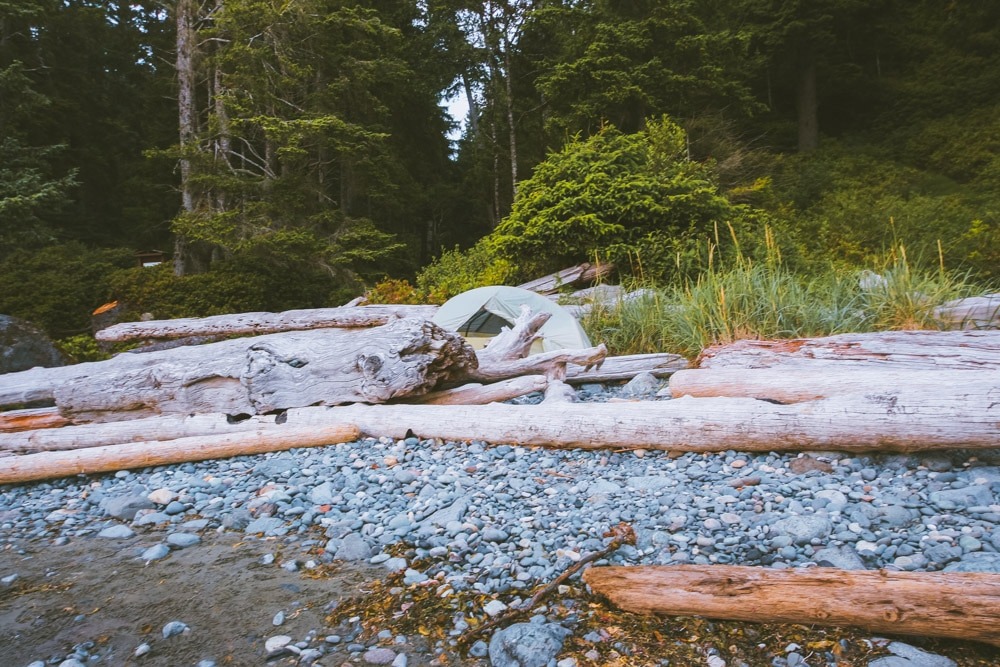 Gear Suggestions
A tent is a must (unless you want to sleep in a hammock under the stars!) when camping. There are all kinds of tents, from huge tents that could house a family to tiny tents only big enough for one.
Our tent is a two-man and we love it. It's small, lightweight, and extremely easy to set up (it takes about two minutes!). We're able to fit all our gear inside with ease. While our tent works great for us, it would be a bit small if you have lots of gear you want to store inside or a dog that wants to sleep with you. We highly recommend this small, lightweight tent because it makes the hike in much easier and set up is a breeze!