Surfing in Tofino for Beginners
Tofino, located on Vancouver Island, is world-renowned for its superb surfing.
Did you know that Canada has a cute, relaxed surfing town reminiscent of California right here in BC? Don't let our lack of palm trees fool you, you can enjoy year-round surfing in the Great White North!  In fact, everyone from an absolute beginner to pro can enjoy surfing in Tofino.
When we were planning our road trip, Jacob and I decided to try something we'd never done before — surfing. We were very nervous about our lesson, but we ended up having a blast! It holds a special place in our memories and we highly recommend you try it.
Disclosure: This article may contain affiliate links and I may earn a commission, at no cost to you, if you click and/or buy a product online (even if it's not the product linked). I take great care to only recommend helpful products and appreciate your support!
TOFINO WEATHER
Tofino, BC
Tofino is a beautiful little beach town located at the end of a windy, scenic road on Vancouver Island. It's about four and a half hours from Victoria and is totally worth the drive out to explore — you can even check out old-growth trees and secluded hot springs while you're visiting Tofino!
You don't even need to actually like surfing to enjoy the beach culture that permeates the town. The entire town has a laid-back, beachy feel, the businesses are local, and every building has character. The locals' lean frames and never-ending endurance make it clear they spend hours in the water.
Tofino hasn't always been a surf town, though. Surfers began visiting in the 60s, but it wasn't until the mid-80s that Tofino began to transform into the surfing town we know and love.
Today, Tofino is Canada's undisputed surf capital. It's a world-renowned surfing town and has even been named one of the top surfing destinations in not only North America but the entire world. How wild is that? Considering Tofino's surfing scene is only a few decades old, it's really amazing how far the town has come.
Tofino's Surfing Scene
Tofino has over 30 km of beaches that are perfect for surfing. The rolling waves and absolutely picturesque PNW landscape pair perfectly to create a dreamy backdrop to your ocean adventure. The variety of beaches and conditions make Tofino the ideal place for beginners and pros alike to enjoy the thrill of surfing.
If you've never tried surfing before, all you need to do is walk around town and you're sure to find plenty of shops offering lessons and rentals.
Plus, surf competitions like Rip Curl Pro sometimes take place in Tofino. If you're in town while competitions are happening, pop on down to the beach and watch the pros glide gracefully over the waves.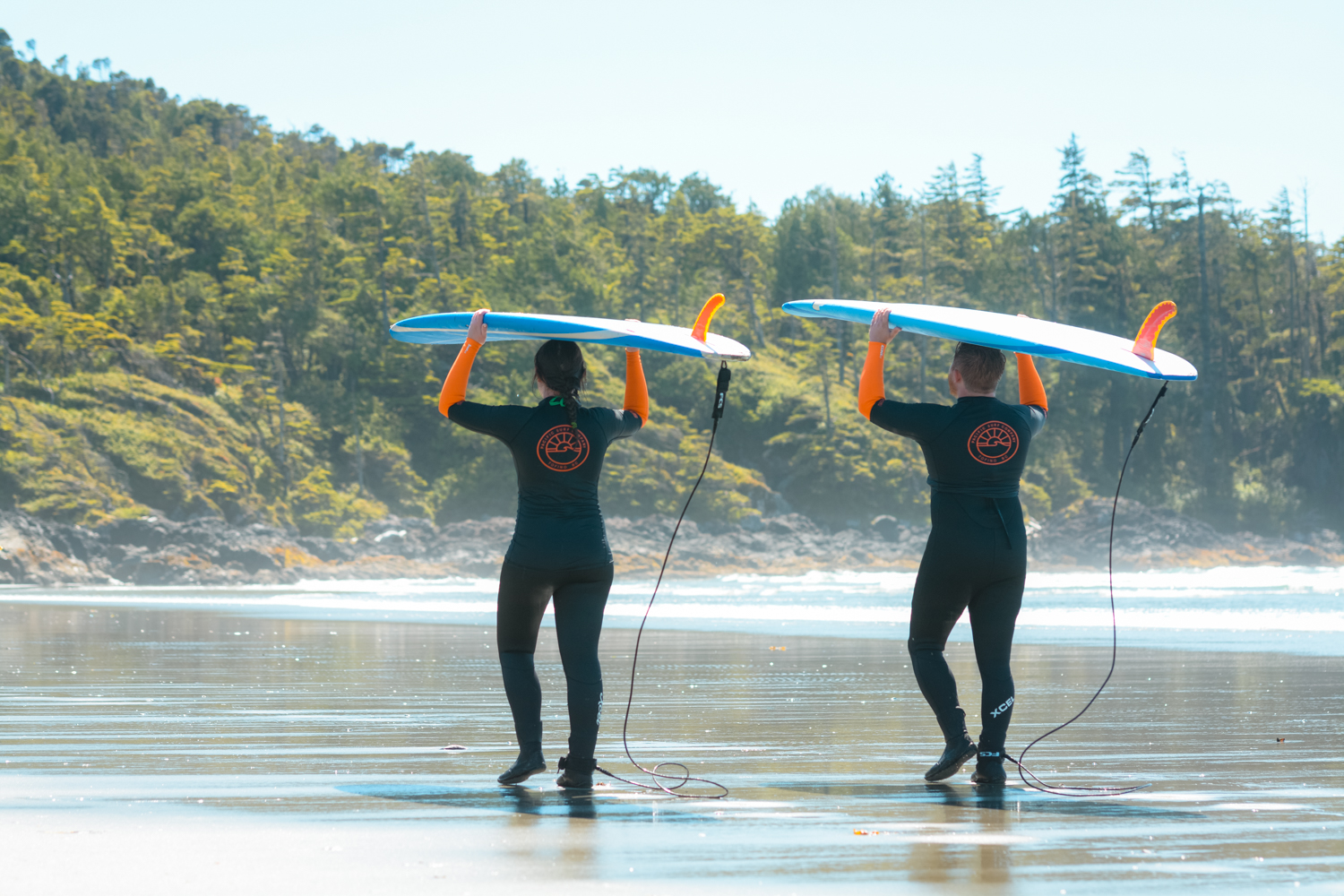 When to Surf in Tofino
Despite being in Canada, Tofino has great surfing conditions all year long. Depending on the time of year, the water temperature ranges from about 7 to 17°C. With a suitably thick wetsuit, you should keep warm — or, at least, you won't be freezing cold.
March to September is a great time for beginners to try surfing because the ocean is pretty warm and the waves are manageable. We visited in early July and enjoyed the sunny skies and relatively warm water.
The winter season, on the other hand, brings freezing temperatures and storms. If you're okay with the less than ideal weather, you're in for some stellar waves in the winter!
Our Experience Surfing in Tofino as Beginners
Even though Jacob and I are absolute beginner surfers, we had an amazing time trying to catch the waves! This was our first time ever laying hands on a surfboard, let alone actually using one. Hell, it was my first time even stepping on anything surfboard-shaped. I'd never ever been snowboarding or skateboarding. Needless to say, we were both quite nervous heading into our lessons.
We had our surfing lessons with Pacific Surf Co., a locally owned, 20-year old company in the heart of Tofino. Their instructors are absolutely amazing — they did a great job of teaching us the ins and outs of surfing while also keeping the atmosphere fun.
We had two instructors for our small group of six, plus a professional photographer who snapped some amazing photos of us surfing — or, in my case, totally bailing. The photos were an extra cost, but one we were entirely happy to pay.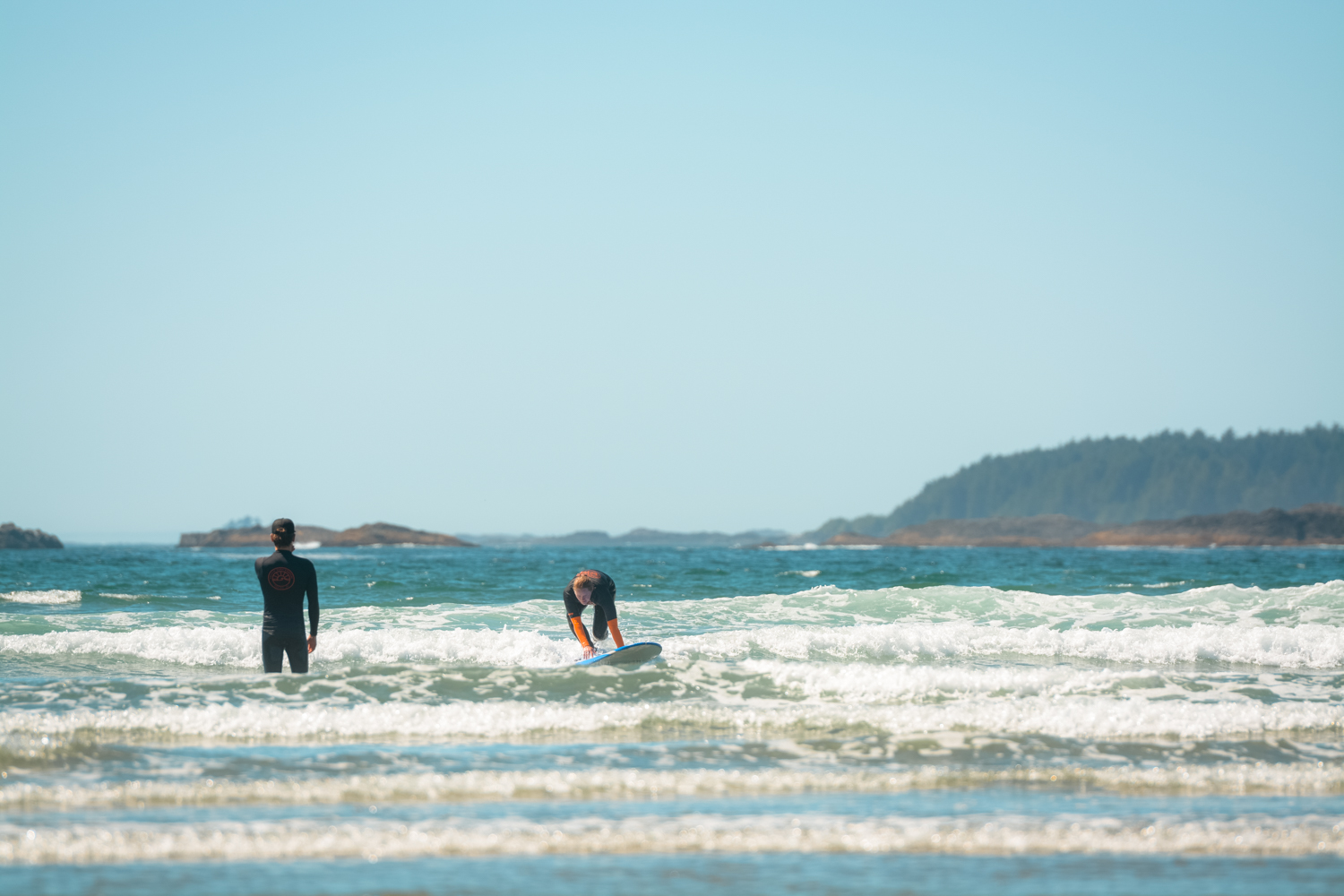 Our Surfing Lesson
Since surfing was brand new to us, we took the regular group, beginner's lesson. We were absolutely exhausted and more than a little sunburnt by the end. But we had such an amazing time, I know we'll try surfing in Tofino again!
We arrived at the Pacific Surf Co. shop early for our check-in and learned our lesson would be at Cox Bay, which is Tofino's most popular surfing beach.
We relaxed at Cox Bay for an hour prior to our lesson, then met our instructors at the beach's parking lot. Once our fellow students arrived, we struggled into our wetsuits and carried our surfboards down to the water.
Technique & Safety
The lesson itself was three hours.
We spent about an hour on the beach learning surfing techniques like stance, paddling, and safety, as well as basic warm-ups such as stretching and jogging. We practiced the transition from paddling to standing — which is surprisingly difficult, even on the sand — and our instructors helped improve our techniques including hand and foot placement.
Once we were sweating in our wetsuits on the beach, it was time to hit the waves. I was a little worried we'd be cold, but between the wetsuits and the physical excursion, neither of us ever felt cold.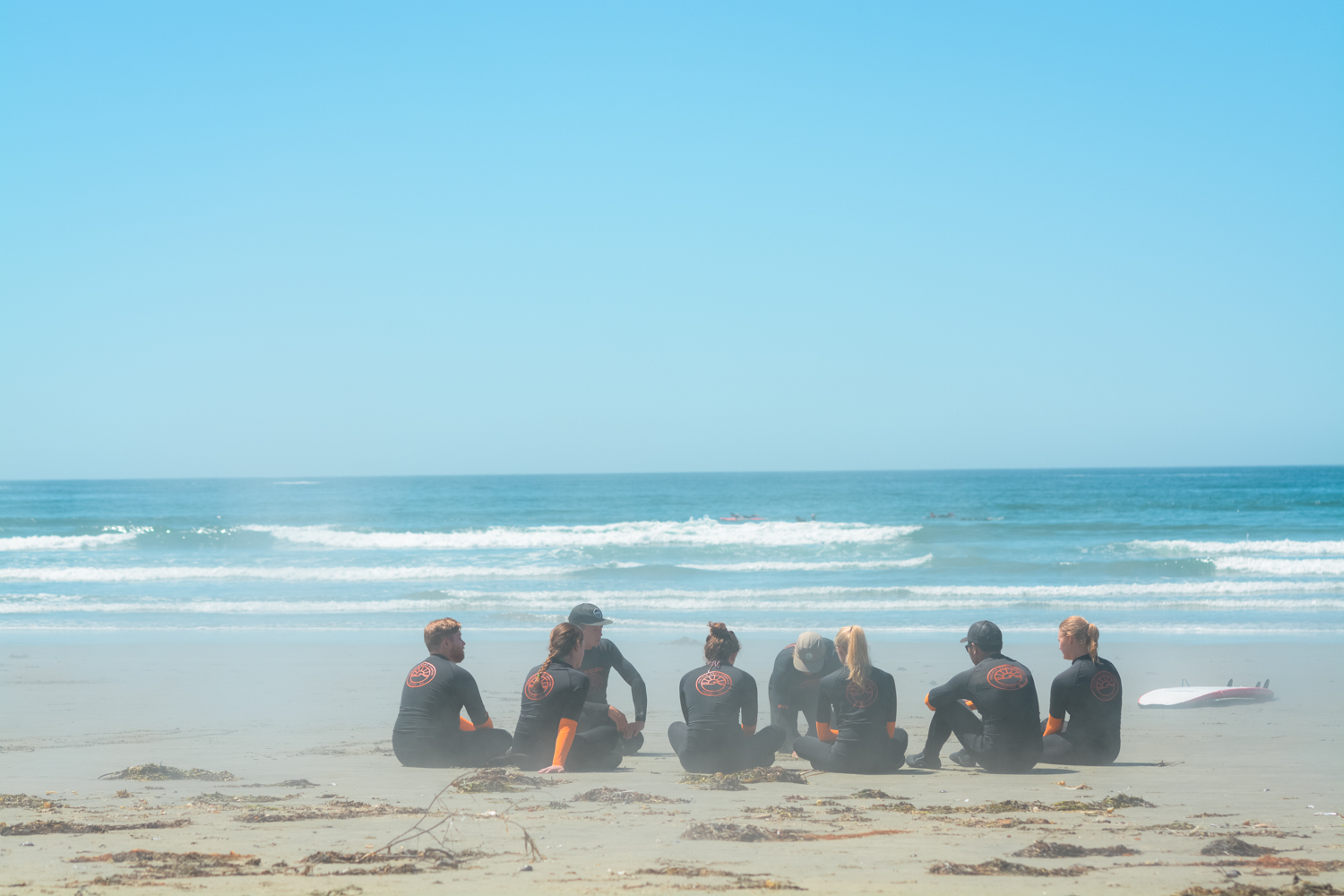 Learning to Surf
The next two hours were spent in the water. We started near shore and our instructors were wonderfully attentive. They gave us pointers where needed and congratulated us when we actually managed to stand — or half stand before bailing, in my case.
About halfway through we were given the opportunity to try the bigger waves farther out. Considering I'd barely managed to surf for more than 1.5 seconds, I stuck with the smaller waves. Jacob got the hang of it a lot faster than I did — he consistently managed to stand and even stay upright —  but he decided to stay with me in the "shallow end". By the end, we were exhausted but had huge smiles plastered on our faces.
Trying new things can be scary, but it can also be incredibly rewarding. We were nervous about trying our hand at surfing, but it turned into an incredible experience even though we weren't very good.