Spion Kop Trail Network in Lake Country, BC
The ultimate choose-your-own-adventure hike with stunning views.
The Spion Kop hiking network in Lake Country has mind blowingly beautiful views at the summit. Do you wanna have your mind blown by a hike? I know, big claims, right? If you're up for it, you'll wanna check out Spion Kop in Lake Country.
It's a large network of trails that all lead to stunning views! I keep telling my friends they need to check out this hike, if not for anything other other than the crazy views from the top. Forget about all the benefits of hiking, you just gotta see the view.
If you live in the Okanagan, you've probably driven by the Spion Kop trails many times and not even realized it. The mountain is a sort of landmark on the north end of Lake Country, but it's not super obvious that there are trails all over it.
Spion Kop, which means "spy hill" in Dutch, is poised perfectly for stunning views of the valley.
Disclosure: This article may contain affiliate links and I may earn a commission, at no cost to you, if you click and/or buy a product online (even if it's not the product linked). I take great care to only recommend helpful products and appreciate your support!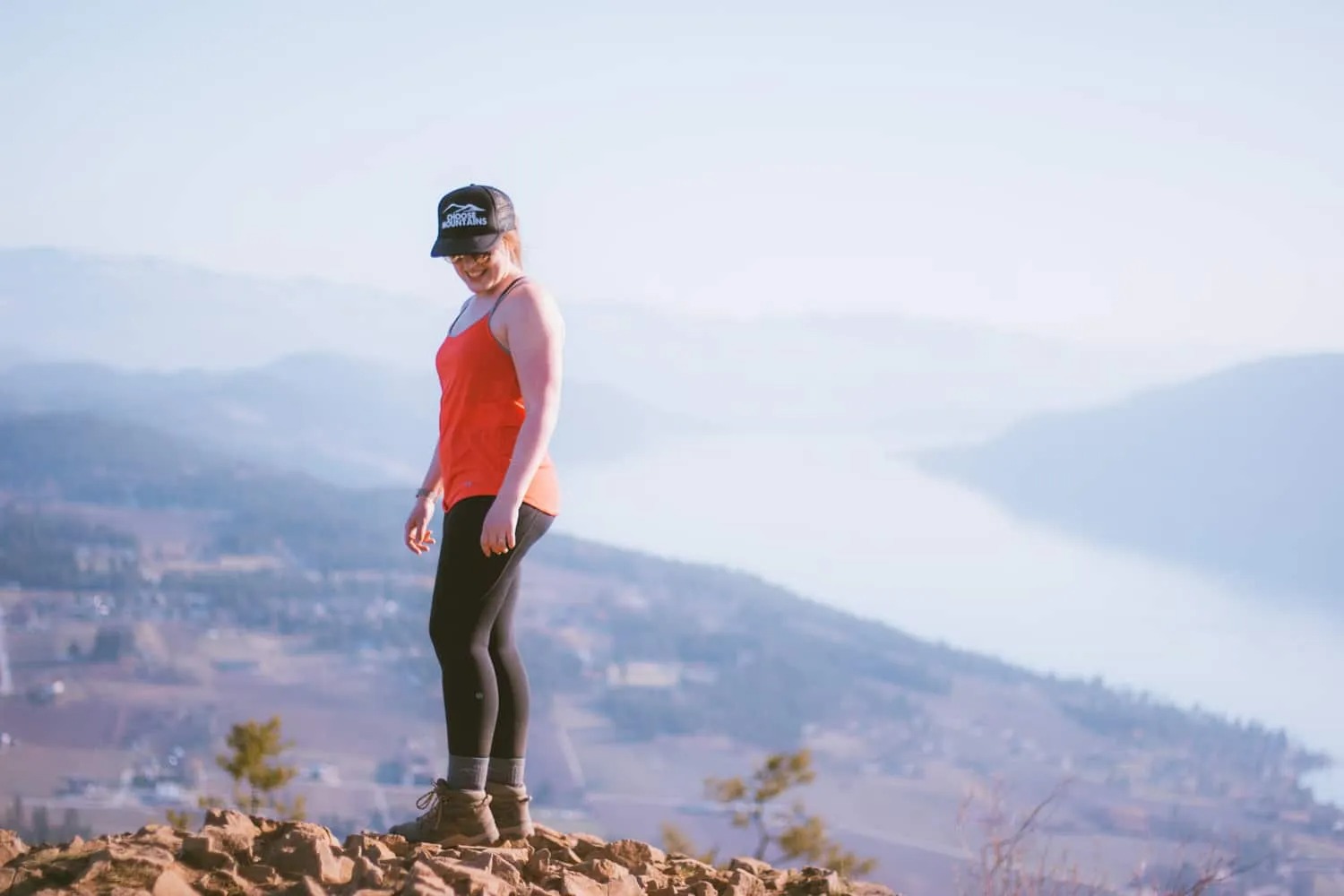 Quick Trail Stats for Spion Kop
The Spion Kop rec area, which is 350 hectares on Crown Land, has a huge network of hiking trails. Locals have been hiking the mountain for decades, but it's only in the last few years that the trails have been developed thanks to the Walk Around Lake Country group.
Difficulty: Moderate
Trail Type: Network
Length: Paint Brush: 2 km, Ridgeline: 1.5 km, Tower: 0.9 km, Summit: 4.4 km, Arrowleaf: 2.2 km, Lupine: 1.3 km. Raptor Loop: 3 km (see map)
Trailhead: Upper Lakes, Old Mission Rd, Pelmewash, Raven Ridge
Park Size: 350 hectares
LAKE COUNTRY WEATHER
Hiking at Spion Kop
There are seven named trails and four trailheads at Spion Kop — talk about lots to explore! With so many options, you have a great opportunity to make this a choose-your-own adventure hike. But because there are so many trails, it's hard to say how long your hike will be. In total, there are ~17.2 km (one-way) of trail, but it's pretty unlikely you'd hike all the trails in one go.
I usually start at the Upper Lakes Trail Head, take the Arrowleaf Trail to the Grand Overlook and hike up the Tower Trail to the Summit. That's a pretty common route and is about 7 km total and takes about 2 to 3 hours.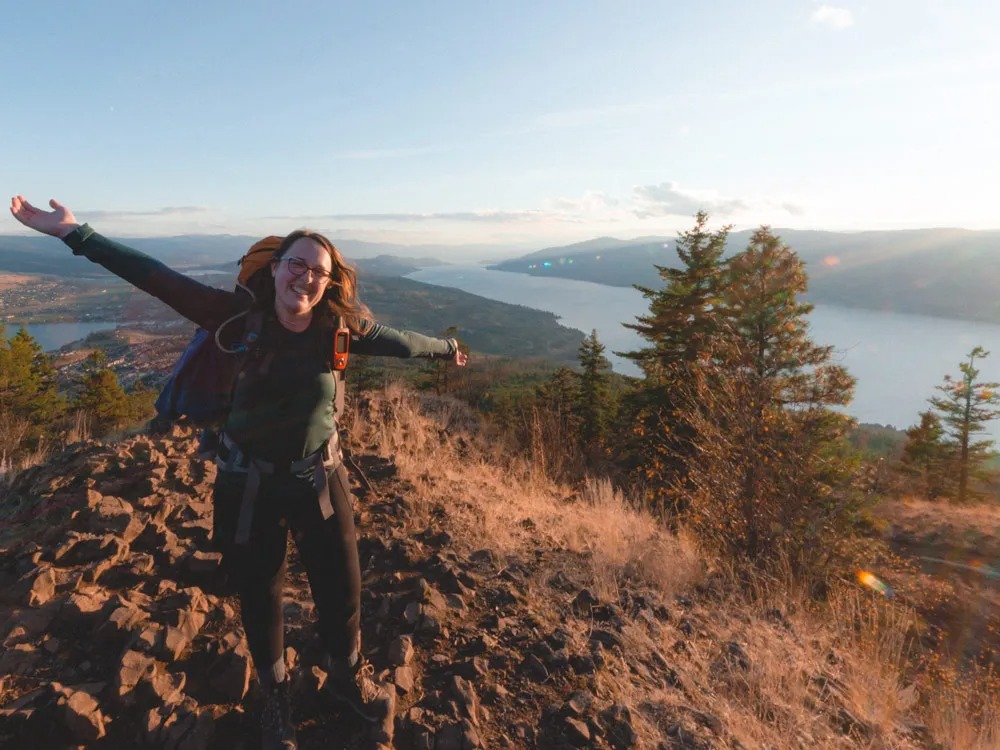 The Trail
Regardless of which trail you take, most roads lead to the summit of Spion Kop. The trails meander through thick forests, treat you to beautiful views of the nearby lakes, and even cross a cool basalt rock formation.
Although most of the trails are quite shaded, some sections are more exposed.
Watch out because there are a ton of mountain bike trails that look a lot like the hiking trail — except they're super steep and difficult. Keep in mind that because these trails are on Crown land, they're multi-use. That means hikers, bikers, and ATVs all share the same mountain. While that's less than ideal, it actually hasn't really impacted any of my hikes.
The biking and ATV trails are quite steep and eroded, not to mention potentially dangerous for hikers, so I try not to hike on them. The single-track hiking trails are well marked and easy to stick to. Having said that, it never hurts to brush up on your hiking etiquette to make sure you're sharing the trails as respectfully as possible.
What to Expect
If you're prone to getting lost on hikes, you'll appreciate that the trails are very well marked on Spion Kop — especially since there are so many different routes! There are tons of coloured markers and even a few trail maps scattered throughout the hike.
There are also sometimes paper maps at the trailhead, but don't count on it. You could always download one online, take a picture, or use a GPS.
The trails can get pretty dusty and rocky during the summer and icy during the winter. And even with the forest cover, it gets pretty warm in the summer. Always make sure you have plenty of water and are staying hydrated.
The Spion Kop Network
The cool part about having such an extensive trail network is that each route has a different difficulty.
Don't wanna sweat your butt off? There's a trail for you. Wanna have a leg burn in the morning? Yup, there's a trail for you, too. I always really enjoy trail networks like Spion Kop because there's something for everyone.
If you're not quite sure which trail you wanna take, I totally get it. With so many routes to choose from, it's a little overwhelming. I've put together short descriptions of each so you can decide how you wanna tackle your hike before you get there. Or wing it, that can be fun, too.
Washrooms & Garbage
There aren't any washrooms at Spion Kop, so make sure you're all set before you get there. You'll also need to pack in what you pack out because there aren't any trash cans. Even consider bringing along an extra bag so you can pick up litter.
Dogs
You're more than welcome to bring your dogs hiking with you at Spion Kop, just make sure to keep them on a leash and pick up after them. If your pup gets hot, you could bundle her up in this super cute cooling vest! Gotta have the best for your pups, haha!
Hiking Season
You can hike Spion Kop all year long, but it can get pretty icy in the winter. Make sure you wear shoes with spikes so you don't slip all over the place.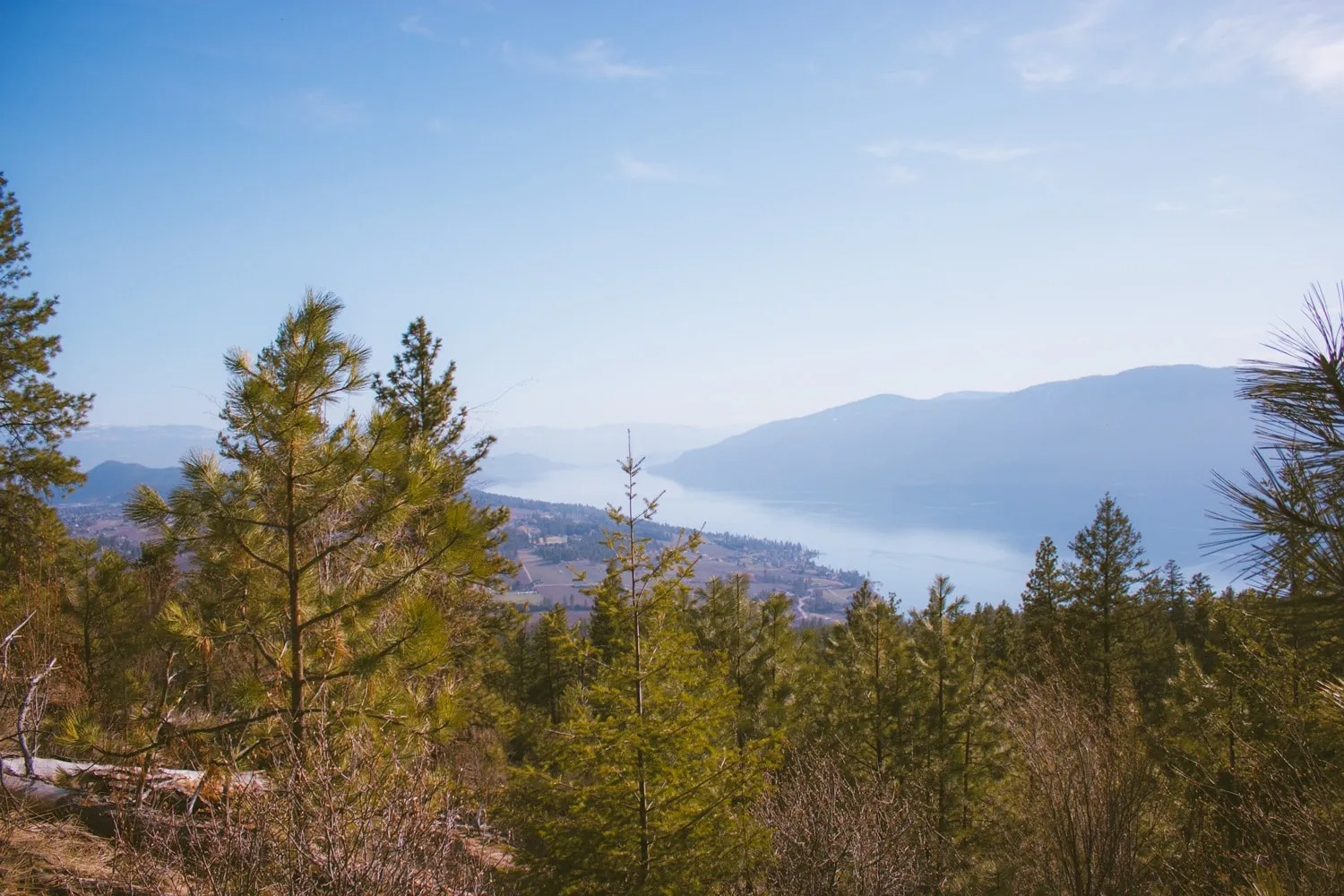 Paint Brush Trail
2 km (Moderate)
You'll probably only take the Paint Brush Trail if you start from the Raven Ridge trailhead. It's not the most scenic trail, but it is pretty quiet until you connect with the Grand Overlook.
The trail itself is 2 km long and has 130 m of elevation gain, along with a few big switchbacks and glimpses of  Okanagan Lake. Most of the trail meanders through a forest and you'll stay pretty shaded.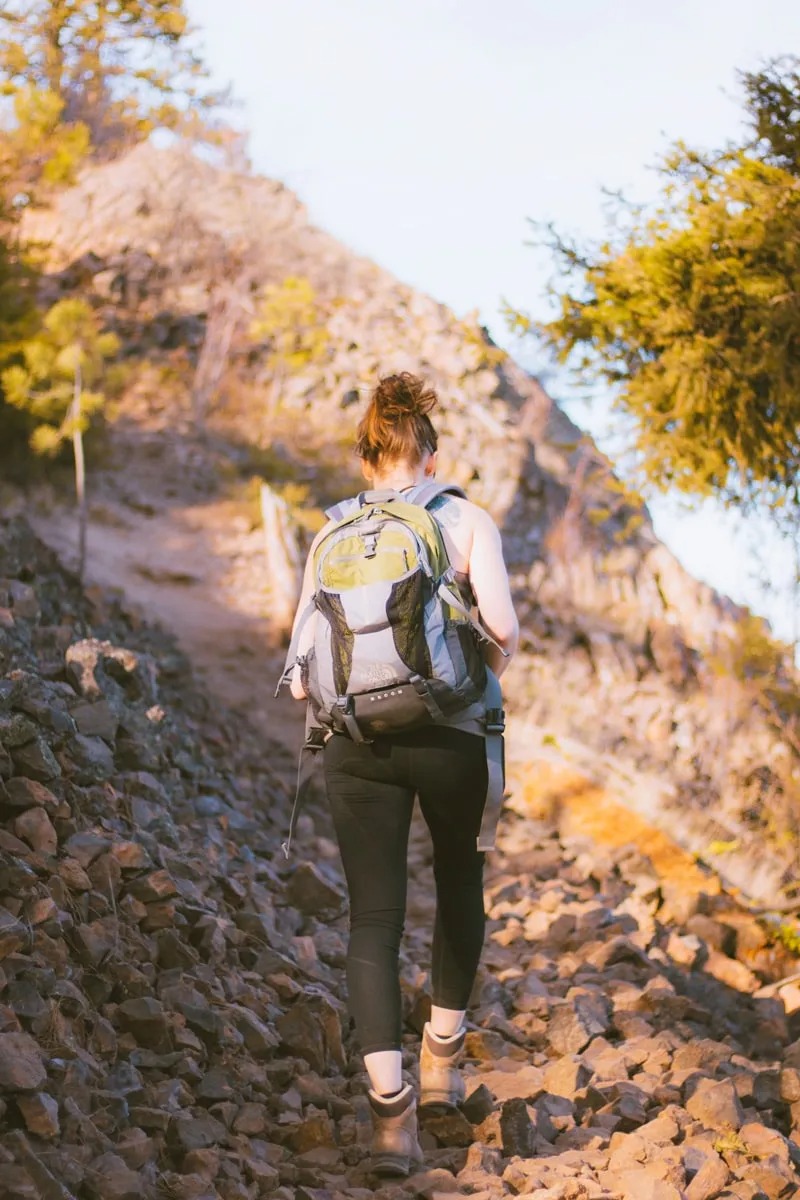 Ridgeline Trail
1.5 km (Moderate)
The Ridgeline Trail is a secluded loop off of the Paintbrush.
The trail is fun to explore because you'll climb up to an old glacier ridge and be treated to fantastic views of Okanagan Lake, Terrace Mountain, and Fintry Landing. And we all know I can't get enough of those views.
It's a great way to skip some of the not-so-scenic Paint Brush.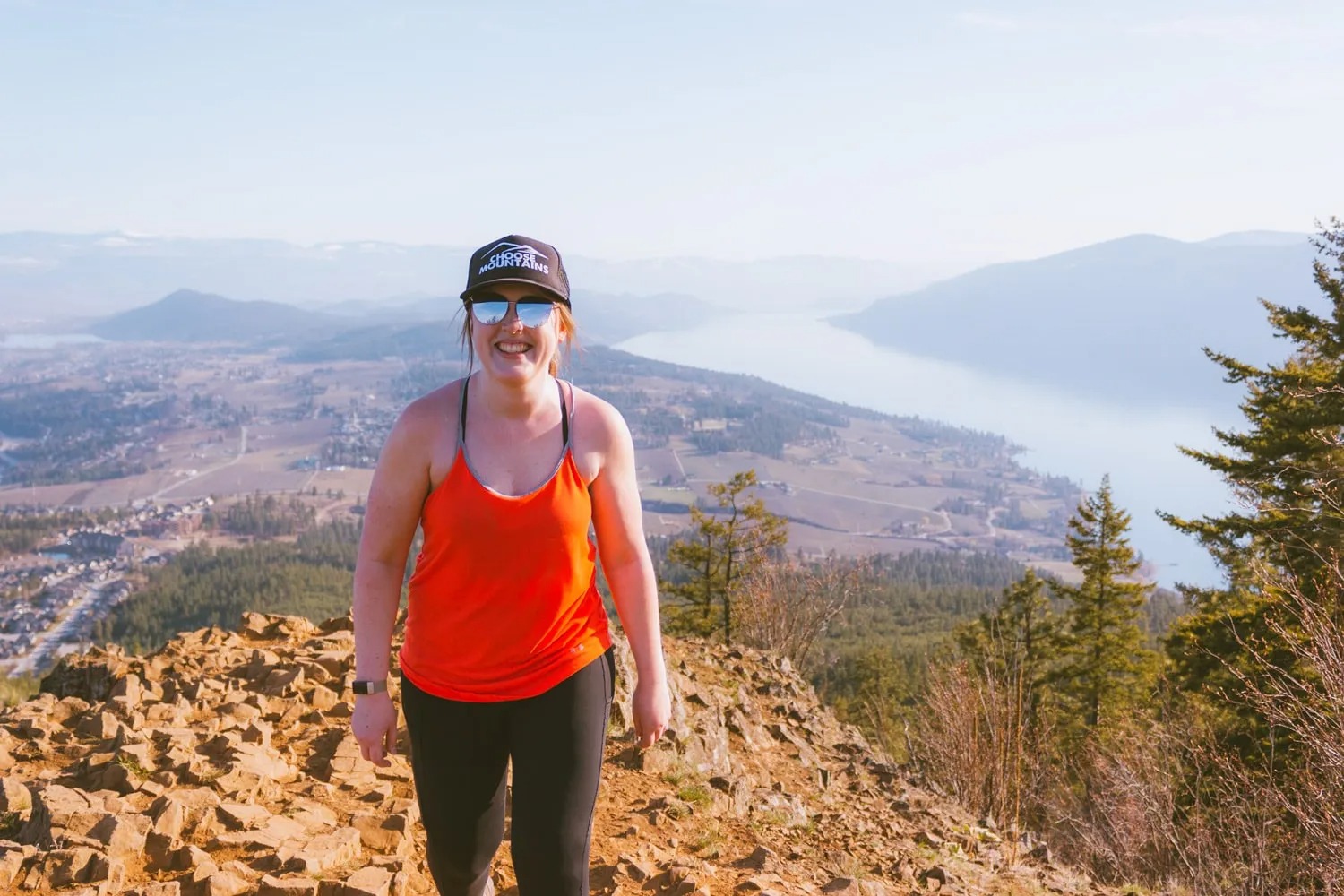 Summit Trail
4.4 km (Difficult)
The Summit Trail is by far the longest route at Spion Kop, but because it connects with lots of other trails, it's pretty unlikely you'll hike the entire trail in one go.
It has the most elevation gain of the entire hike because it starts at Wood Lake and brings you all the way to the summit, but it's a slow burn.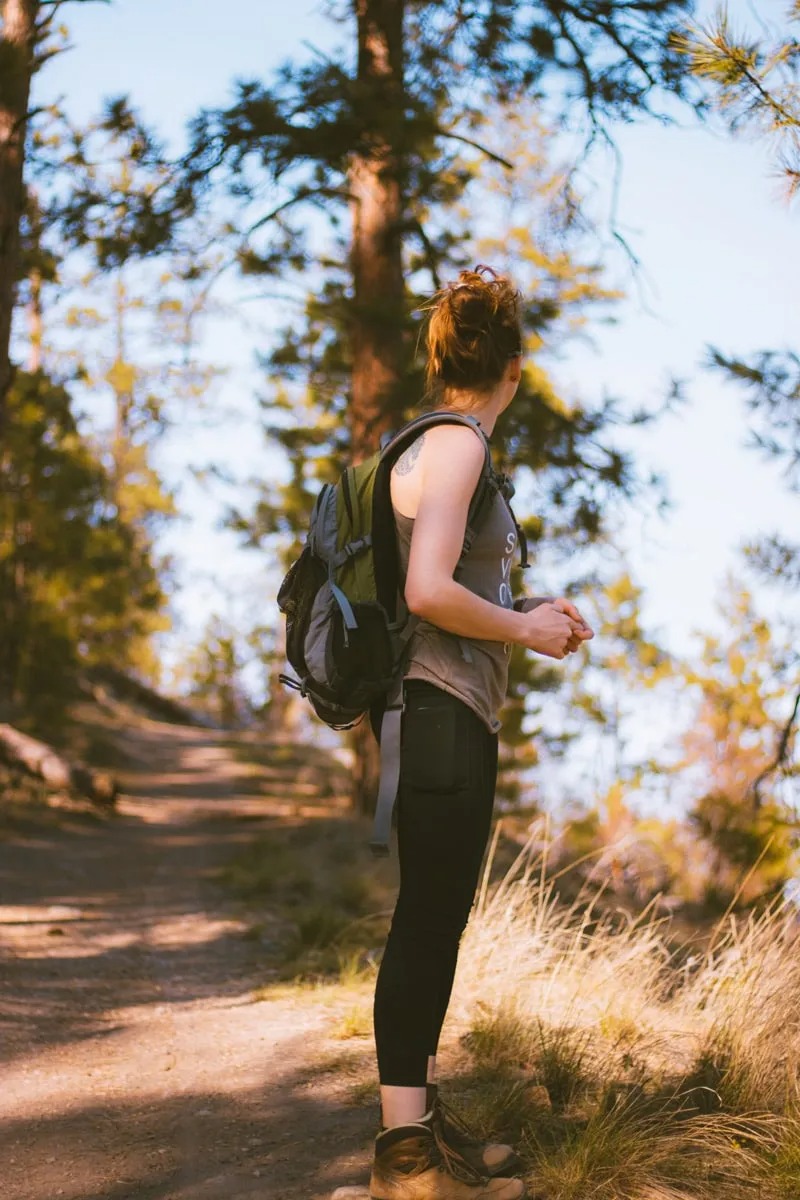 Arrowleaf Trail
2.2 km (Moderate)
Arrowleaf Trail is probably the most-hiked section in the entire trail network. It connects the Upper Lakes trailhead with the Grand Overlook and offers awesome views of Wood Lake and Oyama on the way up.
You'll even cross old pioneer logging roads — but they're not marked, so I had no idea that's what they were for years!
Lupine Trail
1.3 km (Moderate)
The Lupine Trail is a weird little trail that connects Arrowleaf with Summit. It's noticeably cooler and you'll see a lot more fir trees and moss, as well as "twisted sister" trees.
The North Overlook is on this loop, but, if I'm being honest, it's not that great of a lookout. Save your breath for the Grand Overlook or Summit.
Raptor Loop
3 km (Easy)
This is by far the easiest route on all of Spion Kop, but if you're worried you're gonna miss awesome views because of that, you'd be wrong!
The trail loops around Highway 97 and gives you beautiful views of Wood Lake and Oyama. The area is also home to raptors (hence the name) — see if you can spot their nests along the way!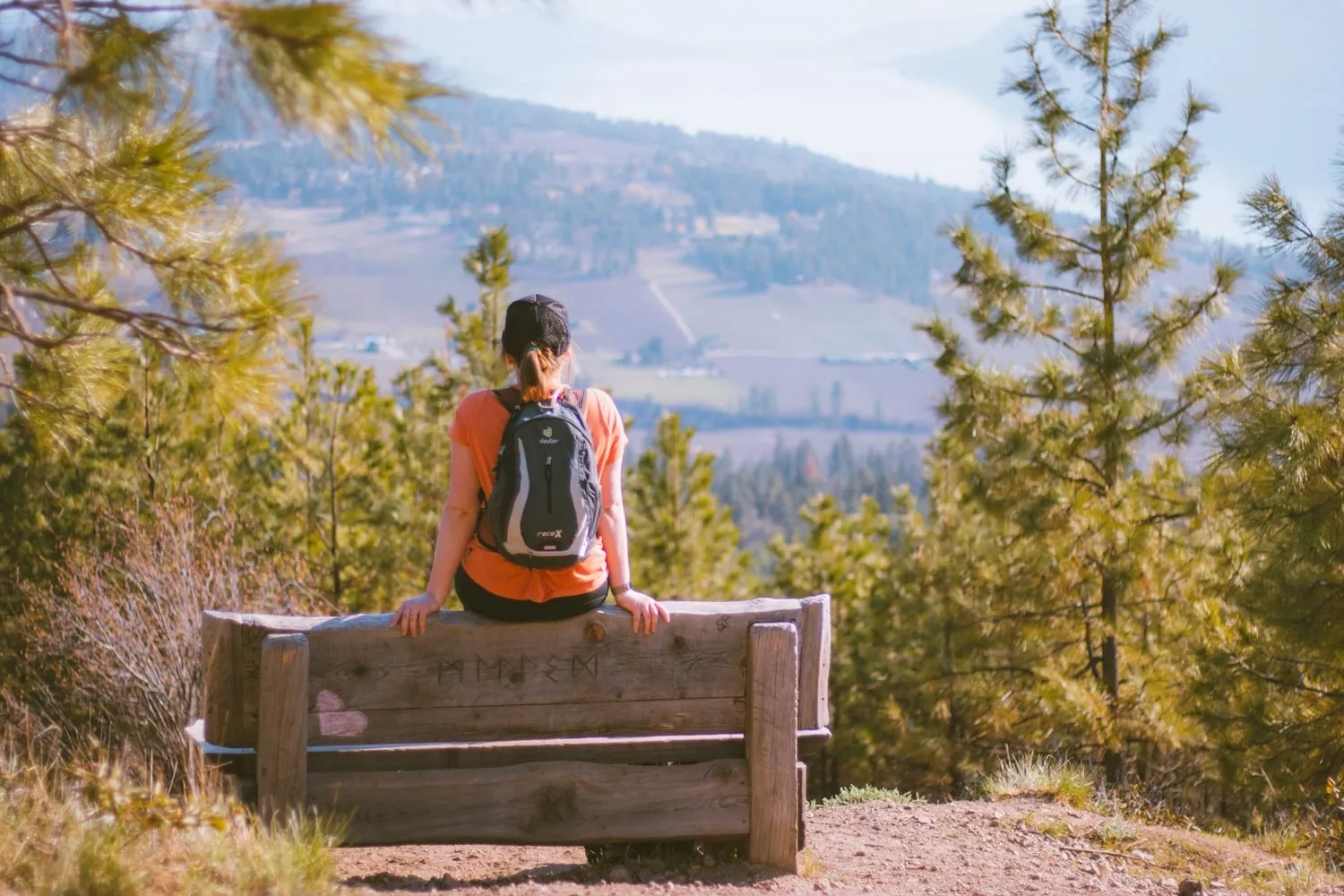 Grand Overlook
I've mentioned the Grand Overlook a few times now, what is this mystical being on Spion Kop?
Grand Overlook is the junction that connects the Paint Brush, Tower, and Arrowleaf Trails and has a convenient bench if you're feeling a little tired. And it has a pretty stellar view of Lake Country.
North Overlook
The North Overlook is a small, underwhelming lookout on the Lupine Trail. You can check it out if you're a completionist, but I wouldn't worry about missing it. You can see Oyama, Kal Lake, and Silver Star Mountain from here.
Spion Kop Summit
As you near the summit of Spion Kop, you'll need to do some light scrambling over loose rocks. Although it doesn't last too long and isn't overly complicated, hiking poles do make the climb easier here.
The summit is marked by an ugly microwave tower, but it's easy to overlook as you climb past it to the awesome view.
There are two awesome viewpoints at the top of Spion Kop and the views from both are nothing short of surreal. It's an amazing place to soak in the beauty of the Okanagan and see the valley unfold below you.
You can see five lakes from here! Okanagan, Kalamalka, Wood, Swan, and Duck Lake are all on for display from here and it's no surprise that hikers like us can't get enough of it.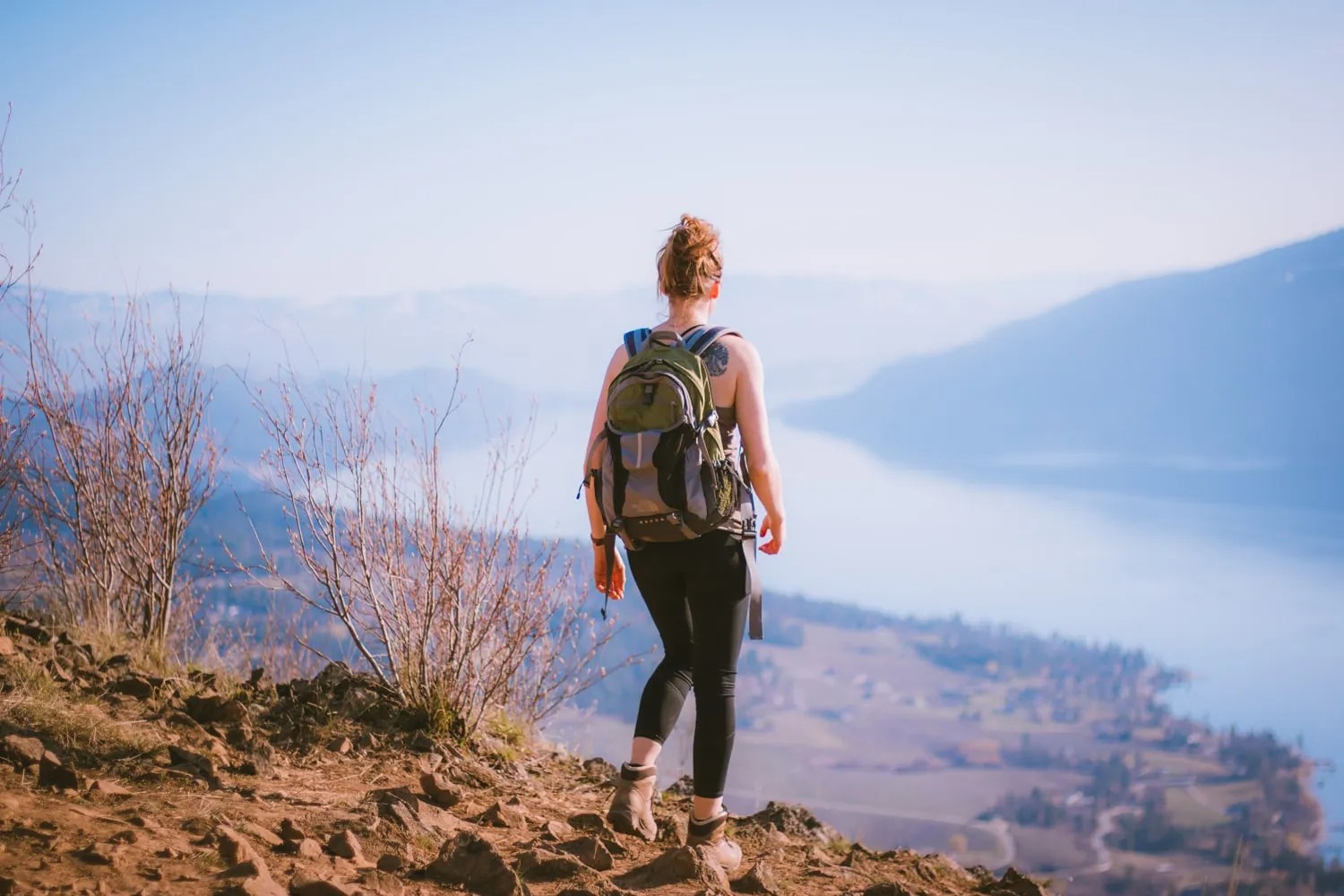 A Little History
Most hikes in the Okanagan are named after nearby roads, animals, or historical old guys. So why is this hike in Lake Country named after a battle that took place halfway across the world in South Africa? It's a little weird, right?
According to the Lake Country Museum & Archives, we can thank Leslie Caesar, a veteran of the Boer War and an early Okanagan settler, for the name. It's said the triangular-shaped mountain between Wood and Okanagan Lake reminded him of Spion Kop in South Africa. Whether or not that's true, locals have called the area Spion Kop for almost 100 years!
Recommended Gear
Spion Kop is a moderately difficult hike, so you'll definitely want to be prepared before you head out. A few simple things will make your hike a lot more enjoyable.
Water: I know, I know. But water's soo important to keep your energy levels up, especially when parts of this trail can get exposed. I recommend bringing both a hydration pack and water bottle, as well as a few electrolyte tablets in case you need an extra boost.
Proper footwear: The right footwear is gonna make all the difference on this trail. It's rocky and dusty with some steep sections and hiking boots will save your feeties from yelling at you. Don't wear flip flops or hiking sandals, you'll regret it.
Ten essentials: Since this is a longer hike with the potential to get lost, the ten hiking essentials are a great idea to bring along.
Sun protection: Anytime you're hiking in the Okanagan during the summer, it's super important to protect yourself from the sun. Make sure to wear a hat, sunscreen, and sunglasses. You could even wear sun-rated clothing (which, surprisingly, isn't super ugly!).