Ellison Provincial Park in Vernon, BC
Ellison Provincial Park is one of the most beautiful parks in the Okanagan. With its turquoise clear waters, unique rocky, forested headlands, and large sandy beaches, you're in for a treat.
Located only 20 minutes from downtown Vernon on the eastern shores of Okanagan Lake, Ellison Provincial Park is a must-visit and easily accessible destination.
For nature lovers, Ellison is a laid-back paradise where you can enjoy camping, hiking, biking, water sports, swimming, scuba diving, cliff jumping, climbing, and more. There's no shortage of outdoor activities set amongst the stunning, natural landscape!
Ellison Provincial Park's day-use area and large campground are well suited for families, couples, and anyone that wants to spend time in nature. The campground has 71 large, vehicle-accessible campsites that can accommodate everyone from tents to large RVs.
Read next: Provincial park campgrounds near Kelowna »
Disclosure: This article may contain affiliate links and I may earn a commission, at no cost to you, if you click and/or buy a product online (even if it's not the product linked). I take great care to only recommend helpful products and appreciate your support!
Quick Stats
There are a lot of different activities at Ellison! From camping and day-use to hiking and paddling, there's something for everyone.
Campsites: 71
Camping type: Front-country
Park size: 220 hectares
Fees: Day use: free | Camping: $32/night
Dates: Day use: year-round | Camping: early April to mid-October (make a reservation)
VERNON WEATHER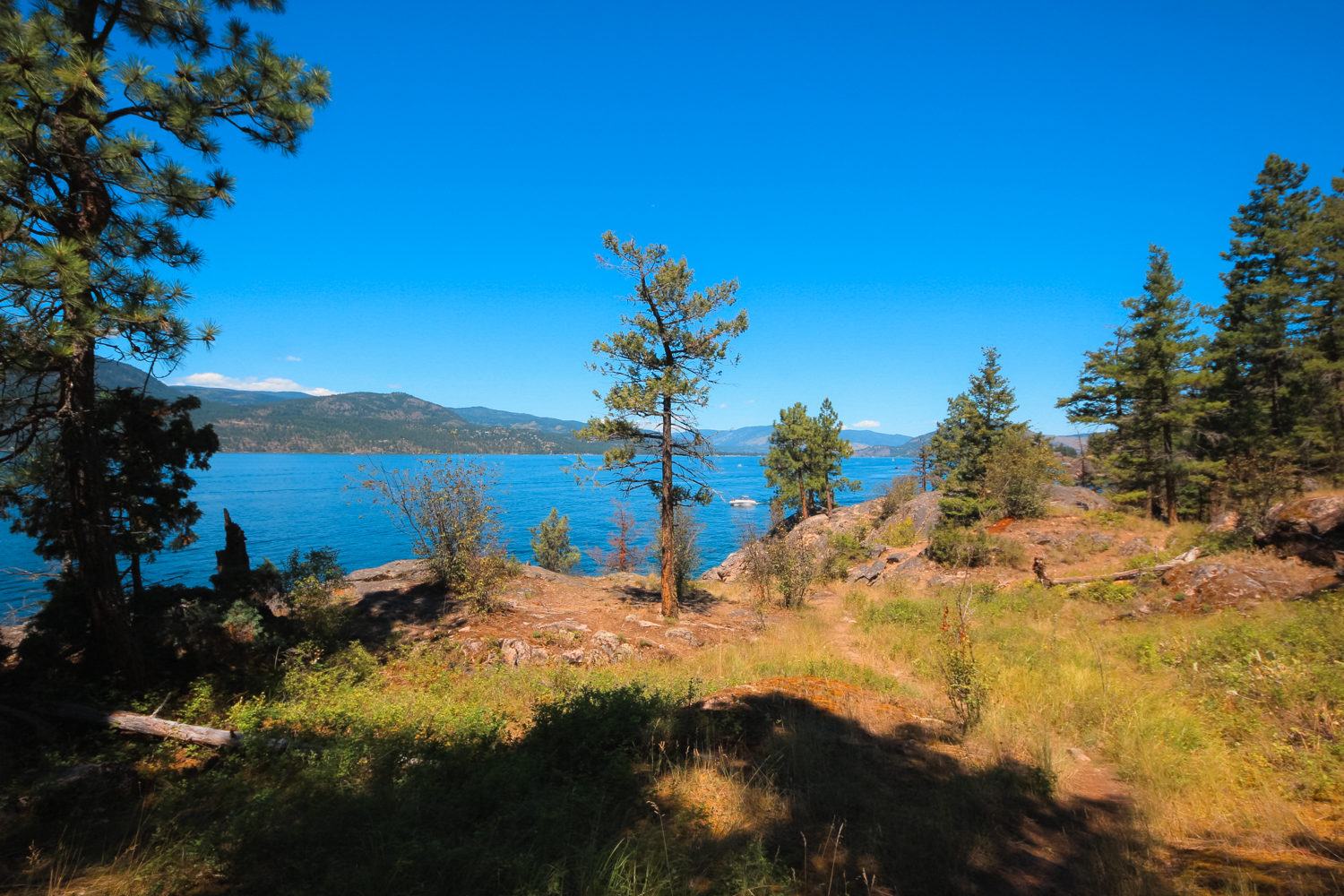 Where is Ellison Provincial Park?
Ellison Provincial Park is only 20 minutes south of Vernon on the north-east side of Okanagan Lake. Its ideal location on Okanagan Lake, which is the Okanagan's largest and most popular lake, makes it a favourite among locals.
Ellison Provincial Park is 17 km (20 mins) from Vernon, 58 km (1 hr) from Kelowna, and 130 km (2 hrs) from Penticton. It's one of many campgrounds on Okanagan Lake – other nearby campgrounds on the lake include Fintry, Bear Creek, and Evely.
Since Ellison is close to Vernon and very centrally located in the Okanagan, people come from all over the valley to enjoy the beautiful day-use beaches and hiking trails.
The road to Ellison is 100% paved. In a few places, the road is narrow and a little windy as it winds along the cliff's edge – don't be scared, though! It's not bad. Take your time, go slow, and don't feel pressured from drivers behind you and you'll be fine.
Directions to Ellison
There's only one road to Ellison, making it very easy to find. The beautiful drive from Vernon to Ellison winds along Okanagan Lake and offers a glimpse of lakeside life.
To reach Ellison Provincial Park, make your way to Vernon and get onto Highway 97. At the Highway 97 and 25th Avenue intersection (aka, the bottom of Hospital Hill), turn west towards Okanagan Lake.
Stay on 25 Avenue, which eventually turns into Okanagan Landing Road and then Eastside Road. Simply stay on the same road for approximately 16.5 km until you see a wooden provincial park sign on your right. When you leave behind the lakeside homes and lake, watch for the Ellison park sign.
Turn right into the park and head downhill through the trees. You'll soon reach the campground. Continue straight through to the large day-use parking lot if you're not camping. The gate at the top of the hill is locked nightly from 11 pm to 7 am (and during the winter).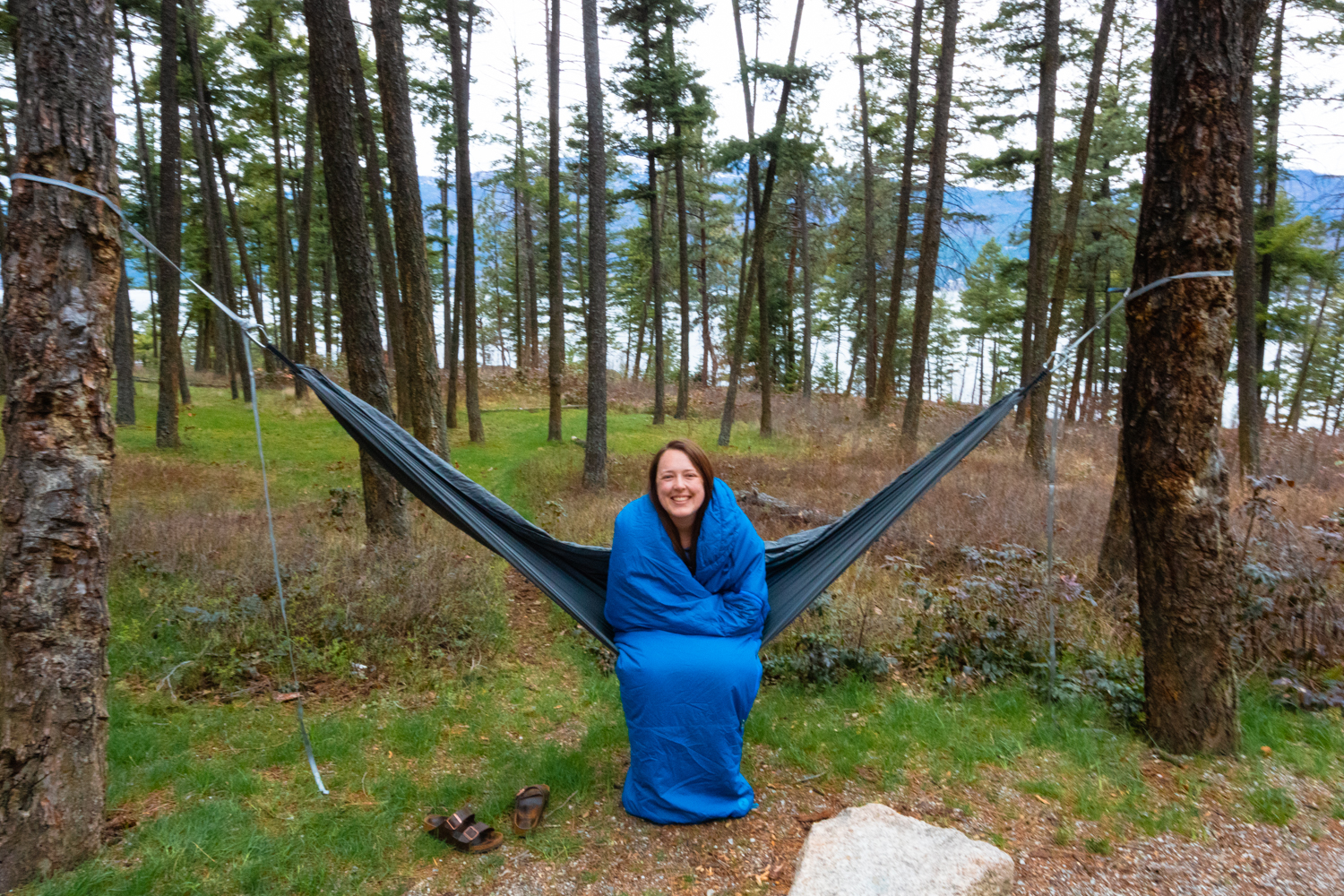 Camping at Ellison Provincial Park
I highly recommend camping at Ellison Provincial Park! It's a beautiful, relaxing campground that has a great mixture of nature and creature comforts.
The campground has 71 vehicle-accessible campsites which are broken up as follows: 61 reserveable, 10 first-come first served, and 8 double sites. The Ellison campground is suitable for tents, vans, trailers, and RV camping.
The campsites are well-spaced out and, while the forest is by no means dense, there's enough tree and underbrush cover to give you decent privacy and plenty of shade.
Camping at Ellison is available from the beginning of April through mid-October. For exact dates, refer to BCParks.ca. Campsites are generally large and very well-spaced.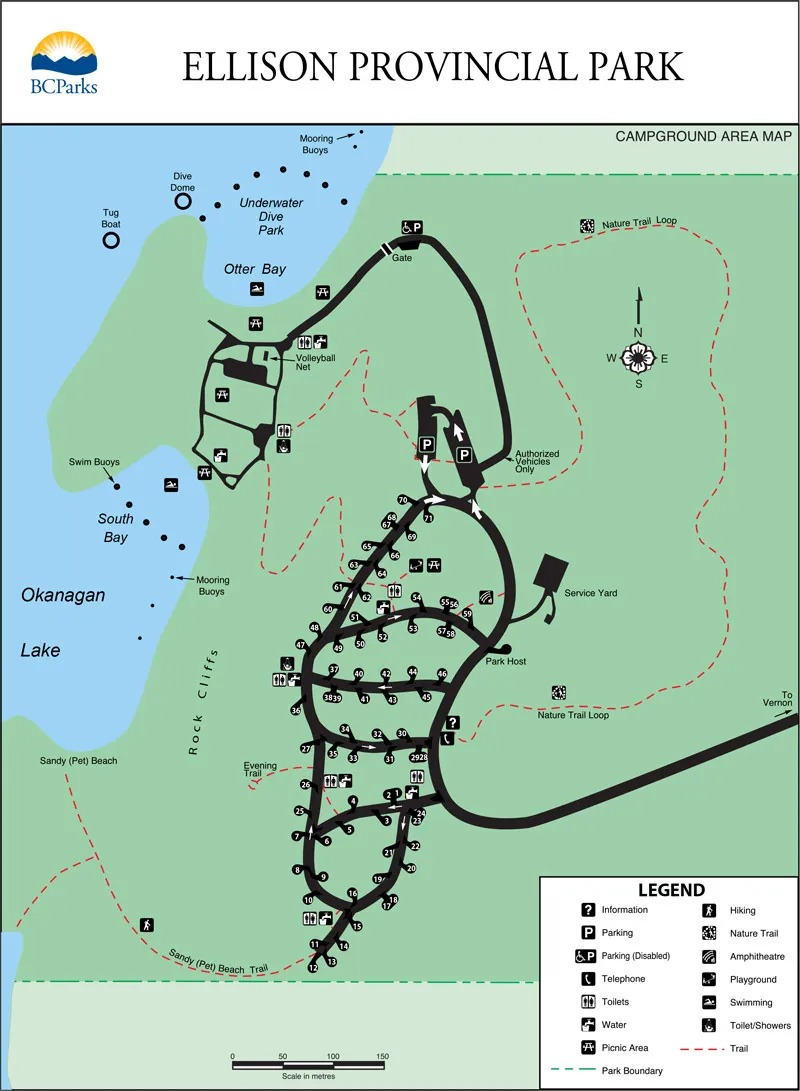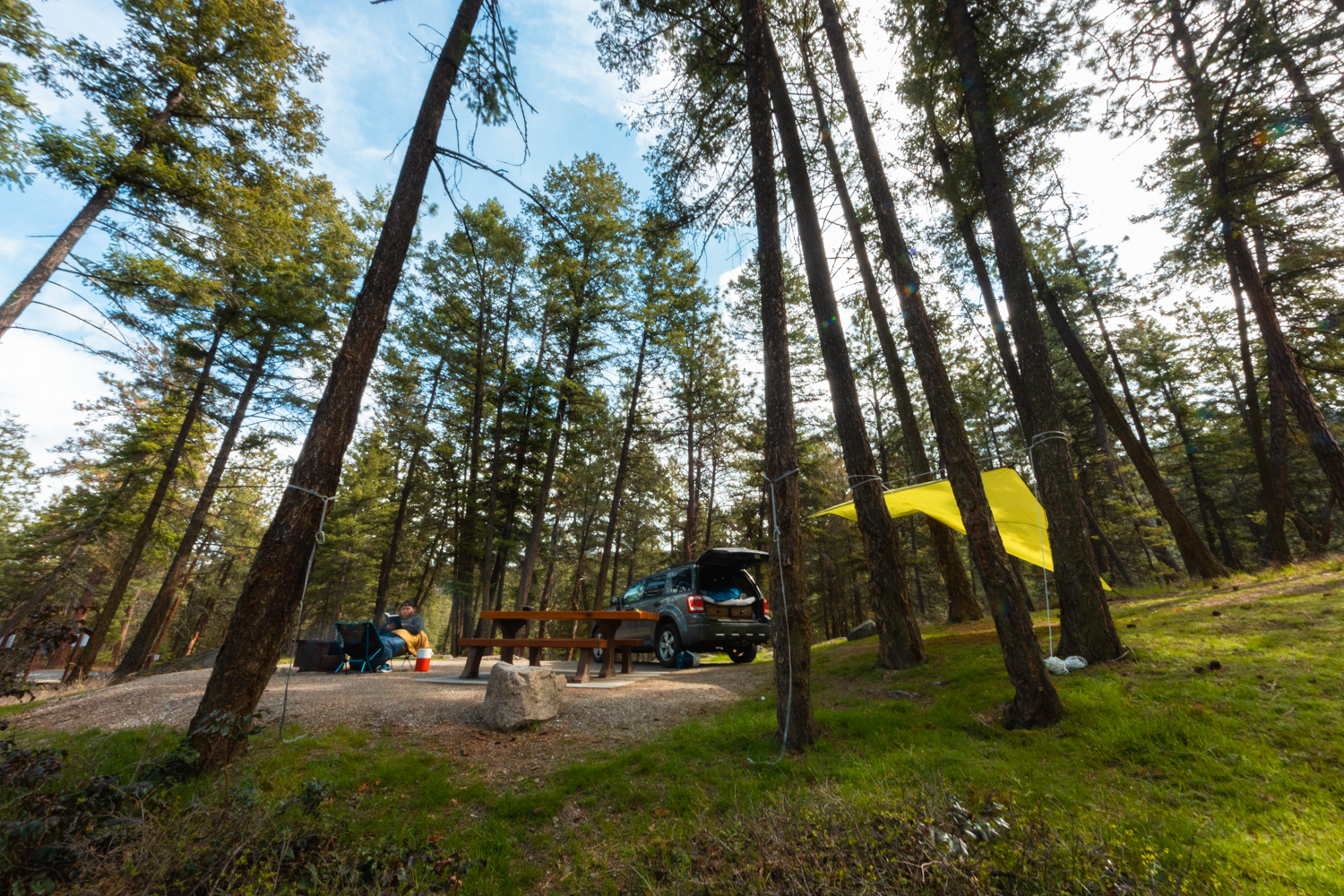 How to Get a Campsite
Although Ellison isn't as well known as other campgrounds in the Okanagan, it does fill quickly during the summer and reservations are highly recommended. During the spring and fall, it's easier to camp without a reservation.
If you're eyeing up the campground (which you should be), there are three ways to camp at Ellison Provincial Park: reservations, first-come first served, and overflow.
PS: Have you ever wanted to try out an RV or van? Try Outdoorsy (it's basically Airbnb for RVs and trailers – save $50 with this link) or Escape Campervans to experience #vanlife without committing to it!
Campsite Reservations at Ellison Provincial Park
For a guaranteed campsite at Ellison, book in advance through BCParks.ca. Reservations are available on a two-month rolling window beginning in early spring. Campsite reservations have an extra $6/night fee.
For example, for a June 1-3 camping reservation, bookings would open April 1. For a June 3-4 trip, you would need to wait until April 3 to book your campsite. The end date of your reservation can be past the two-month window.
The two-month rolling window gives more people an opportunity to book a campsite. Otherwise, campgrounds would book up for the entire season when reservations open and you'd be shit outta luck if you didn't get a site.
Generally, it's easier to make reservations in the spring or fall when the main camping season isn't in full swing. We camped at Ellison the very first weekend it opened and it was 80% empty.
When using the BCParks.ca reservation website, you can view photos and important details such as site length and width for each campsite. This is especially important if you have a large RV or trailer.
First-Come First Served Campsites at Ellison Provincial Park
There are 10 first-come first served (FCFS) campsites at Ellison Provincial Park, including one double site. Sites 37 to 46, located along the central road, are the FCFS campsites.
The FCFS campsites range from 55 to 75 feet in length, with most being 60 to 65.
The first-come first-served campsites are the same price as the others (see fees), but you do save the $6/night reservation fee.
Overflow Camping at Ellison Provincial Park
If you don't make a reservation, especially during the summer, you'll likely spend a few nights in overflow before getting an FCFS campsite.
Overflow camping is located in the day-use parking lot and it's exactly what it sounds like – camping in a parking lot. You are near the path to the beach (not the beach itself), if that makes anything better.
Campsite Options
The Ellison Provincial Park campground is exclusively front-country camping. Backcountry and marine camping aren't available – but you can moor a houseboat on the pet beach.
The campground is nestled in a mature Douglas fir and Ponderosa pine forest. The forest isn't dense, but there's lots of space between sites and plenty of undergrowth. Even though you can see your neighbours through the trees, they're far away and you can enjoy plenty of privacy.
Campsites along the outside loops are the most private, with the exception of #12 and #13 which back onto a nearby vacation resort.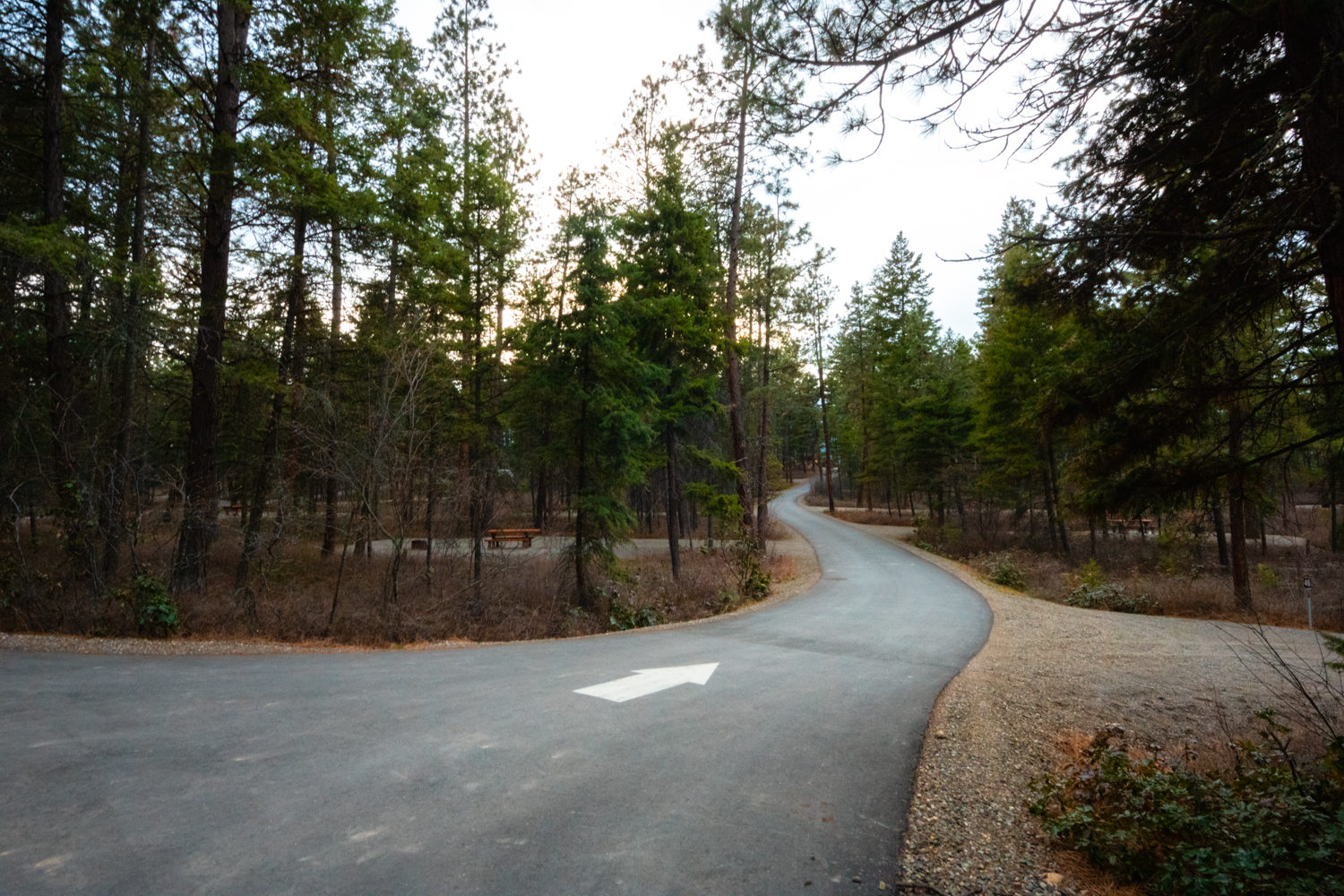 Campsite Information
Ellison's campsites are very well-maintained. Each site has a fire ring, large wooden picnic table (that can't be moved), and level gravel pad.
During the summer, fire bans are often in place which means you can't use the firepit. However, you can use propane firepits instead (not available on-site).
The campsites at Ellison can accommodate trailers and RVs up to 50'. Site-specific information, including pad size, is available at BCParks.ca. All campsites are back-in only and you may have to watch out for low-hanging branches. There are no hook-ups.
Camping Fees
Ellison Provincial Park accepts both cash and card. They even have a portable machine, so you can use your card right at your campsite.
Campsites: $32/night
Online Reservation: $6/night
Seniors: $16/night *Applies from the day after Labour Day to June 14
Second Vehicle: $12/night
Firewood: $10/bundle
*While I do my best to provide up-to-date fees, there may be a discrepancy between what's posted here and the actual cost.
Camp Host Information
The camp host is located just down the road from the information sign at the park entrance, near site #59. They sell firewood, ice, and an assortment of treats (including ice cream bars). They also have tourism brochures and a free book exchange.
For firewood, the camp hosts regularly drive around in the evening. It's easy to catch them and grab a few bundles of firewood. There's also a firewood delivery sign-up at their campsite.
The park is operated by Kaloya Contracting Ltd. and can be contacted at (250) 766-7972 (not for reservations) and [email protected].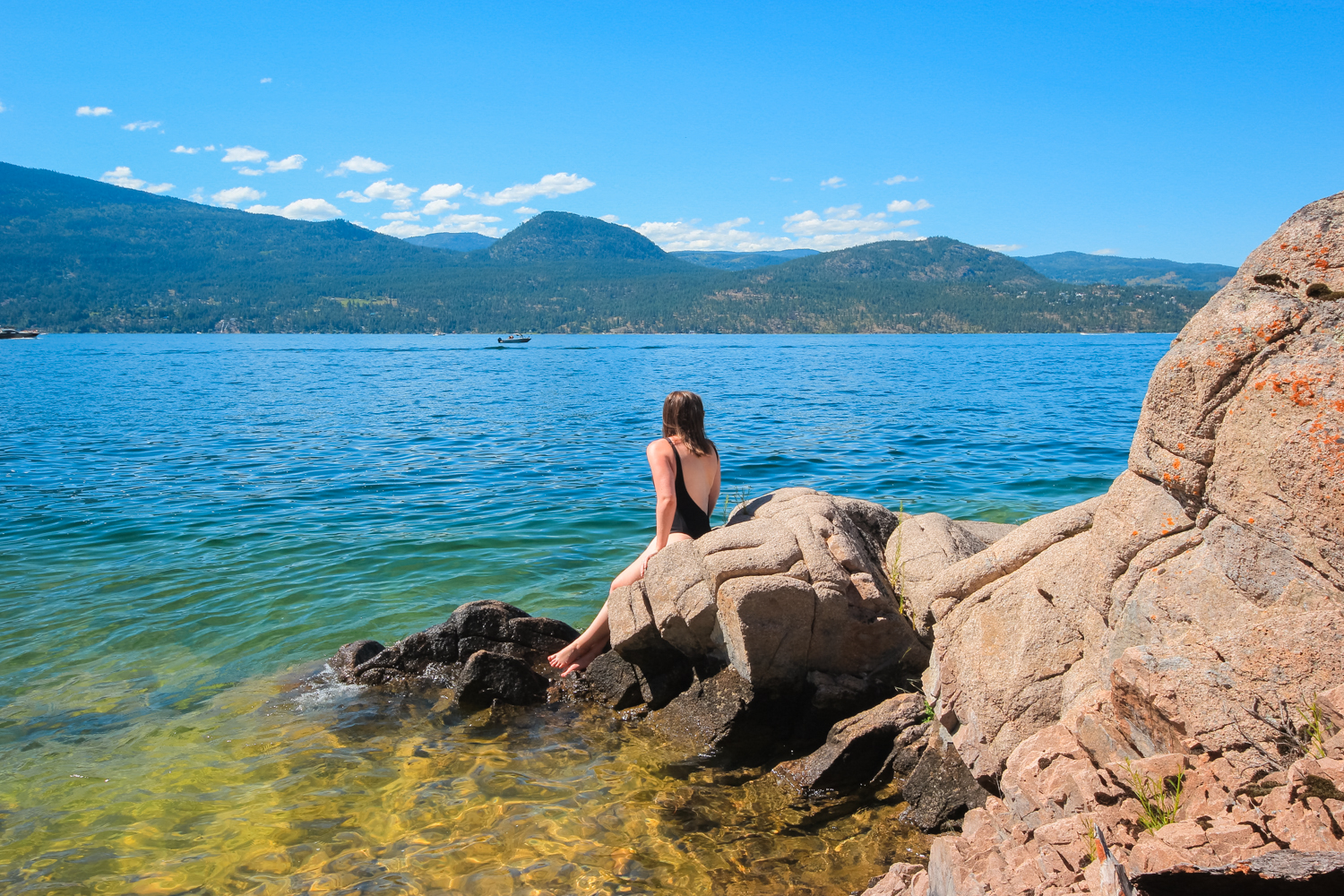 Facilities & Amenities
Ellison Provincial Park has plenty of facilities and amenities that will make your visit, whether you're camping or visiting for the day, more comfortable and enjoyable.
From flush toilets, warm showers, drinking water, and dishwashing stations to an amphitheater, playground, and paved trails, you can enjoy plenty of creature comforts at Ellison.
Showers
The Ellison campground has a clean, well-maintained shower facility. Located on the outer loop between sites #36 and #47, there are four total showers; two each for men and women. Showers are free.
The showers are a little larger than a standard bathroom stall and have a stall door. Inside, there's a changing area and shower curtain. The push water nozzle faces outwards, towards the changing area, so make sure you keep everything off the ground to prevent it from getting wet. The showers are timed, with each button push giving you one minute of water. You can't adjust the temperature.
The building also has flush toilets (one on each side), electrical plugs, sinks with mirrors, hand dryers, and two dishwashing stations.
There's also an outdoor shower (a simple showerhead with no walls) at the beach to help prevent swimmer's itch.
Toilets
There are nine toilets throughout the campground and day-use area. All but one are flush with sinks. Even the two toilets between the beaches are flush. The only pit toilet is located at the Otter Bay beach.
Park operators clean the toilets regularly.
Water
There are six cold spring water taps throughout the Ellison campground and day-use. The water taps are turned off during the winter (October to April).
The water is usually drinkable, but there are sometimes issues that require you to boil it or use a filtration system such as Lifestraw, Steripen, or tablets.
There are no RV fill-ups in the campground.
Sani-dump
Unfortunately, there isn't a sani-station at Ellison Provincial Park. Luckily, there are plenty of places in the area where you can empty your tank.
Use this sani-dump guide, which includes over 1000 locations across Canada, to find nearby sani-stations.
Campfires
Each campsite has a campfire ring with a grate that you can use. There are also campfire rings in the day-use area.
You can buy firewood for $10/bundle from the park host or when they come by in the evening. The hosts will even deliver your wood directly to your campsite if you use their signup sheet!
Fire bans or limited burning hours may be implemented (particularly during the summer) — if you're unsure of the rules, check with staff or the BC Wildfire Service website before lighting a campfire. During fire bans, you can use a portable propane fire instead (not available on-site).
Dishwashing Station
There are two stainless steel dishwashing stations at the back of the shower facility. There's even hot water!
A motion-detecting light provides light at night, but it's best to bring your own headlamp for extra illumination. The dishwashing stations back onto the forest, which can be a little disconcerting at night.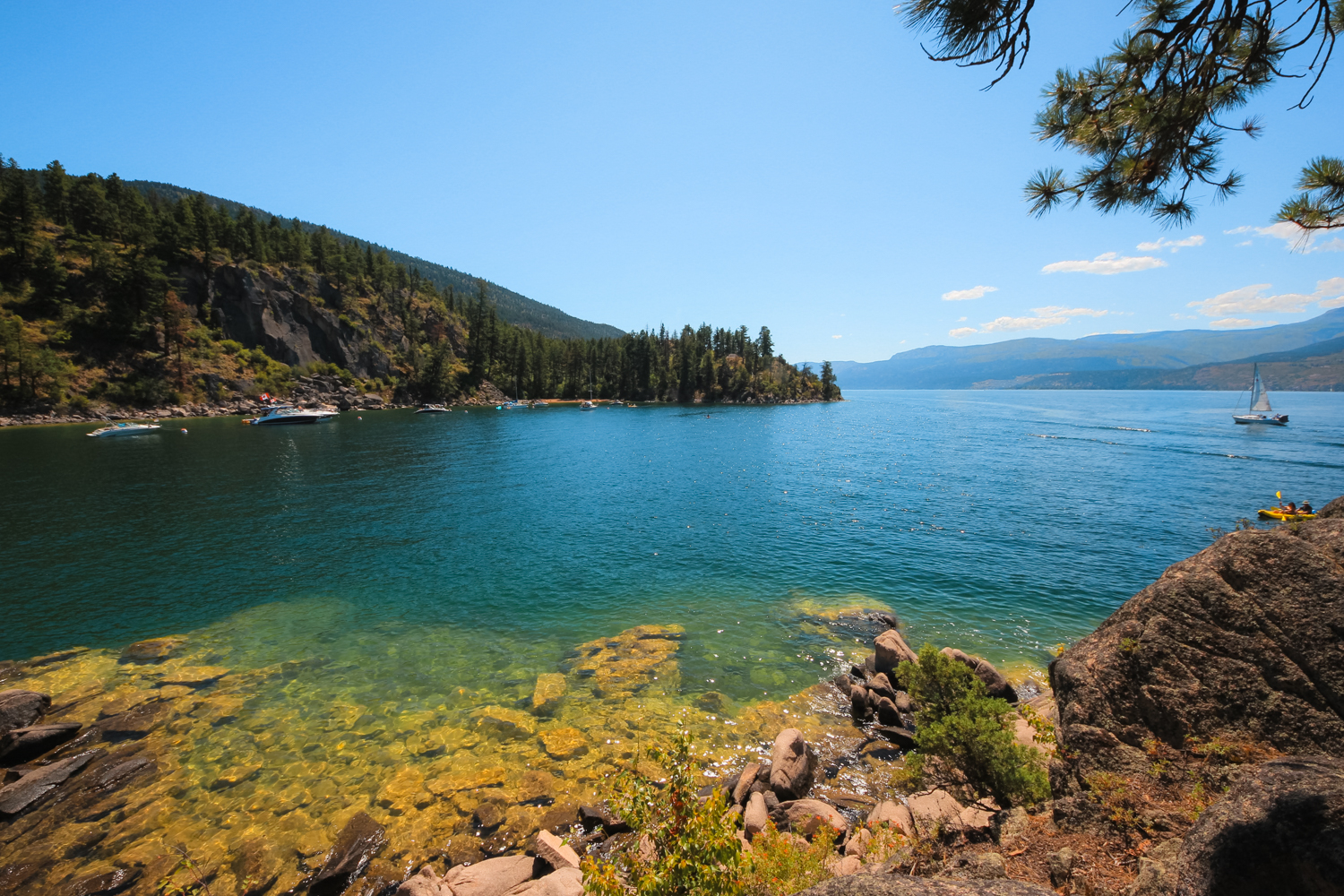 Playgrounds & Fields
There's a large playground, which is adjacent to a large grass field, at the north end of the campground near the day-use parking lot.
The jungle-gym style playground is mulched and has numerous slides, fake climbing rocks, and bars that keep kids entertained for hours. The grassy field is quite large and surrounded by trees, making it a great area to enjoy some sports.
There are picnic tables nearby so families can hang out with their kids. Some campsites back directly onto the playground and field which is ideal for families with young kids.
Amphitheatre
Adjacent to the playground and field is an Amphitheatre with eight, double-sided rows of benches. During the summer, BC Parks runs a number of different educational programs here.
Parking
There's plenty of parking at Ellison Provincial Park. There are two large day-use parking lots at the north end of the park. If you're visiting someone who's camping, it's best to park here and walk to their campsite.
There's a small handicap-only parking area that connects with the Otter Bay beach. The access road is off the main parking lot.
Day Use Area
The day-use area at Ellison is quite extensive! There are two stunning beaches, over 6 km of hiking trails (not to mention those that connect with Predator Ridge), swimming, and an assortment of water activities.
In the summer, the Okanagan sees a huge influx of visitors. Surprisingly, though, Ellison has continued to stay relatively peaceful despite offering so much, even during the busiest months.
Day-Use Beaches at Ellison
There are three beautiful beaches at Ellison Provincial Park. The sandy beaches are tucked away in two secluded bays on Okanagan Lake and are less crowded than others in Vernon or Kelowna. Don't get me wrong, they can still be busy, but not as busy.
One of the beaches is even pet-friendly, so your furry friend can enjoy frolicking in the water!
Access to the two swimming beaches, Otter Bay and South Bay, is via one of two steep, paved trails from the campground above. One trail starts from the day-use parking lots; the other between sites #61 and #62. Switchbacks and benches make the climb easier.
In addition to the beaches, the waterfront that runs the entire length of Ellison has plenty of private areas you'll only find by exploring the rock bluffs.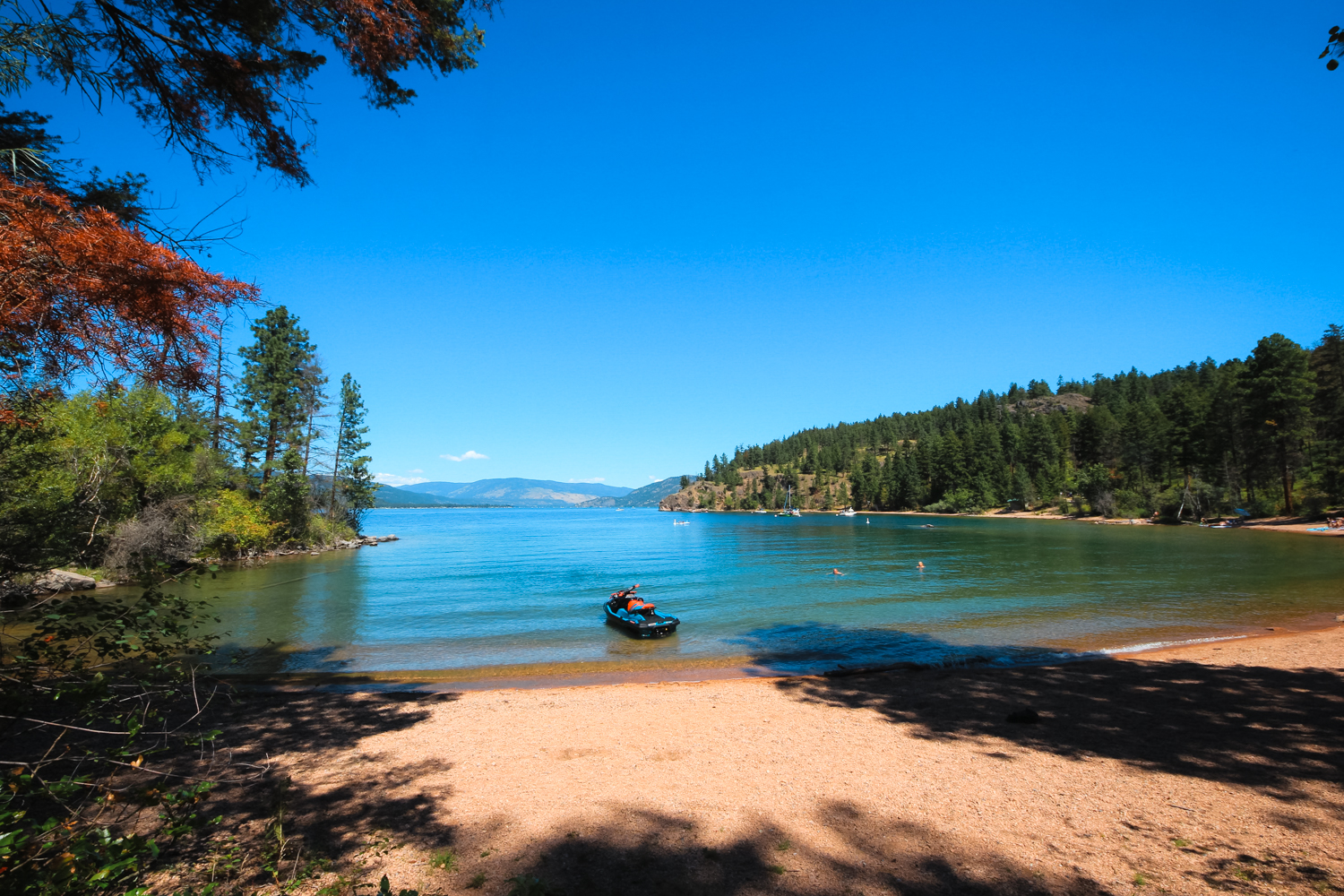 Otter Bay
Otter Bay is one of two main beaches at Ellison. It faces north and looks towards Evely Campground and Adventure Bay. Douglas firs line the bay and provide lots of shade.
The north of the beach is quite rocky and becomes sandier the further south you walk. At the south end of the beach, a small trail lets you explore the unique rocky shoreline. The rocks here are large and fun to explore and swim around.
The swimming area at Otter Bay is lined by buoys and is known as the Underwater Dive Park. If you're into scuba diving, Ellison is a great place to dive! You can check out a dive dome, an old tug boat, and a sunken speedboat.
At the north end of Otter Bay, an access road connects the beachside handicap parking with the picnic area. This road is gravel and runs the length of the beach. At the end of the access road, there's a pit toilet and water tap.
Just above the beach, numerous picnic tables line the access road. They all have great views and easy access to the lake. Behind these picnic tables, there are two group picnic areas complete with campfire rings, log benches, and even a volleyball net.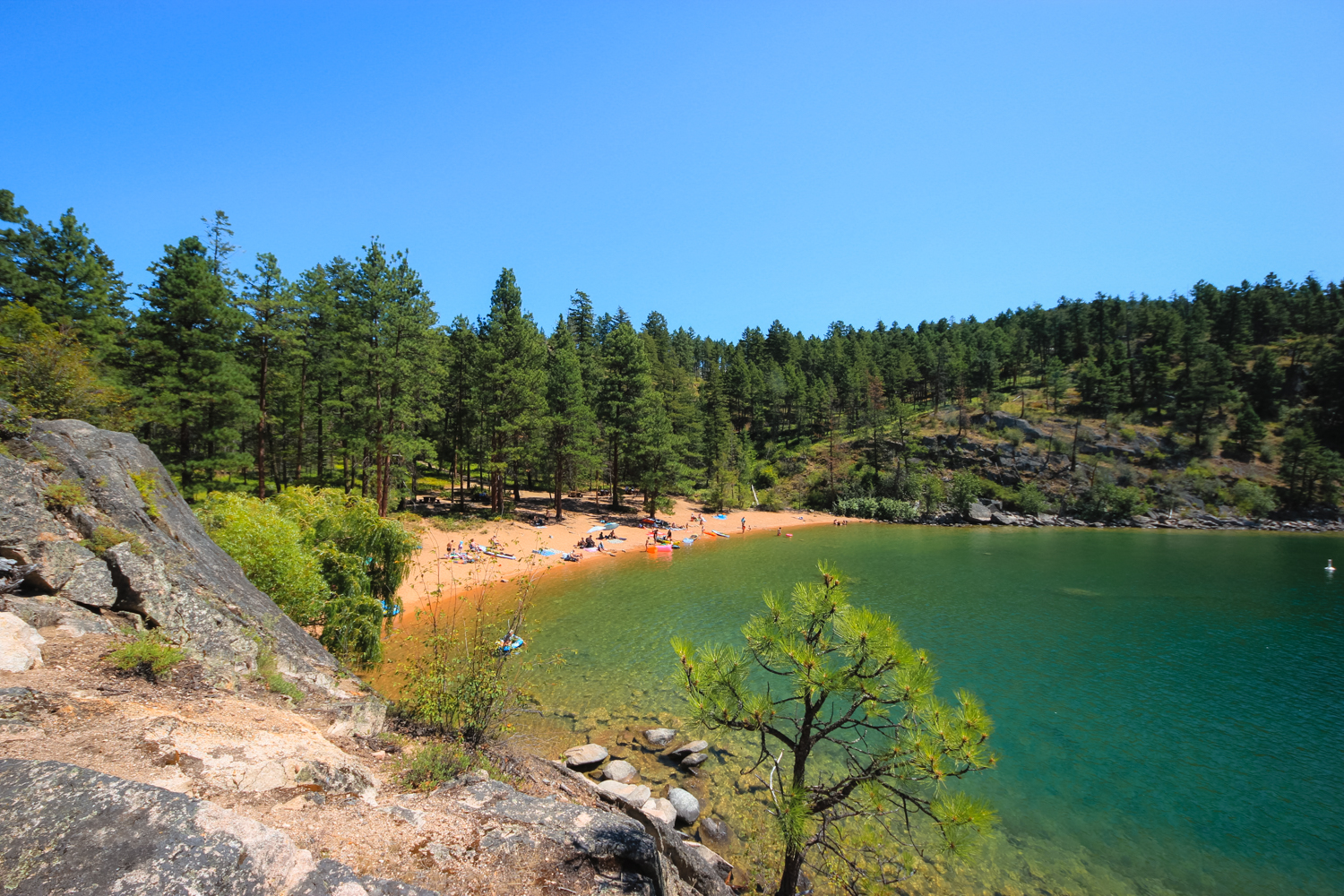 South Bay
South Bay is another main beach at Ellison. It's bordered by tall, rocky headlands and stretches south towards the pet beach. These rocky headlands are very fun to explore; people even boulder and climb the granite walls that separate South Bay with Sandy Beach.
The sand at South Bay is finer than Otter Bay and the water is much clearer. On sunny days, the water turns a stunning blue-green and is reminiscent of tropical waters – it even gets decently warm.
A low rock wall separates the beach from the picnic tables. There are seven picnic tables, surrounded by shady Ponderosa pines, at South Bay. There's also a large swimming area, marked by buoys, and a few mooring buoys farther out.
Although there isn't a bathroom on the beach, there are two flush toilets located between South Bay and Otter Bay. There's a water tap at the beach.
Sandy Beach
Ellison Provincial Park has a dog-friendly beach, Sandy Beach, at the southwestern end of the park. It's a beautiful beach and your furry friends will enjoy running up and down the beach and splashing in the water.
It's the smallest of the three beaches, but the fact that your furry friends can enjoy the water make up for that!
To access the pet beach, follow the trail located between sites #11 and #12. The trail borders the nearby vacation rentals fence for a short distance before heading downhill through the forest.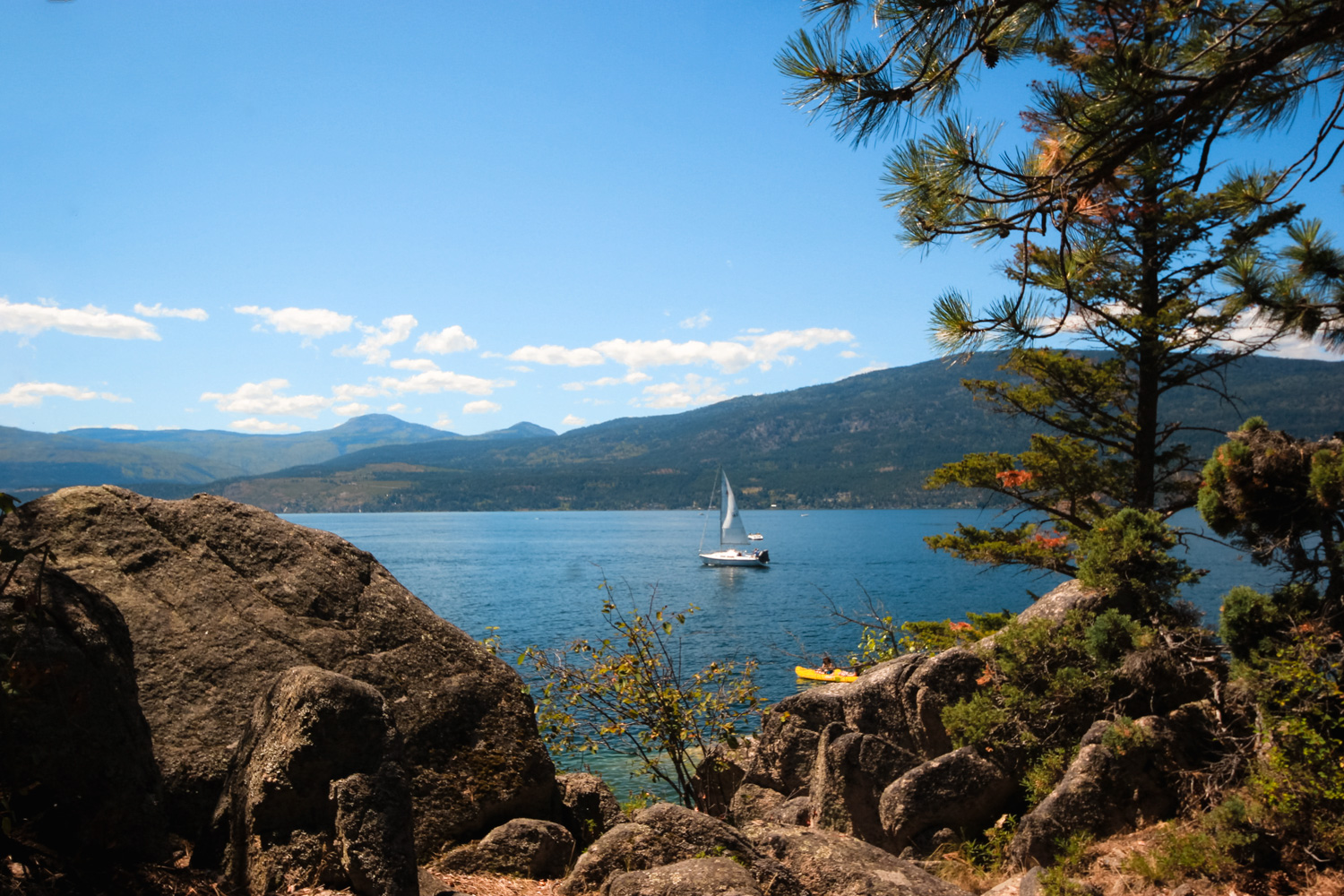 Things to Do at Ellison
With Ellison's natural beauty and prime location on Okanagan Lake, there's no shortage of recreational activities at Ellison. Enjoy swimming, hiking, camping, fishing, scuba diving, climbing, biking, kayaking, paddle boarding,and more.
Swimming at the Beach
With three beautiful beaches and plenty of space for everyone, beach days are a must while visiting Ellison.
The lake is relatively warm and has a gentle, sloping bottom which makes it great for swimming – especially with little ones. The sand is a little pebbly, but still very easy to walk on with bare feet. There are also plenty of picnic tables if you'd rather enjoy some shade.
And don't just stick with the beaches! Explore the rocky headlands and take a dip.
There are no lifeguards on duty, so please look out for yourself and others.
Swimmer's Itch
Unfortunately, swimmer's itch is sometimes present at Ellison throughout the year. Luckily, it's pretty easy to protect yourself.
After swimming, use the outdoor shower between the two beaches so you can quickly clean off, then dry yourself well. If you do get itchy, use calamine lotion.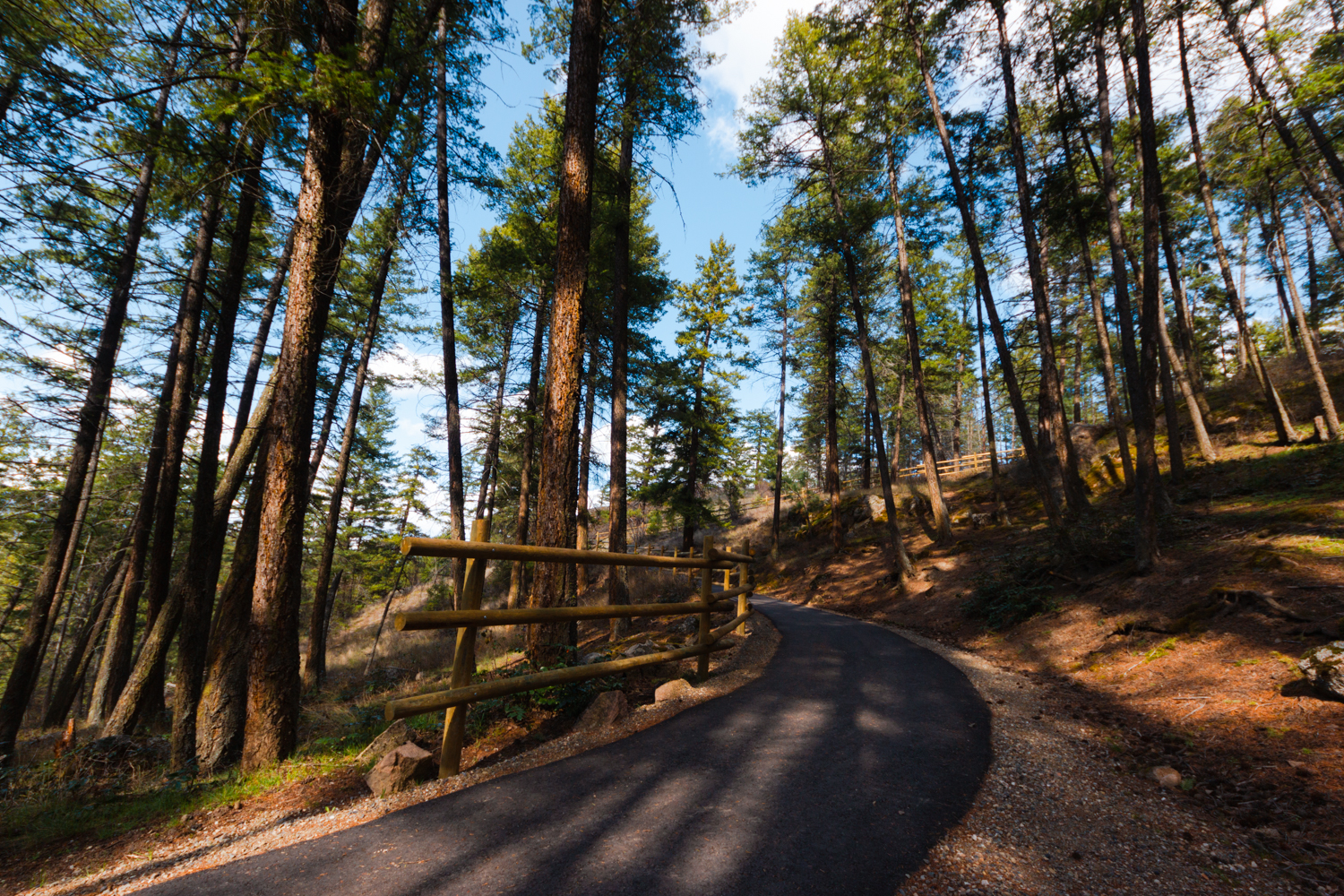 Biking
There's a great network of bike-friendly, multi-use scenic trails at Ellison. Whether you're into casual loops around the park or adrenaline-pumping mountain biking, there's a biking trail for you.
Kids and other casual bikers can easily bike around the campground on paved roads. Some of the roads are a little steep, especially for the kiddos, but the hills are short enough that it's no big deal to push a bike up if needed.
For mountain bikes, the Ellison-Predator Ridge biking trails are where it's at. The majority of mountain biking trails are located near Predator Ridge which is accessible by trails from Ellison. Check out the North Okanagan Cycling Society for trail maps and details.
You can ride your e-bike at Ellison as long as it complies with BC Park's biking guidelines. And remember that you have to wear a helmet in BC, so don't leave it at home!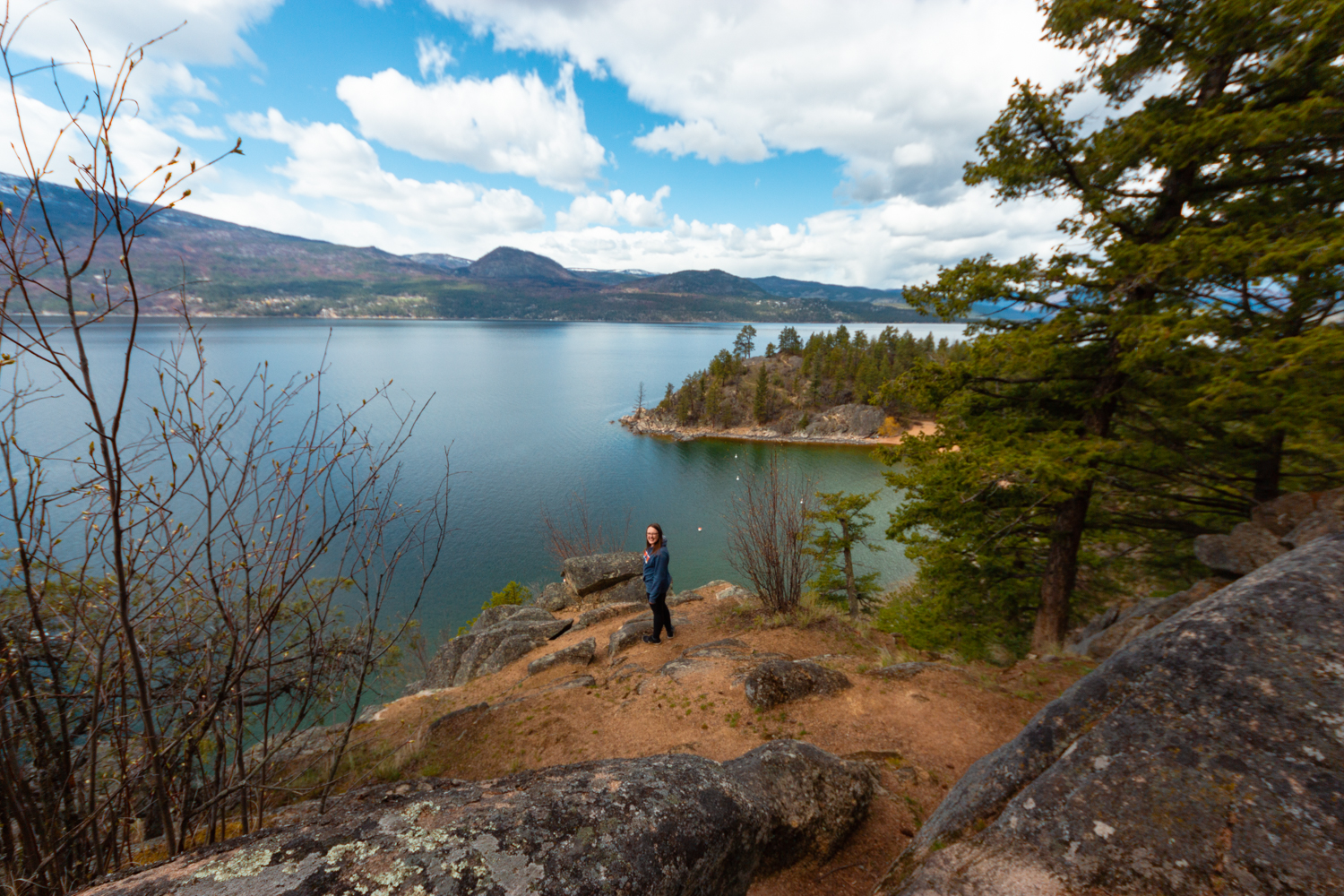 Hiking at Ellison
You can experience the natural, rugged beauty of Ellison Provincial Park by exploring the many hiking trails. Hiking through the hilly terrain, you'll be greeted with spectacular vistas overlooking Okanagan Lake, discover unique rock formations, all the while getting in a great workout!
According to BCParks.ca, there are over 6 km of hiking trails in the park. Heavy emphasis on the over.
Beach Access Trails
There are three official trails to access the beaches. Two are 100% paved trails starting from the day-use parking lot and the campground; the other leads to the pet beach. These are beautiful, but steep, trails that bring you through the Ponderosa and Douglas fir forest.
While these trails are important for beach access, they're not what most of us have in mind when we think about hiking.
Evening Trails
Between sites #26 and #27, there's a hike called Evening Trail. This hike climbs into the rocky headlands between the campground and the lakeside cliffs where you can enjoy beautiful views over the forest and Okanagan lake.
The sun sets opposite this viewpoint and offers stunning sunset views – hence the name, Evening Trail.
Officially, the Evening Trail is quite short. But, once you're up there, you'll discover other trails along the top of the headlands and the edge of the cliff. In fact, these trails run behind site #10 all the way to site #61 (on the outer loop).
Cliffside Trails
From the cliffside trails (accessed via the Evening Trail), you look out over South Bay and Sandy Beach – it's stunning! There are plenty of places to tuck yourself amongst the rocks to enjoy the view, a picnic, or read in peace and quiet. It's really beautiful.
Keep in mind that walking along the cliff can be quite dangerous, so please be very careful and watch your footing. Stick to the already established trails so that you're not trampling the forest floor.
Nature Loop Trail
The Nature Loop trail is a family-friendly, slightly challenging loop hike that starts and ends in the campground.
Beginning from the day-use parking lot or information sign, you'll hike up into the forest, eventually coming to a bluff overlooking Okanagan Lake. Spend some time here and take in the view!
Once you're done admiring the panoramic view, you can either head back downhill to complete the loop or climb higher to connect with the larger trail network.
Other Hiking Trails
In the hills above the Ellison campground, there are a ton of hiking and mountain hiking trails! The network is huge and much too large to include details on every trail in this article.
Because of that, I highly recommend you check out the hikes on AllTrails. There are only two named routes in the provincial park on the app, but you can easily see all of the other hiking trail options and plan your hike accordingly.
As you'll see on AllTrails, there's a large network within the provincial park but you aren't confined to just the park. Many of the hiking trails connect with the large hiking network at Predator Ridge – you aren't going to run out of hiking trails at Ellison anytime soon!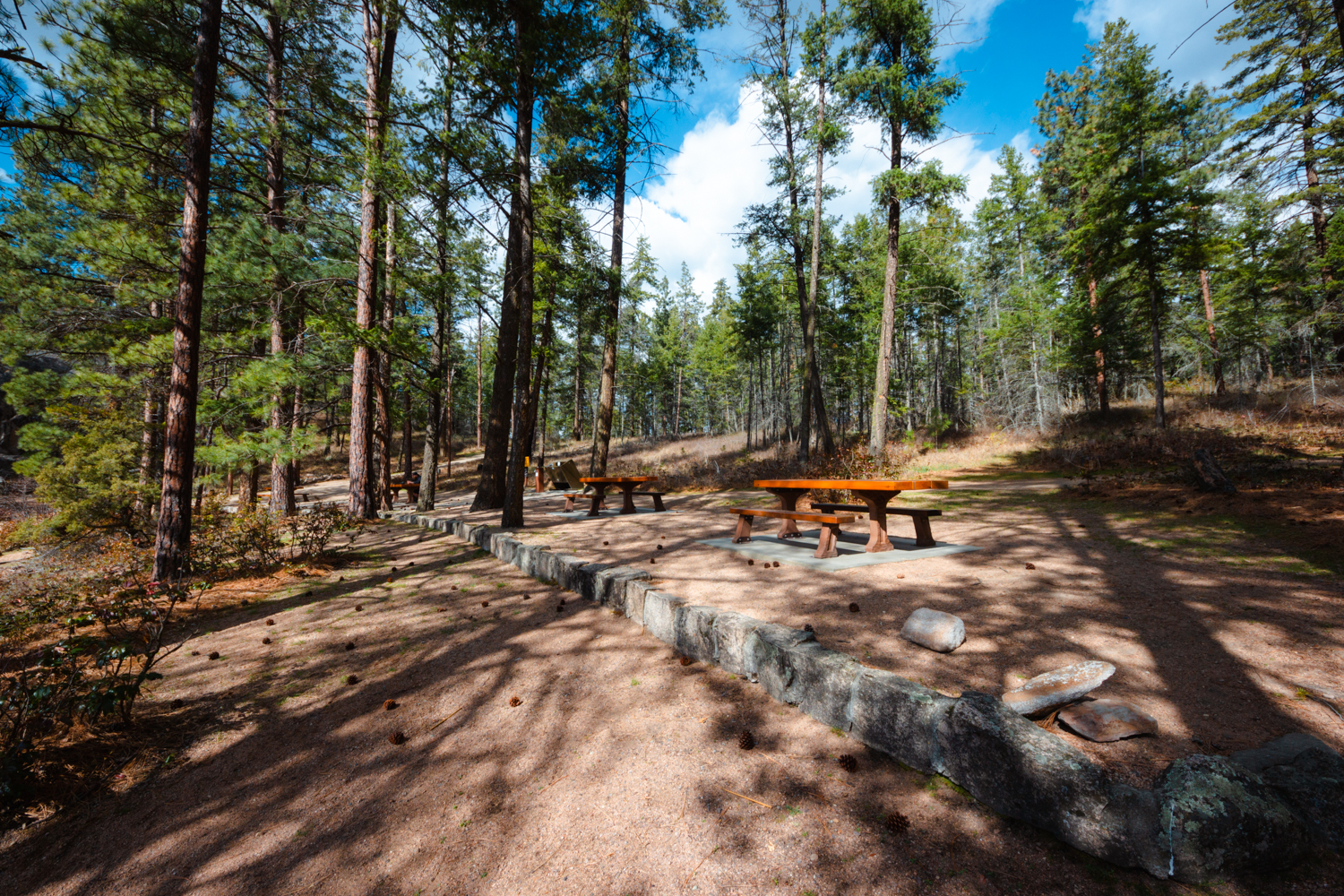 Water Sports at Ellison
When you visit Ellison Provincial Park, whether you're camping or day tripping, there's no shortage of water sports to keep you busy.
There are no boat launches at Ellison, but you can carry your gear down to the lake. There are also a number of boat launches nearby if that's more your speed. Just north of the park, there's a car-top boat launch and about 8 km north there's a full boat launch.
Canoe, Kayak & Paddleboard
With an extensive shoreline made up of sandy beaches and rocky headlands, as well as hundreds of kilometers of shoreline beyond the park, kayaking, canoeing, and paddleboarding are a wonderful way to explore Ellison.
Paddle along the shores and see what you can discover! On a calm day, you can easily paddle right up to the rocky shoreline and go for a swim.
Tip: Okanagan Lake is very popular with motorized boats in the summer. Since the lake is quite wide, it's best to keep your paddling along the shore where you'll be safer.
There are no rentals at Ellison, but you can rent gear from MEC, Ed's Mobile Kayak Rentals, Innerspace Watersports, or Kalavida Surf Shop.
Boating
Although there are no boat launches at Ellison Provincial Park, there are mooring buoys. From here, you can enjoy a number of water sports, including boating, water skiing, sea-dooing, tubing, wakeboarding, and more on Okanagan Lake.
Boating is very popular in the summer – and for good reason! When the summer temperature in the Okanagan often reaches above 35°C, there's nothing like a dip in the water to cool down.
Houseboats can moor at Sandy Beach and camp overnight for the standard camping fee.
Fishing
There are plenty of freshwater fish in Okanagan Lake and you can enjoy fishing while visiting Ellison Provincial Park. Surprisingly, Okanagan Lake isn't often taken advantage of for its fishing – maybe because it's so popular with summer sports? I won't pretend to know.
Kokanee, rainbow trout, whitefish, and burbot can all be found in Okanagan Lake. For more information about fishing on Okanagan Lake, check out BCFishn.com.
Before you head out, make sure you have the correct fishing license. You can buy a license online.
Scuba Diving
Yes, you can scuba dive and snorkel at Ellison! Otter Bay, known as the Underwater Dive Park, is western Canada's first freshwater scuba diving and snorkelling park. Items have been sunk just off-shore that attract fish – and maybe the Ogopogo?!
Climbing
The cliffs between South Bay and Sandy Beach are made of granite and offer truly scenic climbing right next to Okanagan Lake. The small climbing area is mainly used by locals and beginners. If you want to give it a try, local rec groups offer guided climbing and/or day camps.
Geocaching
Hidden in the rugged landscape of Ellison Provincial Park are about a dozen geocaches. You can easily spend a few hours searching for the hidden treasures, all the while experiencing the beautiful forests, rocky headlands, and stunning bluffs.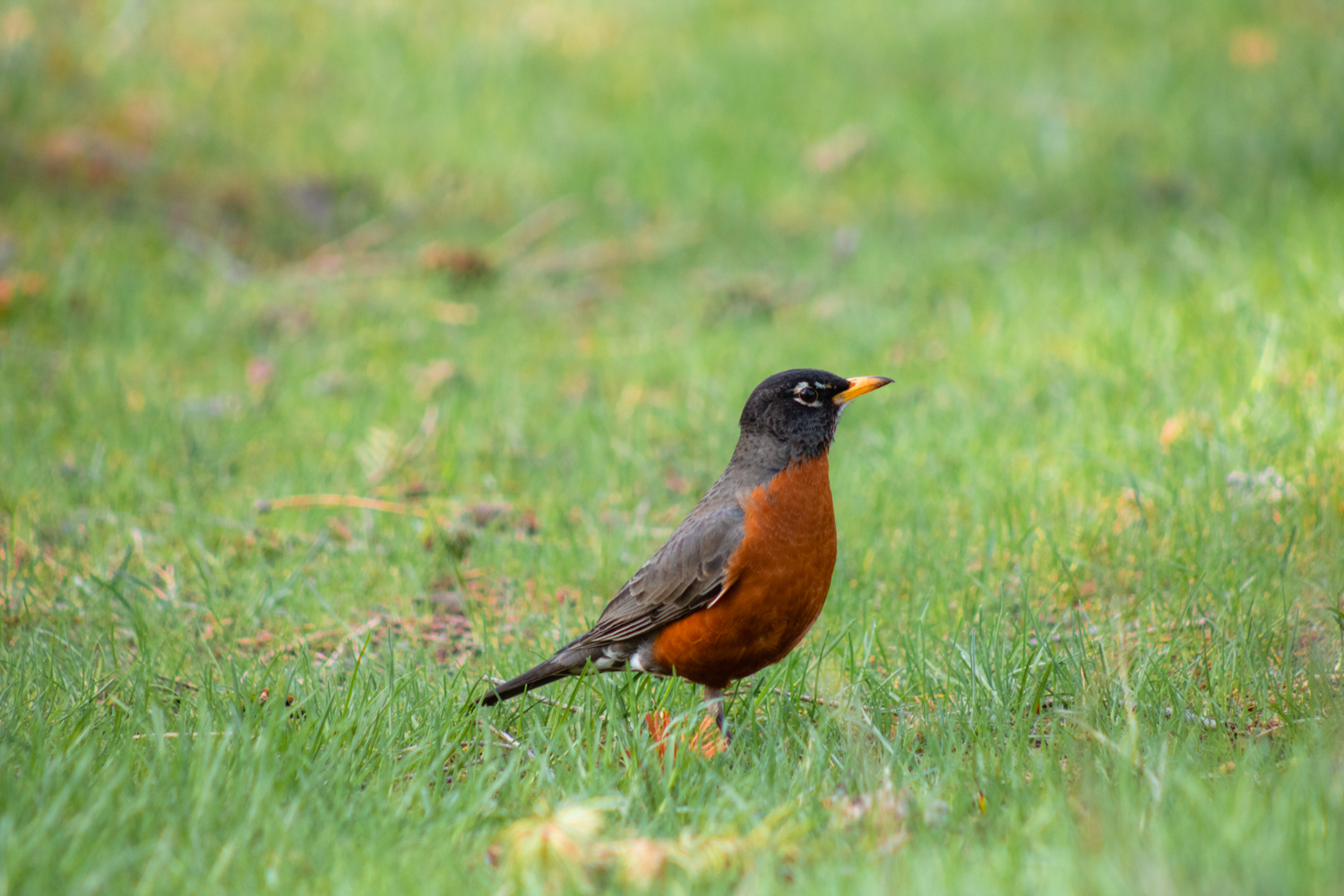 Wildlife & Plants
Ellison Provincial Park is 220 hectares and backs onto a forested mountain, leaving plenty of space for wildlife to live. The types of wildlife and plants you'll see are in line with what you may encounter throughout the rest of the Okanagan, so keep this in mind for all of your adventures!
Wildlife
It's very likely you'll see some sort of wildlife while visiting Ellison – but it's pretty unlikely it'll be anything scary! Deer, squirrels, porcupines, and a wide array of birds are often seen throughout the park.
Bears and cougars also live in the area, but are rarely seen within the campground or day-use area. If you encounter these large animals, it's more likely you'd see them in the mountainous area behind the park.
To keep yourself and the wildlife safe, I highly recommend RecSafe with Wildlife's bear safety online course. Kim's doing amazing work educating people about bear and wildlife safety!
Plants
Mature Douglas firs and Ponderosa pines make up the majority of the tree cover at Ellison. Low underbrush covers the forest floor.
My Thoughts on Ellison Provincial Park
I love Ellison for camping, hiking, and just hanging out at the beach. It's a beautiful park with stunning, turquoise waters and I've always had an enjoyable time there.
However, as much as I love Ellison, there are a few cons that are important to point out so that you can judge these based on your personal needs and wants.
To access the beaches, you have to walk down a short, but fairly steep, paved trail. Depending on your fitness and health, this could be difficult.
Swimmer's itch occurs here.
Sites #11 to #15 border a cottage vacation resort which really limits privacy.
The showers are one temperature.
No RV hookups.
It's a pretty family-friendly park. If that's not your scene, you may not enjoy Ellison.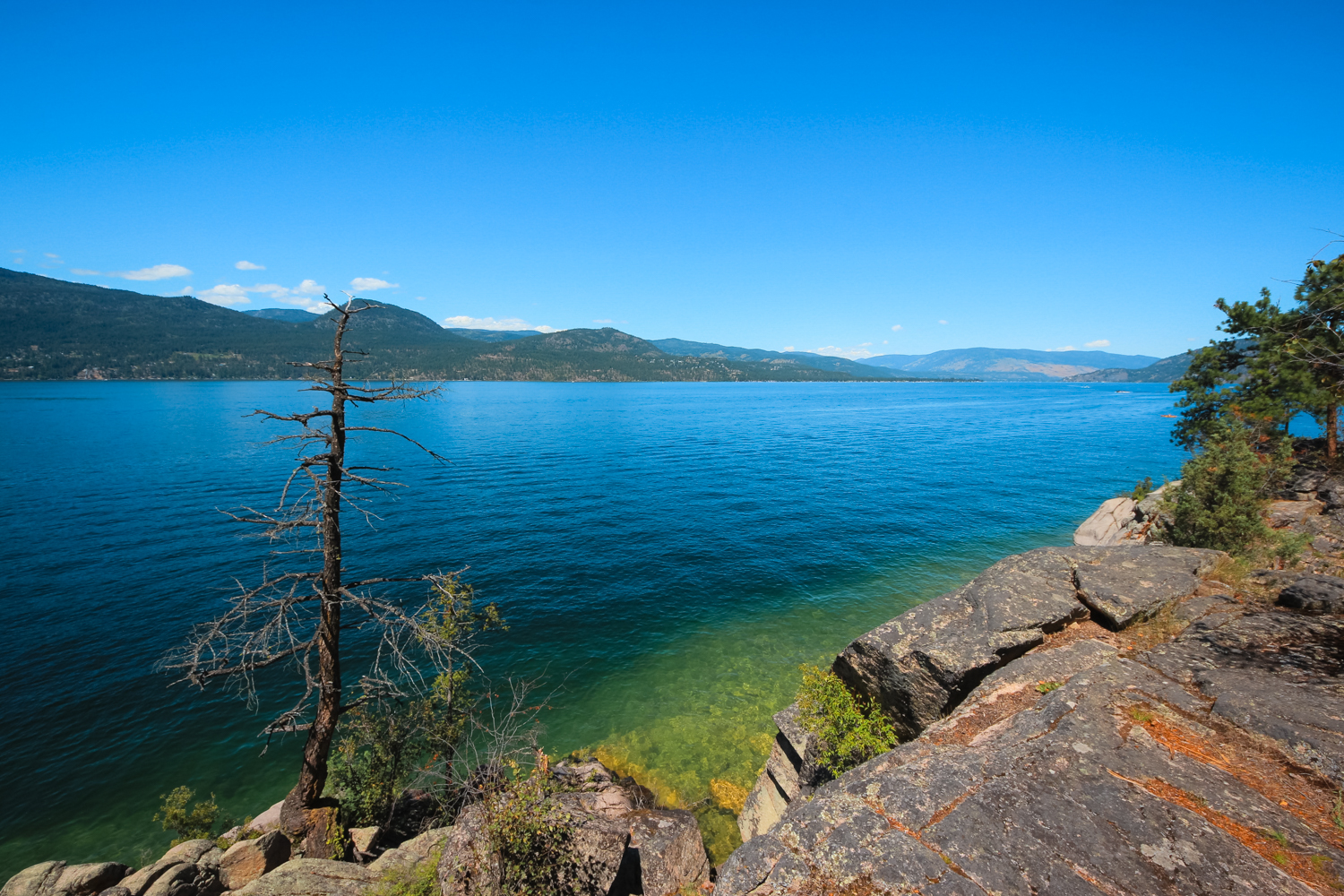 Nearest Services
The Ellison campground is also only 20 minutes from Vernon, so if you absolutely need something you don't have to drive far.
Vernon has everything you'd need, including gas stations, Walmart, Superstore, Canadian Tire, and Rona, as well as plenty of restaurants (local and chain), cafes, and coffee shops.
FAQ
What is Ellison Provincial Park known for?
Ellison is popular for its natural beauty and outdoor activities, including swimming, hiking, biking, climbing, kayaking, paddle boarding, and scuba diving. During the summer and long weekends, the day-use and campground are well loved.
Can you swim at Ellison Provincial Park?
Absolutely! Swimming is a very popular activity at Ellison during the summer. With three beaches, rocky shorelines to explore, and warm water, there's no shortage of beautiful places to swim.
Is Ellison Provincial Park a dog-friendly park?
Yes, Ellison is dog friendly. Dogs are required to be leashed within the park and campground. There's also a dog-friendly beach where your furry friend can enjoy the water (they're not allowed at the other beaches, though).
Is it free or pay parking for day use?
Day-use at Ellison Provincial Park is free. There's no fee for parking or use of the facilities. Camping has an overnight fee.
Is the road into Ellison Provincial Park totally paved?
Yes, the road from Vernon to Ellison is completely paved. The roads inside the campground are also paved.