Snowshoeing & Winter Hiking in the Okanagan
From Penticton to Kelowna to Salmon Arm, there are a ton of places to go snowshoeing in the Okanagan. You won't be bored anytime soon!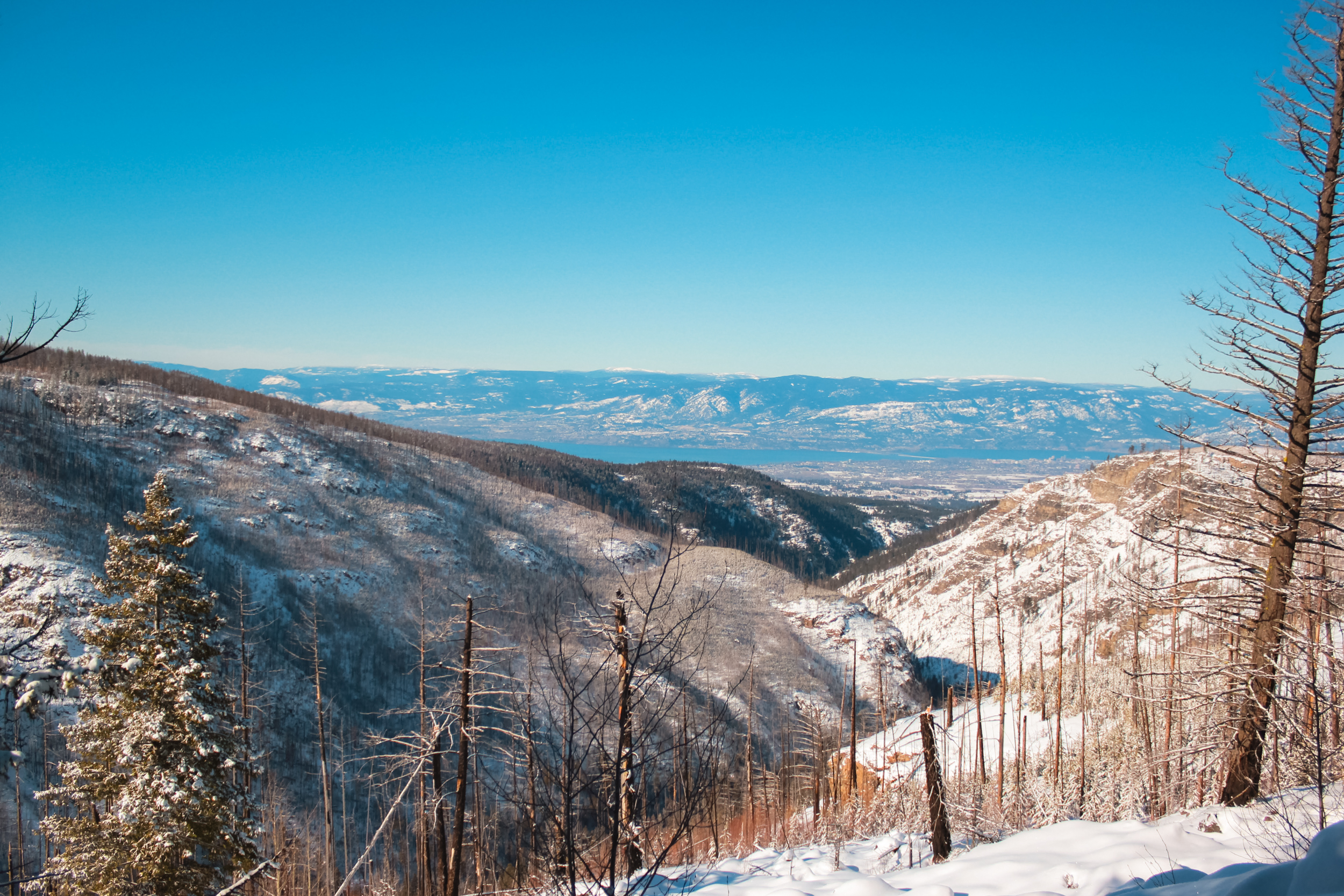 The Okanagan is jammed packed full of places to go snowshoeing. You won't run out of trails to explore anytime soon! If you're wondering where you can go snowshoeing in the Okanagan, you're in the right place.
From groomed trails at nordic clubs to unmaintained mountain trails, there are snowshoe trails for all experience levels around the valley.
Snowshoeing is pretty popular and for good reason. Unlike many other winter activities, it's a fairly easy and relatively inexpensive sport to get into. You don't need to be a seasoned hiker to enjoy it.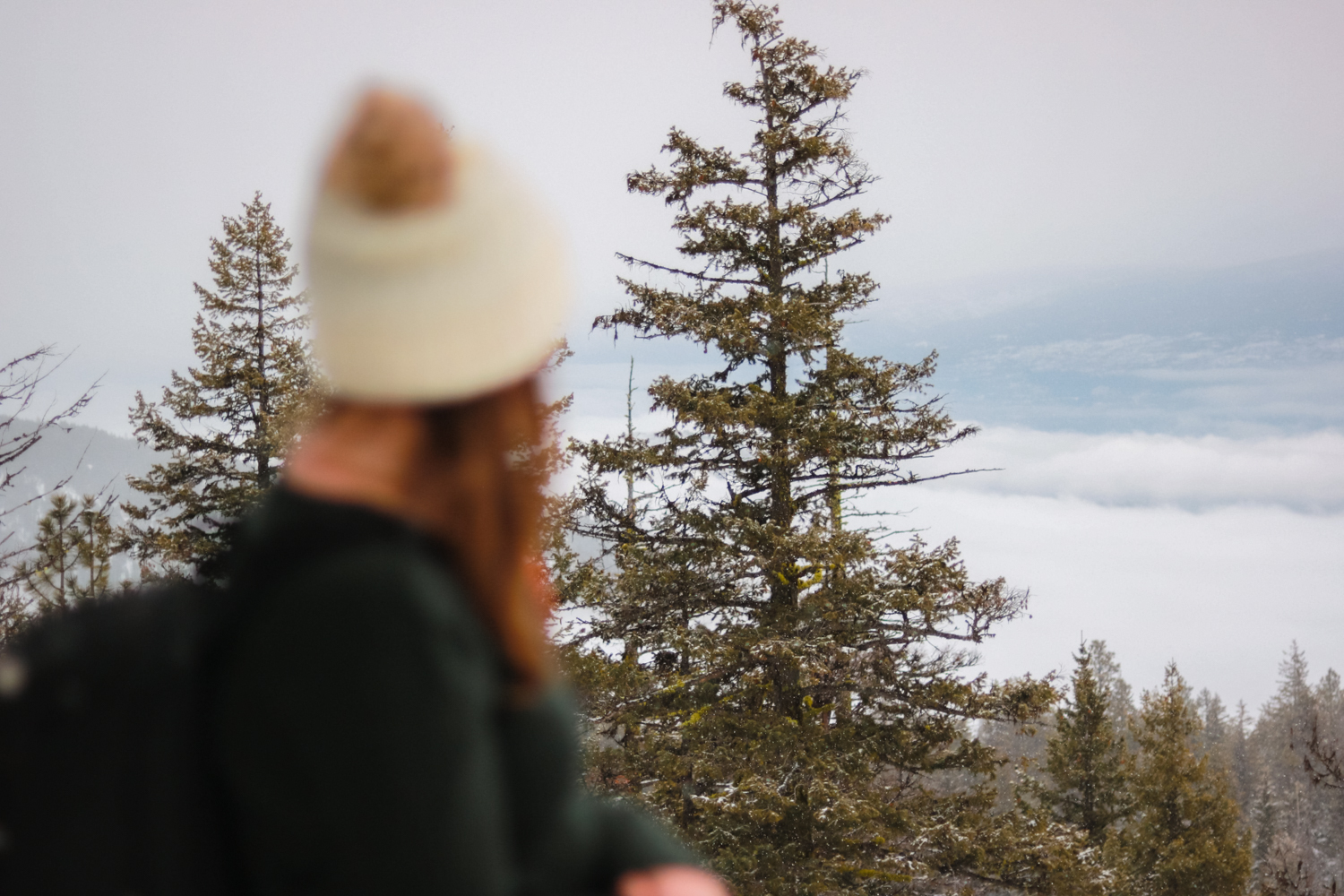 Nordic Clubs
I'll start with the obvious. Nordic clubs are a great place to go snowshoeing! Since they're made specifically for winter recreation, they know what's up.
Nordic clubs are often a mix of cross country skiing and snowshoeing trails. The trails are usually quite extensive and you could easily spend days exploring all of them. Nordic clubs are usually equipped with a lodge, washrooms, and (sometimes) rentals. Some have extra amenities, but for the most part, you're on your own. It's part of the charm!
Nordic clubs are run by volunteers and have annual memberships that go towards maintaining the buildings and trails. However, you can also pop in with a day-use pass. If you want to support the club and plan on doing a lot of snowshoeing or cross country skiing there, a membership might be worth it!
Kelowna Nordic Ski & Snowshoe Club
Kelowna Nordic is 50 minutes from downtown Kelowna, just past the Big White Ski Resort turnoff. It's home to 65 km of well-marked, groomed snowshoe trails and beautiful panoramic views, plus a few cabins. The trails are even GPS mapped! Your dogs can accompany you on all of the snowshoe trails, but not into the cabins.
Kelowna Nordic doesn't offer snowshoe rentals, but MEC and Fresh Air offer 24-hour rentals. Day-use snowshoe passes are $10 and purchased online.
Larch Hills Nordic Society
Larch Hills is 30 minutes from Salmon Arm, located in the hills behind Mara. It has about 16 km of wilderness snowshoe trails. Since the trails aren't actively maintained by a club, it's extra important you pack the ten essentials, wear appropriate winter clothing, and carry winter essentials like extra clothing, food, and water.
Larch Hills doesn't offer rentals. Snowshoe day-use passes are $8/adult and $5/youth and are paid on the honour system at drop boxes at the trailheads.
McKinney Nordic Ski & Snowshoe Club
McKinney Nordic is 30 minutes from Oliver, just before Baldy Mountain Resort. It's a small club with only 5 km of snowshoe trails and a few small shelters, but don't let that stop you from checking it out! It's a great place to go snowshoeing. You can bring your dog on the snowshoe trails, but please keep them off the ski trails.
McKinney doesn't offer rentals and in lieu of day-use passes, they ask for donations so that the volunteers can continue to keep the club running.
Nickel Plate Nordic Club
The Nickel Plate Nordic Club is 50 minutes from downtown Penticton, just past Apex Mountain, and has one of the longest ski seasons in Canada! There are 25 km of marked snowshoe trails and you can track your hike using the GPS maps in Trailforks.
Nickel Plate offers snowshoe rentals which must be purchased online ahead of time. Day passes are $15 and must also be purchased online. If you have First Nation, Métis, or Inuit identification, day passes are free for you and your family.
Revelstoke Nordic Ski Club
Revelstoke Nordic is 15 minutes from Revelstoke near Upper Arrow Lake. Although most of the trails are for skiers, there is a 4.5 km snowshoe trail that meanders through rolling hills. Your dog is allowed on the snowshoe trail but must be under control and on-leash when the snowshoe trail crosses the ski trails.
Revelstoke Nordic offers snowshoe rentals on a first-come-first-serve basis, but they recommend calling ahead to make sure they have enough. Snowshoe day-use passes are $6/vehicle and are paid on-site.
Skmana Ski Club
Skmana Ski Club is 20 minutes from Chase on a forest service road. It's a small club with about 3 km of snowshoe trails that skirt the edge of East and West Skmana Lake.
Skmana Ski Club doesn't offer snowshoe rentals. Day-use passes are $10 and are paid on-site using the honour system.
Sovereign Lake Nordic Club
Sovereign Lake is 30 minutes from Vernon, right next to Silver Star Mountain Resort. There are about 18 km of snowshoe trails that offer absolutely beautiful views of the valley. All of the trails are GPS mapped on Avenza Maps. Dogs aren't allowed on any of the snowshoe trails.
Sovereign Lake offers snowshoe rentals on a first-come-first-serve basis. Day passes are $11/adult and $8/youth and must be purchased online.
Telemark Nordic Club
Telemark Nordic Club is 30 minutes from downtown Kelowna and is located in West Kelowna near Glenrosa. There are about 60 km of well-marked snowshoe trails that range in difficulty, making it great for all skill levels. You can bring your dog, but you'll be limited to the 7 km K9 trail.
Telemark offers snowshoe rentals that can be purchased online. Day-use snowshoe passes are $9/adult and $5/youth and must be purchased online.
Ski Resorts
The Okanagan, and Kelowna in particular, is well known for its skiing and snowboarding scene. But those of us that prefer the low-key experience of snowshoeing tend to avoid resorts because of how busy they get. At least, I sure have.
Luckily, that craziness is usually reserved for the villages and ski lifts. Since snowshoeing isn't nearly as popular, resorts can actually be a great place to enjoy a quiet snowshoe. And afterwards, you can pop into the village for a pick-me-up or even stay overnight.
Although ski resorts have season passes, you don't need one to go snowshoeing. Most are either totally free or only have a small day-use fee for snowshoeing.
Apex Mountain Resort
Apex Mountain is 40 minutes from Penticton and is a well-kept secret! Unlike other Okanagan ski resorts, it's pretty quiet and locals love it for that. Apex shares many of its snowshoe trails with Nickle Plate Nordic Centre, but it does have its own trail near the village transfer station.
Apex offers snowshoe rentals and snowshoeing is free.
Big White Ski Resort
Big White is located an hour from downtown Kelowna. It's a world-renowned ski resort with roughly 10 km of snowshoe trails that meander through the forest. They also offer snowshoeing tours which is a great way for beginners to learn the ropes. Dogs are allowed on the snowshoe trails, but they must be kept on-leash.
Big White offers snowshoe rentals that must be booked online ahead of time. Access to the snowshoe trails is $15/day or $139/season.
Baldy Mountain Resort
Baldy Mountain is 40 minutes from Oliver and is the Okanagan's smallest ski resort. It also happens to be BC's third highest elevation ski area! Baldy Mountain has 5 km of snowshoe-only trails and varies from beginner to advanced. If you want the comfort of a resort without the crowds, Baldy Mountain is a great choice!
Baldy Mountain offers snowshoe rentals, which must be reserved at least 48 hours in advance by calling 250 498 4086. It's free to use the snowshoe trails.
Revelstoke Mountain Resort
Revelstoke Mountain Resort is located in the heart of Revelstoke, only 10 minutes from downtown. It's a popular ski resort and offers guided snowshoe tours that range from 1.5 to 2.5 hours. Tours are a great way for beginners to learn about snowshoeing and local wildlife. Snowshoes are included in the tour price, as are headlamps and hot drinks.
Unfortunately, Revelstoke Mountain doesn't have any self-guided snowshoe trails.
Silver Star Mountain Resort
Silver Star is 30 minutes from Vernon and is one of the Okanagan's most popular ski resorts. It has 16 km of beautiful singletrack snowshoe trails that crisscross the mountainside, meandering through the forest and near the cross-country trails. Your dog can join you as long as they're under control and you have a leash.
Silver Star usually offers snowshoe rentals, but not for the 2020/2021 season due to COVID-19. Day-use snowshoeing tickets, which are limited, are available at 11 am on-site and are $14/adult and $12/youth.
Other Snowshoe & Winter Hiking Trails
And finally, we've reached all of the other wonderful snowshoe trails in the Okanagan! The good news is that you can turn pretty much any trail in the Okanagan into a snowshoe trail. The bad news is that that might be a little overwhelming.
Before we dive into some of the best trail options around the valley, you'll need to use your best judgement when deciding where to go. If it's just snowed, that's usually the best time to grab your snowshoes and use these trails. If it's been a while, though, the trails might be hard-packed and icy, at which point spikes would probably be a better option than snowshoes.
This is by no means an exhaustive list of snowshoe trails in the Okanagan, but I hope you can use it to start exploring and enjoying the winter.
BX Creek Falls
BX Falls is 15 minutes from downtown Vernon and is a 6.5 km moderate trail that follows BX Creek. You'll snowshoe across a few bridges and climbs some stairs (which can be a little difficult in snowshoes) before coming to a large (hopefully frozen) waterfall!
Kalamalka Provincial Park
Kalamalka Provincial Park in Vernon is home to over 30 km of trails where you could easily spend hours snowshoeing and enjoying awesome views. And the park's got something for everyone, from flat trails that skirt the bottom of the mountain to steep ascents to the top, so it's a great option no matter your snowshoeing experience.
Mission Creek Greenway Regional Park
Mission Creek is a 16.5 km linear trail in Kelowna that runs from Gallagher Canyon all the way to Okanagan Lake. The section near Gallagher's Canyon connects with Scenic Canyon Regional Park and features narrow paths, stairs, bridges, and steep hills, whereas the latter half of the park is relatively flat with wide paths.
Mission Creek is a great snowshoeing option because of the varying levels of difficulty coupled with a winter wonderland environment.
Myra Canyon Trestles
The Myra Canyon Trestles are 40 minutes from downtown Kelowna. Enjoy an easy, relaxed snowshoeing experience with great views of the trestles and valley.
This particular section of the KVR stretches for 12 km from Myra Station to Ruth Station and because it was once a railroad, the grade is barely noticeable at 2%. And thanks to its high elevation, snow stays here a lot longer than below in the valley.
Okanagan Mountain Provincial Park
Okanagan Mountain is located on the shores of Okanagan Lake, 30 minutes from downtown Kelowna. There are a ton of trails crisscrossing the mountain, ranging from 1.5 km to over 8 km, and you could easily spend all your time exploring it.
You'll be treated to beautiful views of Okanagan Lake and solitude unlike anything else. Not many people visit in the winter, so you'll get to enjoy a truly quiet mountain on your snowshoe adventure!
Peachland Lookout
For some solitude, head to the Peachland Lookout. It's a fairly unknown trail hidden in the mountains behind Peachland. The 5 km round trip trail follows an old dirt road through the forest before presenting you with stunning views of Okanagan Lake. It's great all year long, but feels extra special when you're snowshoeing through the winter wonderland.
Predator Ridge
Predator Ridge near Vernon has over 12 km of designated snowshoe trails, ranging from flat for beginners to steep elevation gains for experts, with maps at the trailheads. The trails are dog friendly, they just need to be kept leashed and off the golf course.
Predator Ridge offers snowshoe rentals at their Clubhouse for 2-hour or full-day winter adventures.
Spion Kop
Spion Kop in Lake Country is a great trail all year long. With over 17 km of trails across the mountain, you'll have plenty of options to explore with your snowshoes. Plus, the view from the top is pretty damn awesome!