How to Hike in the Rain: Tips to Stay Dry & Comfortable
Hiking in the rain might not be your first pick for hiking weather, but you should still give it a chance — it can be a lot of fun! One of the biggest things about hiking in the rain is knowing how to stay dry and comfortable because it'll make your experience a lot more enjoyable. Preparation is key here.
Luckily for you, you've come to the right place! We're going to dive into everything rainy day hiking so you're ready for your next adventure — we'll chat gear, mindset, safety, and more. This is a huge guide, so I hope you're ready to learn a ton about hiking in the rain!
Besides, if you live in a rainy place like the Pacific Northwest, being able to hike on a rainy day will prevent some serious cabin fever. A rainy day doesn't mean you can't enjoy the great outdoors!
Read next: Camping in the Rain →
Disclosure: This article may contain affiliate links and I may earn a commission, at no cost to you, if you click and/or buy a product online (even if it's not the product linked). I take great care to only recommend helpful products and appreciate your support!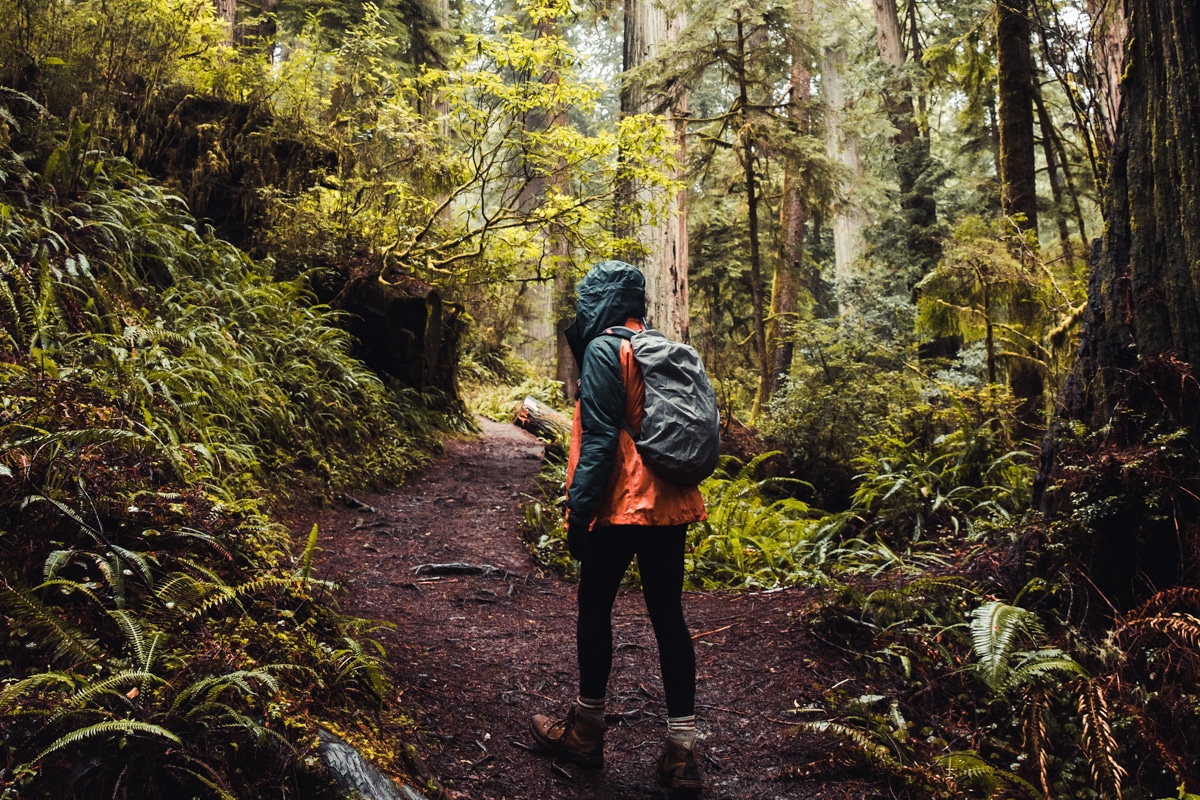 Quick Tips for Hiking in the Rain
This is a monster of an article (when I said we'd cover a lot, I meant it), so I totally understand if you don't have time to read everything right now. If that's you, I've highlighted the most important tips below.
It's easer to stay dry than dry off. Don't wait until it's too late to put on your rain gear!
Don't wear cotton, it doesn't dry. Wear merino wool or synthetic gear instead.
Wear a waterproof (not just water resistant) jacket or shell. (I use and love this shell)
Wear waterproof shoes. (Here's my favourite boots)
Wear wool socks and bring extra. (These are my favs)
Drink water.
Stay positive.
I highly recommend bookmarking and come backing because there's a lot of helpful info about hiking in the rain below.
Clothing & Gear for Hiking in the Rain
I'm sure you've heard the quote "there's no such thing as bad weather, only unsuitable clothing" by Alfred Wainwright. There's a lot you can read into this quote, from the obvious gear reference to the subtle mindset shift.
I love this quote because, just as Alfred said, the right gear makes all the difference when the weather's less than ideal. However, there are some situations where even the best gear won't beat out awful weather. Use your best discretion.
Reducing Gear Cost
Hiking gear can get pretty expensive. For that reason, I've suggested gear at different price points to help you get outside no matter your budget. I'm not going to sit here and tell you that you have to get the best of the best because, let's be honest, most of us don't need that.
You can always borrow or rent gear, too! Facebook Marketplace, thrift stores, garage sales, and apps like Poshmark are great places to find affordable gear. Don't listen to the outdoor gatekeepers who try to tell you otherwise.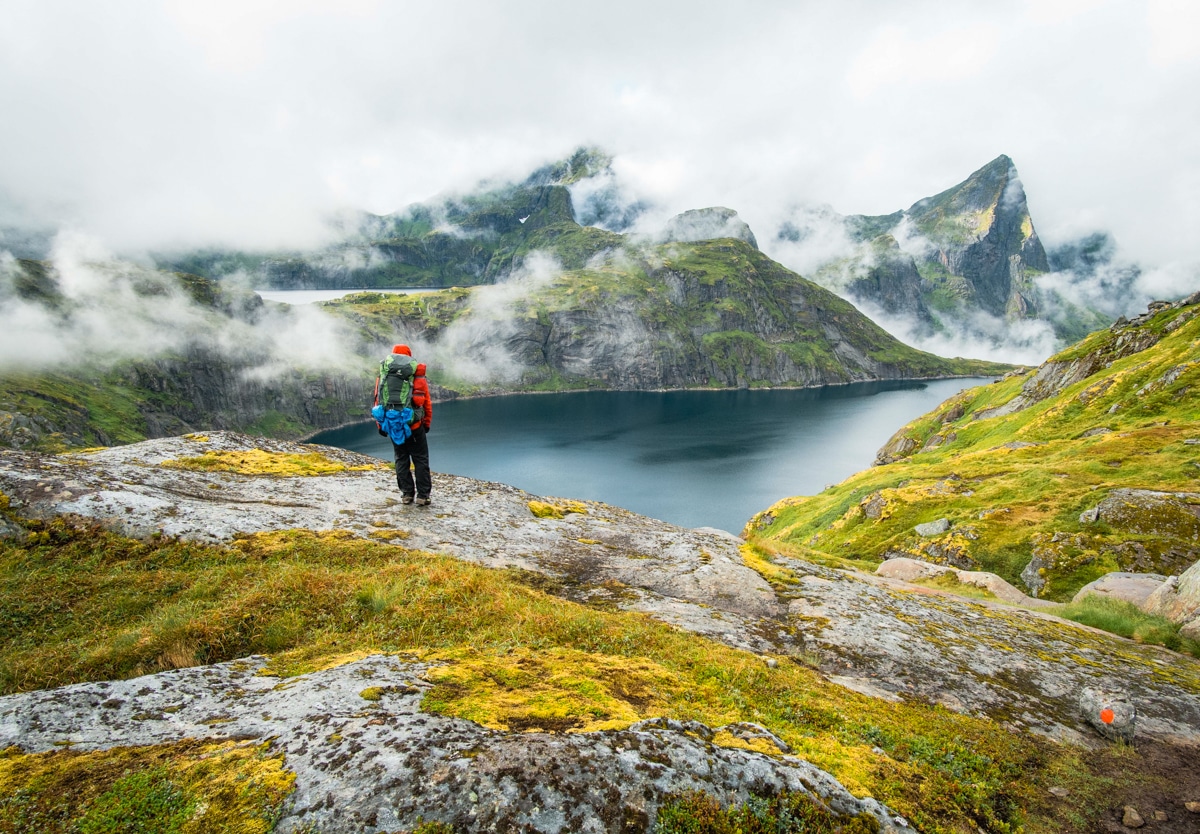 Waterproof, Water Repellent & Water Resistant: What's the Difference?
When choosing rain gear, you'll come across terms that seem interchangeable: water resistant, water repellent, and waterproof. Does it really matters which you choose? The short answer is yes, it does make a difference. A big difference.
Water resistant and waterproof determine how well the fabric is at preventing rain from seeping through. Water repellent is an extra coating that improves the gear's performance.
Outdoor gear tends to be pretty fancy, so if you're interested in learning about the science of rain gear, REI has a great article called: How Does Raingear Work?. I'm not going to get as in-depth here, we're just going to cover the need-to-know basics.
Water Resistant Hiking Gear
Water resistant is the lowest level of protection against rain. The resistance usually comes from either a coating (such as DWR) or a tight fabric weave. Water resistant gear can handle light drizzles, but if you're out in the rain for a long time or it turns into a storm, you'll get wet.
Seams are also important to pay attention to. The gear's fabric may do a decent job at blocking the rain, but you may still find yourself wet because water seeped in through the seams.
If you'll be hiking in the rain for any length of time, I don't recommend water resistant gear. You'll just come out of it wet, cold, and swearing off the whole experience.
Tip: Jackets labeled "windbreaker" are often water resistant.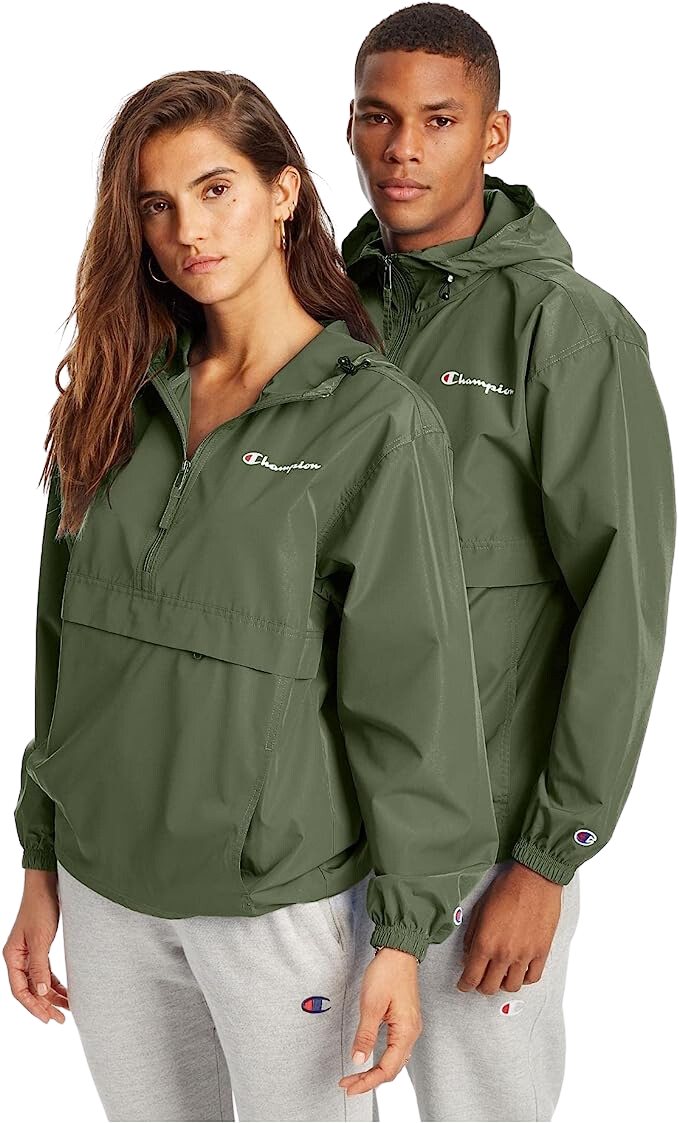 Champion Windbreaker (Inexpensive Option)
This is an inexpensive option for a water resistant rain shell from a reputable company. Remember, it won't keep you dry in a downpour, but will work in light rain.
(You can find cheaper options from fast fashion brands on Amazon).
Waterproof Outdoor Gear
Waterproof outdoor gear will provide the best protection against the rain. It also comes with a higher price tag because the tech and lab testing gets more rigorous. According to REI, there's no industry standard to give this designation, so you have to trust the brand's claim. Luckily, it's pretty easy to look up reviews.
You'll likely come across waterproof breathable jackets, too. The gear's breathability keeps you dry from the inside-out. Sure, the rain may not make you wet, but your sweat sure can. If your jacket isn't breathable, your sweat will be trapped inside with you.
That's one of the biggest differences you'll find with raingear. An inexpensive waterproof jacket may keep the rain out, but it'll likely trap sweat. That's why Gore-Tex® and other similar designs come with such a hefty price tag — they'll keep you dry inside and out.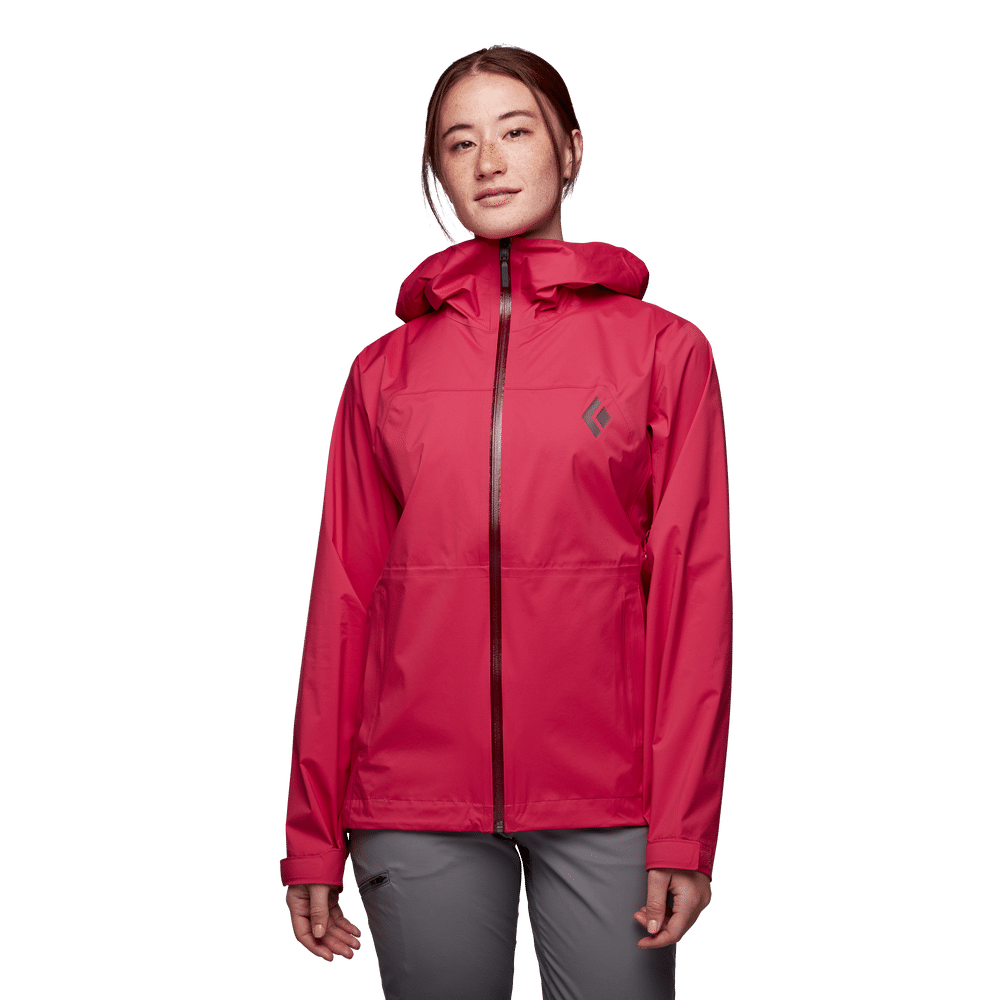 Black Diamond Stormline Shell
This waterproof, lightweight shell protects you against everything from light wind to downpours. I always carry this jacket because it fits so easily in my backpack.
Water Repellency (DWR)
Finally, water repellency (also known as DWR) is an extra coating that can be applied on both water-resistant and waterproof gear. It doesn't magically turn a water-resistant jacket in a waterproof one, but it does dramatically increase the fabric's performance. If you've ever seen rain bead up and roll off a jacket, that's DWR.
No matter how good your jacket, the DWR coating does eventually wear out. Luckily, you can either give it a good clean (check out REI's Rainwear: Durable Water Repellent (DWR) Care article) or apply a new DWR coating yourself. No need to buy an entirely new jacket!
However, there are serious concerns with DWR because most are made with toxic forever chemicals. Many outdoor brands are making changes, but it's not industry-wide yet and you'll need to decide if it's worth it to you. Read Patagonia's take on it here: Say Goodbye to "Forever Chemicals".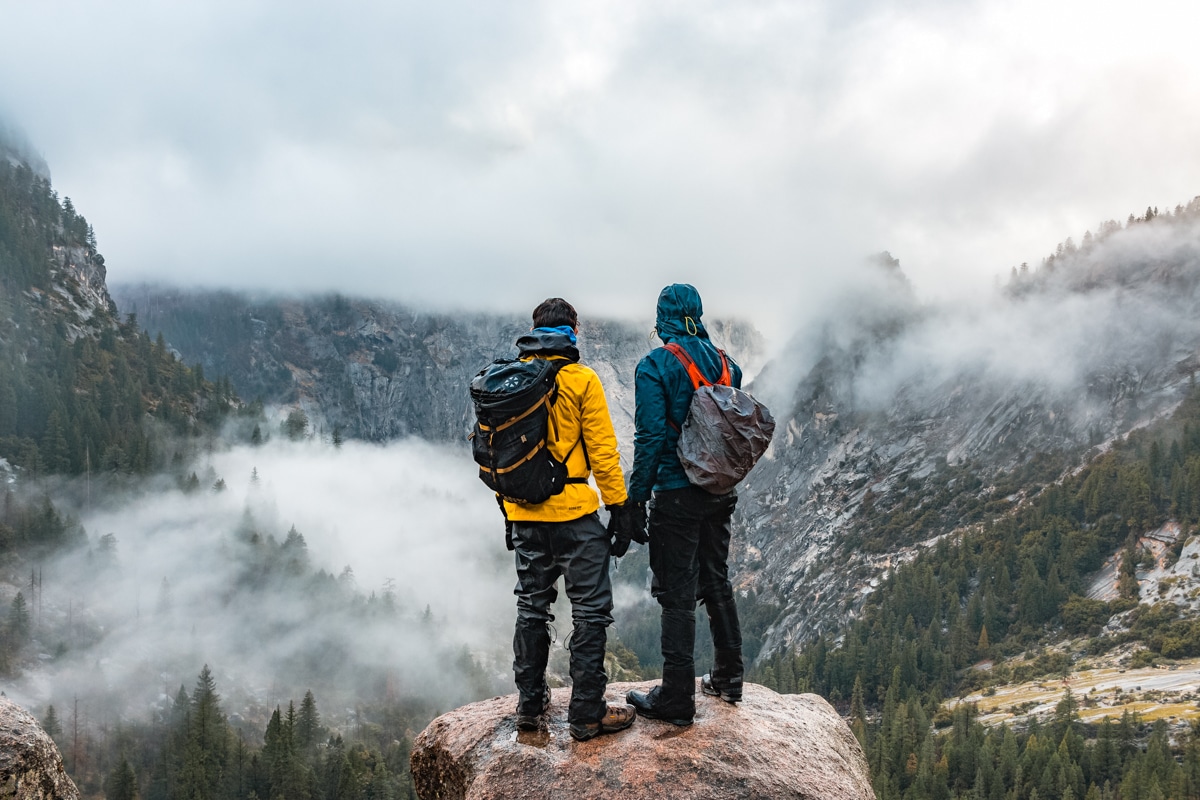 Fabrics for Hiking in the Rain
The fabric you wear on a rainy day is important. Before you head out, turn a critical eye to your clothing and footwear. Will it keep you dry or will you be shivering and miserable? I'll go into more detail below, but here are some quick tips to evaluate your gear's rain worthiness.
Avoid cotton. Cotton performs horribly in wet weather. It soaks up water, including your sweat, and holds onto it which will make you cold (and it's heavy). Cotton's an all around terrible time in the rain.
Wear moisture-wicking clothing such as wool or polyester. These fabrics pull water away from your skin, keeping you warmer.
Choose synthetic instead of down. Down loses a lot of its insulating power when it's wet whereas synthetic doesn't have that problem.
Wear breathable layers. You'll still sweat when hiking in the rain, so choosing breathable layers will ensure your sweat doesn't get trapped next to your skin. For waterproof layers, look for pit zips, legs zips, and other ventilation.
Rain Jackets & Top Layers
When you're on the hunt for rain jackets and other torso-related rain gear, think about breathability. The perfect gear would keep you dry from the outside (the rain) and the inside (sweat).
Having a quality rain jacket means you're a lot more likely to actually head outside in less than ideal weather which is the whole point! You don't need a super expensive jacket, but I also wouldn't suggest a $2 rain poncho either. A happy medium will usually cost between $100-200. Here's the rain jacket I use.
A few things to ask yourself when considering a rain jacket or shell:
Is the jacket waterproof and breathable? Having both will lead to a higher price tag, but you'll be drier. Can you sacrifice some waterproofness to lower the cost? Or maybe you won't be doing difficult hikes so less breathability will do.
Does the jacket have pit zips? These are zippers on the armpits that allow your body heat to escape which helps prevent your jacket getting wet on the inside. They make a big difference.
Are the hood, cuffs, and hem adjustable? Being able to adjust these three areas will allow you to lock out rain and keep your base layers dry.
Are the seams and zippers waterproof? Water can easily seep into the jacket if the seams and zippers aren't waterproof.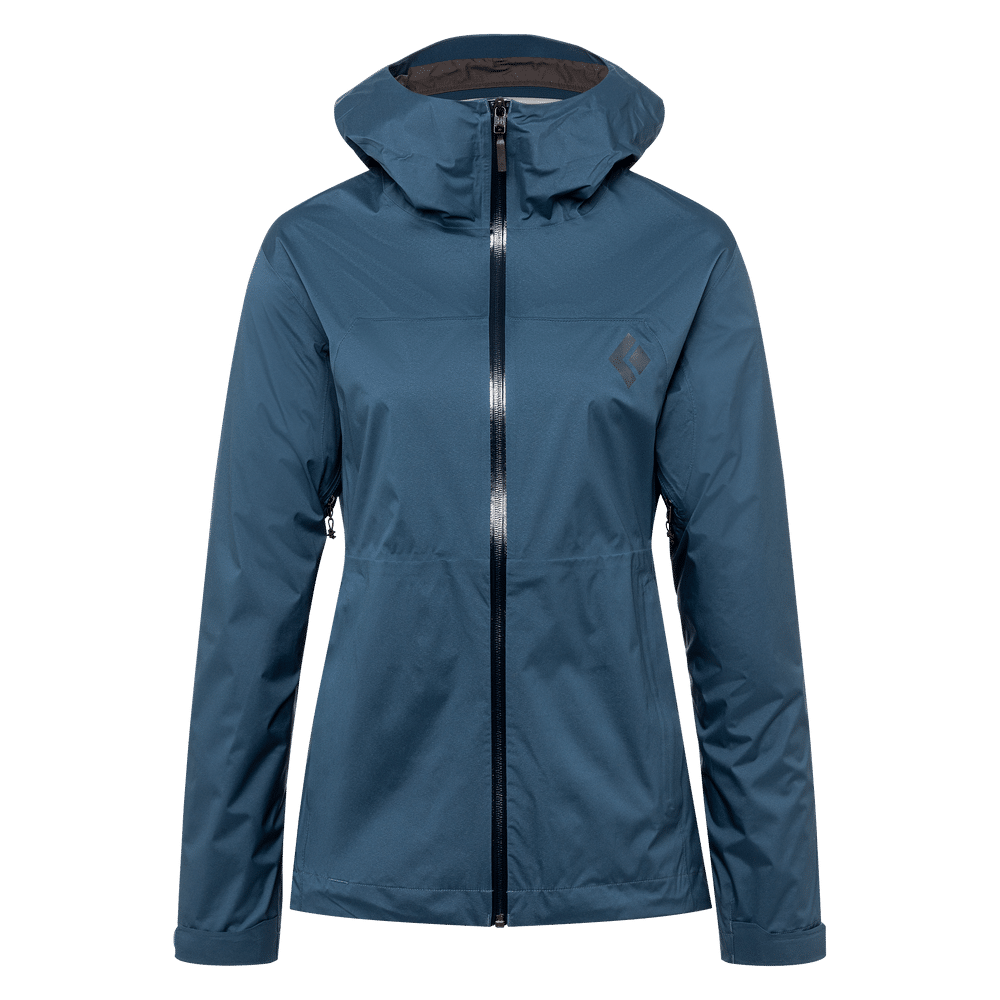 Black Diamond Stormline Shell
This is my top pick for a mid-range, quality rain shell. It's lightweight, waterproof, breathable, and packs small. It won't keep you warm (it's only a shell), but it will protect you incredibly well from the rain.
Sea to Summit Nylon Tarp Poncho
Admittedly, this poncho and tarp 2-in-1 isn't exactly the height of outdoor fashion. But it has great reviews, keeps everything dry, and can be used as a poncho and tarp! It's under $100.
Layering for Rainy Hikes
Outer rain jackets and shells get a lot of attention when you're hiking in the rain, but don't forget about your other layers. When buying a rain jacket, don't be afraid to size up so you have room underneath for them. Make sure all your layers are covered by your waterproof outer layer.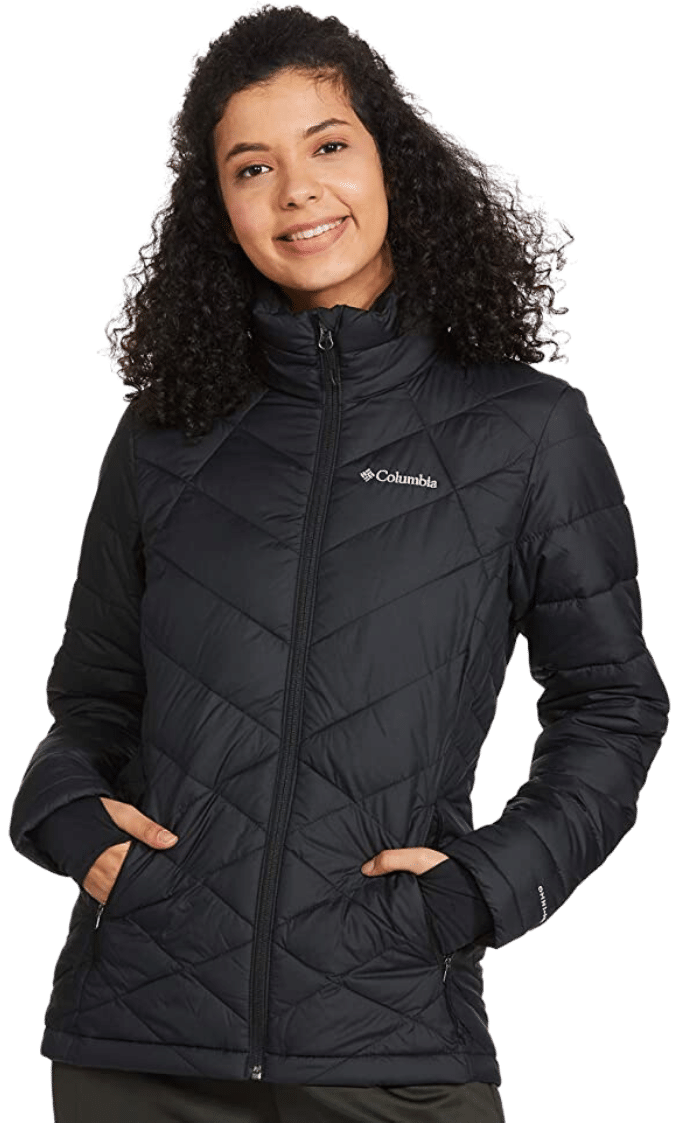 Columbia Heavenly Synthetic Jacket
This is a lightweight, warm jacket that's also fully synthetic. It's sometimes on sale for just over $100 which is a great time to snag it.
Rain Pants, Boots & Gaiters
Waterproof Pants/Shells
Waterproof pants are often overlooked which seems weird to me. I'm not talking about actual pants here, I mean the shells that slip over your regular pants. They can be a little noisy and unflattering, but you'll be dry and that's the most important thing when you're hiking in the rain!
Underneath, you wear a simple pair of leggings or your regular hiking pants. They'll provide warmth and help prevent inner thigh chafing.
If it's going to be extra rainy or you're hiking through dense, wet brush, look for rain pants that are waterproof (not water-resistant), comfy, and breathable. Zippered bottoms are helpful so you can slip them on and off without removing your boots.

Helly Hansen Moss Waterproof Pants
These waterproof pants will keep you dry. They're far from stylish, but they'll do the trick.
If you want a cheaper option, these are well rated on Amazon.
Waterproof Hiking Boots
Waterproof boots are essential for hiking in the rain. Dry feet equal happy feet (and fewer blisters). On the flip side, wet, soggy feet are absolutely terrible and will leave you cursing your rainy adventure.
I prefer leather waterproof boots (I have these ones and love them), but you can also get lighter weight boots with Gore-Tex® (or similar) lining. Whatever boots you get, make sure they have plenty of grip for navigating muddy, slippery trails. Higher ankle boots will provide more stability, too.
And don't forget to wear wool socks (and pack extra) to keep your feet as dry and warm as possible. Wool wicks moisture and keeps your feet warm even when wet, making it ideal for wet weather hiking.
Darn Tough Wool Socks
I love these wool socks for hiking. They wick moisture and keep will keep your feet as dry (and warm) as possible when it's rainy out.
Gaiters
Finally, gaiters are great for extra muddy or wet trails. They slip over your foots and lower legs, keeping water from finding its way into your shoes and pants.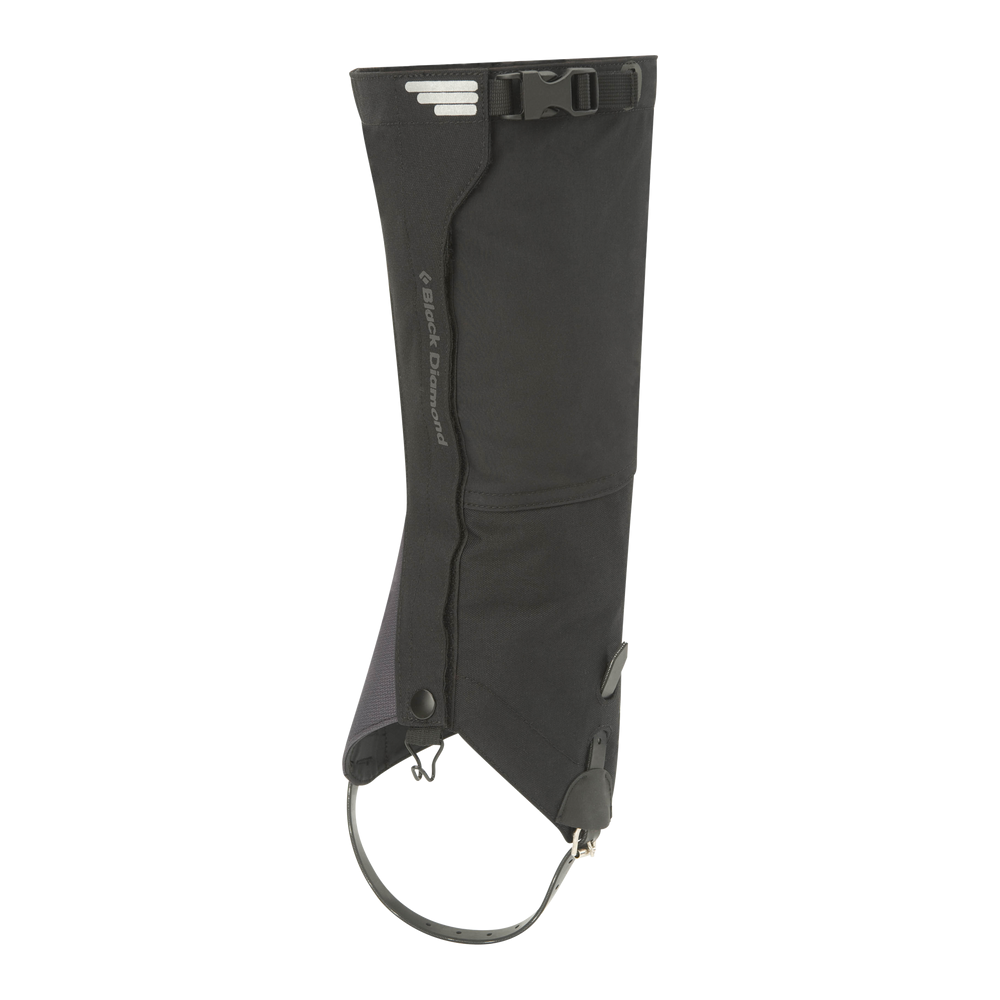 Black Diamond Apex Gaiter
When the trail is extra muddy or wet, gaiters are an extra defense you can use to keep yourself dry on rainy hikes. They're easy to slip on and will keep water out of your lower pants and boots.
Other Gear for Rainy Hiking
As you can see from all the clothing we just covered, hiking in the rain requires some pretty specific gear. Let's dive into non-clothing related gear that'll help immensely on your rainy adventure.
Backpack Rain Cover
Most hiking backpacks aren't waterproof. You'll need a rain cover for that.
Many backpacks, especially day packs, come with rain covers to keep it dry. If your bag has one, it's likely tucked into a small pocket at the bottom of the bag. If your backpack doesn't come with a cover, you can buy a lightweight rain cover to keep your bag (and everything inside) dry. They're small and easy to tuck into a pocket.
Backpack Rain Cover
Most backpacks come with a rain cover, but if yours doesn't, I highly recommend you grab one (they're fairly inexpensive) to keep all your gear dry.
Dry Bags & Waterproof Stuff Sacks
Your backpack's rain cover will keep things dry for the most part, but there is a possibility of water seeping in through the back (most covers only protect the front of the bag, not the back portion) or when you open the bag.
If you're extra concerned about keeping your gear dry, you can invest in dry bags or waterproof stuff sacks (or simply use a Ziploc). They're great for keeping your clothes and electronics dry.
Dry Bags
Dry bags and waterproof stuff sacks act as an extra layer of protection against water within your backpack (or on their own if your backpack doesn't have a cover). They're lightweight and easy to store gear.
Hiking Poles
Hiking poles are awesome on any hikes, rain or shine. On rainy hikes, the trail will be extra slippery with more obstacles to navigate.0
Hiking poles are extra helpful for keeping your balance while navigating slippery rocks, roots, or muddy sections of a trail. You can also use them to judge the depth of a water puddle or mud pit instead of charging headfirst into it.

Komperdell Ti-7 EXP Powerlock Poles
Ideally, look for hiking poles that have secure locks so you can rely on them for balance. Slipping because your poles don't stay where you expected can be dangerous in the rain.
Neoprene Gloves
Neoprene gloves (the material that wetsuits are made of) insulates really well when wet. While these gloves won't keep your hands bone dry, it will keep them warm on a rainy hike.
NRS Fuse 1mm Neoprene Gloves – Unisex
Neoprene gloves are most often used in watersports to keep your hands a little warmer, so why not use them while hiking in the rain?
Umbrella
Umbrellas aren't super common for hiking, but that doesn't mean you can't use one! There are plenty of small, lightweight umbrellas that you can easily tuck into your bag for when the rain hits. As long as the trail's wide enough and it's not super windy, an umbrella will keep you very dry and can act as much needed shelter in a pinch.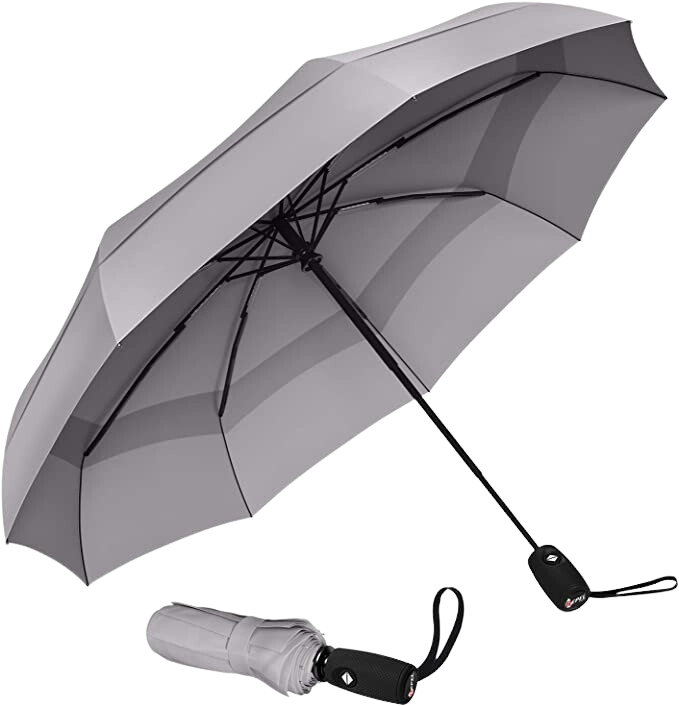 How to Prepare for Hiking in the Rain
Besides wearing all the appropriate rain-friendly clothing and gear, let's discuss other ways to prepare for hiking in the rain.
Check Weather Reports
Being a prepared hiker is a safe hiker. Check the weather forecast in the days leading up to your hike. Use different apps because the forecast can change quickly, especially in mountainous areas where the weather is unpredictable. The Weather Network, WeatherBug®, and AccuWeather are great apps for watching the weather.
If you're hiking in a new region, check local hiking groups or talk to park rangers to see what kind of weather is common during that time of year. Storms can show up out of nowhere!
Pick the Right Trail
Don't underestimate how important picking the right trail is to having a successful rainy day hike. Since summit views will likely be socked in with clouds, there's little point in choosing a trail where the summit is the main attraction (unless you don't mind hiking for hours without the payoff).
Instead, hikes to waterfalls, forests, rivers, and lakes can be a great alternative (just be aware that the rain could cause the rivers to overflow which can be dangerous). Trail networks are also great because you can easily adjust your hike based on how you're feeling. Don't be afraid to choose a shorter hike. It's better to have a short, successful adventure than a miserable, long one!
If you're trying a new trail, always research it beforehand (and download an offline map). Look out for obstacles that could be dangerous in the rain. Is there a creek crossing? Are there steep sections that could turn into a muddy disaster? How about rocks that could turn slick? Could the river bank give out or flood? Exposed sections where you could get stuck if a storm appeared? If you answered yes to any of those, bookmark the trail for another day.
While I fully believe you can have an enjoyable hike in the rain, don't put yourself in a dangerous situation by not researching beforehand. AllTrails (try Pro for free), blogs, and local websites can help you research trails.
Let Go of the End Goal
While we're at it, don't get so hung up on finishing the trail that you put yourself into a dangerous situation. The urge to finish a hike can be strong, but when the weather turns it's best to head home.
If you do find yourself in trouble in bad weather, remember that it's much harder for emergency responders to reach you. They may have to wait out a storm, leaving you out for longer. Don't risk it, just turn back (and always carry the ten essentials).
Read Next: The 10 hiking essentials to ALWAYS carry
Instead of focusing on the end goal, appreciate everything around you. Take in the rain covered plants, watch the water roll off a leaf or thunder down a waterfall. Take in the fresh smells and see the mist linger through the forest. There's a lot of beauty on a rain soaked trail that has nothing to do with "finishing" the hike.
Bring Appropriate Snacks
I love a good summit sandwich or drink as much as the next person, but that's not going to happen when you're in the middle of a downpour. Not only is in inconvenient to prepare something in the rain, you lose body heat when you stop moving.
Instead, bring snacks that you can easily eat on the go and that make your heart happy (a little dopamine boost never hurt on a rainy hike). Stash a few snacks in your pockets or hipbelt so you don't have to stop.
My go-to rainy day hiking snacks are:
Since large meals are pretty unlikely on a rainy hike, snacks will ensure you're staying fueled. Always pack out all your snack leftovers including fruit peels, nut shells, and other biodegrable items.
Honey Stinger Waffles
When you're hiking in the rain, it's always a good idea to bring some snacks along — especially snacks that make you smile. I don't often splurge on hiking snacks, but I would for these Honey Stinger waffles (they're stroopwafels).
Drink Water
It's easy to forget to drink water when you're hiking in the rain. After all, water is all around you! Since your body doesn't magically absorb that water, though, you need to bring some along.
My go-to is always a 3L hydration reservoir so I can sip as I hike. Consider bringing along a water filter in case you need to refill from a river or lake. You could also bring a thermos of tea, coffee, or hot chocolate to warm you up and provide a much needed mood boost!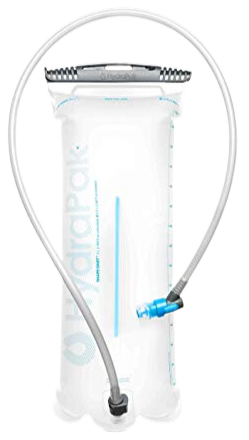 Hydrapak 3L Water Reservoir
Bring lots of water on your hiking, even if it's raining! The easiest and most convenient way is with a water reservoir. You can drink while hiking without having to stop.
Safety Tips for Hiking in the Rain
Before we get into the nitty gritty safety tips for wet weather hiking, I wanted to address these questions real quick: Is it safe to hike in the rain? Will I get sick from being outside in the rain? There are two concerns here: safety and health.
Is it physically safe to hike in the rain?
I've dedicated an entire section regarding safety precautions to take when you're hiking in the rain. Obviously, the rain brings its own set of elements that you need to take into account such as storms and unstable slopes, but don't let fear of those things hold you back. It's all about making safe choices.
After all, every kind of weather has its own set of concerns. If you're not prepared, hiking in the heat and the rain can be equally dangerous.
Will I get sick from being outside in the rain?
As for whether or not you'll get sick from hiking in the rain, the rain itself isn't the reason you'll get sick. I'm not a doctor, but sickness is usually related to viruses and weakened immune systems.
Now, the rain can exasperate these conditions. The higher humidity means viruses can survive longer and colder temperatures can lower your body temperature, both of which are more likely to cause sickness. There are plenty of things you can do to lower your chances of getting sick, though, which we're chatting about in this guide.
Adjust Your Trip
Don't be afraid to reschedule or adjust your hike. If you notice the forecast taking a turn for the worse with severe thunderstorms or other weather warnings, reschedule your hike.
There's a big difference between hiking in minor rain and dangerous conditions. While you're hiking, keep an eye out for telltale signs of an incoming storm: eerie stillness, increasing winds, or pets/wildlife acting weird.
Customize Your First Aid Kit
Always carry a first aid kit and the ten essentials. You can buy premade first-aid kits, but it's a good idea to tweak it to fit your needs. If you're allergic to something, swap it for something that works for you. Add things like a triangle bandage and rope (and learn to tie knots). Check that your supplies haven't expired.
What If There's Lightning?
To be honest, there's not a lot you can do to protect yourself against a lightning strike. They're incredibly random and even the experts aren't totally convinced about the best way to stay safe — besides staying indoors, which isn't very helpful when you're on a hike.
However, there are a few things you can do to lessen the likelihood of being struck if you find yourself in the middle of a thunderstorm:
Avoid peaks, ridges, and high ground
Avoid open areas or lone trees
Avoid trees in general, but if you can't, go deep into the forest and don't stand near tall trees
Avoid lakes or bodies of water
Avoid anything metal, including fences, power lines, railways tracks, belts, and metal backpack frames. Anything metal should be a minimum of 100 feet away from you.
Assume the lighting position (crouch with only your feet on the ground, your head tucked into your knees).
If you can, find a fully enclosed shelter such as a cave to wait out the storm.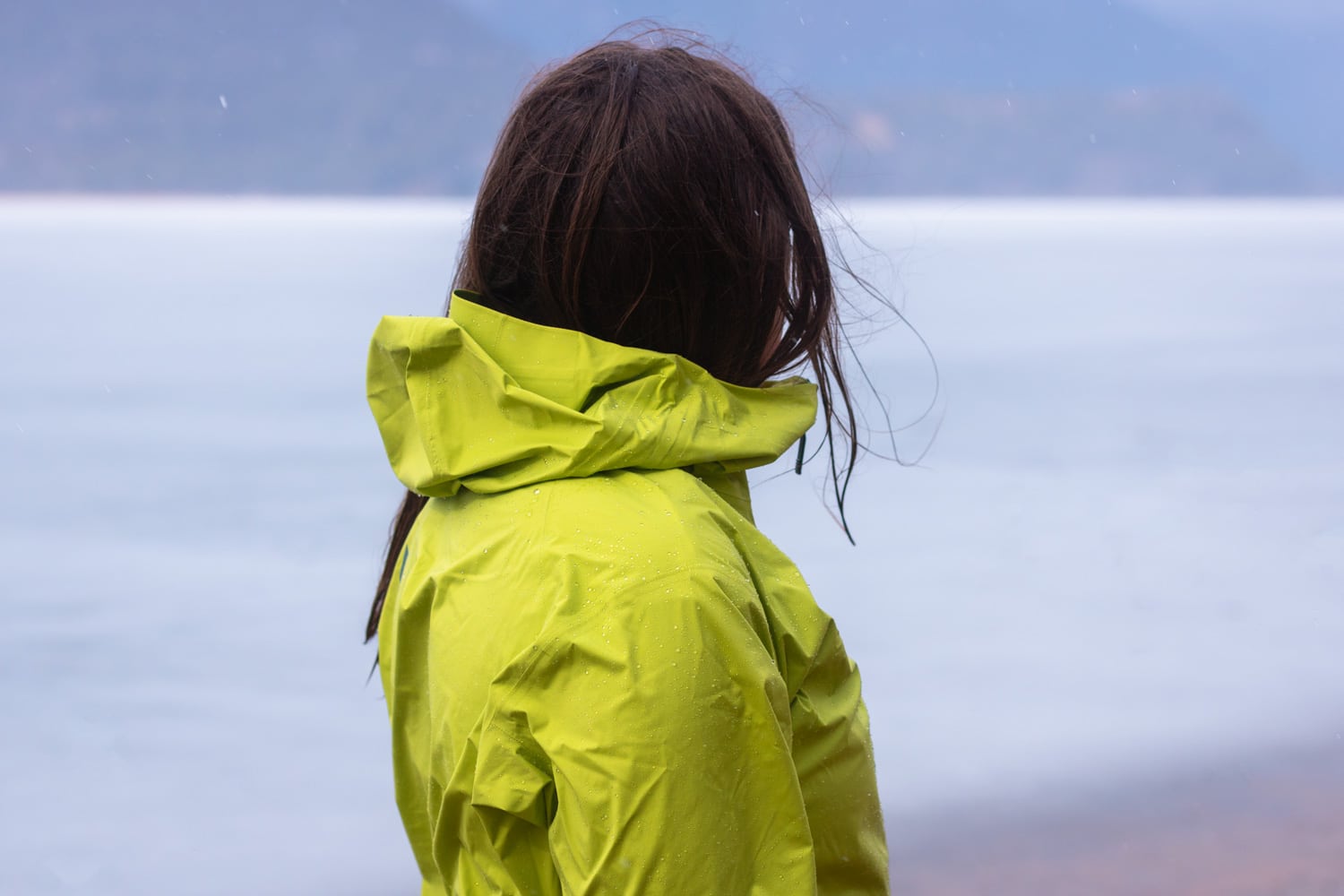 What to Do If Someone Gets Hypothermia
Hypothermia usually occurs when someone spends prolonged time in the outdoors and their clothing gets wet, making them unable to maintain their body temperature.
However, it can occur anytime so it's important to always be wary when you're hiking in the rain and treat even mild hypothermia seriously so it doesn't worsen and become life-threatening.
Important: The following are only general tips. I highly recommend you take a wilderness first-aid course so you can respond properly. This isn't a substitute for medical training.
Hypothermia Symptoms
Symptoms of hypothermia include (according to the Mayo Clinic):
Shivering (which may stop when body temperate drops too low)
Slurred speech, mumbling, confusion, clumsiness
Slow, shallow breathing, weak pulse
Drowsiness or low energy
Loss of consciousness
Hypothermia is considered moderate to severe when there's any altered mental state or lack of shivering and needs to be treated immediately.
Treating Hypothermia
If you think someone has hypothermia, take it seriously and immediately:
Build a shelter with a tarp (this is one of the ten essentials) and cover the ground. If the person is responsive, have them sit upright against a tree on something to keep them off the ground.
Under the shelter, remove the person's wet clothing. If they're still shivering, have them put on dry, warm clothing. If they're no longer shivering or have an altered mental state, they can't warm themselves and will need your body heat. Place your body against their core. If it's only the two of you, prioritize using your body to warm the person until they begin shivering again.
Meanwhile, someone else needs to build a fire. Have the person sit near the fire (but not too close) to slowly warm up. If the person is alert, have them drink warm water. Don't serve hot water (it can shock the body), alcohol, or caffeine. Keep them hydrated, replace electrolytes, and feed them simple sugars.
If you're unable to rewarm the person, you need to immediately call for emergency help using your phone or satellite communicator.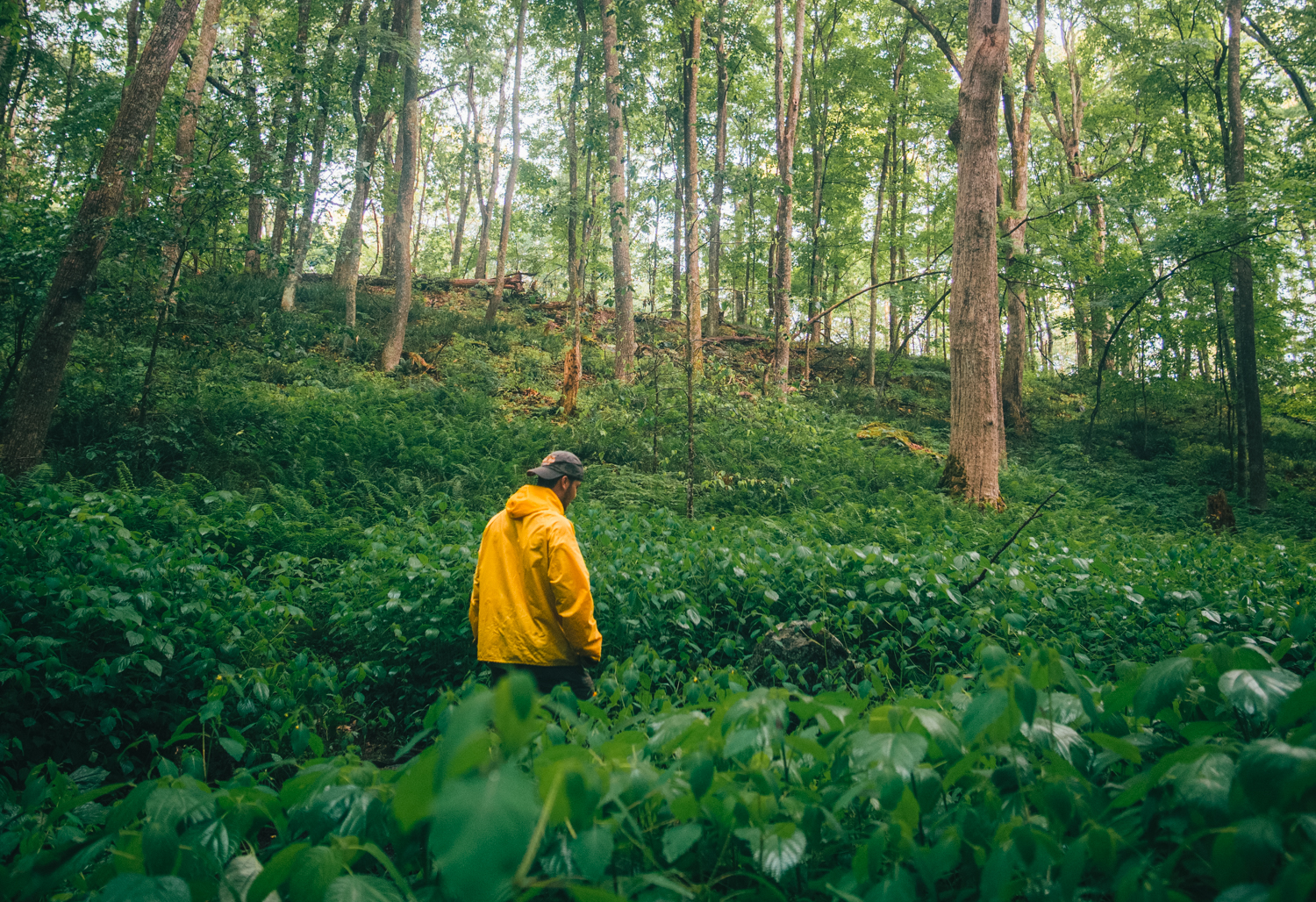 Unstable Ground, Landslides, Avalanches, Flash Floods & Other Natural Dangers
I won't sugar coat it, hiking in the rain does present some dangers. But the level of those dangers has a huge spectrum and varies wildly.
Before you head out, consider the level of danger you could possibly encounter. Are you heading into light rain or an all-out storm? Is the area you're heading prone to landslides or floods? Is the trail exposed or covered? Are there trees to stabilize the ground? Is the trail in a mountainous area or relatively flat?
These are all things to take into consideration. Look to crowd-sourced trail reports on apps like AllTrails to see what others have reported (recently and in the past) and look to local news or trail resources to see what their general weather concerns are. Are they reporting extreme dangers?
If you're unsure, it's best to choose a different route until you can determine the level of risk involved. It's better to be safe than sorry. After all, it's much harder for emergency personnel to reach you in poor weather and you'll likely be stuck for longer if you do need help.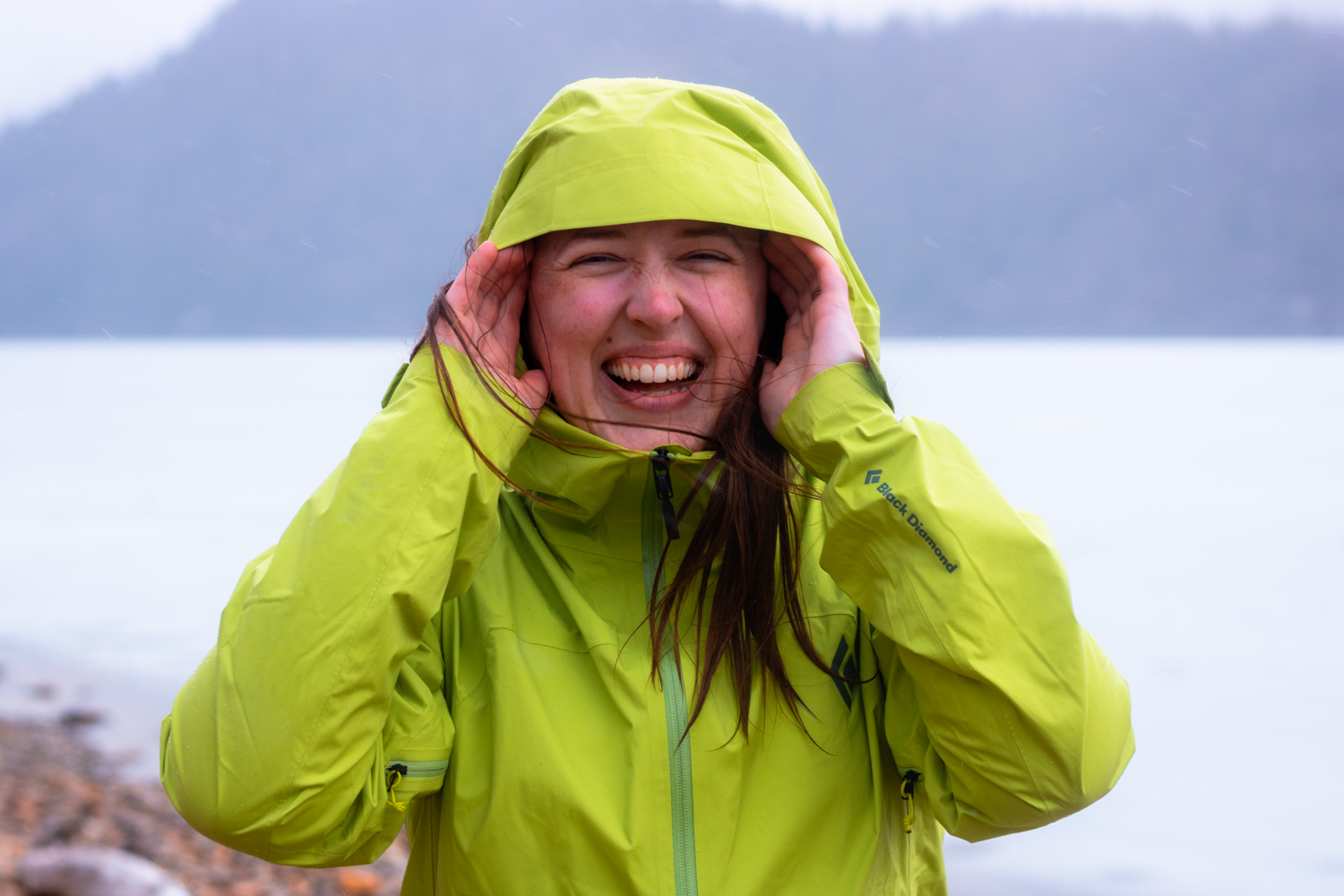 Benefits of Hiking in the Rain
If I haven't scared you away with those safety tips, there are lots of great things about taking a hike in the rain! Reminding yourself of these benefits can go a long ways to changing your mindset about rainy hikes.
Rain Scares Away Other People
My personal favourite, the rain tends to scare away a lot of hikers resulting you being able to enjoy a very quiet trail. It's incredibly peaceful to take a hike and not see many other people (especially if it's usually a busy trail).
The Solitude & Rain is Therapeutic
Regardless of the lack of people, being outside in the rain brings its own special solitude. It's an amazing, whole body experience where you feel deeply connected to the the natural world. Listening to rain is also known to calm our brains. Combine that with hiking which is also known to reduce stress and anxiety, and you've got an amazing therapeutic experience.
Experience the Same Ol' with Fresh Eyes
Visiting the same place during varying weather completely changes the area. It's actually amazing how much the rain changes your perception of a landscape, even one that you know really well. Next time there's rain in the forecast, hit a local trail you know well and see how it changes!
Fresh Air
There's something so special about the smell of rain — and it's not just your imagination. The smell is known as petrichor and is produced by bacteria when rain hits the soil and humans are especially sensitive to it. The rain also clears the air of pollen and some pollutants, giving a whole new meaning to "fresh" air. It's true! The air during and after a rain really is different.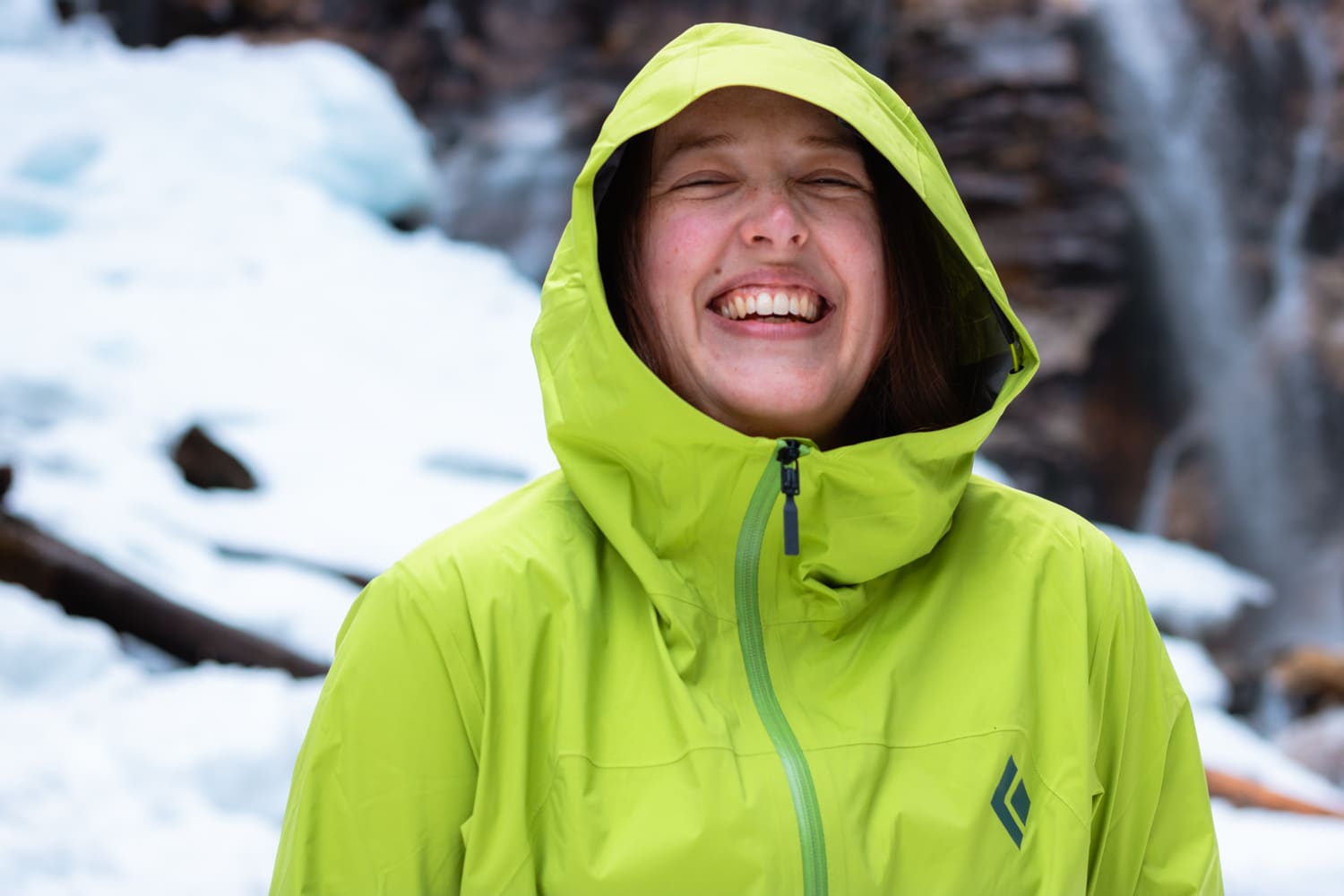 Now… Go for a Hike!
Whew, that was a lot of info. Hopefully, you're prepared for hiking in the rain now and can head out with confidence the next time you see rain in the forecast. Head out there and have some fun!