Black Diamond's StormLine Stretch Rain Shell Review
If you live in a rainy climate and love the outdoors, you quickly learn that a little rain can't stop your fun. You just need the right gear! I've tried my fair share of rain jackets over the years and recently fell absolutely in love with Black Diamond's StormLine Stretch Rain Shell. In fact, it's a must-pack jacket for me and you'll see it on a lot of future adventures.
Over the last few weeks of rainy hike testing, its kept me nice and dry. It's also incredibly lightweight (for my needs) without forgoing zippers and pockets which I really appreciate. It's a very easy jacket to move in and I didn't feel restricted at all.
To preface this review, you should know that I'm far from an extreme outdoors person. I haven't taken this jacket on multi-day, backcountry rainy trips (yet, anyways). I also haven't put it through the wringer to test for absolutely every little thing. I'm just your average hiker and camper and tested it that way. If you're that type of adventurer, this review is for you!
If you're in the market for a rain shell, I highly recommend Black Diamond's StormLine jackets. I'll get into more detail below, but to keep it short, this is a stellar jacket at a very reasonable price.
Disclosure: This article may contain affiliate links and I may earn a commission, at no cost to you, if you click and/or buy a product online (even if it's not the product linked). I take great care to only recommend helpful products and appreciate your support!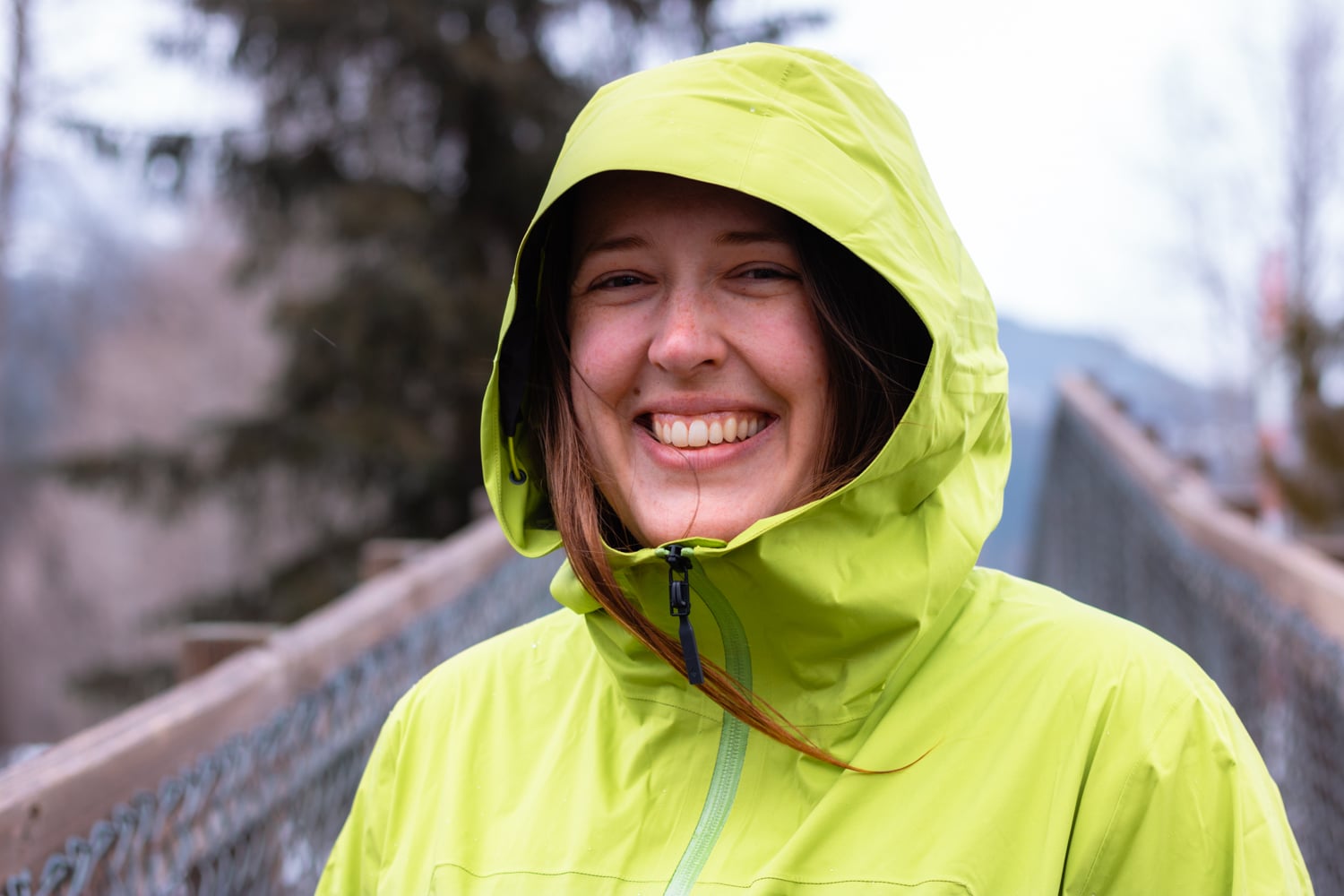 Black Diamond Apparel
Black Diamond has been around for a long time — since 1989, in fact. They're most well known for their quality climbing and backcountry skiing equipment. So what are they doing making rain shells? I actually wondered that, too and decided to look into their history.
In 2013, Black Diamond launched their first apparel line for men. Initially, this gear was focused on experienced outdoor people in the climbing and skiing world. The women's line came in fall 2014.
Today, there's an extensive apparel line for both men and women that ranges from weekend warriors to very experienced persons. Black Diamond's lower-end technical gear, which is usually where I end up, is very competitively priced — it's certainly not the cheapest outdoor apparel you'll find, but it's quality gear that works and you'll always pay a little extra for that. In my opinion, it's well priced.
Interestingly, in doing research on the StormLine jacket I found that most reviews were for the men's line — to that I say, this is an awesome jacket ladies!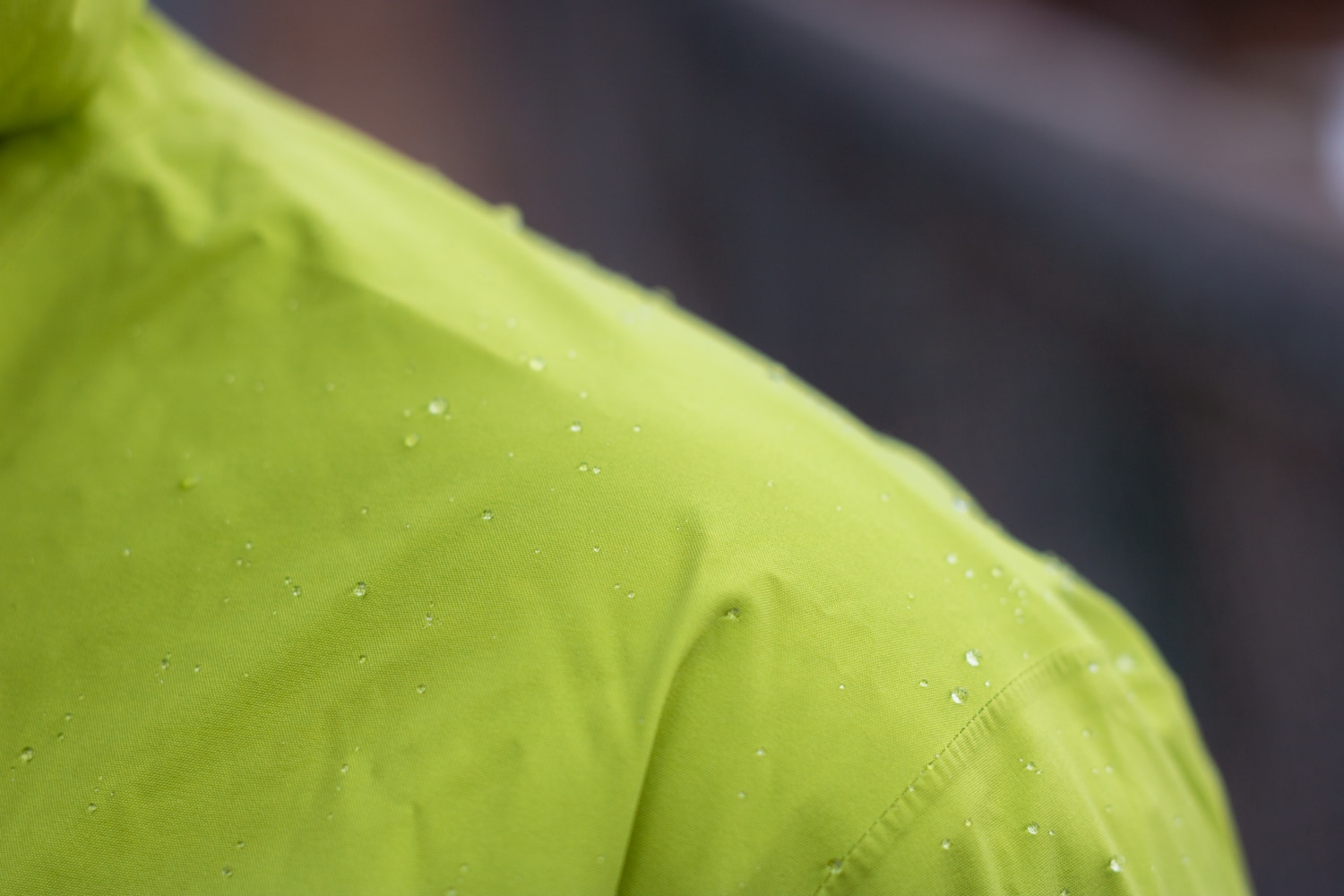 StormLine Rain Shell Overview
Since launching their apparel line in 2013, Black Diamond has created a solid line-up of rain jackets and shells. The StormLine is no exception.
Unlike many rain shells, Black Diamond has incorporated stretch into the jacket which adds much needed flexibility and movement. Smart move, BD. No one wants to feel like they're trapped in their rain jacket — especially while hiking, biking, or paddling! Luckily, that's not an issue here.
The StormLine is quite impressive and checked all the boxes for me. It's lightweight, weatherproof, and durable. Most importantly, it does what it's supposed to — it keeps you dry.
Performance of the Women's StormLine Stretch Rain Shell
Let's get into why you came here — how the StormLine rain jacket performs and important specs. I am going to discuss technical specs, but I'll also try to make it accessible. Half the time when I'm reading reviews I get overwhelmed with all the tech talk and zone out. I don't want that to happen to you!
Tech Specs
Before I get into everything, here are the technical specs of the Black Diamond StormLine Stretch Rain Shell for women:
Waterproofing: BD.dry™ 2.5L with DWR finish
Size: XXS to 3XL
Weight: 270 g/9.52 oz (women's) ; 320 g/11.29 oz (men's)
Features: Adjustable hood, Velcro cuffs, two hand pockets, adjustable hem, pit zips, packable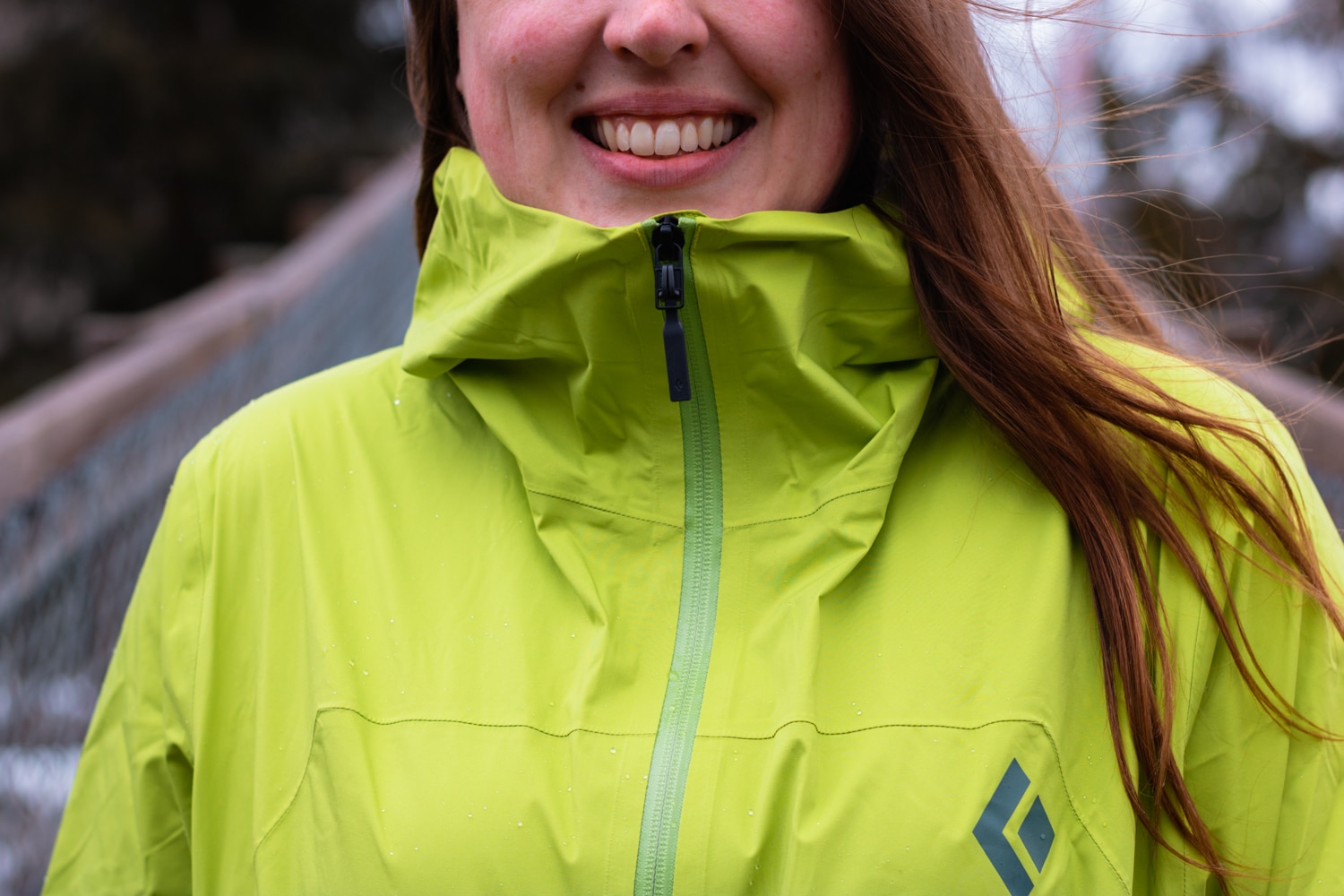 Rain Protection
Obviously, the most important part of a rain jacket or shell is how well it performs against the rain. Does it actually keep water out? Based on my testing, the answer is yes — Black Diamond's StormLine Stretch rain shell keeps you dry. Let's chat about why.
The StormLine is made with Black Diamond's signature waterproof, windproof, and breathable material, BD.dry™. The stretchy woven fabric is also treated with a waterproof coating (DWR) for extra protection. DWR causes water to bead up and roll off the jacket instead of soaking through.
And don't worry about the zippers, you won't have any issues with water seeping through here. The front zipper has YKK waterproofing (top quality in the industry), the pit zips are DWR-coated, and the hand pockets are covered by large flaps (however, the zippers themselves aren't waterproof).
Breathability
In rain gear, breathability is always a concern. Without adequate ventilation, your sweat can make the inside of your jacket a swampy, wet mess. Unfortunately, it's next to impossible to have superb waterproofness and breathability — one usually gets sacrificed, especially at the mid-range price point.
I found that on moderate hikes with the jacket fully zipped, I heated up fairly quickly. Luckily, the StormLine has large pit zips and once I opened them, I was able to cool down right away. If you're proactive about opening the pit zips, you'll be able to better control your body temperature and prevent your sweat dampening your base layers.
Wind Protection
When buying a rain shell, wind protection might not be at the top of your list. But since rain and wind often go hand-in-hand, it's worth considering.
Luckily, BD's StormLine performs quite well as a wind barrier. When I was chasing rain trying to test this jacket, I often encountered wind (the rain was actually harder to find) and always felt very comfortable in gusts. The fabric does a great job of keeping out the windchill.
The only thing to watch out for is the large hood which can easily become a balloon if it's not cinched down.
Weight & Packability
To be honest, I didn't realize how lightweight the StormLine was until I got it — I was blown away by how little it weighed. My other rain jackets are monsters compared to this one. The women's StormLine rain shell is only 270 g (9.52 oz). The men's is a little bit heavier at 320 g (11.29 oz). In fact, it's one of the lightest fully featured rain jackets out there.
As an average outdoors person, this is plenty lightweight for me! If you're a minimalist, Black Diamond's FineLine Stretch (225 g / 7.94 oz) might be for you, but know that it does leave out some of the handy features of this jacket.
A useful feature of the StormLine is that is folds down into the righthand pocket and includes a carabiner loop so you can clip it to a backpack for easy portability when not wearing it.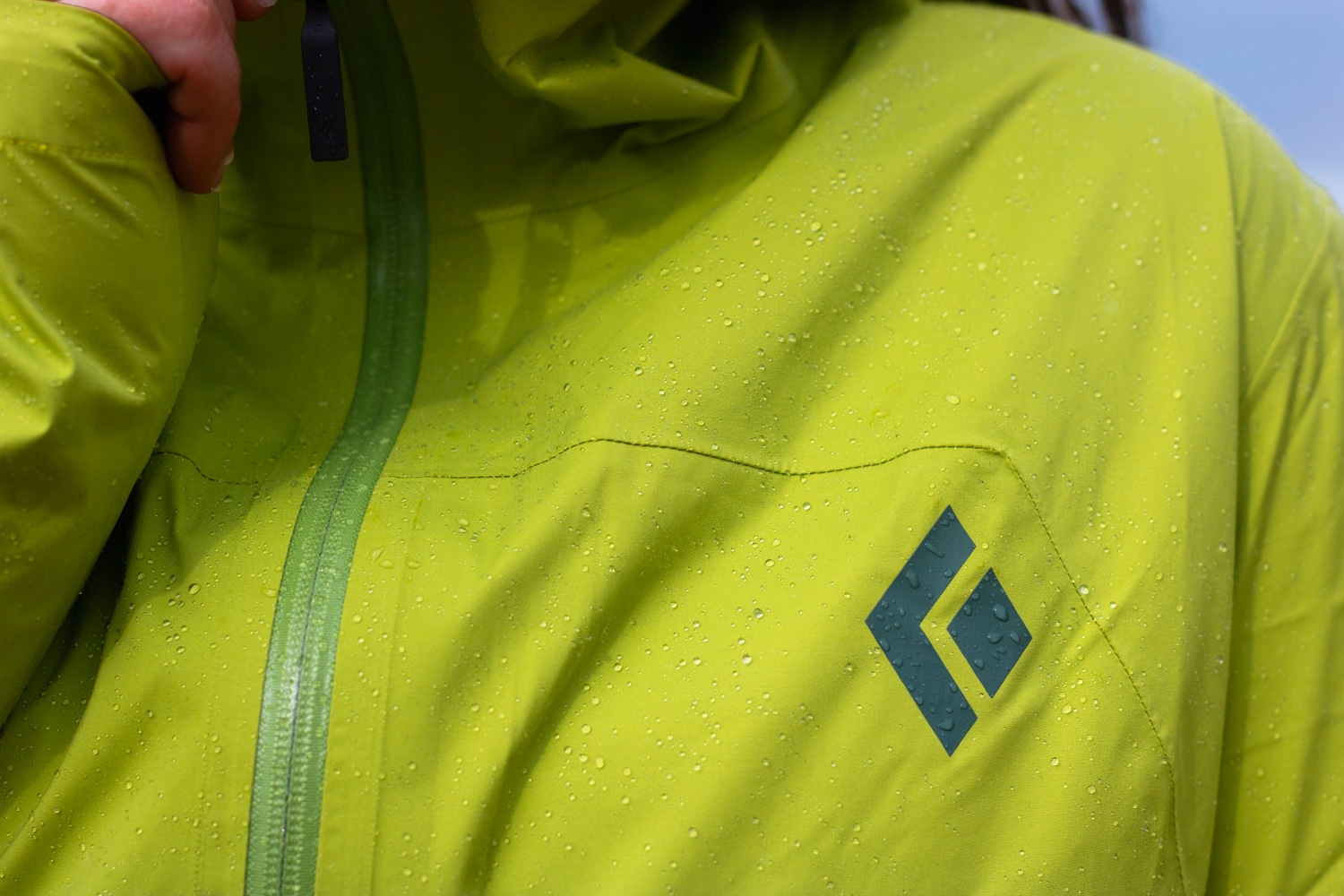 Stretchiness
Since the StormLine literally has "stretch" in its name, of course I have to touch on this. To be clear, the jacket isn't like a pair of leggings — there isn't stretch for days. But, there is a more give to the fabric than most other rain shells. This little bit of extra elasticity makes a big difference in activities like hiking, climbing, or biking where you need freedom to move.
Black Diamond has a whole line of rain gear with their stretchy fabric, including rain pants and different jackets. They're worth checking out for the added flexibility.
Fabric Noise & Crinkliness
No matter what you do, any good rain jacket will be noisy and crinkly. It just comes with the territory.
The StormLine definitely has a bit of a noise, but I only noticed when it wasn't raining. Even then, it wasn't super noticeable. This jacket isn't going to tell everyone within 50 feet you're there; maybe just the few in your immediate vicinity. And if it's rainy? Hell, the rain will probably be louder.
As for crinkliness? Just check out my photos. There's definitely some crinkles going on. But c'mon, does that really matter with outdoor gear? I think not.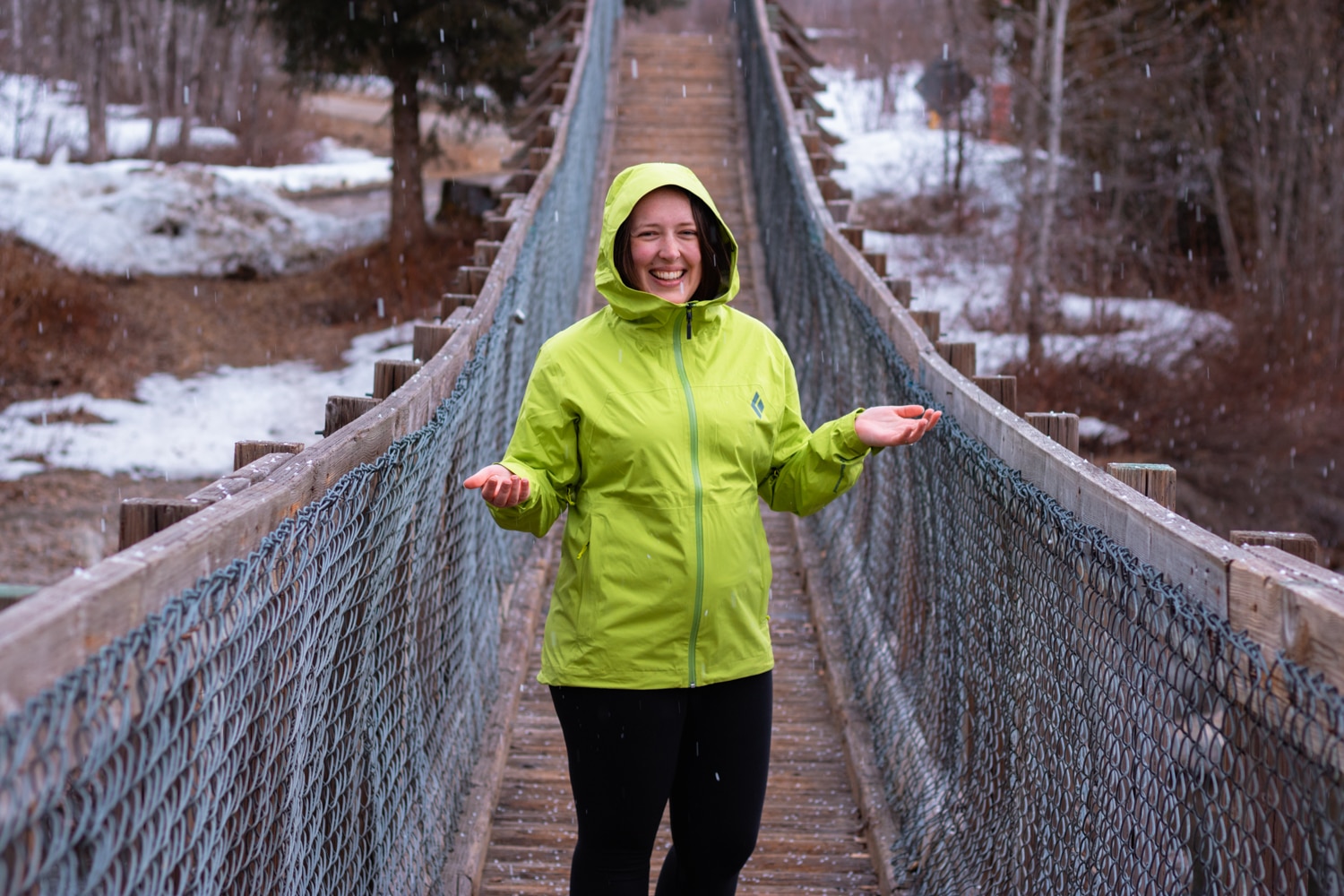 Fit of the Women's StormLine Rain Jacket
I found the Black Diamond StormLine Stretch jacket to fit very comfortably. Clothing often fits awkwardly on my hips but I'm happy to report that wasn't an issue!
For reference, I'm wearing a large which gives me plenty of space to layer and move. I probably could have gotten a medium, but I'm always worried women's clothing will be too small so I usually err on the side of caution and size up. I'm about 5'6″, 170lbs with wide hips and usually wear a medium or large.
Sleeves, Cuff & Hem
The women's StormLine Stretch rain shell has a great sleeve length and the large, Velcro cuffs easily tighten to prevent water from running up your arms and soaking your base layers. I appreciate the adjustable cuffs — I've had a few jackets with too-tight elastic cuffs and they're pretty uncomfortable.
I found the torso length to be perfect; combined with the drawcord on the hem, I wasn't worried about my base layers getting wet from the bottom. I'm quite short, so it's long enough to cover my butt while standing which I really appreciate (not while sitting, though). On a taller person, it would sit further up their torso.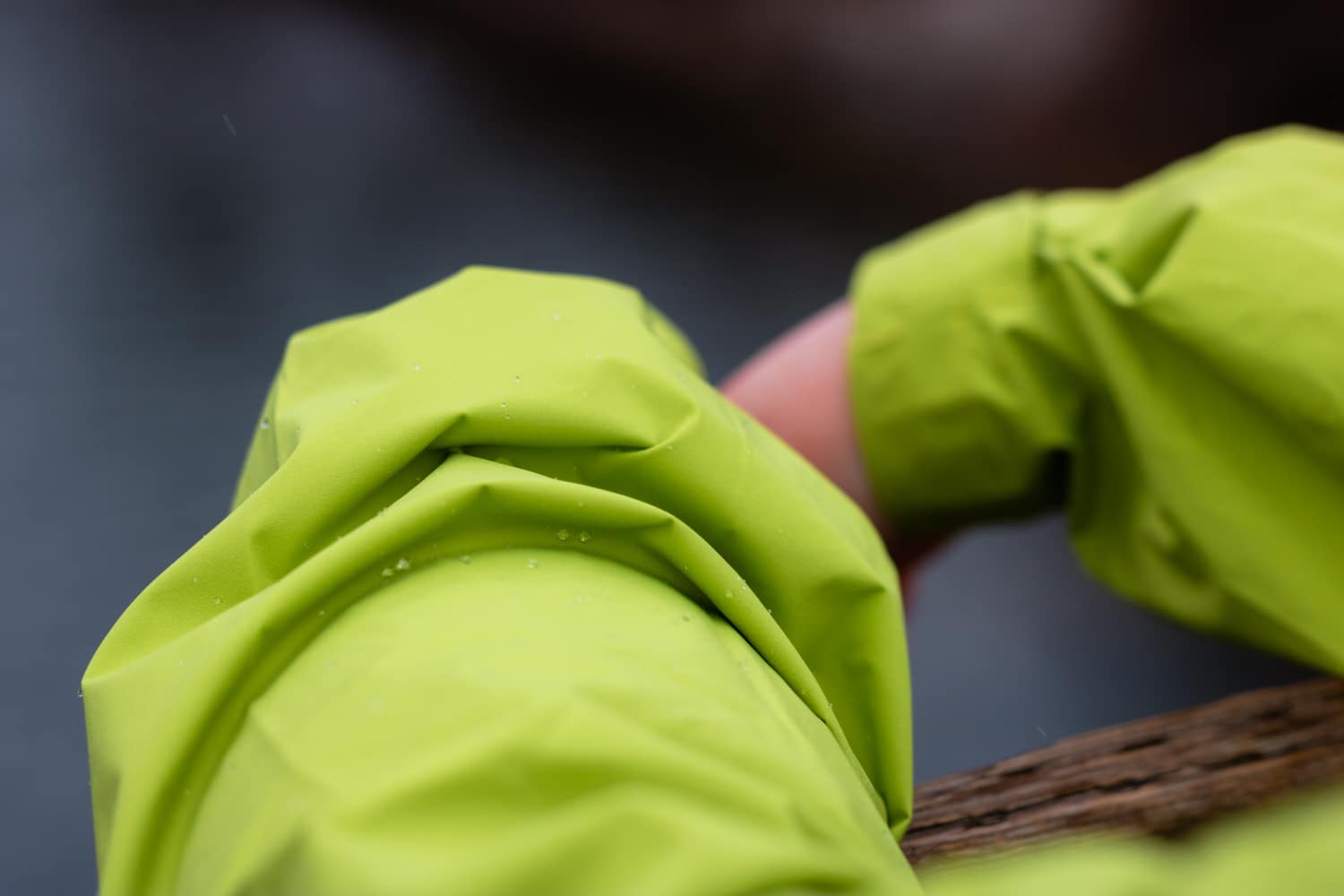 Hood
The hood on the StormLine is large — you can easily wear a helmet or hat under it while keeping your hair covered and as dry as possible. The neck area is quite generous as well and doesn't feel like you're being choked (which is a complaint I have more often than you'd think). It's clear Black Diamond designed this jacket with movement in mind.
At first I didn't love how huge the hood was, then I realized there's a drawstring on the back so you can tighten it up. Very handy and definitely needed!
Mobility
As I've mentioned before, the StormLine allows for a wide range of movement. Thanks to underarm gussets and a well-thought out design, I never felt restricted or that it was riding up in weird ways.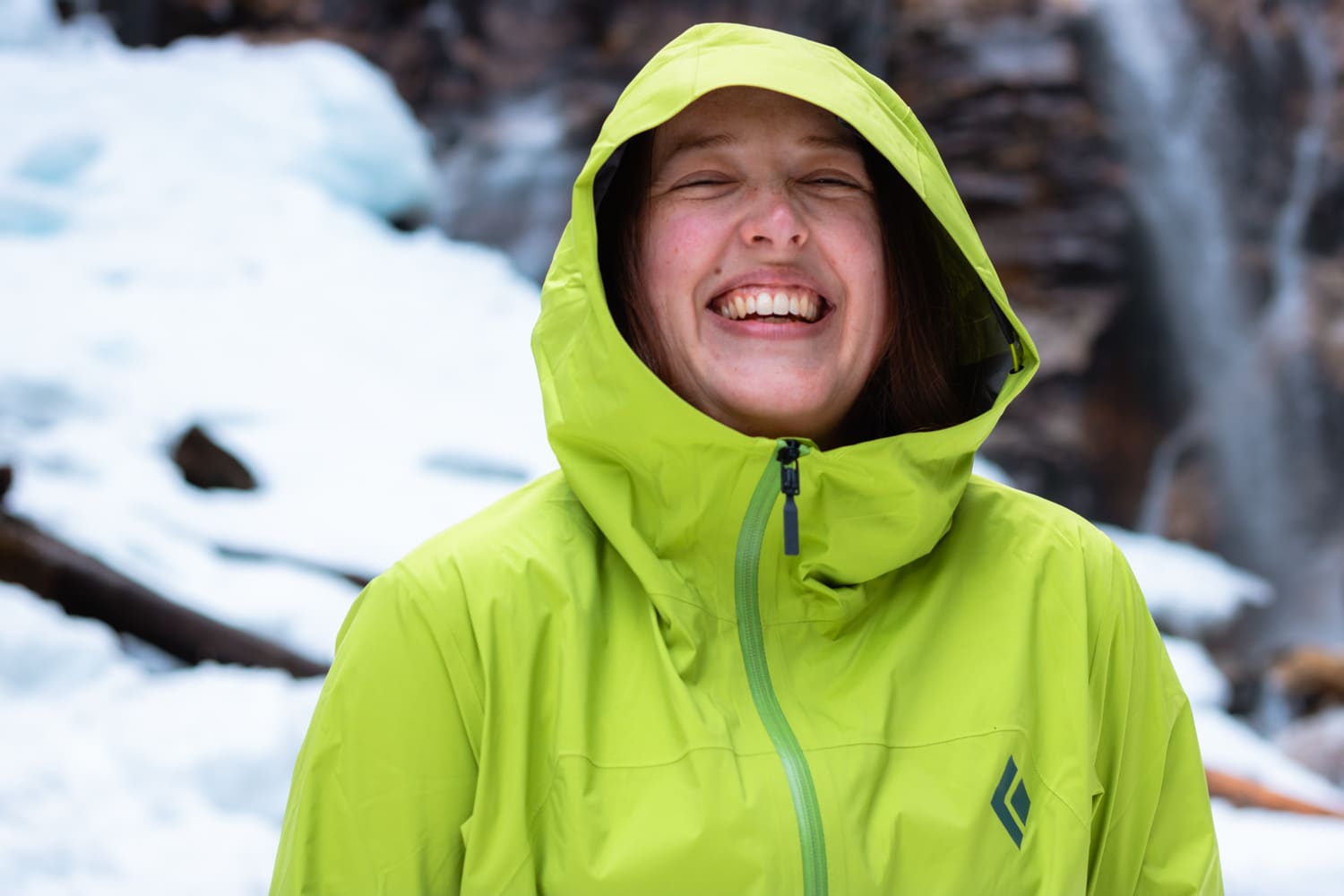 Sizing Tips for Rain Shells
A rain jacket's fit will also impact how well it (and the rest of your gear) performs. If you're stuffed in like a sausage or the sleeves and hems are too short, you're almost guaranteed to have problems. Make sure to read the sizing charts before buying! It's better to have a little extra room and length than not enough.
Most outdoor jackets take into consideration that you'll be layering, but it's always good practice to triple-check sizing.
Tip: If an outer jacket looks "good" on in the store with only a single t-shirt, size up. Once you layer with a fleece or puffy jacket, it'll be way too tight. You won't be able to move and your sweat will get trapped.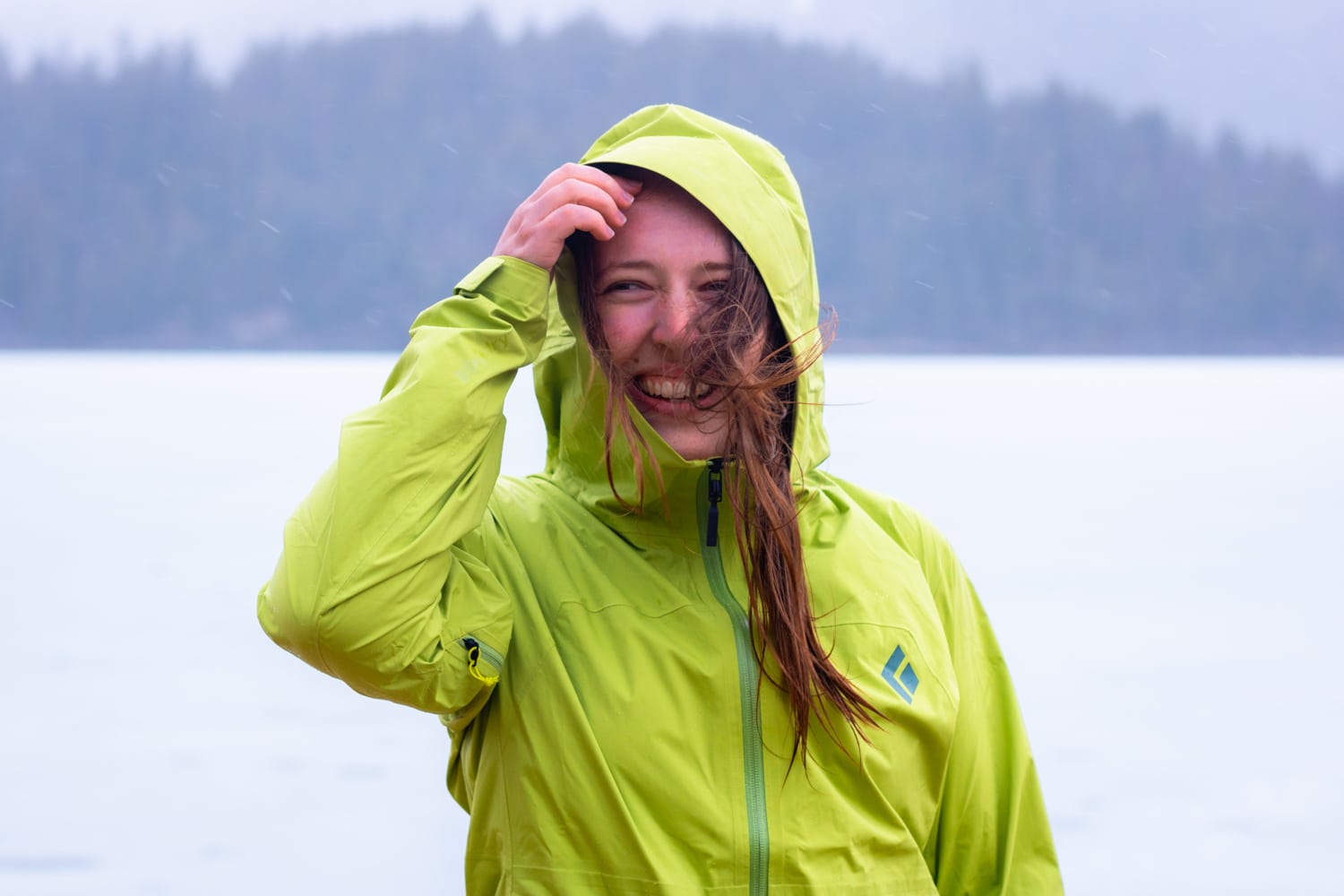 Should You Buy the Women's Black Diamond StormLine Stretch Rain Shell?
Black Diamond's StormLine is an excellent rain shell for the average outdoors person who wants to incorporate more rainy day adventures into their repertoire. Thanks to its compact size and low weight, it's easy to throw into a backpack for emergency rain protection.
In my opinion, the StormLine is an excellent mid-range rain jacket. It performs very well and isn't insanely expensive. I wouldn't hesitate to get another!
However, if you're just getting into the outdoors and don't plan on spending much time out on rainy days, this jacket is probably more technical that you'll need (for now). And for truly dreadful weather or extended periods in storms, you may want to look into higher end and (therefore pricier) gear.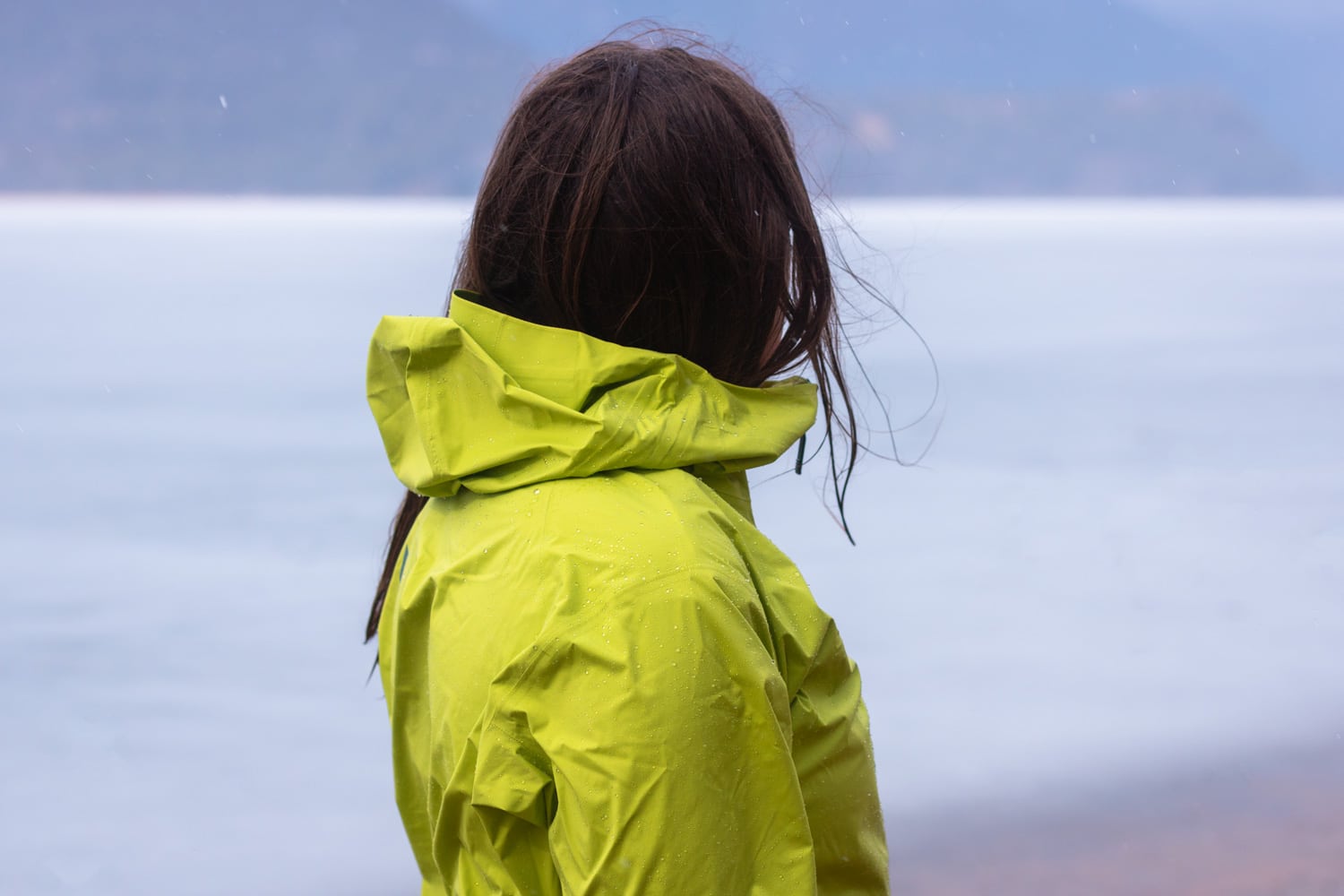 FAQs
Is the women's StormLine jacket comfortable? Is it breathable?
It's very comfortable and easy to move in. It features adjustable cuffs and hems, as well as pit zips to help with breathability.
Does the StormLine rain shell provide good water resistance?
Yes! The fabric and DWR coating provide great water resistance. This is an excellent mid-range rain shell for enjoying the outdoors in the rain.
Is the BD StormLine rain jacket true to size? Does it look good?
I found the StormLine very true to size. I wear between a medium and large and opted for a large so that I'd have extra room to layer. I'm glad I did. I also think it looks great on.