Rainbow Falls is a beautiful, secluded waterfall in Monashee Provincial Park. It's about one hour from Cherryville and is a must-visit just outside of the Okanagan!
The waterfall is fed by Spectrum Creek directly out of the Monashee Mountains and is stunning all year long. The trail is short, fairly easy, and accessible for most people.
Rainbow Falls is accessed by unpaved, bumpy forest service roads and is a great pit-stop if you're hiking or camping in the area — it's quite a long drive if the waterfall's your main destination, but hey, you do you.
It might be a long ways in to see Rainbow Falls, but it's defintely worth the drive! I absolutely love this waterfall and recommend it to everyone I know — which includes you!
Disclosure: This article may contain affiliate links and I may earn a commission, at no cost to you, if you click and/or buy a product online (even if it's not the product linked). I take great care to only recommend helpful products and appreciate your support!

Disclosure: While I do my best to provide up-to-date pricing, there may be a discrepency between what's posted here and the actual cost.
Trail Details for Rainbow Falls
Rainbow Falls is a must-see stop if you're visiting Sugar Lake or Spectrum Lake. The hike is short, only about 0.5 km return, and is fairly easy. However, it does descend relatively quickly and has plenty of dirt, roots, and mud along the way.
Even though it's a pretty easy hike, but I've rated it as moderately easy due to the semi-rough trail. It's certainly doable for most people, but is more than a gentle walk in the park.
Download the GPS file or check out the 3D map to plan your hike.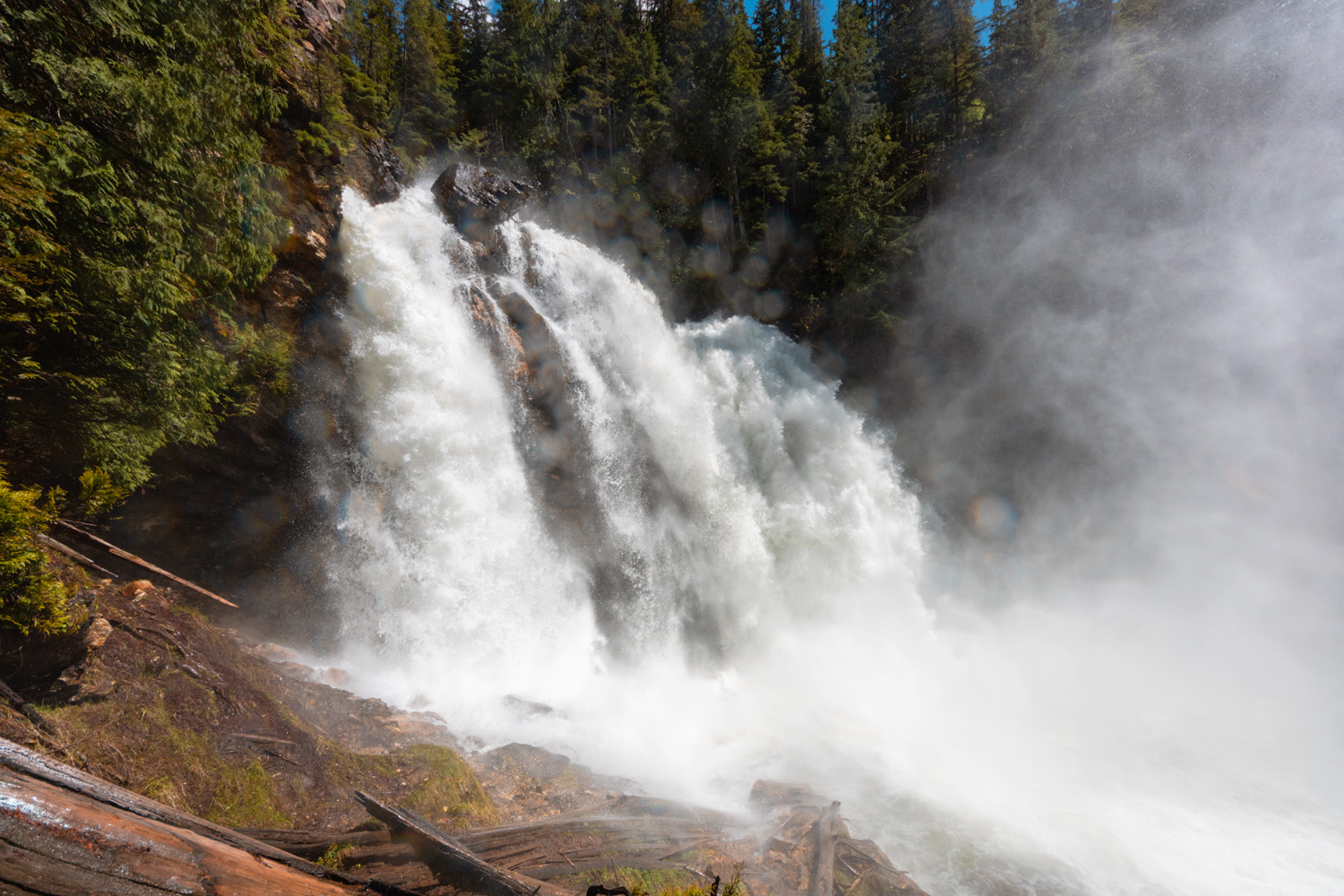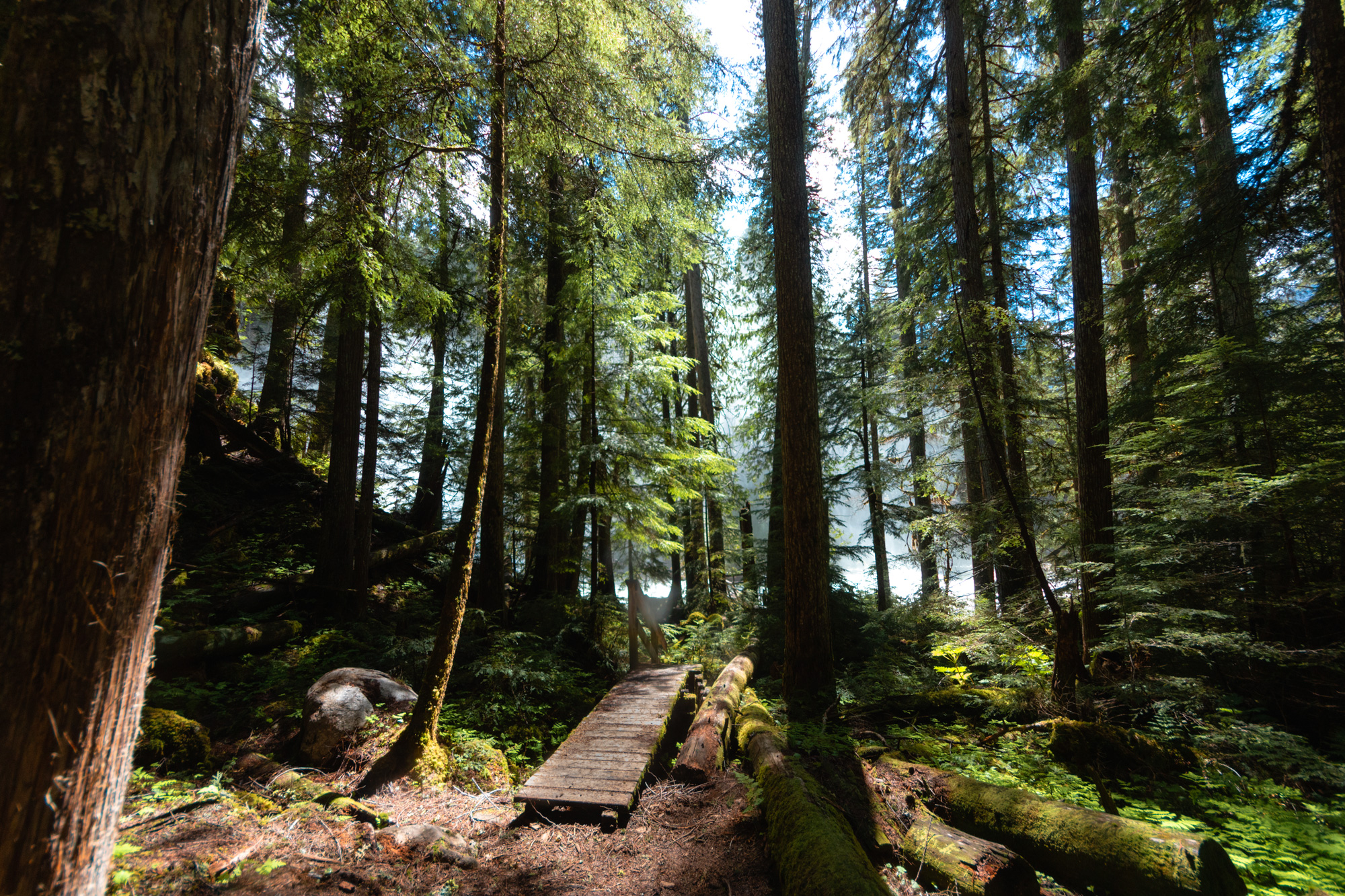 What to Expect on the Trail
There's a large gravel parking lot at the Rainbow Falls trailhead. There isn't an info board about the park here, but there is a small directional sign a few feet from the start that will let you know you're heading the right way.
After climbing a small embankment off the parking lot, you'll see the trail head into the forest. A few meters in, another trail branches off to the left – continue straight.
As you head into the forest, the trail starts descending fairly quickly. The trail is narrow and well trodden, but a little rough in places. It can also get pretty muddy. Overall, the trail is very well maintained.
Luckily, there are a few boardwalks along the way that keep you out of the worst mud and water. Plus, they look pretty damn cute surrounded by the lush forest!
The forest is abundantly lush and clearly loves the moisture from the nearby waterfall. The trees grow tall, reaching for the sky and the ferns and underbrush thrive off the humidity.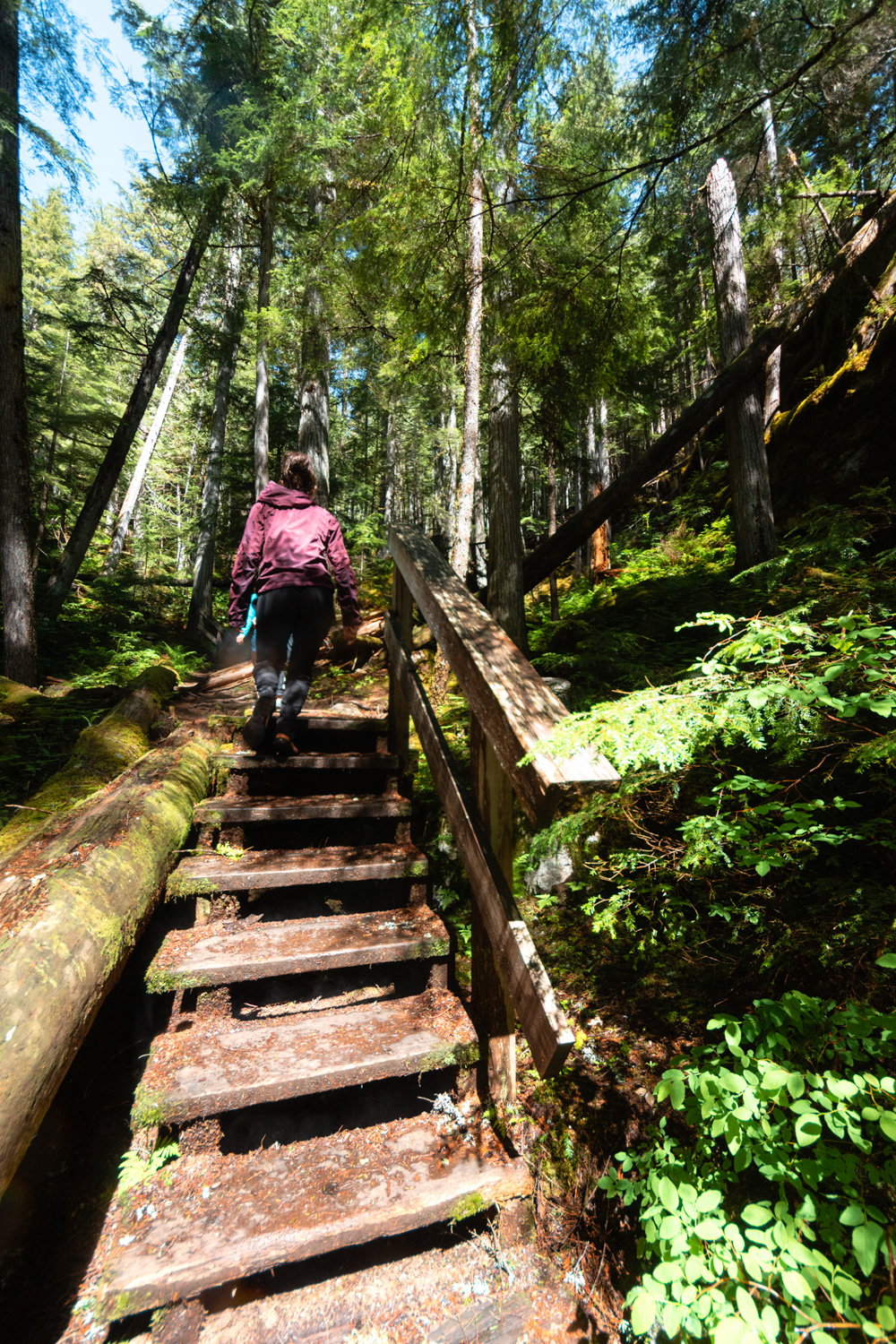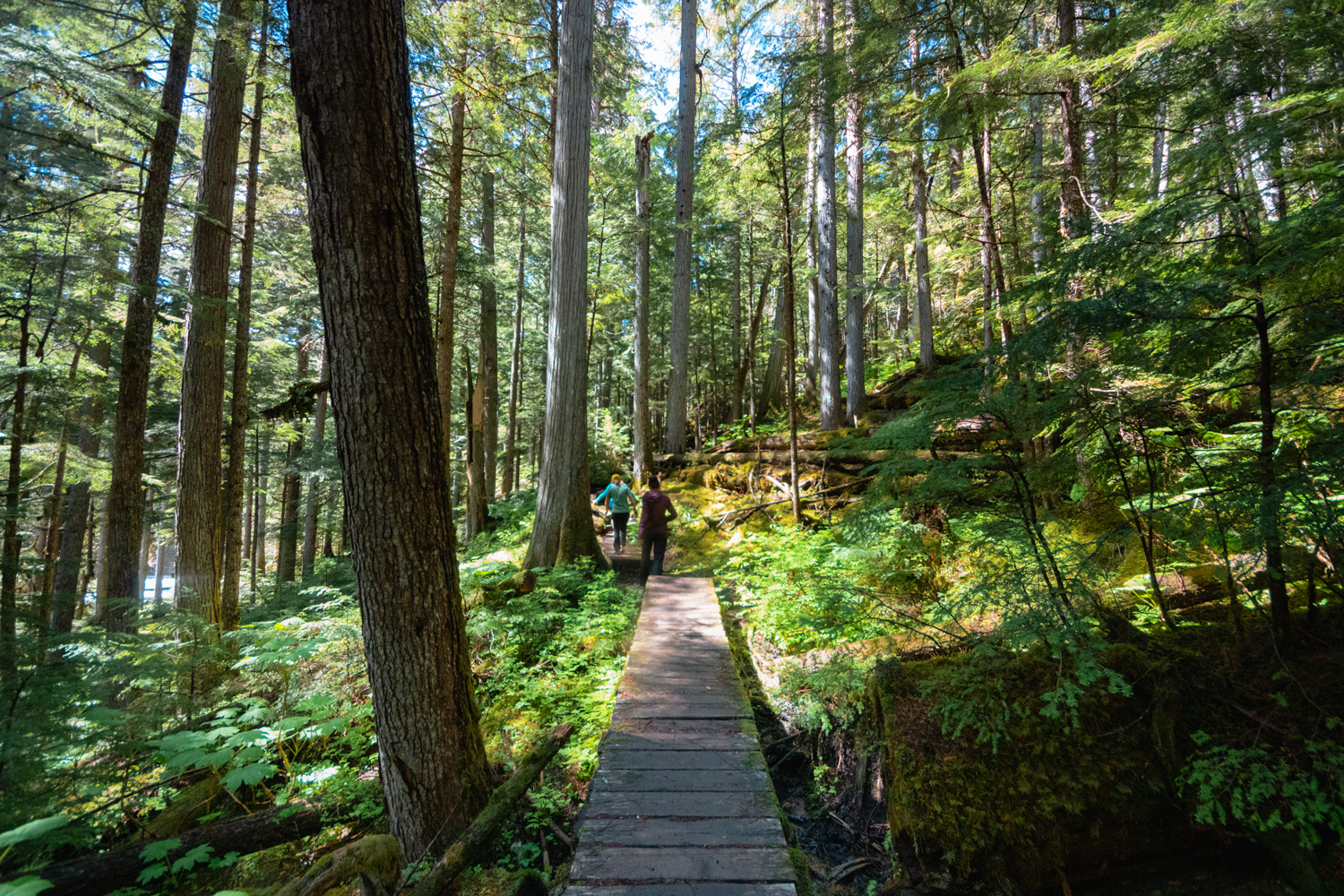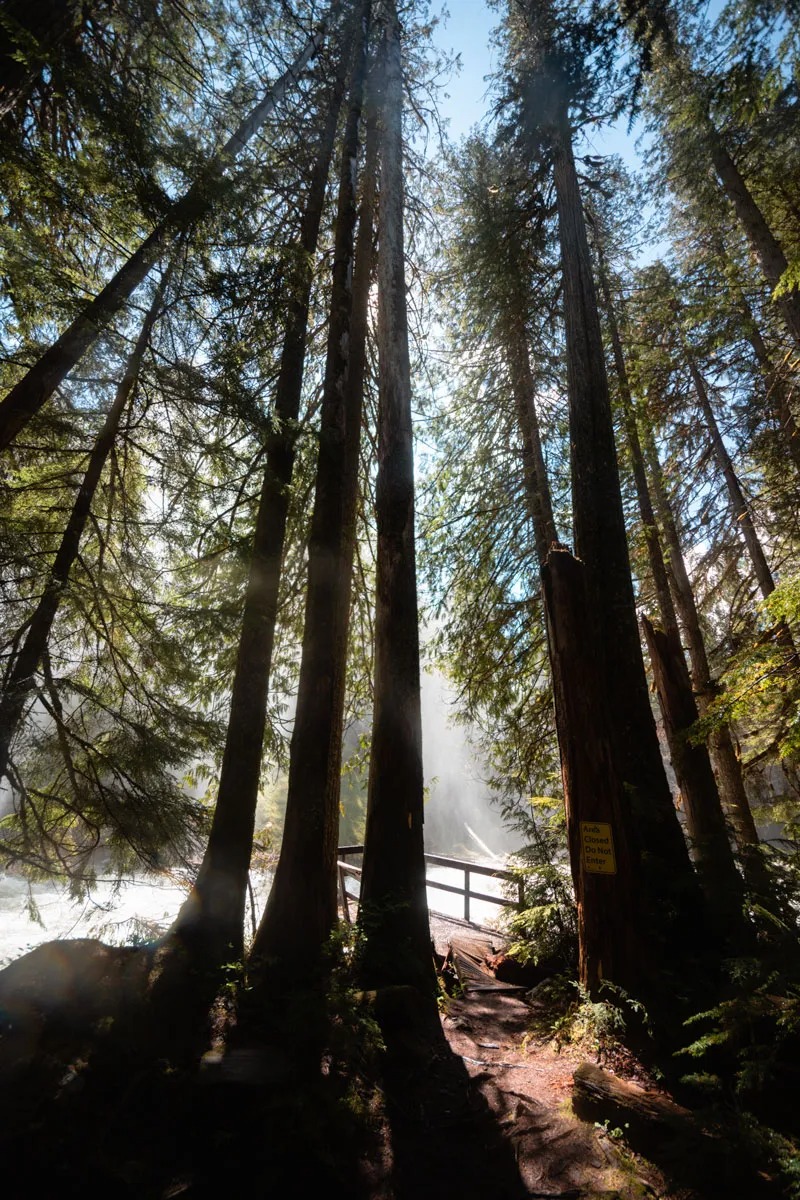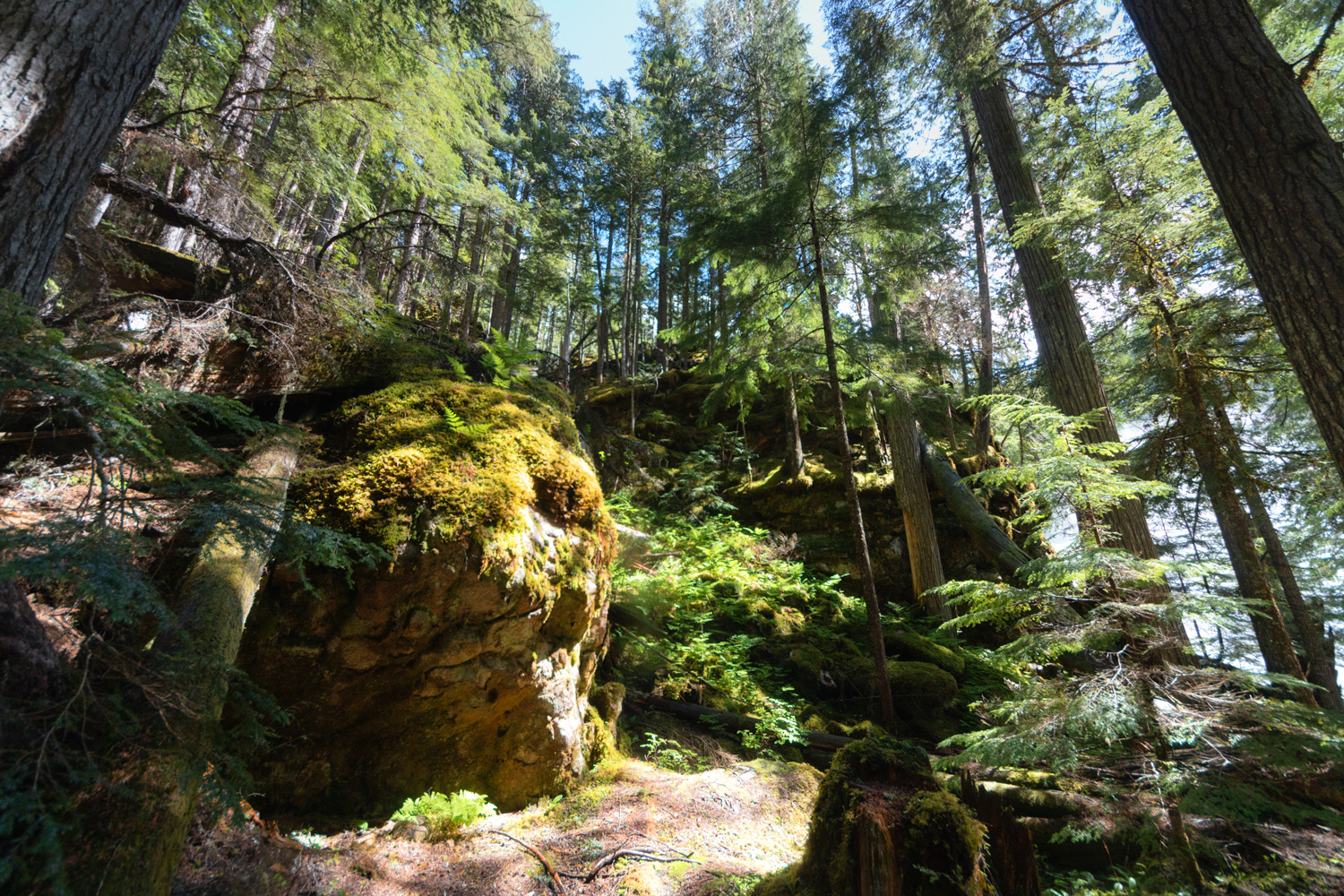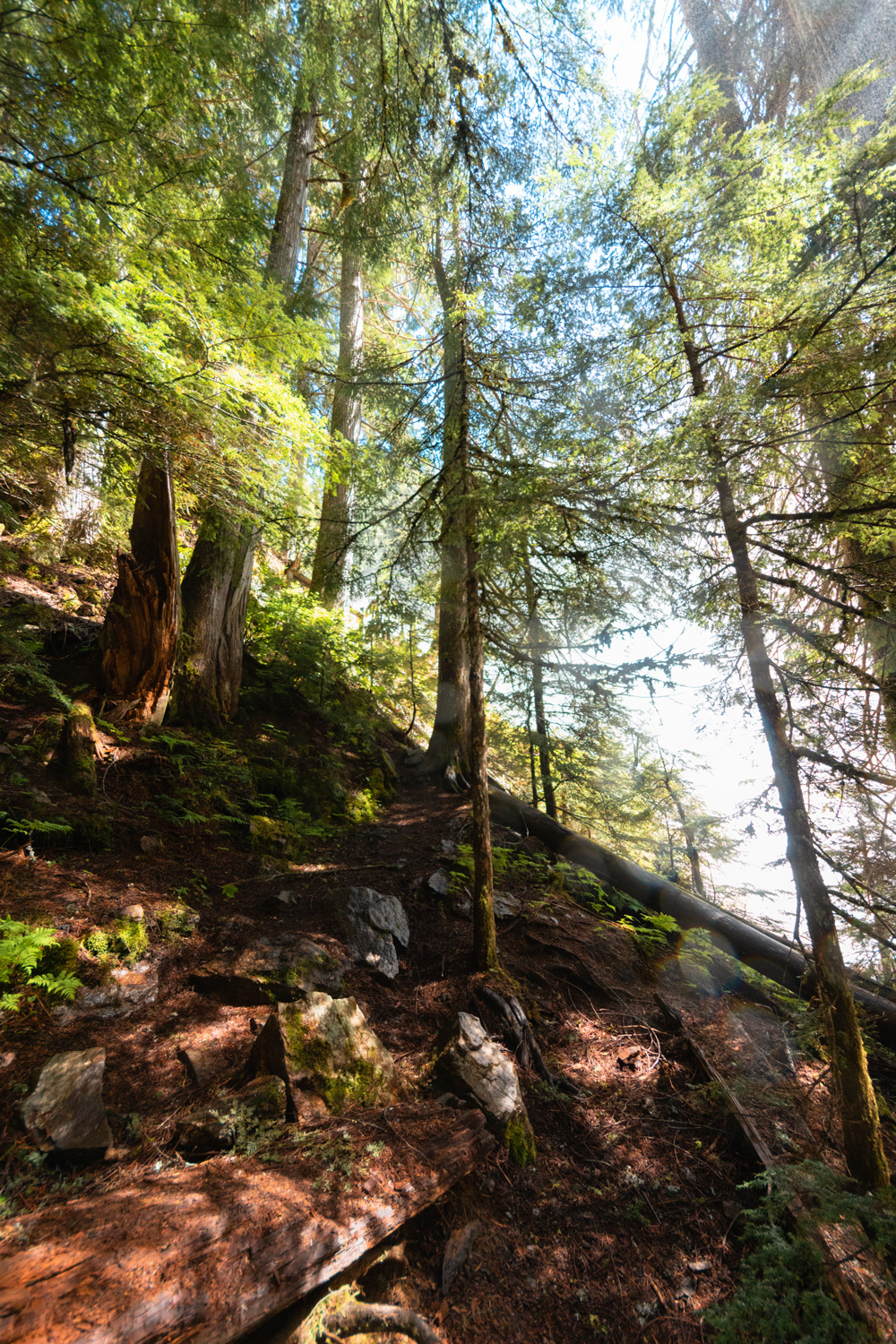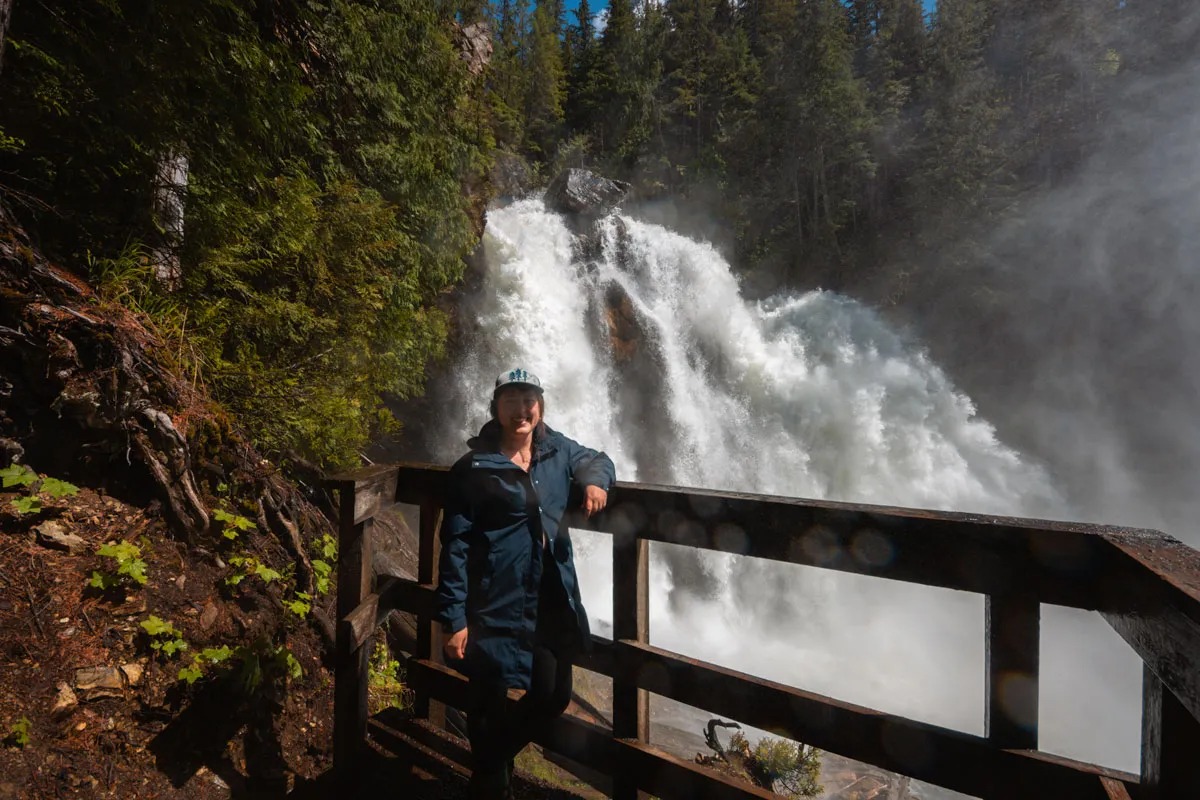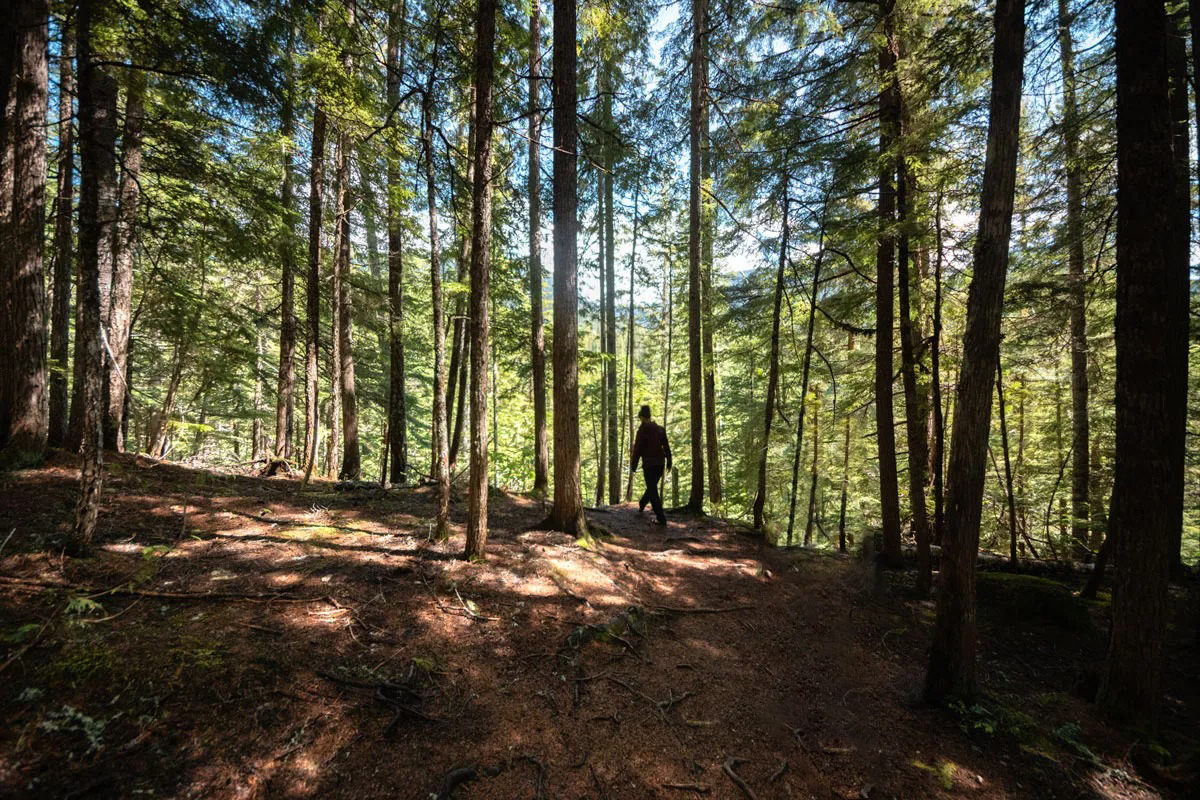 Viewpoints at Rainbow Falls
As you approach the waterfall, Rainbow Falls thunders just out of sight. When I visited in early summer, the waterfall's mist created a picturesque, fairytale-like ambiance through the trees. It was truly spectacular!
There are two viewpoints for Rainbow Falls: the upper and lower platforms.
Lower Waterfall Viewpoint
The lower viewpoint at Rainbow Falls is the most obvious. When you approach Spectrum Creek, a wooden platform on the edge of the water is clearly visible. Large trees frame the entrance and a small boardwalk bridge brings you to the platform.
The lower viewpoint juts out over the water and gets quite wet and slick – watch your step! If you have kids or pets, hold them tight because it would be easy for them to slip through the railing.
However, when I visited in early summer 2022 the boardwalk bridge was in disrepair and the viewing platform was closed. Instead, we walked a few feet to the left of the platform and were able to just see the waterfall. I assume, had the platform been open, that we'd have been able to actually see Rainbow Falls.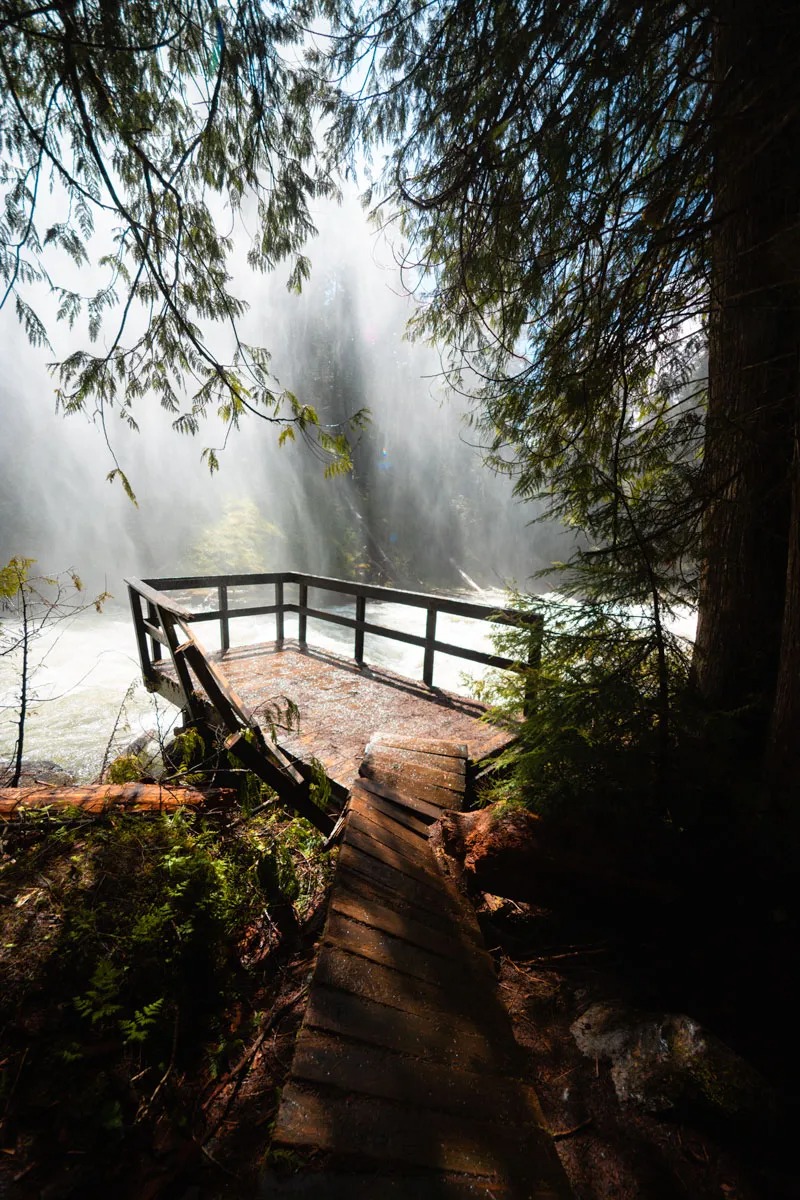 Upper Waterfall Viewpoint
The best view of Rainbow Falls is from the upper viewing platform. Unlike the lower viewpoint though, this one is easy to overlook. But don't overlook it, you'd be missing out!
Just before the entrance to the lower platform, there's a metal sign that reads "Viewing Platforms donated by Gormans Bros. Lumber Proudly Working for the Future with BC Parks 2000". Look past this sign for faint trails that head uphill next to the rocky cliffside. The trail is covered in rocks and roots.
Follow this trail up and you'll soon see wooden railings and steps. As you reach the steps, Rainbow Falls' full power will rush over you. The view of the waterfall is truly spectacular!
From the upper viewpoint, you'll have a clear, uninterrupted view of the waterfall in all her glory. The waterfall tumbles down roughly 60 feet, thundering over the rocks and letting off a mist that'll soon have you drenched.
The platform will be wet and can be a little slippery and muddy.
Tip: If you don't want to get soaked, stuff a lightweight poncho in your pocket and pull it out when the mist gets to be a little much.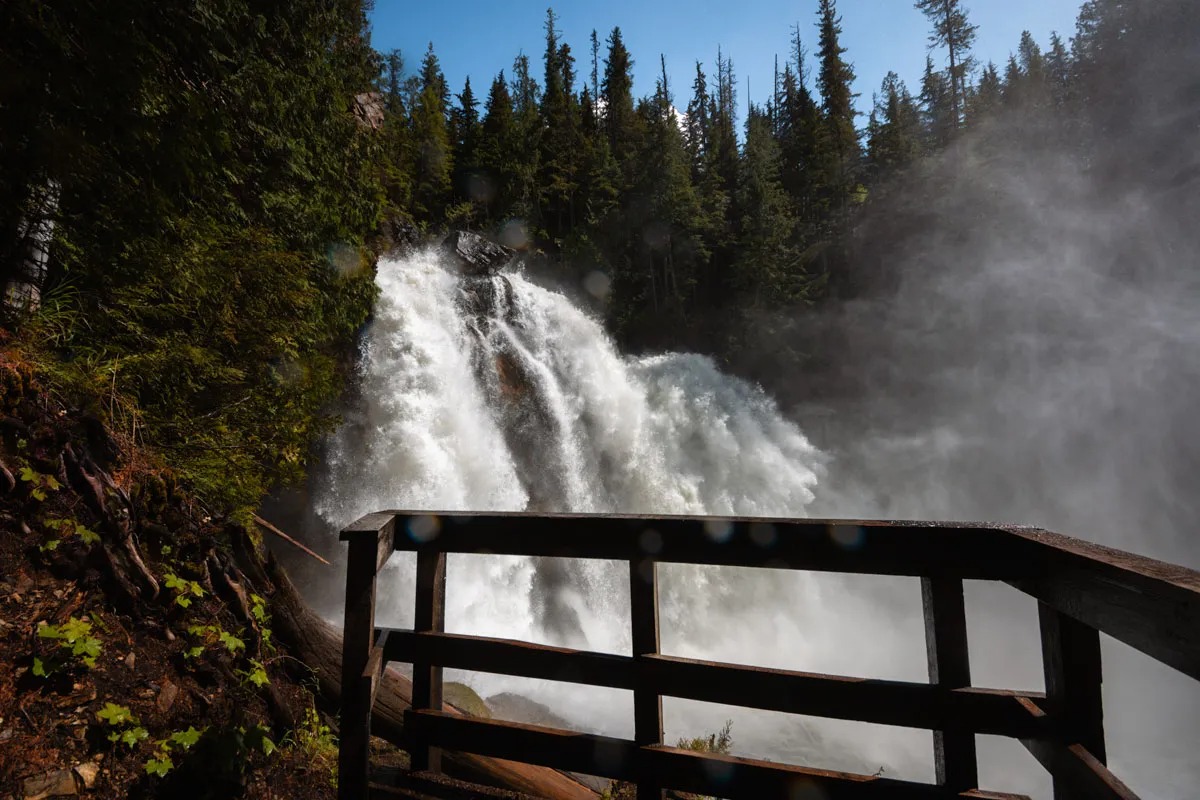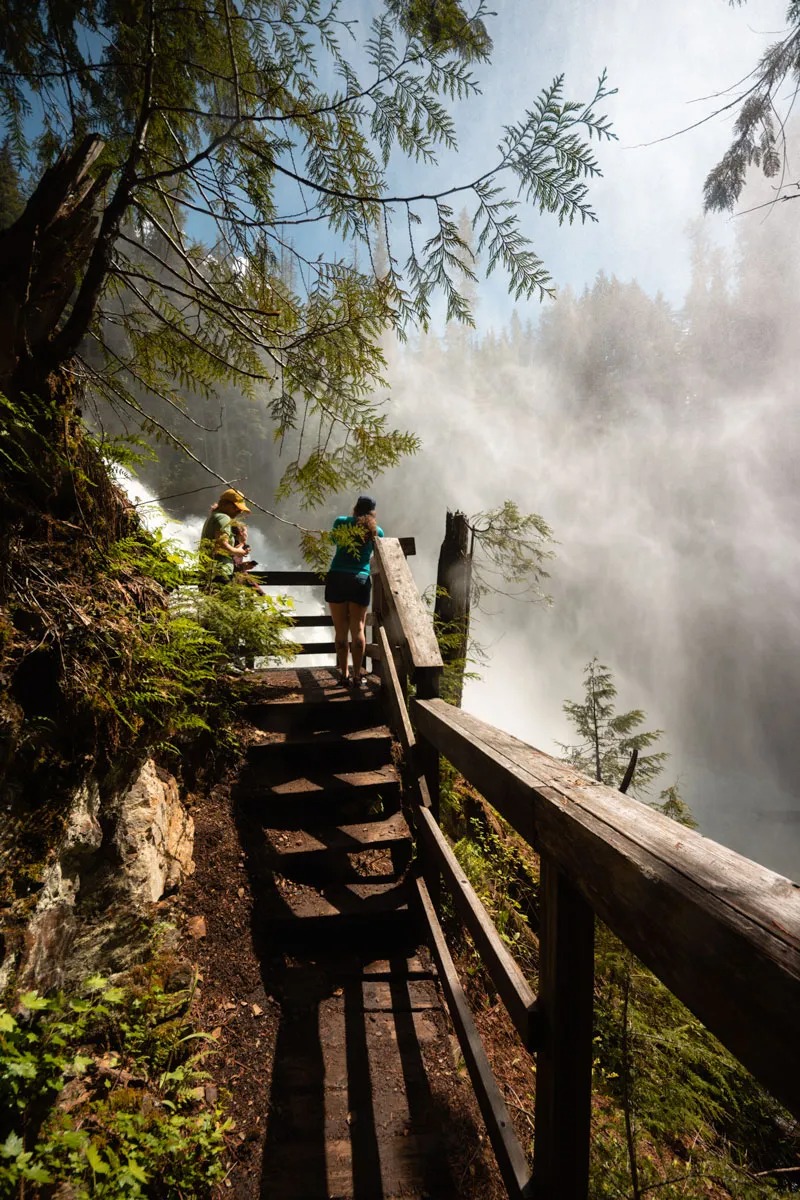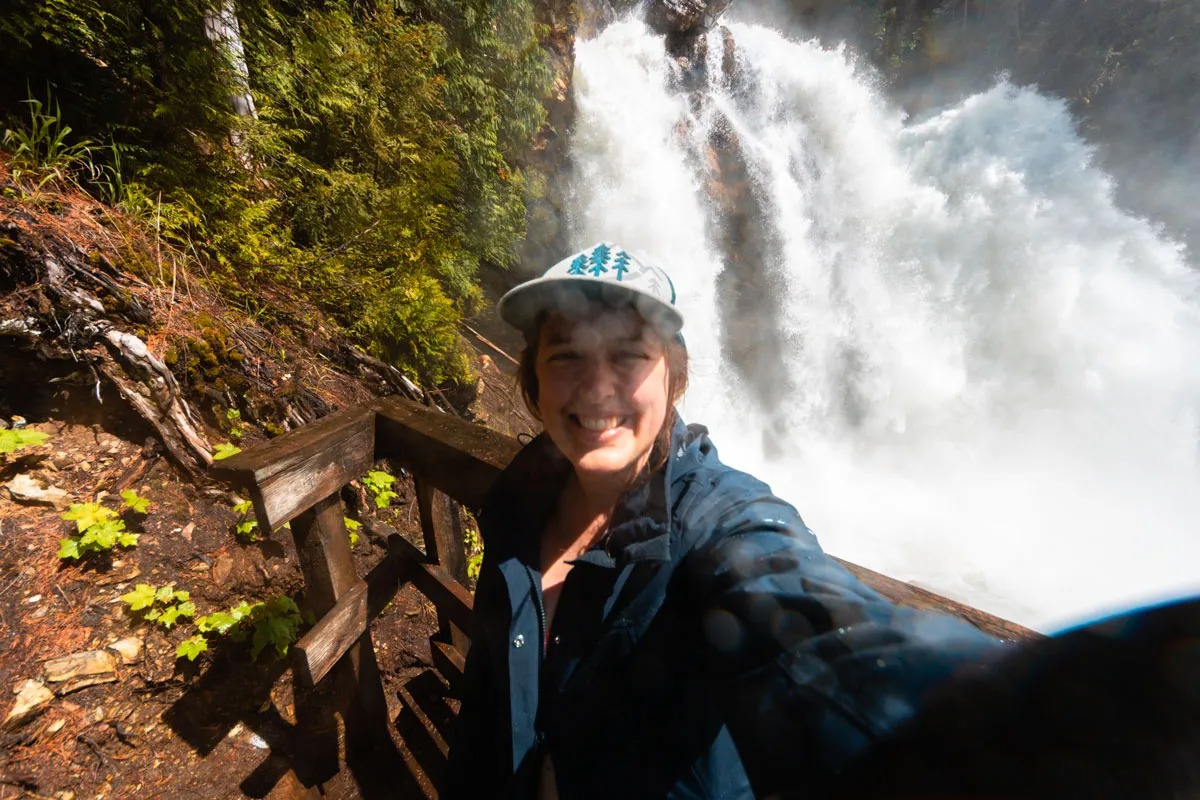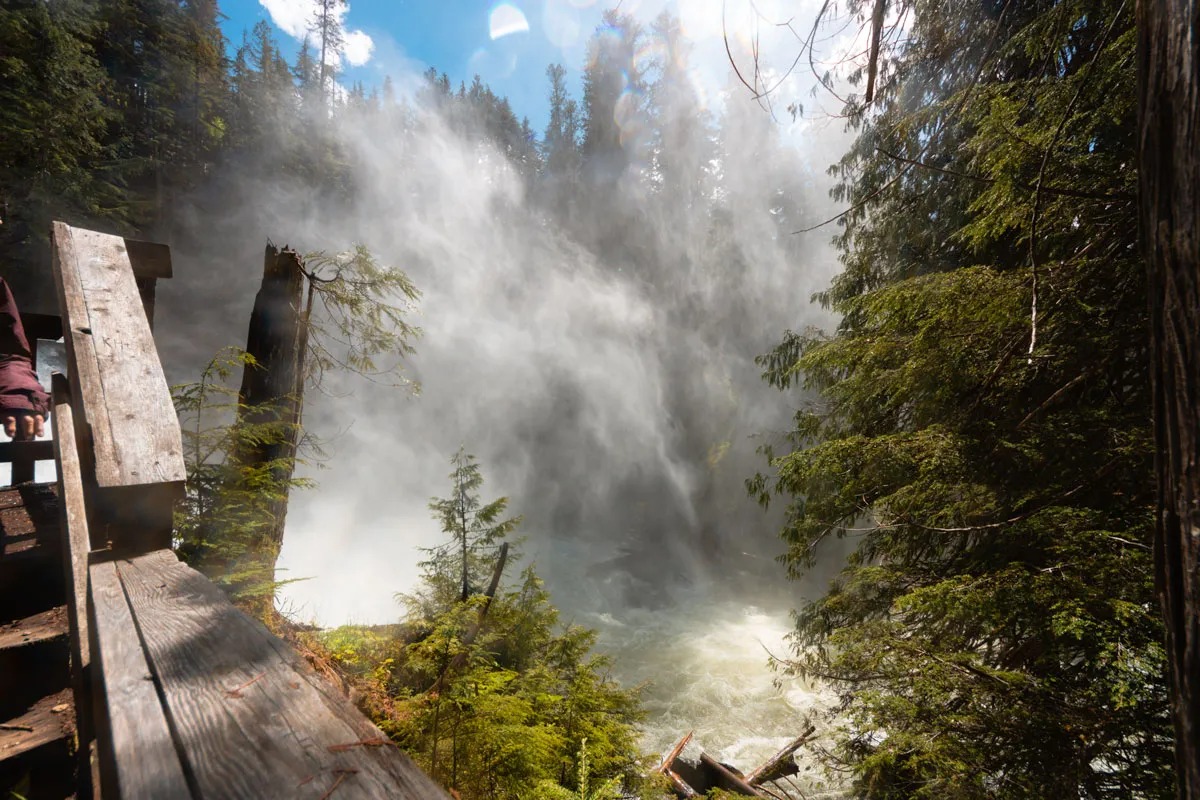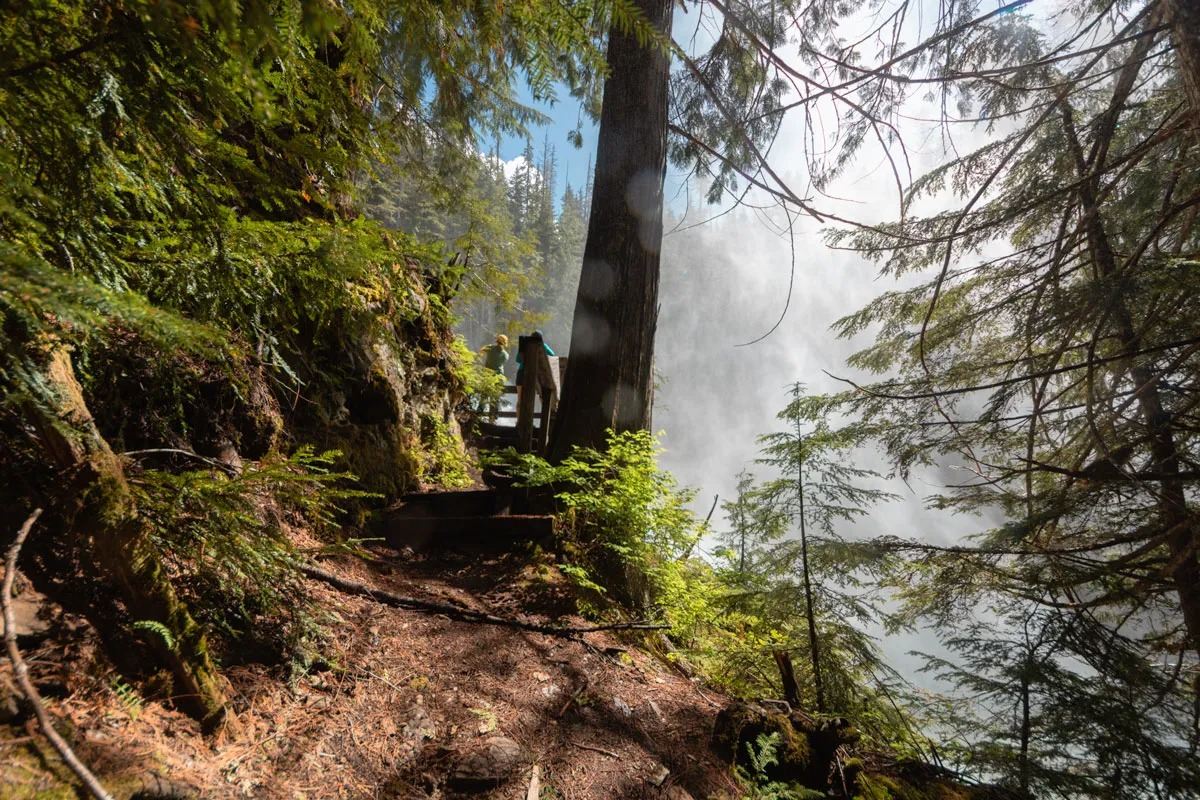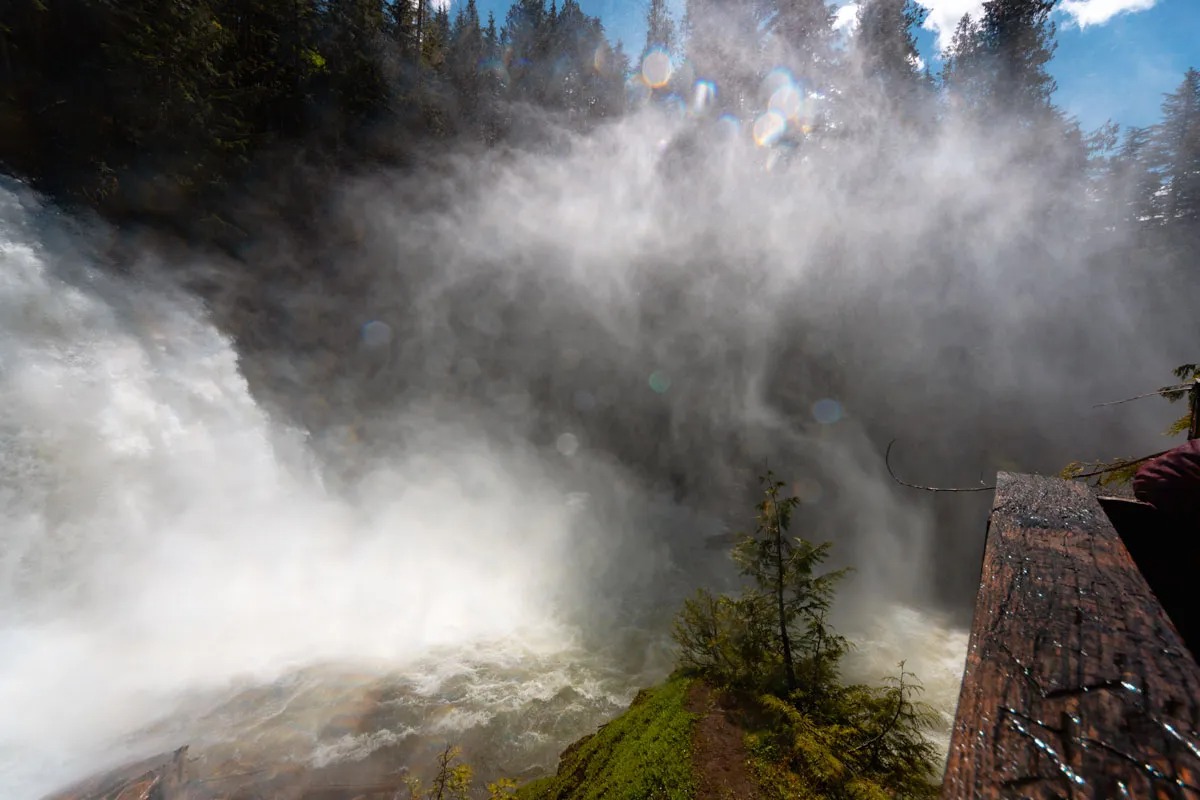 Safety Note
I've heard that you can walk down to the base of the waterfall, but I have no experience with this. When I visited Rainbow Falls, there was no way it would be safe to approach the creek or waterfall – in fact, it would likely be fatal.
While I can't recommend doing this because I have no personal experience, if you do attempt it, only do so when the water is low and the waterfall is smaller (likely the late summer or fall). Obviously, this is at your own risk.
Important: There's no cell service at Rainbow Falls, always let someone know where you're going and when to expect you back. Consider bringing a satellite GPS such as the Garmin inReach in case of emergency.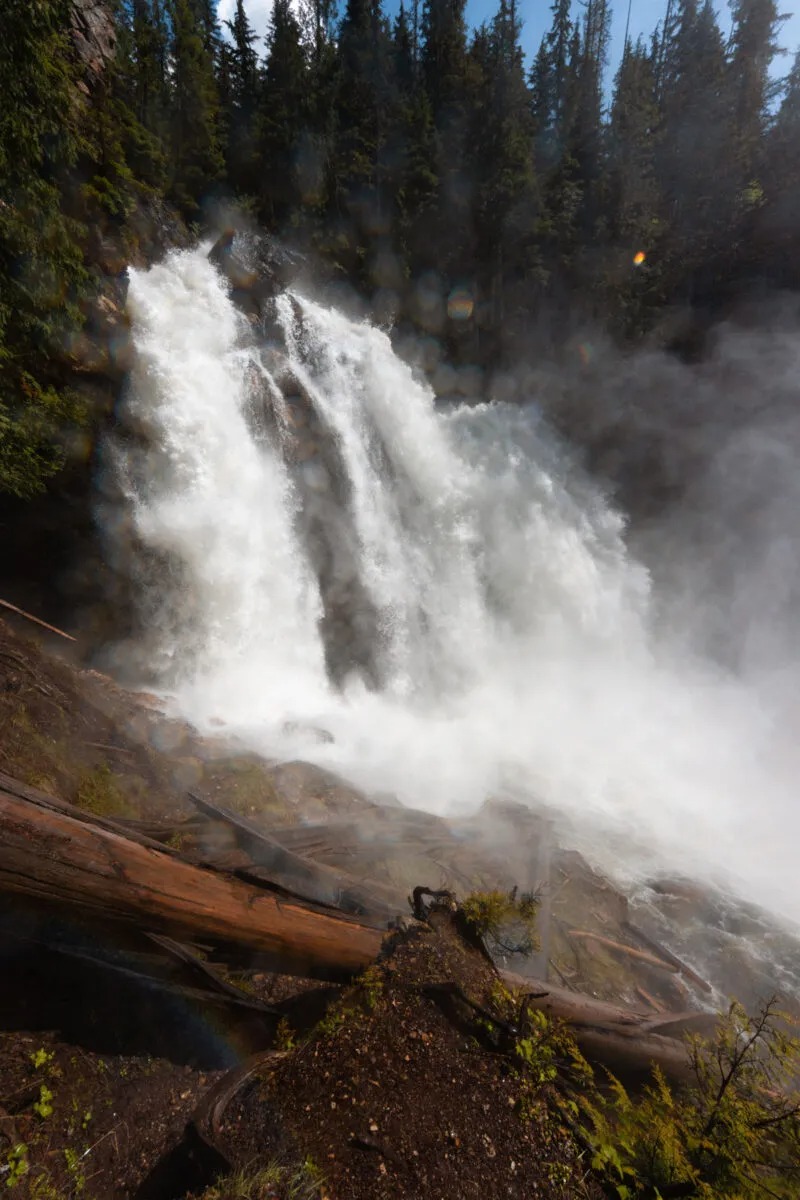 Directions to Rainbow Falls
Rainbow Falls is 44 km from Cherryville, BC and roughly 45 to 60 minutes to drive. The FSR is unpaved, bumpy, and an active logging road. Watch for logging trucks.
Cherryville is 53 km (45 mins) from Vernon and 141 km (2 hrs) from Nakusp. On the outskirts of Cherryville, find Frank's General Store and take Sugar Lake Road.
The first few kilometers of Sugar Lake Road are paved, but they soon turn to dirt. At 24 km you'll reach Sugar Lake itself – cross the bridge and keep driving on the same road for another 22 km.
Watch for a small sign pointing to Monashee Provincial Park where you'll turn right onto Spectrum Creek Road. Stay on this road for 3 km and watch for signs for Rainbow Falls. You'll turn left onto a narrow road; follow it for 0.5 km until you reach the Rainbow Falls parking lot.
Tip: If using Google for directions, make sure you set it up before leaving Frank's General Store because you'll lose service. Google can bring you most of the way, but it doesn't recognize the 0.5 km road to the parking lot so you'll need to keep your eyes peeled for the small signs.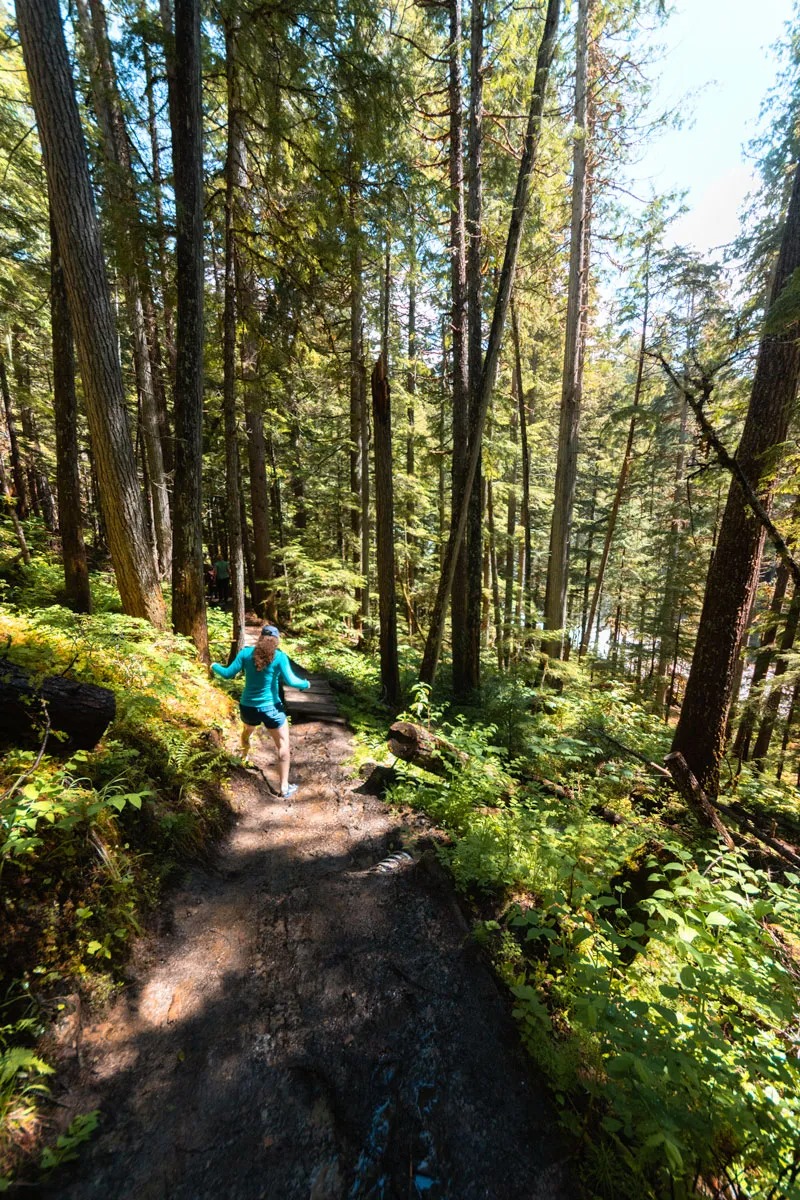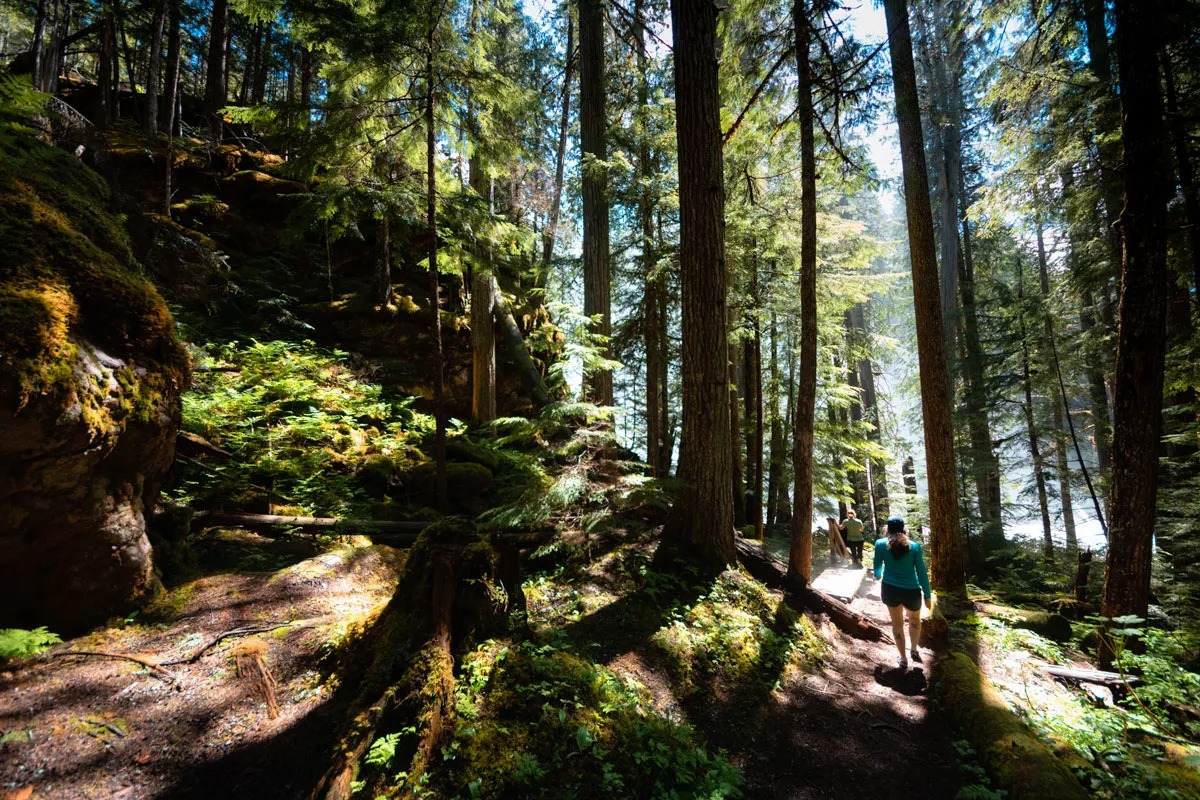 Rainbow Falls FAQs
Rainbow Falls is open 24/7, all year long. However, it's very difficult to access in the winter when the snow covers the road.

A 4×4 or high clearance vehicle is recommended. The FSR's conditions can range drastically, so it's best to use a vehicle that can navigate potholes and potential (light) water on the road.

You can try a car, but may need to turn back based on the road's ever-changing conditions.

There's no cell service at Rainbow Falls. You'll lose service shortly after leaving Frank's General Store in Cherryville. Consider bringing a satellite GPS such as the Garmin inReach in case of emergency.