Dilworth Mountain Water Tower in Kelowna, BC
Dilworth Mountain Water Tower is a short, easy hike in Kelowna that's perfect for everyone, no matter your skill level.
From the top, there are two phenomenal viewpoints where you can see Kelowna and Okanagan Lake sprawled before you. The views are ahh-mazing — you should definitely add this trail to your to-hike list! It's a great hike for kids, starting the hiking season, or if you wanna get outside for an hour.
PS: If the trail sounds familiar, you might be thinking of Dilworth Mountain Park. The two trails are less than a kilometer apart and have basically the same name. They're easy to mix up.
Disclosure: This article may contain affiliate links and I may earn a commission, at no cost to you, if you click and/or buy a product online (even if it's not the product linked). I take great care to only recommend helpful products and appreciate your support!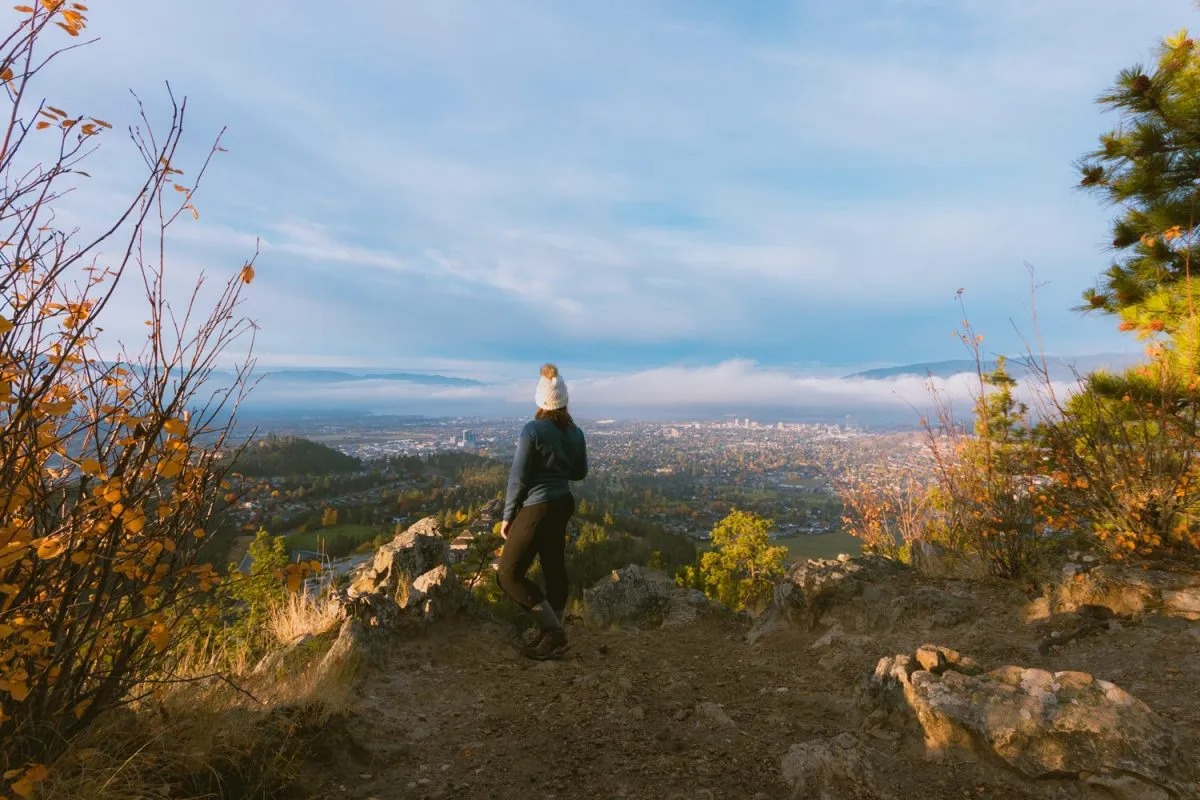 Quick Trail Stats
KELOWNA WEATHER
Trail Details for Dilworth Tower
Where is Dilworth Mountain? It separates Glenmore and Rutland and can be seen from almost anywhere in Kelowna. Numerous subdivisions, trails, and parks crisscross the mountain.
The Dilworth water tower sits at the highest point of the mountain and offers some of the best views in the entire area. This is the water tower you'll be hiking to.
Trail Map
There are lots of trails crisscrossing the small mountain at the Dilworth Water Tower.
If you take the paved road to the top, it's hard to get lost. But if you want to explore a little more, take the dirt trails. You don't need to follow a map for these trails, but it does make finding your way to the top a little easier.
What to Expect
The Dilworth Mountain Water Tower trail is an easy hike in the heart of Kelowna. It's a nice way to escape and appreciate the outdoors without actually leaving the city limits.
First things first, this section of Dilworth Mountain is surrounded by houses. Don't be surprised when you're trying to find parking next to someone's home.
As you hike up the mountain, you'll be treated to views of Kelowna, the surrounding mountains, and nearby homes. Yet, it doesn't feel like you're in the middle of a subdivision.
You'll still get a good ol' dose of nature as you hike to the water tower — there are plenty of trees and you'll quickly leave the houses behind. And if you're lucky, you might even see some deer, owls, or other wildlife!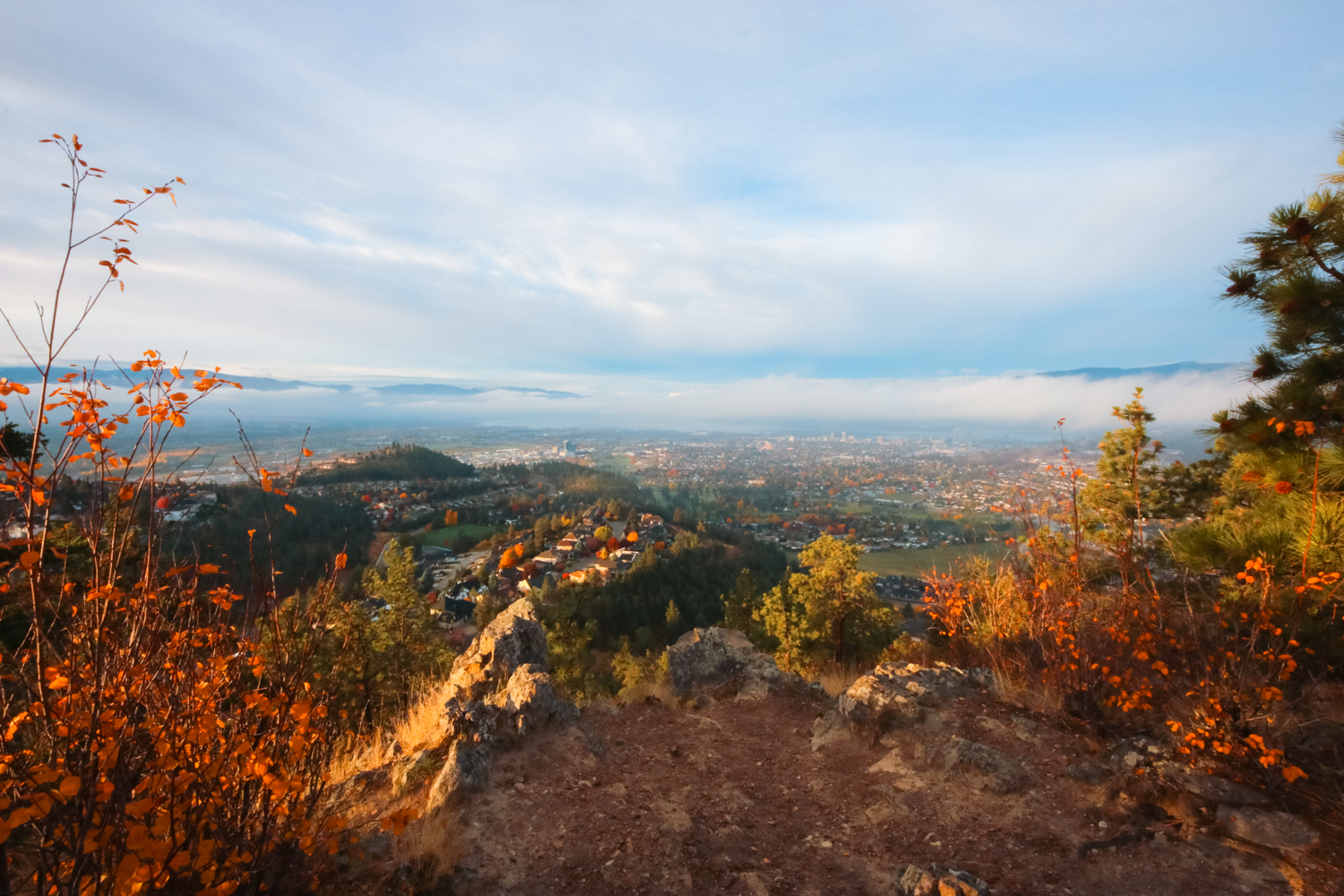 Multiple Trails to the Dilworth Mountain Water Tower Lookout
There are multiple trails to the Dilworth water tower lookout, which makes this a choose-your-own-adventure hike.
Most of the trails are shaded and there's usually a breeze making its way across the mountain. It's not an exposed hike, but it's still important to stay hydrated and bring plenty of water, especially in the summer.
No matter which trail you choose, as long as you're heading uphill, you'll reach the summit viewpoints. And since there are a few different trails, you don't have to go down the same way!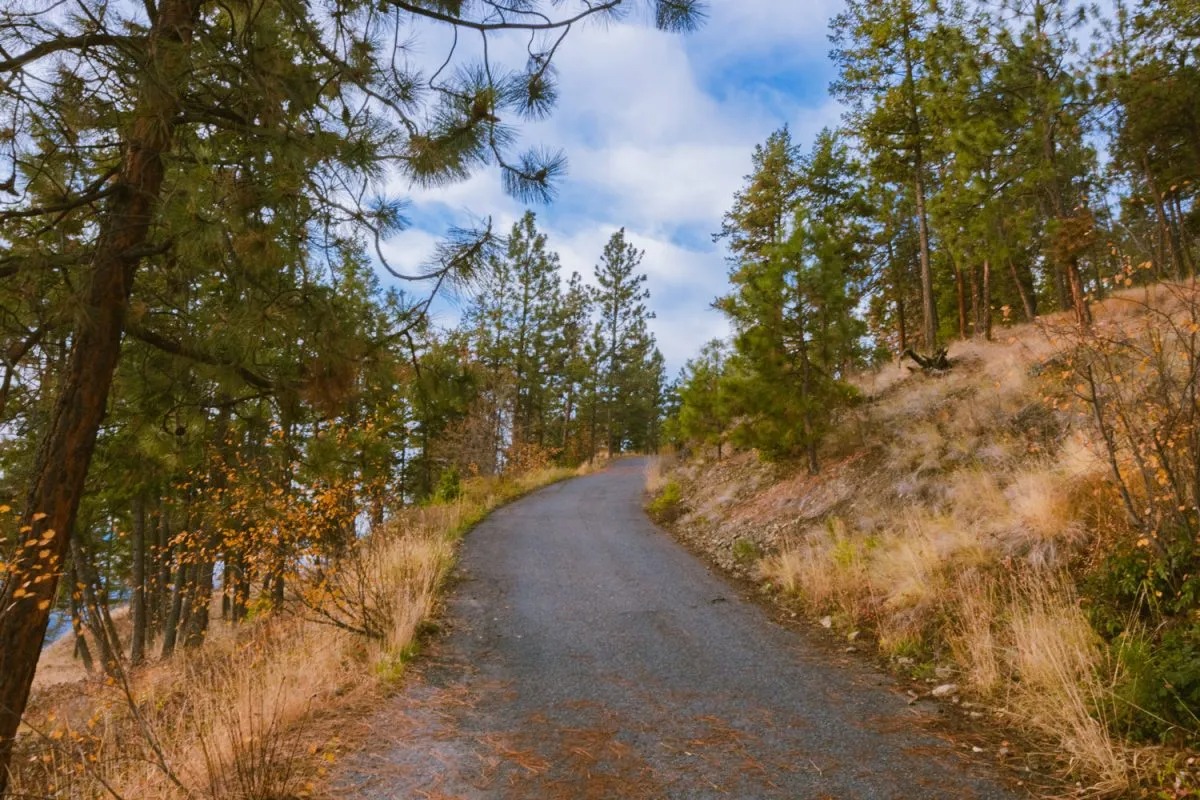 Service Road
The main trail is a paved service road that winds all the way to the water tower. The road is gated at the bottom, so you don't have to worry about getting run over — unless someone is coming to maintain the tower, then all bets are off! Just kidding.
The service road is wide and has a few large switchbacks that make the hike easier. For the most part, it has a gentle slope except for the final stretch which is pretty steep.
The service road is the quickest, most direct route to the Dilworth water tower. It takes about 10-15 minutes to hike.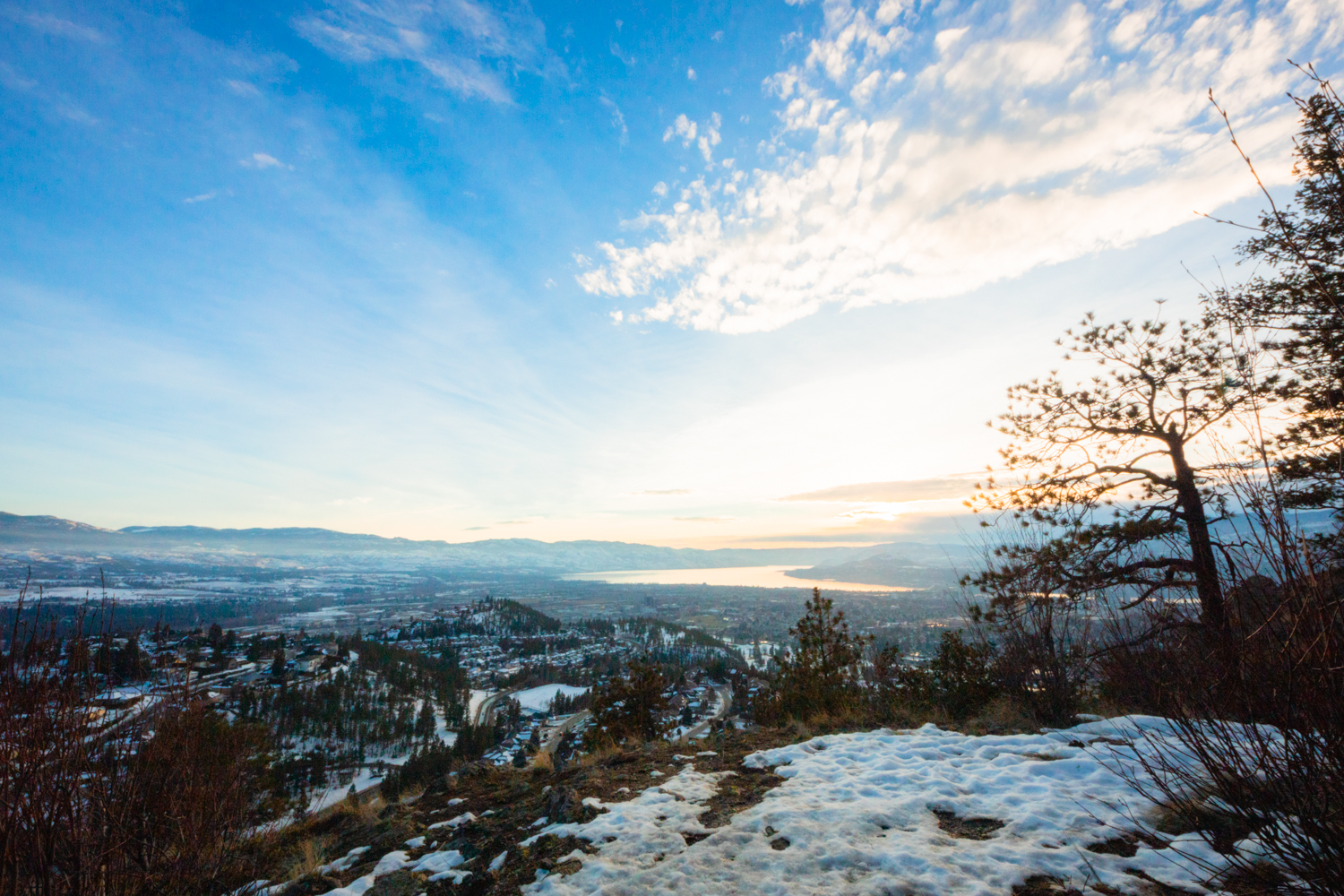 Other Trails
If you're not into walking on a paved road — which I totally understand — you're in luck, you don't have to. There are plenty of dirt trails.
These other trails on Dilworth Mountain feel like a normal hike thanks to the forest and narrow dirt trails. These trails wind around the mountain and aren't as direct as the service road. It can take anywhere from 15-45 minutes to reach the top, depending on your route.
You'll be treated to plenty of awesome views of Kelowna that you don't get when hiking the service road.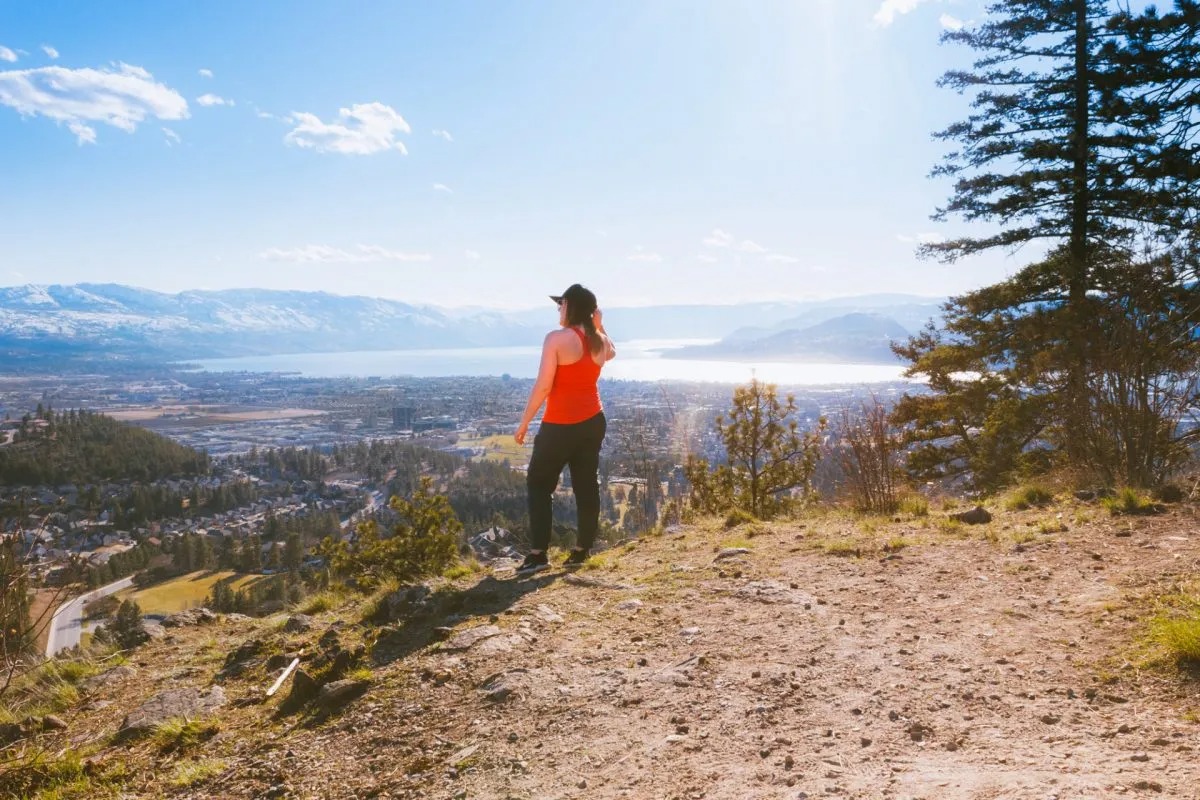 Viewpoints at Dilworth Mountain Water Tower
Before long you'll reach the summit and meet the trail's namesake — the water tower. It's a bit of an eyesore, but luckily it doesn't take away from the viewpoint just beyond.
The Dilworth Mountain Water Tower trail isn't well-known, so you can enjoy the summit in peace. I've only encountered a few people on the hike, which is a far cry from some of the other trails in Kelowna.
There are two viewpoints at the Dilworth water tower — a large, dirt lookout with a bench and a smaller rocky viewpoint hidden in the trees. Both have incredible views.
From the first viewpoint, you can see all of Rutland and up into Black Mountain, as well as Okanagan Lake and over to West Kelowna. The second viewpoint has a limited view of Kelowna and looks towards West Kelowna over Okanagan Lake. Okanagan Lake stretches into the distance while Kelowna sprawls along the valley floor. You can really appreciate how much green space there is in Kelowna from the summit.
Take some time to enjoy the summit. Bring your hammock, a good book, or a deck of cards and soak up the crisp air and beautiful views. I enjoy listening to the breeze rustle through the trees and the birds sing as they flit about.
Parking
Parking for the Dilworth Water Tower is a little weird. Because the trail is located in a residential area, there's no dedicated parking and very little on-street parking. Luckily, it's not a popular hike so parking isn't usually an issue.
Trailhead #1 on Selkirk Drive
You can't park directly at this trailhead because it's a service road, but there is a small pullout a few hundred meters down the road. It's pretty small, so try your best to leave as much room as possible for your fellow hikers.
Trailhead #2 on Selkirk Drive
There's no dedicated parking for this trailhead so you'll need to park on the side of the road. Be courteous to the homeowners and obey any signage.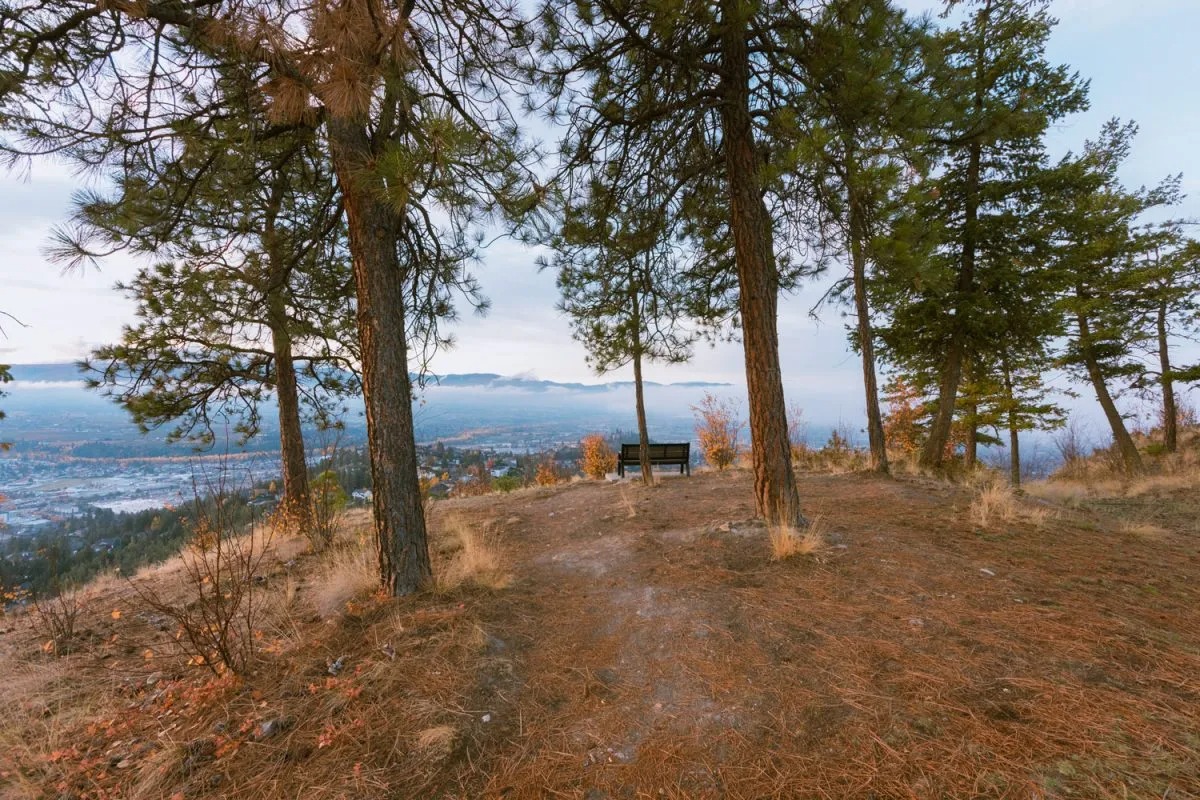 FAQs
Where is Dilworth Mountain?
Dilworth Mountain is located east of downtown Kelowna, between Rutland and Glenmore. It's in the middle of the city and can be seen from almost anywhere in Kelowna.
How long does it take to hike Dilworth Water Tower?
It can take anywhere from 20 to 60 minutes to hike the Dilworth water tower. It all depends on which trails you take.
Is the hike family-friendly?
Yes, Dilworth Water Tower is family-friendly. The paved service road is good for strollers or anyone that can't walk on dirt trails. The water tower itself is fenced, but the viewpoints aren't. Please keep an eye on your kids.
Is the hike dog-friendly?
Yes, the trails at Dilworth Water Tower are dog-friendly. It's a great place to bring your dog for a walk! Please keep your dog on a leash and pick up after them (however, there aren't any trash cans).
What's the best time to hike Dilworth Water Tower?
Dilworth Water Tower is great any time of the year! If there's snow, bring your snowshoes. It's also a great viewpoint for sunrise and sunset.