Bluetti EB3A Portable Power Station Review for Camping
The Bluetti EB3A Portable Power Station is a reliable and convenient power source for your camping and RV adventures! If you're here, then I'm sure you know the pain of trying to charge all your gear when you're on the road or camping.
Whatever your reason for needing power on the road, the Bluetti EB3A Portable Power Station might just be calling your name!
In this gear review, we'll explore the Bluetti EB3A's features and I'll give you an inside look into how it performed for me while car camping. I'm all about testing in the field, so that's exactly what you're about to see. 
Spoiler: I really loved the EB3A power station. But I'm getting ahead of myself.
Disclosure: This article may contain affiliate links and I may earn a commission, at no cost to you, if you click and/or buy a product online (even if it's not the product linked). I take great care to only recommend helpful products and appreciate your support!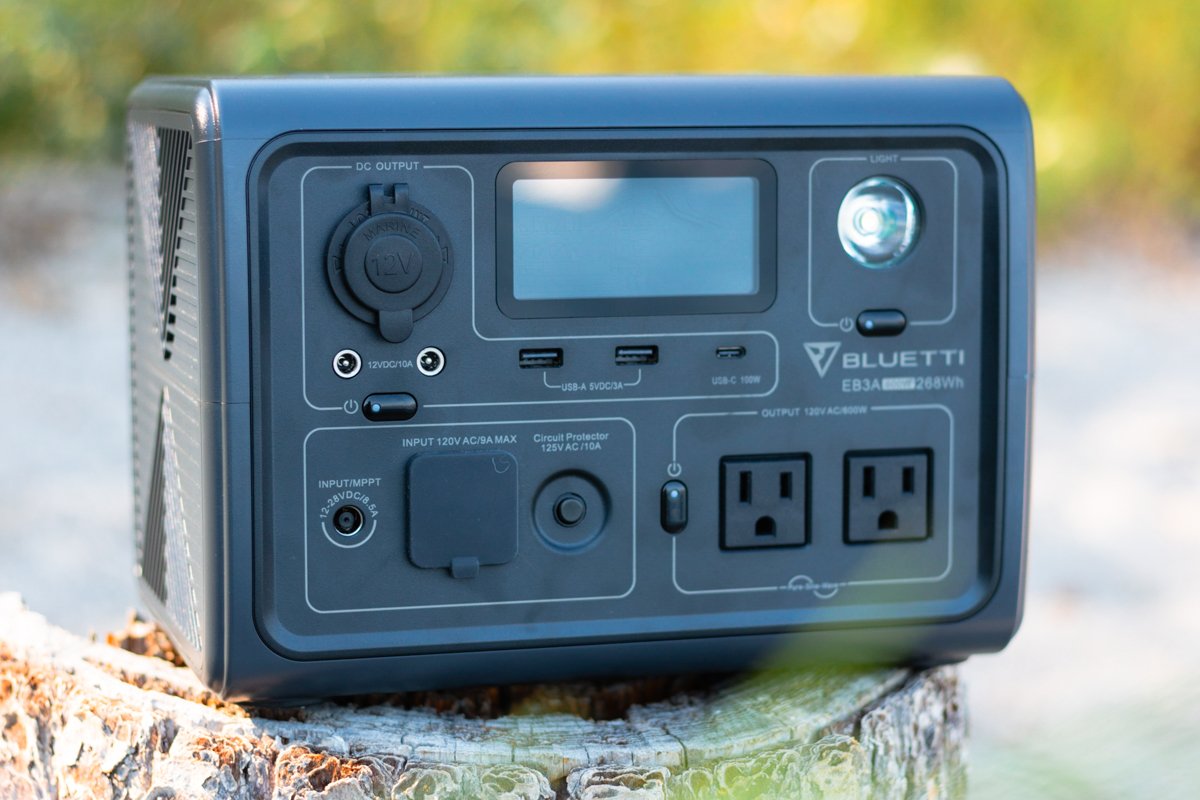 What to Expect in this Review of Bluetti's EB3A Portable Power Station
Fair warning, I'm far from a gearhead. There's a lot of tech speak in other reviews for the Bluetti power station, but that's not what you'll find here. I'll share the important details, but I don't want to overwhelm you with all kinds of specs that mean nothing to you.
I'm all about simplifying things. If you want those deep dives into techy things, this isn't the review for you (go to their website instead). But if you want simple and clear info where you won't zone out halfway through, you're in the right place!
Disclosure: Bluetti sent me this power station to test and review, but they had no influence on this review and all opinions are my own.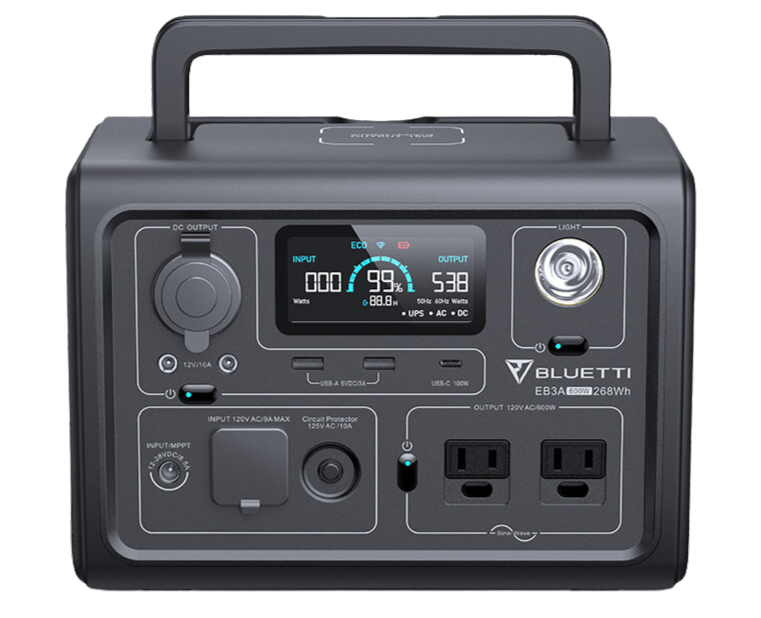 The Bluetti EB3A is a great entry level portable power station for camping and road trips. It's affordable, compact, and easy to use!
It helps make outdoor experiences seamless and worry-free (as far as power goes) so you can spend more time exploring.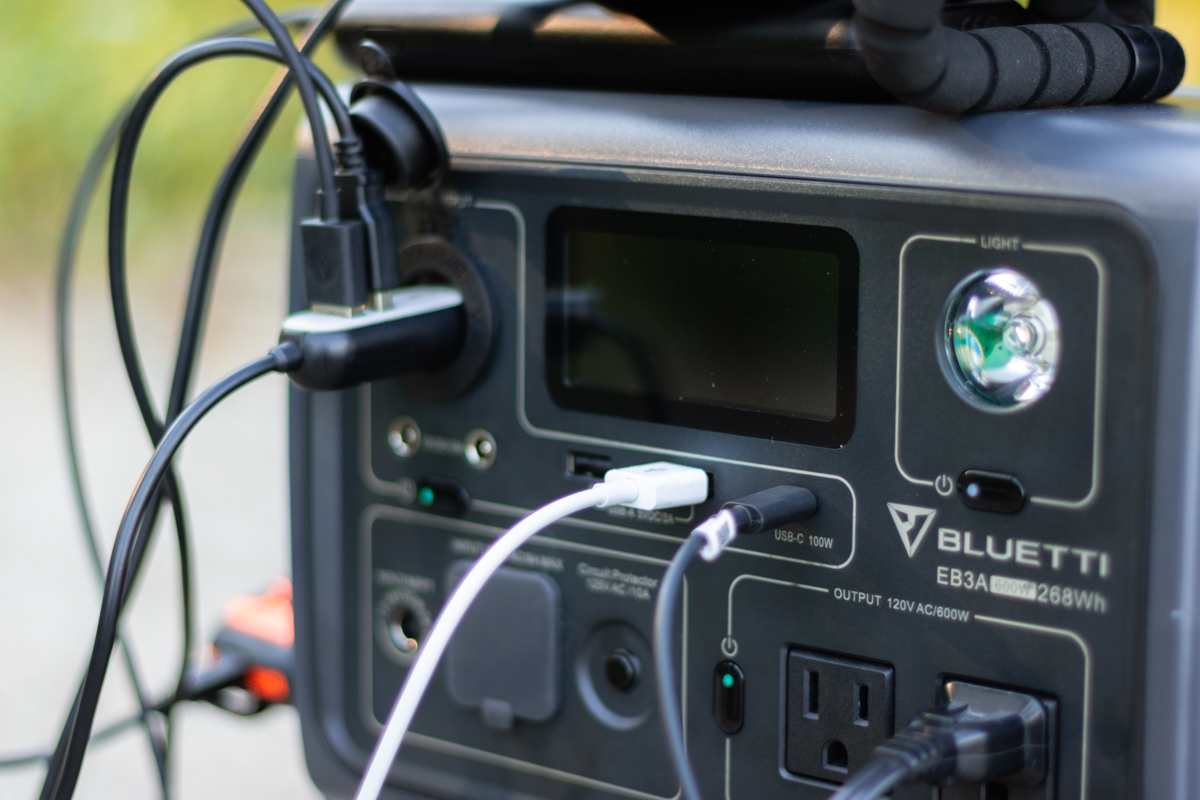 Tech Specs & What's in the Box
Let's quickly go over the Bluetti EB3A's specs in layman's terms. If you want the full specs, head on over to their website.
Tech Specs
9 charging ports that can be used at the same time:
Multiple ways to recharge:
Weight: 10 lbs
Dimensions: 10.04″ x 7.09″ x 7.2″
Battery: 2,500+ uses
80% charge in 50 minutes using a wall charger
268Wh power capacity (that's about 25 phone charges)
Operating temperature: -20 to 40°C (-4 to 104°F)
2-year warranty
What's in the Box?
When you buy the EB3A Power Station directly from Bluetti's website, you'll receive:
The EB3A power station
AC charging cable (the wall cord)
Solar charging cable
User manual
QC card
Warranty card
Warning: the car charging cord isn't included. People have been annoyed by this, so I wanted to make it clear.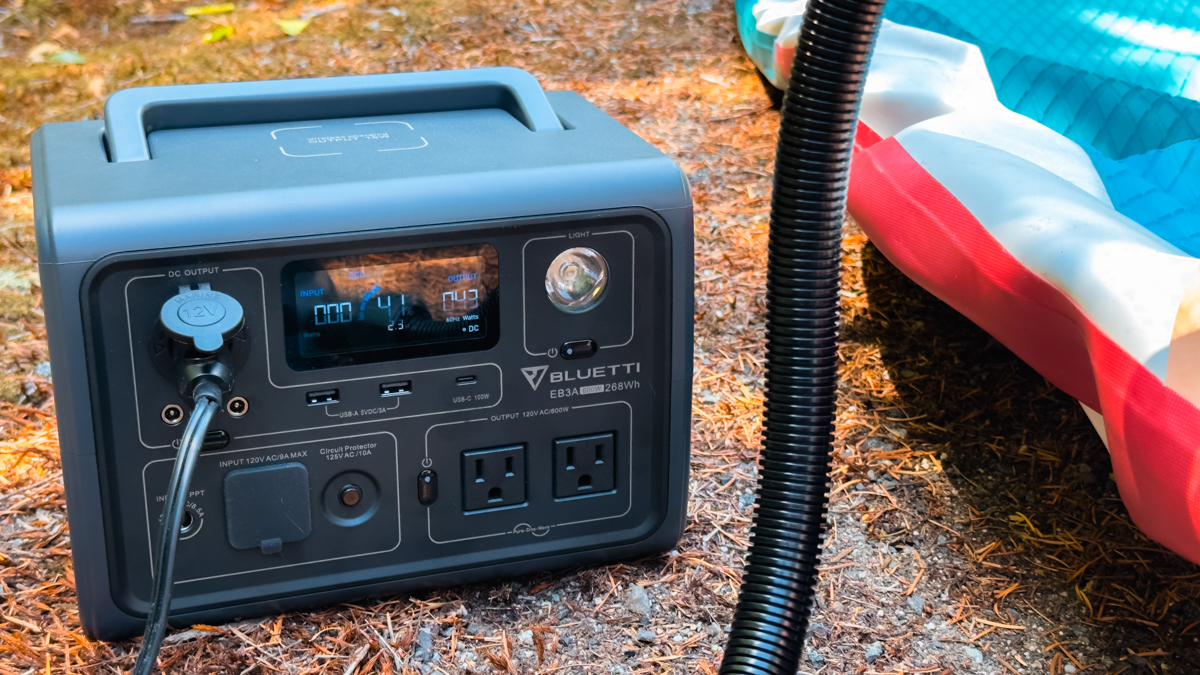 Accessories You'll Want
I highly recommend you grab these extra accessories to level up the efficiency of your Bluetti power station.
Leveling Up Your Camp Set-Up with the Bluetti EB3A Power Station
I've been slowly building out my car camping set-up and a power station has been high on my list of gear to add. Needless to say, when Bluetti reached out about reviewing the EB3A power station, I was stoked — it was just what I needed to level up my camp set-up!
As silly as it sounds, the main reason I wanted a power station was to power my mini fan at night — but I couldn't quite justify spending hundreds of dollars just for that. So I made do with my Anker power bank, but it only ever had enough juice for one night.
Now that I've actually used the power station, I've clearly seen there's a lot more uses for it than spinning a little fan. Derp, of course there is.
A quick Google search will show people using it for back-up power in their homes and all kinds of set-ups. While that's not how I tested it and likely will never use it for that, it's pretty interesting to see how people use their Bluetti power stations.
How I Tested the EB3A Power Station
Before I dive into all the details of this power station, it's important for you to know how I tested it. I car camp in my Ford Escape throughout the spring, summer, and fall, and sleep in the back of it (hence why the fan is important).
For testing, I car camped in the Okanagan, road tripped to North Cascades National Park, and traveled to Wells Grey Provincial Park. I've also tented with it, but my car was always close by — aka, I haven't lugged it up a mountain or anything similarly ridiculous.
I used the Bluetti EB3A Portable Power Station to power my car fan, laptop, tablet, string lights, phone, DSLR cameras, paddleboard pump, travel straightener, power banks, and Garmin InReach. I'll go into more details below.
I've seen people power a flat screen TV with the EB3A power station, but I certainly wasn't about to lug my TV camping. Maybe I'll get a mini projector one day and it can power that. (TBH, for funsies, I did plug in my TV at home and it worked!)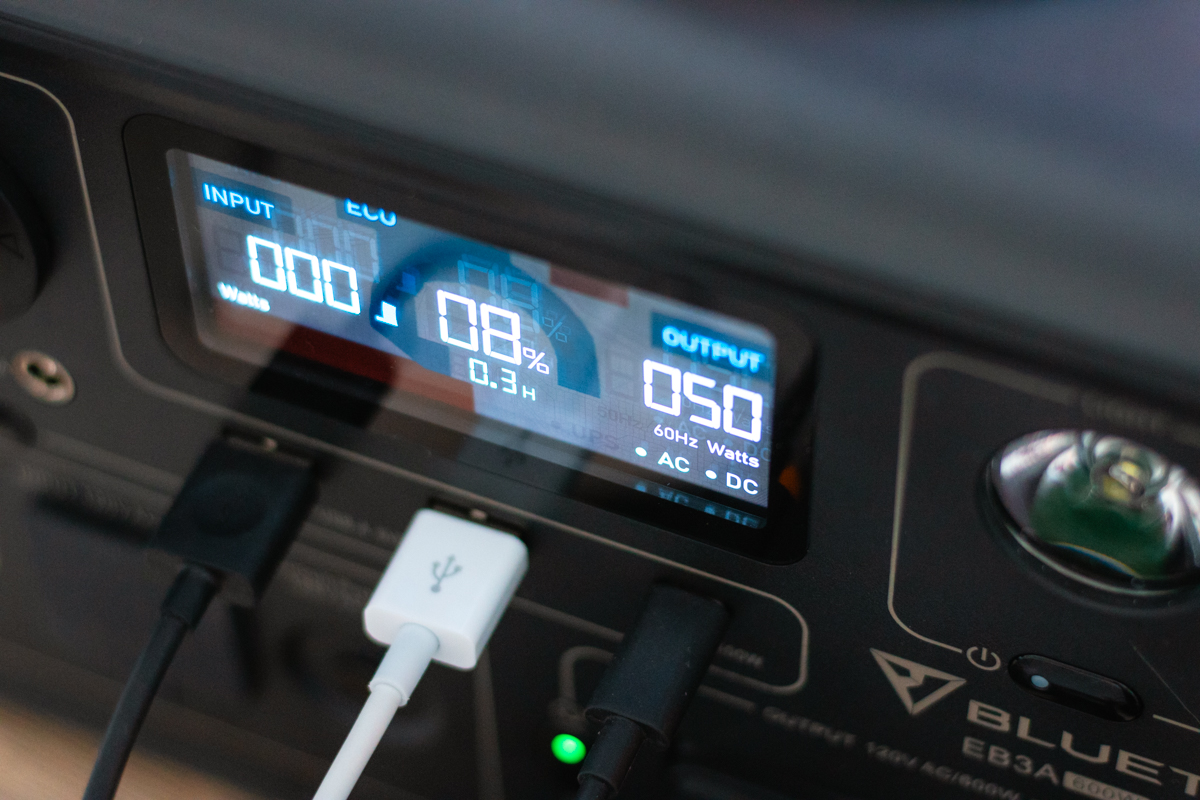 About Bluetti Power
As with all my gear reviews, I like to chat about the company behind the product. It's always good to know who you're supporting when you buy.
Bluetti is headquartered in Las Vegas (USA) and the startup was founded in 2019. Even though it's a fairly new company, they've been making splashes in the last few years — particularly with their sodium-ion solar generator that was announced in 2022.
One of their main goals is to increase energy independence through portable power stations and solar panels. Bluetti also works hard to create cleaner energy, reduce household carbon emissions, and help people through power outages. Most people seem to use their power stations for home backups systems.
Bluetti also invests heavily in areas around the world that don't have reliable (or any) electricity.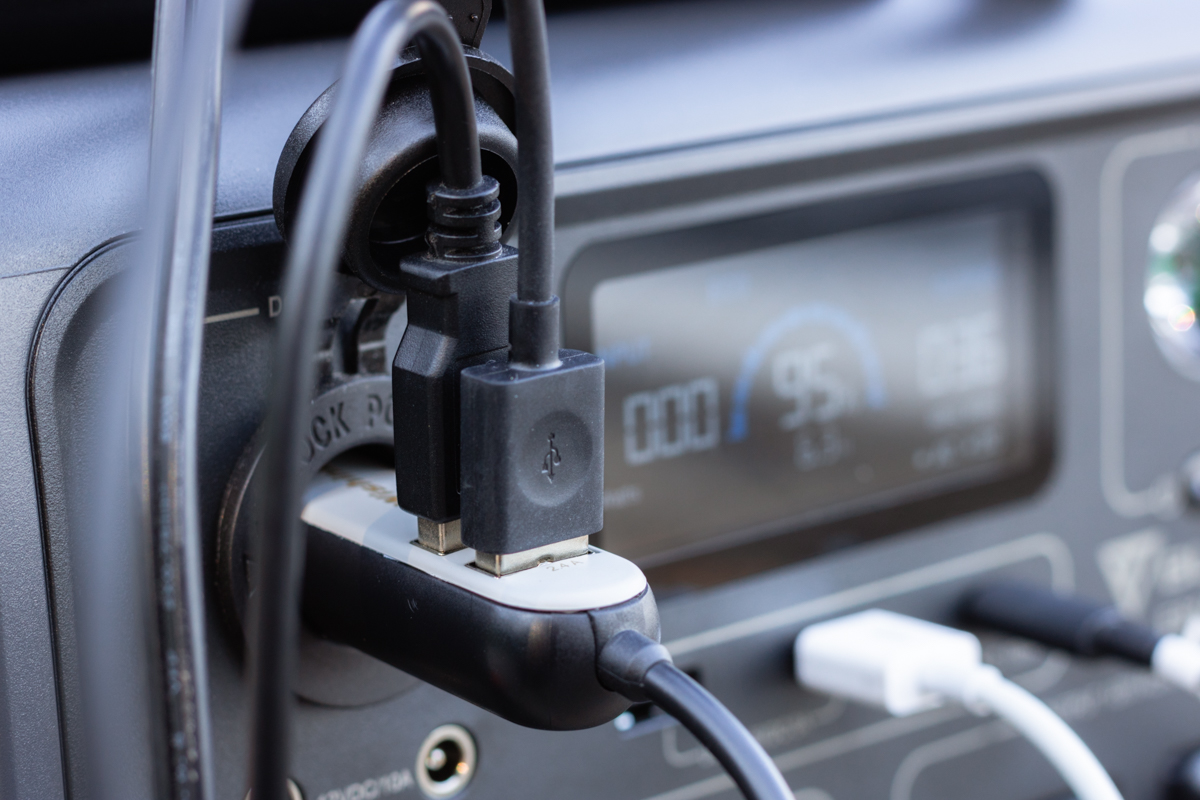 Initial Thoughts on the EB3A Portable Power Station
I've never owned a power station, so I had no idea what to expect when it arrived.
Initially, I thought the EB3A was a little heavy. Nothing wild, but heavier than I imagined (not that I had expectations). Since reading other reviews, I've learned it's very light for power stations at only 10 lbs. Who knew? Not me, apparently.
Next, I noticed the nine charging ports and was immediately impressed — so much room to plug things in! There's even a USB-C so we could charge my husband's phone (which has been a problem more often than you'd think).
Without opening the manual, I started pressing the (very clearly labeled) power buttons — on came the very bright light right in my face! I had a little trouble turning on the USB ports because you have to double click the power button, but I figured it out quickly.
The station was 65% charged when it arrived, so I played around for awhile (aka I plugged in as many things as possible) before charging it. The first time I charged it, I thought it was going to blow up because the fan was so loud! I freaked out, unplugged it, and frantically Googled the sound. Turns out, it's normal. The fan calmed down after a bit.
What to Expect from the Bluetti EB3A Portable Power Station
Before I get into my experience with this power station, we're going to dive into what you can expect from it. We'll chat design, power usage, battery life, and more!
600w Power Output & 1,200w Surge
What the heck does that mean? If you're like me and electrical terms immediately freak you out, don't worry, I've gotcha covered. I asked my dad (an electrician) to explain it to my like I was five.
Basically, this power station is best for powering devices that don't need a lot of electricity — things like big fans, hairdryers, toasters, etc are a no-go. However, it can surge up to 1,200w and briefly power those items with its Power Lifting mode (enabled via the app).
With all that said, I did find it was able to power my small fan for hours with no problems. Goes to show that you should look into the power needs of each device and not just rely on blanket statements like "it can't power fans". It also powered my full-sized straightener thanks to the Power Lifting feature.
Long story short, the lower the wattage, the longer it'll power the device. A device pulling 7w will last way longer than something pulling 600w. Your device should say on it (or the cord) what its power usage is.
The Bluetti's EB3A's output capability is higher than other similarly priced power stations. For example, the Jackery Explorer 300 has 300w output (500w surge) and the Goal Zero Yeti 200X has 120w output (200w surge).
Device Charging Options
There are two USB-A, one USB-C, two standard wall outlets, one cigarette lighter socket, two 5.5mm ports (super uncommon), and one wireless pad.
Most of my devices are USB powered, so I plugged an adapter with extra USB ports into the cigarette lighter which made a huge difference in how useful the power station was. Without the adapter, you're definitely limited with how many things you can charge at the same time.
What can you charge with the Bluetti Power Station?
You can charge lots of small devices and appliances with the Bluetti EB3A portable power station, including:
iPhones, Androids, and tablets
Laptop computers
DSLR cameras and drones
Hair straighteners (with Power Lifting mode)
Any device under 600w
Using the Power Station
The power station is divided into four sections — the DC output (USB and car charger), AC output (the wall plugs), light, and input (for charging the station). Each section is outlined so you know exactly what's powering what.
Each of these sections works independently. For example, when the DC output is turned on, the AC outlets won't work until you turn it on; they do work at the same time, though.
It's easy to plug everything in and charge up all your devices on the road with the Bluetti EB3A. You should see some of the set-ups I've tested.
I recommend getting an extender for the car outlet so that you can charge more items at once. Get either a USB adapter or inverter (or both) depending on your needs.
Always check the wattage on the inverter to a) make sure the power station can handle it (don't go over 600w) and b) it can power your devices.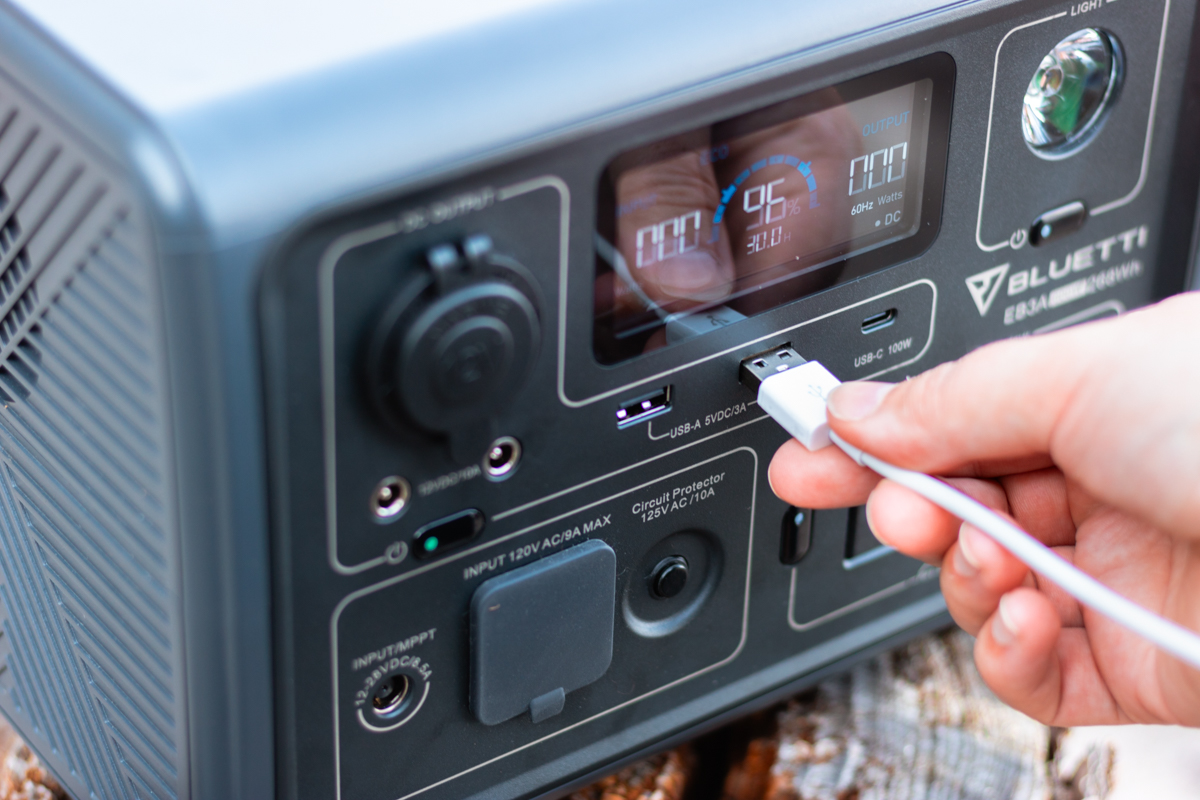 Digital Screen & Bluetti App
There's also a digital screen which you can turn on via any of the output power buttons. It automatically turns off to save power.
The screen tells you how much power is left (in percentage and hour estimates) based on how much input and output the station is using. The estimates change as you add/remove devices. It also tells you the wattage of the input and output and changes based on what you plug in.
In the bottom right corner, the DC and AC labels indicate which section is turned on.
There's also an app that connects via Bluetooth so you can check input/output and turn on/off Power Lifting and Eco mode. I don't love having another app, but thankfully I only used it while turning on my full sized straightener.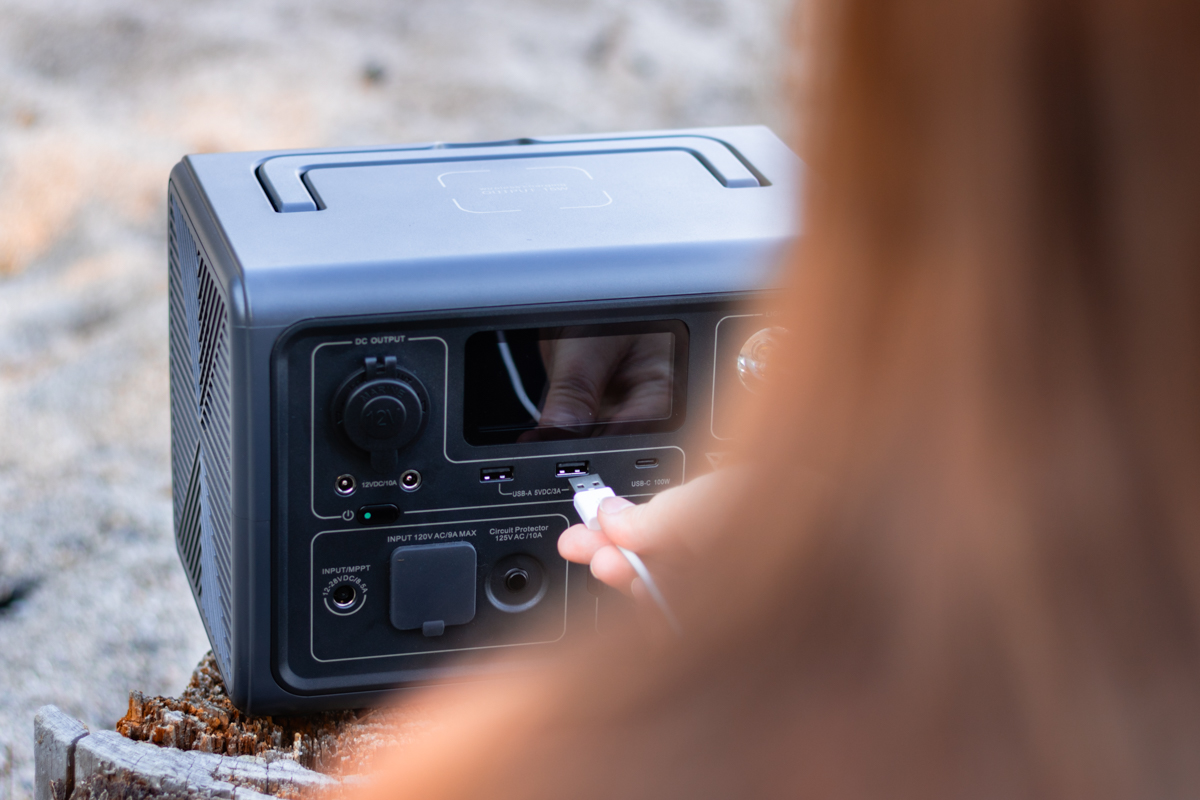 Charging the Bluetti EB3A Power Station
According to Bluetti, the EB3A can charge to 80% in 30 minutes via a wall plug and 200w solar panels. However, I dunno about you, I don't have access to two ways to charge things while camping — that's why I got the power station, duh.
According to Bluetti, when plugged into the wall it takes about 1 hour, 20 minutes to fully charge. In my testing, it got to 80% in 51 minutes and fully charged in 1 hour, 11 minutes.
It can also be charged via solar panels. However, I don't have portable solar panels so unfortunately I was unable to test this feature. Supposedly, with 200w panels it charges in 2 hours (3 hours with 120w). The Bluetti EB3A come with the cables for solar panels.
The EB3A can also be charged via the cigarette lighter in your car. 12v input (100w) takes 3 hours and 24v (200w) takes 2 hours. Make sure to grab a cord from Amazon (or an official Bluetti one) because it doesn't come in the box.
Warning: The Bluetti EB3A can get a little loud while charging — I thought it was going to blow up the first time the fans kicked on! It hasn't been as loud since, but you can definitely hear the fans. It also gets a little warm on the top and right side so make sure there's lots of airflow while charging.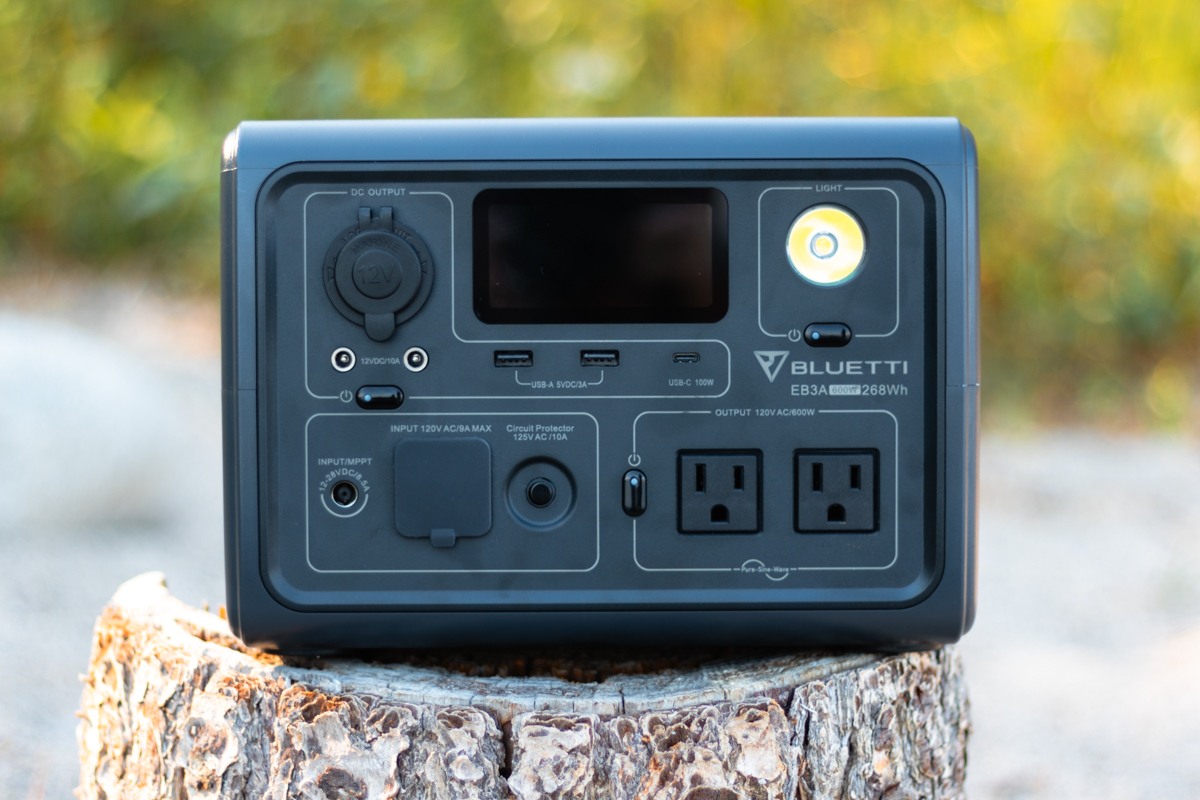 My Experience Car Camping with the Bluetti EB3A Power Station
Now for the fun part — I took it camping! So far, I've car camped in the Okanagan, North Cascades National Park, and Wells Grey Provincial Park with it. It's been a great addition to my camping setup!
Storing the Power Station in my Car
The Bluetti EB3A is small and very portable — it measures 10.04″ x 7.09″ x 7.2″ and has a foldable handle on the top. When the handle is stored away, it's a perfect rectangular shape.
This portable power station is very easy to carry with one hand and I was able to easily store it between the back of my chair and cooler. As an added bonus, all of the corners are rounded which made it even easier to store because it didn't catch on things.
Since I was car camping in the middle of summer, I took care to keep it out of the car during the day so that it didn't overheat. I usually kept it underneath the car or picnic table so that it was protected from the worst of the heat.
When I left camp, I kept the car's windows covered with a sun shade to keep the interior cooler. At night, I stored it on my car's centre console so all our gadgets were easily within reach.
Caution: The Bluetti EB3A's storage temperature is 0 to 40°C (32 to 104°F) and its operating temperature is -20 to 40°C (-4 to 104°F). Take care to keep it within that range while camping.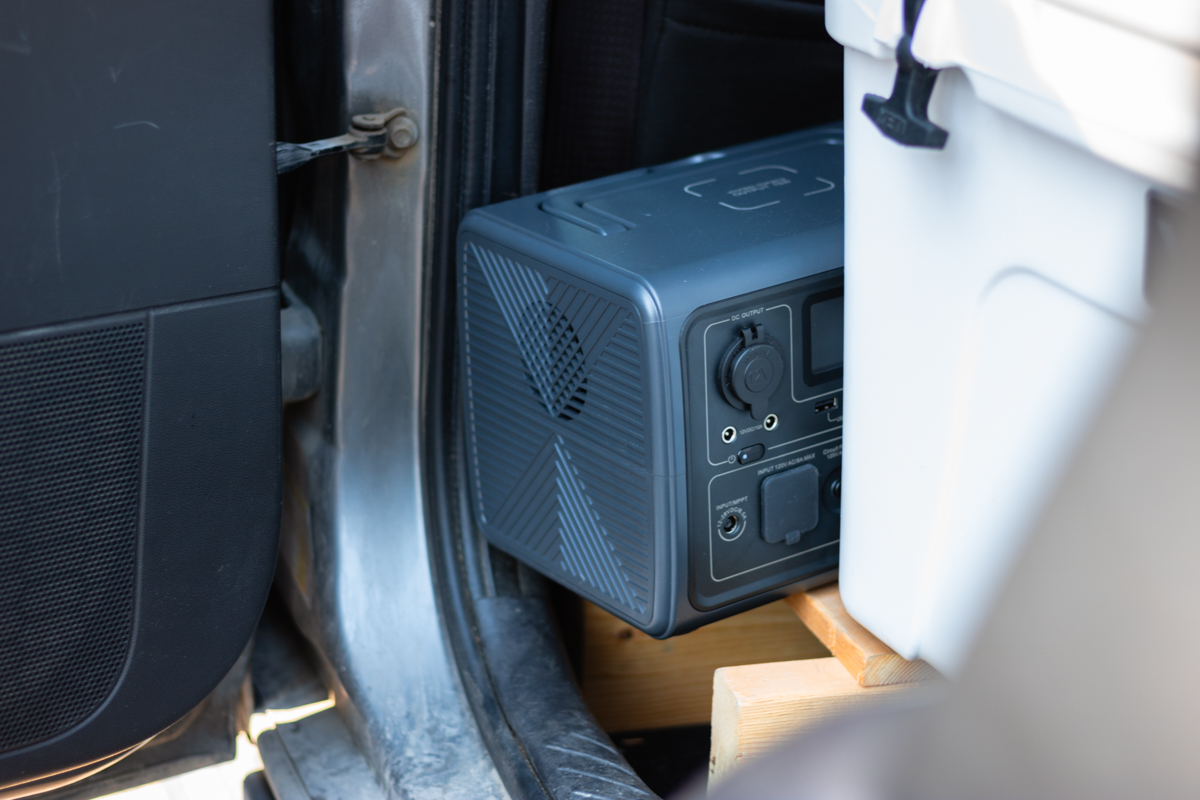 Camping with the Bluetti EB3A
Once at camp, I used the power station a lot more than I thought I would. Car camping is full of little luxuries and having power is definitely one of them. To be honest, I never missed it much before, but once I had power, man, it was like a whole 'nother world opened up!
Below, you'll find what I used while testing this power station. In the next section I'll go into how much power each device used and how often I had to recharge the EB3A.
Main Uses for the Bluetti Power Station
I initially wanted a power station for my mini car fan at night, but I found myself pulling out the fan during the day, too. It was just so hot! The little fan made a huge difference in keeping me sane all day and it barely used any power when on medium or low (it will also power portable AC units, not that I'm fancy enough to have one).
Next up, I realized how nice it was to be able to charge my phone, cameras, and drone at camp — I work them hard on trips and need to charge them a lot. On long trips, I used to look for restaurants with outlets (or sometimes get a hotel room) just so I could charge all my things, but I'm excited to say that will no longer be a concern!
Tip: The EB3A supports wireless phone charging! Super handy if you've already used all the ports or if you only have access to the top.
I also sometimes work while camping and I was able to keep both my laptop and tablet charged for my short trip. However, my laptop is pretty power intensive and did draw a lot of power; I ended up driving around a little to top up the power station after that.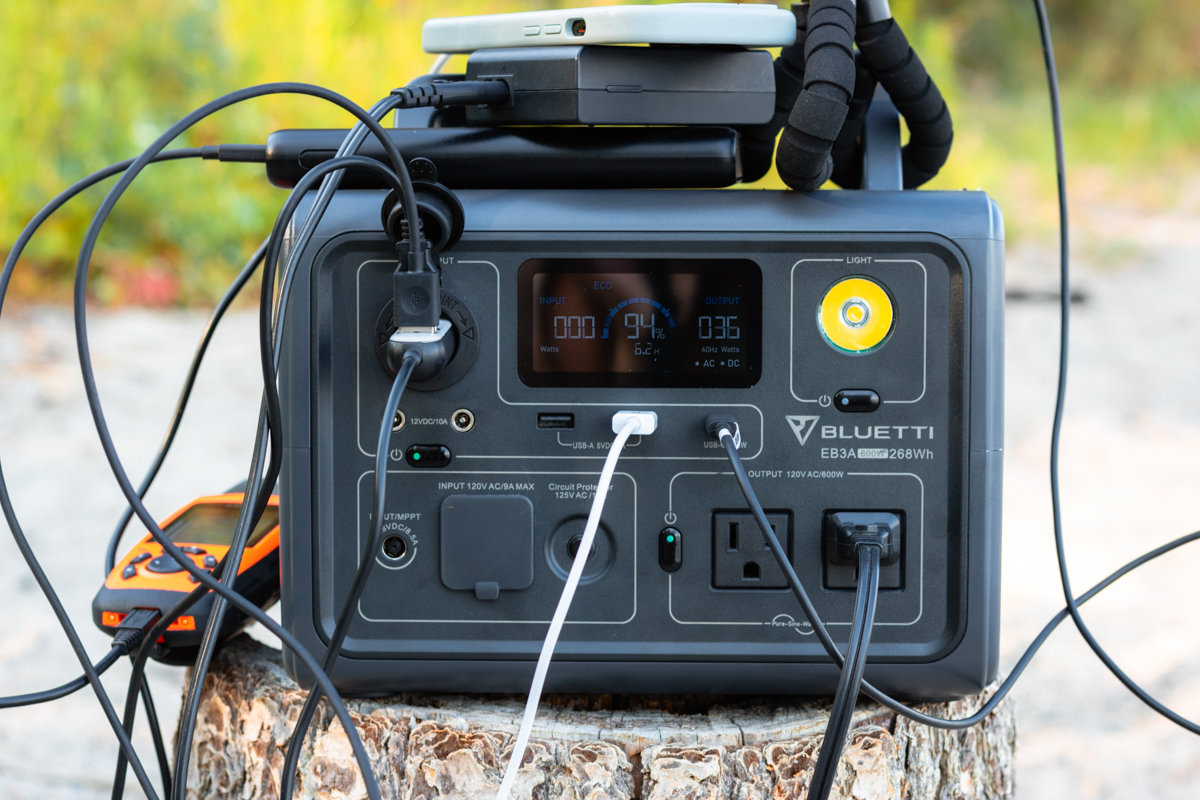 Bonus Uses While Camping
Besides the obvious uses I found for the Bluetti EB3A, I had fun using it for things I don't usually think about while camping (mostly because I never had enough power).
First off, I used it at night to power little string lights that I set up inside the car or around the picnic table. They added a nice ambience I don't usually have the luxury to enjoy.
The EB3A power station was also able to blow up my paddleboard with an electric pump — this was a game changer! Pumping the paddleboard by hand is quite the workout, so sitting back while the power station and pump did all the work was pretty nice.
I always bring my Anker power bank hiking because it holds lots of power and is basically a hiking essential, but it takes forever to recharge. To test out the Bluetti EB3A power station, I fully depleted the power bank to see if it was able to recharge that sucker. It took a few hours, but it did it! And it only used about 50% of the charge.
Last, but not least, I used the power station for my straightener and portable blender. For the full-sized straightener to work, I turned on Power Lift via the app (it doesn't work without that). My travel straightener worked without Power Lift.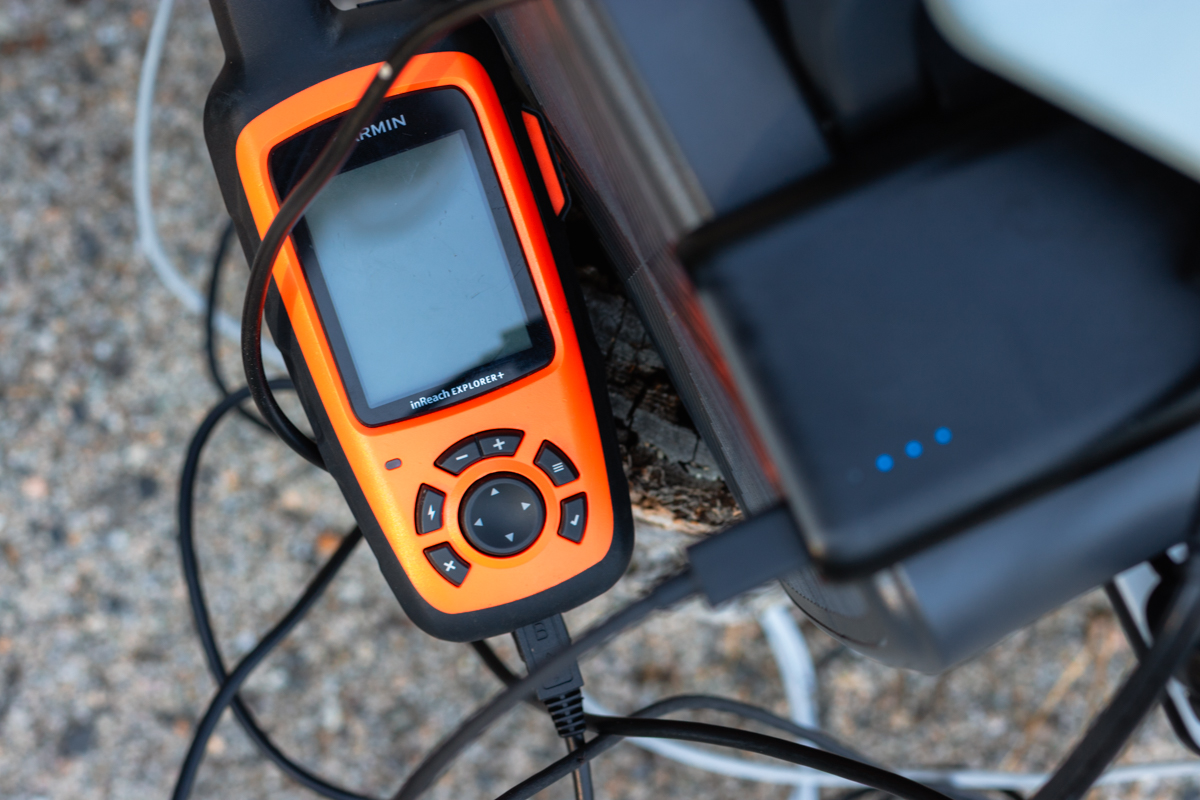 How Much Power Do Things Use?
That's a great question! Here's how much power different devices took. Hours are based on the station being being fully charged and powering one item at a time.
Canon DSLR camera battery: 7w (25.7hrs)
iPhone 14 Pro: 9w (21.4 hrs)
Samsung: 6w (25.7 hrs)
Alienware laptop: 95 – 130w (~2.2 hrs)
Mini travel fan: 7w (25.7 hrs) on high; 4w (30 hrs) on low
Bedside fan: 38w (6.2 hrs)
Normal straightener: surges to 517w (with Power Lifting), settles at 0w once heated
Travel straightener: surges to 273w (without Power Lifting), settles at ~30w once heated
Drone battery: 100w (2.4 hrs)
Drone controller: 2w (30 hrs)
Anker power bank: 11 w (18.3 hrs)
Paddleboard pump: 43 w (4.6 hrs)
Charging the Power Station While Camping
The first time I brought the Bluetti camping, I screwed up. What happened?
I used about 50% power running two fans on high all night, expecting I'd be able to charge it the next day in the car. I didn't have the car changing cable, but I thought I'd be able to use my inverter. Turns out, it was too small and did absolutely nothing.
Since I don't have solar panels, the only way for me to charge the power station while camping is via the car or wall outlets. Don't be like me and get the right charging cable!
After buying the right cable, I've had no problems charging it in the car. I simply place it at the passenger's feet and plug it into the cigarette lighter — easy peasy! I have considered charging the power station in a campground bathroom while having a shower or getting ready, but haven't actually done it yet.
Final Verdict on the Bluetti EB3A Portable Power Station for Camping
After testing out the Bluetti EB3A portable power station on multiple car camping trips this summer, I can confidently say I'm a big fan. I don't know how I camped without it — it really is a game changer!
The power station is small and light which I really appreciate because it's super easy to stash in the car, move around, and hide when I'm not around.
I highly recommend grabbing yourself a Bluetti EB3A. It's actually an affordable power station and works great for car camping and road trips.