Battery Russell at Fort Stevens State Park in Oregon
Visit the only U.S. mainland military base that's ever been fired upon since the War of 1812.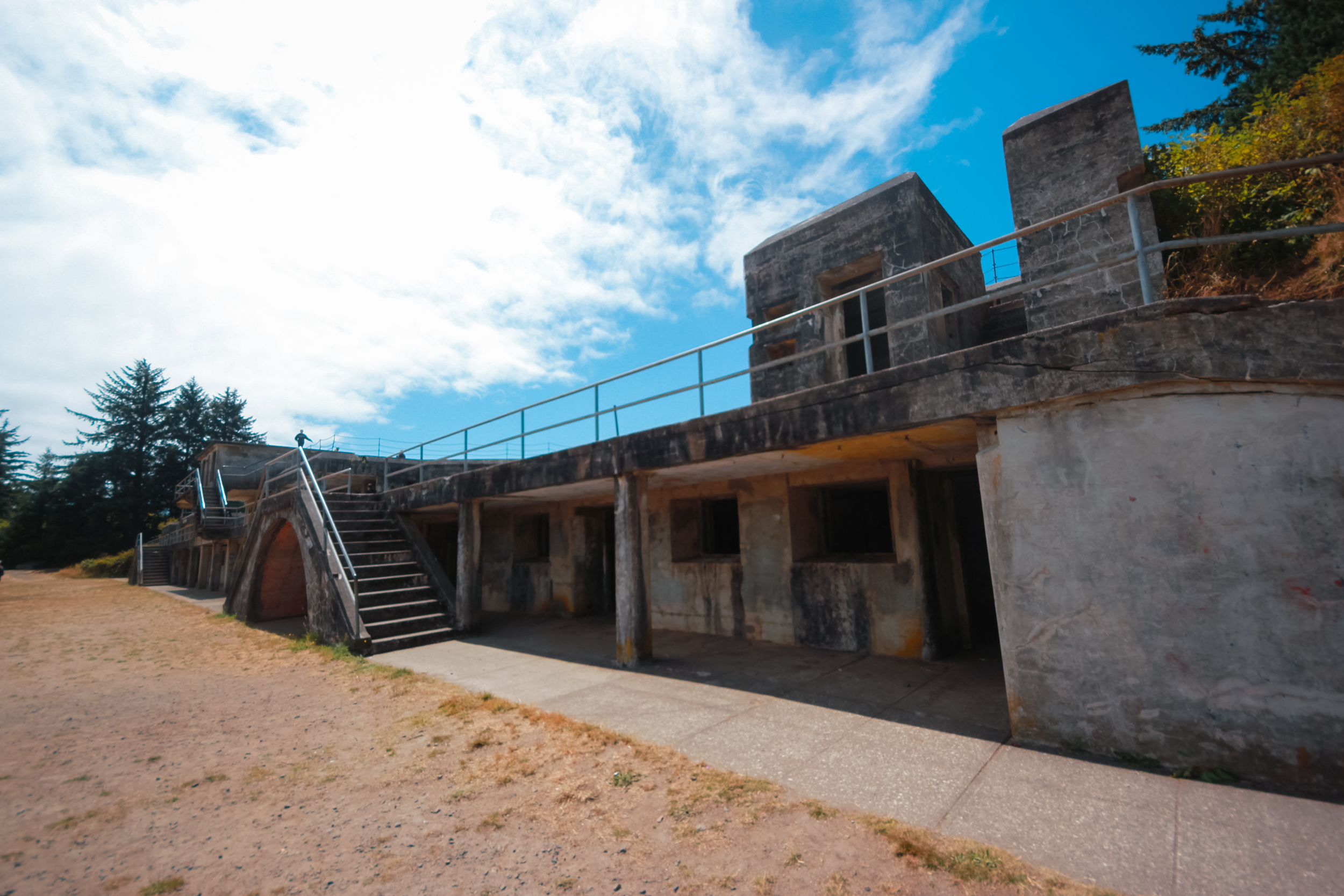 Whether you're a history buff or just love checking out old places, Battery Russell at Fort Stevens is a must when you're in the Oregon area. Although this battery is no longer active, it once played an important role in the defense of the Oregon coast during WWII.
It's easy to spend anywhere from five minutes to an hour here. It's usually pretty quiet so take your time exploring all the rooms and bring a picnic! For an added bonus, bike from the campground and leave your bikes at the bike rack.
You may also went to check out the Peter Iredale shipwreck while you're in Fort Stevens!
Disclosure: This article may contain affiliate links and I may earn a commission, at no cost to you, if you click and/or buy a product online (even if it's not the product linked). I take great care to only recommend helpful products and appreciate your support!
Location Stats
WARRENTON WEATHER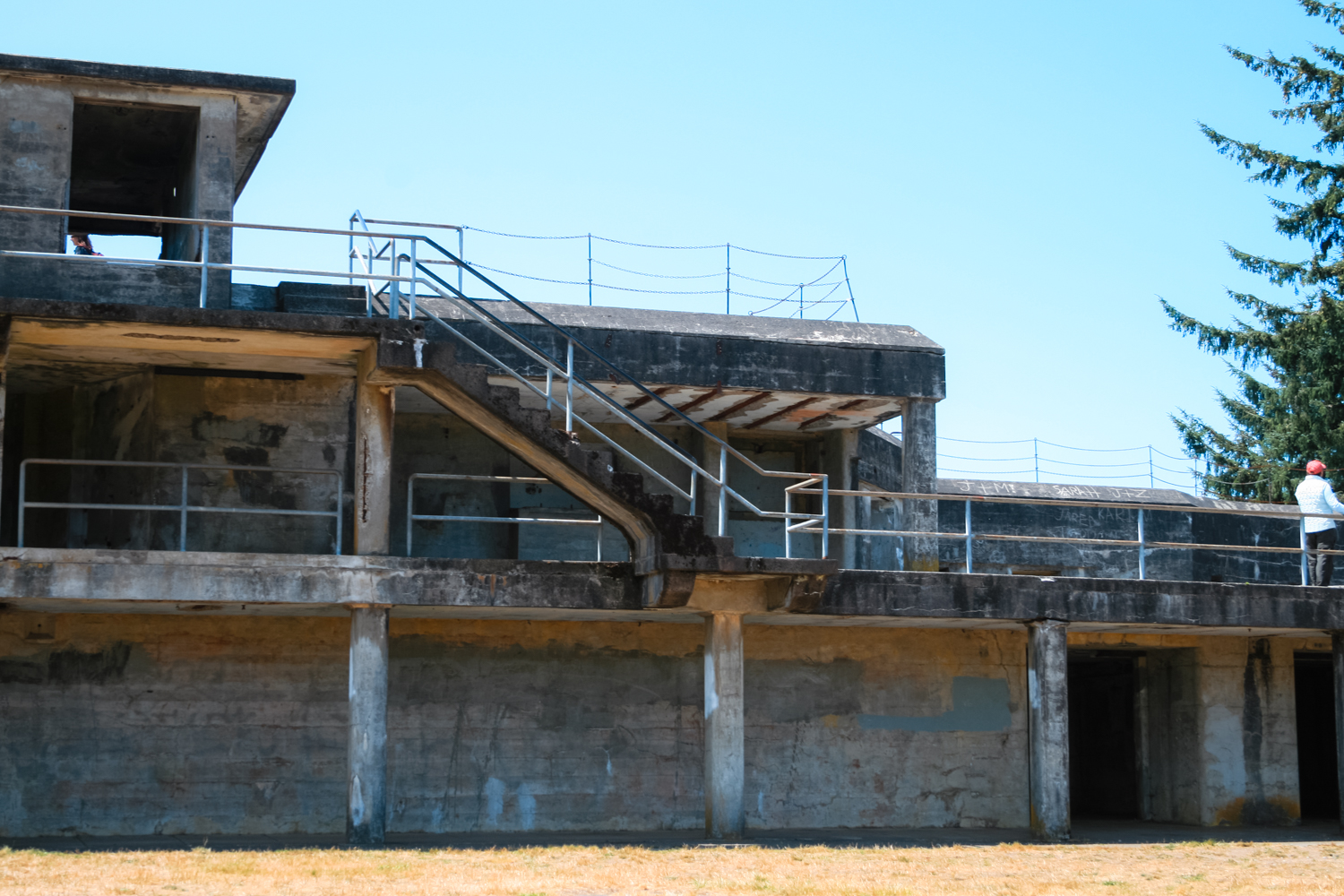 Visiting Battery Russell
There are many batteries at Fort Stevens but Battery Russell is one of the few that's completely open to explore. It's my favourite to explore because of this! Make sure to pick up the brochure in the parking lot because it has lots of info on each room and some history on the battery. Otherwise, you'll just wander around aimlessly and wonder what everything was used for.
There are two levels to explore. The lower level includes old ammunition rooms, offices, guard rooms, and storage rooms. On the upper level, you can check out the old gun pit which housed two 10-inch disappearing guns. These guns would retract from view while soldiers reloaded, which provided cover from attacking enemies. Each gun required a team of 35 men to run!
The Pacific Rim Peace Memorial is also located here. It commemorates the American and Japanese soldiers involved in the attack on Fort Stevens and calls for everlasting peace between the two countries. The memorial is large and located at the far end of the battery, but it's surprisingly difficult to read.
Hours of Operation
Strangely, Battery Russell has different hours than Fort Stevens State Park. The battery is open from 8 am to 4 pm. However, it's not gated so you could easily visit later in the day as well.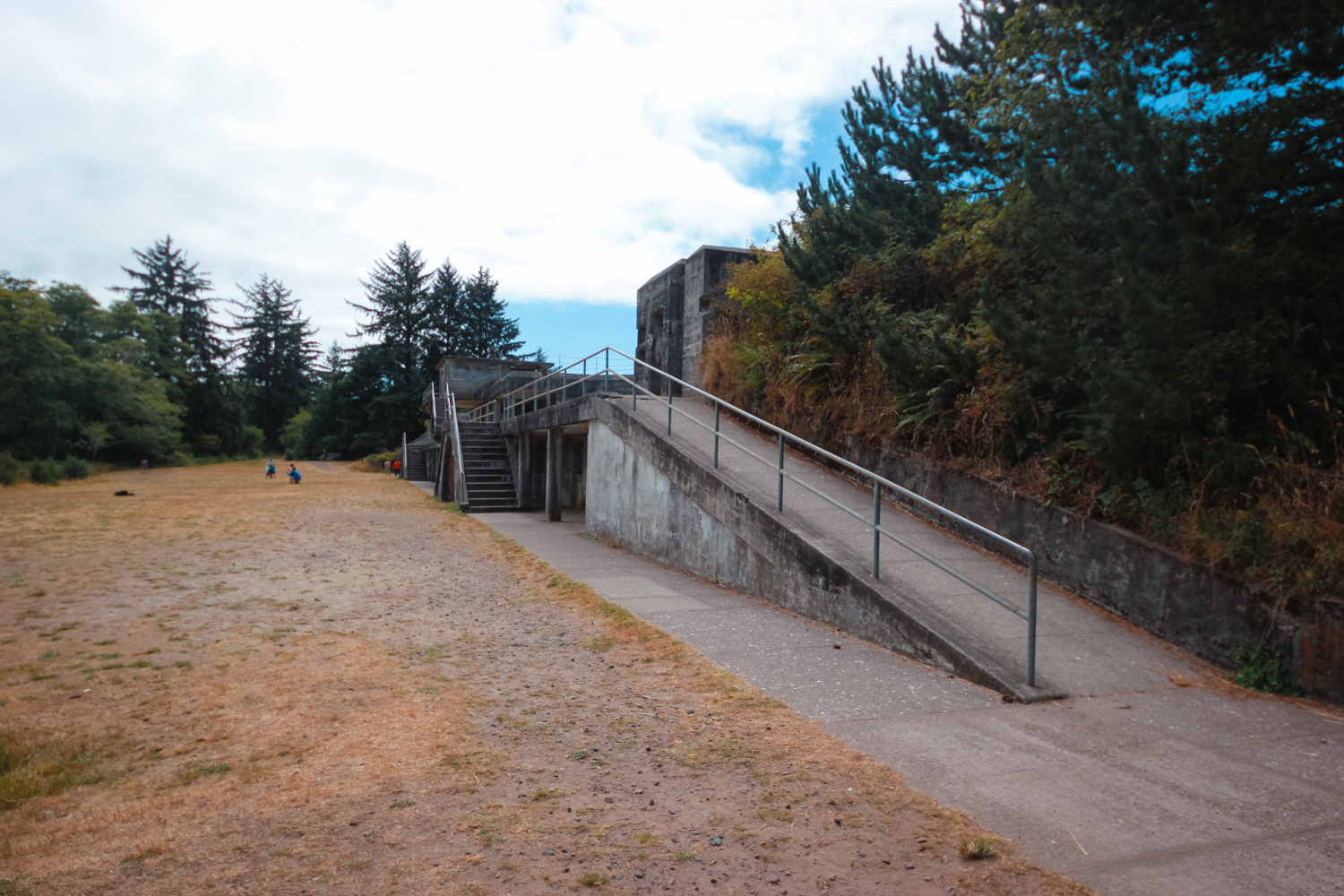 Cost
Battery Russell is located within Fort Stevens State Park which means you'll need a parking permit. You can buy them at the park or online.
Permits are $5 for one day, $30 for one year, and $50 for two years. The permits are valid at all Oregon State Parks, so if you're planning on visiting multiple parks the annual passes will be worth it.
However, if you're staying at an Oregon State Park the permit is included in your camping fee. Just display your camping receipt on your dashboard and you're good to go!
Parking
The battery is very easy to find because it's located on one of the main roads through Fort Stevens.
There's a large parking lot at its entrance and it usually only has a few vehicles in it. People often bike here and leave their bikes.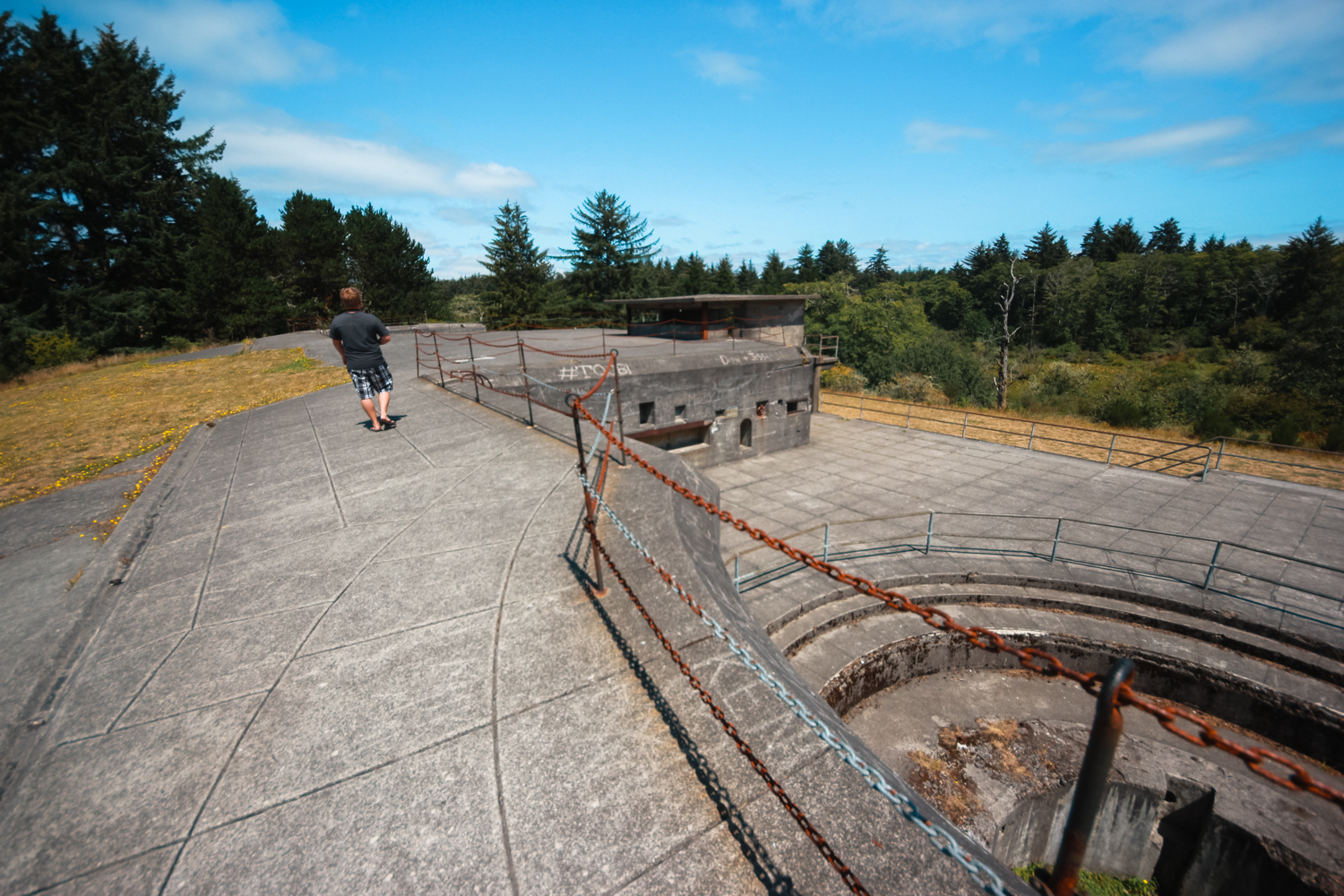 Battery Russell's History
Battery Russell is one of nine batteries at Fort Stevens and was active for forty years, from 1904 to 1944. Fort Stevens itself was in service for 84 years, from the Civil War through to WWII. It's named after Bvt Major General David Russell who fought in the Civil War.
The battery once protected the mouth of the Columbia River. Together with Fort Columbia and Fort Canby in Washington, the three forts created the Triangle of Fire. This defense made it difficult for enemy boats to sneak undetected up the Columbia River.
Despite its important defensive position, Battery Russell was an unpopular station. Soldiers didn't want to stay there and it was given the unfortunate nickname of Squirrelsville. This was partly due to the fact that the housing was quickly built, and partly because soldiers rotated in and out every few days. It was only manned full-time after the attack on Pearl Harbor in WWII.
An Attack on Fort Stevens in WWII
On June 21, 1942 at 11:30 pm, an enemy Japanese I-25 submarine attacked Fort Stevens. It snuck through the mouth of the Columbia River and surfaced about 10 miles offshore. It began firing haphazardly towards the fort.
Soldiers manned their stations but held their fire. Luckily most of the submarine's fire landed harmlessly and only a few touched down near Battery Russell. The attack didn't injure anyone but it did scare locals. They set up a citizen's patrol and strung barbed wire up and down Clatsop beach — even through the Wreck of the Peter Iredale. This unsuccessful attack was the only wartime action Fort Stevens ever saw.
Fun fact: Fort Stevens is the only U.S. mainland military base that has ever been fired upon since the War of 1812 (which is when Canadians burned down the White House).
Ghosts at Battery Russell?
While I've never experienced anything akin to a ghostly sighting on my three trips to Fort Stevens, there have been many reports that say otherwise. The battery has even topped lists of most haunted places in Oregon! Although no soldiers actually died at Battery Russell, Fort Stevens was active during the Civil War and may be what accounts for these sighting.
Many people have reported seeing a man in army fatigues holding a knife in the battery, as well as a young man with a flashlight along the bike paths. While these accounts are often located in and around the battery, some people have recounted tales of sighting elsewhere at Fort Stevens, including the campground. Rest assured, though, the worst that has ever happened is that these people went home running!
I'd be totally freaked out if I ever actually encountered one of these ghosts, but I must admit there's a little piece of me that wishes I had run into one. It would be quite the tale to tell!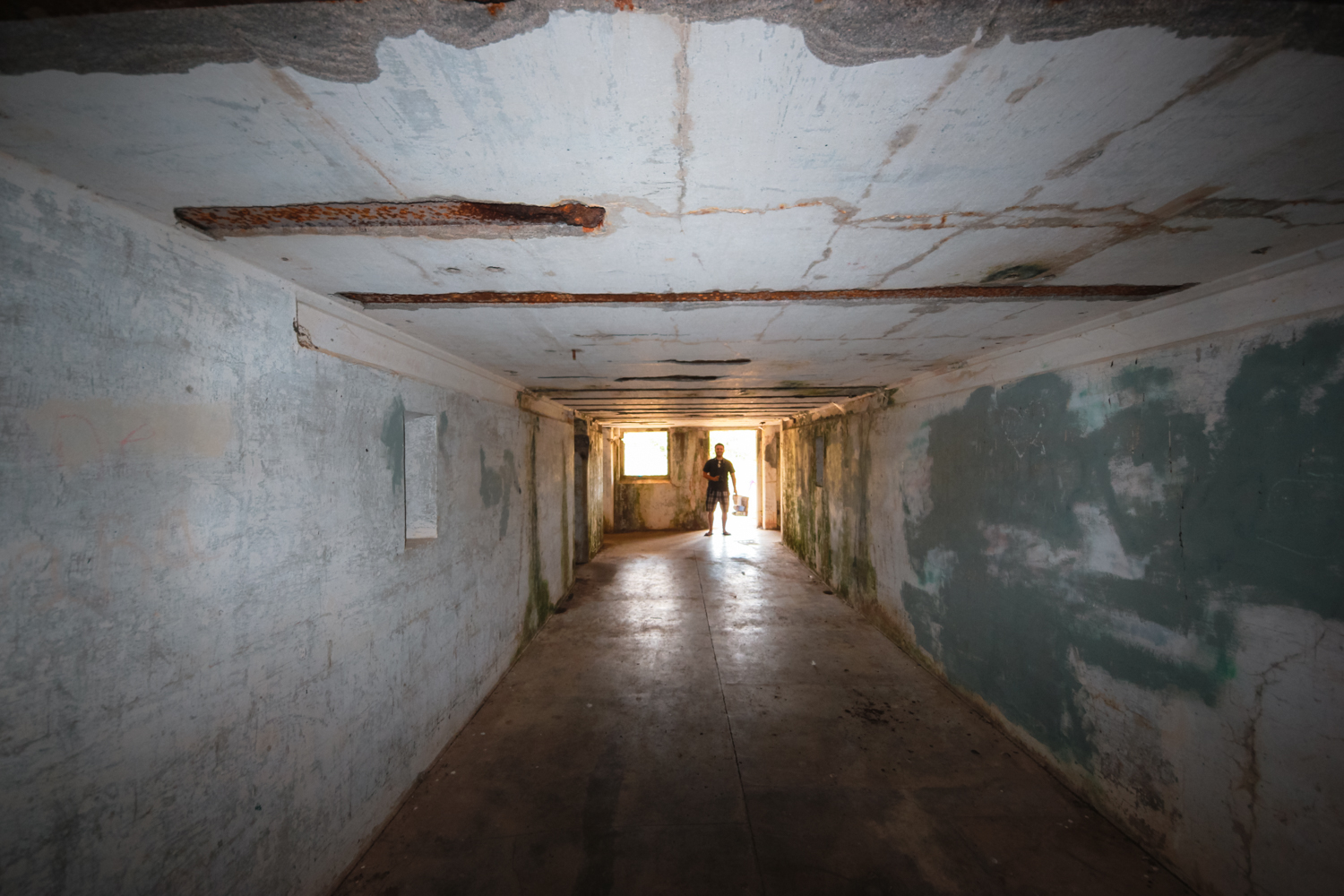 Safety
Battery Russell is entirely unsupervised, but it is well maintained. Kids love exploring the historic battery — even if it does freak them out a bit!
There's no electricity, but that doesn't matter too much because most of the rooms are well lit by natural light. However, when you venture into the deeper rooms they do become quite dark. Make sure to pack a flashlight if you're planning on exploring them!
Birds often make nests in some of the smaller rooms. Keep an eye out for them because we've had our fair share of mini heart attacks when they fly out.
Gear Recommendations
Fort Stevens is entirely open to explore and unsupervised. It is maintained, but there's no electricity so the inner rooms do become quite dark. Flashlights or headlamps never hurt, since your phone's light probably won't illuminate too much.
The ground and cement flooring are quite flat, so a simple pair of runners or even sandals are all you need for footwear. If you're wearing runners, we love Darn Tough's no show socks — they make such amazing socks and these are much better quality than my other no show socks. And as always, remember your water bottle! It can get quite warm here.