28+ Easy Hikes in Kelowna You'll Love
There are a ton of great, easy hikes in and around Kelowna. Whether you've got a few kiddos in tow, want to ease into harder hikes, or simply need a dose of the great outdoors, now is a wonderful time to set your sights on some of Kelowna's easiest hikes!
You can enjoy beautiful waterfalls, panoramic views, and calming forests in Kelowna without hiking up a mountain for hours. Easy hikes sometimes get a bad rap, but I really don't understand why. They're awesome!
So what are you waiting for? Grab your boots, lace 'em up, and hit those trails. Let's go!
Read next: Best hikes in Kelowna »
Disclosure: This article may contain affiliate links and I may earn a commission, at no cost to you, if you click and/or buy a product online (even if it's not the product linked). I take great care to only recommend helpful products and appreciate your support!
KELOWNA WEATHER
Bertram Creek Regional Park
Why not start off with a hidden gem, we all love those trails don't we? I sure do! Bertram Creek Regional Park is nestled on the shores of Okanagan Lake and the small trail network crisscrosses the mountainside.
You'll love hiking amongst the charred trees while also being treated to stunning views of the Okanagan Valley. Bertram Creek is an awesome, easy hike in Kelowna that you can make into your own adventure thanks to the many trail options. Plus, it's great for picnics and casual sports and since it's outta the way, it's usually a quiet haven in the madness of summer.
Brant's Creek Linear Park
Brandt's Creek is a scenic trail in the heart of Glenmore and you'll meander through both parks and residential areas on your walk. The trail is almost entirely flat, so you can enjoy an easy hike or bike ride here. Dogs love it, just sayin'.
It's rare to find a trail in the middle of town that still feels like you've been transported to the outdoors. They do exist, I swear!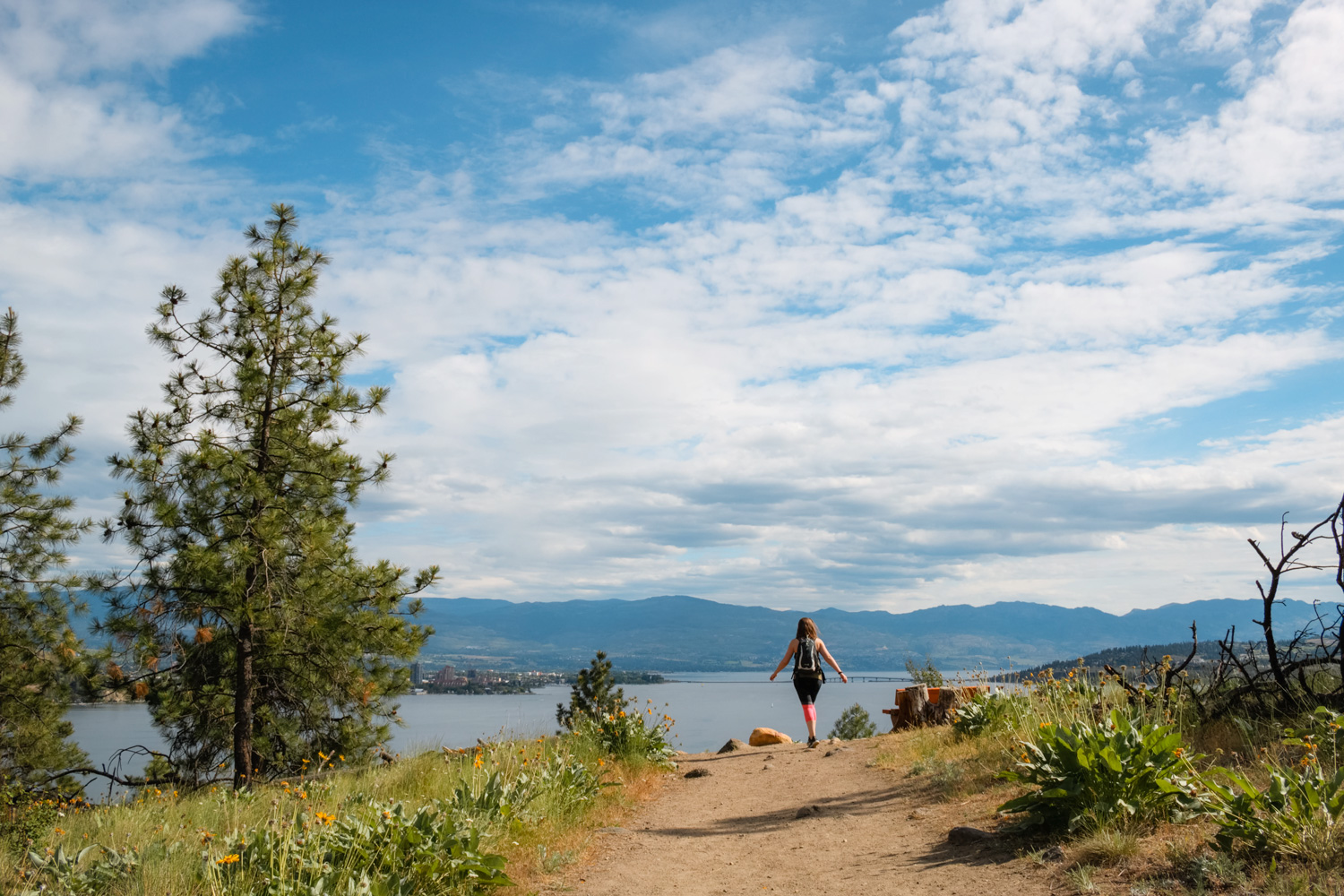 Canyon Rim Trail at Bear Creek
The Canyon Rim Trail at Bear Creek is one of my go-to easy hikes in Kelowna! I love starting the hiking season with this trail. You'll loop around a waterfall gorge (which you can visit in the summer by the way), all the while enjoying awesome views of downtown Kelowna and Okanagan Lake.
Although this trail does have some elevation gain, wooden staircases make it much more manageable. It does toe the line between an easy and moderate hike, so make sure you keep that it mind.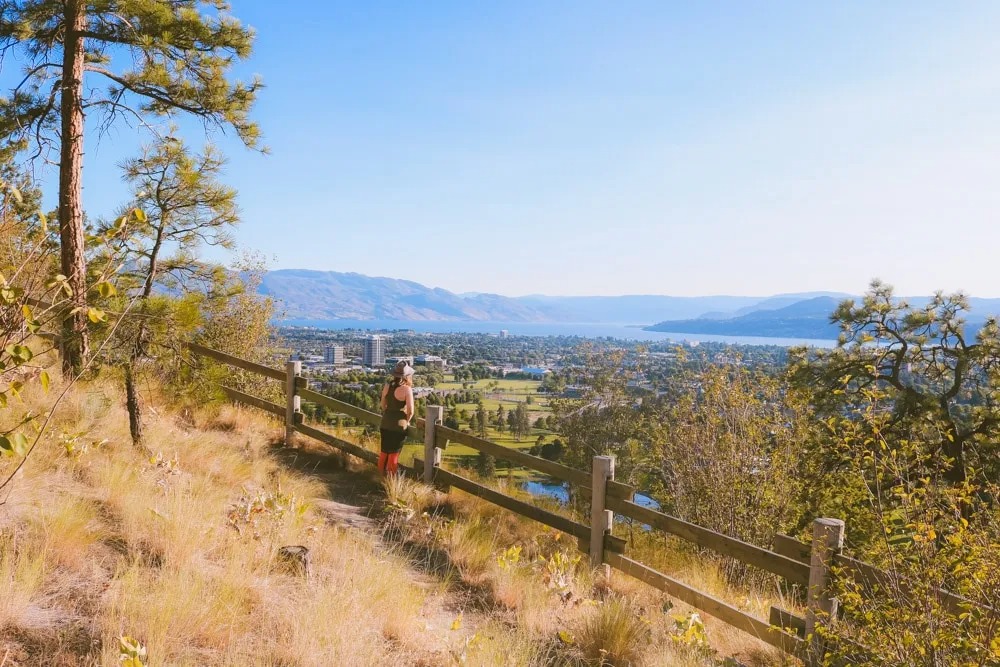 Dilworth Mountain Park
Dilworth Mountain Park is probably one of the easiest hikes in Kelowna, yet it has some of the best views I've seen of the entire city.
The mountain is basically a landmark in itself and can be seen from pretty much anywhere in Kelowna. What surprises me, though, is that the trails at Dilworth are often very quiet and you'll usually have the park almost entirely to yourself.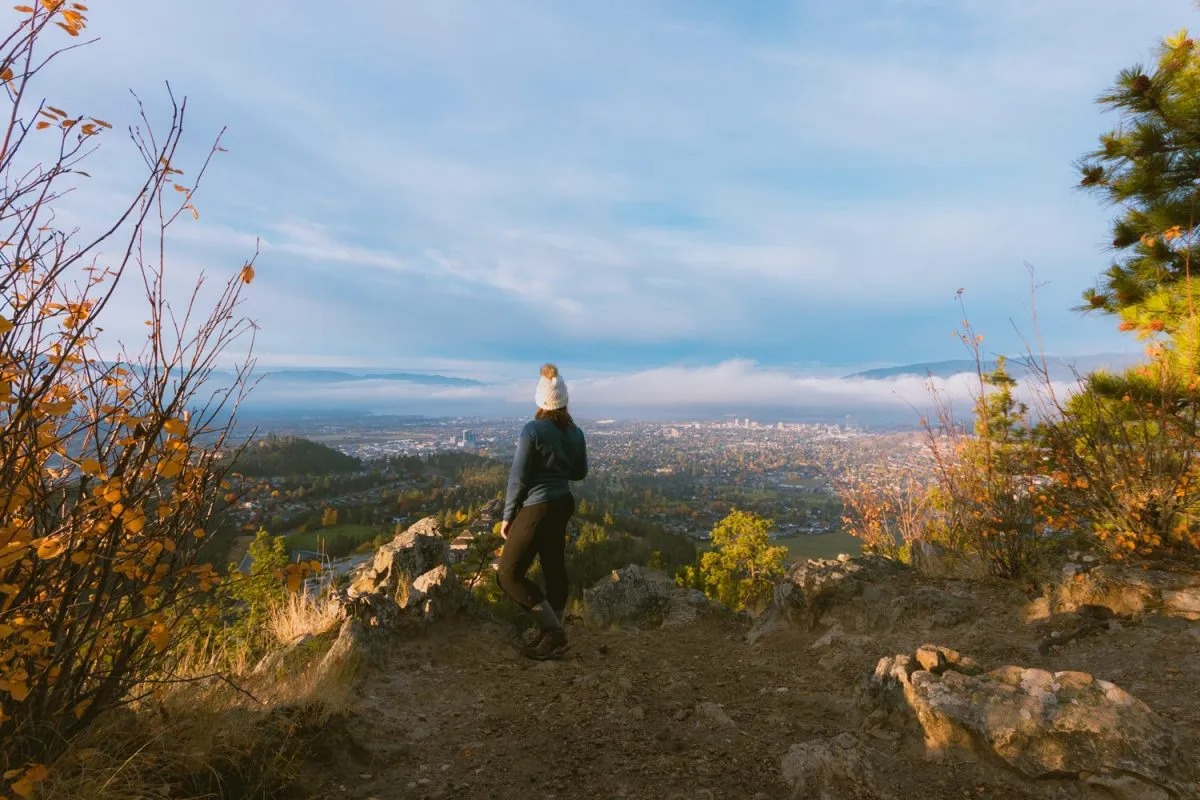 Dilworth Mountain Water Tower
Sometimes hikes are tucked away in places you'd never realize! The Dilworth Mountain Water Tower trail is located in the residential area of Dilworth Mountain, yet despite having such a boring name, it has some pretty wild views of Kelowna.
This easy hike is quite short and follows a paved path to the top. You can make your adventure longer by exploring the many trails that branch off, which I highly recommend you do! Just remember to stick to the trails and practice Leave No Trace, which means no bushwacking.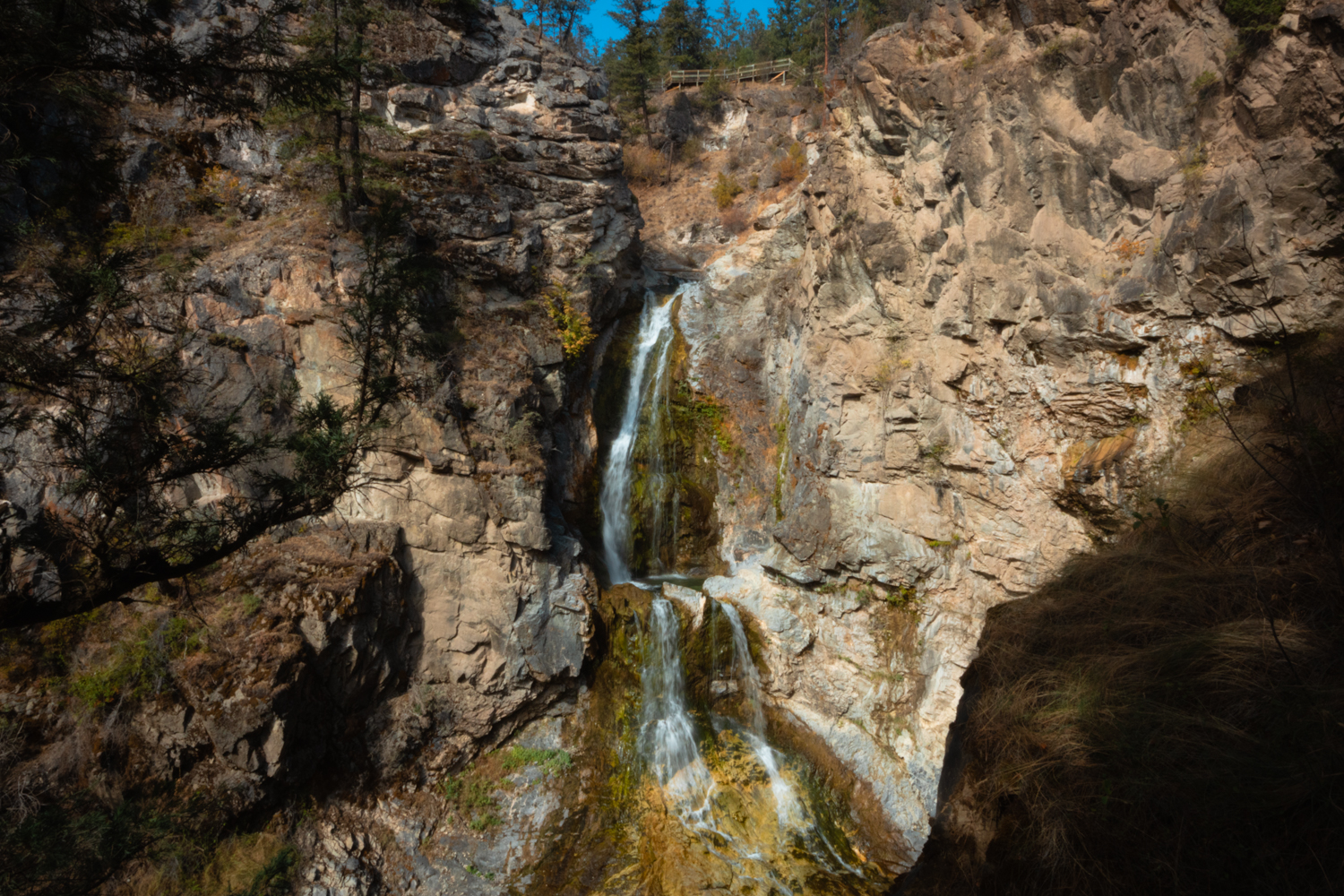 Fintry Falls
This short, easy hike to Fintry Falls features a wooden staircase, a forested canyon, and not one, but three waterfalls! There are several viewpoints along the way, as well as the option to head off-trail to an old suspension bridge if you're into that kinda thing. The main trail is great for hiking with kids.
Glen Canyon Greenway Trail
The Glen Canyon Greenway is another trail that's technically in town but lets you escape the city. I love this type of trail cause they're perfect for exploring local without much work. Because let's be honest, sometimes we're just lazy AF but still wanna get outside.
It's broken into two sections: the north which is quite scenic and the south which is more developed. The trail features wooden stairs, a waterfall, and a few bridges. I personally prefer the north because it's more outdoorsy, but you should check out both to see what you think! Maybe you'll think I'm nutso for liking the north section more. Who knows?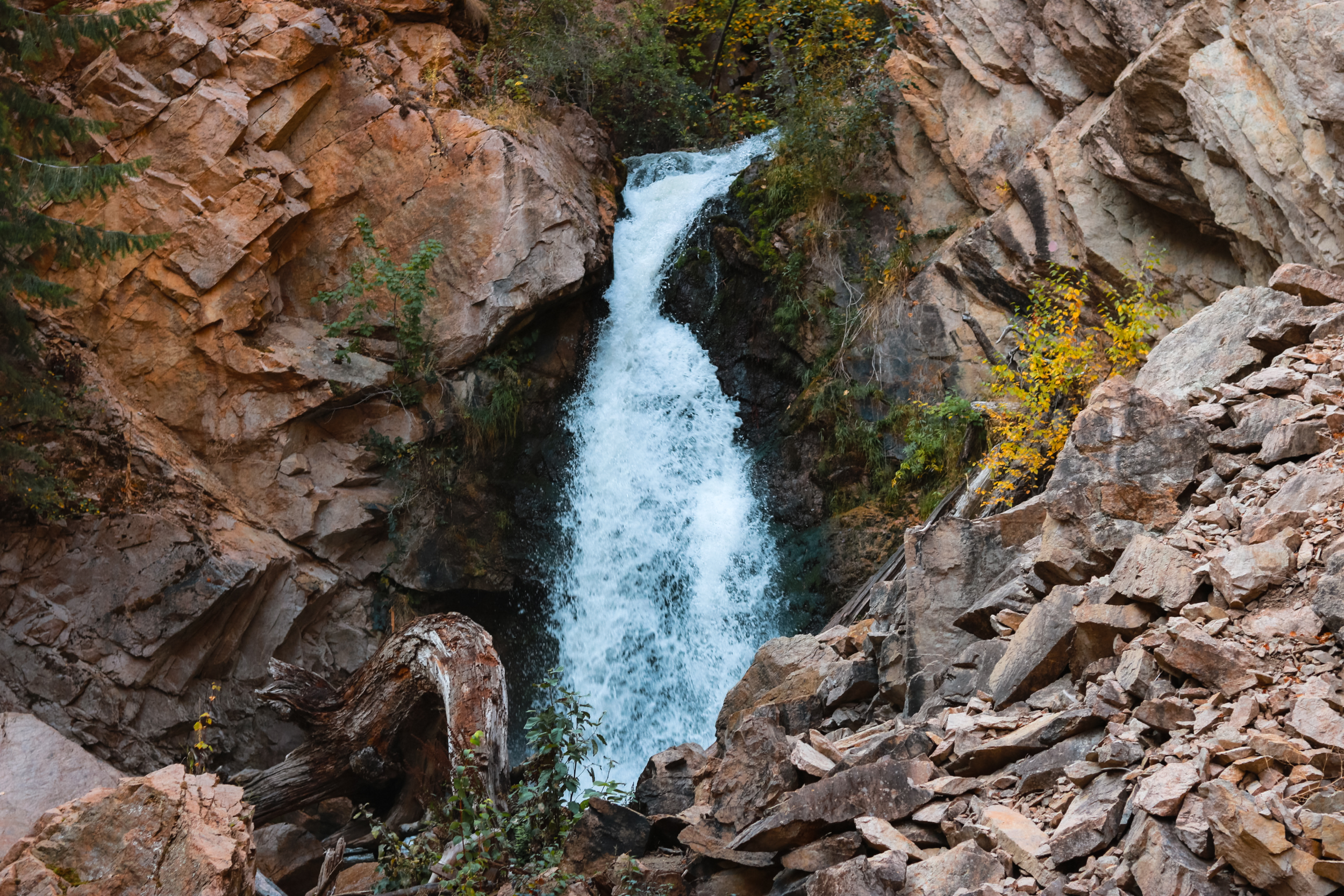 Hardy Falls Regional Park
Wanna check out a waterfall but don't have a ton of time? You're in luck, the hike to Hardy Falls in Peachland is short and sweet! The salmon-berry lined trail follows Deep Creek and crosses eight bridges before bringing you to the beautiful waterfall.
It doesn't take more than an hour to enjoy this trail, plus it's quite shaded which makes it a welcome escape from the summer heat. Man, I gotta just say it — I love how awesome the easy hikes near Kelowna are.
Hidden Lake Parkway
Kelowna is riddled with trails in the middle of the city and I LOVE it. You just need to know where to look! The Hidden Lake Parkway is nestled in the suburbs of Wilden and winds its way beside delicate marshlands.
This easy trail has very little elevation change and there's also a playground along the way for the kiddos. I used to hike up to this lake all the time when I was little — back when it was still a forest and not a fancy residential area. Yikes, does that make me sound old?
Highpoint Hill
Highpoint Hill is a small network of easy hiking trails in Glenmore located just off of a residential subdivision. These aren't well-known trails and you'll be treated to spectacular views of downtown Kelowna, Okanagan Lake, and Glenmore when you visit.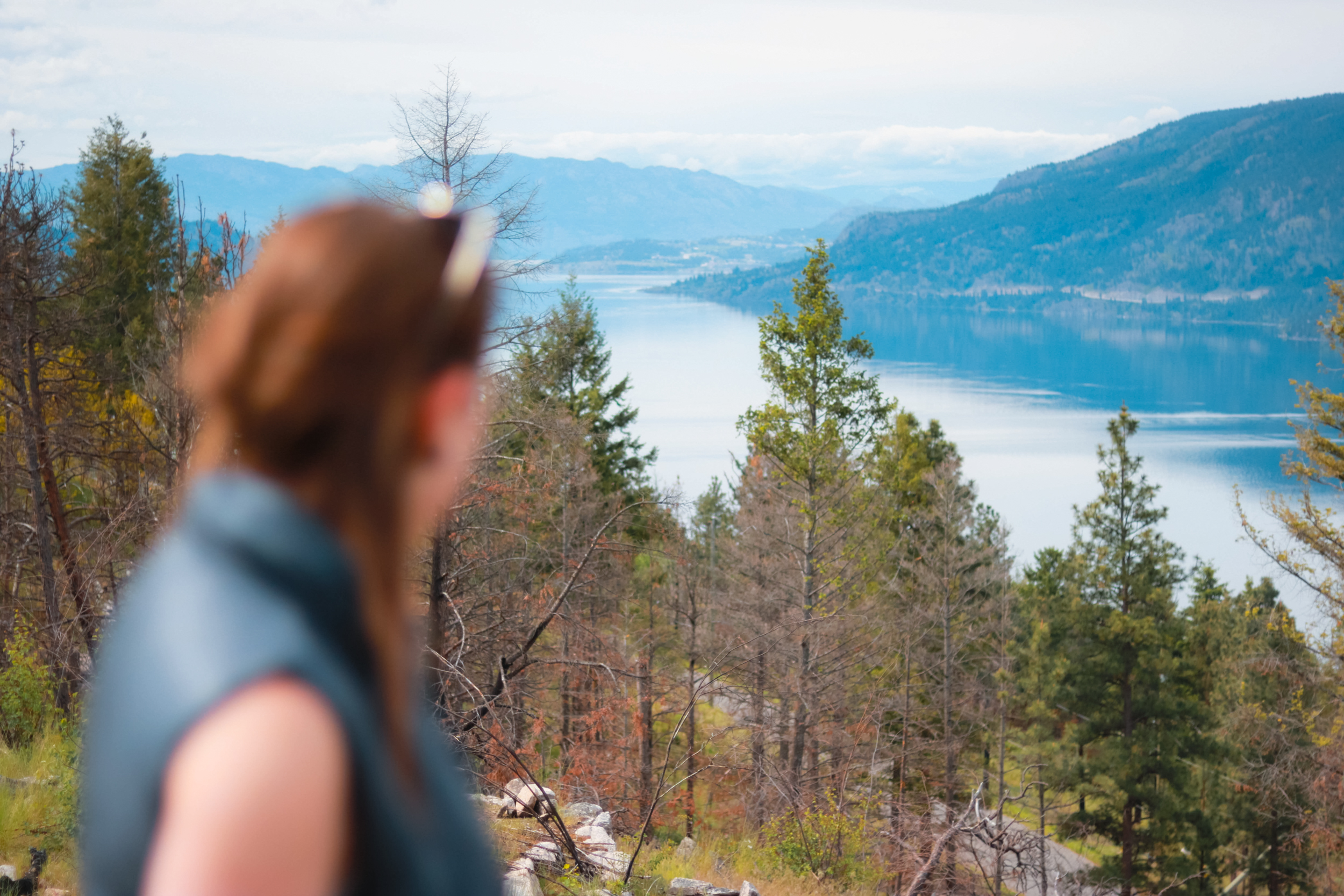 Jack Seaton Park
You've probably noticed a few of these easy hikes aren't technically in Kelowna. This is one of those hikes, but I really wanted to include it because, well, I can. Jack Seaton Park is most well known for its playground and ball diamond, but it also has a small network of awesome hiking trails.
Plus, there's a great viewpoint that overlooks Okanagan Lake and we all know I'm a sucker for those. There are also lots of birdhouses along the trail, so if you wanna try bird-watching this is a great place to see if you can spot some of our feathered friends.
Jack Smith Lake
The tranquil Jack Smith Lake is hidden in the outlying hills around Kelowna. You'll hike through remnants of the 2003 wildfire on Okanagan Mountain and eventually read it, all the while being  treated to sprawling views of South Kelowna.
The trailhead is shared with Kuiper's Peak, so if you really want to, you can kill two birds with one stone.
Kalamoir Park
Kalamoir Park is great because it's a fairly easy, relaxing hike alongside Okanagan Lake that meanders through forests and fields of wildflowers while also offering those breathtaking lake views that we all love.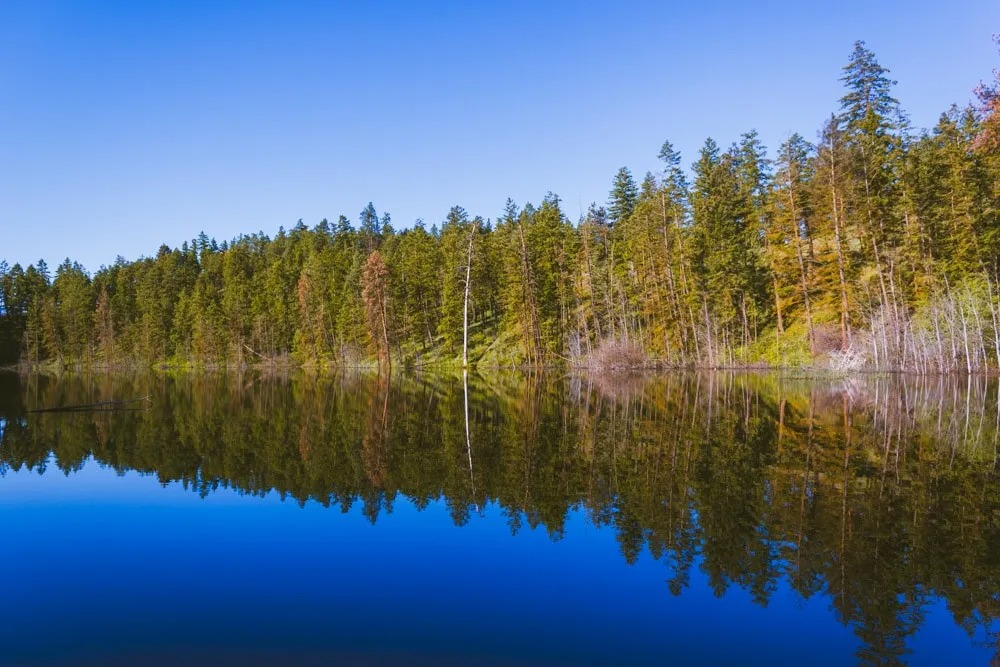 Kathleen Lake
Would you believe me if I said there's more to Knox Mountain than just Paul's Tomb and Apex? Wait, whaat?! There is!
Kathleen Lake  is a small, marshy water basin that's more pond than lake-like and is hidden in the hills of Knox Mountain. This is a great, fairly easy hike if you want to check out Knox but also escape the crowds of the more popular hikes. Plus, you can branch out to a lot of other lesser know trails from here, too.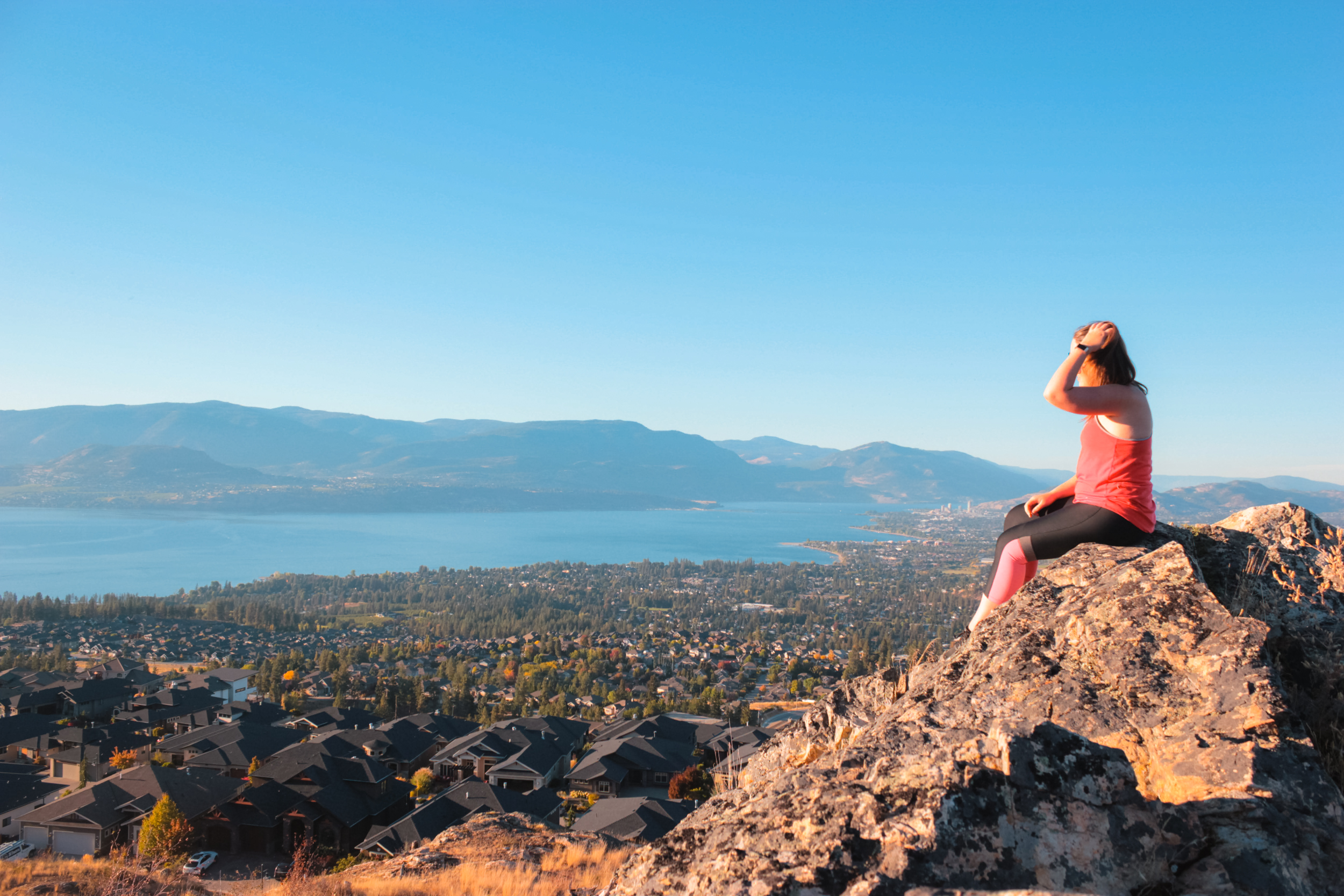 Kuiper's Peak Park
Kuiper's Peak Park is a wonderful place to catch sunrise or sunset. The park was damaged in the 2003 Okanagan Mountain fire so you'll be treated to an up-close-and-personal view of the recovering ecosystem on this trail.
It's a fairly short, easy hike, but there is one section that's more difficult, so come prepared to get your heart a hammering!
Layer Cake Mountain
Have you ever driven up to Big White and wondered how you could check out the cool layered rock formation near Black Mountain? Y'know what I'm talking about. The good news is, you can! While you're exploring, you can also check out the nearby pinnacle hoodoo.
And FYI, this isn't the same trail as Scenic Canyon which is the park directly across from Layer Cake Mountain.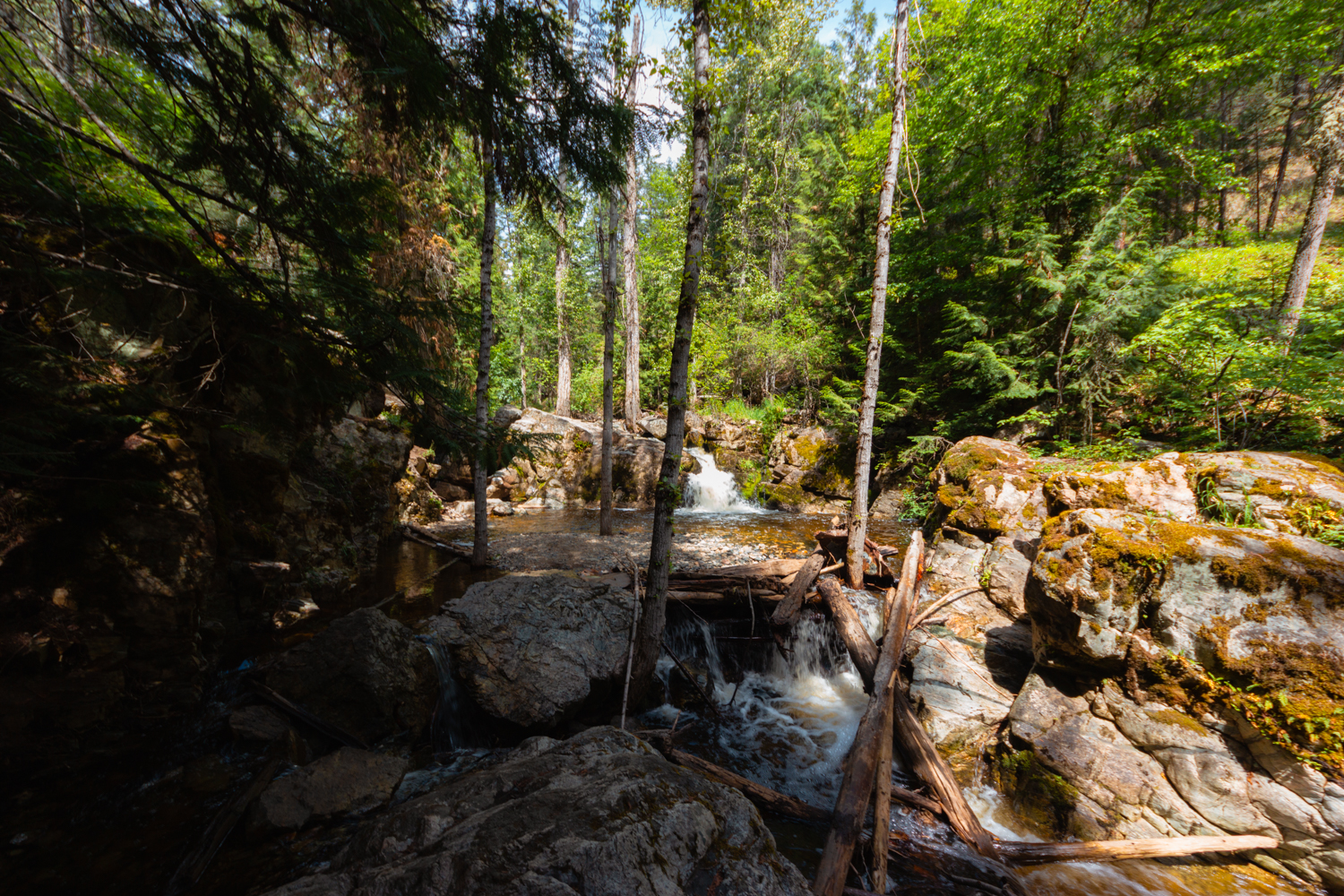 Mill Creek Waterfalls
Why explore one waterfall when you can see three? You read that right! This beauty of a hike in Kelowna features three beautiful waterfalls, a cool forested trail, and follows Mill Creek as it snakes through the forest.
Mill Creek Regional Park is a great hike for the summer when you want to take a dip and cool off! Just a fair warning, though, the waterfalls slowly get harder to access and the final waterfall (which also happens to be the best) is the hardest to reach. Because why wouldn't it be like that?
Mission Creek Greenway
Mission Creek Greenway is one of Kelowna's most well-loved, and well-visited, parks.
It stretches for 16 km from Layer Cake Mountain near Gallagher's Canyon all the way to Okanagan Lake. The section from the bike park on Hollywood Road South to Okanagan Lake is the easiest ⁠— it's flat, wide, and gravel. It's a great place for biking, walking, and running!
There are plenty of places to hop on and off so you can make your hike as long or short as you want.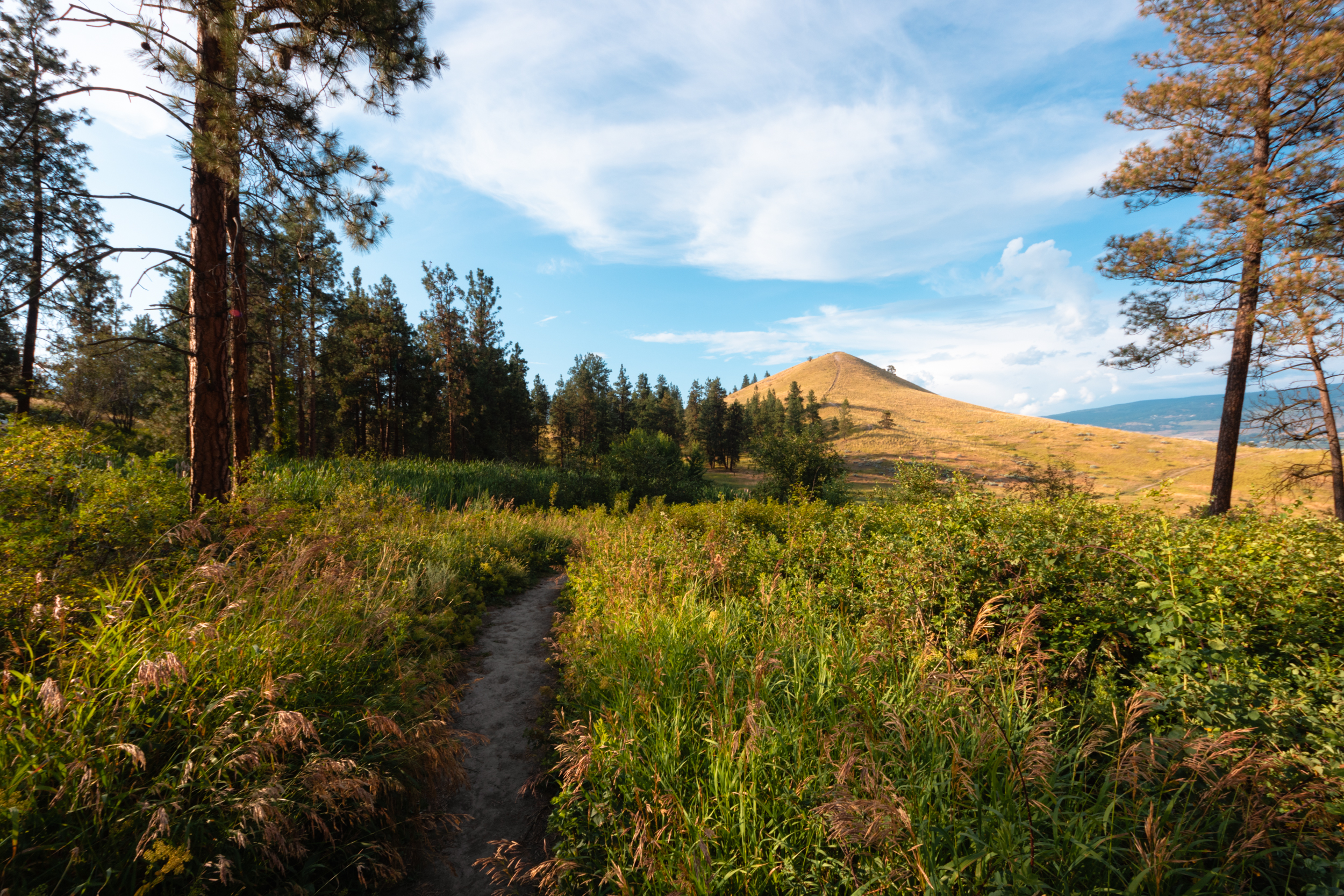 Mt Baldy
Have you ever looked up at the plain, totally barren hill near Dilworth Mountain and wondered what it would be like to stand at the top? Me, too. Before I realized, duh, that you can hike it!
Mt Baldy has a small network of trails on and around the mountain that let you easily create your own hike and difficulty. The easiest hike follows the base of the mountain, but there are various trails up — some of which are easier than others.
KVR: Myra Canyon Trestles
Before you get too excited, no, I'm not suggesting you hike the entire KVR! That's wouldn't exactly be easy. The Myra Canyon trestles are located on a beautiful, very scenic 12 km stretch of the KVR just outside of Kelowna.
There are eighteen trestles and two tunnels along the trail and it's a lot of fun to hike or bike because it's basically flat. If you're hiking, I recommend only doing a portion and turning back OR having a car waiting at the end. You probably don't wanna hike the entire trail both ways in one day.
Okanagan Rail Trail
Who would I be if I left this trail out? It's a pride and joy of the Okanagan after all. The Okanagan Rail Trail stretches from Coldstream to Kelowna and is 52 km of beautiful trails perfect for hiking and biking.
You'll pass by the stunning turquoise waters of Kalamalka Lake, hike through barren fields, and enjoy forests and ponds along the way. By no means do I expect you to hike the entire trail in one day, that would be quite ambitious! You can pick and choose different sections and explore the Rail Trail at your leisure.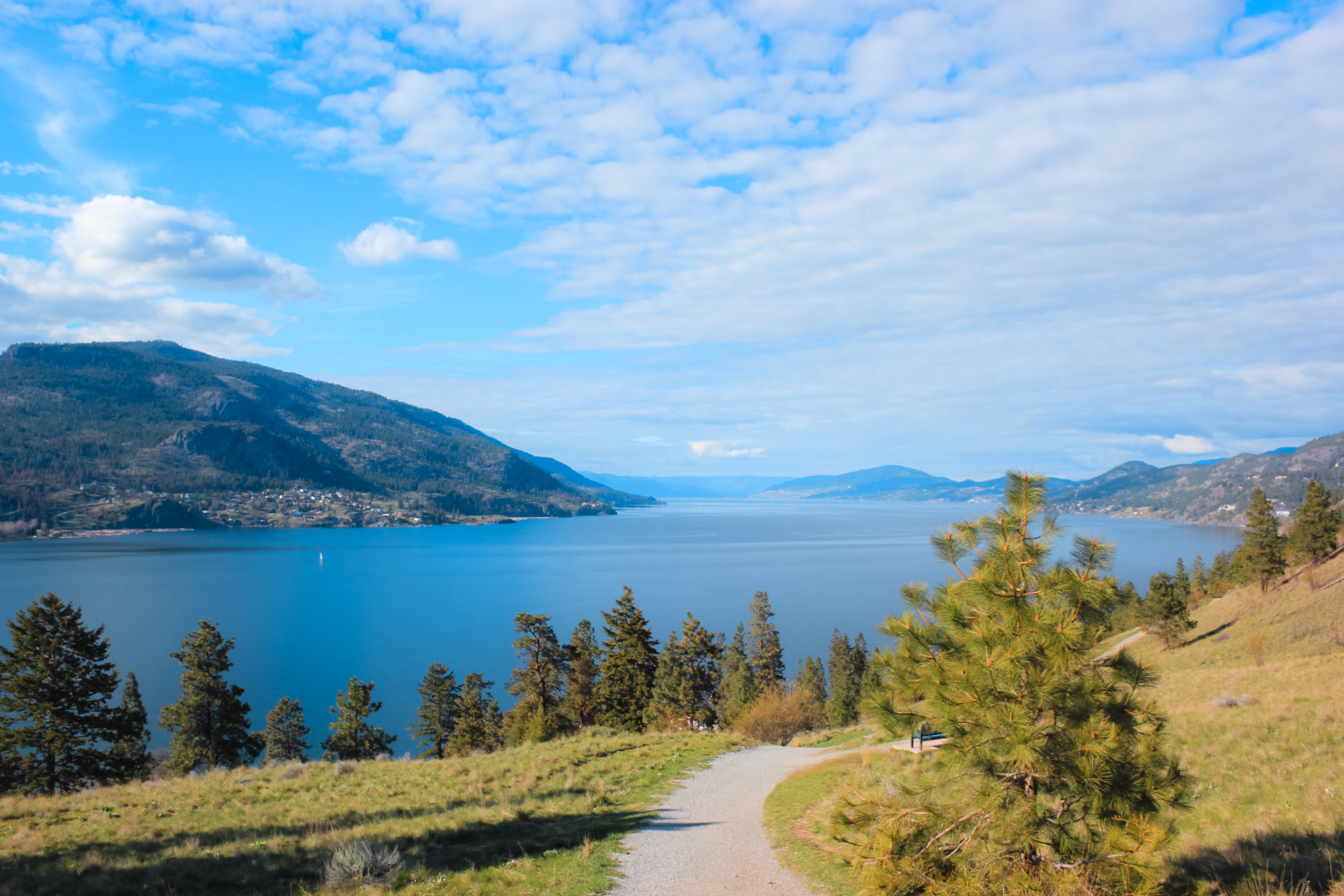 Paul's Tomb
I'm gonna go all out and say this is probably the most popular trail in all of Kelowna. Honestly, if there's a more well-known hike that's loved by locals than Paul's Tomb, I don't know what it is.
This gorgeous trail is extremely well maintained and walks alongside Okanagan Lake. Just because it's popular, it's easy to think it's not worth a hike. I beg to differ. I don't think it's overrated and highly recommend you check out this easy hike in the heart of Kelowna!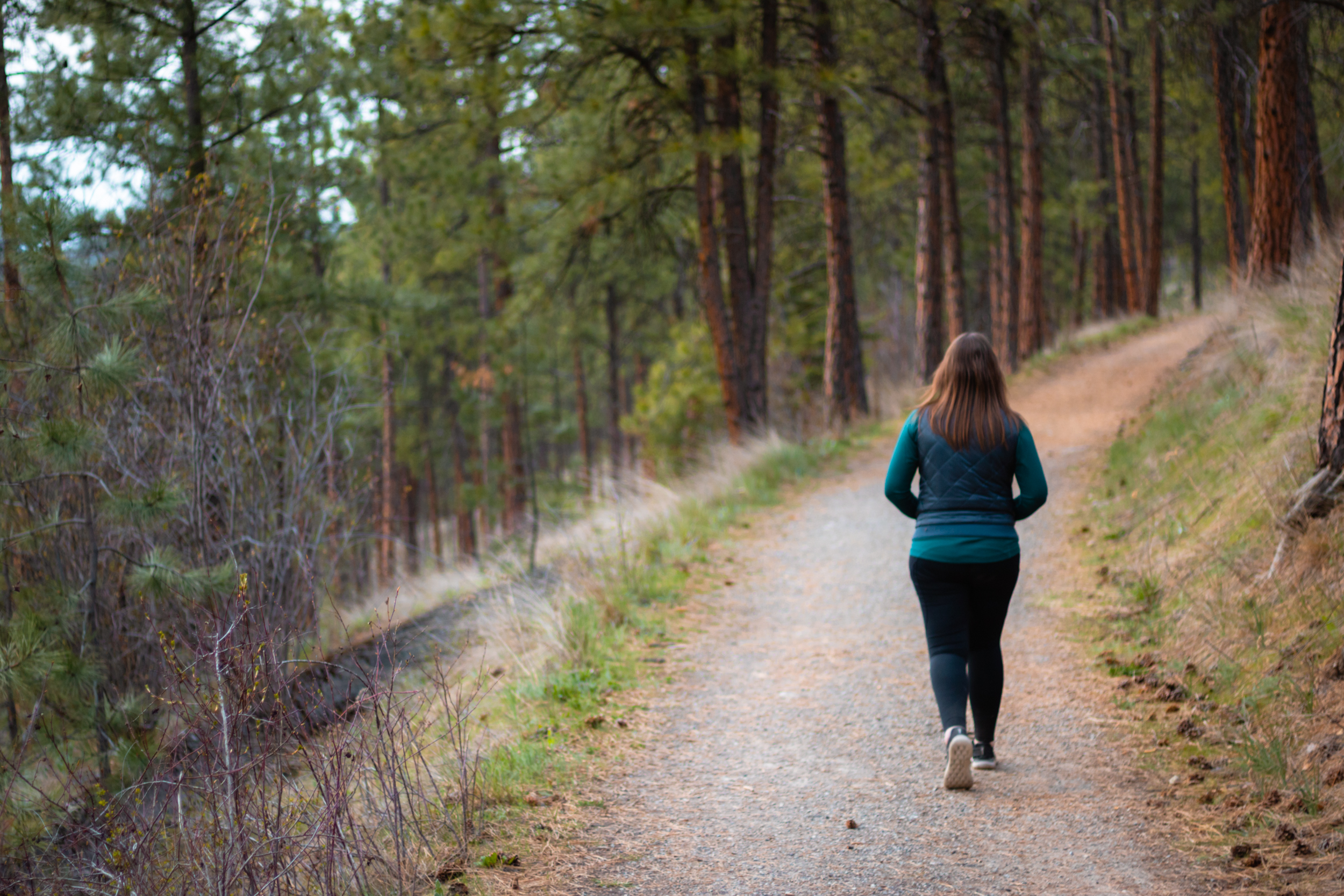 Quail Ridge Linear Park
Do you enjoy a little history on your hikes? I think it's fun to imagine how the place I'm exploring used to look! The Quail Ridge Linear Park  is unique because it follows an old irrigation flume through northern Kelowna.
Doesn't hurt that you'll think you've left the city behind as you walk through a Ponderosa pine forest on your hike.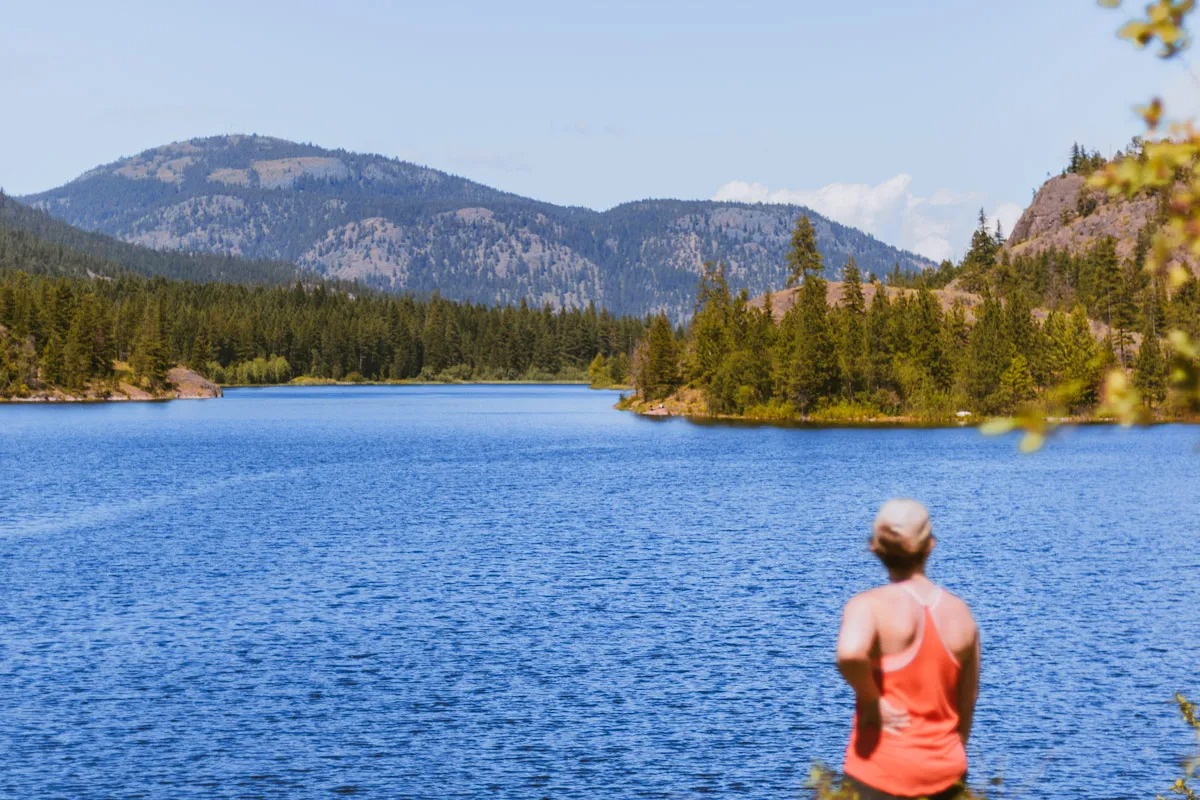 Rose Valley Lake
There are a ton of trails in the Rose Valley network! Some are a little difficult and bring you up the mountain, but this easier hike brings you down to the reservoir itself. It borders on a moderate hike.
Like most trail networks, you can make this hike as long or short as you want. There's really no limit! While you're enjoying the trail, see if you can spot people up the mountain hiking the harder loops — I'll bet they wish they could magically teleport down to the lake and take a dip!
Rotary Trails
I love how much our community enjoys hiking! It's so obvious in how beautiful and well taken care of many of our trails are, including the Rotary Trails in West Kelowna.
This easy trail network follows a river through a heavily treed area near Okanagan Lake and includes a few bridges. It's great for bird watching and you can often spot Kokanee in the river during the summer and fall.
Shannon Lake Regional Park
Leisurely strolls aren't always given the love they deserve. A good ol' walk through the park can be wonderful! Shannon Lake is great for an evening walk or casual stroll.
The small trail system meanders around the lake which is a great habitat for turtles and birds, so if you're lucky you might just spot some local wildlife!
Turtle Pond
What can you expect from Turtle Pond on the Mission Creek Greenway? Well, pretty much exactly what it sounds like!
Turtles love this little pond and you'll often spot them hanging out on the logs or rocks. It's a very easy hike in Kelowna that's great for kids or just hanging out in nature.
There aren't any awesome viewpoints, but that's okay, the cute little turtles make up for it.
Waterfront Boardwalk (Kelowna)
The boardwalk in downtown Kelowna is a beautiful way to enjoy the scenic waterfront. The path stretches from Bennett Bridge all the way to the Rotary Marshes where, if you're lucky, you might spot some wildlife like heron, eagles, or even beavers hangin' out.
Grab an ice cream and wander along Kelowna's waterfront, you'll love it!
Wood Lake Loop
The entire Wood Lake Loop is 16 km, but you certainly don't need to hike the entire trail in one go. You can easily pick and choose sections of it to make it more manageable.
The Wood Lake Loop is part of the Okanagan Rail Trail, so it's almost entirely flat and winds its way around a beautiful lake in Lake Country.
There are a ton of amazing trails in Kelowna and as I discover more easy hikes in and around Kelowna, I'll keep adding to this guide. I hope you have a wonderful time exploring some of Kelowna's easy hikes. Get out there and enjoy the sunshine.