Jack Seaton Park in Lake Country, BC
Jack Seaton community park is one of Lake Country's hidden gems.
Even though Jack Seaton is a hidden gem for most of us, locals love it! It's only a few minutes from the highway, tucked away in the hills of Lake Country, and is totally unsuspecting.
Oh, and there are lake views — can't forget about that! Sounds like my kinda park, how 'bout you?
If I'm being honest, I've never given community parks much thought. Sure, regional and provincial parks get my attention, but the smaller ones just didn't have the same draw. Which is really a shame because some pretty cool parks get overlooked all the time.
After checking it out, I can definitely say Jack Seaton Park is an awesome, underrated place to go for a laid back hike and hang out.
Disclosure: This article may contain affiliate links and I may earn a commission, at no cost to you, if you click and/or buy a product online (even if it's not the product linked). I take great care to only recommend helpful products and appreciate your support!
Quick Stats
Difficulty: Easy
Trail Type: Network
Length: 1 – 10.5 km
Open Dates: Year-round
Location: Jack Seaton Park
LAKE COUNTRY WEATHER
Jack Seaton Park
Jack Seaton is a small community park in Lake Country and is a great reminder that even small parks can pack a punch.
There's a ball diamond, tennis court, and playground, and for us explorers, there's a small network of hiking trails hidden away in the trees. You'll even get to enjoy some views of Okanagan Lake! Sure, they're not the most amazing you'll ever see, but so what? A lake view is a lake view. You'd never guess there's even a bit of one from the parking lot.
It's also a great place for a picnic because there are plenty of washrooms, picnic tables, benches, and garbage bins. Or y'know, you can play baseball if that's something you're into. Just don't try to rope me in because I'm a huge fan of not playing (most) sports.
Hiking at Jack Seaton Park
Technically, most of the trails at Jack Seaton are outside of the park because it's so small.
There are no trail maps or markers, but the fun of hiking at Jack Seaton is simply wandering and seeing where you'll end up. Luckily, you don't really need to worry about getting lost because the park is small and totally surrounded by roads.
Jack Seaton Park is also dog-friendly, so bring your furry friends along for an adventure! They'll love it.
As for the trails themselves, they're fairly easy and good for all experience levels. You'll encounter spots that are narrow or have some elevation change, but the trails are hard-packed and clear of debris. The trails are also quite shaded thanks to the forest of Ponderosa Pines, so even on really hot days, you won't be baking in the sun! Just watch out for the viewpoints, because they're quite a bit more exposed. You'll even spot evidence of a fire, which, unfortunately, is pretty common in the Okanagan.
There are a few gems hidden away in the trees. Keep your eyes peeled for a fun little rock field, a marshy pond (bring bug spray!), and benches to relax at. The only way you'll find 'em is by exploring, so get out there! We had a laugh by baa-ing at the goats at one of the nearby houses. You're never too old to act like a kid! Pun intended.
A Little History
The park was named after a local businessman. Jack Seaton was one of the Okanagan's logging pioneers, an orchardist, and chairman of the Winfield and Okanagan Centre Irrigation District for 35 years (1930 to 1965).
According to the Lake Country Museum, he was very active in the community and supported a bunch of important causes (I'm not sure which causes, though).
The Winfield Okanagan Centre Irrigation District leased the parkland for a whopping $1 per year. As for the park itself, you can thank volunteers that built and maintained what we all get to enjoy today.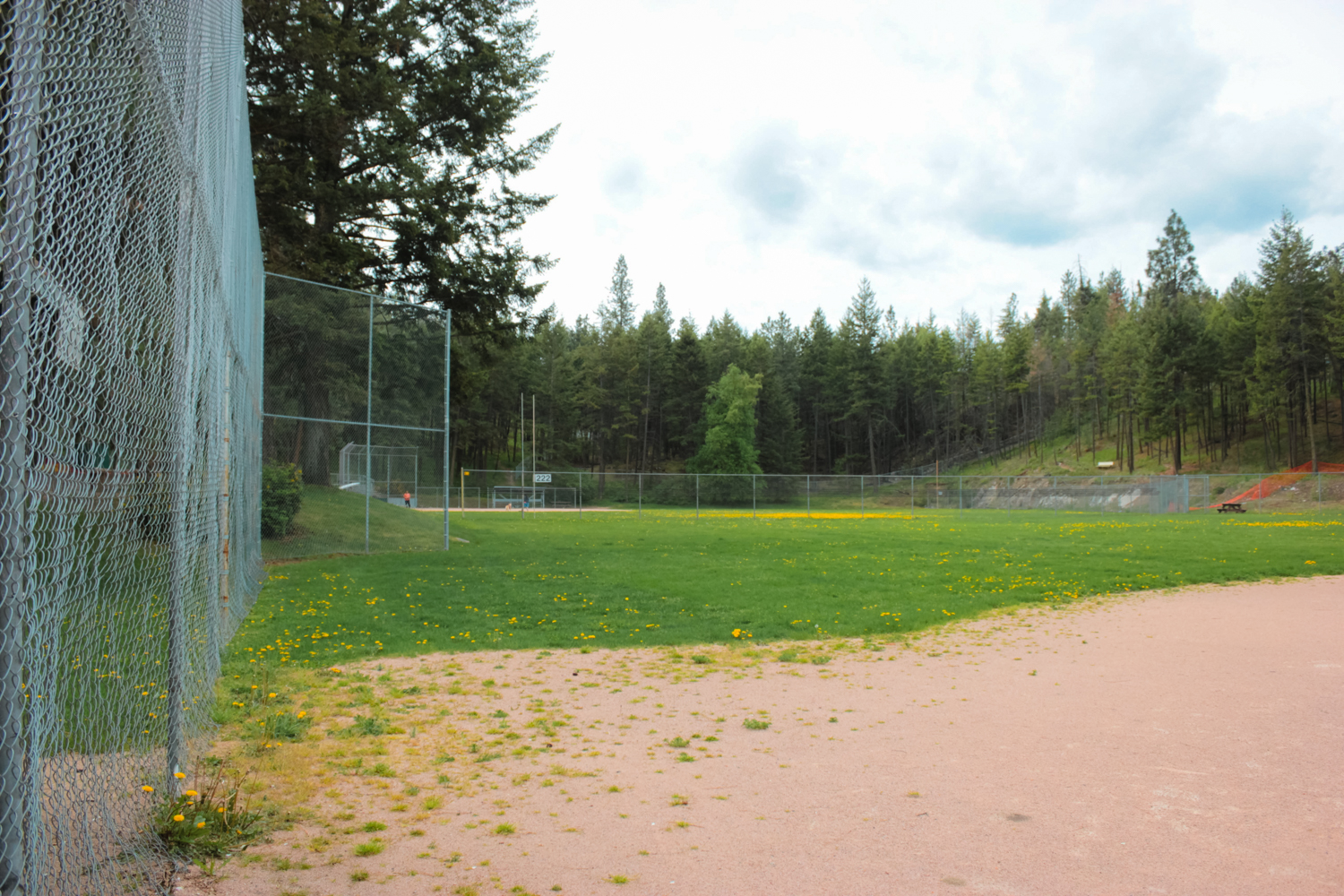 Final Notes
Jack Seaton Park is a little hidden gem in the hills of Lake Country. If you're a pretty experienced hiker, you'll probably find the trails a little tame, but don't let that hold ya back. In my books, any kind of outdoor adventure should be appreciated.
Parks like Jack Seaton are there so you can enjoy the outdoors, not push yourself (but if you're looking for a harder hike, check out nearby Spion Kop). Community parks are a wonderful way to enjoy nature and find adventure in every single day.
Happy exploring!