Mount Rose Swanson Hiking Trail in Armstrong, BC
Explore the green forests and spectacular views of the North Okanagan.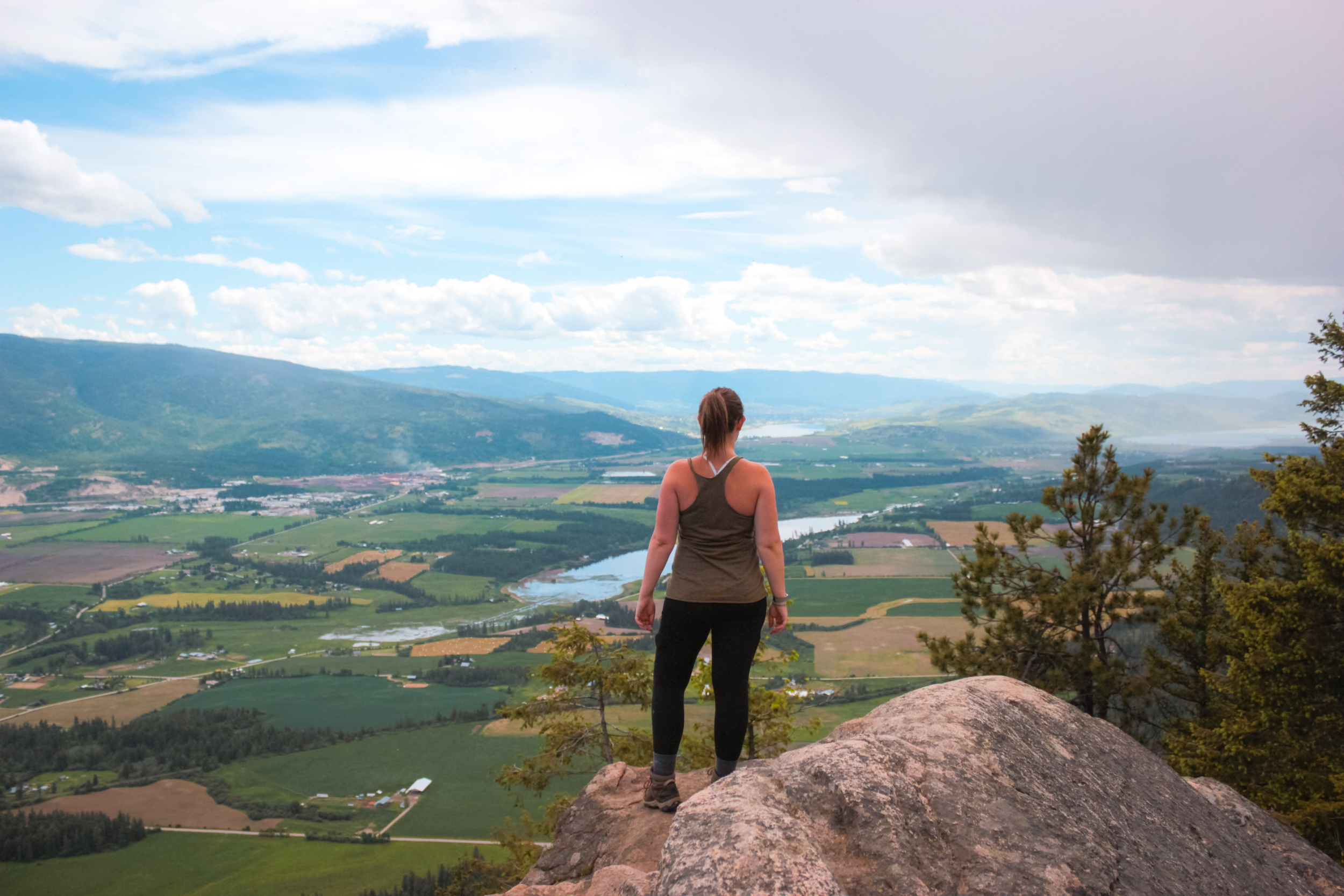 The views from Mt Rose Swanson in the Spallumcheen are expansive and beautiful.
The trails are green, lush, and, well, a little mosquito-filled. It just comes with the territory I guess. But you can get past those pesky bugs to enjoy this awesome trail, right? I sure hope so! Because, damn, look at that view.
Hiking Mt Rose Swanson is a really wonderful experience with spectacular views of the North Okanagan. Farms sprawl down the entire valley and you can clearly see Otter Lake, Swan Lake, and the northernmost tip of Okanagan Lake.
Disclosure: This article may contain affiliate links and I may earn a commission, at no cost to you, if you click and/or buy a product online (even if it's not the product linked). I take great care to only recommend helpful products and appreciate your support!
Hiking Stats for Rose Swanson
The hike is moderately difficult with a few different routes to keep things interesting.
Difficulty: Moderate
Trail Type: Loop & network
Length: 8.3 km (see map)
Elevation gain: 354 m
Open Dates: Year-round
Trailhead: Chamberlaine Rd
ARMSTRONG WEATHER
Hiking Mount Rose Swanson
Before we get too far into this, I need to clear up some potential confusion. The Mt Rose Swanson hiking trail network actually has two summits: Mt Rose and Mt Swanson.
Yup, they're different. And, if that's not enough, the locally accepted summits are different than those surveyed by the government. Because that's not confusing.
Luckily, it's not actually confusing when you're on the trail! It sounds way worse than it really is. You can easily reach both local summits through the trail network. The government summit is a tad harder, though — there aren't any defined trails, so you'd have to do some bushwacking.
Personally, I'm content hiking to the local summits. Besides, I've heard the official summit doesn't even have that great of a view.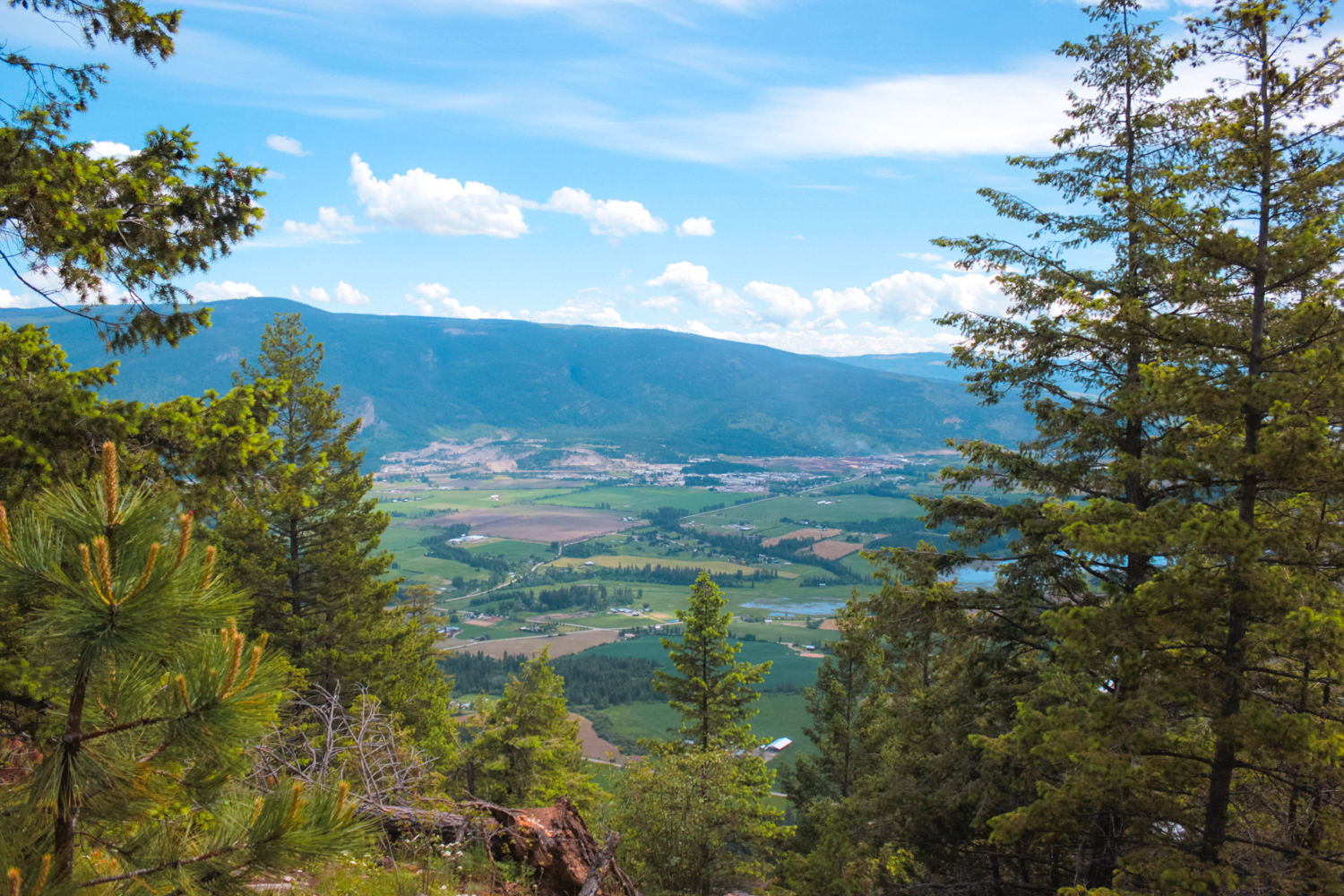 What to Expect
You're in for an awesome hike at Mt Rose Swanson! It's a beautiful, moderately difficult trail that'll lead you through a thick, densely treed forest before presenting you with spectacular views over Armstrong.
Thanks to all those trees, it's shaded for pretty much the entire hike — which you'll absolutely love in the summer! You can also thank those trees for the hoards of mosquitos that like to hang out in the spring. Wear a shit ton of bug spray!
Another fun fact: Mt Rose Swanson is entirely on Crown Land, so you could actually camp on the mountain for free! Imagine waking up to those valley views! If you do camp here, please be respectful and practice Leave No Trace.
Mt Rose Swanson Trailhead
As you make your way to the Mt Rose Swanson trailhead, you'll get a sneak peek into rural Okanagan life. The rolling hills, acres and acres of farmland, and tucked-away homes are as quintessential to the North Okanagan as multi-million dollar homes are to Kelowna.
As you approach Mt Rose Swanson, the looming mountain makes your hike look a lot harder than it actually is. And that's because you won't be starting at the bottom. Nowhere near it. You'll follow a gravel road up the mountain for a few kilometres before reaching the trailhead.
Keep your eyes on Google Maps, though, because the sign for the Mt Rose Swanson trailhead leaves something to be desired. It's super easy to miss.
The Mt Rose Swanson trail network is basically one big loop with a few alternate routes. There are two trailheads at the parking lot and I recommend taking the right trail to ease into the hike. If you take the left route, you're in for a lot of uphill very quickly!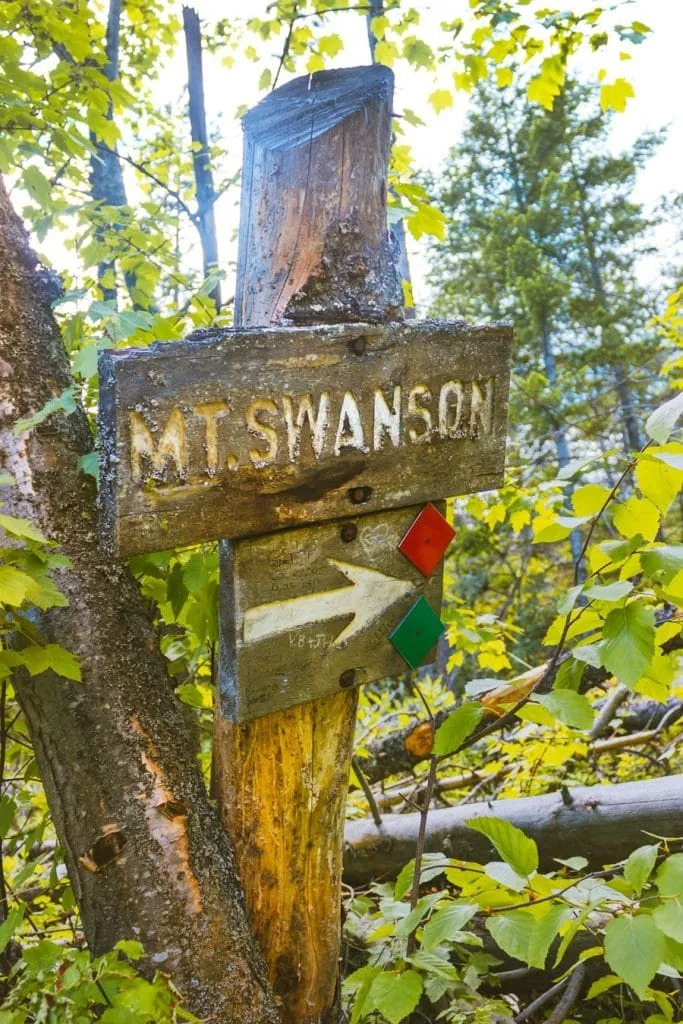 Hiking to the Mt Rose & Mt Swanson Viewpoints
As you leave the trailhead, you'll begin a steady uphill climb. The trail itself is wide and well maintained, so you don't need to worry about losing your way.
About 2 km in, you'll come to a fork in the trail and some signs pointing you to the Mt Rose or Mt Swanson summits. You'll learn all about the discrepancy in the summits here if you didn't already know. Or, if you're like me, you'll suddenly realize there are two summits!
The Mt Rose trail continues straight ahead while the Mt Swanson trail heads up the mountain.
Even though you don't need a GPS for most of this hike, there are a few unmarked forks where it's handy to pull out AllTrails to check you're going the right way. There are a few labelled maps throughout the trails, as well as coloured markers.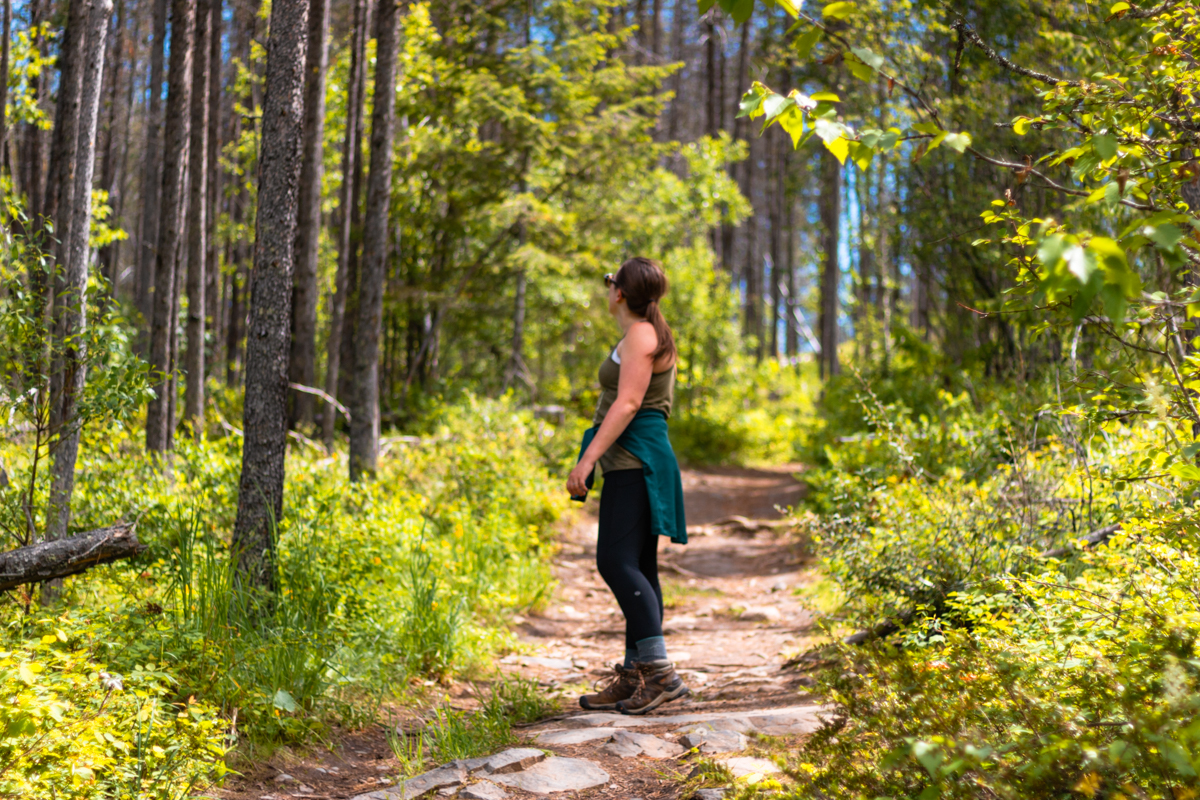 Mt Rose Summit
As you leave behind the Mt Rose / Mt Swanson fork, you'll continue a steady uphill climb.
When the trail starts to level out and you can spot mountains through the trees, you've reached the summit! As you're gazing out over the valley, keep in mind that there are actually two viewpoints. The smallest viewpoint is surrounded by trees, whereas the main one (called Tower) is hidden behind (what I assume is) a weather station.
The main summit is breathtaking! From the rocky bluffs, you'll get an unobstructed view south over Armstrong and Spallmucheen, all the way to the north end of Vernon. You can even see Okanagan Lake, Swan Lake, and Otter Lake! To your right, the forest seems to go on forever.
The summit itself is large and is a great place to settle in for a picnic to take in the gorgeous landscape of the North Okanagan. There's even an outhouse up here!
Mt Swanson Summit
When you branch off from the main Mt Rose trail, you'll head uphill fast.
You'll quickly reach the highest point of the park at Benchmark, but it, surprisingly, doesn't have much of a view. Instead of sprawling farmlands, you'll get to check out a forest clearing. Nice, but not quite what you'd expect from the highest point.
Instead, find your way to Miller's Bluff which is the locally accepted Mt Swanson summit.
Funnily enough, the Rose Swanson trail network doesn't actually go onto the actual mountain that's called Mt Swanson. You can, however, look at the mountain from Turner's Terrace.
As you head back down the mountain, you'll connect with the Mt Rose loop and can find your way to the awesome views at the Tower lookout.
Finishing Your Hike
As soon as you leave the Tower lookout, you're headed downhill. Downhill fast. You'll lose about 135 m of elevation in just over a half kilometre.
Watch your step here because it's full of loose rocks. You'll pass by the Overlook on your way down, but it's not that impressive of a viewpoint. Not after the Tower.
Once you've finished the downhill scramble, the remaining 2.5 km is a mix of slow and steady up and down. You're back in the forest, but the trail here is a lot narrower than the beginning of your hike.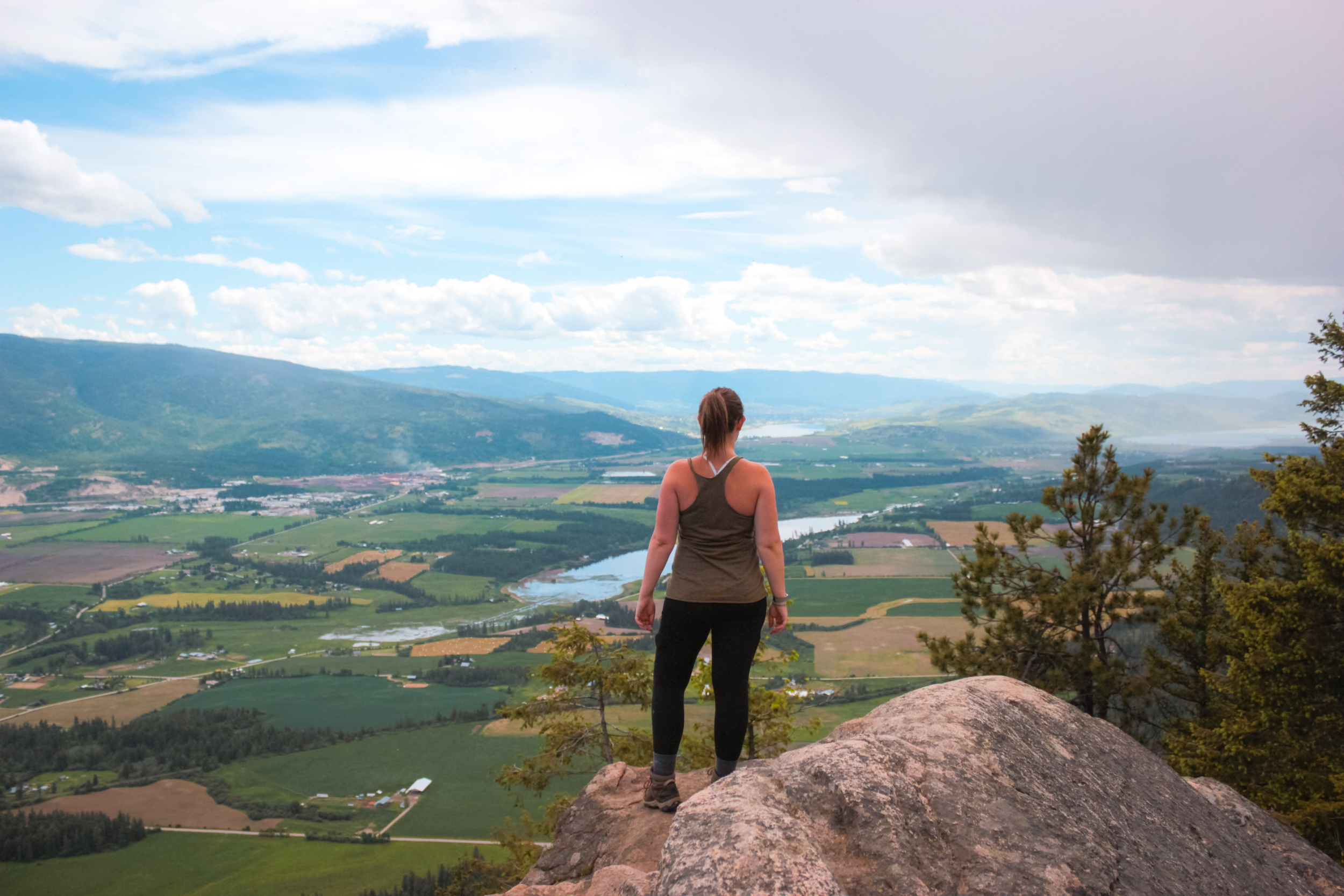 Wildlife & Plants
Like the rest of the Okanagan, there's always the chance of running into wildlife while hiking at Mt Rose Swanson. Moose and bear are quite common in the area, but hikers don't usually run into them. Still, it never hurts to read up on your bear safety before you head out.
In the spring, there are all kinds of wildflowers on the mountain! Chocolate lilies, Indian paintbrush, wild rose, and wild strawberries are just a few of the beautiful plants that adorn the hills.
To keep yourself and the wildlife safe, I highly recommend RecSafe with Wildlife's bear safety online course. Kim's doing amazing work educating people about bear and wildlife safety!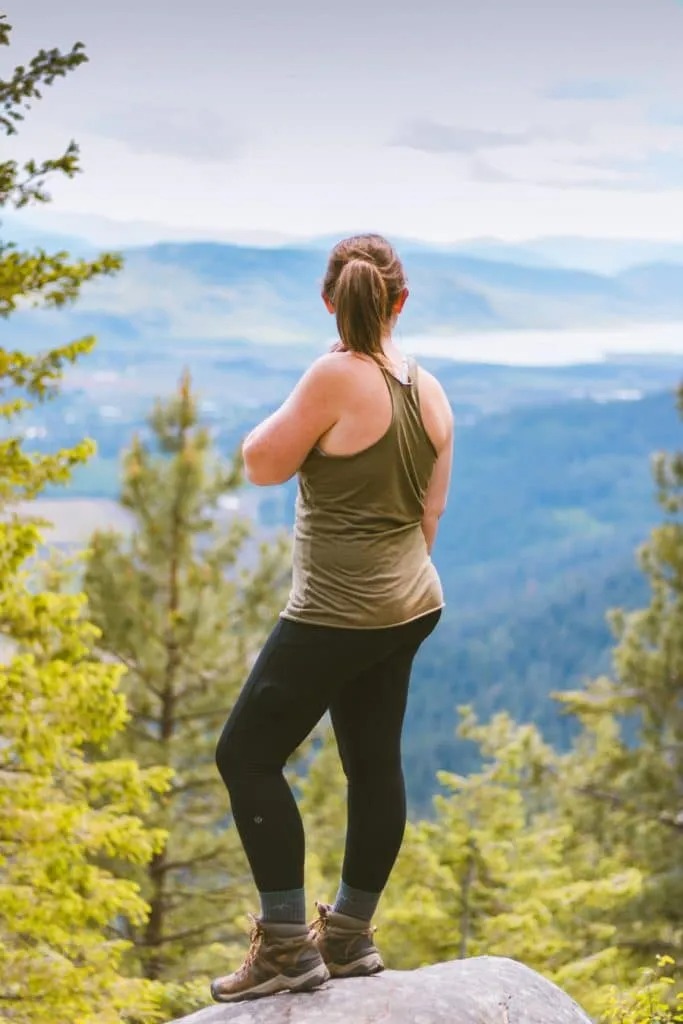 Recommended Gear
The Mt Rose Swanson trail network is a moderately difficult hike, so it's important to prepare before you head out. A few simple things will make your hike a lot more enjoyable.
Water: Water's soo important to keep your energy levels up! I recommend bringing both a hydration pack and water bottle, as well as a few electrolyte tablets in case you need an extra boost.
Proper footwear: The right footwear is gonna make all the difference on this trail. There are some very rocky sections and hiking boots will be your saving grace.
Ten essentials: Since this is a longer hike with the potential to get lost, the ten hiking essentials are a great idea to bring. Bonus points if you bring a bear bell.
Buy spray: Especially in the spring, the mosquitoes can get pretty aggressive on some parts of the trail. I love Primally Pure's bug spray because it's natural, smells wonderful, and above all, works!
Sun protection: Anytime you're hiking in the Okanagan during the summer, it's super important to protect yourself from the sun. Make sure to wear a hat, sunscreen, and sunglasses. You could even wear sun-rated clothing — which, surprisingly, isn't super ugly.