Liard River Hot Springs Provincial Park in Northern BC
In the depths of northern BC, Liard River Hot Springs is a great place to set up camp, relax, and marvel at nature. Liard is a wonderful place to spend a night camping and to take full advantage of the nearby hot springs.
Not all provincial parks are created equal. Luckily, the Liard River Hot Springs campground is one of the better ones! The campground itself is well maintained and private, and the hot springs are beautiful.
Even though there isn't much else to do in the area other than soak in the hot springs, it's worth spending at least one night at the campground. We easily filled up our day with two soaks in the hot springs and relaxing in camp.
Disclosure: This article may contain affiliate links and I may earn a commission, at no cost to you, if you click and/or buy a product online (even if it's not the product linked). I take great care to only recommend helpful products and appreciate your support!
Liard Quick Stats
Liard River Hot Springs Provincial Park is located at Historic Mile 496 (kilometre 765) on the Alaska Highway. It's basically on the border of BC and the Yukon.
Campsites: 53
Camping type: Front-country
Park size: 1,082 hectares
Campground Fees: $26/night & includes hot springs free | $16/night off-season
Hot Springs Fee: Day use: $5/adults, $3/kids, $10/families | Annual pass: $10/adults, $20/families |Off-season: Free *Cash only
Dates: Year-round
Location: Liard Hot Springs
LIARD RIVER WEATHER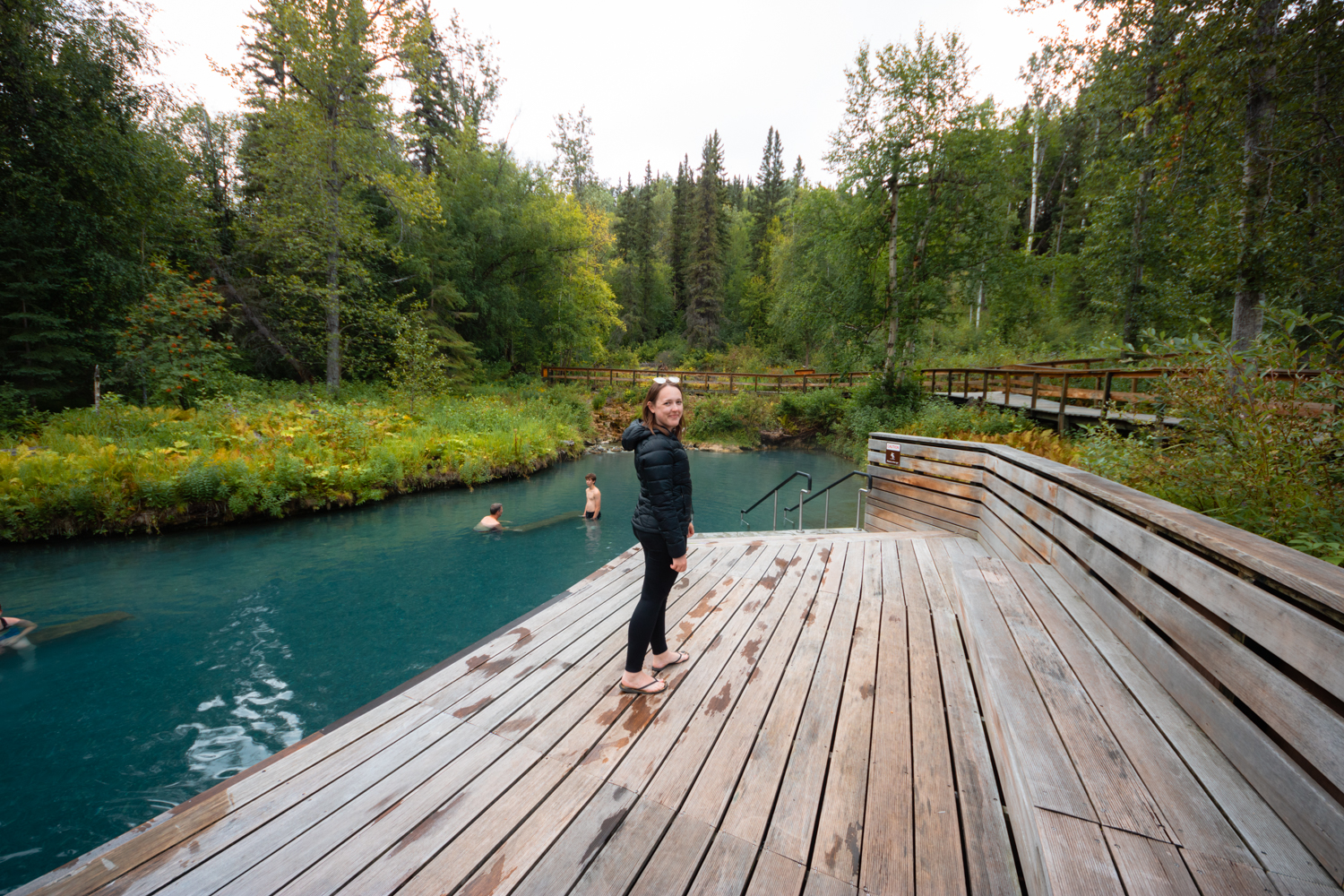 Liard River Hot Springs
If you're into hot springs — which, I'll be honest, it would be weird if you weren't — you'll definitely wanna visit the second-largest hot springs in Canada! Liard Hot Springs is second only to Fairmont Hot Springs. But, Liard is actually the largest natural hot springs in the country. Pretty cool, eh?
The hot springs themselves are only a short, ten-minute walk from the campground. They're connected by a boardwalk that passes through a warm swamp and boreal forest where you can often spot wildlife like moose and elk! We didn't see any, but we were lucky enough to spot bison on the highway just outside of the park.
The day-use area gives you access to many of the same facilities as the full campground, including the hot springs, playground, toilets, picnic area, and potable water. Many people stop for only a few hours to enjoy Liard Hot Springs, but I think you should actually camp here. You'll have more time to enjoy the peaceful, relaxing waters and check out the area! Plus, we all deserve to slow down a little. Breathe in that fresh air and leave the road behind for a moment.
Liard Hot Springs Campground
The Liard River campground is open year-round, but full facilities are only available from May 1 through September 30. There are 53 sites; 21 are reservable and the rest are first-come-first-serve. If you wanna make a reservation, you can do it through Discover Camping.
The campground fills quickly during the summer, so if you wanna nab a first-come-first-serve site, you gotta be on the ball. Checkout is 11 am, so try to arrive shortly after. We got there at 11:45 am and had our pick of about half the campground. There's also a large overflow area across the highway that has a few fire rings, pit toilets, and dumpsters. Not the nicest, but it's better than nothing!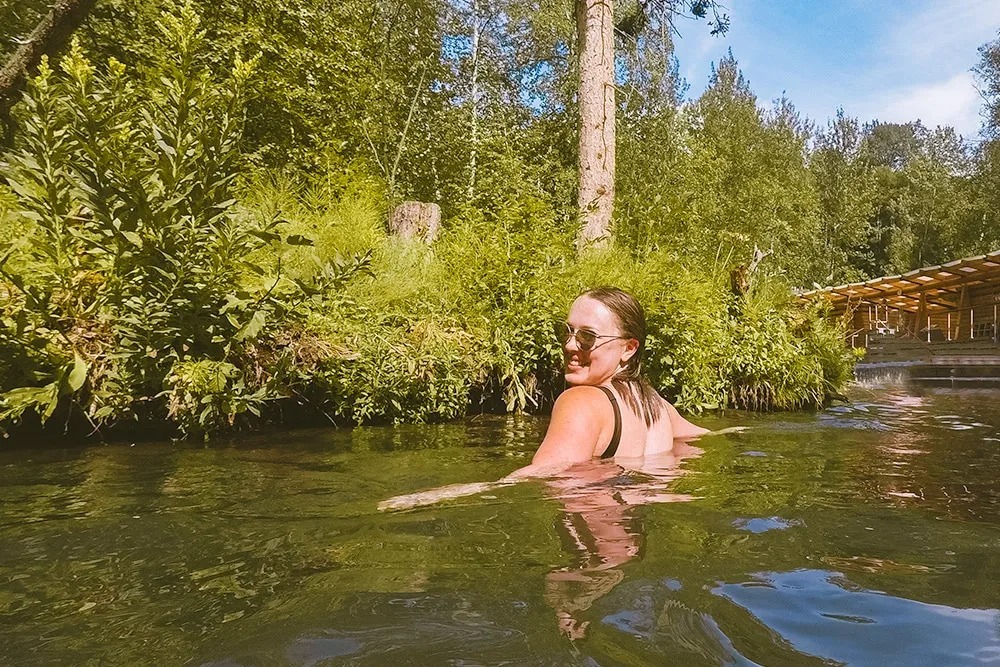 Campsites
The campsites at Liard River Hot Springs campground are awesome! They're large, always freshly raked, and very private with plenty of space and trees between them. The picnic tables and fire rings are well maintained and every site is pretty level which made it easy to sleep in tents.
Some people have mentioned highway noise from sites near the road, but it generally quiets down in the evening.
The sites are also big enough to accommodate RVs and trailers up to 32'. They're back-in only and have no hookups, but you can get potable water from the tap near the entrance. However, it's not an ideal place to fill up because your trailer would block the road.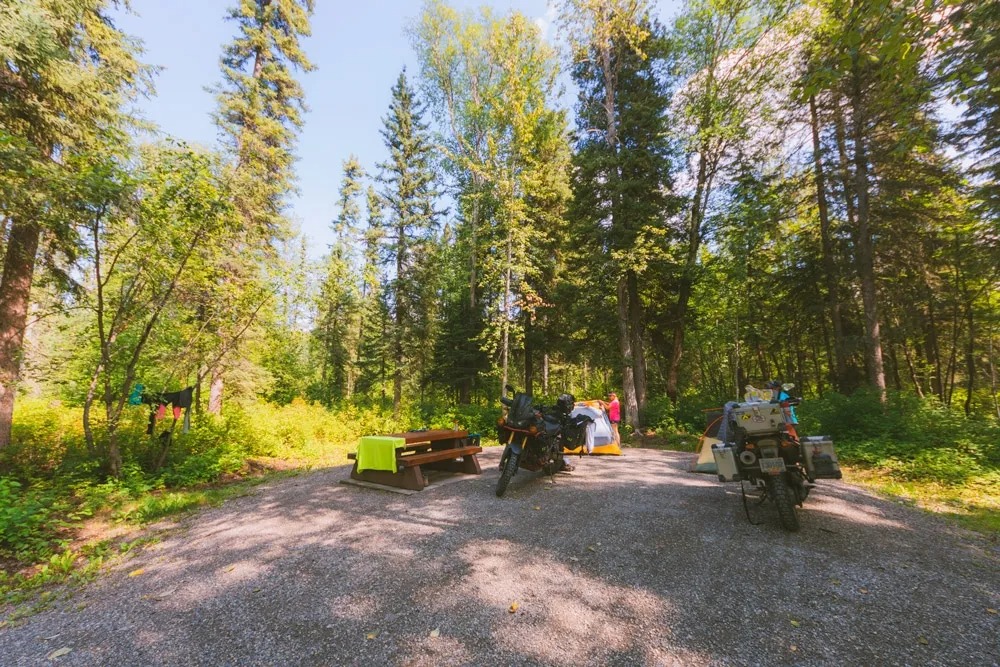 Camping & Hot Spring Fees
Campsites are $26 per night for both the main campground and overflow, but during the winter it's reduced to $16. Your camping fee also includes access to Liard Hot Springs, which is an awesome deal because camping and pool fees are usually separate.
If you're only visiting for the day, day-use passes are $5 for adults, $3 for kids, or $10 for families. If you visit lots, you might wanna get an annual pass because they're $10 for adults and $20 for families.
You can pay for camping and day-use at the gatehouse, which doubles as the local visitor centre. The staff are super friendly and happy to answer your questions! Your fees go towards the park by funding services, staff, and maintenance. Just keep in mind that you can only pay in cash and you'll be outta luck if you only have a card.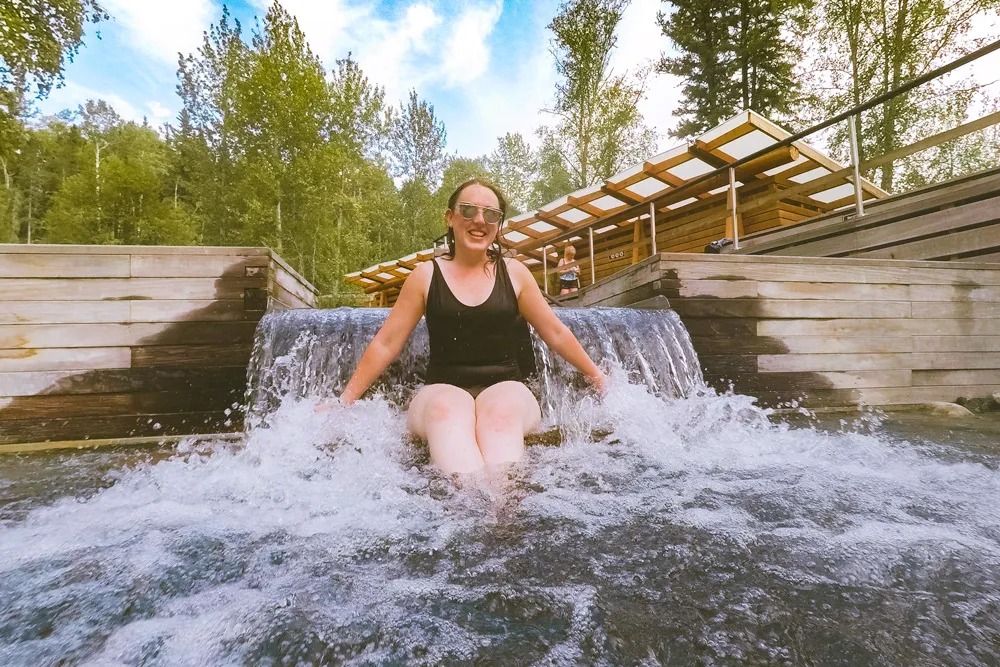 Amenities & Services
The Liard River Hot Springs campground has limited services. There are no hookups, cell service, wifi, or showers. You're left without any amenities or services, though! There are picnic tables and fire rings with grates in every site, potable water, pit toilets, trash cans, a great playground, and picnic shelters. There's also a book swap inside the gatehouse (or $2 per book if you don't have one to swap).
During the off-season (October 1 through April 30), you won't be able to get potable water.
If you absolutely need a taste of home, you can get wifi and rent showers at the lodge across the highway. Don't expect a lightning speed internet connection, though, and be grateful for the shower because there aren't many places for one along the Alaska Highway.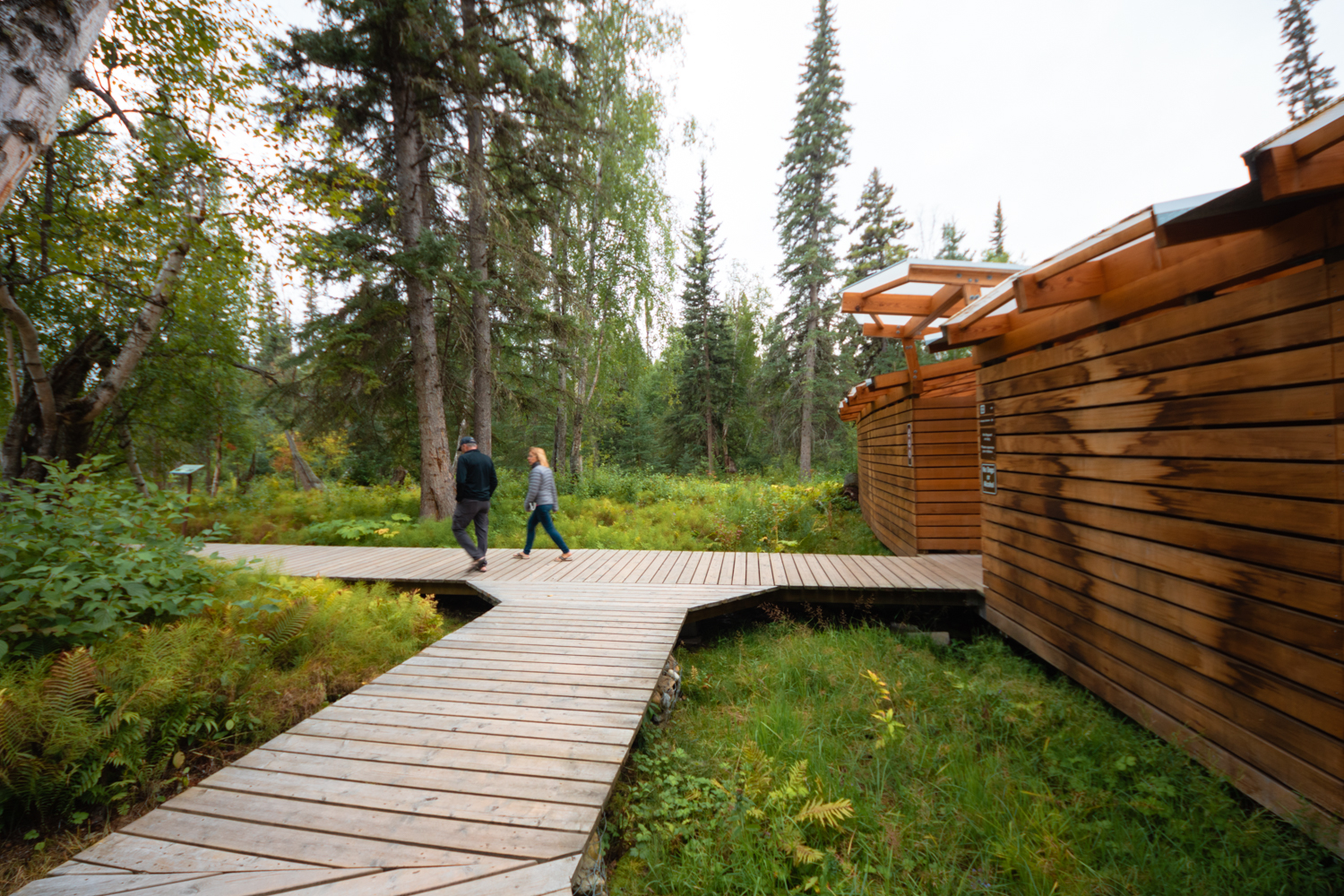 Pets
Your pets are welcome in the campground, but they need to be kept on a leash. When you're headed up for a soak in the hot springs, your furry friends need to be left at camp because they aren't allowed in the hot springs area.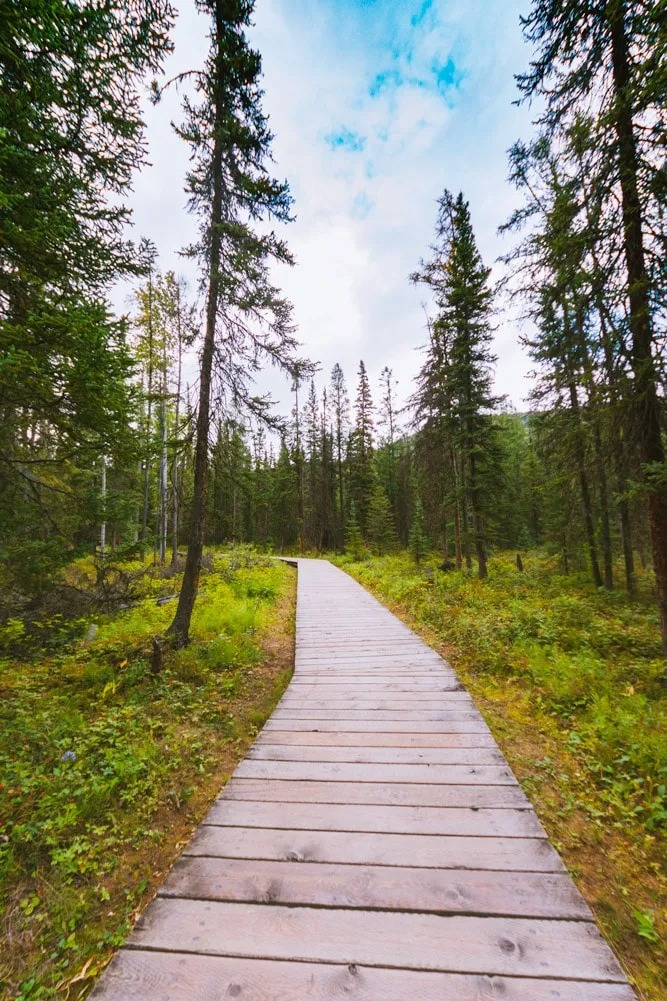 Food
There are very limited food options in the area. If you don't bring your own food, your only convenient option is the Liard Hot Springs Lodge across the highway which has a convenience store and restaurant. There are other options at Muncho Lake Provincial Park, but it's about an hour away.
The convenience store has very few options and we found it quite expensive; we paid $2.50 each for Mr Noodle cups. The simple, sit-down restaurant, though, is a much better option if you're looking to fill up after a long day on the road. There's a decent selection of food but no special dietary options or fancy meals. It's also a little expensive, but that's not surprising considering the extremely remote location in northern BC. We were just happy to have a warm meal after a few long days on the road!
The campground also has bear storage lockers, which you should definitely take advantage of if you're sleeping in a tent.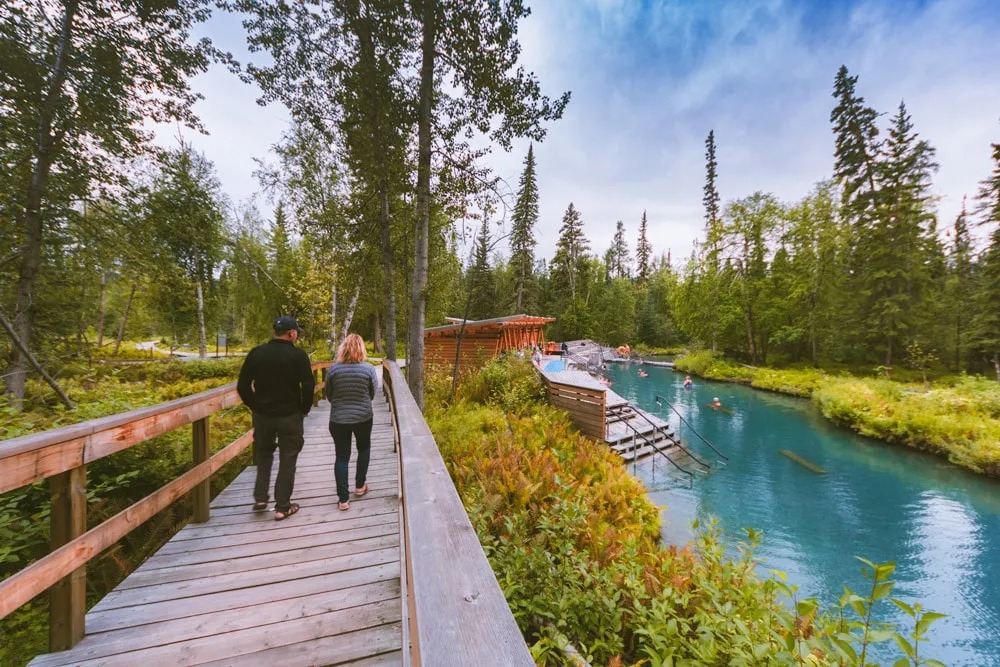 Gear Recommendations
The Liard Hot Springs campground is located deep in northern BC and is almost on the Yukon border. There are very few amenities or services around, so it's important to be prepared when you head up.
PS: Bring CASH. The campground and hot springs only accept cash.