Pincushion Mountain in Peachland, BC
Pincushion Mountain is an iconic hike in Peachland.
In fact, I've heard a rumour that to be a real Peachlander you need to climb Pincushion Mountain. Whether that's true or not, I dunno. But, that begs the question: do you want to be an honourary Peachlander? Maybe it sounds silly, but I think it's just enough of a random reason to do the hike.
But if you're not into random reasons like that, there are the absolutely stunning views of Okanagan Lake and an iconic Canadian flag that should get ya out there. Take your pick of reason, just go hike the damn mountain!
Disclosure: This article may contain affiliate links and I may earn a commission, at no cost to you, if you click and/or buy a product online (even if it's not the product linked). I take great care to only recommend helpful products and appreciate your support!
Quick Stats on Pincushion Mountain
Pincushion Mountain in Peachland is only 26 km from Kelowna. Since it's super close to the hub of the Okanagan, it's great for a quick day hike any time of the year. Plus, it's one of those unicorn trails where there are spectacular views throughout the entire hike instead of just the summit.
Difficulty: Moderate
Trail Type: Out-and-back
Length: 4.2 km (see map)
Trailhead: Ponderosa Dr
Fee: Free
PEACHLAND WEATHER
What to Expect
Pincushion Mountain is one of my favourite Okanagan hikes! I'm all about panoramic views, especially if it involves Okanagan Lake, and Pincushion certainly doesn't disappoint. The sprawling views from its summit are 100% worth the sometimes difficult uphill climb and occasional choice word.
The Pincushion trail doesn't have many flat sections, but there are quite a few rest stops with amazing views along the way. The first part of the trail is pretty exposed, so it's best to hike early morning or late afternoon when you won't be in the direct sun. Plus, if you head out early you could even enjoy a sunrise! Maybe one day I'll wake up early enough for that.
Hiking to Pincushion's summit takes about an hour, but if you're on a mission you can do it in about 30 minutes. Seriously, though, what's the rush? Take your time and enjoy the views instead!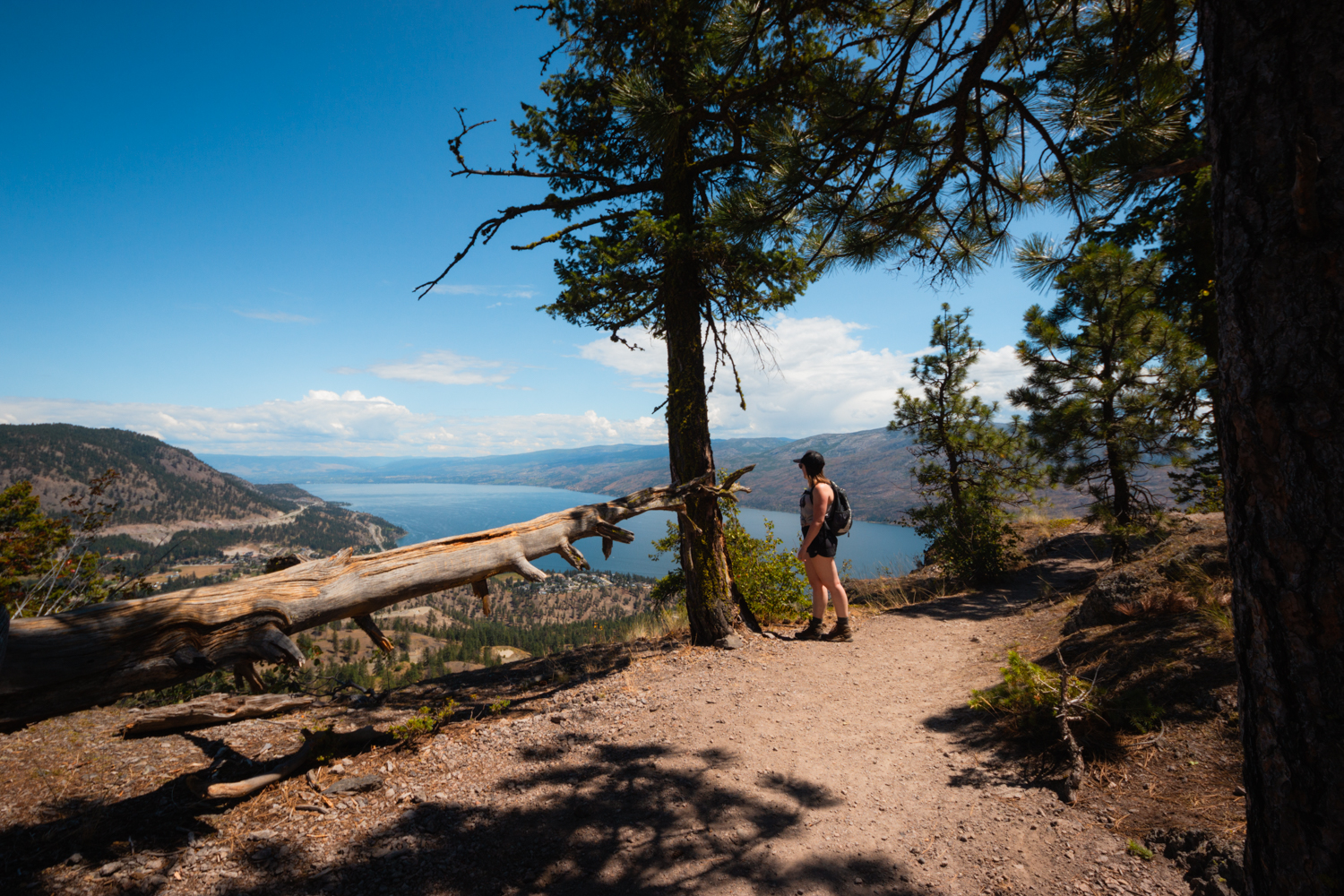 The History of Pincushion Mountain
Pincushion Mountain doesn't have a long, crazy history, but you can thank its past for the mountain's unique name. Any guesses before I tell you?
In the 19th century, a huge fire swept through the area and left behind only a few scraggly trees. When viewed from far away, the mountain looked like a pincushion. So there you have it. Today, if you look carefully while you're hiking you might spot some charred remnants of the fire!
Hiking Pincushion Mountain
Now that you've decided you're going to hike Pincushion Mountain, you'd better be ready to put your climbing feet on!
You'll begin the Pincushion hike by immediately climbing a steep set of stairs, which is quickly replaced by a dirt trail that continues the upward march. Shortly into the hike, about 250 m, you'll reach an old dirt road. Take a right and walk for about 50 m, at which point you'll reconnect with the trail as it heads uphill on your left. It's easy to overlook the trail as it heads into the forest, so watch out for a small #3 trail sign which marks your return to the main trail.
The trail switchbacks up the hill and continues its quick elevation gain. You'll pass in and out of the forest cover and come to viewpoints with increasingly great views. As you near the top of the mountain, the forest becomes lusher and the trail much more shaded. The trail is well worn, but it's still a good idea to keep your eyes peeled for the trail markers. Watch for either brown #3 signs, pieces of pink ribbon, or old red signs in the trees.
Most of this section of the Pincushion trail winds its way along the side of the mountain. If you're lucky, you'll feel a cool breeze coming off the water.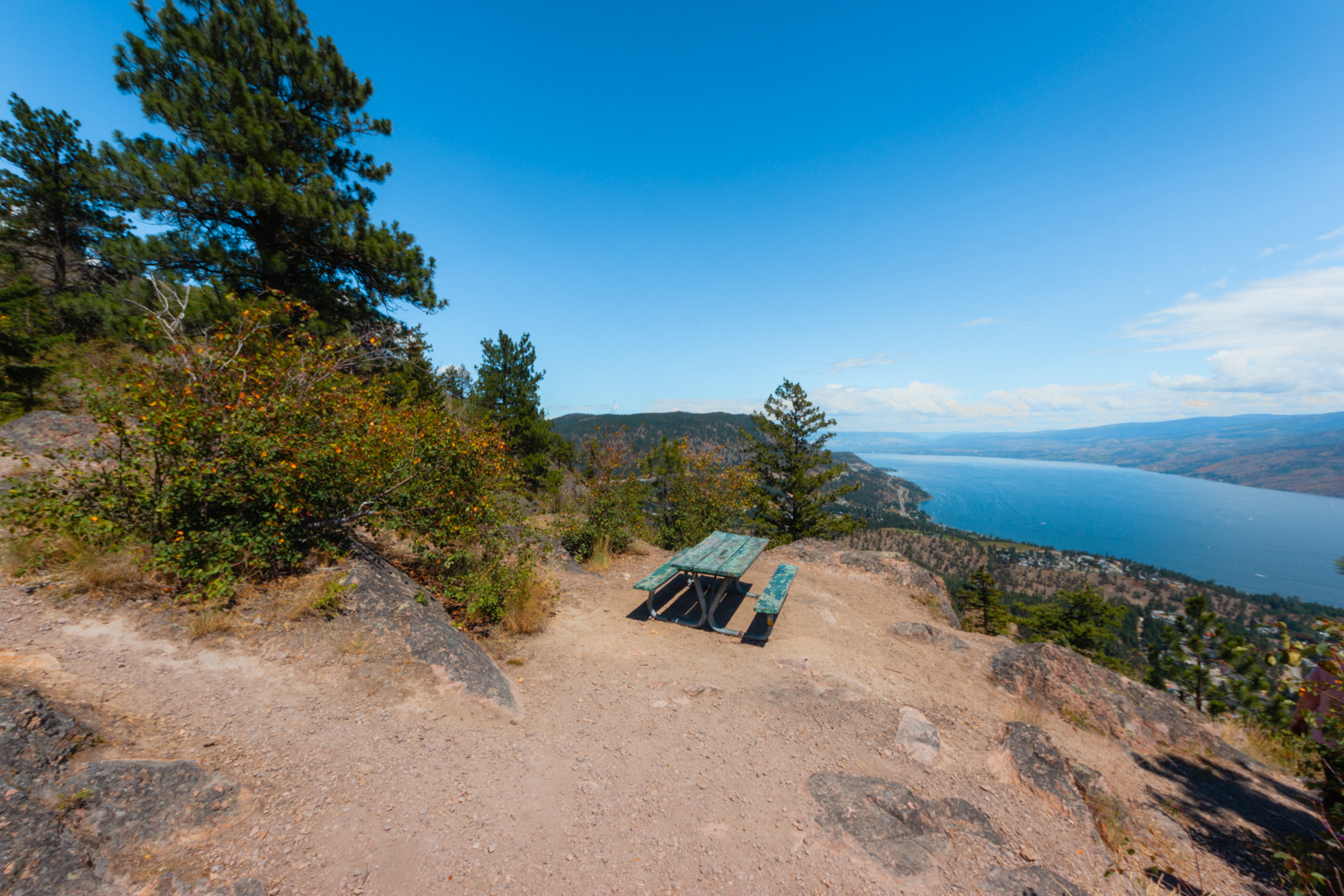 Top of Pincushion Mountain
Before you reach the official summit of Pincushion, the trail flattens out and you'll hike along the top of the mountain. There are lots of trees, as well as rocky expanses that you'll climb over. They're fun to climb, but be careful not to trip and twist your ankle!
This section of the trail also has some of the most technical parts of the entire hike. In one part, you'll need to use a tree to support yourself through a small crevice. In another, you'll need to watch your footing as you climb a small rock face. Neither are overly difficult, but they can be awkward.
Before long, you'll reach what appears to be the summit. You're high above Okanagan Lake and can see far in every direction. But you're not done yet! Keep going and soon you'll see the summit below.
Pincushion Mountain Summit
When you see a Canadian flag flying near a rocky ledge, you've reached the summit of Pincushion Mountain! The summit isn't actually the highest point of the hike, but it offers the best views because it's so exposed. You can even see as far south as the mountain peaks around Penticton. While you're at the summit, see if you can spot the sleeping dragon across the lake (hint: it's in the mountains).
There are lots of rocky outcroppings at the summit which are fun to explore! There's also a picnic table where you can enjoy a quick refuel. We've never actually used the picnic table, but Jacob and I are well acquainted with the rocks surrounding it because that's where we've always taken our breaks.
At the base of the flagpole, there's a log book where you can sign your name and check out all the other hikes who have enjoyed the climb.
When to hike Pincushion
Pincushion Mountain is open year-round. Your experience will be very different every season, so don't be afraid to give it a try at a new time of the year! It might just seem like a new trail. Personally, I like hiking it most between May and October.
In the spring, the trail is often muddy until at least April. Go slow and be prepared to get covered in dirt or even encounter snow if you go at this time. In the winter, the trail gets pretty slippery so snowshoes and crampons make the climb easier.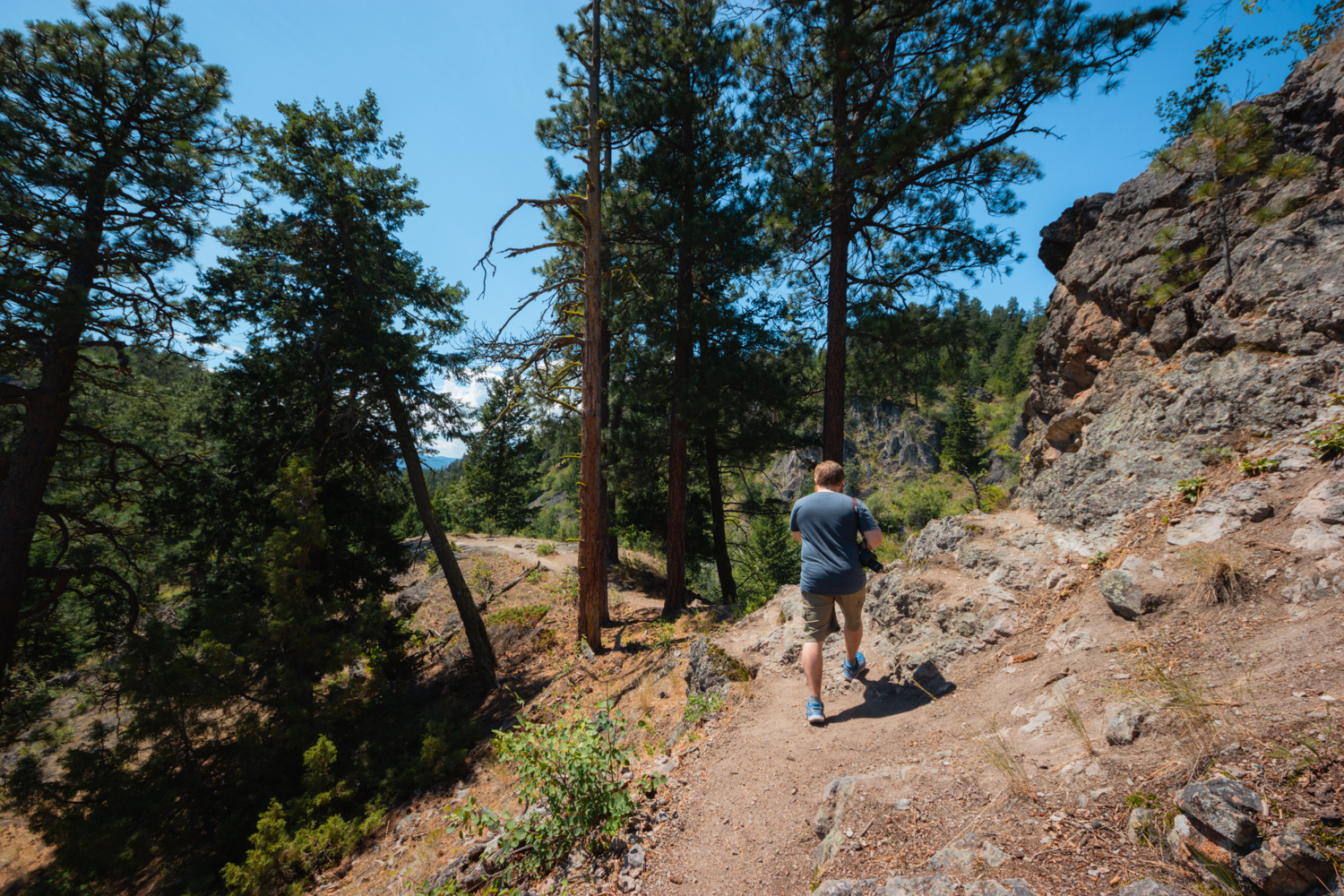 Pets
You're more than welcome to bring your dog on the Pincushion trail. Just remember to be a respectful dog owner by keeping your pooch on a leash and always cleaning up after them. No one wants to step in your pooch's poop.
I also recommend bringing a doggie water bowl because there are no water sources on the trail.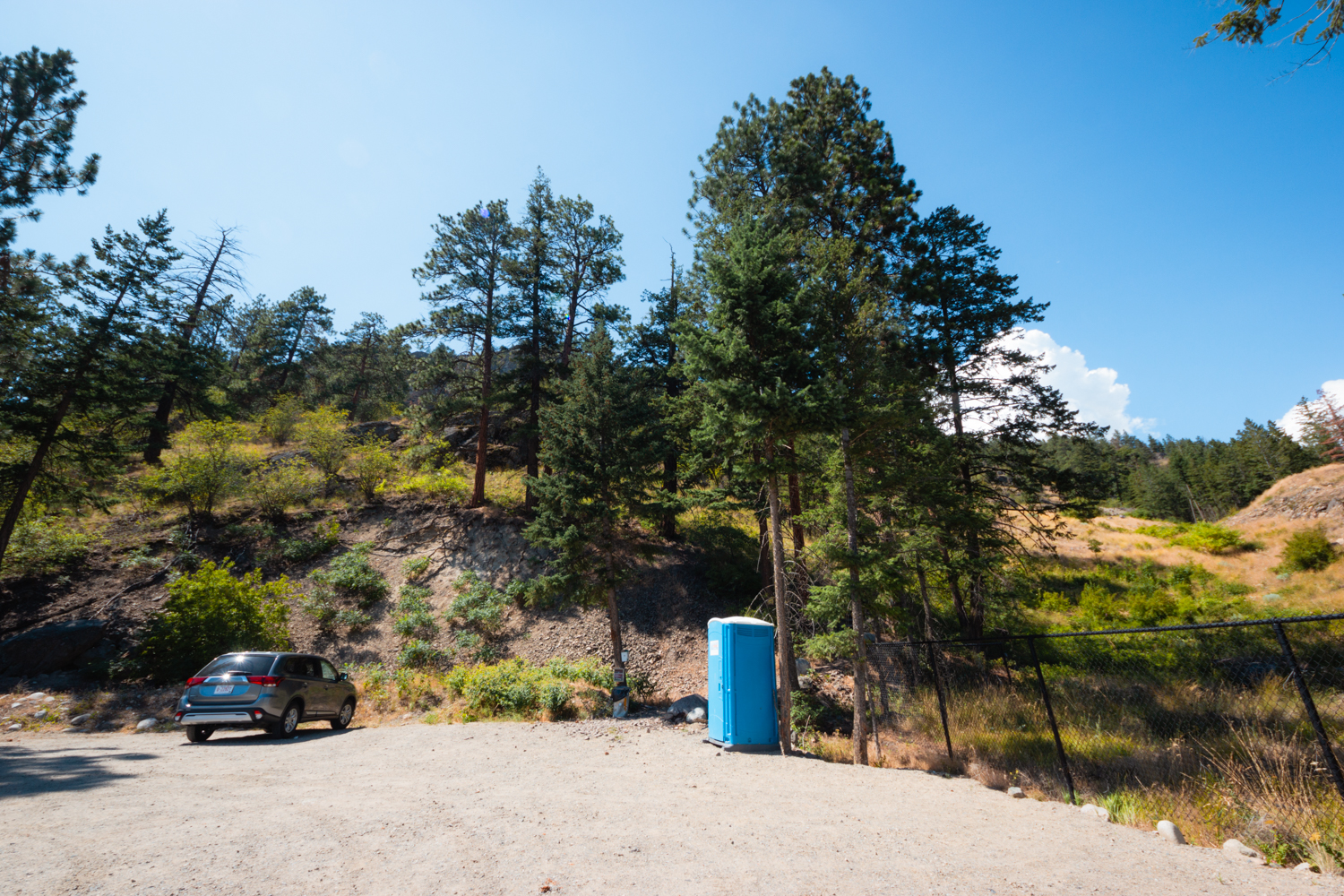 Parking
The parking lot at the Pincushion trailhead is pretty small, so if it's already full when you get there just park in the subdivision below. The trailhead is located directly off the parking lot, just behind the trail's only outhouse.
Wildlife
It's pretty common to see wildlife like deer, grouse, marmot, and garter snakes on the Pincushion trail. Bears are sometimes spotted (mostly in the summer), so always keep your eyes peels and practice bear safety while you're out hiking.
No matter what animal you see, whether it's a full-grown bear or a small bird, always give them plenty of space and don't try to feed them.
To keep yourself and the wildlife safe, I highly recommend RecSafe with Wildlife's bear safety online course. Kim's doing amazing work educating people about bear and wildlife safety!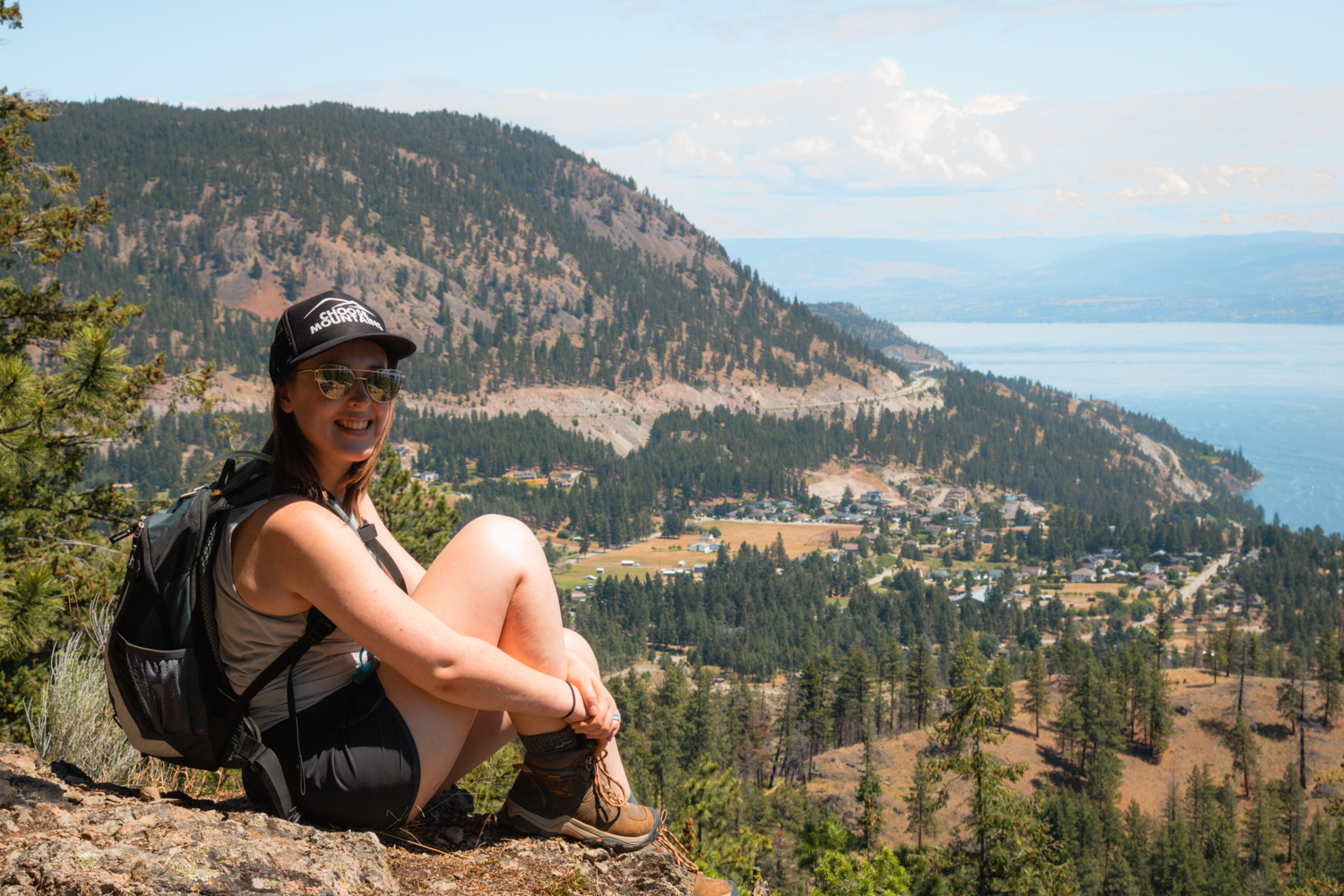 Gear Recommendations
There are steep sections and loose gravel on the Pincushion hike, so it's important to come prepared. I've seen people wearing dresses and flip flops with little to no water, and all I can think is what a difficult time they must have had. Not to mention how unsafe it is.