Quail Ridge Linear Park in Kelowna, BC
When all you want to do is meander through the forest, check out the Quail Ridge Linear Park in Kelowna. Quail Ridge Linear Park is a great place to simply enjoy nature. There are two main trails in the park: Quail Flume and Eagle View.
Both trails follow an old irrigation canal between UBCO and Quail Ridge. The trails aren't well known, which means you'll likely only encounter a handful of people. There aren't any spectacular viewpoints, but don't write it off because of that.
If you wanna check out some other awesome, easy hikes around Kelowna, you're in luck — I've written a whole article about it! And remember, have fun out there.
Disclosure: This article may contain affiliate links and I may earn a commission, at no cost to you, if you click and/or buy a product online (even if it's not the product linked). I take great care to only recommend helpful products and appreciate your support!
Quick Trail Stats
The Quail Flume and Eagle View trails are great for a morning run or evening stroll. They're quiet, lesser-known trails where you can catch a glimpse of some wildlife and simply take in the beauty.
Difficulty: Easy
Trail Type: Linear or out-and-back
Length: ~3.3 km one-way (see map)
Trailhead: Quail Crescent, UBCO Lot G (fees may apply)
Park Size: 3.29 hectare
KELOWNA WEATHER
Quail Ridge Linear Park
Quail Ridge Linear Park is a narrow, long strip of land between Quail Ridge and UBCO. It has two trails that follow an old irrigation canal.
I like history, but there aren't a lot of "old" structures you can check out in the Okanagan so when I find something even a little historical, I jump at it. There isn't a ton of info online about the flume, but there are a few plaques along the trail that'll give you a quick history lesson.
What to Expect at Quail Ridge
The trails at Quail Ridge Linear Park (Quail Flume and Eagle View) are very easy. They're wide, covered in gravel, and mostly flat.
The park is tucked away behind a pretty big subdivision and runs all the way to UBCO through a beautiful forest of Ponderosa Pine. The Eagle View and Quail Flume trails run parallel for most of the length of the park.
The two trails create a barrier between Quail Ridge and the Glenmore landfill. Don't let that scare you away, though! The landfill isn't that obvious.
Even though the trails are sandwiched in a small forest corridor, you'll likely hear chirping frogs and birds and even spot a coyote in the distant field.
The trail from Quail Crescent to UBCO is about 3.3 km long and people use it for all sorts of activities. From walking and trail running to biking and horseback riding, the Quail Ridge Linear Park is great for everyone looking to get outside.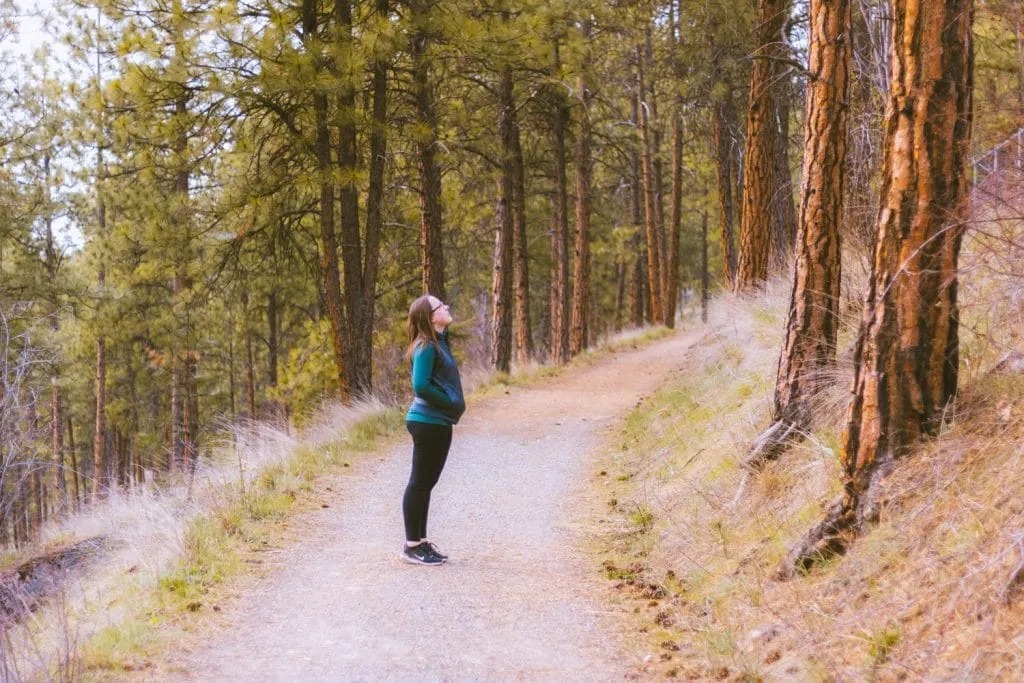 The Quail Flume & Eagle View Trails
The Quail Flume and Eagle View trails are extremely obvious.
They're wide and made of hard-packed gravel, so there's absolutely zero chance of getting lost. The trail follows the old cement flume for kilometers as it skirts the backyards of beautiful homes and a perfectly manicured golf course.
As you approach the university, the forest gives way to a large field where animals like coyotes like to hang out. From here, you can enjoy views of Robert Lake and Dilworth Mountain.
For the most part, the trails are pretty flat. At the trailhead, you'll come to a fork where the Quail Flume and Eagle View trails branch off from one another. This is probably the steepest part of the whole hike. The two trails run parallel for a while and there's a connector about 2.5 km in if you want to change this there-and-back hike into a loop.
Thanks to the many Ponderosa pines, the trail is pretty shaded but there's not a lot of wind and almost no water throughout the hike, so it can get a little warmish in the summer.
The old irrigation flume runs parallel to the park for almost the entire length. It's a few feet wide and only about a foot or so deep. There's no longer any water in it, but lots of plants now call it home. For the most part, it's uncovered but there are a few sections where it's been buried in dirt.
Views at Quail Ridge Linear Park
Even though there aren't any sprawling, spectacular viewpoints at Quail Ridge Park, you can get glimpses of nearby mountains and Robert Lake as you approach UBCO.
There's a bench and even a little bridge along the way.
Parking
Parking for the Quail Flume Trail is easy peasy if you start at the Quail Crescent trailhead. There's a pretty large gravel parking lot, but since most hikers live in the area, there's usually only a couple of cars there. There's no gate, so you don't have to worry about your car getting locked in.
However, if you start from UBCO it's a little trickier. The parking lot is designated for students and you could get ticketed if you park there without a permit. From September 1 until April 30, you can pay to park in Lot G (which is near the trailhead). For up-to-date fees, check out UBCO's website.
Recommended Gear
Honestly, this is a pretty easy hike so you won't need too much gear. You probably don't need to bring the ten essentials or even a backpack, but there are a few things you should grab before you head out.