Blanket Creek Provincial Park near Revelstoke, BC
Everything you need to know about Blanket Creek Provincial Park in BC.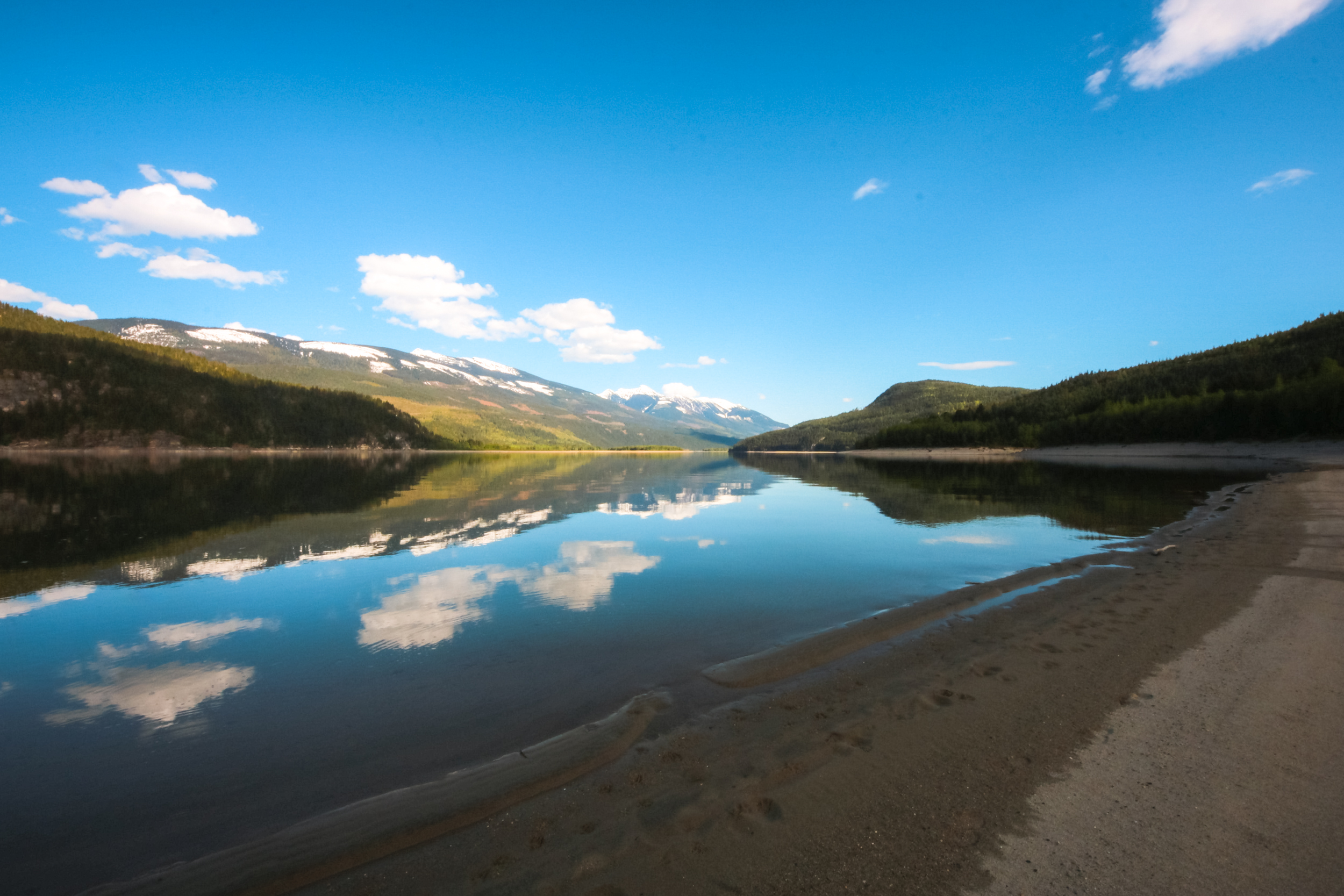 Blanket Creek Provincial Park is a beautiful camping area near Revelstoke, BC.
Set on the shores of Upper Arrow Lake, you can enjoy picturesque sandy beaches, breathtaking snow-capped mountains, a historic homestead, access to Sutherland Falls, relaxful camping, and more.
Blanket Creek features a campground that's great for families, couples, and anyone that loves outdoor adventures. The Blanket Creek campground has 105 vehicle-accessible campsites that offer plenty of privacy, free hot showers, flush toilets, drinking water, and firewood.
It's also a great base for exploring. Besides the many things you can do in the park itself, you can also take a ferry to soak in Nakusp, Halcyon, and Halfway hot springs.  If you're up for a hike, Mt Revelstoke and Glacier National Parks are only a short drive away.
Disclosure: This article may contain affiliate links and I may earn a commission, at no cost to you, if you click and/or buy a product online (even if it's not the product linked). I take great care to only recommend helpful products and appreciate your support!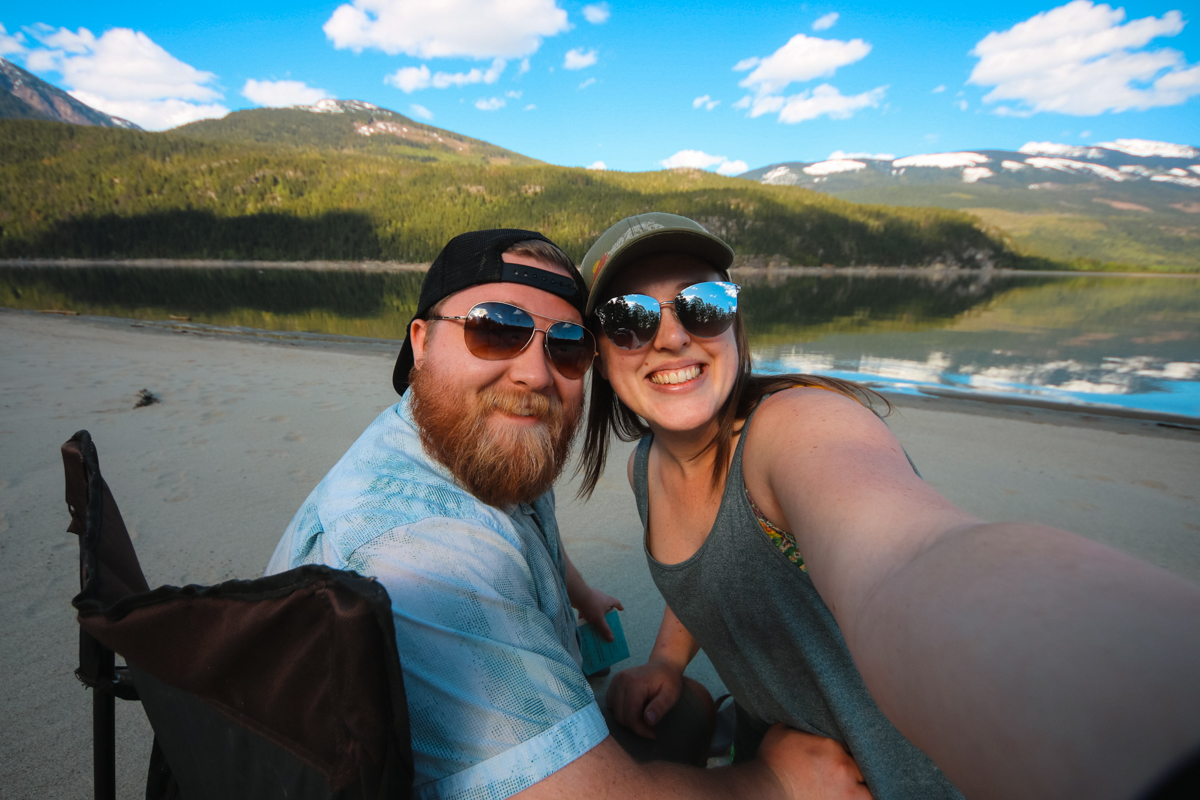 Quick Stats on Blanket Creek Provincial Park
From camping and day-use to hiking and paddling, there's lots to do when you stay at Blanket Creek Provincial Park!
Campsites: 105
Camping type: Front-country
Park size: 318 hectares
Fees: Day use: free | Camping: $28/night
Dates: Day use: year-round | Camping: mid May to late September (make a reservation)
REVELSTOKE WEATHER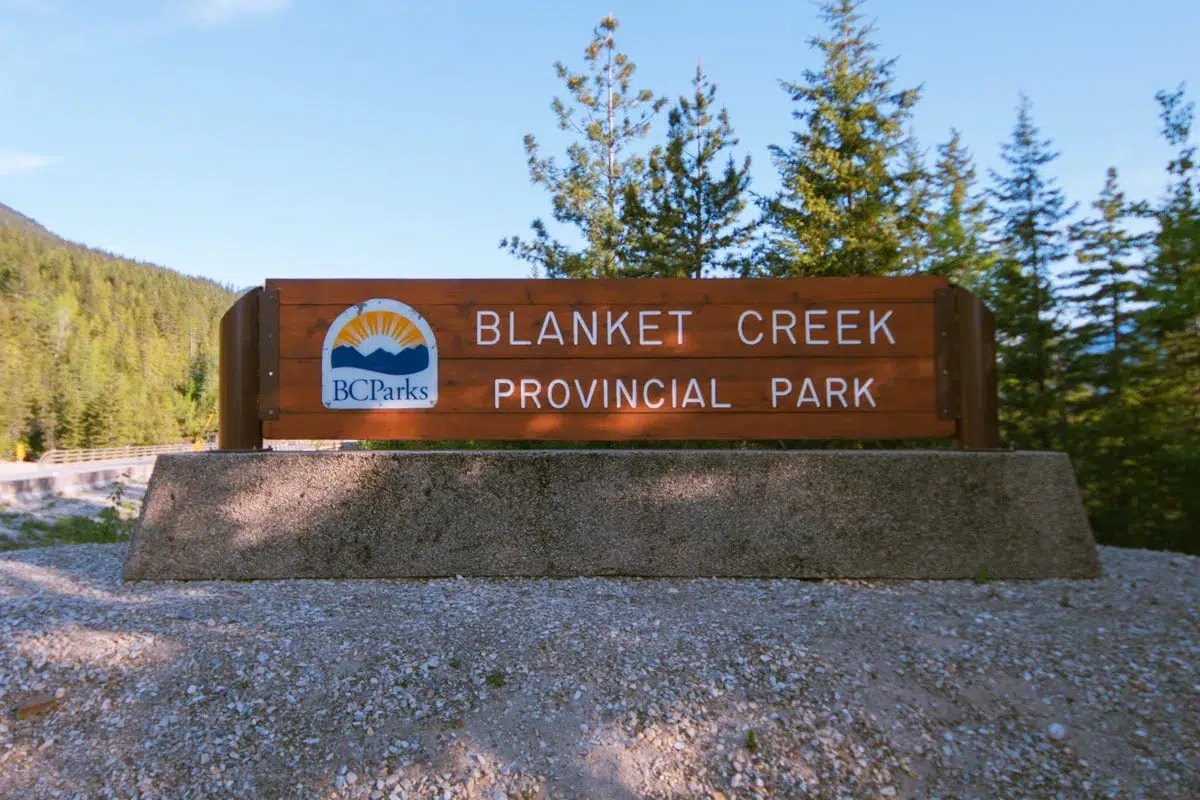 Where is Blanket Creek Provincial Park?
Blanket Creek Provincial Park is located on Highway 23, 30 km from Revelstoke and 81 km from Nakusp. It sits on the shores of Upper Arrow Lake, a man-made reservoir on the Columbia River.
Highway 23, which connects Blanket Creek to the surrounding area, is paved and well-maintained — you can easily bring a trailer or RV. The highway follows the Columbia River from Revelstoke all the way to Nakusp.
Blanket Creek is on the outer edge of the Kootenays region of BC. The Kootenays is a laid-back area with countless outdoor adventures and is a wonderful place to go if you want to escape the craziness of the Okanagan!
I highly recommend using Backroad Mapbooks to find nearby parks, camping, hikes, and other outdoor adventures! The Kootenay Rockies, Canadian Rockies, and Thompson Okanagan editions would serve you well while exploring Blanket Creek.
Directions from Revelstoke
To reach Blanket Creek Provincial Park from Revelstoke, turn off Highway 1 onto Highway 23. This turn-off is near the bridge in Revelstoke. Stay on Highway 23 for 26 km (approximately 20 minutes).
The entrance to Blanket Creek, which will be on your left, is marked by a large wooden provincial park sign. The road into the park is paved and descends quickly to water level.
The entrance gate is locked nightly from 11:00 pm to 7:00 am.
Directions from Nakusp
To reach Blanket Creek Provincial Park from Nakusp, head north on Highway 23. Stay on Highway 23 for 81 km until you reach the park. This drive takes approximately 90 minutes including the ferry crossing (but doesn't include waiting for the ferry).
The Galena Bay Ferry, which you must take to cross the Columbia River, is 30 minutes from Nakusp. The ferry departs Galena Bay every hour on the half-hour and runs from 5:30 am to 12:30 am. Crossings take about 20 minutes. Check the schedule on the government's website.
Once you've crossed the Columbia River, it's about 29 km (25 minutes) from the Shelter Bay Ferry Terminal to Blanket Creek. The entrance to the park will be on your right and is marked by a large wooden provincial park sign. The road into the park is paved and descends quickly to water level.
The entrance gate is locked nightly from 11:00 pm to 7:00 am.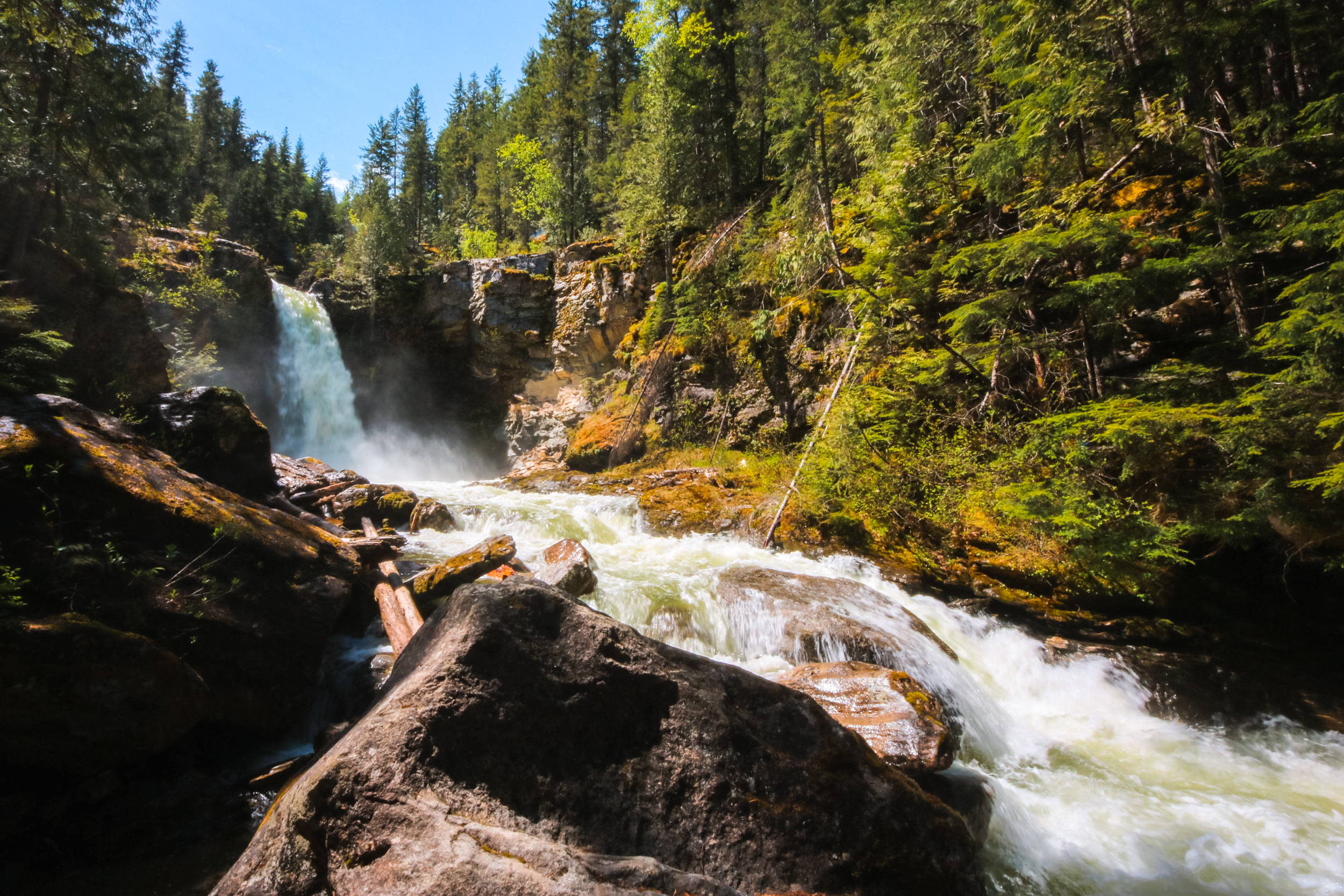 Camping at Blanket Creek
Blanket Creek Provincial Park is most well known for camping. With 105 well-maintained, easy-to-access campsites and a central location to a slew of outdoor activities, Blanket Creek is an ideal camping spot in the west Kootenays.
Camping at Blanket Creek is only available from early May to late September. There are 98 single sites, seven double sites, and two group sites (the group sites aren't vehicle-accessible). Sites are generally very private and shaded.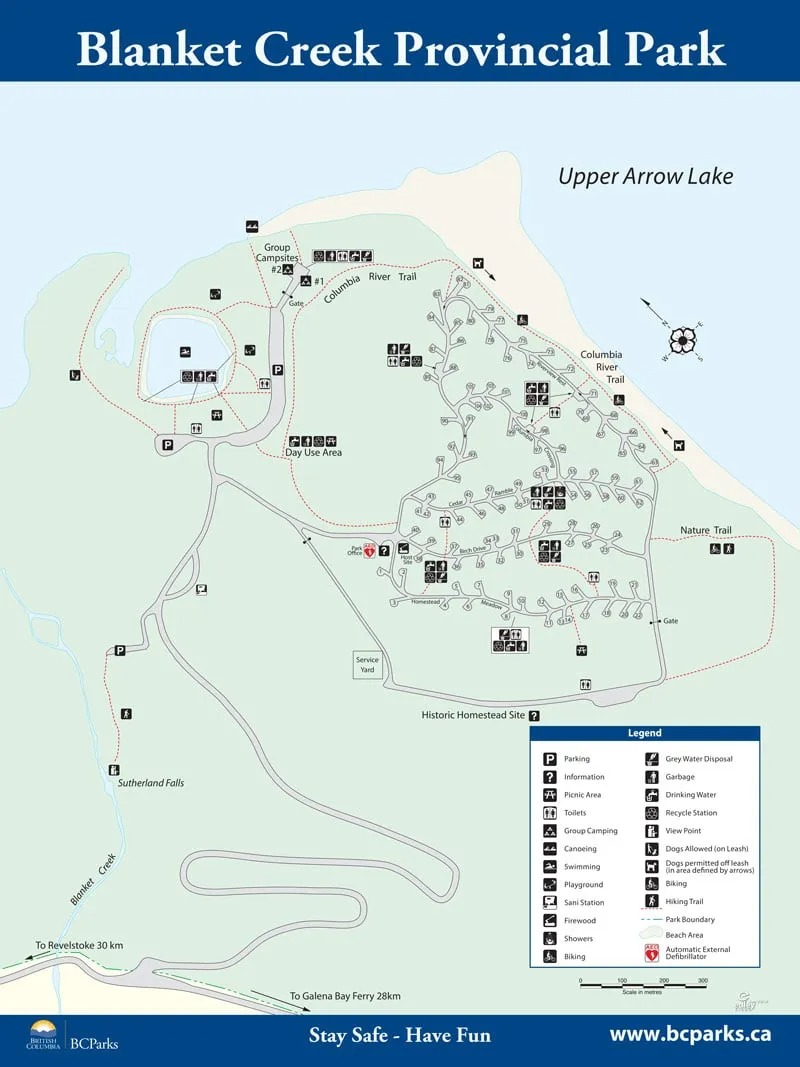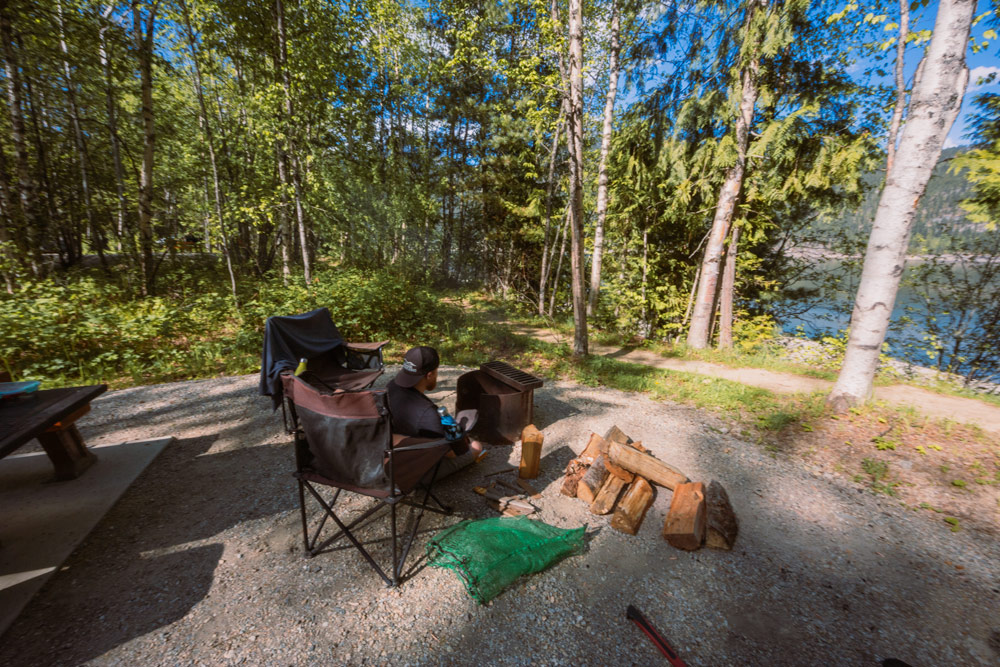 How to Get a Campsite at Blanket Creek
Wondering how to get a campsite at Blanket Creek? Even though it can be hard, it's certainly not impossible. There are a few different ways you can nab a campsite during the peak season: reservations, first-come-first-served, and overflow.
Campsite Reservations at Blanket Creek
Reservations for Blanket Creek are open from mid-May to mid-September and regular sites are reservable two months in advance (starting in mid-March). Although it isn't as popular as other provincial parks, particularly those in the Okanagan, it does book up fairly quickly.
BC Parks is launching a new booking system in March 2022. It will launch on March 21 at bcparks.ca.
First-Come First-Served Campsite
The remaining campsites at Blanket Creek are first-come, first-served. Although these aren't as reliable as reservations, this can be a good option if you're not sure when you'll be there, can't snag a reservation, or want to save on the reservation fees.
Overflow Campsites
Blanket Creek has overflow camping (for tents only) near the day-use area. This can be a good way to wait for a first-come, first-served campsite.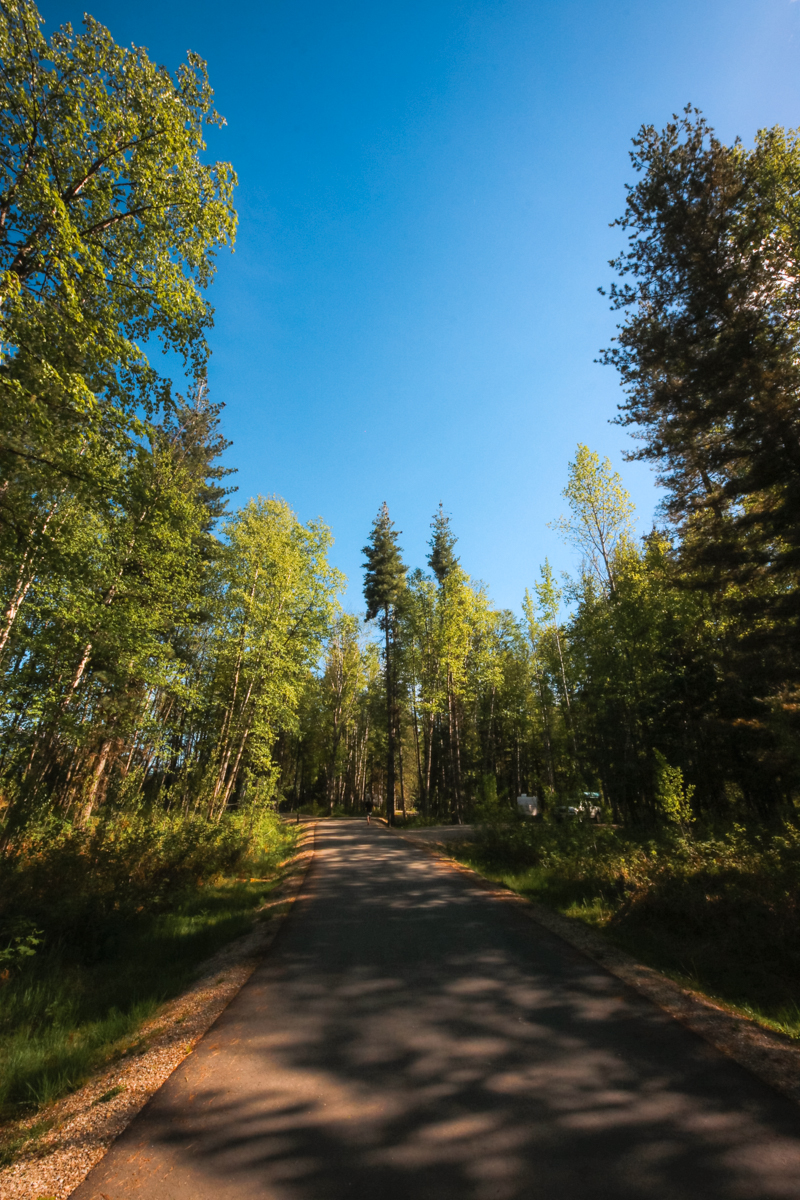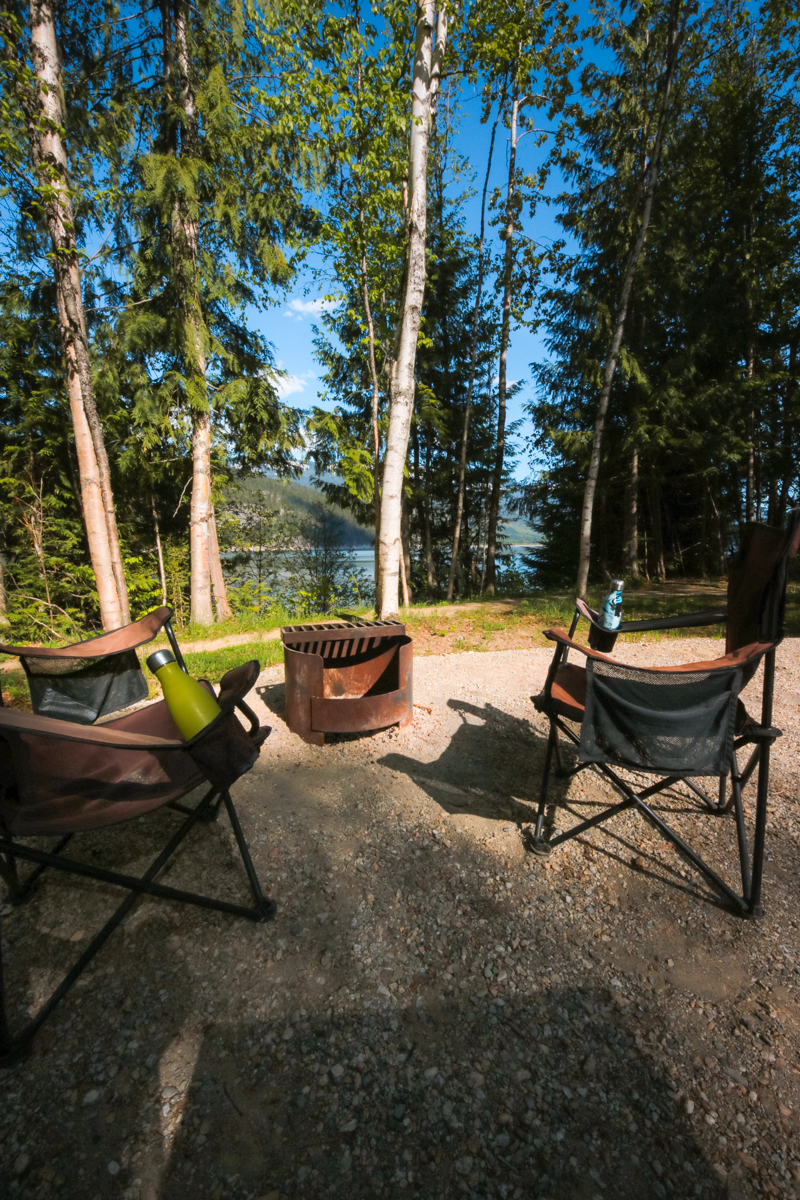 Types of Camping at Blanket Creek
Blanket Creek is exclusively front-country camping, yet it still feels like you're out in nature. Sites are surrounded by white pine, cedar, and hemlock, as well as thick underbrush. The campsites are well spaced, large, and offer plenty of privacy.
Everyone from tents to RVs are welcome. However, there are no pull-through sites, hookups, or tent pads. Many of the sites are quite large and can accommodate extra vehicles or large RVs/trailers, but please double-check the site size before reserving. Site-specific information is available on Discover Camping.
PS: Sites 63, 64, 66, 68, 71, 72, 73, 75, 77, 79, 81, and 82 have wonderful views of the lake, but a walking/biking path cuts through the very end of the sites.
Do you need an RV rental in Revelstoke? Try Outdoorsy — it's sorta like Airbnb for RVs and trailers. AND you can save $50 by using this link!
Camping Fees at Blanket Creek
Blanket Creek accepts cash or credit only.
Regular Campsites: $28/night
Reservation Fee: $6/night
Seniors: $14 per party/night *Applies from the day after Labour Day to June 14
Group Campsite: $120/night + $5 per adult/night & $1 per child/night
Youth Group: $1 per person/night with a $50 minimum and $150 maximum
Second Vehicle: $12/night
Firewood: $10/bundle
Sani Station: $5/discharge (coins or tokens)
*While I do my best to provide up-to-date fees, there may be a discrepancy between what's posted here and the actual cost.
Camp Host Information
The Blanket Creek camp host and park office are located at the entrance to the campground (not the entire park). The park office accepts both cash and credit cards.
The park is operated by West Kootenay Park Management Inc. and can be contacted at 1 (866) 937-5734 and [email protected].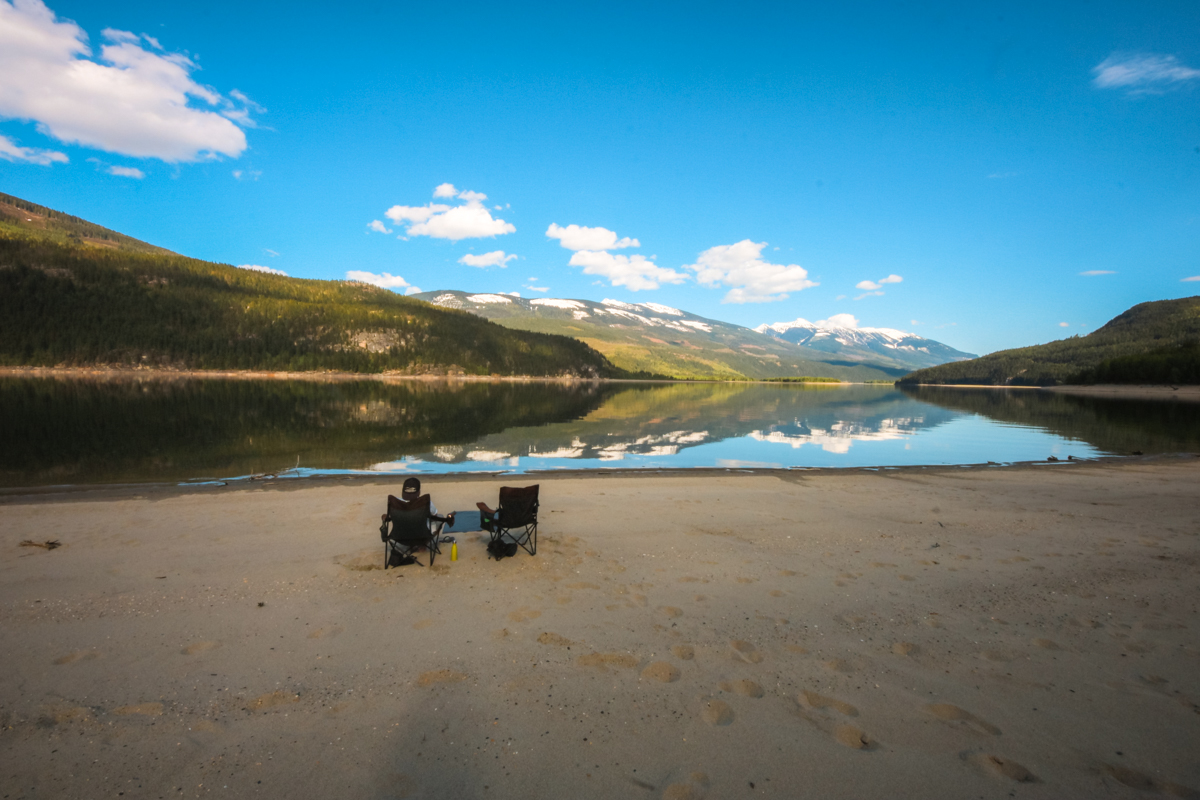 Facilities & Amenities at Blanket Creek Provincial Park
Blanket Creek, like most provincial parks, has plenty of facilities that will make your visit more comfortable. From numerous front-country campsites to hot showers and drinking water, you'll find plenty of creature comforts at Blanket Creek.
Showers & Toilets
The Blanket Creek campground has one shower building with flush toilets, plus four additional flush toilets buildings and eight pit toilets throughout the campground. The day-use area has five pit toilets. The showers are free, hot, and open 24 hours (except for when they're being cleaned).
Potable Water at Blanket Creek
There are seven cold water taps in the Blanket Creek campground and five in the day-use/picnic area. The water taps are turned off during the off-season (October to May).
The water is usually drinkable, but there are sometimes issues that require you to boil it or use a filtration system such as Lifestraw, Steripen, or tablets. There are also designated grey water disposal areas and an RV fill-up at the sani station.
Campfires
Each campsite has a designated campfire ring with a grate that you can use. You can buy firewood for $10 per bundle (credit cards are accepted) at either the park office or when park staff comes by in the evening. However, BC Parks does encourage visitors to conserve wood and use a camp stove instead to help protect the environment.
Fire bans or limited burning hours may be implemented (particularly during the summer) — if you're unsure of the rules, check with staff or the BC Wildfire Service website before lighting a campfire.
Also, don't gather firewood from around the park or your campsite. Besides being ticketable, it helps protect plants and wildlife in the park.
Sani Station
A sani station and potable water fill-up are available at Blanket Creek near the campground entrance. The sani station is $5 per use and only accepts coins or tokens from the park office.
Use this guidebook for more sani stations around BC and Canada.
Parking
Even though the park is fairly large, parking is strictly limited to parking lots and campsites — you can't park on roadsides, except briefly near the park office. There are parking lots at the Sutherland Falls trailhead and day-use area.
In the winter, the entire park is gated at the top of the hill. You'll need to park in the large dirt lot on Highway 23 just down the road from the entrance if you want to access the park.
Day-Use Area at Blanket Creek Provincial Park
There's a large, beautiful day-use area on the north-end of Blanket Creek Provincial Park. The main feature is a large, man-made swimming lagoon that's surrounded by sandy beaches, lush grass, play structures, and picnic benches.
On a hot day, the lagoon is a great place to cool off with a swim or leisurely float. The water is calm and fresh flowing, with a maximum depth of about 2.5 meters and a diameter of 60 meters. It's great for all ages!
Playgrounds
Kids love the two adventure playgrounds at Blanket Creek! Both are in the day-use area and look out over the swimming lagoon. Between the playgrounds, swimming lagoon, and large grassy areas, kids are bound to have a great time.
The playground near the parking lot is the largest and features lots of fun equipment. The smaller playground at the far end of the lagoon is a simple swing set.
Dog Beach & Trail
Blanket Creek is dog-friendly! There's a large, off-leash dog beach below sites 63 to 82 where your pups can frolic freely. They'll love running up and down the beach and jumping in the chilly water. There's also a dog-friendly, on-leash trail near the day-use area.
Keep in mind, though, that bears are common in the park. You must keep your dogs on-leash when not at the dog beach to minimize issues with the wildlife.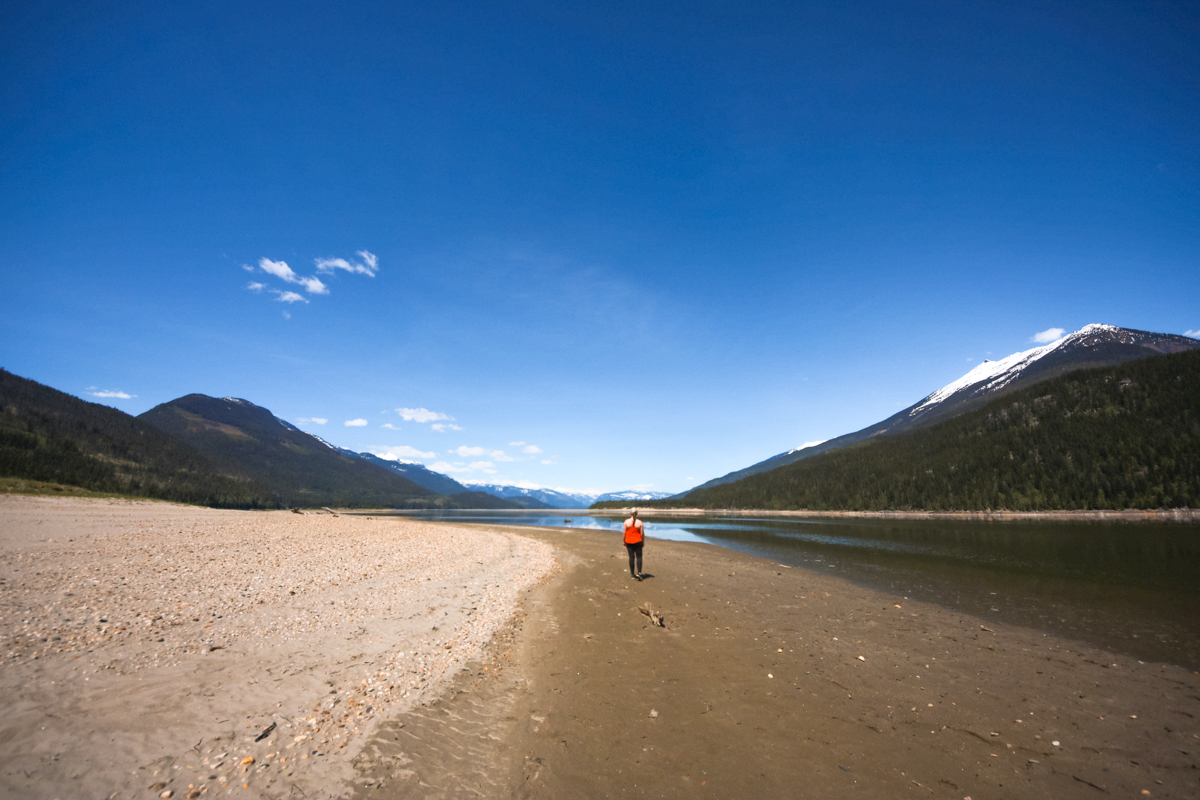 Things to Do at Blanket Creek
Although Blanket Creek is well known for its campground, there's a lot more to do at the provincial park than just camp. You'll certainly be busy!
Nature Trails & Sutherland Falls
There are three main nature trails at Blanket Creek — Sutherland Falls, Nature Trail, and Columbia River Trail — plus a few small trails throughout the campground. All of the trails are beautiful and great places to stretch your legs while enjoying the area.
The Nature Trail and Columbia River trail are hiking and biking trails. Please practice proper trail etiquette when sharing the trail.
Sutherland Falls
Next to camping, Sutherland Falls is the main attraction at Blanket Creek. It's a large, beautiful waterfall that's a short, five-minute hike from the parking lot. The waterfall is a great trail for all abilities and ages.
I highly recommend checking out Sutherland Falls even if you're not camping at the park!
Nature Trail
The 2 km nature trail at the south end of the campground is another popular hike at Blanket Creek. It's an easy to moderate hike that takes about 30 to 45 minutes.
Starting near site 24, you'll hike through an old cedar forest that features giant stumps from early logging in the area — see if you can spot the spring-board notches that loggers used to cut the trees. As you leave the stumps behind, the forest thickens before suddenly revealing a picturesque, fjord-esqe inlet. The trail then brings you to the old Domske homestead where you can see remnants of years gone by.
Historic Domke Homestead
The Domke homestead and farm once stood on what is now Blanket Creek Provincial Park. In the 1940s, it was a fruit orchard and tourists often stopped to admire the family's beautiful landscaping.
Over the years, the Domke family built a two-story home using lumber from the land, as well as a pool, rock walls, and rock steps. There was even an impressive stone-arch and waterfall near the driveway! If that wasn't enough, they also had a beautiful flower garden.
In the 1960s, the settled land in the area was bought by BC Hydro so they could dam the Columbia River (which later created Upper Arrow Lake). The Domke family relocated and now has a family farm in Boring, Oregon. Today, all that's left of the Domke homestead are a few abandoned fruit trees, the pond, and rock walls.
Columbia River Trail
The Columbia River Trail is a short 10-minute walk that connects the campground with the day-use area and swimming lagoon. It runs parallel to the Columbia River behind sites 63 to 82.
The path is narrow and rises about five to ten feet above the beach below. If your campsite isn't along the trail, it's one of the best ways to enjoy views of the Columbia River without hiking down to the beach. There's beach access along this trail, but it's not super obvious nor easy to hike down.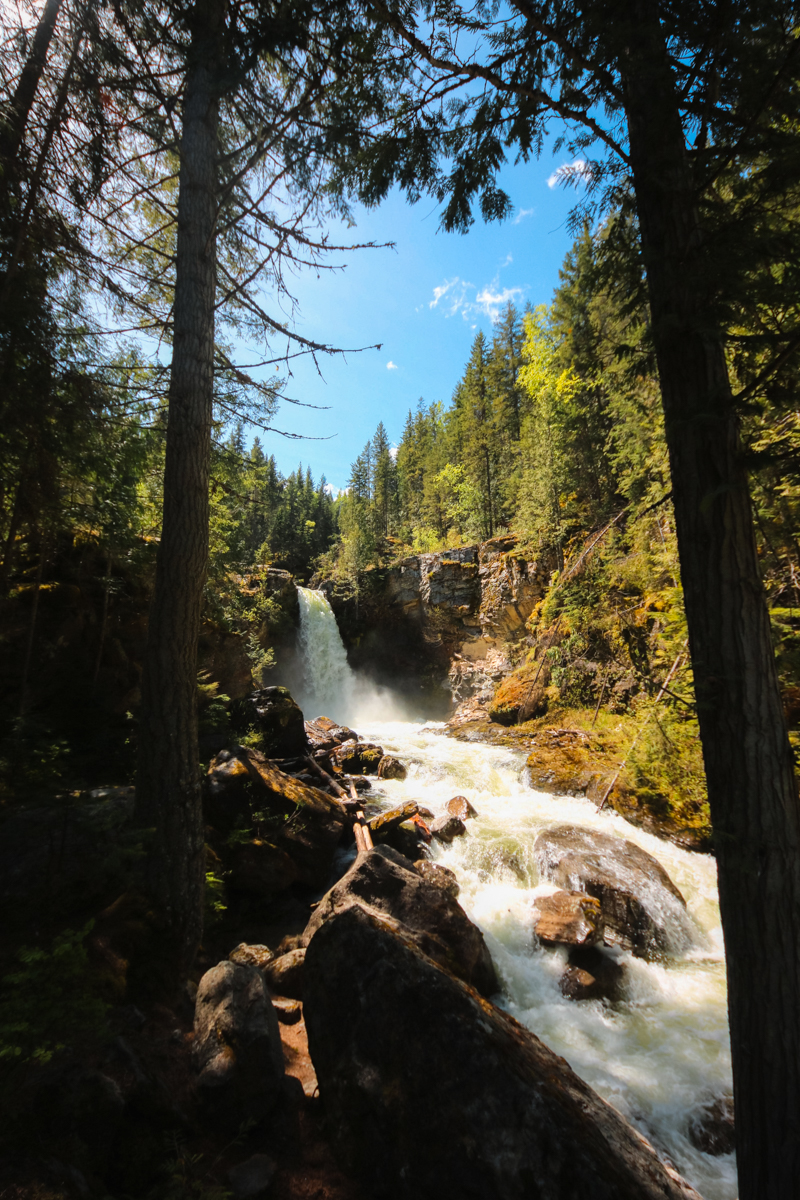 Swimming at Blanket Creek
There are two places you can go swimming at Blanket Creek Provincial Park: the day-use swimming lagoon and Upper Arrow Lake. Both areas are clean and have free-flowing water, but the swimming lagoon is warm whereas Upper Arrow Lake is freezing cold.
You cannot swim in Blanket Creek itself or at the base of Sutherland Falls because the water is much too fast and dangerous.
Tip: There are no lifeguards on duty. Swim at your own risk.
Swimming Lagoon
The swimming lagoon in the day-use area is a large, circular man-swimming area that's great for kids (and adults, too!). It's about 60 meters in diameter with a maximum depth of 2.5 meters. The water is surrounded by a sandy beach and lush grass — great for building sandcastles or lazing in the sun!
In the summer, the lagoon is nice and warm. It's also fresh flowing, so you don't have to worry about soaking in gross water. Plus, there are great mountain views!
Upper Arrow Lake Beach
The beach at Blanket Creek is beautiful. It's long, wide, and covered in soft white sand. The views of the surrounding mountains are picturesque. When the water is low, you can basically walk from one end of the park to the other along the beach. During high water, most of the beach is hidden.
Since the beach is so long, you have plenty of room to kick back and relax in relative privacy. The current is fairly weak and the bottom is sandy, which makes this a good place to go swimming. But you'll have to brave the ice-cold water — you'll sure be refreshed after taking a dip!
Bring along some lightweight camp chairs, a good book, and quick-dry, sand-resistant towels and you're set for a great day.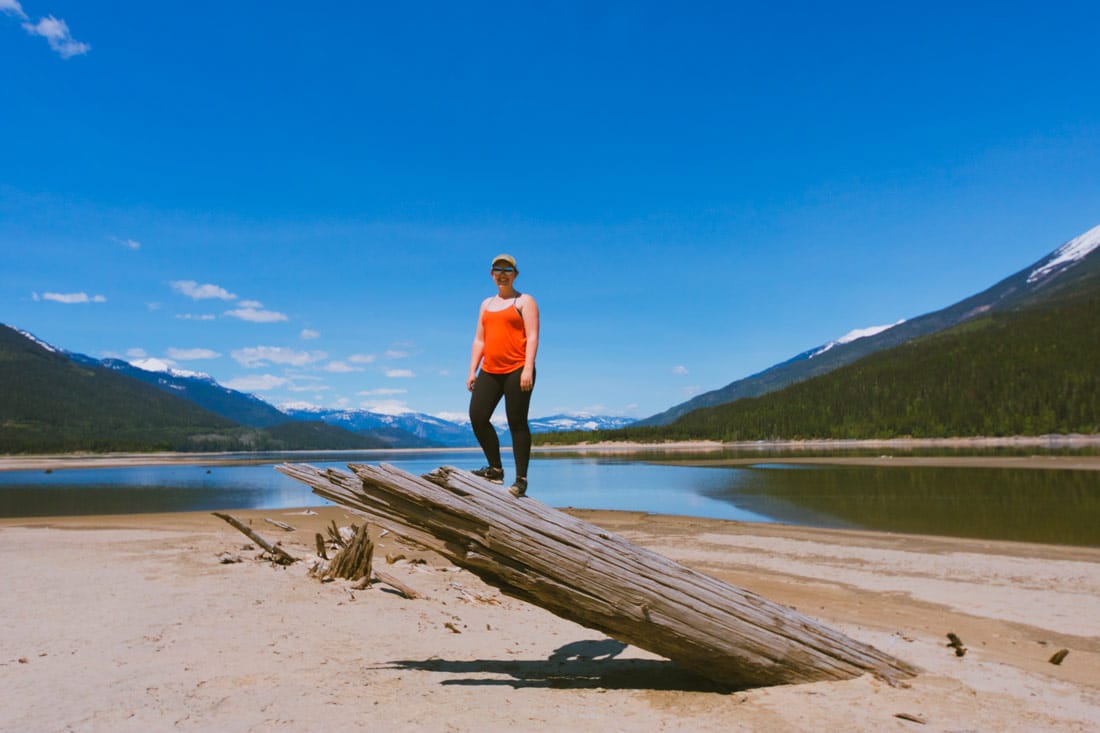 Sports at Blanket Creek
You can enjoy a number of different sports at Blanket Creek — some of which are more extreme than others. From SUP and canoeing to rock climbing and kayaking over waterfalls, there are plenty of sports to keep you busy!
Tip: There are no sport rentals at Blanket Creek Provincial Park. You will need to bring your own gear or rent it in Revelstoke.
Kayak, SUP & Canoe on Upper Arrow Lake
Upper Arrow Lake is a great place to enjoy water activities. It's calm, quiet, and has gorgeous views. Plus, there are plenty of secluded beaches to relax on.
However, it's not easy to get your kayak, SUP, or canoe to the water at Blanket Creek. There are no boat launches and water access is via narrow, bumpy (and sometimes steep) trails. It's not a lot of fun getting your gear onto the water, but once you're on it, it's very enjoyable.
If you don't have your own gear, you can rent it here: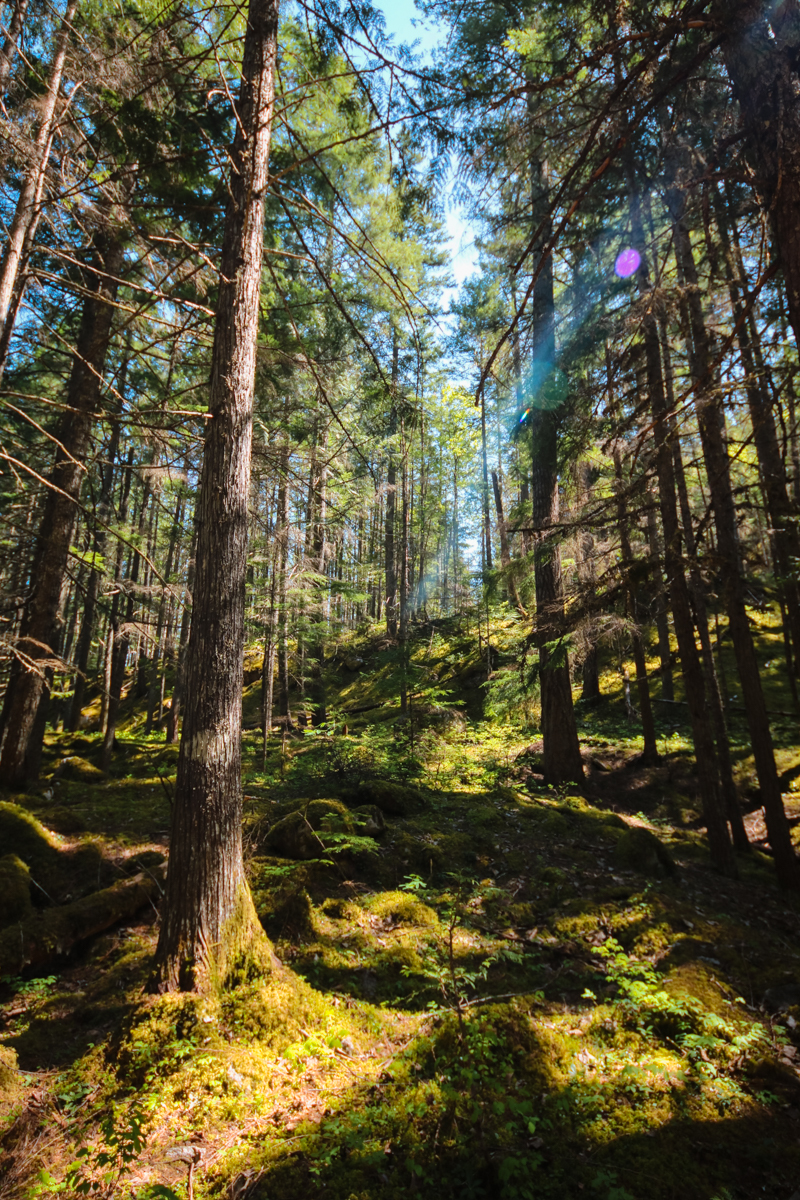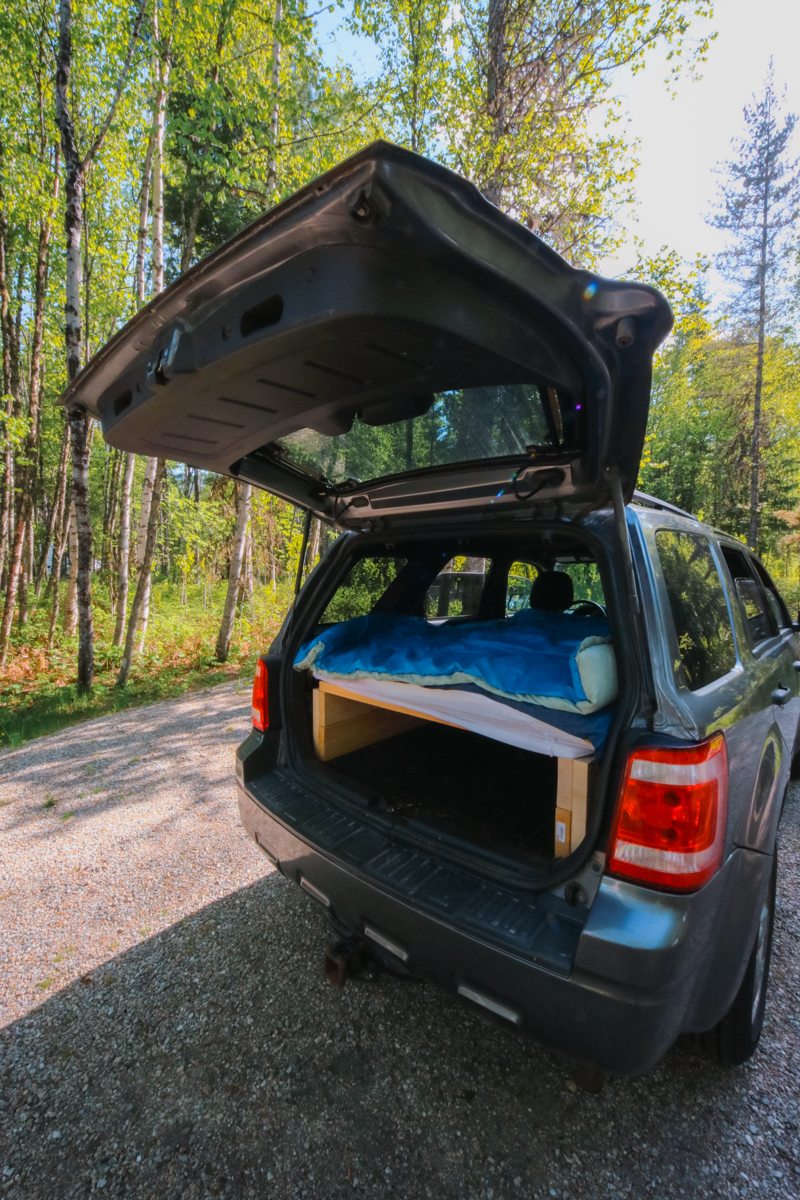 Biking in Blanket Creek & Revelstoke
There are plenty of places you can enjoy easy, relaxing biking at Blanket Creek. Biking is allowed on all paved roads, as well as two nature trails (Columbia River Trail and Nature Trail) within the park. Helmets are required in BC; however, it's very unlikely you'll be ticketed for not wearing one.
If you have an e-bike, you cannot use it on the nature trails. You can, however, use it on regular paved roads — e-bikes would make it a lot easier to bike up the hill to the highway!
Because the park is nestled in the mountains, there are also plenty of mountain biking trails nearby. Check out bikerevelstoke.org for more information on mountain bike trails around Revelstoke.
Fishing on Upper Arrow Lake
You can enjoy fishing while camping at Blanket Creek Provincial Park. However, the shoreline is shallow which means you'll need to venture into the middle of Upper Arrow Lake to catch any fish. You can fish for bull, rainbow, and kokanee salmon.
The nearest boat launch is at Arrow Lakes Provincial Park which is 25 km south of Blanket Creek. Before you set out, make sure you have the correct freshwater fishing license. If you have any questions about licensing or fishing regulations, visit the British Columbia Freshwater Fishing website.
Rock Climbing at the Blanket Creek Bridge
Although not well known, you can also enjoy rock climbing at Blanket Creek Provincial Park. The climbs are accessed (and visible) from the bridge on Highway 23, just outside of the park.
For more information on rock climbing at Blanket Creek, visit these sites: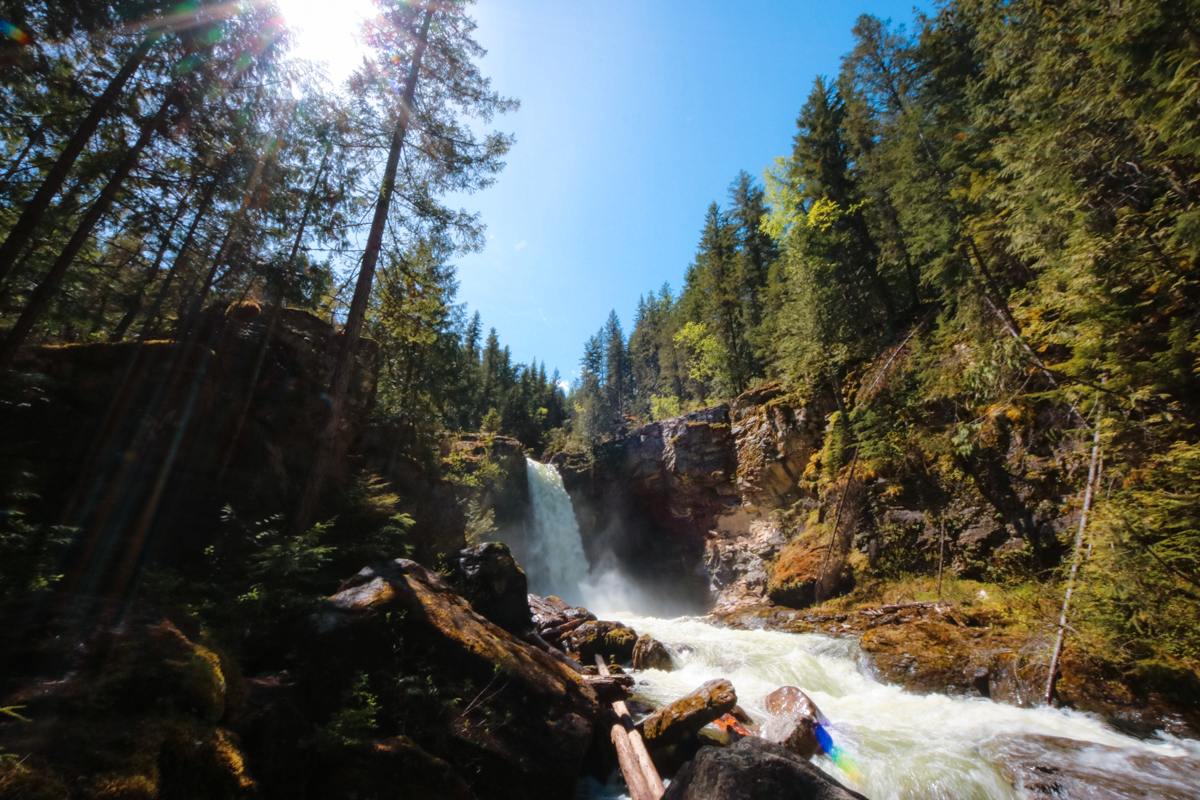 Kayaking Blanket Creek & Sutherland Falls
Last, but certainly not least, of sports available at Blanket Creek is kayaking the creek itself, as well as over Sutherland Falls. Totally outta my comfort zone, but some people love it.
Word of warning though, only do this if you know what you're doing!
Wildlife & Plants
While you're visiting Blanket Creek, you'll fall in love with the gorgeous flora and fauna in the park. You can walk among mature second-growth Western hemlocks and cedars, mossy and lush forest floors, and, if you're lucky, maybe even spot some local wildlife.
Small Animals
Ground squirrels call the day-use area home and can often be spotted darting between their burrows or spying on you. Keep an eye out for their burrows — it would be easy to twist your ankle!
Kokanee salmon spawn in the waterways during the fall. You won't see a huge, spectacular salmon run here, but it's still cool to check out!
Unfortunately, bugs, particularly mosquitoes, can sometimes be quite a nuisance during the summer. Bring plenty of bug spray (my favourite natural option) and a camping fan (yes, this actually works! Mosquitos aren't great fliers) to keep those buggers away.
Large Animals
Bears, caribou, elk, and bighorn sheep have all been spotted in the park. Park rangers will tell you if any of these animals have been seen nearby recently, but it's still important to keep your eyes peeled even if you don't hear about anything.
Bears are common at Blanket Creek — they love to eat from the fruit trees around the historic homestead. Because of this, they often wander through the campground. As long as you adhere to wildlife safety, though, you can live in harmony with these large animals.
Wildlife Safety
It's important to follow the park's wildlife rules about staying in bear country, which includes leashing your pets and keeping your food and toiletries in a vehicle or bear canister. It also doesn't hurt to carry bear spray and brush up on your bear safety.
No matter what animal you encounter, make sure you follow these basic rules to have a wonderful experience:
Keep a safe distance
Don't feed or touch the animals
Follow the park's wildlife rules
Don't scare, chase, or otherwise disturb the wildlife
Secure your food, toiletries, and smelly items at night and while not in your campsite
To keep yourself and the wildlife safe, I highly recommend RecSafe with Wildlife's bear safety online course. Kim's doing amazing work educating people about bear and wildlife safety!
Plants
The forest at Blanket Creek is largely made up of white pine and mature second-growth Western cedar and hemlock. The underbrush ranges from thick and dense to open and mossy.
There are also fruit trees scattered throughout, leftover from the days of the Domke fruit orchards. If you come at the right time, you might even luck out and find some thimbleberries to snack on.
In the fall of 2020, BC Parks and CSISS began ecosystem restoration work in Blanket Creek. They've been working hard to remove invasive plants and replace them with indigenous trees and shrubs which the local wildlife rely on.
The project aims to encourage natural habitat regeneration so that future plants are more resilient.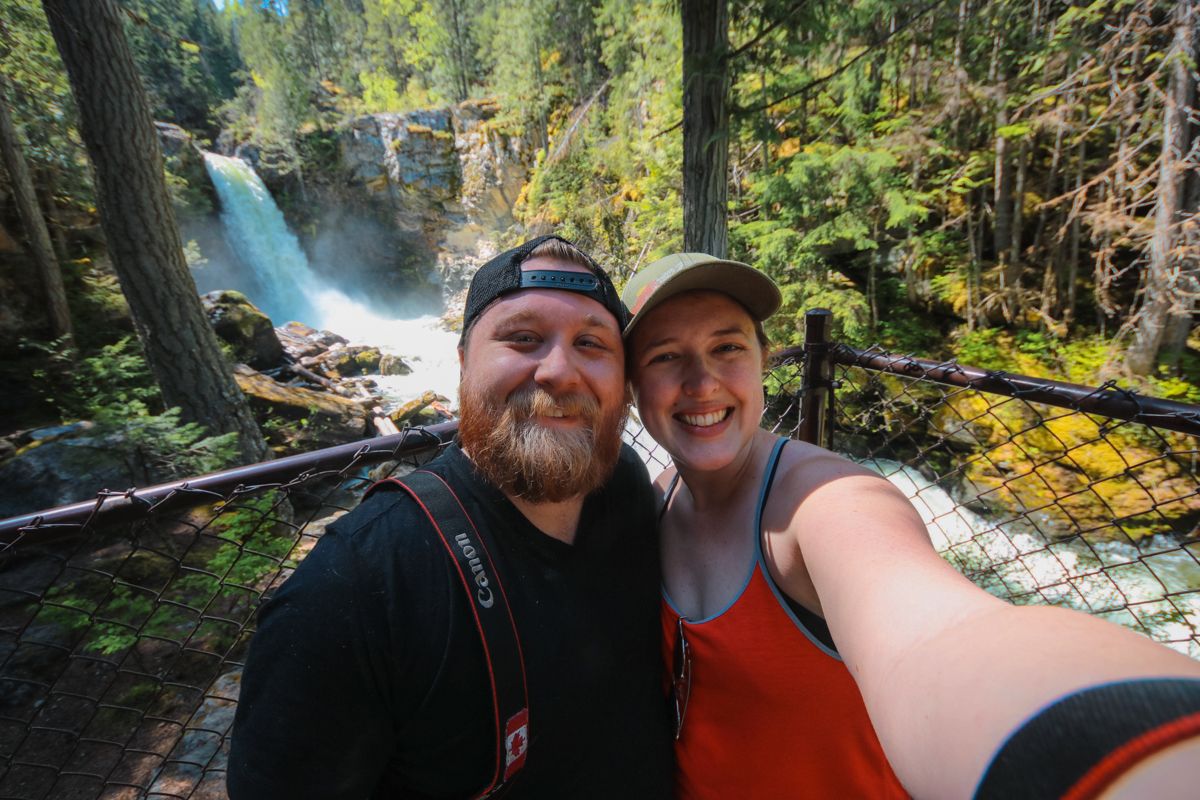 FAQs on Blanket Creek Provincial Park
When is Blanket Creek Provincial Park open?
Blanket Creek Provincial Park is accessible year-round but doesn't offer full services in the off-season. From early May to late September, full services are offered (camping, water, security, maintenance, etc). The entrance gate is closed during the off-season, but you can still walk in.
Is there cell service at Blanket Creek?
Yes, the cell service at Blanket Creek Provincial Park is quite good. However, there are no payphones or wifi.
Is Blanket Creek Provincial Park free?
You can use the day-use area, go for a hike, visit the beach, and access the park for free. If you want to camp at Blanket Creek, there are nightly fees.
When can I reserve a campsite at Blanket Creek?
Camping reservations can be made two months in advance, starting in mid-March (camping starts mid-May). Reservations must be made online at BCParks.ca.
Can I visit Blanket Creek in the winter?
Yes, Blanket Creek is great in the winter! Full services aren't available and the park gate is locked, but you can park along Highway 23 and walk in. You can snowshoe around the park and check out a frozen Sutherland Falls.
Is Blanket Creek kid-friendly?
Absolutely! Blanket Creek is a wonderful place for families to camp and explore the outdoors. There's a safe swimming lagoon, adventure playgrounds, and plenty of room for kids to run.