11 of the Best Hikes in (and around) Kelowna, BC
Explore the best hikes in Kelowna!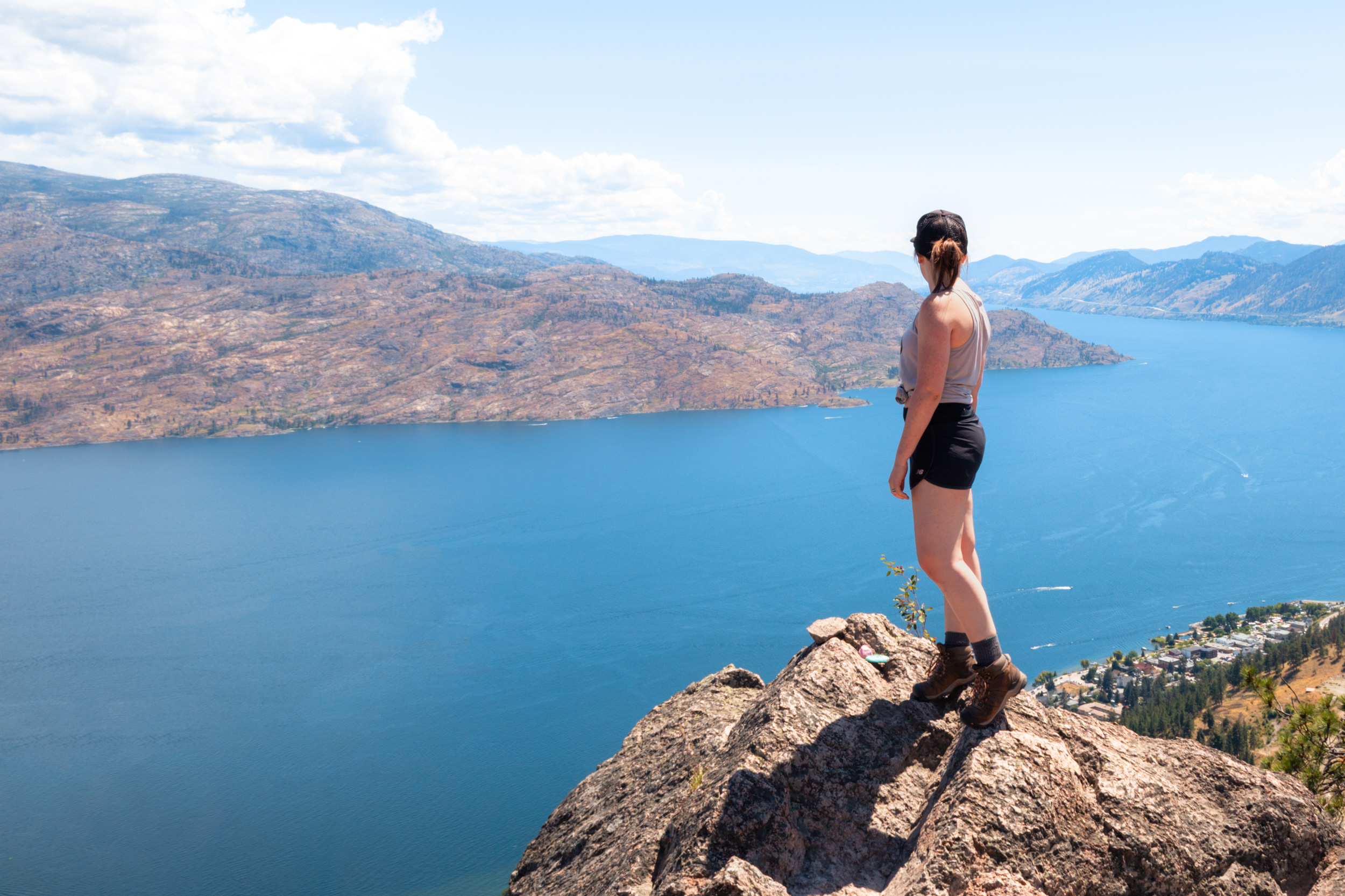 If you're looking for the best hikes in Kelowna, you've come to the right place! Nestled in the heart of British Columbia's picturesque Okanagan Valley, Kelowna is an outdoor lover's paradise.
The Okanagan is well known for its wine and ski resorts, but it's so much more than that! Whether you're a local or visitor, the hiking trails in Kelowna are calling your name.
From cascading waterfalls and impressive lake views to semi-desert terrain and extensive forests, Kelowna offers breathtaking hiking trails for all skill levels. There's truly something for everyone!
PS: Try AllTrails+ free for a week & check out their current sale
So what are you waiting for? Grab your boots, lots of water, and let's explore the best hikes in Kelowna! The following trails are located within Kelowna, as well as the nearby cities of West Kelowna, Lake Country, and Peachland.
Disclosure: This article may contain affiliate links and I may earn a commission, at no cost to you, if you click and/or buy a product online (even if it's not the product linked). I take great care to only recommend helpful products and appreciate your support!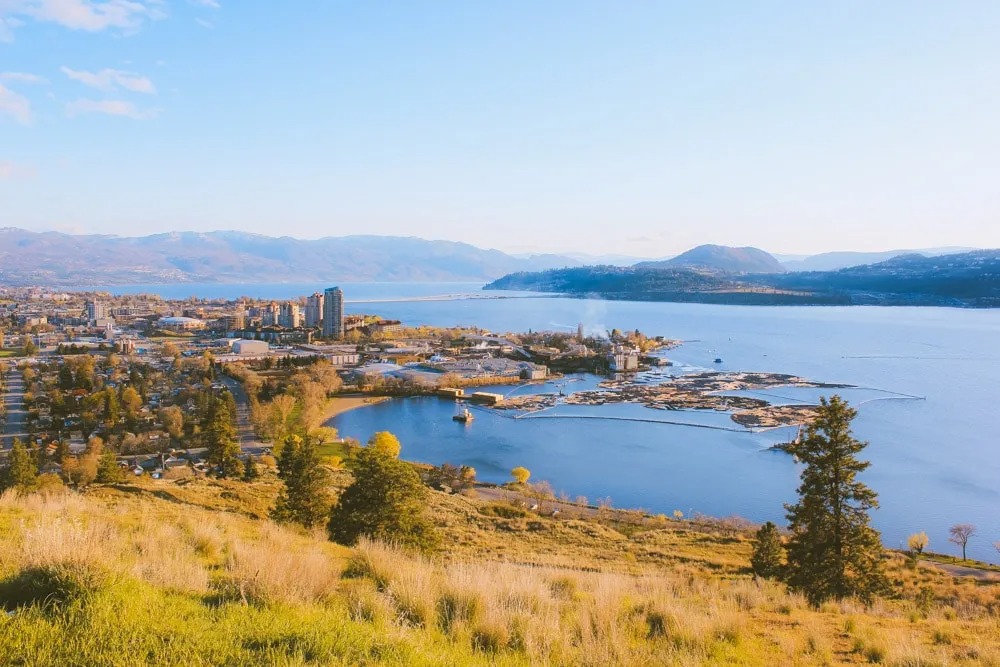 Best Kelowna Hikes
Having grown up in the Okanagan and lived in Kelowna for over 10 years, I've explored many of the hiking trails here in Kelowna and the Okanagan — and there are a lot! It's hard to pick the best Kelowna hikes, but that's exactly what I'm going to attempt.
I've included easy*, moderate, and difficult hiking trails so that you can find the perfect trail for your next outdoor adventure here in Kelowna.
In no particular order, it's time to explore the best hikes in Kelowna!
*Most of these are moderate to difficult hikes. Want easier hikes? Check out these 28+ easy hikes in Kelowna »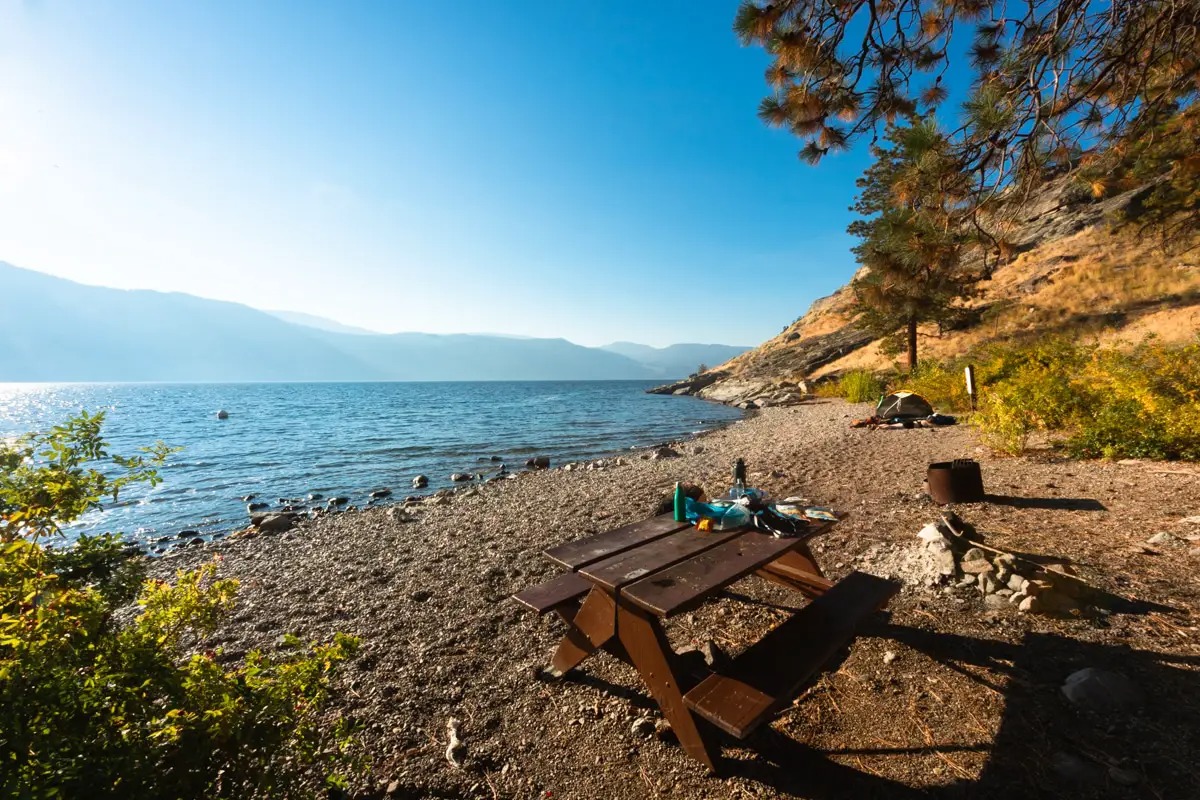 FAQs About Kelowna Hikes
What's the best time to hike in Kelowna?
Most trails in Kelowna can be hiked all year, but the conditions vary a lot. Expect snow and ice from about mid November to February. Most trails will be snow-free from mid-April to late October. Prepare for mud in March and April. July and August are often too hot for comfortable hiking.
What are the different types of hiking trails in Kelowna?
You'll find everything from waterfall and lakeside hiking trails to mountaintop summits and semi-desert vistas in the Kelowna area.
What is the longest trail in Kelowna?
The longest trail in Kelowna is the Okanagan High Rim Trail which spans from Highway 33 in Kelowna to Kalamalka Provincial Park in Vernon. It's 53.1 km long and is a multi-day overnight hike (see more Okanagan backpacking trails).
Is Kelowna good for hiking?
Kelowna is great for hiking! There are trails for every skill level (except maybe mountaineering) and a huge variety of terrain and views to experience.
What are some tips for hiking in Kelowna?
If you're hiking in Kelowna in the summer, try to avoid hiking in the mid afternoon when it's the hottest. Go early in the day or in the evening for the best temperatures. If you can't avoid the heat, bring lots of water, electrolytes, and seek out shade often.
4.2 km | 260 m gain | ~ 1 hr 45 mins | Moderate
The Apex Trail on Knox Mountain tops the list of most Kelowna hiking guides for good reason. You'll hike to the very top of the popular mountain park and enjoy absolutely stunning, birds-eye views of Kelowna and Okanagan Lake. It's a workout, but well worth it.
Knox Mountain is one of the most popular hiking areas in Kelowna. It's close to downtown yet offers an astounding number of trails including Paul's Tomb, Kathleen Lake, and Lochview Trail among many others. You can easily walk to it from downtown or park at the entrance.
There's very little shade, so remember to hydrate properly, drink plenty of water and electrolytes, and wear sunscreen. Try to avoid hiking Apex in the mid-afternoon when the sun is at its hottest — go instead in the morning or late evening.
Tip: If you're short on time, do this hike. It offers stunning views and will give you a great feel for the area. If the road is fully open, you can also drive to the summit on the paved road (or walk up with a stroller when the road is closed to vehicles).
10.3 km | 480 m gain | ~4 hrs | Moderate to Difficult
The City on the Edge of Forever trail is a challenging hike in West Kelowna that climbs high above the Rose Valley reservoir for breathtaking views of Okanagan Lake, Kelowna, and the surrounding mountains. It's one of the most rewarding hikes in Kelowna!
This hiking trail is located in Rose Valley Regional Park which is a very popular hiking and biking area with lots of unmarked trails which can get confusing. This particular trail is well marked, but I still highly recommend downloading AllTrails and using the trail map to navigate.
To make this trail a little easier, hike it counterclockwise. Since this is a shared biking and hiking trail, be prepared for a dusty and slippery trail with loose rocks. Wear proper hiking boots, consider hiking poles, and bring LOTS of water.
Tip: The City on the Edge of Forever trail is a very exposed hike, so it's recommended to not hike it in July and August — it's way too hot.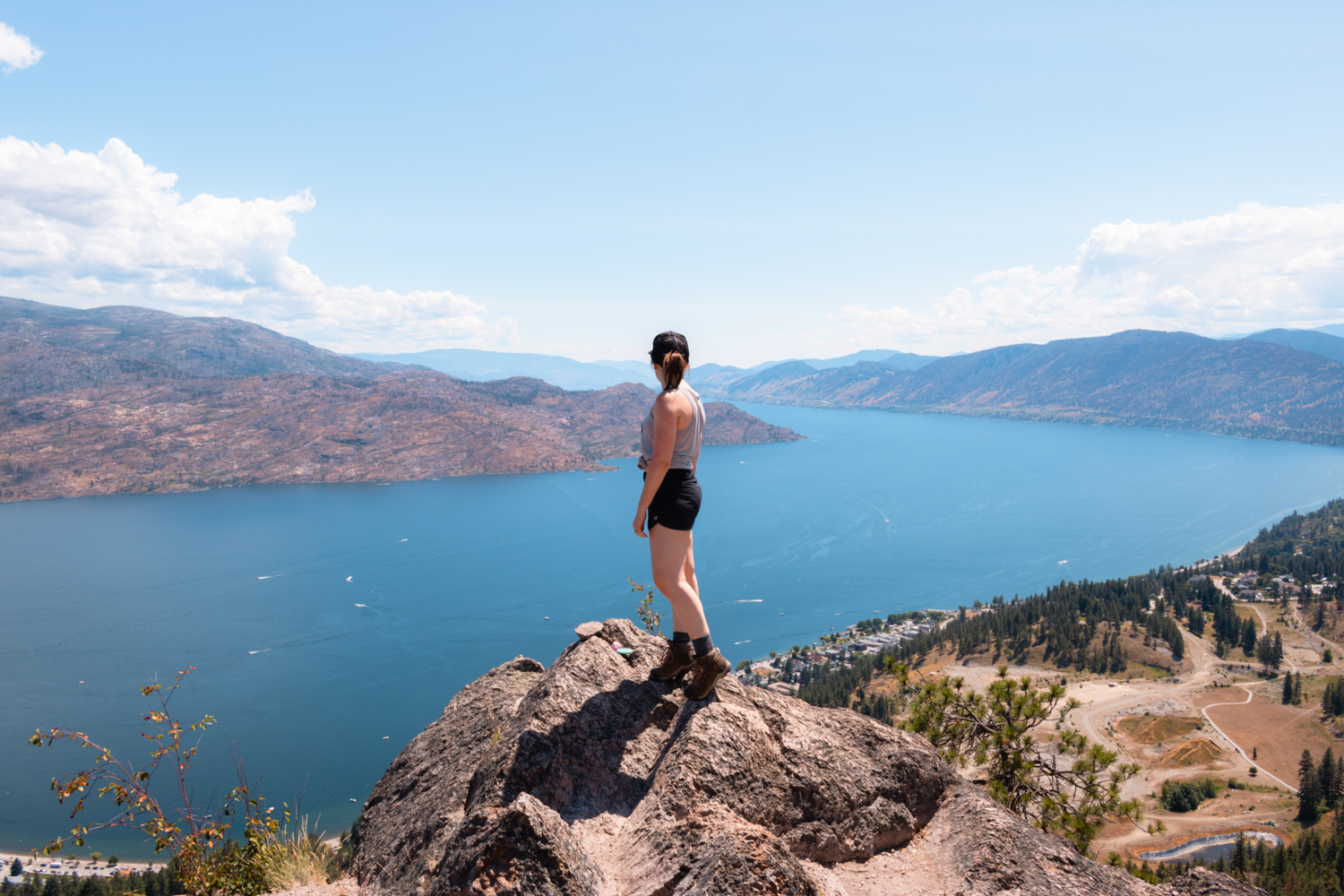 3.5 km | 265 m gain | 1 hr 30 mins | Moderate
Pincushion Mountain is a must-do hike in the Kelowna area (~30 mins from Kelowna). Even though it's relatively short, don't be deceived — this trail is a workout right from the get-go! As you reach the summit, you'll be rewarded with beautiful, panoramic views of Okanagan Lake and Okanagan Mountain.
Pincushion gets dusty and slippery in a few areas — make sure to wear proper hiking boots, consider hiking poles, and bring LOTS of water. There's also some (very minimal) rock scrambling required near the summit.
If you can, check out this Kelowna hike during sunrise or sunset when the mountains and lake are bathed in a golden glow.
Tip: The Backside of Pincushion Mountain trail and Gladstone trail are nearby.
13.8 km | 775 m gain | 5 hr 30 mins | Difficult
Crawford Lake is the most difficult trail in this Kelowna hiking guide. You'll hike up Little White Mountain before descending to Crawford Lake. If you take on this hike, you'll be well rewarded with 360° backcountry views that few others have experienced!
The road to the trailhead is quite rough; a high clearance, 4×4 vehicle is needed. Since this trail is quite high in the mountains, snow will arrive sooner and leave later than the valley bottom. This is a backcountry hike, so be prepared with the 10 essentials and a GPS.
7 km | 270 m gain | 2 hr 15 mins | Moderate
The McKinley Loop (and nearby Wilden Ridge Fire Lookout) trail is a loop trail through a residential trail network on Knox Mountain. This area is slated for future homes, so this beautiful Kelowna hike will likely disappear one day — take advantage of it while you can!
This moderately difficult hike in Kelowna is a steady uphill climb that slowly reveals views of Okanagan Lake that get better and better. You'll walk by a marshy area full of birds and might even spot a deer or two. The summit has a picnic table and swing where you can enjoy a picnic (bring along a cooler backpack for an even better time!).
Tip: There are a lot of alternate routes in this trail network. I recommend downloading AllTrails and using it to navigate on your hike.
6 km | 575 m gain | 3 hrs | Moderate to Difficult
Carrot Mountain is a challenging hike in West Kelowna that will leave you feeling very accomplished as you gaze out over West Kelowna and Okanagan Lake. Much of the hike is covered and provides plenty of shade, making it quite different from many of the exposed hikes in Kelowna.
I recommended hiking Carrot Mountain counter clockwise; this will make the steepest sections easier to handle and provide shade on the way down. Regardless, be prepared to go slow as you will navigate shale and boulder fields. Hiking poles are highly recommended!
Tip: There's a carrot sign at the summit! Find it and take a picture with the incredible view.
6.6 km | 250 m gain | 2 hrs | Moderately Easy
Black Mountain Regional Park is one of the newest regional parks in Kelowna and is still being developed, yet it has some of the best hiking trails in Kelowna. Much of the park is through beautiful, rolling grassland with little to no shade and the Hoodoo Trail is no different.
The trail's rolling hills are set high above Kelowna and give you a sprawling view of the valley with Okanagan Lake just visible in the distance. At sunset, the Hoodoo Trail is absolutely gorgeous as the golden rays set the hills (figuratively) on fire.
This is a nice, gentle hike and you'll likely only see a handful of other people, if any.
Tip: Cougars, wolves, and bears are sometimes spotted here. Always bring bear spray and keep your dogs leashed to reduce incidents with wildlife. If you want to learn about bear and wildlife safety, take this online safety course.
2.4 km | 105 m gain | 1 hr | Moderate
Christie Falls is absolutely one of Kelowna's best hikes! Hidden in the hills behind West Kelowna on bumpy forest service road, Christie Falls is a stunning free-falling waterfall that's definitely worth the drive out.
The drive into the mountains takes an hour and it's highly recommended you have a high clearance vehicle to navigate the FSR. Only attempt this hike from about mid-May to early fall; otherwise you'll encounter snow and won't be able to access the trailhead.
The hike to Christie Falls begins easily and increases in difficulty as you cross small creeks and use a rope to make your way down the edge of a cliff to the waterfall. All in a good day's hike!
25 km (12 km one way) | Basically flat | 2 to 6 hrs| Easy
The Myra Canyon Trestles are best done as a bike ride, but you can also hike this popular Kelowna trail — in fact, it's one of Kelowna's best tourist attractions! You'll encounter 18 historic trestles and two rock tunnels which were originally built in the early 1900s as part of the Kettle Valley Railway.
You can hike the Myra Canyon Trestles any time of year, but it's most popular in the spring to fall seasons. The parking lot tends to fill up, so try to get there early. Always bring a jacket because it can get windy and chillier up here than in the valley bottom where Kelowna is located.
Tip: If you'd rather bike, you can rent bikes at the Myra Station parking lot (there are parking lots at both ends).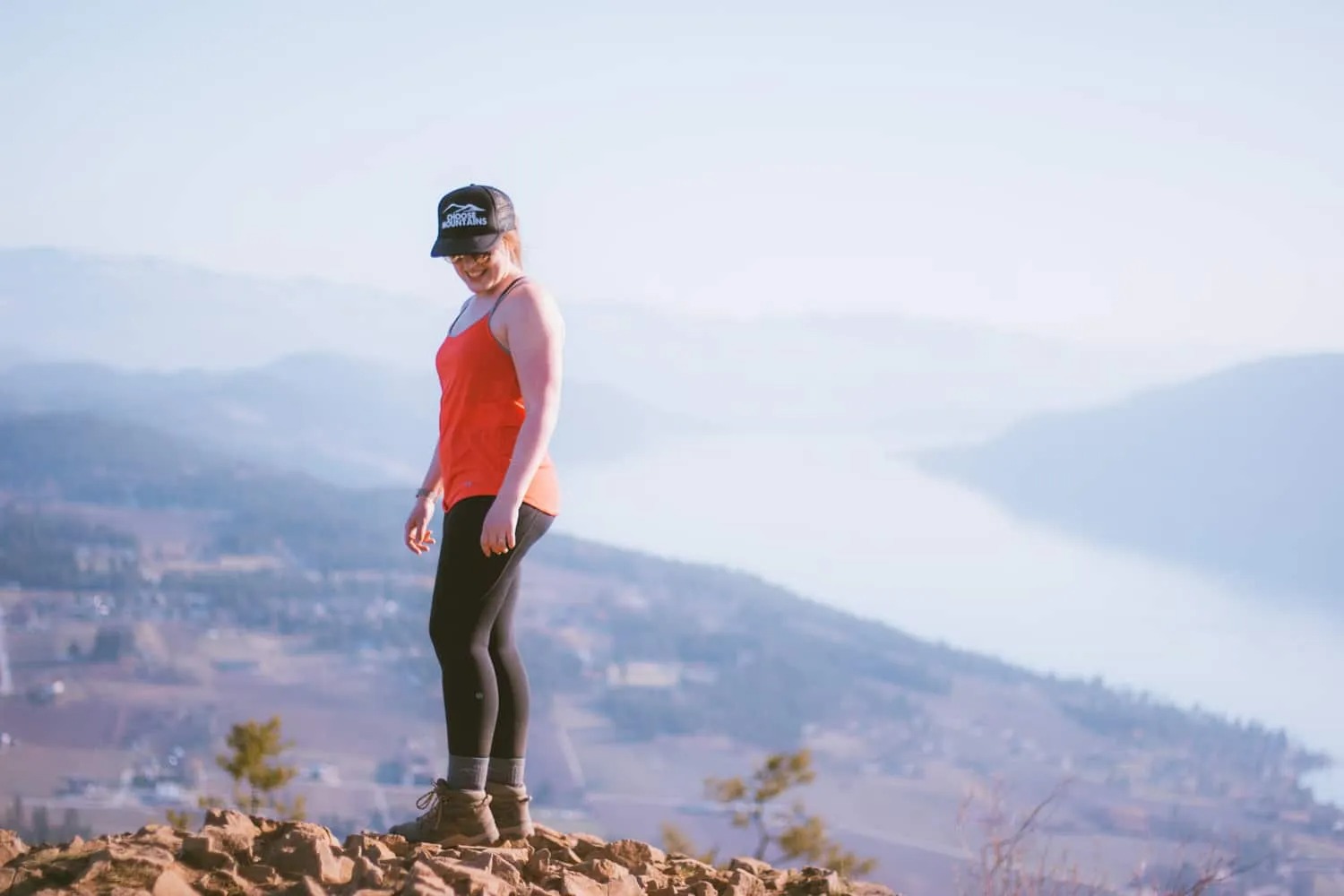 4.7 km | 253 m gain | 2 hrs | Moderate
The Spion Kop trail network, while technically located in Lake Country, easily tops the list for best hikes in Kelowna. In fact, it's my go-to hike because the views from the summit are absolutely stunning!
There are an incredible amount of trails at Spion Kop — some of them are hiking trails, but many more are ATV or mountain bike trails. The hiking trails themselves are well-marked, but it's always a good idea to bring AllTrails along just in case.
If you've never hiked Spion Kop before, I recommend the Arrowleaf, Summit, and Tower trails route. This will give you a great feel for the mountain and bring you to the crown jewel of this hike — the summit! From the top, you have a panoramic view of numerous lakes. Bring a backpack cooler and enjoy a picnic!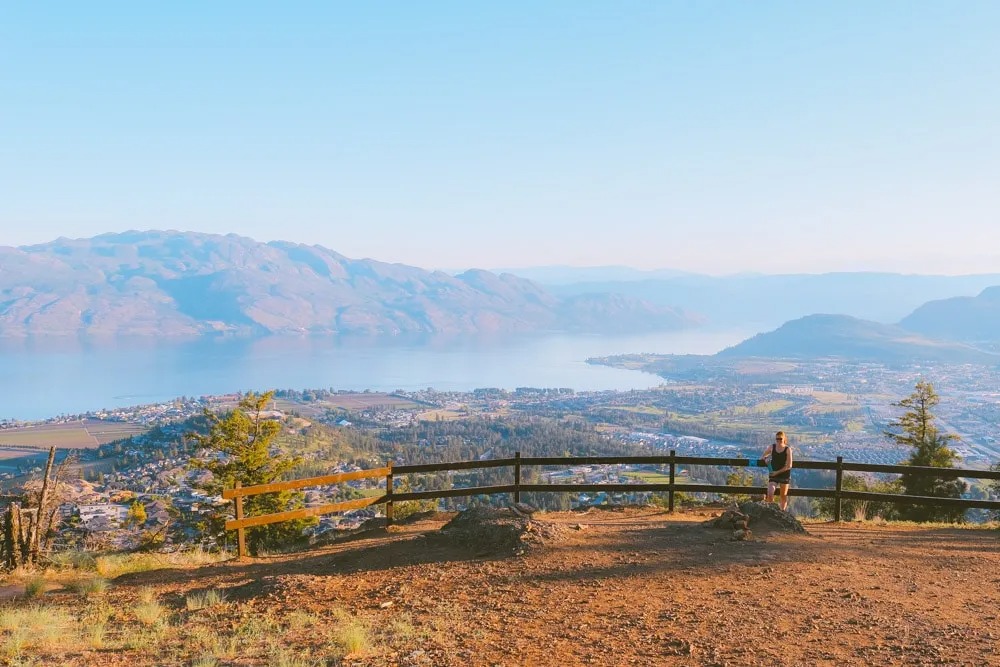 5.6 km | 300 m gain | 2 hrs | Moderate
Mount Boucherie is an extinct volcano in the middle of West Kelowna and can be seen from all over the Kelowna area. It's a wonderful day hike that treats you to stunning views of Okanagan Lake and West Kelowna — go at sunset for an extra special treat.
There are numerous trails on the mountain, but Boucherie Rush is the most popular. A series of switchback trails bring you up the mountainside through varying degrees of shade. Be prepared for a hot hike, especially in the summer.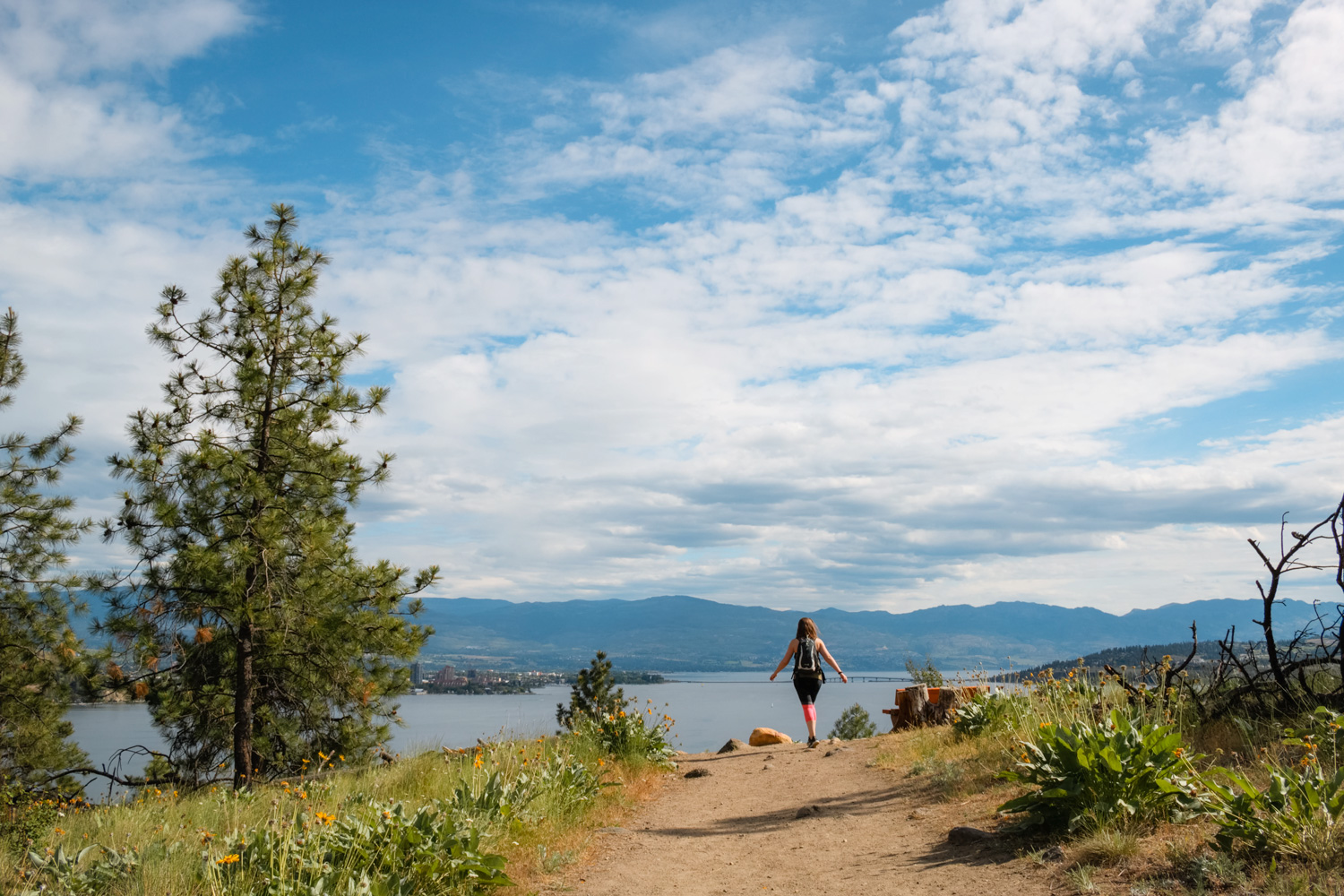 Other Noteworthy Kelowna Hikes
It was really hard to choose only eleven of the best hikes in Kelowna — if it was up to me, there'd be about one hundred! But I know that's not super helpful, so I had to be picky.
However, I couldn't resist throwing in a few honourable mentions. Without furthur ado, please enjoy some of these other awesome Kelowna (and area) hiking trails.
I hope you have a wonderful time trying some of the best hikes in Kelowna — get out there and see everything that this beautiful place has to offer for your outdoor adventures!
Check out Kelowna's best waterfalls! »